Don't get me wrong: spending time in the kitchen baking is one of my favorite ways to destress. However, when a true cookie craving hits, I want something to satisfy it, stat. During quarantine, I got in the habit of mixing up my favorite (and arguably, the best) chocolate chip cookie dough. I'd bake a few right away, then I'd pre-shape the rest, pop the balls of dough in an airtight container, and put them in the freezer so I always had freshly-baked cookies at the ready. And while this habit does cut down on the time between my cravings and that first bite of crispy, chewy cookie, sometimes, I can't even wait for the oven to preheat. When that's the case, I turn to no-bake cookies. And of course, I turn to the best no-bake cookie recipes I can find—in other words, the ten recipes below.
No-bake cookies are about as simple as it gets. Many recipes involve cooking and thickening a sauce that holds your other ingredients together. Some recipes take it a step further and are no-bake and no-cook, meaning that all you have to do is mix a few delicious components together and let them set up in the fridge. Again, easy baking at its finest.
But if you haven't made no-bake cookies before, the concept can seem a little foreign. After all, cookies plus some time in the oven equals the best smell to ever waft through your kitchen. Before I get to the recipes, I'm answering a couple of often-asked questions when it comes to making your first batch. Equip yourself with a little no-bake knowledge, then dive into the recipes below. And if you have a favorite no-bake cookie recipe that I didn't include here, share it in the comments! I could always use a little more cookie inspiration in my life.
How long can you store no-bake cookies?
Here's another reason to get in a no-bake cookie-making routine. While most baked cookies can last a few days in a tightly-sealed container kept on the counter, no-bake cookies play the long game. Get ready for this: After your cookies have been set you can expect most to last up to a couple of weeks if you keep them in the fridge in an airtight container. The beauty of that, of course, is that you can double (or triple!) your recipe and have a steady supply of cookies for days. That's a level of preparation worthy of applause.
Can you freeze no-bake cookies?
Yes, yes, and yes. If you want your cookies kept fresh for longer, the freezer is the way to go. To get the best results, space out your cookies on a baking sheet and let them chill in the freezer for a couple of hours. Once they're fully frozen, put them in a sealed container. After that, your cookies can be stored in the freezer for up to three months. Some cookies are amazing frozen, but others you'll want to let come to room temperature before biting into.
Let's get to it! These are the best no-bake cookie recipes to make immediately.
Vegan Peanut Butter No-Bake Cookies from Minimalist Baker
Why We Love It: Minimalist Baker has cornered the market for vegan foods that I want to devour on repeat. That's entirely true for these no-bake cookies as well. They're the trifecta of being peanut butter-y, chocolatey, and wonderfully indulgent without containing any dairy. These cookies are also naturally sweet and use only real-food ingredients for the richest no-bake cookies you ever ate.
Hero Ingredient: All the fudgy flavor and texture comes from the dark chocolate.
No-Bake Salted Caramel Cups from Pinch of Yum
Why We Love It: I love cookies with layers. These adorable little cups wrap a chewy oat crust around a salted caramel center. Finishing things off with chocolate and sea salt is non-negotiable. This recipe relies on all the good stuff for flavor: pecans, pretzels, pitted dates, and a whole heaping cup of thick caramel sauce. You're welcome.
Hero Ingredient: The only thing better than caramel is salted caramel. A small sprinkling of sea salt does the trick.
No-Bake Chocolate Chip Cookie Bars from The Roasted Root
Why We Love It: These six-ingredient delights are grain-free, refined sugar-free, and 100% paleo friendly. It probably goes without saying, but they taste unbelievably good as well. If you're like me and patience isn't one of your strengths, these are the cookies to make. Because they're free of eggs too, you can even sneak a few bites of the dough while your cookies are setting.
Hero Ingredient: I love the nutty and dense bite the almond flour gives these bars.
No-Bake Brownies
Why We Love It: Okay, so maybe I have a loose definition of what constitutes a cookie, but because these don't use eggs, their texture is closer to cookies than brownies. They're dense, they're chewy, and they make the best use of graham cracker crumbs since key lime pie came into existence. They're also full of so many good-for-you ingredients, with a handful of almonds, dried cranberries, and unsweetened coconut flakes bringing all the crunch.
Hero Ingredient: The sweetened condensed milk gives these brownies the rich, fudge-like texture that I imagine I'm not alone in craving.
Chocolate Hazelnut Butter No-Bake Cookies from Full of Plants
Why We Love It: Alternative name: Nutella Bombs. That's right, the outside of these cookies is soft and creamy, but when you take a bite, you discover a burst of chocolatey hazelnut flavor. What's more, these guys are naturally sweetened with the winning combo of maple syrup and dates. So if you're tempted to give these the green light on your New Year's reset, I support you.
Hero Ingredient: There's no competing with Nutella.
Peanut Butter No-Bake Cookies from Live Well Bake Often
Why We Love It: Like many people, I've had a love affair with peanut butter ever since my first PB&J. The smooth, creamy texture and beyond nutty taste make peanut butter worthy of spoon-first consumption. Not only does peanut butter give these cookies their flavor, but it's responsible for thickening the sauce that makes them chewy as chewy can be.
Hero Ingredient: Quick-cooking oats play up the texture of the otherwise super-smooth mixture.
No-Bake Snickerdoodle Bites from The Big Man's World
Why We Love It: Snickerdoodles are an easy, hard-to-argue fave. What's not to love? They're full of warming cinnamon spice and sweet, crunchy sugar. The best recipes use a little cream of tartar to create a chewy cookie. Here, the heavenly texture is all thanks to a mix of almond and coconut flour, which keeps these cookies light. They're essentially like digging into a bowl of raw snickerdoodle dough with no will-I-get-salmonella regrets.
Hero Ingredient: Rolling each ball in a tablespoon of cinnamon sends the spicy-sweet flavor home.
No-Bake Pumpkin Oatmeal Cookies from A Beautiful Mess
Why We Love It: Just when you thought the pumpkin craze of fall was over, you come to discover these beauties. They use almost all of the same tricks as any no-bake peanut butter alternative, just subbing in everyone's favorite fall-to-winter ingredient. You're eight ingredients away from deliciousness.
Hero Ingredient: I'm bound to call nutmeg the hero ingredient of any recipe that uses it. It plays up the pumpkin's earthy flavor while also adding a little bittersweet bite of its own.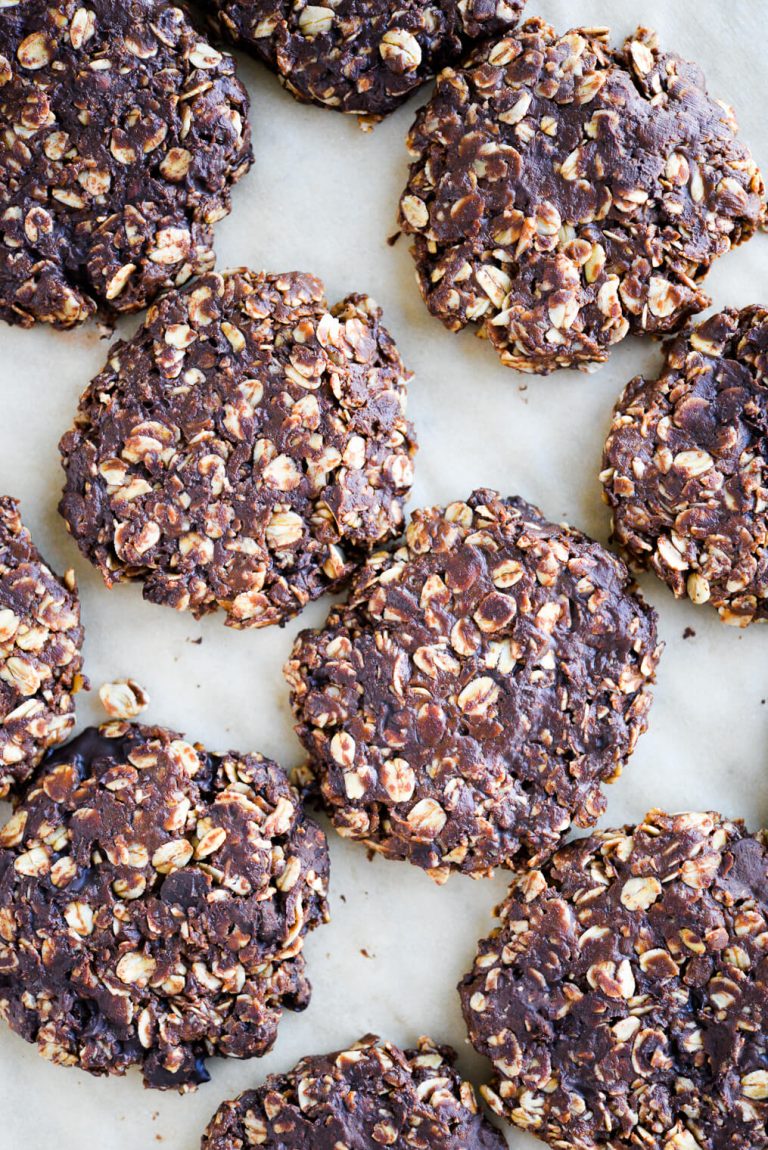 No-Bake Oatmeal Cookies from Fed + Fit
Why We Love It: If you want a cookie that doesn't sacrifice taste for a little nutrition glow-up, these are the ones to make. While they definitely don't compare to your favorite nutrient-dense kale salad, when I'm wanting something sweet, I'll always turn to these instead. They rely on the classic no-bake combo of peanut butter, oats, and something sticky like honey or maple syrup as a binder. I'm always here for a foolproof recipe.
Hero Ingredient: Because I'm writing this round-up, I feel no shame in calling out peanut butter as the hero ingredient in more than one recipe.
No-Bake Peanut Butter Cup Cookies from How Sweet Eats
Why We Love It: If the word "peanut butter cup" is in the recipe name, I know I have to try it. Reese's are hands down, the *best* Halloween/Christmas/Valentine's Day treat. While I could happily unwrap a cup of peanut butter and chocolatey goodness any time, sometimes I need a sweet that's a little less… artificial. When that's the case, these cookies come in clutch. Also, get ready for your mind to be blown by the secret ingredient.
Hero Ingredient: CEREAL. Yep, every '90s child's favorite breakfast or snack is back and better than ever. Swapping in cereal for the expected oats makes these a little lighter and crunchier than traditional no-bakes. It's recipes like this that remind me why I love my food processor so much.