Pie marks the intersection of so many of life's greatest joys. There's the nostalgia woven into every bite—memories of Thanksgivings past and your family's go-to recipes. Of course, there's also a dual comfort present in the simple fact of pie: nothing beats a buttery crust and the sweet, warming bite always satisfies. But on the days leading up to the holiday, while we might still crave the flavor of our favorite pecan pie, we might also not be up for making it. When that's the case, this pecan pie bars recipe is exactly what you need.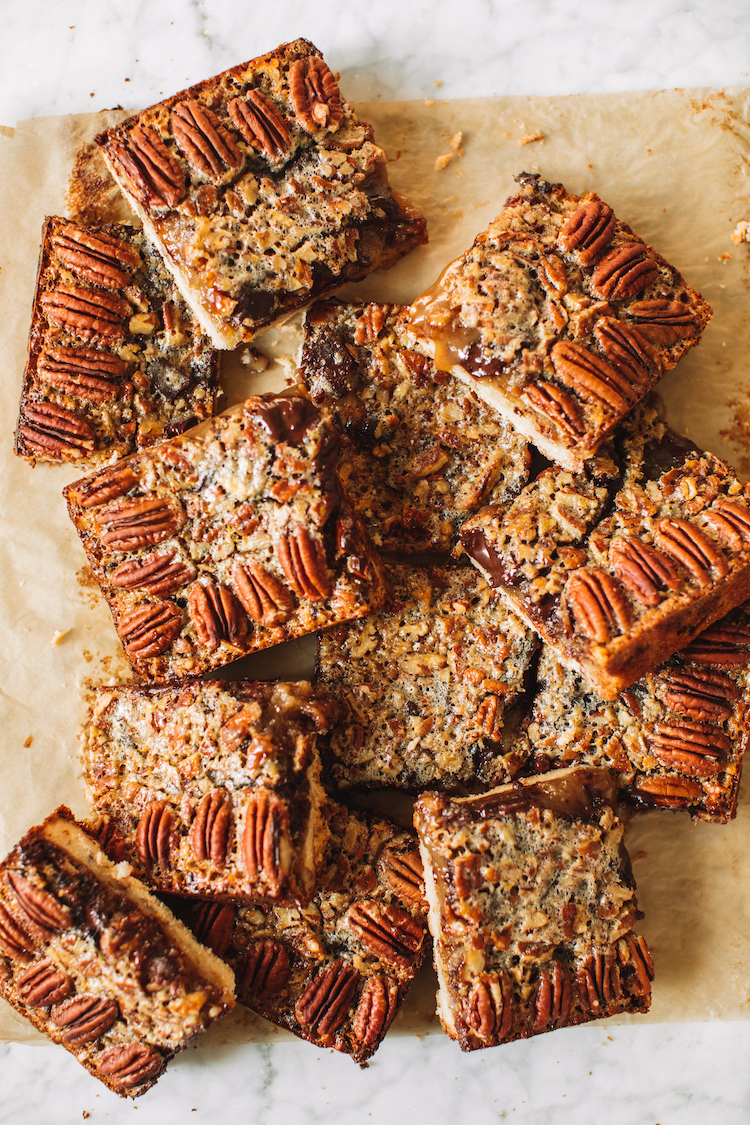 Shortcut recipes are my not-so-guilty pleasure. Sometimes, I just don't have the time. (And truth be told, the desire to get my hands *really* dirty in the kitchen isn't always there.) Because of that, I'm endlessly thankful that this pecan pie bars recipe exists. Courtesy of culinary genius, Elizabeth Van Lierde, this recipe delivers all the flavors I want, minus the hassle. It's a win-win for everyone: great flavor in little time. What's not to love?
Below, Elizabeth shares what makes this recipe her go-to fall treat. Plus, she breaks down a few tips and tricks for making these bars particularly addicting. Gather up your ingredients and get to baking—the time to indulge is now.
Elizabeth Van Lierde on What Makes This Pecan Pie Bars Recipe So Special
Every year, I make a large, extremely gooey pecan pie for my step-grandfather, Norval. Norval has great taste, especially in his pies. He likes his pecan extremely thick and rich with brown sugar filling and not too many pecans. His taste preferences are the inspiration for this chocolate bourbon pecan pie bars recipe.
It's made extraordinarily decadent with a chocolate bourbon-infused filling on top of a rich shortbread crust. One bite and you won't be able to stop 'mmm'ing' and longing for a tall cup of coffee. Pro tip: If you love gifting cookie boxes for the holidays, these bars are a great addition.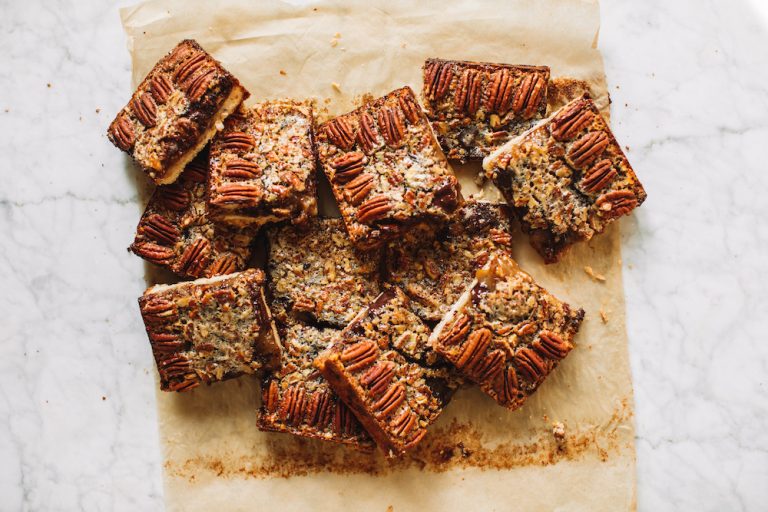 Keep reading for all the details on how to make these chocolate bourbon pecan pie bars from Elizabeth van Lierde's cookbook, Everyday Entertaining.
This post was originally published on October 19, 2021, and has since been updated.
Ingredients
For the crust:
1 ½ cups all-purpose flour 

1 ½ sticks unsalted butter, cold and diced

¼ cup sugar

¼ cup finely chopped pecans 

5 tbsp ice-cold water 
For the filling:
2/3 cup brown sugar 

6 tbsp all-purpose flour 

1 tsp kosher salt

1 ½ cups corn syrup 

4 eggs 

1 tbsp bourbon or whiskey 

1 ½ cups chopped pecans 

4 ounces bittersweet chocolate, chopped
Instructions
Preheat the oven to 350 F. Line a 13 x 9" baking pan with parchment paper and spray sides with nonstick spray. 

For the crust: Combine flour, butter, and sugar into a bowl fitted with a stand mixer or hand mixer. Beat on medium speed until the mixture resembles coarse crumbs. Stir in chopped pecans and ice cold water until the mixture starts to stick together. 

Press crust mixture evenly onto the bottom of the prepared baking pan. Bake for 18-20 minutes or until the edges are a light golden brown.

For the filling: Combine brown sugar, flour, and salt into a large bowl, whisk until combined. Add in corn syrup, eggs, and bourbon and mix well. Stir in pecans and chocolate. Spread filling mixture evenly over the crust. Bake for 30-35 minutes or until the filling is set when the pan is slightly jiggled.

Cool bars completely for 30-40 minutes before slicing.