When we're told one year that fat is bad and then the next that it's actually good for you, we can understand the urge to throw your hands up in the air and ditch diet advice altogether. There's no denying that the internet is full of conflicting health advice but one diet that scientists consistently declare as the worlds healthiest is the Mediterranean diet. According to a research review published recently in the Journal of the American College of Cardiology, a Pesco-Mediterranean diet with intermittent fasting was found to be the ideal overall diet for humans. But what is the Mediterranean diet and what makes it so healthy?
Well, for one, the world's healthiest diet doesn't require extreme elimination or restriction, in fact, it's more about eating more whole- plant-based foods and less of the processed stuff, naturally. That means more vegetables, fruit, legumes, nuts, seeds, and whole grains along with fatty fish and other types of seafood, and 'unrestricted' helpings of extra-virgin olive oil. According to the research, "modest helpings of dairy products, poultry, and eggs are allowed, while red meat should be eaten sparingly or avoided. Low or moderate amounts of alcohol—preferably red wine—are acceptable, but water, coffee, and tea are preferred."
Intrigued? Same. We tapped Suzy Karadsheh, chef and founder of The Mediterranean Dish to find out more. With more than 600 recipes and videos, 3 million monthly unique website visits, and nearly 1 million followers across social, The Mediterranean Dish is one of the leading authorities for wholesome Mediterranean recipes with flavors spanning the South of Europe to North Africa and the Middle East.
Born and raised in Port Said, Egypt, Karadsheh was immersed in the Mediterranean culture, eating ingredients and foods from the local market with her father and cooking them with her mother. Today, she draws on both of those experiences to create her vibrant, flavor-packed recipes and is currently working on her first cookbook for release in Spring 2022.
Read on to learn more about the Mediterranean diet, what makes it so healthy, and how to get started. And be sure to scroll to the end for three exclusive recipes from The Mediterranean Dish and start eating your way to optimal health and wellness.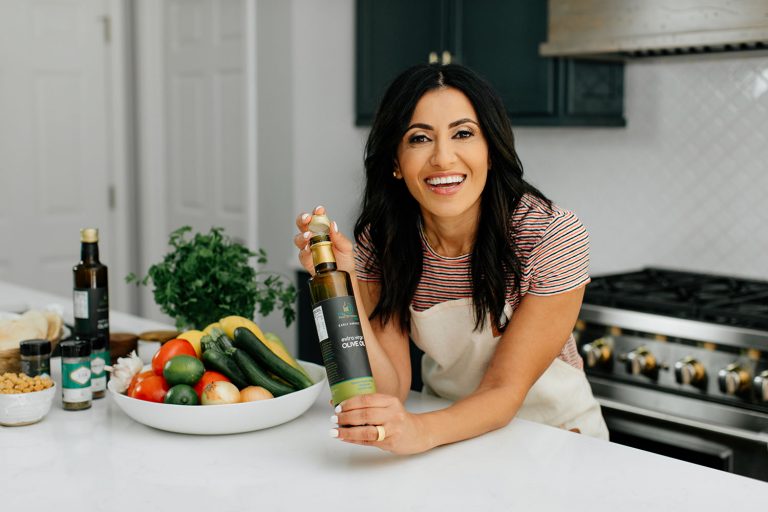 Images courtesy of Suzy Karadsheh.
What is the Mediterranean diet and what makes it so different?
Voted the best diet to follow for several years in a row, the Mediterranean diet is also one of the easiest, most sensible diets to follow. 
I personally prefer to call it "the Mediterranean way of eating," because the word diet comes with certain expectations and a list of do's and don'ts. In this case, we're not talking about a diet that has you following a rigid set of rules, counting calories, and depriving your body of certain food groups and much-needed nutrition.
The Mediterranean diet is more of an eating pattern that focuses on well-balanced eating, particularly fruits, vegetables, whole grains, beans, nuts, and legumes; lean proteins from fish and poultry; good fats from olive oil; and some dairy. 
So you see, you won't be fully eliminating things from your diet. Instead, you will heavily rely on wholesome ingredients and filling up on delicious, nutrient-rich foods, particularly plant-based foods, but you can eat almost every food, some more than others. 
What are the key principles of a Mediterranean diet?
I try to live by three simple Mediterranean diet principles, which you may have seen on my platform:  
1. Eat with the seasons.
I try very hard to eat produce (vegetables and fruits) in their seasons, not only is this a very delicious way to eat, but more sustainable and economical. That is not to say one should avoid frozen vegetables. A lot of the time, those are picked during their prime season and flash-frozen to keep as much of the carbohydrate, protein, fiber, and mineral content. You just need to weigh the options. 
2. Use whole foods.
As much as possible, avoid processed foods that are high in fat, salt, sugar, and calories, but low in fiber and other important nutrients. 
3. Above all, share.
To me, this is probably the most important Mediterranean diet value that others are not talking much about. 
When it comes to eating and portion size, one helpful Mediterranean habit is to eat as few meals as possible alone.
I grew up eating all my meals at a table full of family and friends, and I try to do the same today. I don't know about you, but when I share a meal with others, I tend to eat slowly, and I am less likely to stuff myself.
Beyond sharing a meal, in general, people of the Mediterranean people value a balanced social life and a certain connectedness to the people who matter most. I keep thinking that maybe the silver lining of the recent pandemic is that it has forced us to hunker down and invest more time with the people that matter most, and we've also found new and meaningful ways to connect.
What are the health benefits of a Mediterranean diet? 
Most Mediterranean recipes naturally force you to eliminate processed foods and eat more wholesome options, focus more on vegetables and grains, and take in more heart-healthy fats in the form of quality extra virgin olive oils, nuts, and fish. You get to feel satisfied while reducing your risk of both mental and physical health problems. To name a few, the Mediterranean diet is linked to longevity, heart-health, reduced cholesterol and blood sugar levels, and reduced risk of Alzheimer's disease. 
What are some of the healthy fats you eat regularly?
For me, my go-to fat of choice is quality extra virgin olive oil that is high in polyphenols (antioxidant agents) and low in acidity levels. I also rely on nuts, which make a satisfying snack because they are rich and filled with plant-based proteins. 
How can we incorporate more healthy fats into our diets too?
Making simple swaps is a good place to start. For example, start by reducing or swapping out your butter for a quality extra virgin olive oil that is both delicious and better for you. 
Snacking can often be the culprit. I have a list of Mediterranean diet snacks that I go to often, like a handful of nuts or fresh fruit. If you have a sweet tooth like me, you'll be tempted to reach for some Oreos in the afternoon, swap that out for a little bit of homemade olive oil granola or something like Medjool dates which are naturally sweet, and a good source of energy. 
When it comes to meal planning, replace a couple of red meat dinners with fish. Make something like salmon or baked cod. 
What are 3 simple recipes to get started on the Mediterranean diet?
It's hard to pick from my collection of Mediterranean diet recipes, but here are three easy recipes that are also fan favorites: 
Is there anything more delicious than a shakshuka? Gently poached eggs in a simmering mixture of tomatoes, bell peppers, onions, and garlic with warm spices and fresh herbs are all cooked in one skillet. Easy to cook and clean up. It's a win-win!
If you're looking for a simple dinner that won't take you hours to make then add this easy chicken shawarma recipe to your list. The secret? The simple spice mixture for a truly authentic flavor. Karadsheh recommends serving it in pita pockets with tahini sauce and this lazy salad.
Attention all busy cooks. This tender, perfectly flaky baked lemon garlic salmon requires very little prep and takes less than 20 minutes to cook! According to Karadsheh, salmon baked in foil is a smart technique that ensures perfectly cooked, moist salmon every single time. Plus, cleanup is a breeze.
Editor's note: I hope this information is helpful to you all, but please remember to connect with a healthcare professional, a dietitian, or a nutritionist, if you are looking for specific health-related advice.