Up next, Body Stone founder, Kate McLeod's morning routine.
There is something truly magical about working with your hands. Witnessing the organic process unfold as you stretch, fold, push, pull, massage, stir, and squeeze the ingredients or materials together to create something new is transformative. When you learn about Kate McLeod's former career as a pastry chef you quickly understand how that handcrafted process informed the creation of her incredible beauty product. The Body Stone is a solid moisturizer made from solid cocoa butter that melts on contact with skin and comes in a beautiful reusable bamboo canister—yes, it's totally plastic-free!
You might be asking how a former bakery owner and pastry chef could possibly know anything about skincare and the truth is, she didn't, but McLeod did know about food and she applied that same knowledge to the formulation. After a deep dive into her kitchen pantry, McLeod blended the cocoa butter with her favorite base oils—sweet almond, apricot kernel, avocado, and fractionated coconut—and after two years of experimenting she finally created "skin food" aka the Body Stone. The delicious look of the stones was also made by hand in collaboration with a local sculptor to ensure it fits perfectly in the palm of your hand.
But the real beauty of McLeod's products is her intentionality, ritual, and self-care practice that's infused into the brand's DNA.
"Applying a Body Stone is like putting on armor, a self-care body shield," she writes. "It's magic. Confidence boosting, power-fueling magic. And that is what this is all about."
We caught up with the inspiring McLeod to learn more about her own morning routine, how it's changed during quarantine, and why a slow and steady approach each a.m. always wins the race.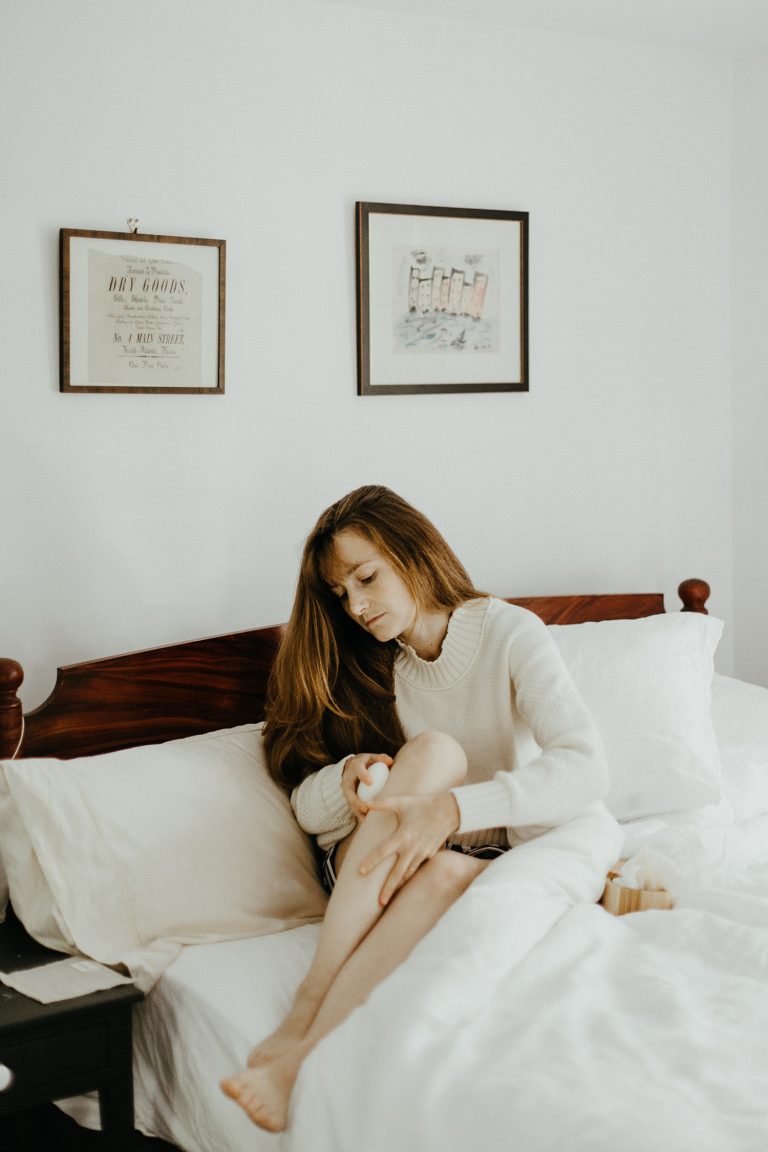 What does a typical day look like for you?
I'm normally awake around 6:30 am but stay in bed till 7 am for a solid eight hours a night. The first thing I do is cuddle up to my husband. Mornings are busy. They always seem to start slow and then disappear. I try to squeeze in a little time on my mat between coffee, pancakes, chocolate milk bottles, and playing with trucks.  Our son Ollie, 19 months, is a truck aficionado. I'm at my desk a little before 10 am to check emails and start the day. I block out a couple of hours in the afternoon for quiet work or creative time. Above all else, I am a maker but it takes a while to get a recipe right. I'm constantly iterating on my formulas, trials, and tests. I love days when I end up in an apron getting my hands dirty.
I finish up around 5 pm, put Ollie to bed by 7 pm, and then we cook dinner or order in. Justin gave me a sous vide machine for Christmas and I am obsessed—brisket is up next. Working from home has definitely been the silver lining of the past year. I love being able to pop in and see Ollie throughout the day and I'm so grateful for all the meals we've shared as a family. In the evenings, Justin and I take time to connect. We talk, we dream and sometimes we binge on a new show. My goal is to be in bed before 10 pm—it doesn't happen often but when it does, it's bliss.  
What does your morning, pre-work routine look like?
Ollie is a very particular little man, and, amazingly, he loves his sleep. I wake up, slip into sweats, tiptoe past his room, head down the stairs, and turn on the kettle for decaf coffee. I love the taste of coffee but I can't handle the caffeine—it makes me anxious. Cup in hand, I head to our basement "gym." I have to move my body. I split an hour between my mat and cardio listening to The Daily and catching up on personal texts. I haven't been journaling recently and I miss it—I'm going to try to wake up earlier as summer sets in and add that back into my routine. Putting pen to paper is so grounding—it helps me to slow down and breathe.
By 8 am, I'm heading upstairs to greet Ollie with a warmed bottle. We cuddle, we throw our pacifier into our crib, we give high fives, and we head downstairs to make breakfast. We're super into easy pancakes at the moment—they're a quick mix of bananas, applesauce, eggs, oat bran, Spelt, and nut butter. I add a full tablespoon of baking soda to make them extra fluffy and sprinkle in other treats. Ollie and I eat together, Daddy makes a smoothie and we dance to the rhythm of the Vitamix… then I head upstairs to wash my face and get ready. If I have time, I'll make hot cocoa blitzed with ashwagandha, maca, and collagen. If I had to choose, I would always pick cocoa over coffee.  
I shower in the evenings but my nightly ritual is key to my morning. I do a quick dry brushing and if I'm really pressed for time, I just focus on my favorite parts: my bum and the backs of my thighs. Our dry brush is a horsehair and sisal mix, a little bit softer than most, but just the right amount of strength to get the blood flowing. Then I hop into a hot shower or bath—the perfect calming juxtaposition to the brush. After drying off, I reach for my Stone. It literally glides across my hot skin. I massage it in, brush my teeth, and hop into bed. I love the trifecta of dry brush, bath, and body stone. Brushing preps my skin (remember, your skin is your largest organ!) to absorb all the nourishing vitamins and minerals in the Body Stone. Cocoa Butter is the best thing you can put on your body. Do this and I promise healthy, glowing, supple skin in the morning. Skin that is glowing and ready for the summer sun.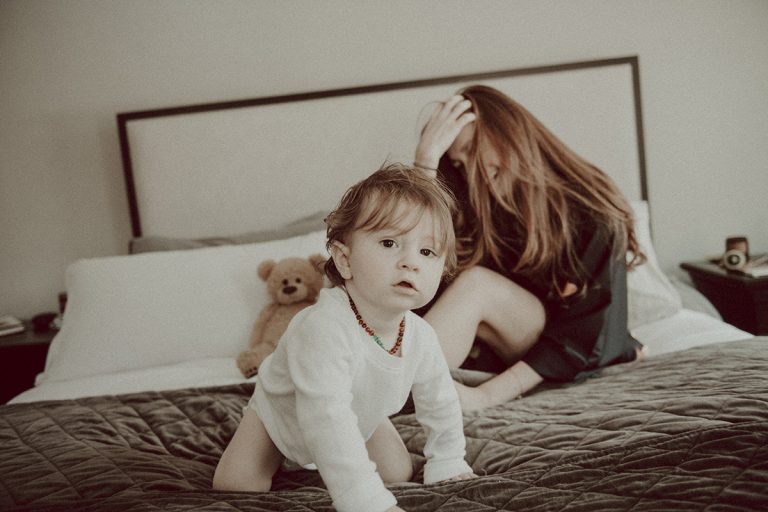 How has your morning routine changed during quarantine and why?
I didn't have much of a morning routine pre COVID.  Frankly, I was six months postpartum when this began and was being incredibly hard on myself. I look back now and think, I had just given birth. But at the time I thought I should have had it figured out by then. Before Oliver arrived I journaled, went to a barre class, and made all different types of adaptogenic lattes… with a six-month-old, I had trouble figuring out how to balance breastfeeding, bonding, getting ready, and a morning commute.
Working from home ended up being such a blessing. We came upstate last March and immediately things felt more manageable. I started getting back on my yoga mat and the time that had been dedicated to commuting became time for Ollie and me to take a morning walk. My routine evolves as Ollie grows—right now, he's the guiding force. My workouts are shorter, my "getting ready" is much more rushed, but the cuddles, giggles, and dance breaks are worth it. 
Describe your morning beauty routine from start to finish.
I keep my mornings very simple. I start by washing my face with water and a washcloth—nothing else! I'll brush my teeth with Tom's Toothpaste, spritz my face with Herbivore's Rose Hibiscus Hydrating Mist (I love this stuff) and finish off with a face balm I've been formulating for the brand. (It'll be coming later this year, and I can't wait to share it. It's truly my favorite product I've ever created.)
I don't really wear makeup, but I'll add a light dab of Atelier Westman's Baby Cheeks Blush Stick to brighten up my face for the constant Zoom calls. My co-founder Nichola gifted it to me, and it's the best. From there, I focus on my hair, running a comb through my brows and a brush through my hair. From there, I'm good to go!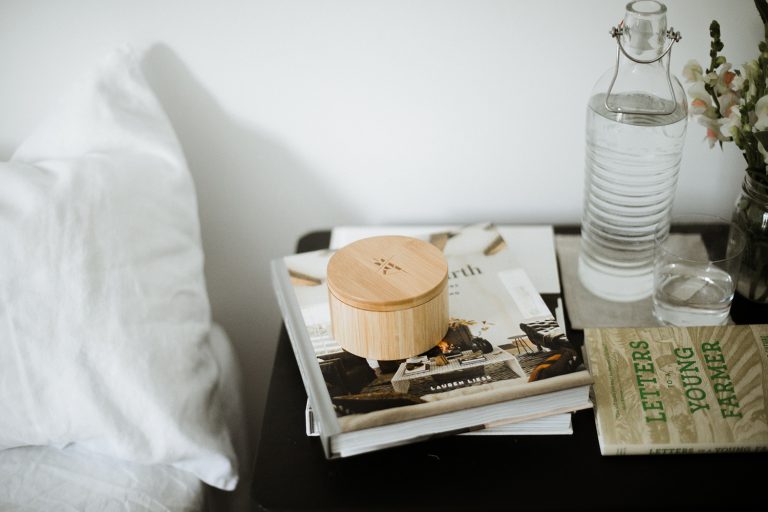 What do you always have on your nightstand to ensure a smooth, successful morning?
A bottle of water, a Body Stone for my elbows and heels, and a handful of crystals. My phone is purposefully never on my nightstand. 
What are your morning media rituals?
The Daily—this was a COVID adoption. When the world shut down last year, my husband and I started having breakfast together—we'd sip our mugs and listen to Michael Barbaro. There was so much uncertainty and anxiety over what was happening, but those mornings were special—we had never shared so many breakfasts.  The Daily reminds me of those cozy mornings.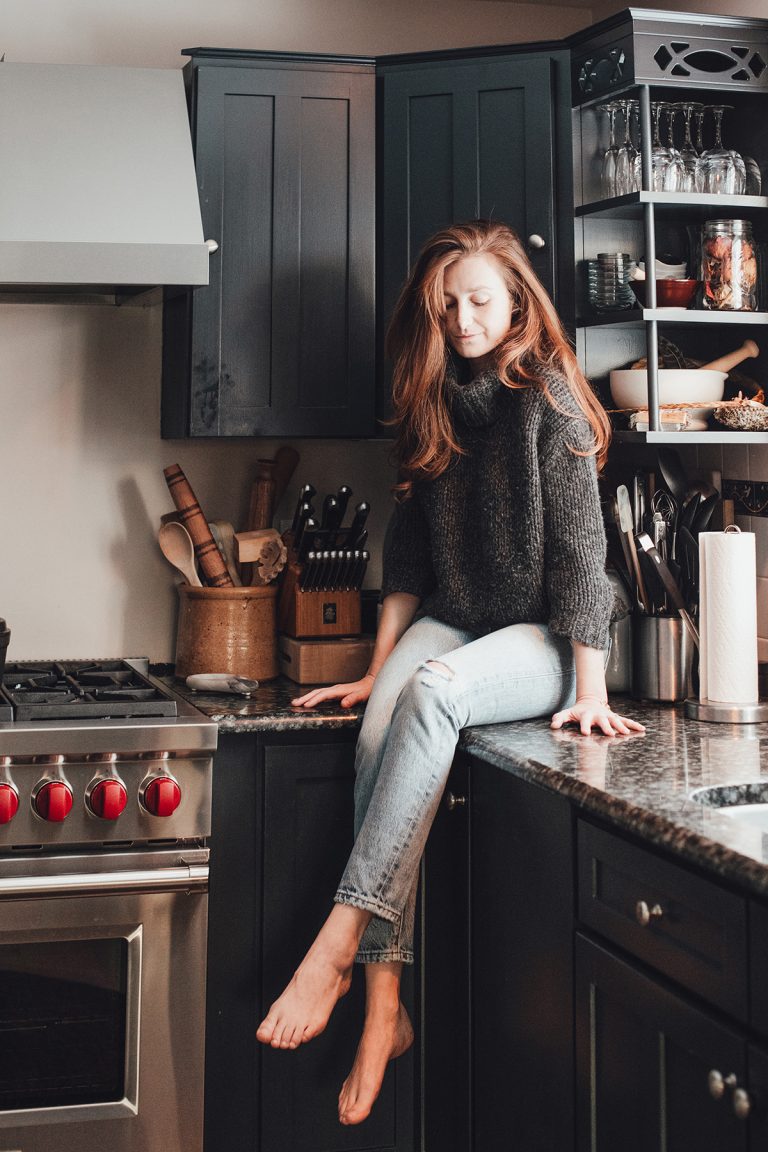 Do you work out in the morning?
I try to get in a full hour—30 minutes on my mat, 30 minutes of cardio. I used to teach yoga so I often move through my own flow but if I'm looking for targeted action, I turn to Melissa Wood Health or Physique 57. I started going to Physique when I first moved to the city in 2008. It never ceases to be challenging.  
What's your daily uniform? How has that changed during quarantine?
Like everything else, this ebbs and flows. I aim for putting on pants (not yoga leggings) or a dress/romper—I love onesies. My other love: turtlenecks. I recently purchased an array of thick-framed blue light blocking glasses. Turtleneck, jeans, glasses, a top knot, and a coffee mug.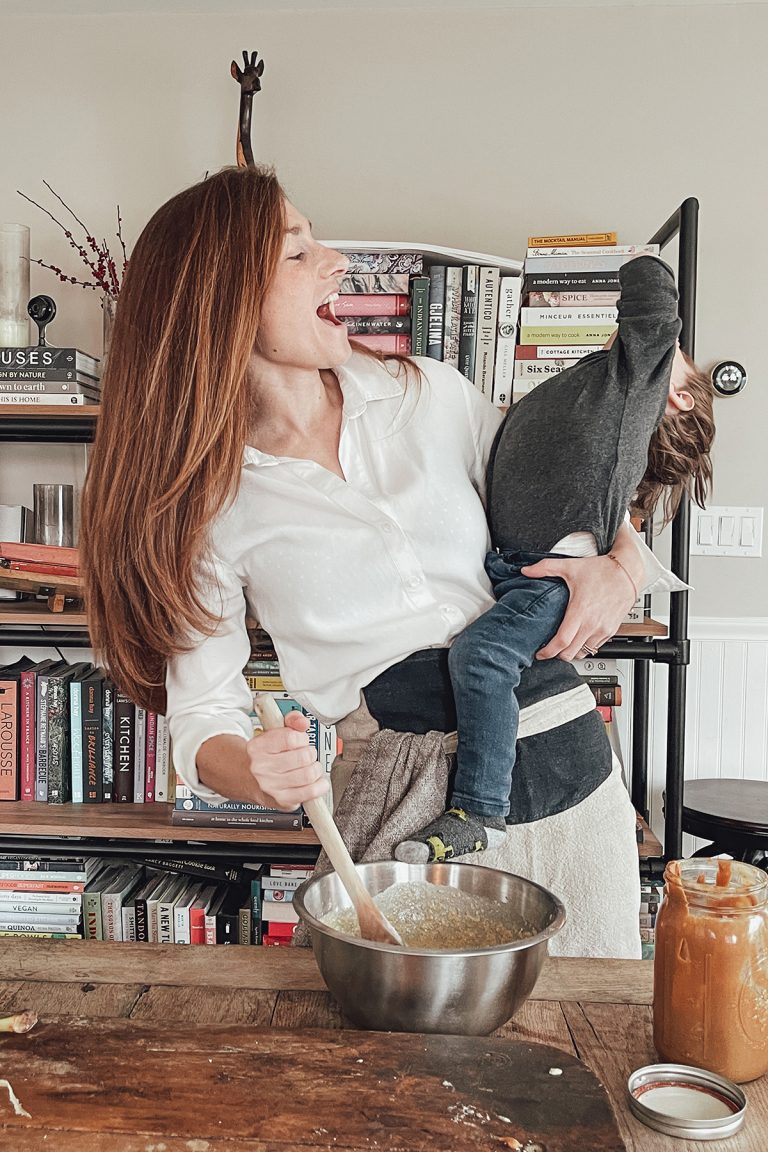 What's your favorite getting-ready soundtrack?
Currently, we listen to a lot of Moana in the McLeod household and it's amazing—We Know the Way is my favorite track. 
If you had one extra hour every morning, how would you use it?
Journaling and meditation. 
What are one or two things you do every day to live a more present, mindful, joyful life?
I move my body. I text a friend. I connect with my husband. I laugh and play with Ollie. And, of course, I use a Body Stone to spend some time connecting with myself.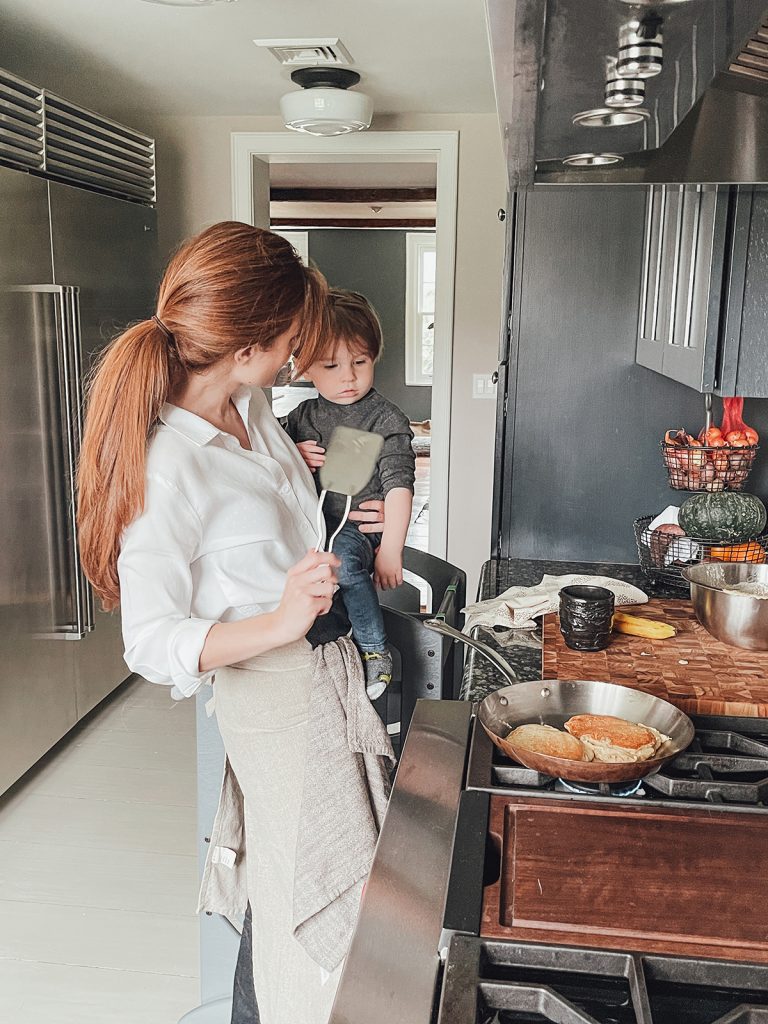 If you could pin your success down to one thing or one moment, what would that be?
I keep showing up. I am committed to trying. If you keep showing up, if you keep trying, you will keep learning, and things will keep progressing. 
Sentence Finishers:
I never leave the house without my… mask.
If there were more hours in the day, I would… go for a run or dance and cook a meal.
Healthiest morning habit… waking up and connecting with my husband before looking at my phone.
Worst morning habit… looking at my phone.
One thing I want to be known for is… warmth.
The one thing I fear the most is… being left out/abandoned.
When I feel that fear, I… feel it intensely in my throat and chest—it can be paralyzing. Sometimes I react but my practice over the past few years has been recognizing and feeling the fear. When I am aware enough to catch myself living out a fear strategy, I ask myself, what is the most courageous thing I could do right now?  Sometimes that means just taking a breath. Fear is the precursor for courage and courage is the antidote.
The book I always recommend is… it changes, but it's currently Conversations with God.
The 3 traits you need to succeed in life are… showing up, listening, and love.
Bath or shower? And what's your favorite shower/bath product?… Bath, a million times over. My ritual: dry brush, bath, and Body Stone.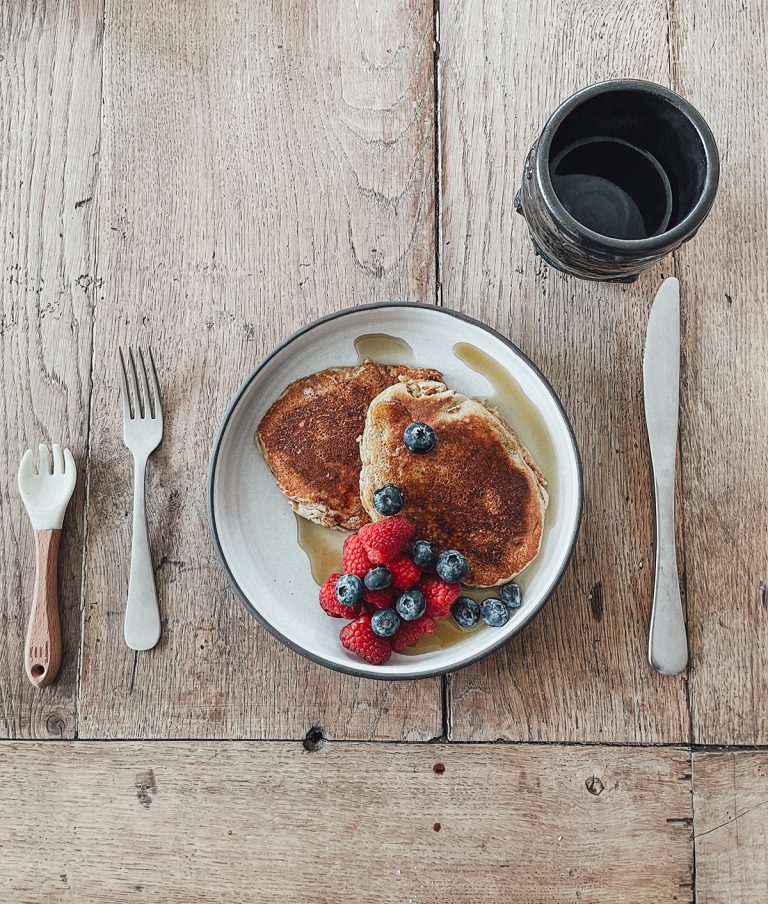 Kate McLeod's Easy, Healthy Pancake Recipe:
Ingredients:
2 large, ripe bananas 

2 heaping spoonfuls of applesauce

2 large eggs

¾ to 1 cup  of oat bran or quick-cooking oats

1/4 teaspoon kosher salt

1/2 teaspoon ground cinnamon 

1 tablespoon baking powder – yes, a full tablespoon – this makes them super fluffy!

½ cup to 1 cup Spelt  or whole-wheat flour (I add more the more applesauce I use)

A few tablespoons of nut butter

Milk, dairy or non-dairy, if needed 

Coconut oil for the pan
Directions:
Mash the bananas, add in the applesauce and eggs, mix to combine. Mix in the dry ingredients. Add a little milk if needed (you might need 2-5 tbs) I use oat milk. Heat up your pan, keep it medium to low, and remember to let the pancake sizzle until little air bubbles start popping through, then flip it. Serve with maple syrup and berries. 
Loved this post? Pin this graphic to come back to it later.