Up next, beauty expert and digital creator Anna Groves' morning routine.
When I first discovered Anna Groves' Instagram account, I kinda fell in love. There's a realness and relatability that comes through on her channels—which can be hard to achieve when the imagery is so undeniably beautiful. Not only does Anna have an incredible aesthetic and an obviously huge heart—her Reels (about life as a mother to four teenage sons, or keeping things sexy with her husband of over 20 years) make me laugh, and they also inspire and challenge me.
It's no easy feat, especially in a digital media world where it can feel like there's a race to put out content fast. But Anna stays focused on the mission that brought her online in the first place: to nurture her audience as they grow into the best versions of themselves while strengthening their relationships with others and with God. And if they discover some amazing new style tips along the way? Bonus.
So, a little background: Anna started her blog to share her expertise around the things she loves: her tips on beauty, home, lifestyle, and wellness feel like recommendations from your (very savvy) best friend. What I love about Anna's site is that there's real substance around everything she shares. Since I've been wanting to know more about this beauty, I asked if we could peek inside a morning in the Groves' home and she (along with a couple of willing family members) captured it to share here.
Scroll on for Anna Grove's morning routine that sets her up for an inspired day, including the recipe for her veggie and egg scramble—now, that's my idea of the perfect breakfast.
What time is your wake-up call? 
I wake up between 5:30 and 6:00 am during the week, depending on when I went to sleep. I usually try to get at least seven hours—that is when I feel and look my very best!
What's the first thing you do when you wake up?
I reach for my jug of water. I always fill it up and set it next to my bed the night before so that I start my day with water first.
Walk us through Anna Grove's morning routine, before you start work. What rituals set you up for success?
I turn on music, read, journal, and pray while having a cup of black coffee. I journal what I am grateful for, five great things that happened yesterday, and I write out my prayers and worries.
Keeping a pad of paper next to my bed is helpful for better rest. Rather than worry, I can write down anything that comes to mind and then forget about it.
What do you always have on your nightstand to ensure a smooth, successful morning?
Water, glasses, journal, Bible, and a fine sharpie pen.
How has your morning routine changed during quarantine?
Since quarantine I've been getting up a little later, so I've shortened my "getting ready" routine—mainly fewer steps in my makeup routine where I'll go without it, or I'll narrow it down to just three simple steps.
Describe your morning beauty routine from start to finish.
I cleanse my skin in the shower, then always layer vitamin C. I add a face oil and either Hyaluronic Acid or moisturizer depending on how my skin feels. And I never go without sunscreen. Everything goes on my face, neck, chest, behind my ears, and the back of my neck!
If I'm wearing full makeup, I apply a primer, foundation, concealer, powder, highlighter, blush, shadow, brows, liner, and mascara. If no makeup, I usually use a glowing primer and a little concealer on my blemishes.
What's your favorite getting-ready soundtrack?
Maverick City Music or 90's R&B.
What do you eat for breakfast? 
Typically I will throw together a quick egg scramble with sautéed veggies and Cholula hot sauce (scroll to the bottom of the post for the recipe!) If I need extra carbs for running, I'll add some roasted sweet potatoes.
What are your morning media rituals?
First, I don't watch the news. Instead, I choose specific times to check non-sensational news websites like Reuters or AP, and always when I am not feeling emotional.
That way, I am not pulled every which way, and I don't have to carry the weight of emotions that are not my own throughout the day.
I have more control over what my eyes and ears take in and I decide what that is rather than being led by endless TV chatter. I try to check my email and then Instagram DM's after my morning routine.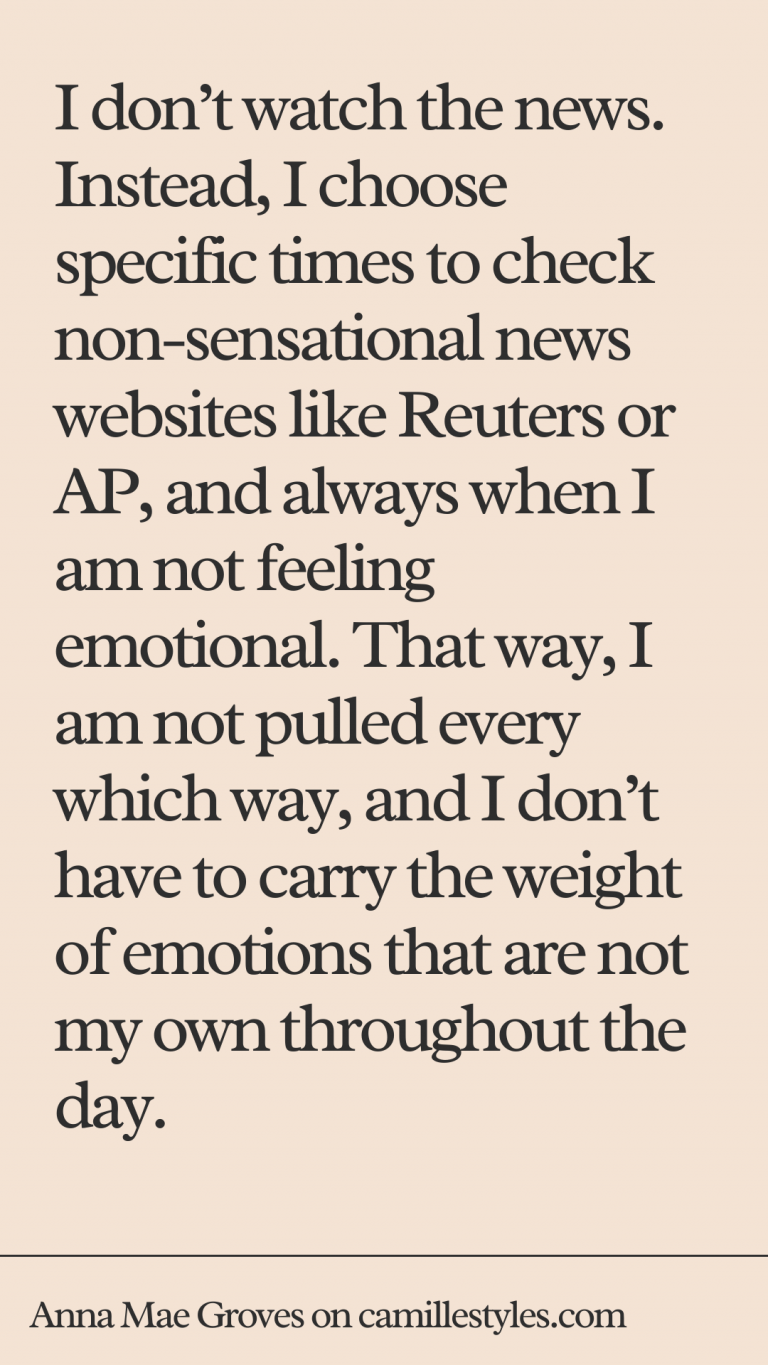 What are your favorite books?
Telling Yourself the Truth by William Backus
Anonymous by Alicia Britt Chole
What are your favorite websites / Instagram accounts to shop, search for ideas, or get inspired?
Fashion: Candace M. Reed, Natalie Borton, Tayla Santos
Food: All the Healthy Things, The Defined Dish and The Primal Gourmet.
Home/ DIY: smashingdiy, dwellaware, AngelaRoseHome and Urbanologydesigns
What's your daily uniform? How has that changed during quarantine?
At the beginning of quarantine, I found myself in pajamas and sweats a lot. But I found that getting dressed and doing my makeup gives me energy and helps me accomplish more during the day.
Do you work out in the morning? 
I like to run first thing in the morning, however, this winter has been particularly cold so I have been waiting until it warms up a bit on some days. I usually run four to six miles a day, four to five days a week.
What are one or two things you do every day to live a more present/mindful/joyful life?
Time for our rapid-fire round…
I never leave the house without ____.?
My reading glasses and lip balm (and a mask!)
If there were more hours in the day, I would____.
Read more.
Healthiest morning habit____
Worst morning habit____
Snooze button
One thing I want to be known for is ____.
Being kind.
The one thing I fear the most is____.
Not being prepared for the future.
When I feel that fear, I____.
Write out goals and steps to achieve them.
The book I always recommend is____.
Anonymous by Alicia Britt Chole
The 3 traits you need to succeed in life are____. 
Humility
Persistency
Self Awareness
Bath or shower? And what's your favorite shower/bath product?
Shower. Dove Bar Soap!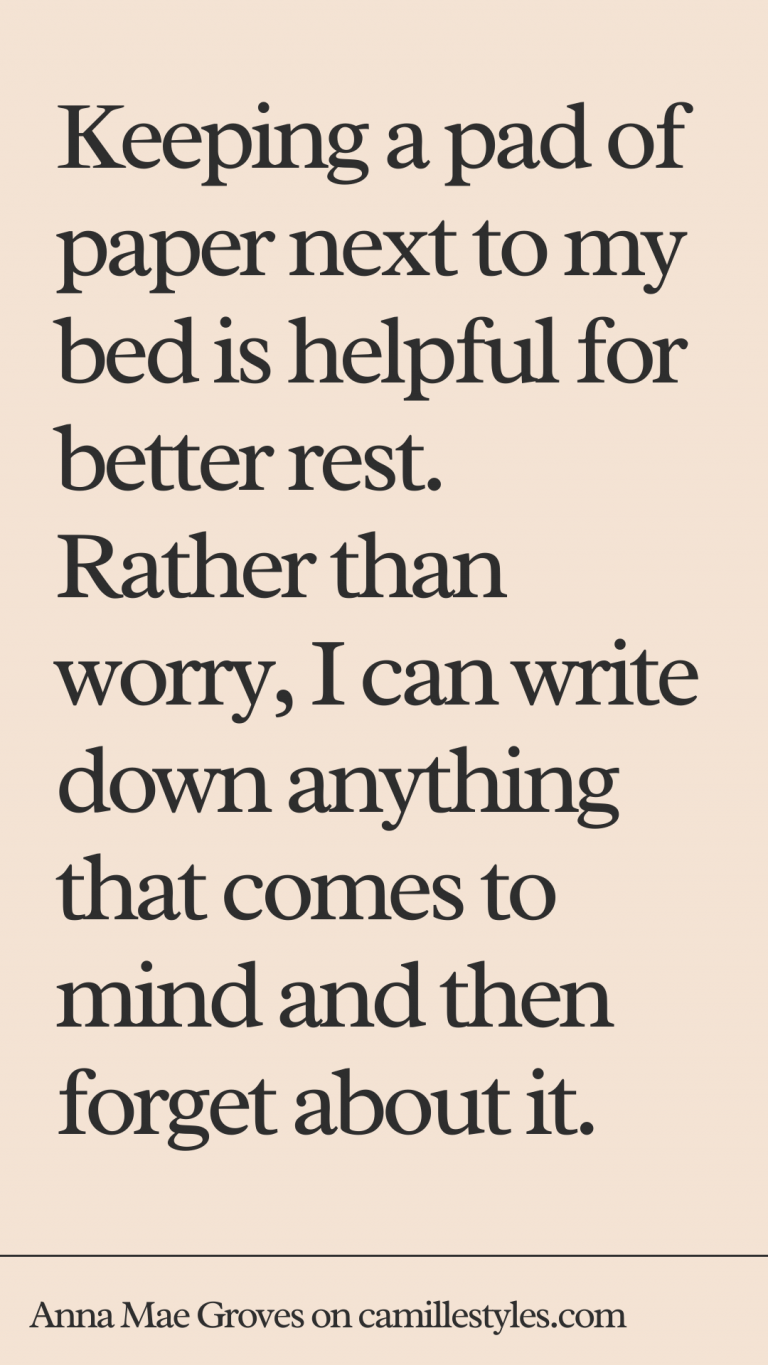 by Anna Groves
---
Ingredients
1/2 onion, diced
1/2 red bell pepper, diced
Handful of spinach
4 strips uncured, sugar/nitrite-free bacon
4 eggs, beaten together
salt and pepper, to taste
---
Instructions
On medium heat, cook bacon until crisp (about 3-4 minutes each side)
Remove bacon and drain fat, leaving a little in the pan.
Add onions + red pepper, and sauté until softened- about 3 minutes. Meanwhile, chop up bacon.
Crack eggs into pan.  Swirl and gently fold until almost cooked through.
Turn off heat, stir in spinach and bacon. Salt and pepper to taste.
Optional: Top with avocado and your favorite hot sauce (mine is Cholula) and serve with berries.