Not sure about you, but at the end of the day, the last thing I want to do is tackle a 12-step skincare routine. Of course, I want the healthy glowy skin of someone who takes really great care of theirs, but I simply don't have the energy for more than three or five steps, max. How about you? I also started to integrate clean, non-toxic products into my everyday routine this year which, honestly, has made sourcing good skincare a little more of a journey.
Luckily, there are some skincare experts who teach that less really can be more. Turns out, a basic skincare routine might just be all you need.
Thankfully, this simplified mantra was affirmed when I met facialist, Christina Jett of Christina Jett Skin earlier this year at Restore + Revive in Fort Worth, Texas. What makes Jett so unique is her holistic approach—she looks at the person as a whole, not just at what's happening on the surface. Her approach is restorative and natural, using all organic, plant-based products combined with a personalized massage—it's all about healing from the outside in, and the inside out. 
Editor's Note: While we do include more than five products in this story, you certainly don't need to purchase all of them. We wanted to provide different options for each of the five categories of a basic skincare routine. Which one you choose is up to you and your skin type, concerns, and goals!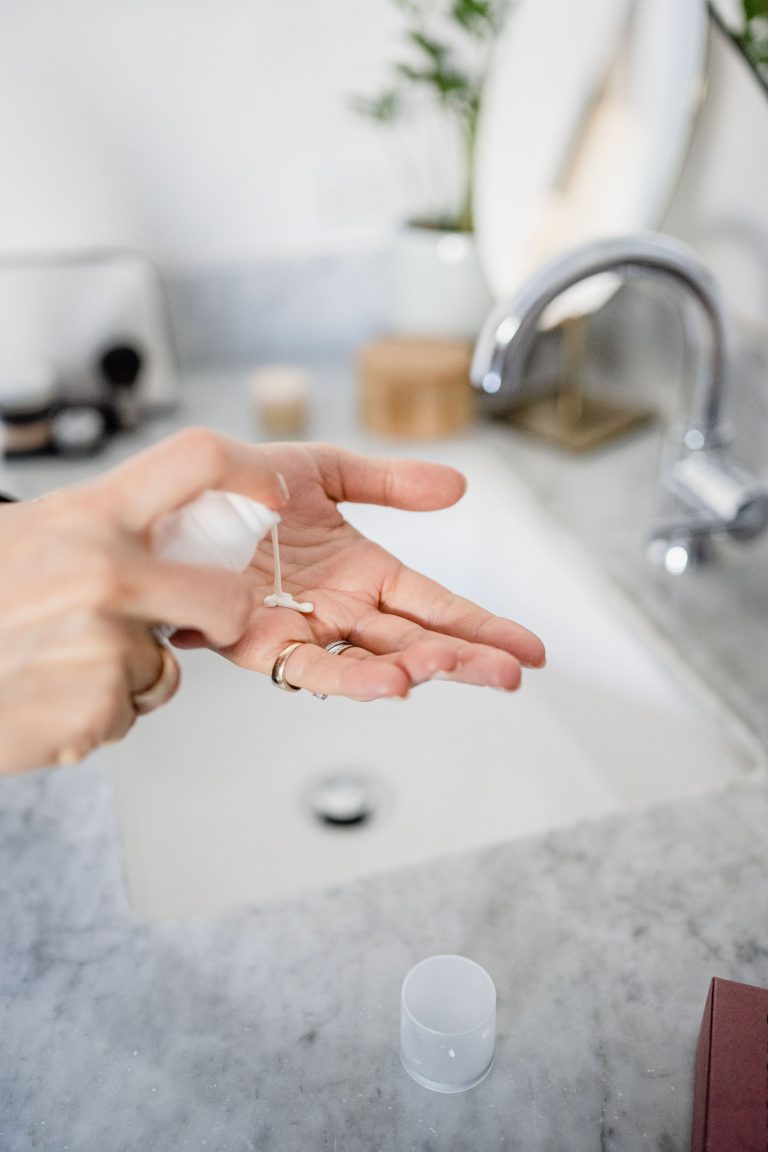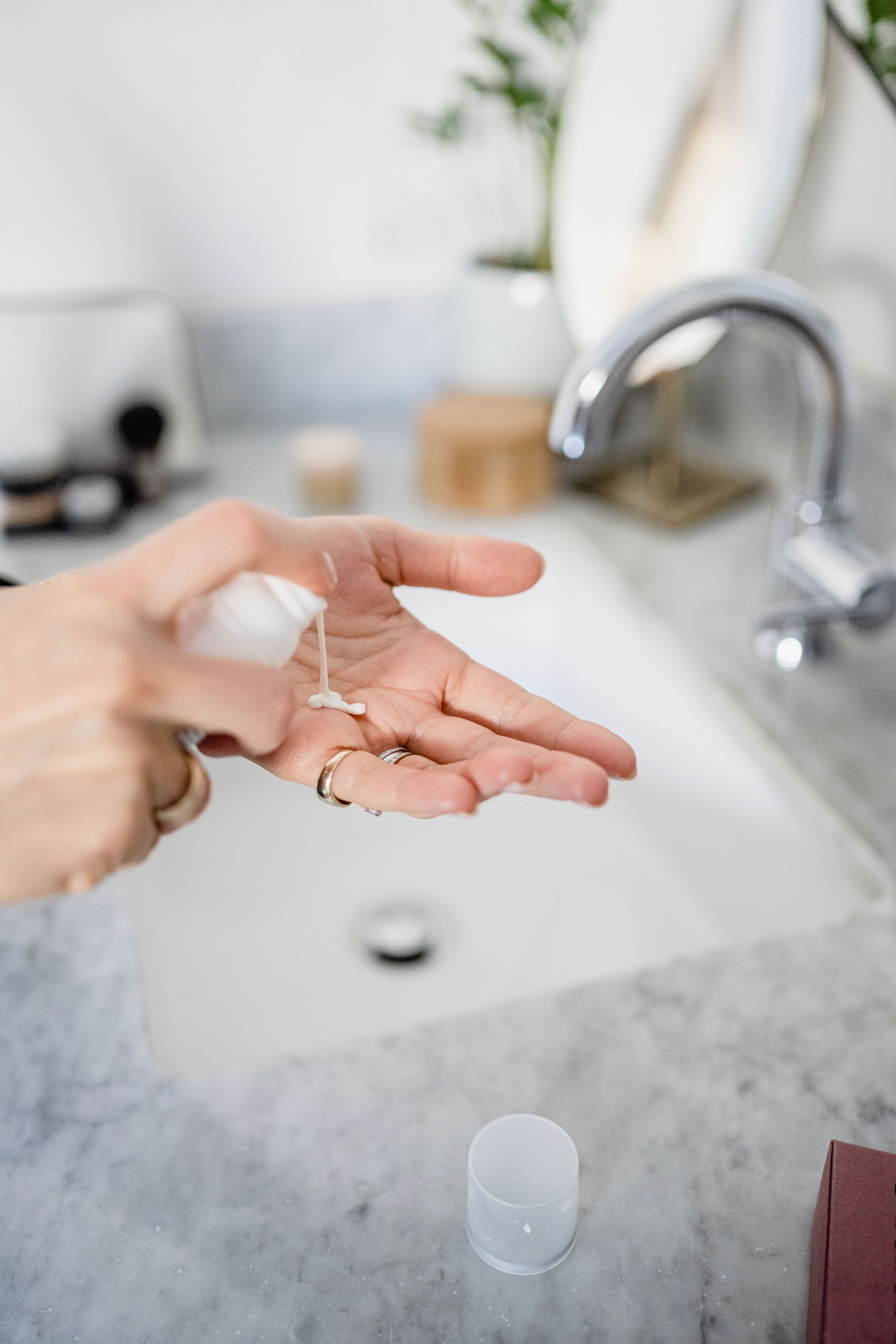 What are the benefits of a basic skincare routine?
It's safe to say, our skincare routines have gotten a little out of control with the number of products we're using. According to Jett, this can actually damaging to the skin barrier. She believes our focus needs to be on feeding the skin, not depleting it with too many acids, etc. "The skin must have oil, water, perspiration, and our own unique microbiome on the surface to be healthy," Jett notes. "I believe that using plant-based, phytonutrient rich products (while keeping the routine simple) is the best way to achieve this." 
Two of the most important products are a person's cleanser and their sunblock. Jett says cleansing gently thoroughly prepares the skin for the rest of the nutrients that are applied in the routine. Also, if the skin's microbiome/microflora is disrupted even slightly, over time it can cause skin conditions that could be so easily avoided.
While cleansing sets the important tone for the rest of the routine, Jett stresses the importance of sunblock to protect all of your hard work. "I am all for getting a little unprotected sun for the Vitamin D, but after that initial 10-20 min, using a mineral based sunblock (instead of chemical sunscreen) actually is the biggest thing we can control in the journey to have our skin age well," she explains.
What does an ideal basic skincare routine look like?
Cleanser

Toner

Serum

Oil or Cream

Sunscreen

Bonus: Exfoliant to use 1-2 times a week, as needed
Jett's 5-Step Basic Skincare Routine:
Step 1: Cleanser
Your cleanser sets the tone for the rest of your routine. It's important that your skin is free of all dirt and debris before putting anything else on it, or else it can get trapped in your pores. One of my favorite things I've learned from Jett is "don't take the streets to your sheets." Cleansing at night is so important for a healthy microbiome.
This is a gentle lather cleanser that provides a rich dose of antioxidants to reduce inflammation and keep skin balanced. Goldenseal and chamomile extracts offer antibacterial and anti-inflammatory healing, and plant-based hyaluronic acid hydrates and nourishes the skin.
Tips for use: Be sure to spend a good two to four minutes cleansing the skin at the sink with tepid water. Shower water can be too hot and dehydrating for the skin on the face. Really use your hands to do circular motions  and remove dirt and make-up. When heavy make-up has been applied it might be necessary to use a microfiber cloth OR first cleanse with an oil cleanser.
This cleanser is microbiome Friendly and essential oil free, which effectively removes debris, sunscreen and make-up without stripping the skin of its protective oils. It is rich in Omega-6 oils that actually penetrate the pores and break up congestion in the follicle. Another powerhouse ingredient is SOD or Superoxide dismutase, a very powerful antioxidant that protects against damage to the skin cells' lipid barrier.
Tips for use: This can be used to remove make-up as a double cleanse or alone, is great for all skin types including very sensitive or reactive skin. Shake well and dispense one pump into clean palms. Apply to skin and work in circular motions adding water as needed to add slip.
This cleanser is the consistency of an oily gel and only has two ingredients. The plant in this cleanser is soapberry extract, which is naturally packed with amino acids, phenolic acids and amines. All of these work in synergy to remove all traces of dirt without disturbing the skin's natural oils and moisture essentials for hydration.
Tips for use: This is best used with the microfiber cloths listed below. It should be used twice a day in order to build antioxidant protection, strengthen the barrier function, and promote healthy skin microbiome.
These clothes are washable and reusable. They are a great alternative to disposable makeup removers. Activated by water, the fibers target particles and draw them away from the skin's surface. The small square shape makes them easy to remove eye make-up gently and effectively.
Step 2: Toners
Toner is an important second step, as it further cleanses your pores, and then tightens the appearance of them. It also can improve skin texture and radiance, if it's the right one. The following toners are all natural and plant-based, making them more gentle on the skin. This step quite literally sets the tone for the following products by giving the skin one last deep clean and smooth-out.
This unique and award-winning tonic rehydrates and rebalances the microflora and skin pH with the two brilliant key ingredients: Beta-glucan and d-panthenol. 
Tips for use: Shake this directly into clean hands and work it into dry skin after cleansing. 
This toner balances the skin's pH after cleansing and keeps the skin hydrated and soothed with rose hydrosol and plant based hyaluronic acid.
Tips for using: This may be applied before serum by spraying into hands and working into the skin. Pro-tip: keep it in the refrigerator and spritz during the day throughout the warm months. It's so refreshing.
11 of 29
Step 3: Serums
Serums are thin, highly-concentrated products designed to deliver ingredients to the skin deeper and faster. Putting it on clean skin is important so that all of those active ingredients have a place to go. When used correctly, serums can protect your skin from future damage, restore past damage, and soothe any sensitive areas. However, it's important to 'lock in' a serum by following it with a moisturizing face oil or cream, which is discussed more deeply in step 4.
Restore serum is the first of its kind. This product is cold-pressed using a technique that allows the whole plant to be extracted without using heat. This also makes it a water soluble product that the skin can easily assimilate. And it only has two ingredients. The finger lime extract naturally contains ferulic acid, which is a powerful antioxidant that destroys several types of free radicals and helps prevent sun damage. It also naturally includes tryptophan, a potent amino acid that helps lock in moisture and promotes healing, and vitamin C, which helps heal sun damage and boosts collagen production. This product line is one of Jett's favorites and she is proud to be one of the first to import it from Australia.
Tips for use: Use after cleanser and work one pump into your skin with your hands, prior to a face oil. For the first week, use it once a day (you can choose either morning or evening) and do not put anything on afterwards. After the first week, use twice a day and continue using your face oil afterwards. 
Jett loves this serum because it is a gel consistency that is ultra light, but very hydrating. This is due to two molecular weights of plant based hyaluronic acid that is suspended in a base of soothing and hydrating aloe vera.  
Tips for use: This should be used after cleansing and worked into the skin prior to using a face oil or moisturizer. It is also lovely as a final layer over make-up to give the skin a glow.
This serum reduces the appearance of fine lines by hydrating the surface of the skin with the help of plant based Hyaloronic acid, and the anti-inflammatory properties of Rose Geranium.
Tips for use: Apply AM and/or PM onto clean skin. Feel free to layer on any moisturizer afterwards.
Step 4: Face Oils or Creams
Jett notes that choosing between a face oil or a cream really has to do with the skin type of the client, which is different from a skin condition. We are born with a certain skin type, so for example, a dry skin type would need an oil on top of a water soluble serum. "I believe that creams are nothing but suspensions of oil and water that have to be emulsified and stabilized," she tells me." This also adds a whole lot of unnecessary ingredients that the skin has to work hard to assimilate, etc. and it makes the product more costly too.
"As we age, we actually just need more lipids on the skin to deal with the dermal dehydration (in other words… richer oils). However, I am not completely opposed to creams; some skins do better with them for a number of reasons." 
Sourced From Africa, this organic cold pressed rosehip oil has a unique extract method that preserves valuable lipids, proteins and nutrients required for skin health—this makes it one of the most effective on the market. It works well for sensitive, red, dry skin and has maximum antioxidant potential. It also effectively reduces blemishes and scarring due to the high levels of Vitamin A, E, and essential fatty acids.
Essential fatty acids improve texture and skin tone, encourage healing, and strengthen the protective layer of the skin. Vitamin A helps with the natural cell turn over process, hydrates dry skin, offers antioxidant protection, and brightens skin. Finally, Vitamin E, offers antioxidant protection, can reduce UV damage to skin, hydrates the skin, and strengthens skin cells! At $24 this is a best seller for so many skin types. 
Tips for use: After serum, add three to six drops in your palm and warm with your hands, then press into the skin. Depending on skin type and condition, this can be used AM and PM before sunblock.
This innovative blend of oils calms even the most irritated completions with its unique blend of vitamin and nutrient rich oils. It's like a supplement for the skin as it helps to repair broken-down skin tissue and calm any type of inflammation.
Sandalwood nut (not seed) oil is the crown jewel of this product. It is considered a medicinal oil from Australia that contains Oleic acid and ximenynic acid—a very rare and potent anti-inflammatory ingredient and a superhero for soothing skin.
Tips for use: Dispense two to three drops of oil and press into skin, massaging upwards. This can be used alone or layered over a water soluble serum, or even on top of, or mixed with, a water-based moisturizer.
This product clears and decongests pores while regulating oil production with Omega-6 essential fatty acids. Oils clear congestion for many skin types much more effectively than other exfoliation methods because oil dissolves oil. This one penetrates deeply to break up blockages that other ingredients can't reach. Omega-6 oils relieve that greasy feel by thinning sebum, while Omega -3 oils control inflammation.
The antiseptic effects of the tea tree oil in this formulation are both safe for the skin's surface and are on par with harsh benzoyl peroxide, but it's a plant.
Tips for use: Use three to six drops warmed in palms and pressed into the face and neck, AM and/or PM.
This is my favorite face cream and the main one I recommend to clients. It's the perfect everyday moisturizer. It has been carefully formulated with a blend of oils that gives you a robust and lasting protection without feeling heavy or greasy. The key ingredients are organic jojoba, meadowfoam, and squalene (from olives) oils. The rose geranium is very soothing and anti-inflammatory.
Tips for use: Use a small spoon or clean hands to get a small pea sized amount out and apply to skin after toner and/or serum. This cream is made to order and is meant to be used fresh. You may top it with a few drops of oil or mix it in if needed.
This is a lightweight cream serum that has two types of hyaluronic acid and very nutrient dense fruit and floral oils to hydrate and nourish the skin. The texture is a blend of a cream and serum. It hydrates, soothes, firms and brightens, thanks to the naturally occurring acids and phytosterols.
Tips for use: Place one to two pumps into your hands and apply to clean skin.
Step 5: Sunscreen
Jett believes in using a naturally occurring, mineral-based sunblock, because it sits on the skin and deflects the light by providing a true barrier against the damaging sun's rays. She likes it to be zinc-based and, whenever possible, non-nanoparticle because of the way it is absorbed. 
"The best sunscreen is the one you will actually wear."
So, she tries to have a good selection of textures to help my clients find the one they will wear daily without fail. This last step is the final protective barrier to the rest of the good work you just did for your skin. 
This sunblock is a light shifting solution with SPF 25, broad spectrum facial sunscreen, and moisturizer. This one is the most lightweight option.
This one is an oil drop and comes tinted to balance the white/gray cast that can happen with zinc-based products. Smells great.
This one has quickly become my favorite due to it's lightweight and the way it absorbs. Jett loves that it has green tea in it, as well. It's non-greasy, diffuses redness, and comes in three tints.
This sunblock is the consistency of a bb cream, and some of Jett's clients like the primer effect it has under foundation due to the texture. There are four tints to choose from.
This powder has SPF 50. Jett recommends it for clients that have to re-apply during the day and absorb oil often. 
27 of 29
Bonus Step: Exfoliator
Often Jett has to completely remove this step from clients in the beginning due to over use of products in this category. Sometimes, she suggests they only use Culina Plain & Simple (a great small company based in Austin, TX), or a good quality goats milk yogurt, instead. The naturally occurring lactic acid in the yogurt can gently soften and exfoliate the skin. The probiotics also have the potential to help heal any dysbiosis on the surface of the skin. For other clients with sensitive skin or conditions like Rosacea, a soft wash cloth may even be enough. However, sometimes exfoliants are necessary, and these are Jett's favorites to be used weekly or as needed.
This product gently resurfaces the skin with the combo of rose water and plant based glycolic. 
Tips for use: Apply one to two pumps right after cleansing and before the rest of your skincare routine. Or apply and leave on for two to five minutes if the skin is more sensitive.
This is a nighttime resurfacing treatment that is a great plant-based alternative to retinol, due to the plant called Moth (or Dew) Bean. The added ingredients of glycolic and lactic acid and niacinamide create a perfect blend that instantly smooths skin when worn overnight.
Tips for use: In the evening after cleansing, apply one to two drops and go to bed. It can be topped with a few drops of oil and used up to a couple times a week.
In closing, Jett notes that the skin is smart. It knows what to do with oil and water, so generally, keeping a basic skincare routine is all it needs to be healthy.
Comment your thoughts and share your skincare routine below!