Most of you know by now that the Camille Styles team is all about aging gracefully and prioritizing skin health over products that claim to reverse time. After all, we wouldn't be who we are today without the years we've lived, laughed, and cried (sometimes, all at the same time!). And while we certainly don't want to erase that from our expressions, we do want to take care of the outside just as much as we want to take care of the inside. Wouldn't you agree? Besides, once you look beyond the splashy marketing and take a closer analysis of the ingredients, you'll really that they have been specifically designed to support general skin health as well—the best anti-aging eye creams for 40s, included.
Anti-aging products are often packed with powerful peptides, vitamins, and antioxidants that can help hydrate and nourish the skin which is just what the doctor—er derm—ordered. There's no time like the present to pamper your delicate eye skin and give it the love it deserves.
So, we tapped dermatological nurse and celebrity esthetician, Natalie Aguilar to give us her thoughts on the best anti-aging eye creams for 40s. But before we dive in, she stresses that when it comes to finding the right one, hydration, active ingredients, and consistency are the name of the game. Noted.
Featured image of Inge Theron by Teal Thomsen.
In this article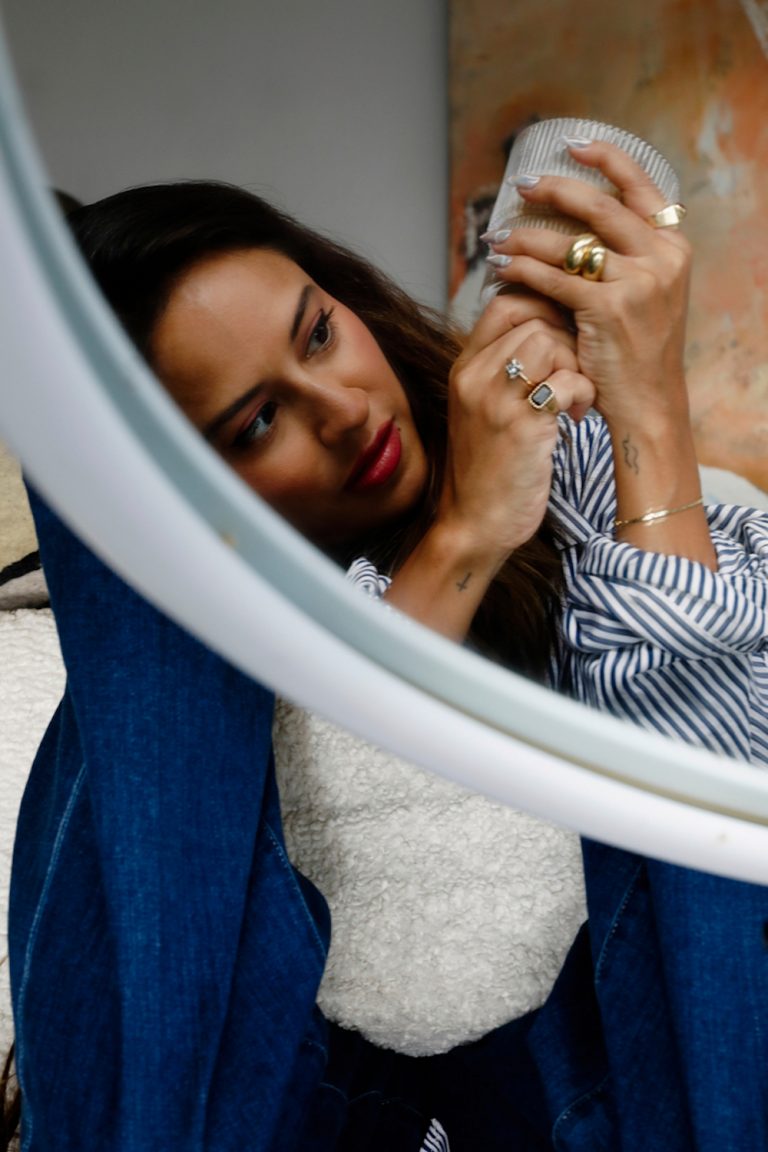 Why is eye cream so important in your 40s?
Regardless of age, we always want to take care of noticeable dark circles, chronically puffy eyes, or other eye-specific issues such as fine lines or sagging. Of course, some of this is genetic, but our eyes can also be an indicator of internal health issues, too. Always consult your doctor or dermatologist if you're unsure.
Once we hit our 40s, Aguilar says eye care is vital for several reasons. This is the time when you lose substantial amounts of elastin, which leads to deeper eye wrinkles. Estrogen levels also start to decline around this time, causing skin to become drier and more sensitive. On top of that, loss of orbital fat becomes more noticeable, which causes eyes to sink in and accentuates droopy eyelids. While our 20s are all about prevention, our 40s are focused on correction. The best anti-aging eye creams for 40s support skin health, reverse signs of aging, and increase firmness, collagen production, and brightness.
The Best Anti-Aging Ingredients
These actives will help smooth and strengthen the sensitive skin around the eye area as well as brighten, firm, and hydrate the skin.
Peptides
Hyaluronic acid
Collagen
Vitamin c
Caffeine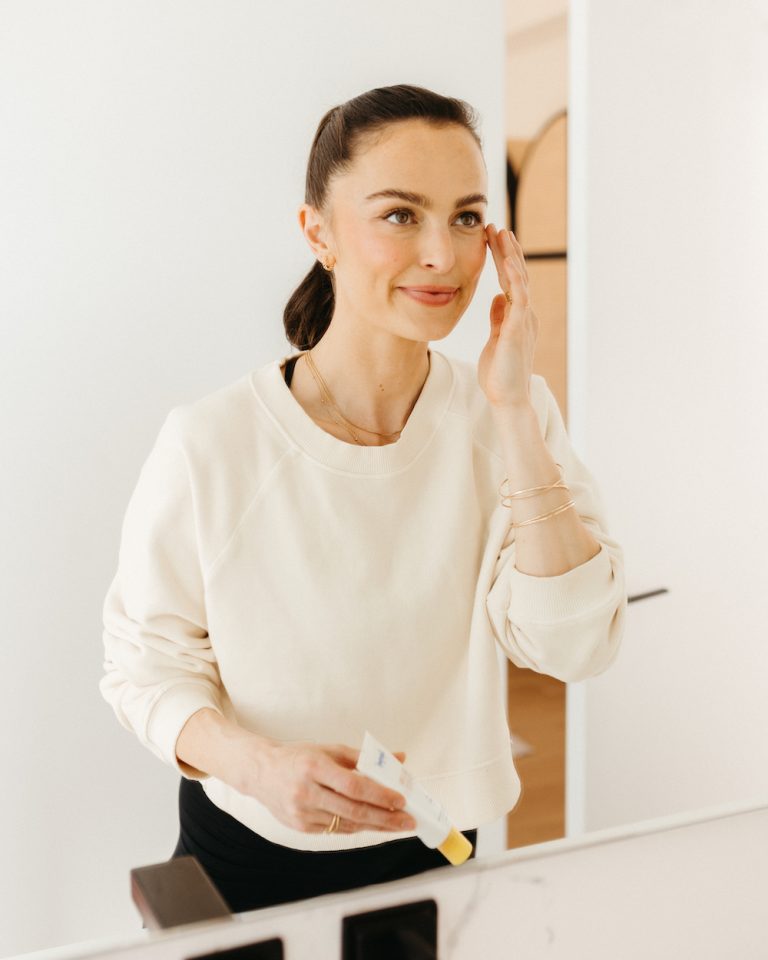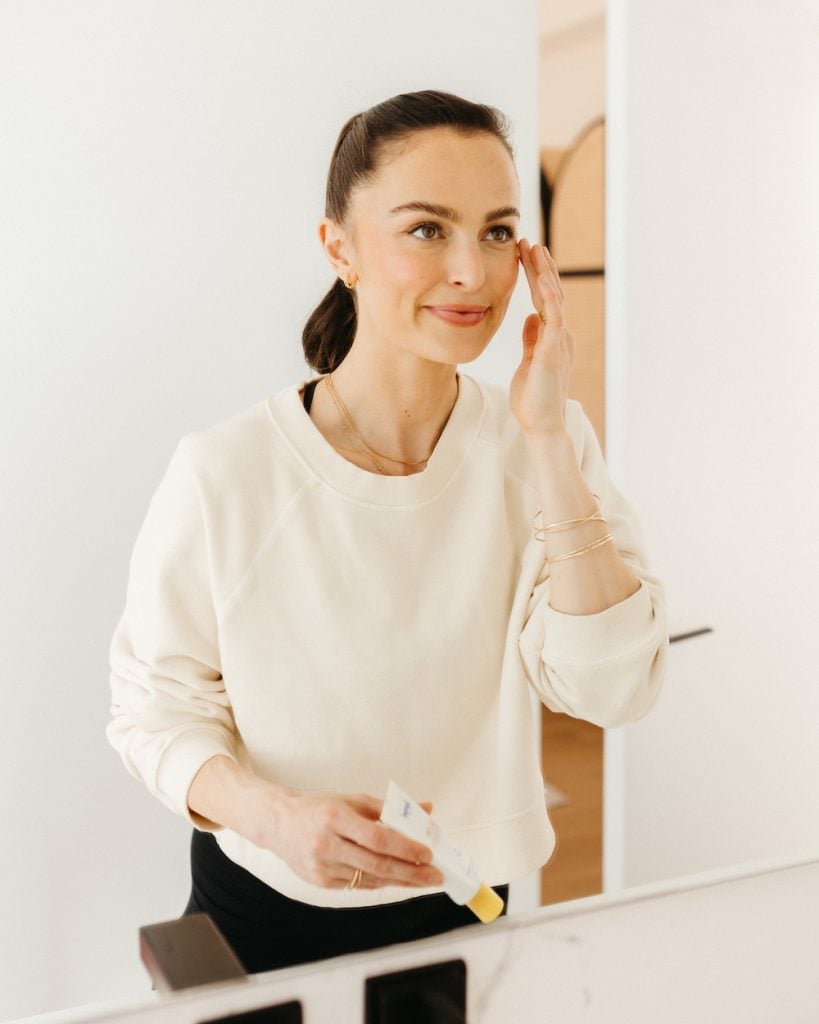 The Best Anti-aging Eye Creams for 40s
Every product is curated with care by our editors. If you buy something through our links, we may earn a small commission at no cost to you.
Best Overall
u003cpu003eOur editor, Caitlin, tested u003ca href=u0022https://camillestyles.com/beauty/summer-fridays-review/u0022u003eSummer Fridays' entire line of viral productsu003c/au003e and she couldn't get enough of their eye cream. While she did say that she wished it offered a little more moisture, she noted that the ingredients—caffeine, vitamin c, and skin-firming peptides u0022were a perfect addition to my morning routine.u0022 Expect significant de-puffing capabilities and to wake up to brighter eyes. That's all we're really after, right?u003c/pu003eu003cpu003eu003ca href=u0022https://rstyle.me/+hjA06cy61i-c7Bpsn6eZugu0022u003eu003c/au003eu003c/pu003e
---
Summer Fridays Light Aura Vitamin C + Peptide Eye Cream
Best for Dark Circles
u003cpu003eThis brightening eye cream harnesses the power of vitamin C to reduce the look of dark circles and improving concealer application. It was inspired by banana powder, a beloved makeup artist secret. It also happens to be an incredibly creamy, nourishing, and hydrating as well. u003c/pu003e
---
Ole Henriksen Banana Bright Eye Cream
Best for Puffiness
u003cpu003eThis lovely cream's black tea complex (made with kombucha, black tea extract, blackberry lead extract, and lychee seed extract) revives tired eyes and works as a powerful hydrating de-puffer. Keep in in your fridge for a cooling effect that also helps to soothe tired skin.u003c/pu003e
---
Fresh Black Tea Age Delay Eye Concentrate
Best for Day
u003cpu003eThis clinically-tested eye cream is formulated with active ceramides and nourishing botanicals, improving skin hydration for up to 72 hours. Its fast-absorbing formula makes it the perfect primer for makeup while keeping skin moisturized as the day goes on. u003c/pu003e
---
Goop Beauty GOOPGENES All-in-One Nourishing Eye Cream
Best With Vitamin C
u003cpu003eTone, moisturize, and firm your eye area with a hydrating eye treatment full of nourishing antioxidants, like vitamin C. This eye treatment not only efficiently combats puffiness, dark circles and other signs of fatigue or stress, but it also prevents and delays skin aging.u003c/pu003e
---
Natura Bissé C+C Vitamin Eye
Best for Overnight
u003cpu003eThis celeb and esthetician-aproved cream was specially developed to target the dark shadows, bags, and puffiness around the delicate eye area. Purslane, golden root, sugar beet and yeast create a soothing de-puffing effect and active omega lipids help the skin to retain moisture.u003c/pu003e
---
Dr. Barbara Sturm Eye Cream
Best with Retinol
u003cpu003eTime-released retinol visibly smooths fine lines and wrinkles while boosting radiance as powerful botanicals reduce the look of dark circles and puffiness. Wake up with viability tighter, firmer skin.u003c/pu003e
---
Charlotte Tilbury Refillable Magic Eye Rescue Cream with Retinol
Best for Sagging Lids
u003cpu003eAguilar raves about this cutting-edge eye cream. It strengthens, firms, and lifts the skin around the entire eye area, including the lid. But best of all, it has optical diffusers that provide instant brightness. So you can treat dark circles, puffiness, wrinkles, and sagging lids simultaneously. What a dream!u003c/pu003e
---
PCA Skin Ideal Restorative Eye Cream
This post was originally published on October 11, 2021, and has since been updated.