Don't get us wrong—we love to do laps around Sephora when trying to find a new skincare product, but sometimes a drugstore pick just feels right. And since we firmly believe that high-quality items shouldn't have to come with a hefty price tag, we've been on the hunt for the best drugstore anti-aging creams on the market. Thanks to the arrival of French pharmacy brands, new technology, and a greater awareness of healthy ingredients, it's very possible to get powerful, effective moisturizers at the local drugstore.
Engaging in self-care is imperative at this time, and even the smallest of daily skincare rituals are the perfect moment to hold space for ourselves. To be honest, we aren't exactly huge fans of the term "anti-aging"—it's one of those slightly problematic phrases that doesn't really articulate our actual needs. After all, getting older is a gift! But that doesn't mean we can't indulge in a little maintenance to keep our skin health in tip-top shape.
That's why we tapped Dr. Nancy Samolitis, MD, FAAD, co-founder and medical director of FACILE dermatology + boutique to give us the low-down on the very best drugstore anti-aging creams and serums. She believes that skincare should be easy and accessible, so we know Dr. Samolitis will have the very best recommendations. They come at a range of accessible price points and are as easy to locate as taking a trip to your local CVS.
1 of 15
Here's what Dr. Samolitis had to say about the 13 best drugstore anti-aging creams we could find:
The Product: Vichy LiftActiv Vitamin C Brightening Skin Corrector with Hyaluronic Acid
Why I recommend it: This serum has a high potency of pure vitamin C (15%) combined with hyaluronic acid to optimize hydration. Vitamin C at this potency works to protect the skin from oxidative stress which can occur from UV light and environmental toxins. I recommend using Vitamin C serum in the morning just before applying sunscreen. — Dr. Samolitis
The Product: Cerave Resurfacing Retinol Serum
Why I recommend it: This product has my favorite combination of anti-aging ingredients—retinol and niacinamide. Because retinol can cause dryness and irritation, combining it with the anti-inflammatory B vitamin niacinamide and ceramides (the hero barrier-restoring ingredient in all of the Cerave products) makes it more tolerable for daily application. In addition, this product has encapsulated the retinol to slow the delivery and has a patented moisturizing delivery system to further reduce the risk of irritation. Finally, it also includes licorice root extract to lighten brown spots from acne or sun damage. I recommend using products containing retinol at night to restore cells. — Dr. Samolitis
The product: Olay Regenerist Retinol 24 Night Face Moisturizer
Why I recommend it: Pamper your skin with this extremely hydrating nighttime facial moisturizer. It's formulated with Olay's powerful Vitamin B3 and Retinol complex that helps to penetrate deep into your skin's surface for overnight regeneration. You'll see visible improvements in fine lines, wrinkles, dark spots, pores, and more.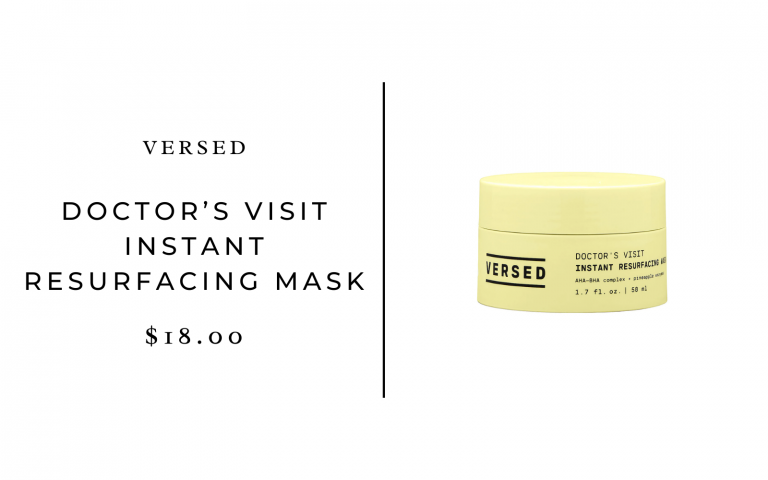 The Product: Versed Doctor's Visit Instant Resurfacing Mask
Why I recommend it: This mask contains a combination of AHAs, glycolic and lactic acid, and BHA, salicylic acid. AHAs dissolve dead skin cells on the surface for increased radiance and BHAs absorb deeper into pores, reducing inflammation and redness. This weekly mask also contains vitamin C and gentle exfoliating enzymes. Regular exfoliation not only improves the appearance of skin with an immediate glow but triggers increased collagen production over time, making the skin stronger and healthier. — Dr. Samolitis
The product: First Aid Beauty Ultra Repair Cream Intense Hydration 
Why I recommend it: If you have dry, sensitive skin then this is the cream for you. It's made with colloidal oatmeal that gives dry skin immediate hydrating relief. It also tackles fine lines, wrinkles, and redness. This nourishing cream is good for all skin types, not just those looking for anti-aging benefits.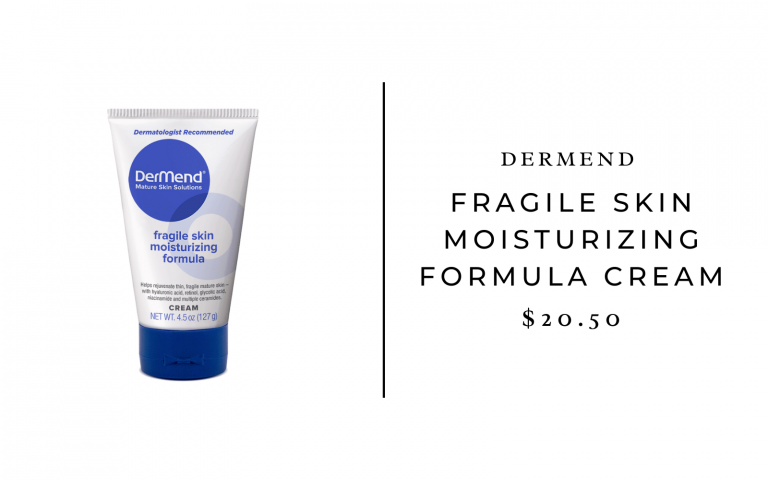 The product: DerMend Fragile Skin Moisturizing Formula Cream
Why I recommend it: This product, marketed for mature skin, contains all of the most potent anti-aging and skin barrier repair ingredients in one. This cream is meant to be used on the easily sun-damaged skin of the body including the neck, chest, arms, and hands. It contains retinol, glycolic acid, niacinamide, hyaluronic acid, and ceramides. Even if you don't fall into the category of "mature" or "fragile" skin, it's an excellent daily product to protect the skin on the body that is susceptible to thinning and easy bruising from sun damage. — Dr. Samolitis
The product: Boots No7 Lift and Luminate Day Cream SPF 30
Why I recommend it: Formulated with No7's Triple Action serum, this cream hydrates, brightens, firms, and evens skin tone. As if that weren't good enough, it has SPF 30 to protect your delicate skin from the sun's harmful UV rays.
The product: Summer Ready Advanced Supplement
Why I recommend it: While clearly not a cream, this is an incredible supplement that provides skin protection from the inside and should be used in combination with topical sunblock and/or sun-protective clothing. The ingredient Polypodium Leucotomos is a plant-derived potent antioxidant that promotes your skin's natural sun defense. It also contains Nicotinamide (similar to niacinamide mentioned in the anti-aging topical skincare products) which has been shown in clinical studies to reduce the number of pre-cancerous skin cells and the risk of certain types of common skin cancers. Finally, it contains a high dose of Vitamin D to provide maximal skin and whole-body health. I recommend two pills daily year-round. — Dr. Samolitis
The product: Neutrogena Rapid Wrinkle Repair
Why I recommend it: This might sound a bit random, but the pump bottle is actually a huge selling point as it keeps the cream free of bacteria. it contains retinol and hyaluronic acid, so it visibly reduces the look of wrinkles, fine lines, and dark spots. The combination of retinol SA and glucose complex targets wrinkles and skin tone, making skin look younger and healthier in just one week. No wonder it's a cult-fave product!
The product: La Roche-Posay Anthelios 50 Tinted Mineral Sunscreen
Why I recommend it: The list of anti-aging creams wouldn't be complete without sunscreen! Daily exposure to UV rays is the number one cause of the changes we see in aging skin. If you don't believe me, compare the skin on your face, arms, or chest to that on your butt. Go ahead, I'll wait. This sunscreen has a high SPF of 50 and is an ultra-light fluid making it perfect for use on the face and body. It has a matte finish and is good for acne-prone skin. Tinted sunscreens also provide a bit of additional light protection which is good for preventing discoloration. I recommend applying sunscreen as the last step in your skincare regimen in the morning and reapply every two hours if you are spending time outdoors. — Dr. Samolitis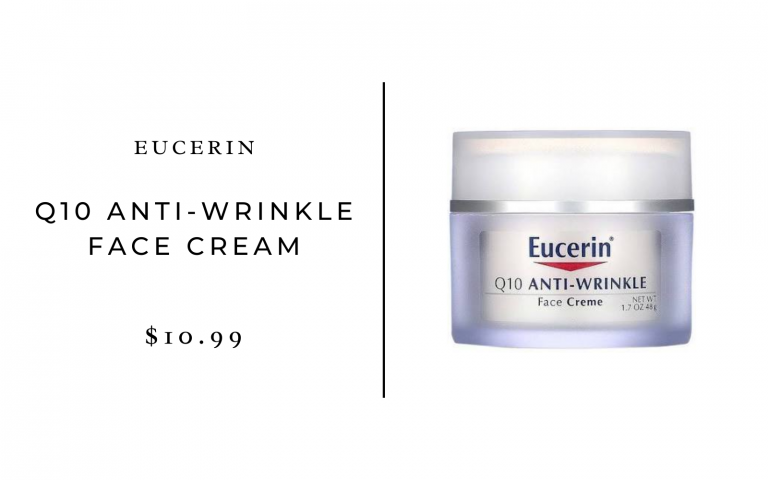 The product: Eucerin Q10 Anti-Wrinkle Face Cream 
Why I recommend it: There's a reason dermatologists often recommend Eucerin for myriad issues. Its Coenzyme Q10-enriched formula firms and moisturizes for incredibly soft, smooth skin. This cream helps to replenish a naturally occurring enzyme that is vital to healthy and young-looking skin. Along with vitamin E and beta-carotene, it's a powerful antioxidant complex that protects against the damage of free radicals.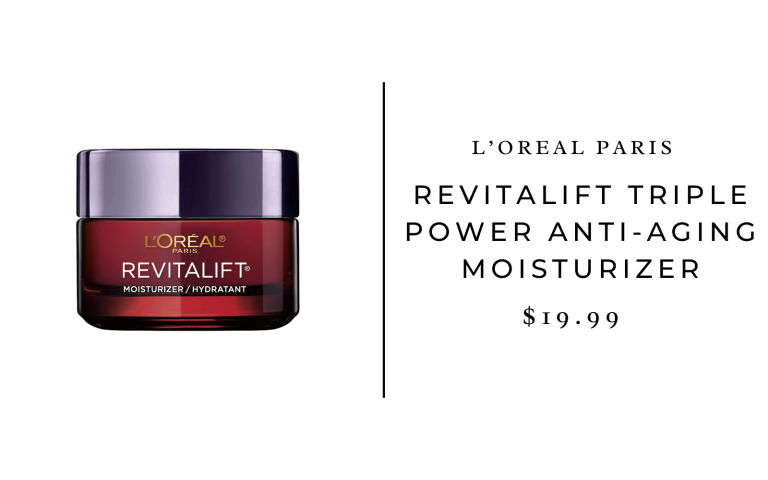 The product: L'Oreal Revitalift Triple Power Anti-Aging Moisturizer 
Why I recommend it: This incredibly powerful (and popular) moisturizer is made with some of our most beloved ingredients, like pro-retinol, vitamin C, and hyaluronic acid. It reduces wrinkles while firming and brightening skin. As if that wasn't good enough, it's also paraben-, fragrance-, mineral oil-, and dye-free, so you can rest assured it's good for you too.
The product: CeraVe Skin Renewing Night Cream
Why I recommend it: Dermatologists love CeraVe products, and with good reason. It's specifically designed to work with your natural circadian rhythm to help restore your skin barrier overnight when it's most receptive. Ceramides 1, 3, and 6-11, hyaluronic acid, and niacinamide come together to leave skin feeling refreshed, renewed, moisturized, and soft.
Loved this post? Pin this graphic to come back to it later.