It's time to officially admit: my high heel days are over. (Not that I ever actually mastered a solid strut.) Over the summer, I actually left a pair of old heels at a neighborhood block party and I've been too embarrassed to go back and pick them up. Is it a sign? Maybe. I've learned that leaning sneakers that are both chic and comfortable is a life hack I'm happy to adopt.
Considering the amount of walking I do every day as an urban dweller, heels no longer fit my lifestyle. And the French girl aesthetic is proof that you don't need heels to feel stylish—in fact, sneakers might be the more on-trend pick. So, I'm happily investing in the best sneakers to elevate my fall outfits moving forward. And my feet couldn't be happier about it.
Featured image by Michelle Nash.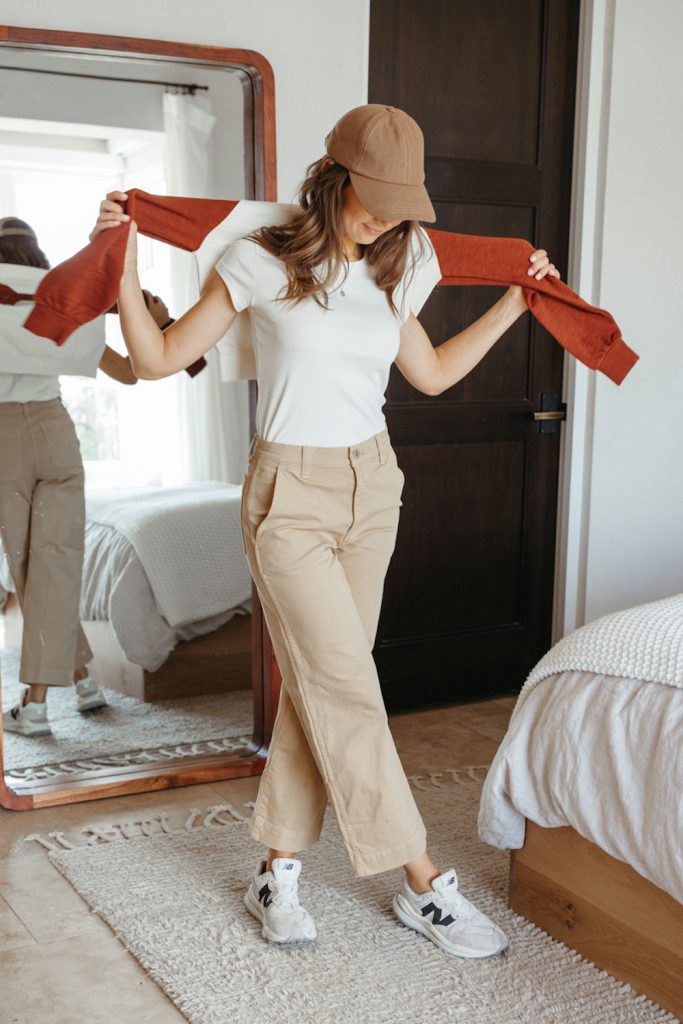 15 Best Sneakers for Every Fall Adventure
If you're ready to give up the uncomfortable grind for shoes you'll never want to take off, you've come to the right place. I scoured the internet for all the best sneakers I'm loving this season. From timeless treads to feminine spins on the classic sporty style—ahead, discover the pairs that are dominating closets everywhere this season.
Every product is curated with care by our editors and we'll always give an honest opinion, whether gifted or purchased ourselves. If you buy something through our links, we may earn a small commission at no cost to you.
These are the holy grail of comfy meets chic. I wore these almost every single day I was in Italy last summer and never once experienced blisters on my heels or needed to swap them out mid-day. (Note: I do recommend breaking them in before long-haul walks.)
I've been on the (admittedly, specific) hunt for a pair of olive or dark green shoes. For the price point and color combo, Adidas comes through.
ALD's latest collaboration with tennis star Coco Gauff has flown off the online shelves after she won the US Open. But you're in luck—you can still snag a pair of the black and green oxfords.
Does anyone else follow Nike collabs religiously? While I know this is another pair of white sneakers, I love the simplicity and design of this one.
Speaking of cool French girls, these Sézane lace-up leather trainers are on my wishlist for fall. I can already envision pairing these with a cool pair of denim and a trench coat.
While these are specifically made for performance and training, I like that the natural ivory color combo can be worn with a neutral outfit to keep you from looking like athlete-of-the-year when you want to lean more casual.
You can't go wrong with a true classic. I love that VANS has expanded its color range, and because I've been trying to add more color to my wardrobe, these Golden Brown checkered sneakers are high on my list.
I preface this with these are a splurge, but I absolutely love every color combo and look of LOEWE's sneakers. They're simple and not overly brand-heavy with a logo that leans cool and unassuming—which is the era I'm in.
For a similar option as the LOEWE's in an identical colorway, the Cortez's are another classic that never go out of style. These are some of my most comfortable shoes.
Another classic that seems to be the hit with celebrities from Kendall Jenner to Hailey Beiber and everyone in between. This pair takes me straight back to the mid-90s. I never thought that the same sneakers I wore in middle school could pair perfectly with a silk slip dress, but here we are.
When I think of classic Lacoste, I think of the brand's signature white tennis shoes. But when I saw these in Paris, I loved them even more in person. If you're looking for a chunky neutral or a pop of color to liven up an outfit, these are so fun.
Show of hands for all GANNI Girls out there? I didn't get to snag anything from their New Balance collab (some sizes left if you've got small feet!), but these are a close second to cool and universal.
These remind me a lot of Chloe's Nama sneakers for a major fraction of the price ($700!). Comes in three different colorways so even if you stock up on the trifecta, you'd still save significantly.
Ever since I saw Common Projects do a light blue leather sneaker, I've been on the hunt for something similar. These fit the bill.
If you love bold prints or florals, these are for you. Puma partnered with Liberty of London, known for their iconic floral prints (and collabs with MANY other brands). I find these fun to dress up any outfit as the focal point piece.