Last Sunday evening, I was mid-dermaplane when it occurred to me that I'd never shared the full-body exfoliation routine that I regularly indulge in to start the week. And if "indulge" isn't a term you'd normally apply to sloughing off dead skin cells, get ready to have your mind blown, because this little routine is one of my favorite forms of self-care and the best way to exfoliate your entire body, hands down.
There's something so satisfying (and even symbolic) about revealing your freshest, glowiest skin for the week ahead. Out with the old, in with the new!
Below, I've detailed my step-by-step Sunday night routine for full body exfoliation, including how I prep my skin for self tanner. You guys may have noticed that I like a subtle glow year round, but even if you're one to embrace a paler aesthetic, summer is coming (just sayin'.) And of course, I'm spilling all the exfoliation products I keep at the ready to walk me through this little routine and make it feel truly pampering.
One important thing to note is that everyone's skin has different levels of tolerance to exfoliating products. I personally tend to get a lot of dead skin build-up, so regularly sloughing it off is a must for me – and my skin isn't super sensitive, so it can take more aggressive treatment products. If you're new to the exfoliation game, start with just one or two of these, and build as needed. And if your skin ever starts burning or develops a rash, wind it back or switch to a gentler product.
Scroll on for the details, and I'd love to hear about your favorite exfoliation practices and products in the comments below!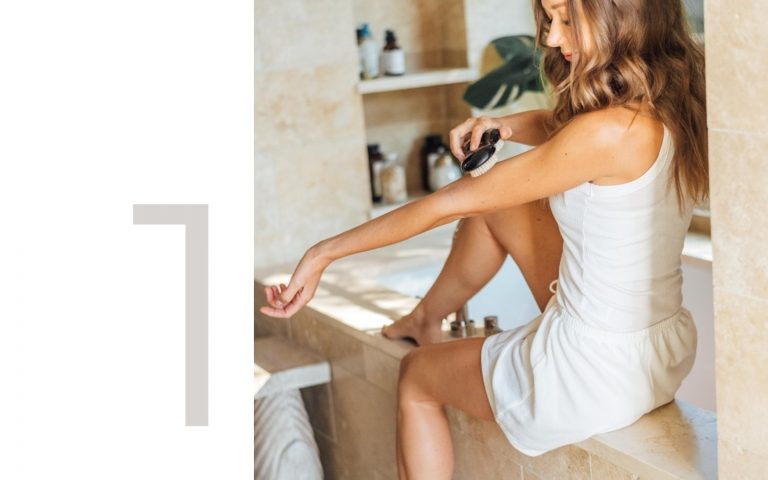 Step 1: Dry Brush Your Entire Body
Full body exfoliation starts with a dry brush to remove dead skin. Now, we've talked quite a bit about dry brushing on the site, and enthusiasts claim that dry brushing can stimulate circulation and lymphatic drainage, even helping with the appearance of cellulite. Whether you buy into all that or not, dry brushing is well worth it for the exfoliation factor.
Brush in broad strokes toward your heart for best results, and start with gentle pressure if your skin is especially sensitive. It's relaxing and invigorating – and loosens up those dead skin cells that have been hanging out on your body all week. There are loads of great dry brushes on the market, but the one that works best for me is this affordable one from Sephora that has a grip that gives me better control than the ones with a long handle. Bonus points for using this body plane from Esker that results in a deeper exfoliation (and it's just so gorgeous.)
Step 2: Use a Body Peel Pad With Glycolic Acid
The best skin exfoliation includes both physical exfoliation (dry brush) and chemical exfoliation – which is where these babies come in. I've used a cheaper version from Amazon in the past — they do work, but the small size of the pad makes it difficult to get total body coverage. I recently tried this Alpha Beta Exfoliating Body Treatment Peel from Dr. Dennis Gross and the extra large pre-soaked cloths make it much easier to cover the entire body for head-to-toe polish.
But my absolute number one body peel of choice? The TCA Lactic & Glycolic Body Peel from StackedSkincare. It's a liquid formula that you apply all over the body with a brush (meaning you don't waste a drop being absorbed into a sponge or cloth.) This gentle 5 acid formula treats and prevents body breakouts, balances oil production, clears pore congestion, helps with ingrown hairs and keratosis pilaris, brightens dark spots, smooths uneven texture, and softens fine lines without dryness or irritation. It's my true partner-in-crime when it comes to swimsuit season prep.
Step 3: In the Shower, Shave Any Areas of the Body (As Desired)
IMHO, shaving doesn't get enough street cred for being one of the best ways to exfoliate your body. Of course, you may not be into shaving and that's totally okay, but if you want to start your week with hair removal, now's the time to do it. The act of shaving removes not only fuzzies, but also any dead skin that's clogging pores. You'll also want to make sure that your shaving routine happens before any self tan application since a post-shave will fade your tan much faster. I love the Flamingo Razor, which is the only one I've found that looks chic in my shower and really works.
Step 4: Use a Gentle Facial Cleanser to Remove All Dirt, Makeup, and Oil
You really don't want to use anything harsh here; there's definitely such a thing as over-exfoliation, and I'll admit that my routine is already bordering on being slightly aggressive. A gentle yet effective cleanser is all you need to remove dirt, makeup, and any pore-clogging oil – the key is to spend enough time (at least a full minute) massaging it into every nook and cranny of your face to make sure you're getting it all. I wash my face while I'm in the shower using either this drugstore fave or this brightening cleanser from Indie Lee that uses clean ingredients.
Step 5: Moisturize Your Entire Body
Next, I step out of the shower, lightly towel off, then use a super hydrating body cream or lotion over my entire body, from chin to feet. Take your time with this one, slowly rub it into your skin with circular motions, make it a sensual experience that you really enjoy, like a self-massage. This step is key, since you've now removed all the dead skin off your body and it's time to rehydrate and nourish. While I love a luxurious body cream (this butter feels like a spa experience in itself), for pure utilitarian benefit it's hard to beat this classic lotion I've been using since childhood (it's always been my mom's fave, too.)
Step 6: Swipe a Toner Over Face
Little known fact: I worked at a Clinique counter throughout college, and it was there that I became a full-fledge believer in the power of toner in your skincare regimen. Not only does it sweep away dead skin cells and balance PH levels; it also preps skin so that it can better absorb any products that come after it. I use the hotly-debated P50 from Biologique Recherché – it's a bit aggressive for sensitive skin, but really works for me. Now your skin is ready for my real secret weapon…
Step 7: Dermaplane to Remove Dead Skin and Peach Fuzz
If you've been around here for awhile, you know that I'm a dermaplaning evangelist: I would genuinely say that this $189 investment I made a couple years ago has done the most to brighten my skin and completely eliminate breakouts. Here's how it works:
Turn on the device, which starts buzzing with sonic edge technology.
Slowly move it over the entire face with the blade at a 45 degree angle (avoid eyebrows and hairline – it'll shave them right off! lol) You're instantly removing dead skin cells, built-up debris, and peach fuzz.
You can literally see dead skin flying off your face – it's both mesmerizing and a little gross, but when you're done? Radiant, glowing skin with zero peach fuzz. It also preps skin for whatever you do next, creating a smooth, unobstructed canvas that allows for better absorption…
Step 8: Sweep a Glycolic Acid Peel Pad Over Entire Face
Just like the body, you want to hit your face with a two-pronged approach: physical exfoliation (the dermaplane) followed by chemical exfoliation. I use a glycolic acid peel pad over my entire face to fully remove any dead or dry skin that's still hanging out. I've tried lots of different versions and always go back to this one – it's really amazing. And finally, (this is key) I go straight to bed without putting anything else on my face. This really lets the peel work its magic.
When you wake up in the morning, you will not believe your glow. My skin is always so even on Monday mornings I rarely wear makeup – which is such a great way to start the week.
This routine is also the best way to exfoliate before applying self tanner. I apply my self-tanner the next morning right when I get out of bed. My usual strategy is to mix half body lotion, half self tanner for a subtle, streak-free bronze that truly leaves me glowing head-to-toe. Self-tanner application is a whole other topic, so hop right over here for our head-to-toe guide to a streak-free self-tan.