The year is 2020. You haven't showered in ~three days. You're wearing the same sweatpants you slept in. That top knot is still holding strong and the Amazon boxes full of cozy socks, craft kits, and elderberry gummies are collecting on your doorstep. You feed your sourdough starter, eat a slice of banana bread, and hop on Zoom for your morning meetings.
Perhaps that paragraph should have come with a trigger warning. But isn't it great to know how far we've come?! We went HARD with the sweats and then swung the pendulum all the way over to donning black-tie gowns in grocery stores just to feel something. And here we are now in the year 2023, settling somewhere in the middle and dressing once again like fairly well-adjusted people. Well, we're trying to, at least.
Featured image by Michelle Nash.
Image by Michelle Nash
The way we work has changed for good, with many of us either working from home or hybrid between home and office. But no matter which way we get the job done, we all face the same question every morning. What do I wear?
I can help you with that. I've worked fully from home for 5+ years and last year I happily moved to the hybrid model. As a "professional" WFH-er I've collected a few rules and standards for work-from-home clothes. Let's review.
Image by Teal Thomsen
The Rules of Work-From-Home Clothes
No Hard Pants. There must be room for easy movement and therefore this COVID-era rule remains. Urban Dictionary defines hard pants to perfection: "Pants that don't have a stretchy, elastic waistband. During any pandemic, the desire to wear only elastic waistband pants instead of pants like jeans. During the pandemic, Victoria refused to wear hard pants."
Wear Easy Layers. The thermostat does not care that you set it to the same exact temperature every day. It will always be colder in one room and warmer in the next. Layers are key for comfort.
Clothes Must Be Versatile. Your clothes need to take you seamlessly from Zooms to coffee dates to errands to lunches. From sitting to standing and sitting again. A solid collection of basics mixed with fun items makes for a closet full of options.
Opt For Casual Yet Professional. This one should be pretty obvious—no need to wear a pair of heels down the hall to your home office—but we can also try a smidge harder than three-day-old pants.
Clothes Should Make You Feel Like You. It's at the bottom of this list but consider it rule number one.
Work-From-Home Clothes IRL
Personally, I have a few essentials that I'll recommend, all of which check off all the rules. I still LOVE my nap dress, for example, and I'm newly jazzed about these straight-leg canvas pants. (Sorry I said "jazzed," it just felt right.) But there is a particular pair of pants I see on just about every WFH outfit list that I had to go try for myself.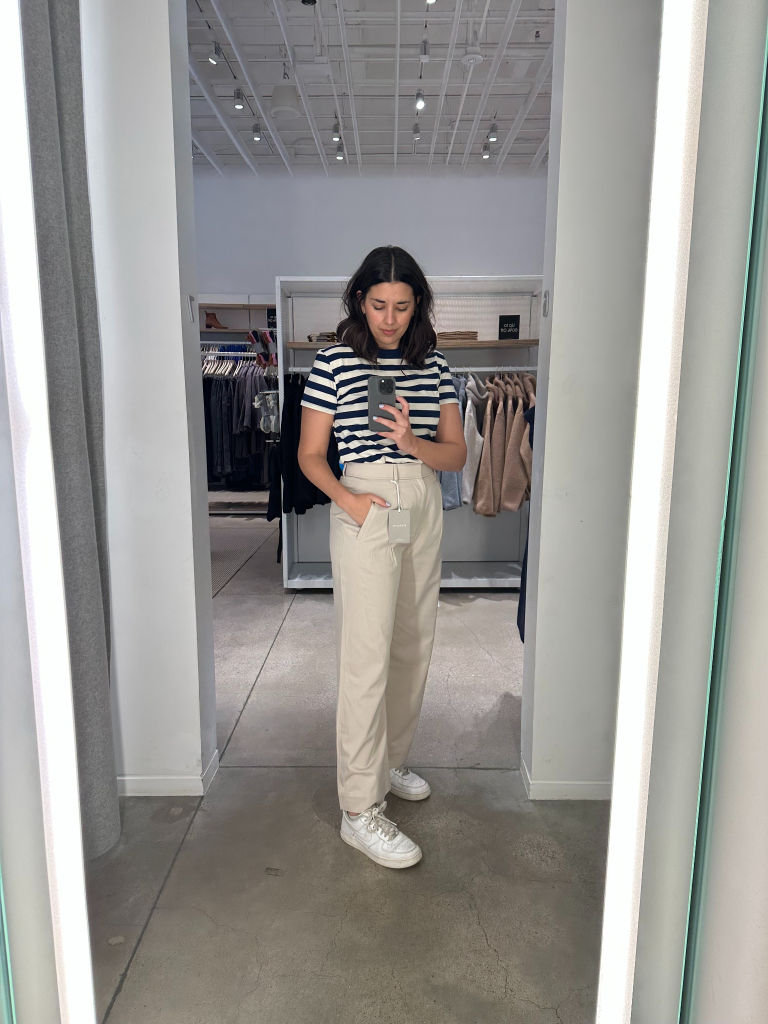 I went to the store to try them on and… yeah. They were not as dreamy (pun intended) on my particular body as I hoped they'd be. However, I did discover these incredibly comfortable and versatile trousers (above!) that I immediately loved. They only had petite in the store so I'm planning on ordering the 32″ inseams but I also don't totally mind the shorter length (I'm 5'8″ for reference).
Work-From-Home and Office Capsule Collection
Behold the ultimate collection of work-from-home clothes for the modern gal. I gathered my personal favorites alongside some everyday essentials, then polled my very fashionable and amazing colleagues via Slack to share any pieces they swear by. I'd first encourage you to shop your own closet for items in these particular categories and then decide what's missing. (P.S. Don't sleep on a red power dress. In a sea of neutrals sometimes you need to opt for something fiery and strong!)
Check out the entire collection below and scroll on for three great outfits to get you started.
Image by Belathée Photography
Outfit 1: The Day You're Toggling Back and Forth
Buck Mason Pima Boxy Crew / Everlane The Oversized Blazer / Everlane The Way-High® Drape Pant / Chuck Taylor All Star Classic
Outfit 2: The Day You Take Meetings From the Couch
Sézane Max Shirt / Everlane The Easy Pant / Minnetonka Chesney Slippers
Outfit 3: The Day Your Calendar is Clear
Aerie Down-To-Earth Crew Sweatshirt / Vuori Villa Jogger / New Balance 574 Core
Outfit 4: The Day You Go From Home to Happy Hour
The Scarlet Dress Christy Dawn / Long Sweater Duster / Chuck Taylor All Star Classic