For most of my life (more than I'd like to admit), I figured if you don't have visible dandruff your scalp doesn't need a second thought, right? Wrong. Even if you keep your heat and product styling to a minimum, it turns out it's crucial to give your scalp a bit of extra TLC. Unbalanced scalps are actually quite common, no thanks to the prevalence of dry shampoos, product residues, stress, pollution, and more. Thankfully, there are solutions and incredible products that can support you in your quest to take care of your scalp.
Studies have shown that a healthy balanced scalp is actually key to healthy hair. A healthy scalp leads to less breakage and hair loss, new growth, and stronger shinier hair, not to mention, plenty of good hair days!
For our dive into everything you need to know to experience the cleanest, healthiest scalp (and consequently the hair of your dreams), we turned to Natanel Bigger, founder, and CEO of Monpure—a sustainable luxury hair and scalp care brand that creates products geared toward scalp and follicle health—to answer all of our scalp care questions. "What I love about scalp health is its ability to heal and rejuvenate when you pay attention to it," says Bigger. "It's amazing how good scalp skin and hair can transform how a person looks and feels."
Scroll on for everything you need to know about what causes an unhealthy scalp and what you can do about it. Plus, products that will soothe your scalp woes from dry scalp treatment to a specially formulated scalp cleanser and more.
Why is the haircare industry only focusing on scalp care now?
After working in the beauty industry for years, Bigger found himself in a role looking after a range of global beauty brands, including hair care, pregnancy skincare, wellness, and color cosmetics. "I noticed that the skincare industry was getting more and more sophisticated but the haircare space has been stagnant for decades—and all those years, haircare wasn't being done correctly. Science moved on a long time ago, but the standard products available to the consumer have not." By now, scientists are very certain that a healthy dermatological condition of the scalp heavily impacts the natural growth and retention of hair. "How can it be that our hair is essentially our crowning glory and often our identity, and yet no one knows how to look after it properly (e.g. by caring for the scalp)?" Bigger remarks.
What does it look like to have a healthy scalp?
While it's an oft-neglected part of many people's beauty routine, caring for your scalp can make a world of difference in your hair's overall health. As Bigger explains to me, scalp health is maintaining the best possible condition of the skin on our scalps so that we can avoid irritation and also cater to the optimum potential for hair growth. But the good news is, there are simple things you can do to promote scalp health; being careful with sun exposure to reduce the risks of skin cancers on the scalp regions and adopting a healthy diet to ensure optimum hair and nail growth. Apart from that, it's also about making conscious decisions on hair care products.
He goes on to share that similar to most organs in our bodies, people often take good scalp health for granted and would only start worrying when a problem arises, such as noticing worsening hair loss. The key? "Start caring for your scalp before you notice major issues," he adds.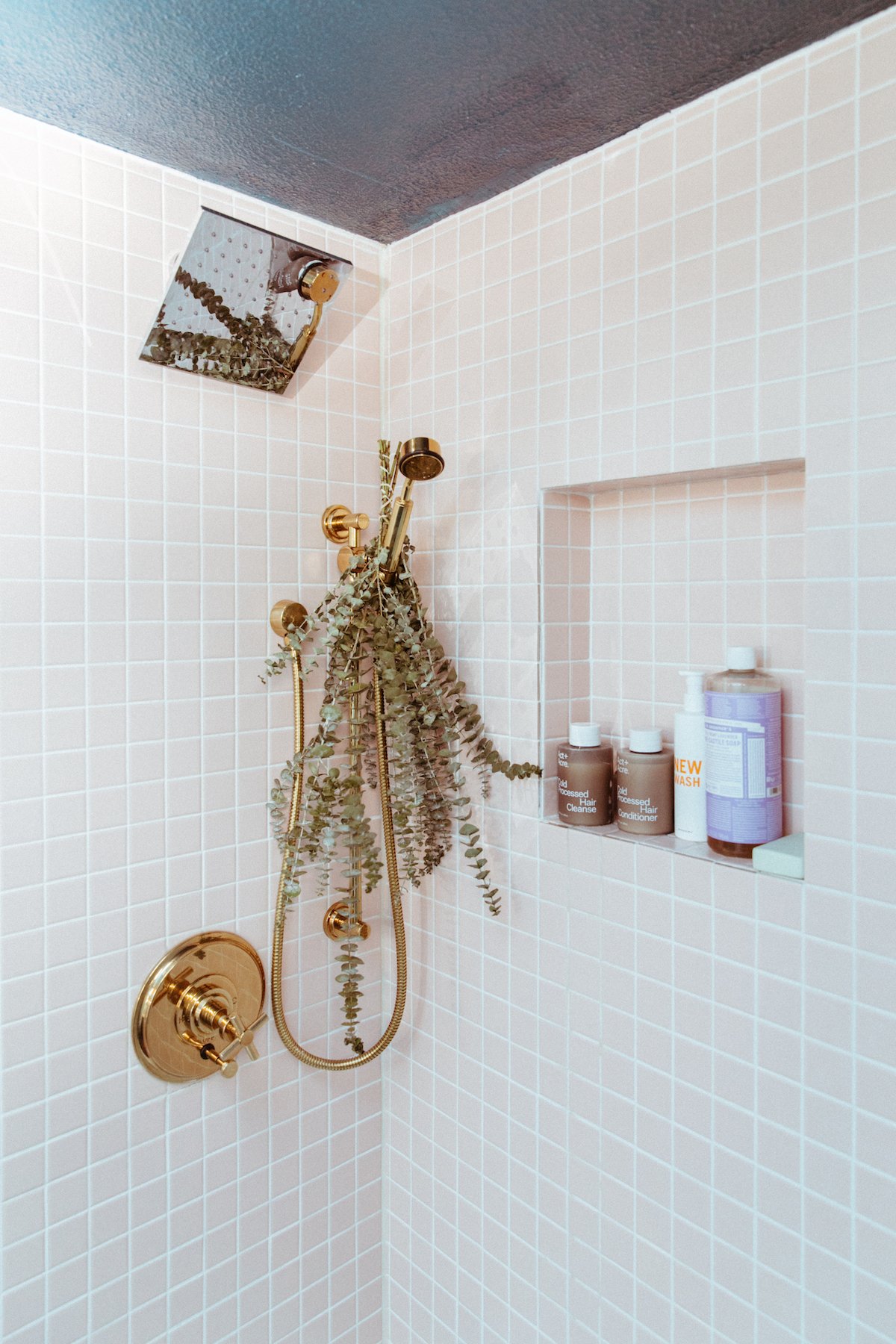 What exactly is scalp care?
We often spend a large amount of time and money on our skincare. But Bigger explains that scalp care is about treating the skin on your head as you would the skin on your face. "Looking after the health and well-being of your scalp not only in disease but also in health," he says. "By doing so, you can prevent a number of issues early on, from scalp irritation to hair loss." It's also important to use hair care products that utilize nourishing and kind ingredients for your scalp skin as the scalp can be very sensitive, in particular for people with fine hair.
Bottom line: A healthy scalp encourages healthy hair growth.

Why do you need scalp-specific care?
Interestingly, Biggar notes that the role of oxidative stress has been widely reported on with regards to the skin over the years, however, little emphasis has been placed on its role in scalp and hair health. He adds "When the body is unable to detoxify free radicals in the system, age-related damage can occur over time, which can directly impact the growth of hair follicles." While many people are familiar with how oxidative stress can lead to loss of elasticity of the skin and wrinkles, they don't realize how it affects their hair growth, scalp health, and the elasticity of the skin on their head overall. Bigger shares that some sources of oxidative stress to reduce as much as possible include smoking, UV radiation, microbes, pollutants, and even some cosmetic products.
Given that these oxidative stresses can cause problems with the scalp and hair, it's more important than ever to have a good scalp care routine.
There is good news though! Using clean products containing natural ingredients and antioxidants can help to lessen and even prevent the effects of oxidative stress. "A good regime can solve most mild scalp-related issues. Ultimately, prevention is better than cure!" he stresses.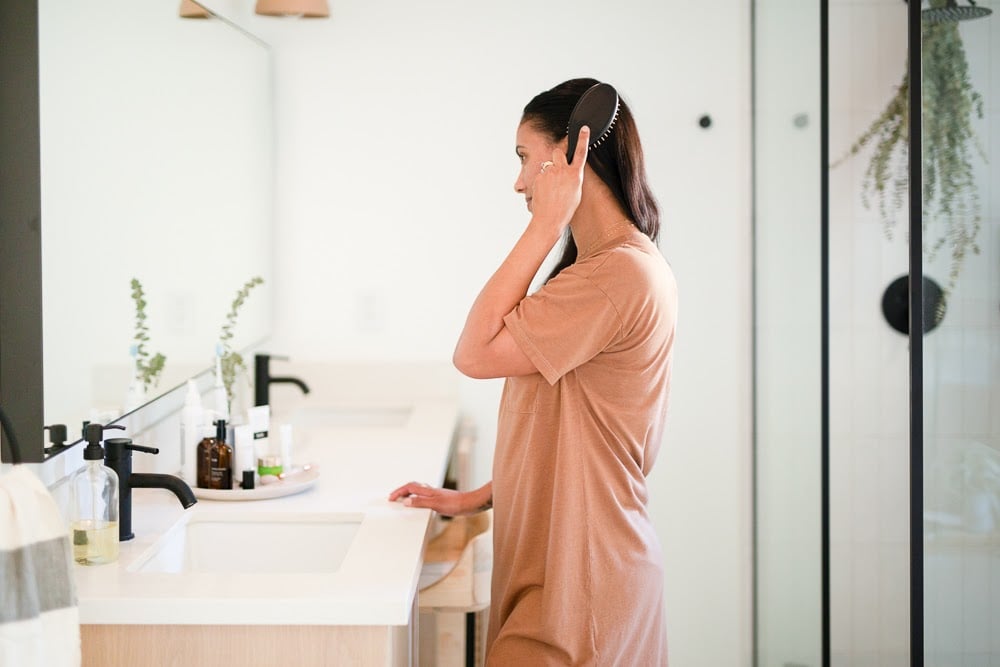 What are some signs of an unhealthy scalp?
According to Bigger, while signs of an unhealthy scalp can vary in severity from mild, moderate to severe, there are a few common signs that can alert you to poor scalp health:
Dryness

Irritation

Redness

Itching

Aging

Accumulation of dandruff and scale

An unpleasant odor

Hair loss
What are some of the causes of an unhealthy scalp?
While everything from our diet to our environment can contribute to scalp health, Bigger says that the main causes of an unhealthy scalp include: A build-up or underproduction of sebum, irritation from abrasive hair products, or even fungal infections, which are very common on the scalp. Moreover, conditions such as seborrheic dermatitis, eczema, and psoriasis can create problems for your scalp, as well as sun damage of the scalp.

What are some solutions to treat your scalp?
Again, we can look at our skincare routines to see how we can level up our scalp care. Biggar says the key to preventing hair from becoming dull and unhealthy is to look after the scalp by using good quality, clean products. "We do this already with the skin on our faces; we exfoliate, cleanse, moisturize and do a face mask every now and again—we should be doing the same with our scalp," he explains. "A healthy scalp requires time and effort."
He suggests being mindful of the ingredients in your hair care products, by avoiding harsh ingredients and anything highly fragranced. His recommendation is to start with some really good quality silicone and sulfate-free shampoo and conditioner at the very least and build from there. Using scalp stimulating hair masks and serums can also be beneficial. Bigger goes on, "The better the overall scalp environment, the less likely you will suffer from itchiness or other irritations." And last but not least, because caring for our wellbeing always includes an internal component, ensure you're getting a nutritionally adequate diet rich in micronutrients, too.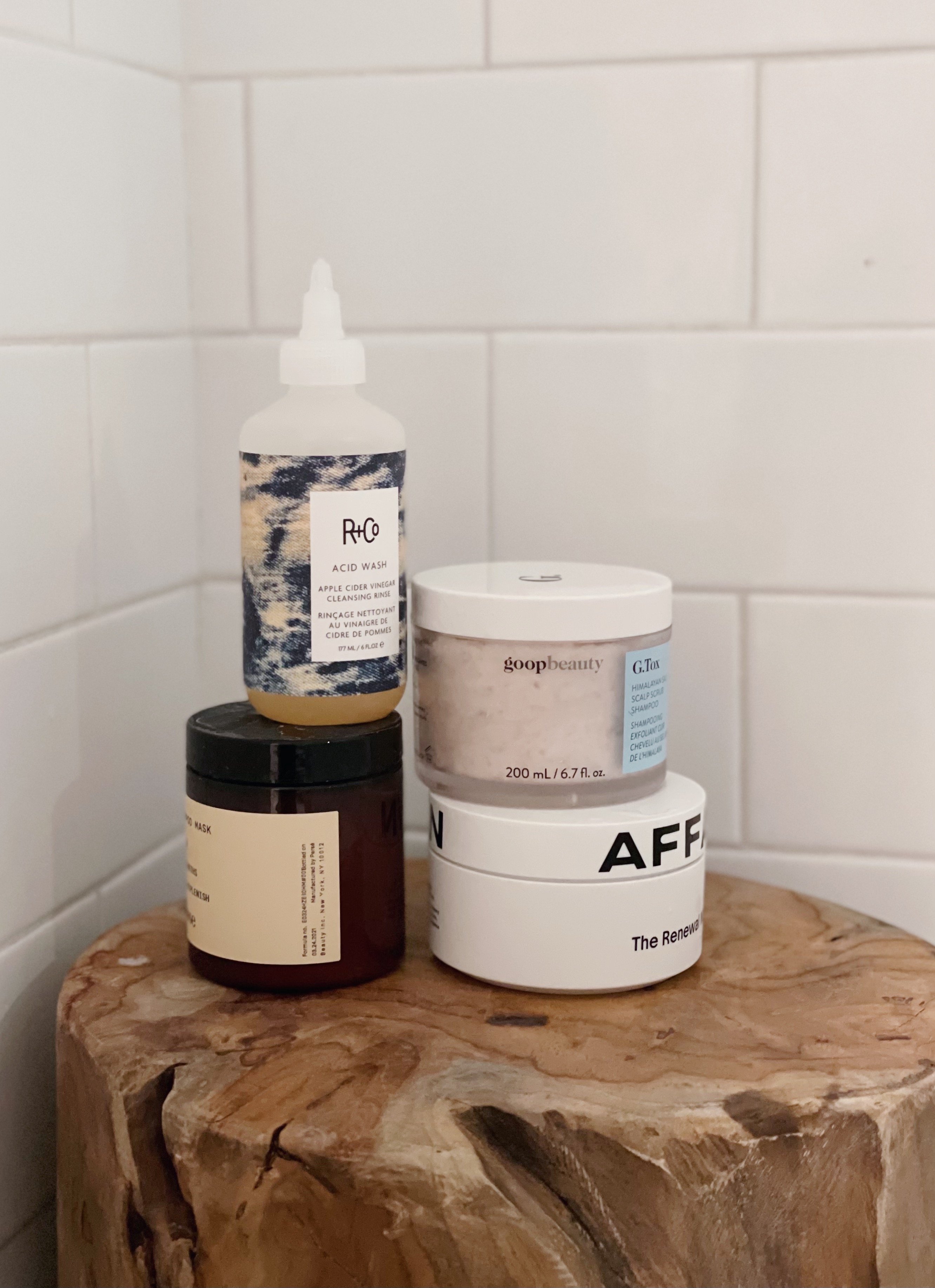 OUR TOP 7 SCALP CARE PRODUCTS…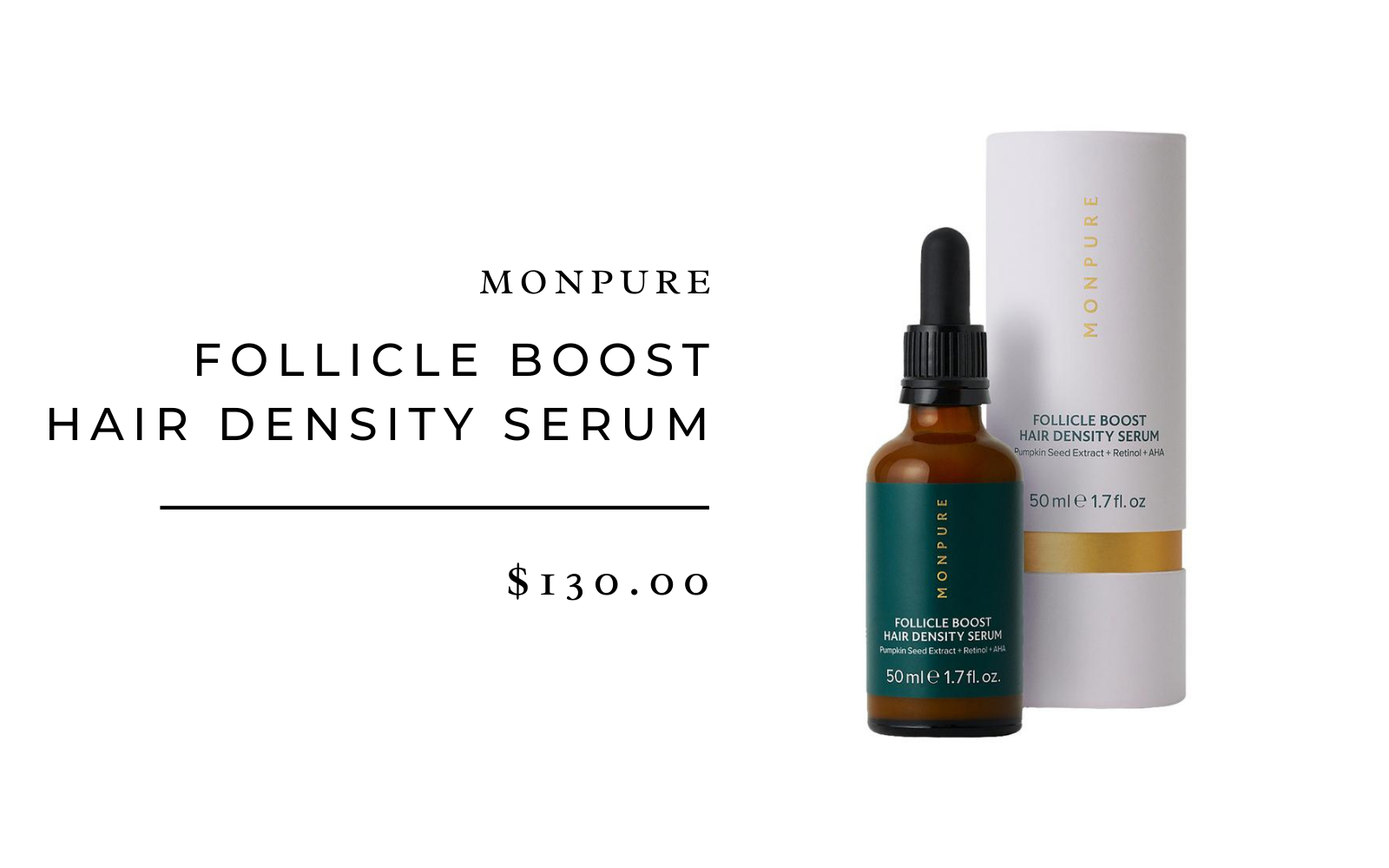 Why it works: Follicle Boost Hair Density Serum is power-packed with ingredients that work to stimulate the scalp, improve cell turnover, and help prevent hair loss and thinning, while actively promoting thicker, fuller hair growth. The result? Healthier hair growth—and thicker, fuller hair at that!
Hero Ingredients: AHAs (lactic acid) are used to exfoliate and renew skin that's dull and prone to congestion helping to decongest hair follicles and promote healthy cell renewal. Pumpkin seed extract gently yet highly effectively treats and prevents hair loss. Retinol increases skin cell turnover to combat hair loss, helping to decongest hair follicles and improve the absorption of other ingredients aimed at boosting hair growth.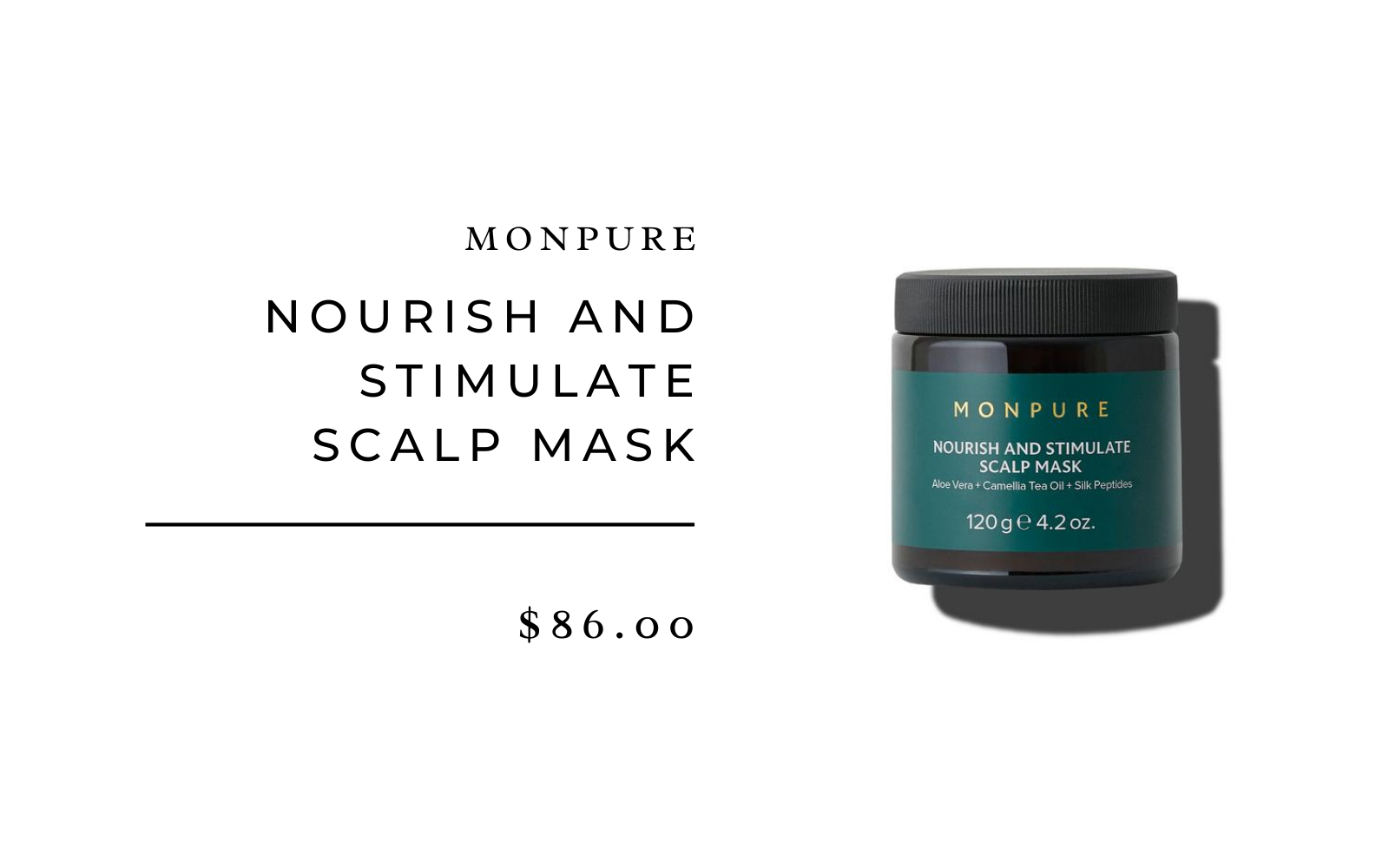 Why it works: The ultimate scalp care SOS, this mask works to improve scalp health by feeding hair follicles and skin cells with essential vitamins and nutrients, creating the optimum environment for hair growth. It also soothes, hydrates, and relieves sun damage with aloe vera and vitamin-rich camellia tea oil.
Hero Ingredient: Aloe Vera: hydrating and anti-inflammatory (so it's a hero for issues like irritation, itching, and dryness). Camellia Tea Oil: rich in antioxidants and vitamins, as well as essential fatty acids it delivers an intense hit of nourishment to neglected scalps to stimulate hair follicles and enhance healthy hair growth while leaving it conditioned. Silk Peptides: are clinically proven to not only repair fragile or damaged hair strands but also protect the hair and scalp from harmful pollutants as well as bacterial adhesion.
Why it works: The Ceremonia Power Duo set, makes scalp massage a ritual that's actually easy to incoporate. The cult-favorite and award winning Aceite de Moska Oil, combined with their palm-sized Scalp Masajeador to gently cleanse and cleanse congestion on the scalp, while the oil provides deep nourishment.
Hero Ingredient: Castor Oil: enhances overall hair health, in turn promoting hair growth. The oil is an anti-inflammatory that increases hair strand flexibility and shine. Cupuaçu Butter: has the unique ability to optimize moisture retention by regulating the balance of natural lipids throughout the hair. The butter also nourishes and moisturizes the scalp, while increasing the overall shine of hair.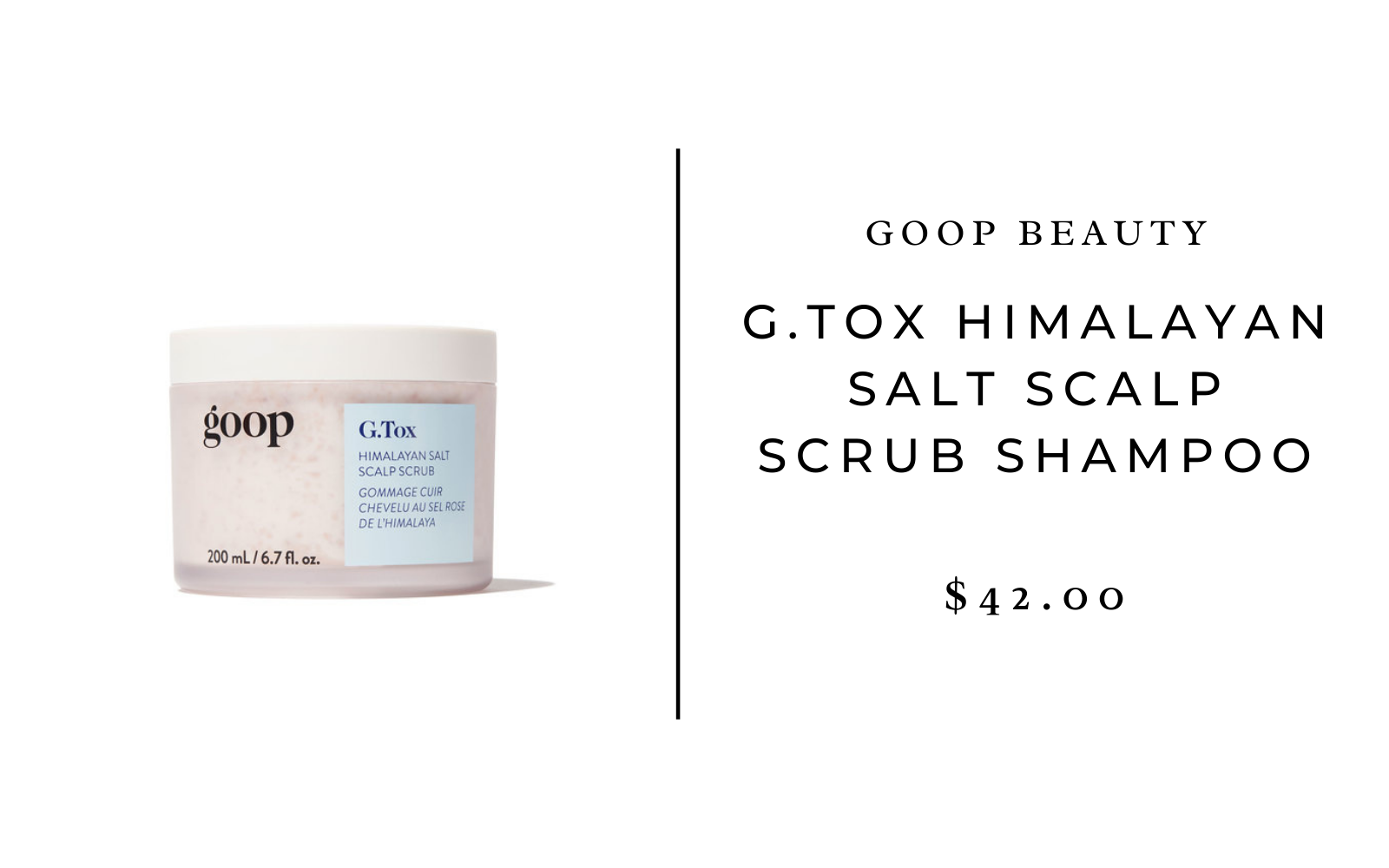 Why it works: My go-to when I need a good scalp scrubbing. I don't use a lot of hair products on the regular which helps me avoid too much product buildup, but still, my scalp needs a good scrub every now and then. I love that this product serves both as a scrub and a shampoo, making for an all-in-one easy clean. The salt scrub is oh so satisfying and the light scent is extra refreshing.
Hero Ingredient: Himalayan Pink Salt: Massages and exfoliates the scalp. Cold-pressed Moringa Oil: High in oleic acid (omega-9 fatty acid) and antioxidant vitamin E for nourishment and soft hair. Pure Unfiltered Rosehip Oil: Rich in all three key essential fatty acids (omega 3, 6, and 9) for nourishment and soft hair.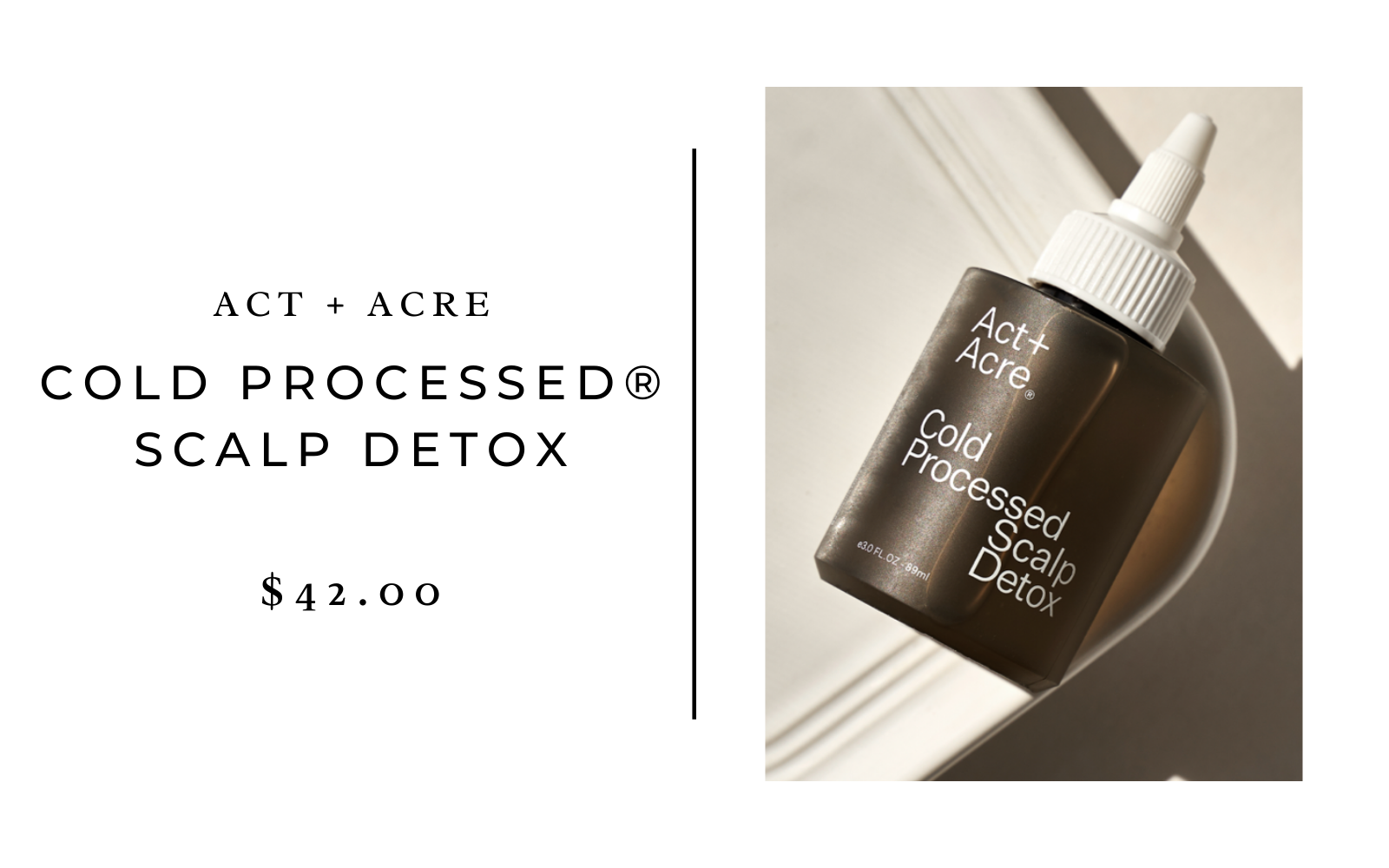 Why it works: This vitamin rich oil-based treatment from Act+Acre is formulated to purify, balance, and moisturize your scalp. Its detoxifying formula stimulates, removes buildup, and promotes long-term hair health.
Hero Ingredient: Moringa oil, basil leaf, amaranth oil, baobab oil nourish the scalp and promote healthy hair growth.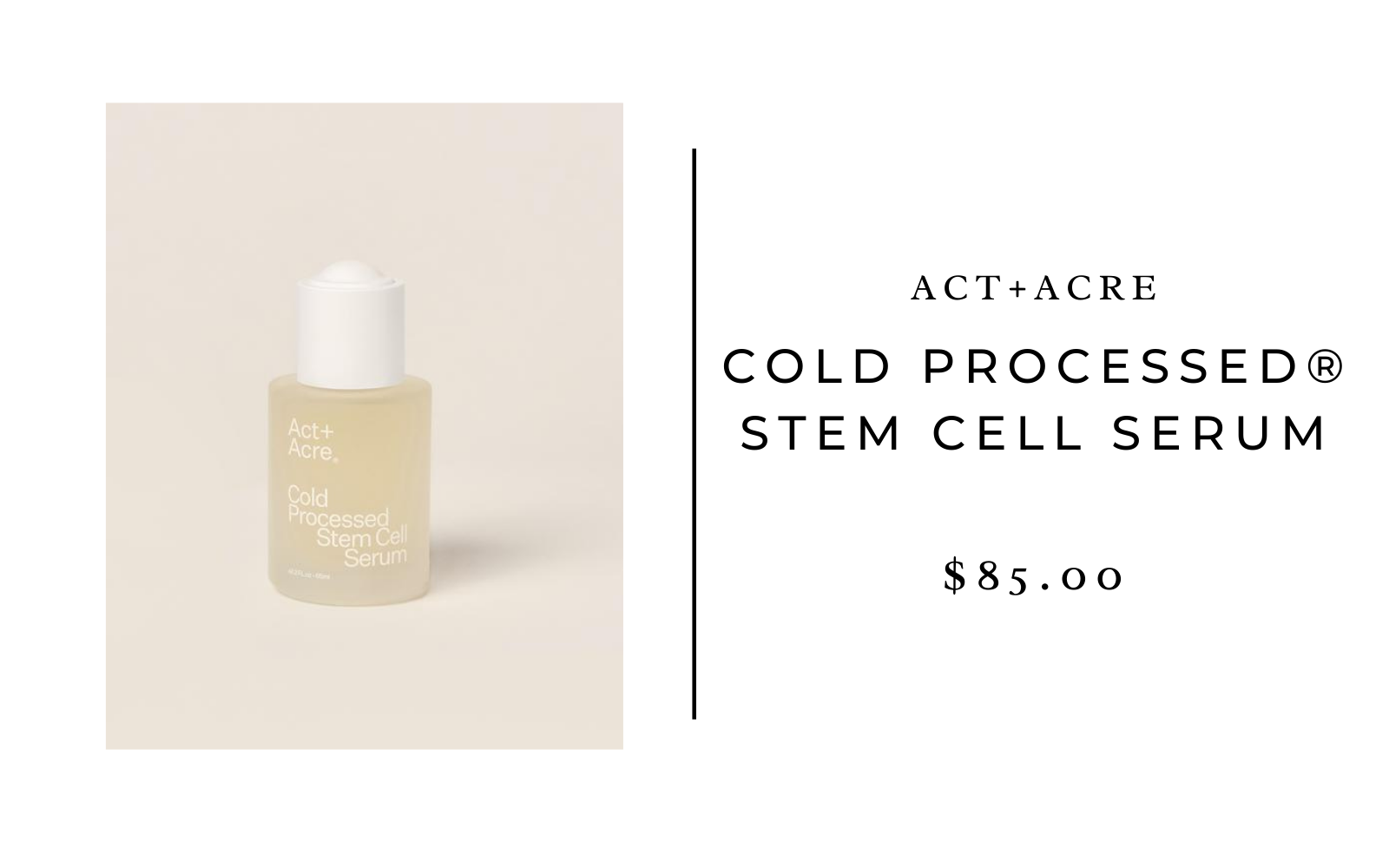 Why it works: Specially designed to promote full, healthy hair at the scalp level, this potent leave-in serum maximizes the skin's regeneration on the scalp and boosts collagen production while reducing signs of thinning, dryness and breakage to restore hair quality.
Hero Ingredient: Apple Stem Cells: Boost collagen production and regenerate the skin to delay signs of aging. Bamboo Leaf Extract: Protects hair from oxidative stress and adds shine. Aloe Vera Leaf Extract: Instantly soothes and locks in moisture.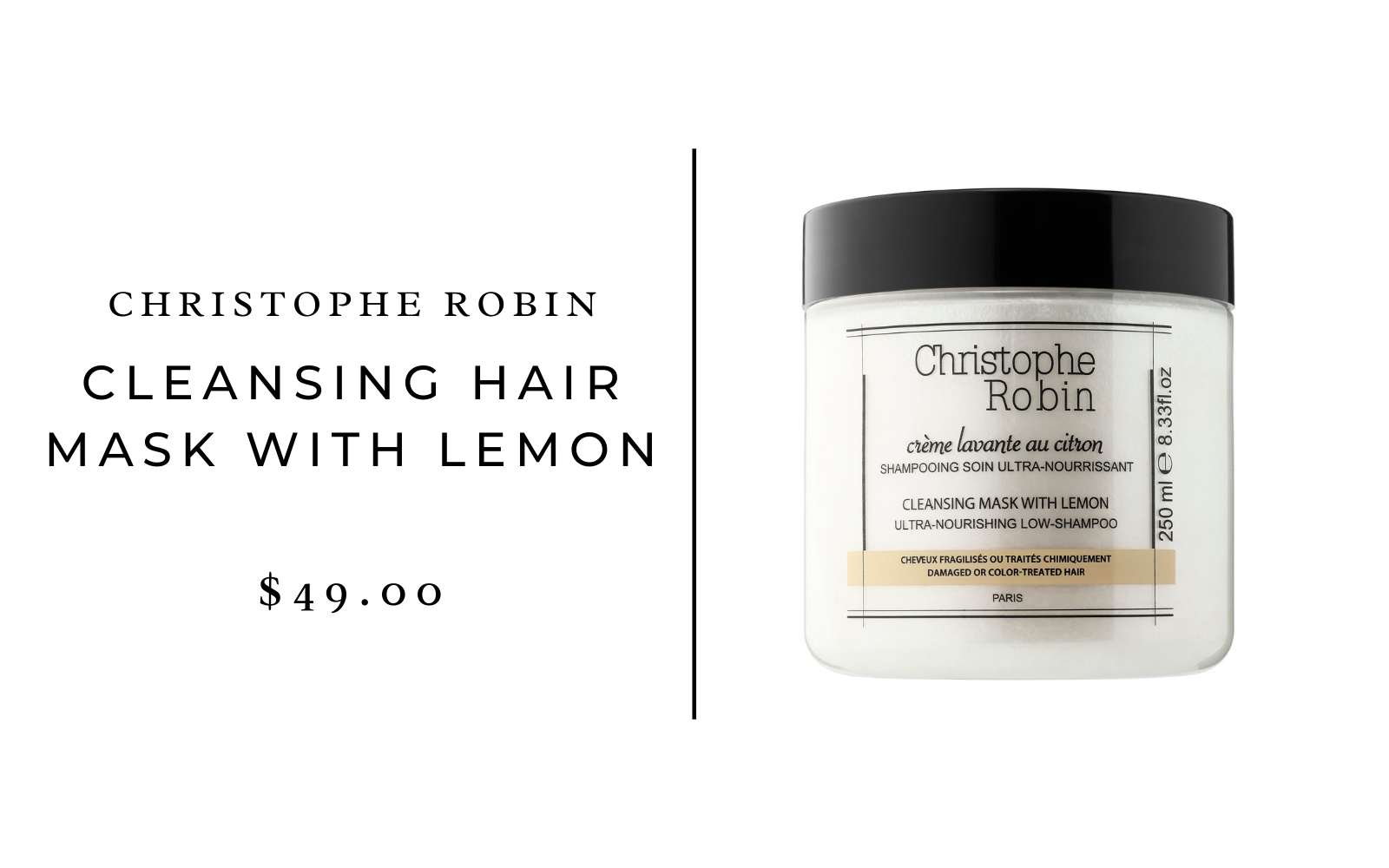 Why it works: Ideal for color-treated, highlighted, or sensitive hair types, this three-in-one cream mask works to gently cleanse and deeply nourish while sealing in color and boosting shine, while stimulating blood circulation.
Hero Ingredient: Lemon Zest, soothing Chamomile and St. John's Wort Extracts to balance pH levels, nourish follicles and prevent loss of artificial pigments.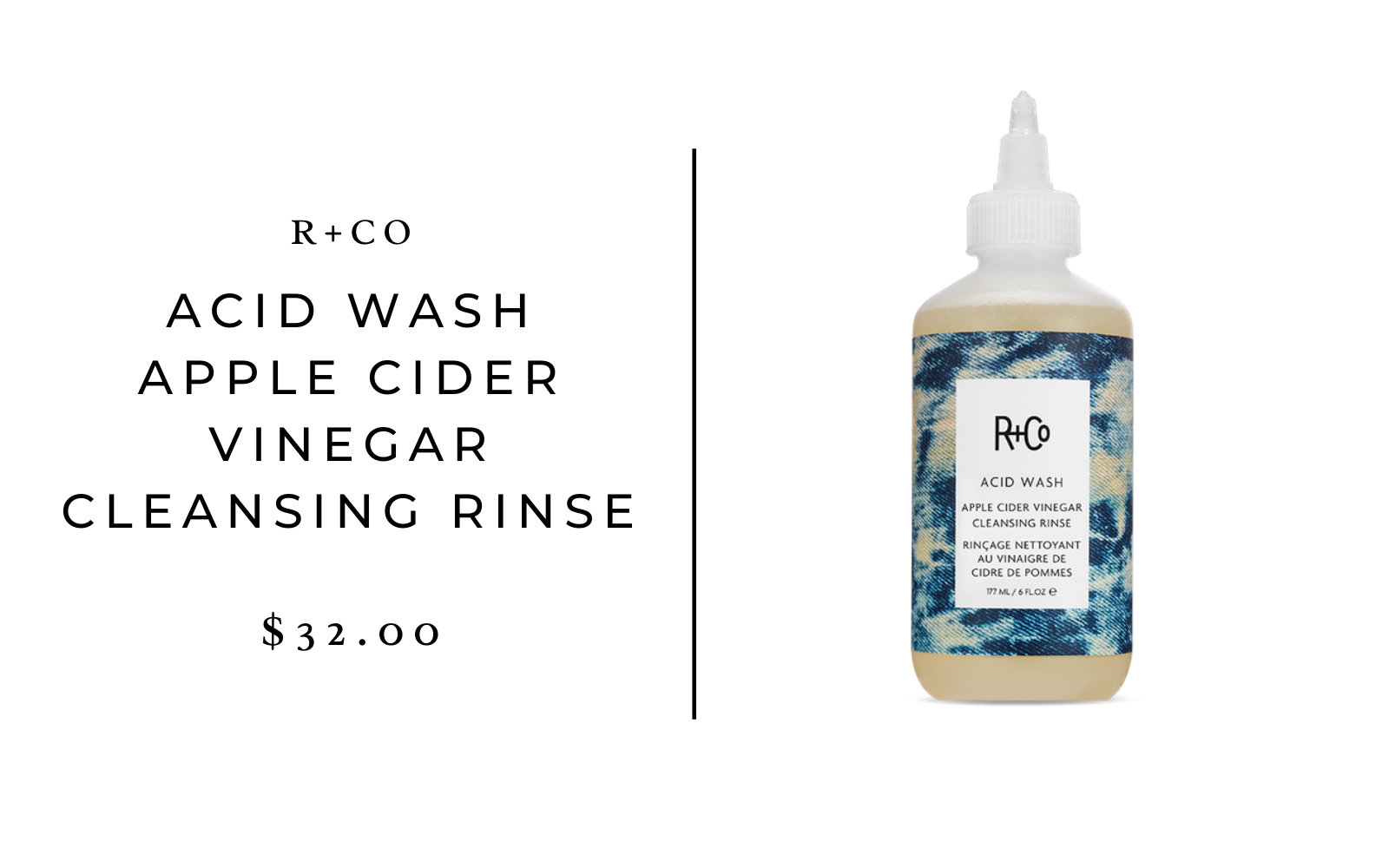 Why it works: Easy to apply, and cooling on the scalp, I love this rinse for when my scalp needs clarifying. You can use it as a standalone wash and use it to replace your shampoo, but I usually opt for a double cleanse that leaves my hair feeling fresh and my scalp invigorated. It's the perfect cleanse without stripping away natural oils or color, softening hair, calming the scalp, and adding dramatic shine.
Hero Ingredient: Apple Fruit Extract: protects hair and scalp from damage and acts as a natural exfoliant, while soothing, moisturizing and strengthening hair. Aloe Vera Leaf Juice: adds strength and luster to hair. Tamanu Seed Oil: full of essential fatty acids and nutrients, promotes an optimal scalp environment while strengthening hair and sealing in moisture.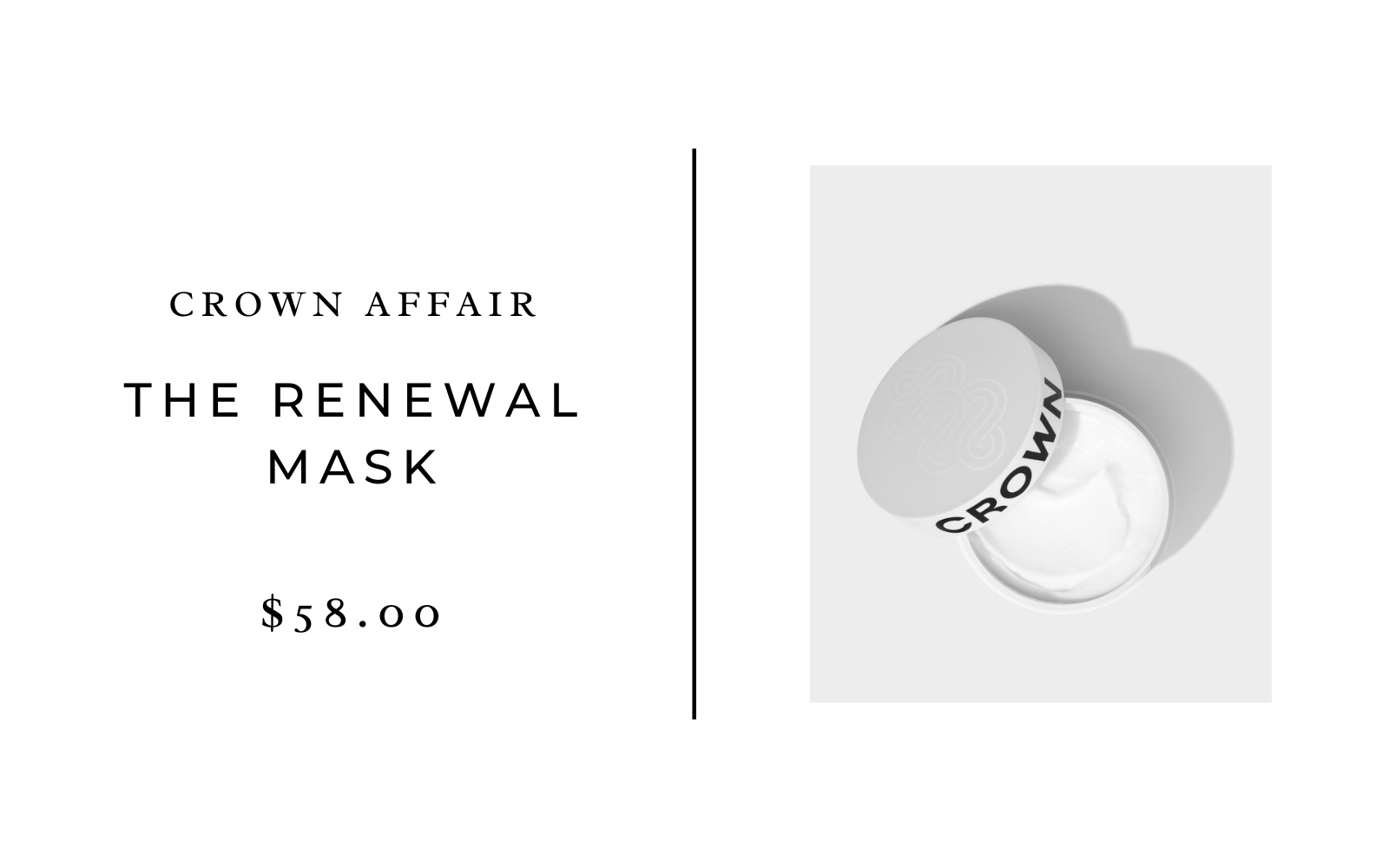 Why it works: Don't forget the ends! This mask truly moisturizes and hydrates without weighing it down. You comb a nourishing treatment through your strands, working from roots to ends while the formula works to nourish your scalp while strengthening and smoothing your strands.
Hero Ingredient: Tsubaki seed oil: for deep hydration for your strands. Yuzu fruit extract: to soothe, smooth the cuticle, and repair damaged and bleached hair.