Remember when K-Beauty went mainstream? Seemingly overnight, everyone was obsessed with essences, snail mucin serums, and sheet masks. This was also the time when "go big or go home" applied to many of our elaborate skincare routines. Suddenly, everyone had a ritual full of aesthetic packaging and Instagrammable steps. Among them, sheet masks were the undisputed star of the skincare-as-self-care movement. There was nothing more luxurious than running a hot bath and artfully arranging a sheet mask over your face. Bliss.
But not all sheet masks are created equal. Most fit awkwardly and they drip and drench anything in sight. More stressful than self-care, honestly. Enter: hydrogel masks. Hydrogel sheet masks are the more comfortable, more effective answer to paper sheet masks. And truly, I (and beauty experts everywhere) can't get enough. Today, we're making an argument for swapping in hydrogel masks as the perfect finishing touch to the ultimate self-care routine.
Featured image from our interview with Alicia Yoon, by Winnie Au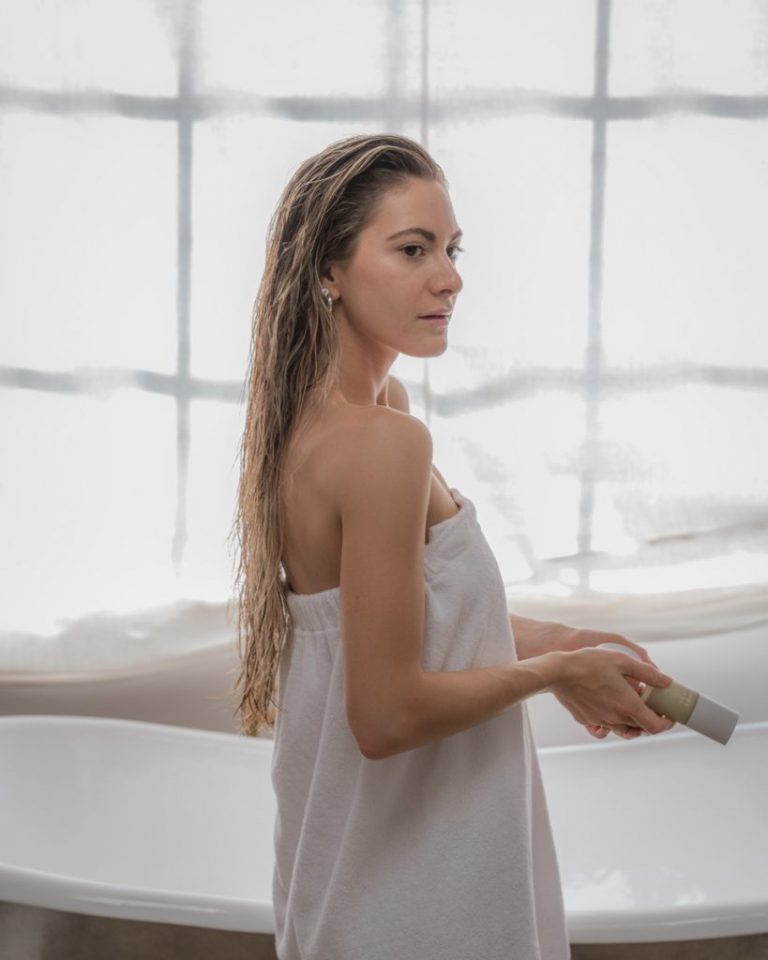 What are hydrogel masks?
Hydrogel masks are on the cusp of being huge, and I'm excited to give you the low-down before they really blow up. They boast a thicker texture and seamlessly fit your face for all the benefits without the mess.
The jelly-like texture also makes them easier to put on—and stay on. No more slipping, sliding sheet masks. Instead, many hydrogel masks even have micro-dart technology (like your favorite pimple patches) to deeply penetrate and infuse the skin with all the good ingredients.
Plus, while sheet masks mostly target hydration, aiming to give you that "glass skin" look, hydrogel masks are often more versatile. In addition to giving your skin a dose of thirst-quenching hydration, their serum-like formulas target a variety of skin concerns.
I spoke to LOOPS CEO Meg Bedford to break down the hype behind hydrogel masks. As one of the pioneers of the hydrogel mask trend, LOOPS are a favorite among celebs and beauty influencers alike. You've probably seen them all over social media, and for good reason: they work. (Case in point, the current queen of trend-setting, Sofia Richie Grainge, rocking her LOOPS below.)
With Bedford's insights, discover why you should switch from sheet masks to hydrogel masks, stat!
Everything You Need to Know About Hydrogel Masks
If you're quick to write hydrogel masks off as another accessory to your skincare routine, think again. And just as much as we love sheet masks for their hydrating powers, know this: hydrogel masks offer so much more. According to Bedford, hydrogel masks "have a gel-like texture made from bio-cellulose or synthetic polymers that have the ability to retain relatively large quantities of serum and/or product." The more bang for your glow-seeking buck, if you will.
But why is hydrogel itself so good for the skin? Bedford dives deeper, noting that it's because of hydrogel's "gel-like texture" that doubles down on hydration. The masks' "high moisture content and durable material allow for quick and long-term results."
Hydrogel masks work by deeply penetrating the skin with their respective ingredients. This provides "the perfect environment for collagen production and cell rejuvenation," says Bedford.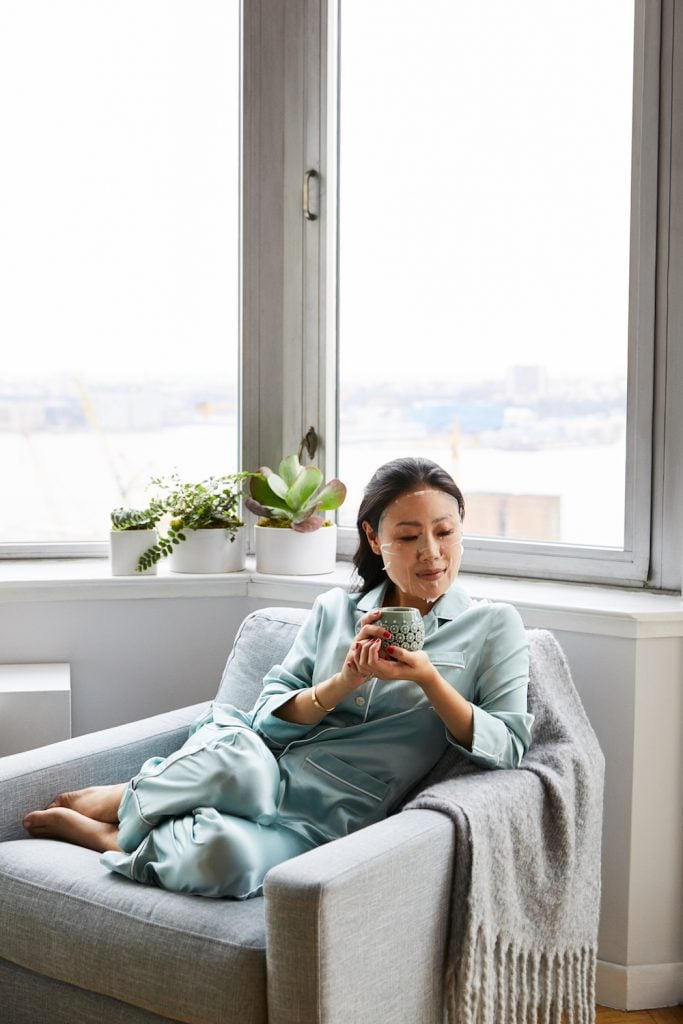 The Best Hydrogel Masks for Every Skin Concern
I've used a lot of sheet masks in my day. But trying hydrogel masks felt like a brand-new experience. For one, I used to leave sheet masks on until the moisture had completely sucked out of them and they were essentially peeling off my face. This took hours on end—not a small task. Hydrogel masks, however, usually work in about 10 minutes, revealing brighter, dewier, skin without any discomfort.
To experience the full spectrum of benefits, I tested the most hyped-up hydrogel masks, and I can't see myself turning back to regular sheet masks again. You heard it here first: hydrogel is in and it's not going anywhere.
Every product is curated with care by our editors and we'll always give an honest opinion, whether gifted or purchased ourselves. If you buy something through our links, we may earn a small commission at no cost to you.
Best Hydrogel Masks for All Seasons: LOOPS Variety Loop
I took this set on vacation and will definitely be packing it on all trips going forward. Vacation skin is unpredictable, but vacation me is not. I want to do the lowest maintenance routine possible. Packed with superstar ingredients for every skin concern, this variety set contains a mask for every occasion. Every other night, I'd pop on a mask that suited how my skin was feeling. In just 10 minutes, my skin was transformed. These hydrogel masks kept vacation breakouts at bay and delivered glowy, hydrated, pampered skin in minutes.
Key Ingredients: Aloe Vera, Collagen, Anti-Sebum Complex
Key Concerns: Brightening, Detoxifying, Repairing, Glowing, Rejuvenating
LOOPS Variety Loop
This set comes with five masks: Brightening, Detoxifying, Repairing, Glowing, and Rejuvenating. Each mask is formulated with powerful ingredients and comes in two pieces: one for the bottom half of your face, one for the top for a face-hugging fit. The textured side grips your face and helps ingredients penetrate deeply in just a "loop" aka one 10-minute session.
---
$30 for 5 masks
Best Hydrogel Masks for Brighter Skin: KINDIA Aura Drip
Many "brightening" products work on the surface of your skin to revive dullness, but few target deeper issues like hyperpigmentation. KINDIA, a South Asian-owned Gen-Z beauty brand with roots in ayurveda, makes the perfect mask for an instant glow while also targeting pigmentation and uneven complexion. I also love the mission behind the brand, which encourages everyone to celebrate their individuality, highlighting the unique ways we each feel like our most empowered, beautiful selves. Self-care with a communal message—what's not to love?
Key Ingredients: Niacinamide, Turmeric, Sake, Betaine, Aloe Vera, Tiger Grass, Rose Water
Key Concerns: Brightening, Breakouts, Firming
KINDIA Aura Drip
This hydrogel mask reduces blemishes and stimulates collagen while brightening with niacinamide and turmeric. It's time to step away from the homemade turmeric masks—these spa-like hydrogel masks have you covered. Bonus: They're also biodegradable. Simply put it into hot water to let dissolve.
---
$40 for 5 masks
If you don't always feel like putting on a full mask, this eye and cheek mask is for you. Like an elevated set of eye masks, they cover your eye and cheek area so comfortably you can forget you're wearing them. As someone with combination skin, I love using these to give some extra TLC to the dryer areas of my skin. They're also great first thing in the morning to soothe and refresh my under-eyes while firming and depuffing my cheeks. Plus, with the hydrogel formula and unique shape, they don't slip off like other eye masks. Seriously—these have changed my routine for the better.
Key Ingredients: Centella Asiatica, Tremella Mushroom, ProVitamin B5, Hyaluronic Acid
Key Concerns: Firming, Soothing
Create your own spa-like experience with this at-home treatment. Made of Highly Purified Water (HPW), this is a "dry" hydrogel mask, which means it doesn't come with its own serums. Pair with your favorite serum othen apply the comfortable, contoured mask for however long you wish. I love that this encourages me to get the most out of my serums. And the scalloped edges and contoured fit really are easy to wear.
Key Ingredients: Highly Purified Water (HPW)
Key Concerns: All, depending on what product you pair
Best for depuffing: 111Skin Sub-Zero De-Puffing Energy Facial Mask
Inspired by cryotherapy, this hydrogel mask uses caffeine to energize while the signature tetrapeptide inhibits collagen breakdown and depuffs and tightens for visibly more awake skin. Pro tip: Keep it in the fridge for the ultimate cryo treatment.
Key Ingredients: Caffeine, Tetrapeptides
Key Concerns: Depuffing, Energizing
---
$32
Dr. Jart Cryo Rubber Face Mask with Firming Collagen
This jelly mask works in two steps. First, apply the collagen-rich ampoule to your skin. Then, apply the Cryo Rubber Mask (best if straight from the fridge!) for 30-40 minutes for bouncy and firm, jelly-like skin.
Key Ingredients: Collagen
Key Concerns: Firming, Anti-Aging
---
$15
Zitsticka Press Refresh Hydrogel Exfoliating Sheet Mask
Beat breakouts with this hydrogel mask from the creators behind your favorite pimple patches. The exfoliating serum contains actives that gently unclog pores and prevent breakouts. Meanwhile, niacinamide calms redness and evens texture, hyaluronic acid hydrates, and allantoin locks hydration and elasticity.
Key Ingredients: Salicylic Acid (BHA), Glycolic Acid (AHA), Lactic Acid (AHA), Niacinamide, Hyaluronic Acid, Allantoin
Key Concerns: Exfoliating, Clearing, Calming
---
$36 for 5 masks
MZ Skin Anti-Pollution Hydrating Face Masks
Fortified with antioxidants, these masks revitalize skin to prevent environmental damage and detoxify your pores. Plus, licorice root and tranexamic acid help brighten and reverse existing damage.
Key Ingredients: Tranexamic Acid, Hyaluronic Acid, Licorice Root
Key Concerns: Detoxifying, Calming, Hydrating
---
$135 for 5 masks
Neutrogena Moisturizing Hydro Boost Hydrating Face Mask
Because of their intense formulas and powerful serums, the main drawback of hydrogel masks is the cost. This affordable options drenches your skin with moisture in a quick and comfortable, no-slip mask.
Key Ingredients: Hyaluronic Acid
Key Concerns: Dryness
---
$2.77