There are two types of people in the summer: those who try to soak up as much sun as possible and others who jump through hoops to avoid it. You know them, you love them, and you can smell their sunscreen from a mile away. Bring on the floppy hats, the umbrellas, and the SPF 50. While the sun provides vitamin D and serotonin, exposure to the sun also means exposure to UV rays, free radicals, and harsh pollutants. A hefty price to pay for some happy hormones and a tan. In the summer, the risk of sunburn is higher with increased time outside. And, for those prone to post-acne scars and dark spots, more sun exposure often makes hyperpigmentation in the summer even worse.
Hyperpigmentation is the excess melanin production that happens when your skin is trying to heal an acne scar. While these dark spots fade over time, excess sun exposure can irritate them more. This is bad news for those with darker skin tones, who naturally produce more melanin. So if you've noticed more severe hyperpigmentation in the summer, now you know why. Next step? Let's learn how to heal it.
Featured image from our interview with Roti Brown by Michelle Nash.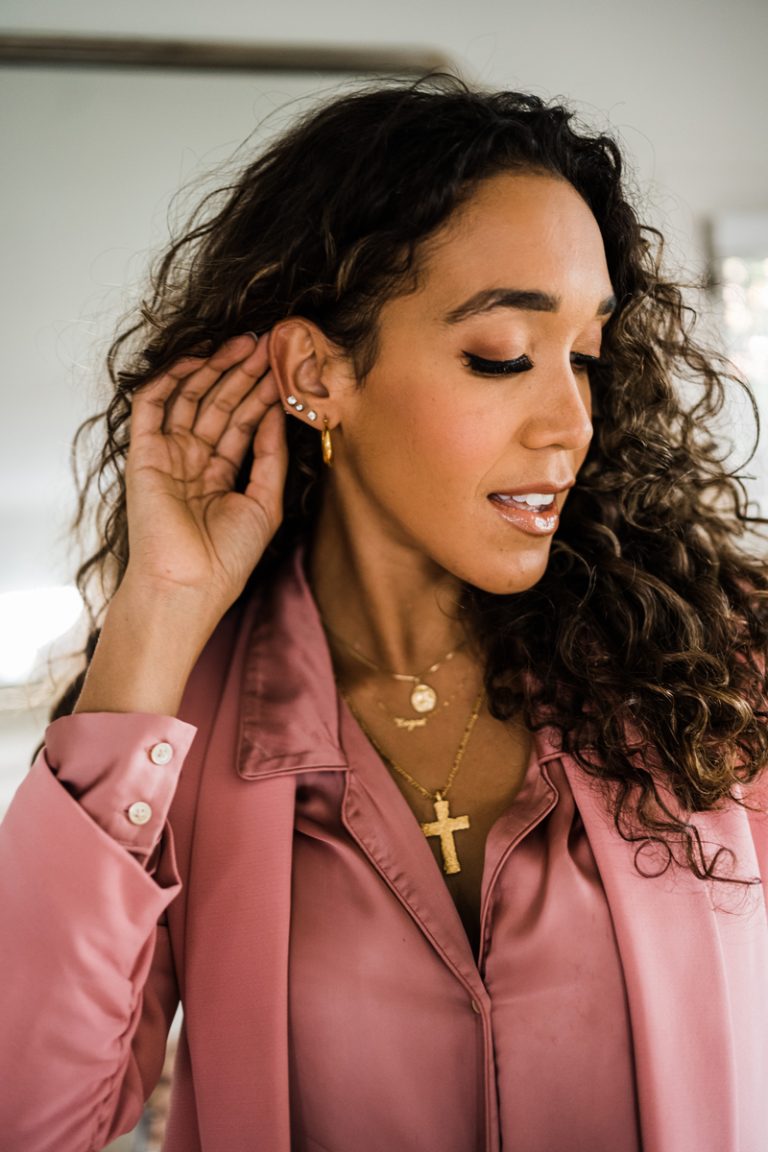 Hyperpigmentation in the Summer: What to Know
When it comes to hyperpigmentation in the summer, many of us are in a pickle. The typical solutions for hyperpigmentation we rely on throughout the year can make skin more sensitive to the sun. Exfoliation? Retinol? Clinical treatments like micro-needling and chemical peels? All of them come with warnings to limit sun exposure. But really—in the summer, is that even possible?
For answers, I consulted SkinSpirit Aesthetic Nurse Specialist Taylor Bagby, RN. "It's not necessarily a matter of increasing your skincare routine but being diligent in following it," says Bagby. "Moisturizer will be key during the summer as you can run drier due to the heat and sun exposure. Sunscreen is absolutely essential, too. It will be your biggest ally against the added sun exposure that comes with the summer weather."
Read on for her tips on addressing hyperpigmentation in the summer, plus the products to throw in your beach bag so you can enjoy the sun without sacrificing your skin health in the process. (Hint: the answer might be that SPF 50.)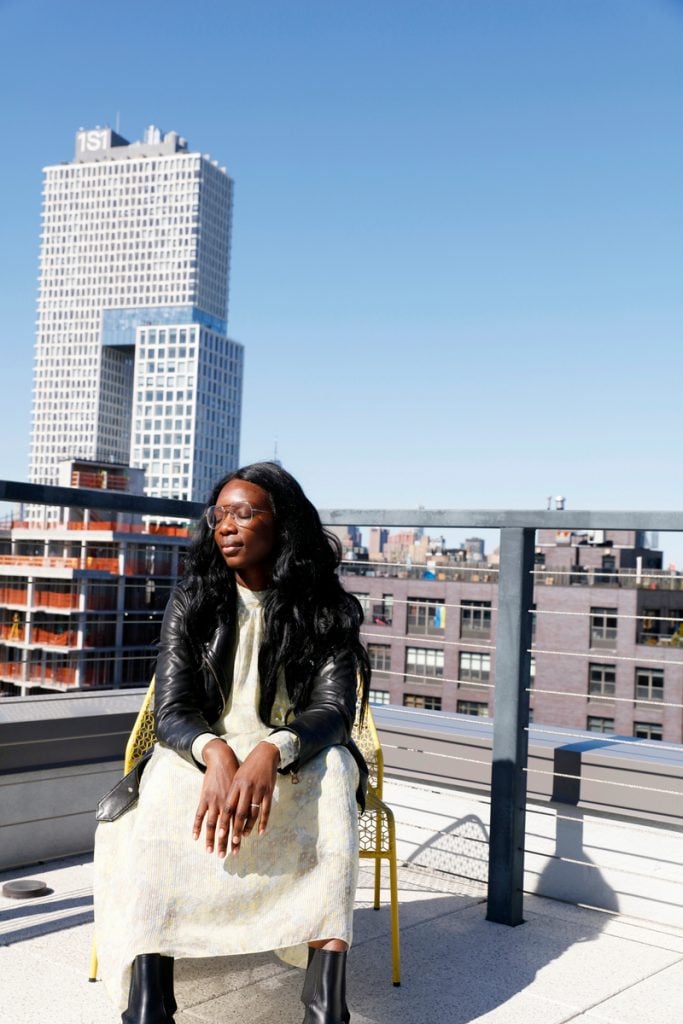 The Best Ingredients to Treat Hyperpigmentation
Great ingredients in battling hyperpigmentation, especially for correction and prevention, include:
Niacinamide
Tranexamic acid
Kojic acid
Azelaic acid
Hydroquinone
Proper usage and application is key. It's not necessary to have every ingredient listed above in order to treat hyperpigmentation. Vitamin C and retinol are also vital elements for hyperpigmentation. Vitamin C is a great antioxidant that is super important to incorporate in your skincare routine after your cleanser to help prevent free radical exposure, which can lead to premature skin aging over time and cause hyperpigmentation. Retinol is important for cell turnover and collagen production, which leads to an improvement in skin tone and texture as well as a boost in collagen.
Don'ts for Treating Hyperpigmentation in the Summer
It's important to avoid too high of a retinol percentage when you have hyperpigmentation. It can irritate skin which in turn can lead to more hyperpigmentation.
Not wearing sunscreen is also a big no-no, especially in the summer. Sun exposure can increase hyperpigmentation by activating your melanocytes which produce melanin, aka pigment.
Avoid over-exfoliating as this leads to irritation and damage to your protective skin barrier. That irritation or damage can then create more hyperpigmentation. Exfoliating is important but it should be done in moderation.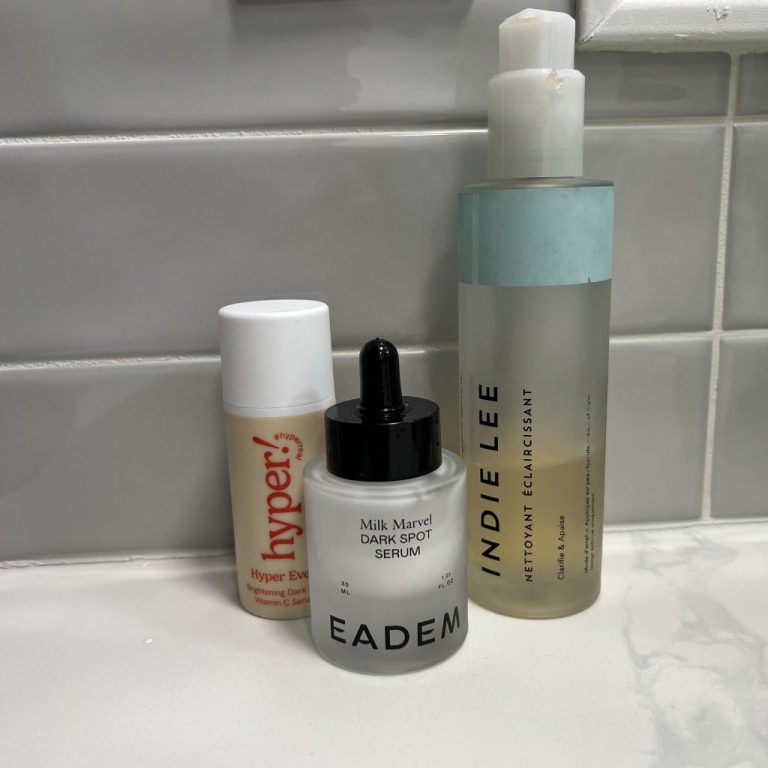 The Best, Editor-Approved Products for Treating Hyperpigmentation in the Summer
Every product is curated with care by our editors and we'll always give an honest opinion, whether gifted or purchased ourselves. If you buy something through our links, we may earn a small commission at no cost to you.
Speaking with Bagby motivated me to tighten up my routine and stay consistent with my favorite dark-spot-clearing products. After years of dealing with dark spots, I've learned to accept hyperpigmentation as part of my life. La vie en acne scars, if you will. But I still keep a few of my favorite serums on hand to fade my dark spots as fast as possible when they do come. Here are some of my go-to's, plus the ingredients that make them top-shelf worthy.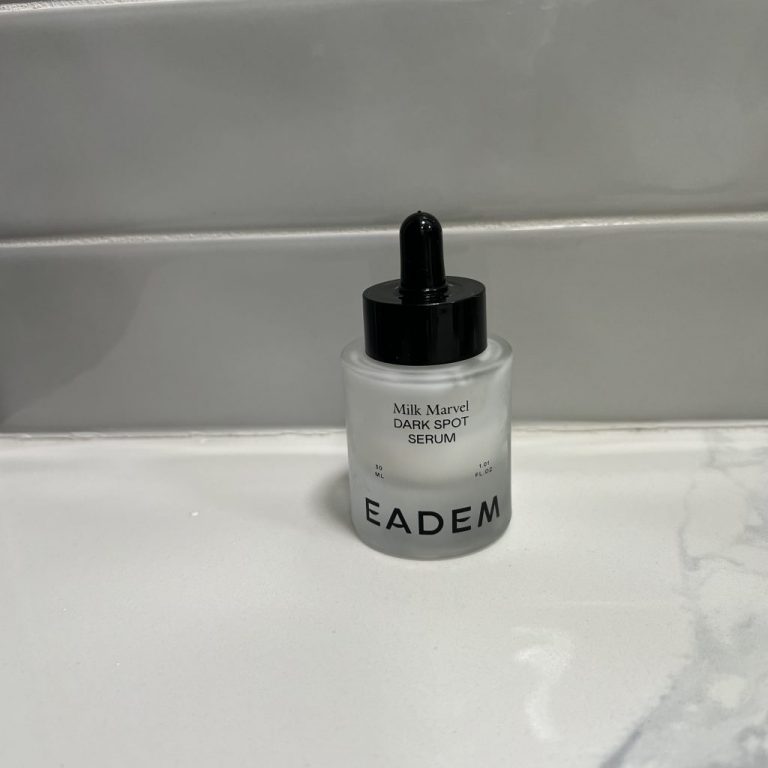 Formulated specifically to help melanin-rich skin tones brighten—not lighten—their skin, EADEM's products have gained notoriety for their transformative effects on dark spots. In fact, this serum has gone viral for how well it brightens skin and fades discoloration. With its milky texture and effective ingredient lists, it's one of the products I'll recommend to everyone I know.
(Psst… we interviewed EADEM's co-founder, Marie Kouadio Amouzame to get all of her beauty and self-care secrets. Her morning routine, as one would guess, is beyond inspiring.)
Key Ingredients: Ascorbic Acid, Niacinamide, Licorice Root
EADEM Milk Marvel Dark Spot Serum
Ingredients like ascorbic acid (a stable form of vitamin C), niacinamide, and licorice root target excess pigment and inflammation. Hydrating ingredients help skin repair itself as gentle exfoliants brighten and resurface for instantly revitalized skin and a more even complexion over time.
---
$68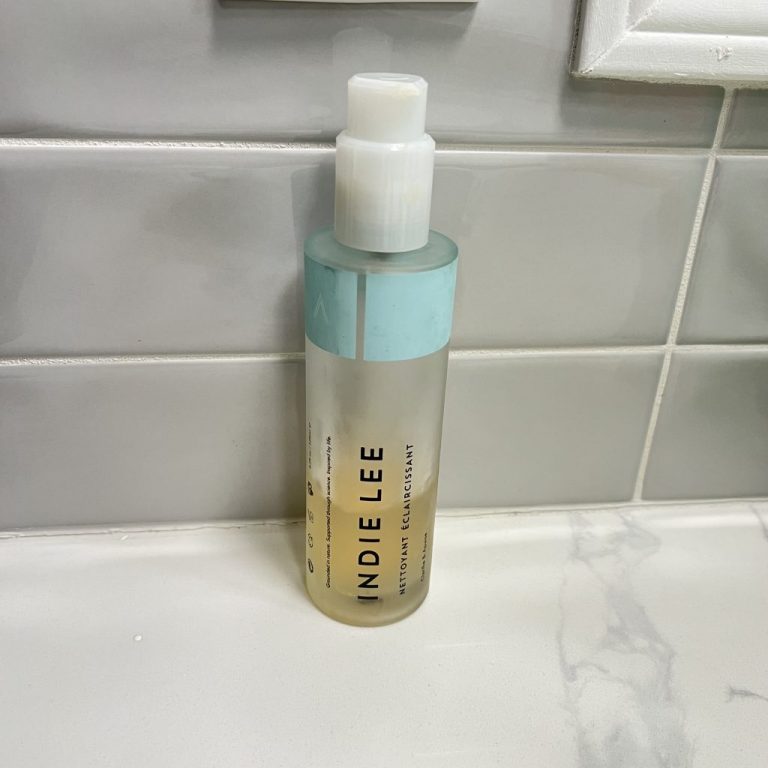 Some products are too harsh to use every day, especially if they have active ingredients to help fight dark spots. But this Indie Lee Brightening Cleanser has been in my rotation for years. Its gently exfoliating formula makes my face look instantly revitalized without irritating my skin barrier. Plus, its bevy of brightening ingredients has helped my hyperpigmentation in the long run. It also just smells incredible. Mornings don't feel the same without its super-light strawberry scent.
Key Ingredients: Strawberry Seed Oil, Wheat Protein, Tomato Extracts, Lycopene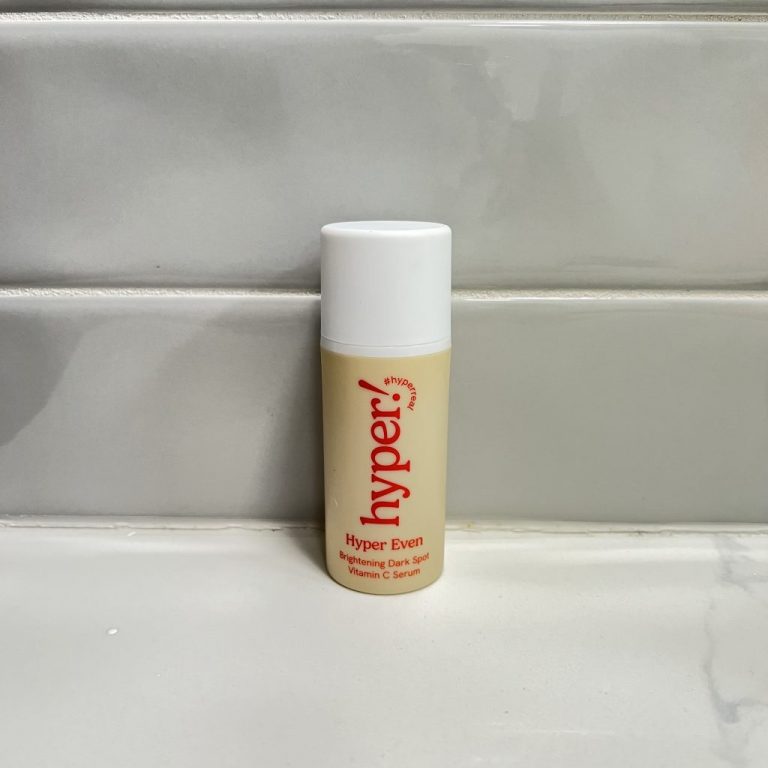 Though vitamin C is known for its dark spot-fighting prowess, it often needs to be bolstered by other ingredients to work on hyperpigmentation—especially for melanin-rich skin tones. This concentrated brightening serum doesn't just polish up dullness like others. It's packed with ingredients that target and inhibit excess melanin production, while exfoliants gently slough away dead skin. The result is a cult-favorite serum that fades those stubborn dark marks and gives you more radiant-looking skin.
Key Ingredients: Vitamin C, Licorice, Kojic Acid, Turmeric, Salicylic Acid
HyperSkin Hyper Even Brightening Dark Spot Serum
A potent dose of 15% Vitamin C anchors this serum as antioxidants and exfoliants fight free radicals, accelerate cell turnover and fade hyperpigmentation. Licorice, kojic acid, and salicylic acid gently target stubborn scarring while anti-inflammatory turmeric prevents future breakouts.
---
$36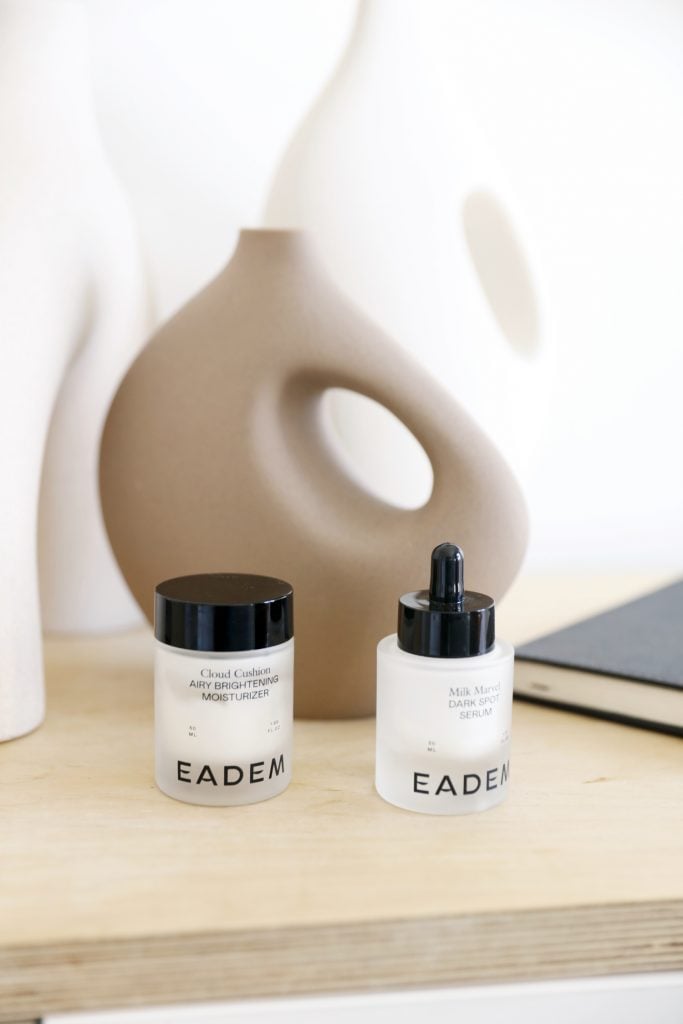 "For products that focus on hyperpigmentation, I'm a huge fan of SkinCeuticals' Discoloration Defense," says Bagby, who loves this serum for its powers of "skin tone correction and keeping hyperpigmentation at bay."
Key Ingredients: Tranexamic Acid, Kojic Acid, Niacinamide
SkinCeuticals dupe! Good Molecules serums are highly effective at an affordable cost. This serum deeply penetrates the skin to clear stubborn scars and target uneven skin tone.
Key Ingredients: Tranexamic Acid, Niacinamide
"Anyone with pigment should avoid dry skin, so moisturizer and staying hydrated is important," says Bagby. This gel-cream formula acts as a moisturizer that's light enough for the summer, but still packs a punch for brightening and moisturizing skin.
Key Ingredients: 10% Azelaic Acid, Licorice Root, Salicylic Acid
This lightly tinted mineral SPF contains zinc and other protective actives to shield skin from UVA/UVB rays without leaving a white cast on your skin. Its combination of vitamin C and a proprietary brightening formula help address existing pigmentation while preventing further sun damage.
Key Ingredients: Ascorbic Acid, Zinc Oxide
While any retinol will help accelerate cell turnover and fade dark spots, Bagby recommends this one that targets hyperpigmentation. "Senté has a great retinol called Bio Complete Serum," says Bagby. "It's perfect for those who are new to the world of retinol and those who have sensitive skin."
Key Ingredients: Retinol, Vitamin C, Peptides
SENTÉ Bio Complete Serum
Unlike traditional retinoids that the skin may not tolerate well, this retinol-based serum combined with the power of Heparan Sulfate Analog (HSA), work together to smooth fine lines and wrinkles, and restore smoothness and softness to your skin. Vitamin C helps to nourish, brighten and balance dull and environmentally damaged skin.
---
$118
"Exfoliation is also important especially to help remove dead skin cells to keep your skin clear," says Bagby. Just be careful not to overdo it! Lactic acid is a great AHA for hyperpigmentation because its larger molecules are gentle enough to use frequently, and target hyperpigmentation to reveal for even skin.
Key Ingredients: Lactic Acid, Licorice, Aloe
Sunday Riley GOOD GENES All-In-One Lactic Acid Treatment
Gentle enough for various skin types, this anti-aging treatment is formulated with purified grade lactic acid that works to clear skin and produce natural collagen. Ingredients like licorice, lemongrass and aloe help you achieve an even complexion while reducing the appearance of fine lines and wrinkles.
---
$85