Up next, Kola Goodies founder, Sajani Amarasiri's morning routine.
I remember when I first stumbled upon Kola Goodies on Instagram and immediately squealed because there was a bad-ass desi woman as the face behind the brand. Somehow in a year where I thought making connections would be near impossible, I've seen creators like Sajani Amarasiri not only whole-heartedly embracing this challenging year, but also taking the time to foster connections and lift those around her up. Amarasiri and I connected over an episode of my podcast, Fill the Teapot—listen to her episode here—and when I tell you she is one of the most genuine rays of sunshine I have ever met, I am not exaggerating one bit.
After immigrating to the US from Sri Lanka for school and spending time working with some big-name brands (while she spear-headed her side hustles including Colombo Cooperative in Sri Lanka), Amarasiri took the leap to start her own wellness brand in Kola Goodies. My chat with her reaffirmed the idea that when you authentically create anything that is true to you, success will follow. Amarasiri's feature product, Kola Kanda, is an ode to her mornings in Sri Lanka, and her push for representation along with an equitable supply chain that gives back to the cultures and communities whose "wellness" practices we borrow from is nothing short of inspiring.
We spent the morning with Amarasiri in her San Francisco apartment to hear about how she starts her day (no green juice in sight!) and what she's learned on her entrepreneur journey.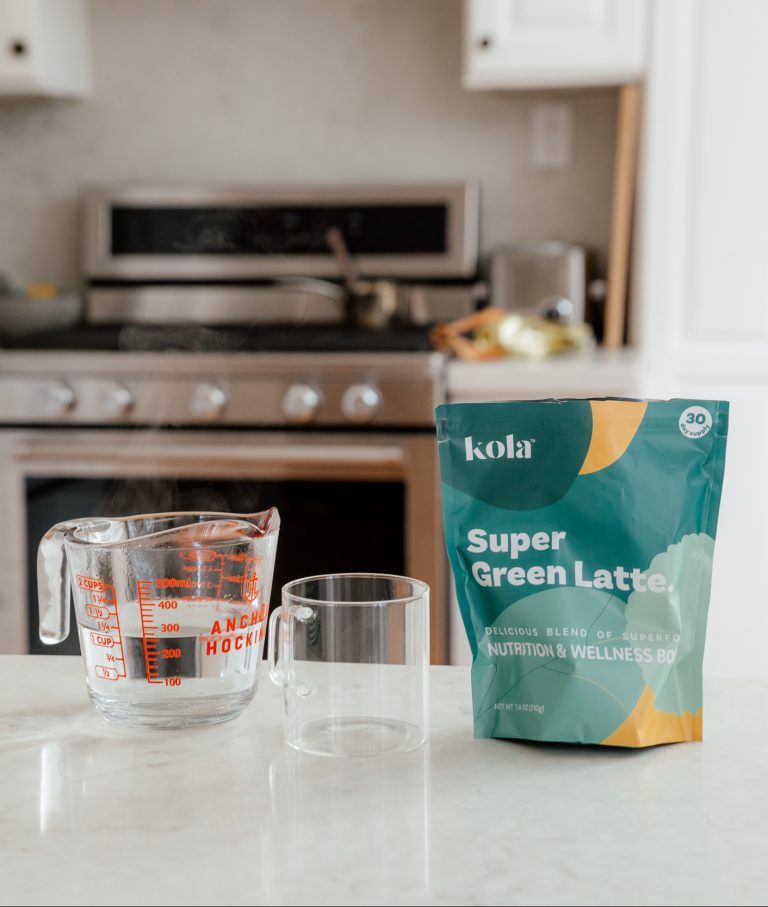 On building her brand…
I was born and raised in Sri Lanka and I came to the US in 2009 as a college student. I always tell people I grew up in Sri Lanka but I became myself in the US. I worked in tech at giants like Microsoft and Amazon prior to jumping full-time into entrepreneurial life. My biggest passion and edge is connecting my two cultures (Sri Lankan and American) in fun accessible ways, and that has been a common thing in my ventures. I started Kola Goodies because I wanted to bring wellness goodies and South Asian ingredients we grew up with to the US, while maintaining cultural representation and attribution that is almost always ignored in the industry.
There are natural remedies and foods we have on the other side of the world that can help with our modern-day concerns like stress or not getting enough veggies, so I wanted to create a wellness brand rooted in balance and culture to address these issues for myself and everyone out there. It also became frustrating to see brands just capitalizing on rituals from South Asia with no attribution to their origins, and that needed to change; the supply chain in wellness needs to ensure that the people, communities, and cultures where these ingredients come from benefit appropriately from their knowledge and traditions. All these reasons came together in a perfect storm to bring Kola Goodies to life!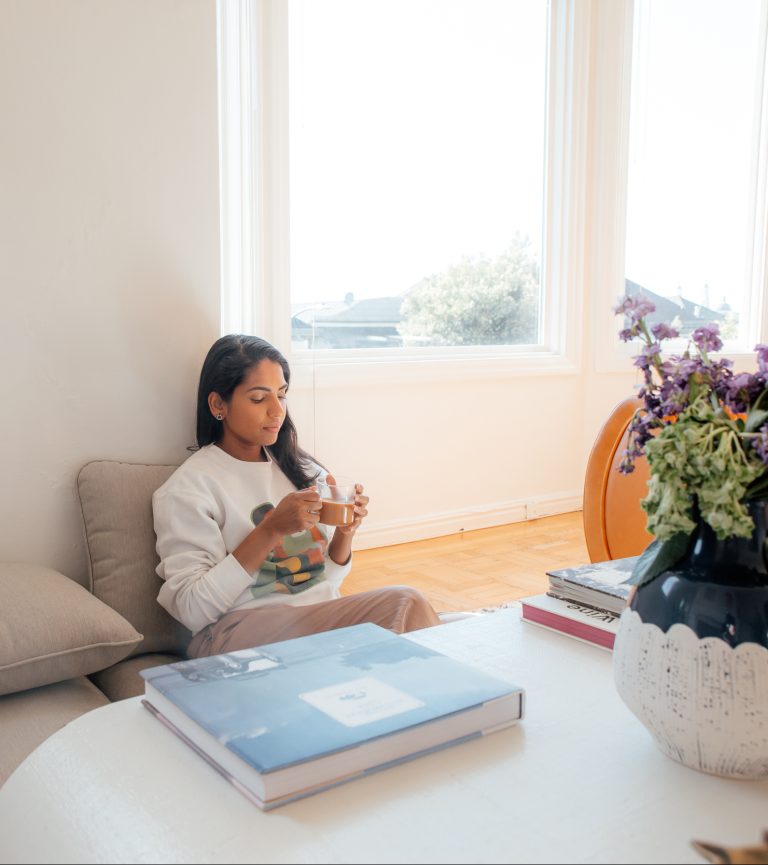 On what she reaches for in the morning…
I drink some hot water first thing in the morning these days. I run cold so it helps me warm up and also it's a good way to kickstart your digestive system according to Ayurveda. Most days in the morning it's a latte with oat milk and some days it's Sri Lankan Milk Tea (so delish!). I am not a huge breakfast person which is why our Super Green Latte is a must-have for me. It's a creamy blend of nutritious greens that's inspired by a Sri Lankan breakfast drink called Kola Kanda (herbal porridge) that's super nutritious and filling. So, launching that product was pretty special and also advantageous to me, haha!
Kola Kanda is a traditional green breakfast drink from Sri Lanka. It's a mix of nutritious greens like Moringa, Gotu Kola, Shatavari, Curry Leaves, warming spices like ginger and cinnamon, blended into coconut milk (the base for much of Sri Lankan cuisine), and cooked rice. It's all blended together and enjoyed hot in the morning. Growing up we would have this every day and my mom still makes it every day back home. It's not only so good for you as you start the day with warming spices and greens but also keeps you full—it's really a balanced meal in a cup.
On what "getting back to your roots" means to her…
Because I am an immigrant, I consider my roots to be in Sri Lanka as well as here in the US. My parents still live in Sri Lanka, my childhood friends are still there, and a lot of things I know about wellness and self-care all come from Sri Lanka. For me, it means a chance to bring forward rituals, goodies, ingredients while being able to tell the heritage stories in a way we can honor the culture and at the same time giving back to the communities the ingredients and products stem from.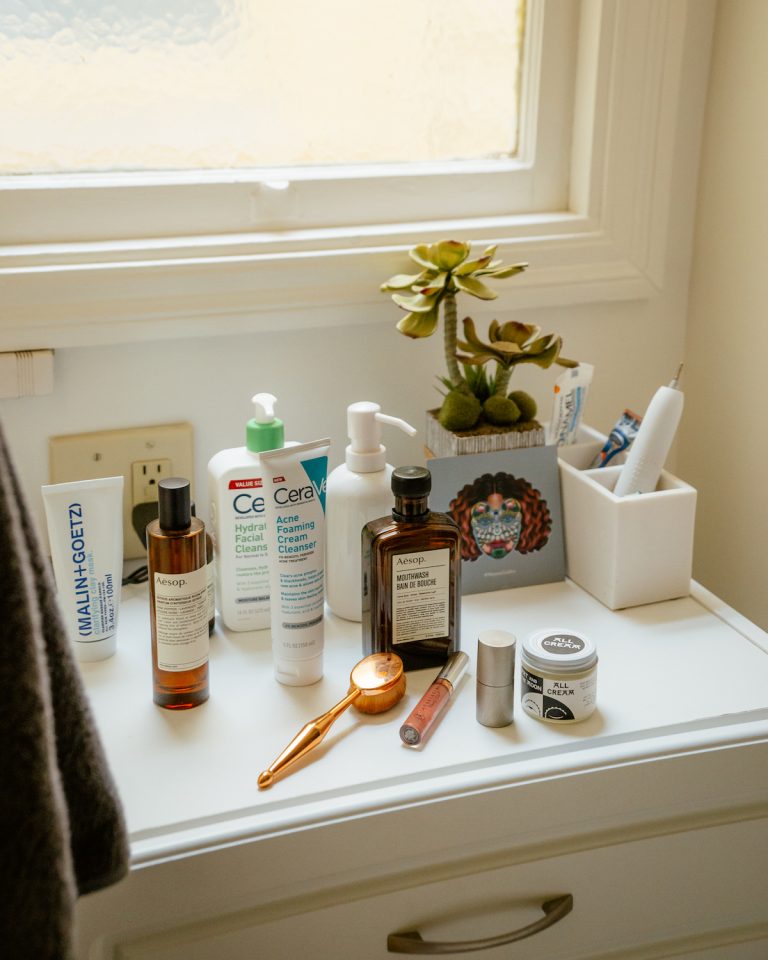 On her beauty must-haves…
I'm really new to thinking about beauty, I probably only started thinking about skincare and makeup seriously about five years ago. Lately, I've been loving this Cera Ve Acne Foaming cream cleanser, Fat and the Moon All Cream (amazing products and company), and a good lipstick. I need good lipstick always, even if I don't have a drop of makeup on my face. 
Also, I've been trying different sunscreens; it's so hard to get a good mineral sunscreen that doesn't leave a white cast which is basically unusable on brown skin, so I'm still trying out different ones. Growing up we didn't really use any, it wasn't big back in that tropical island where I grew up. Yes, it's surprising, but in a way not surprising, as for a long time, people thought if you're brown, you don't need sunscreen, which is wrong.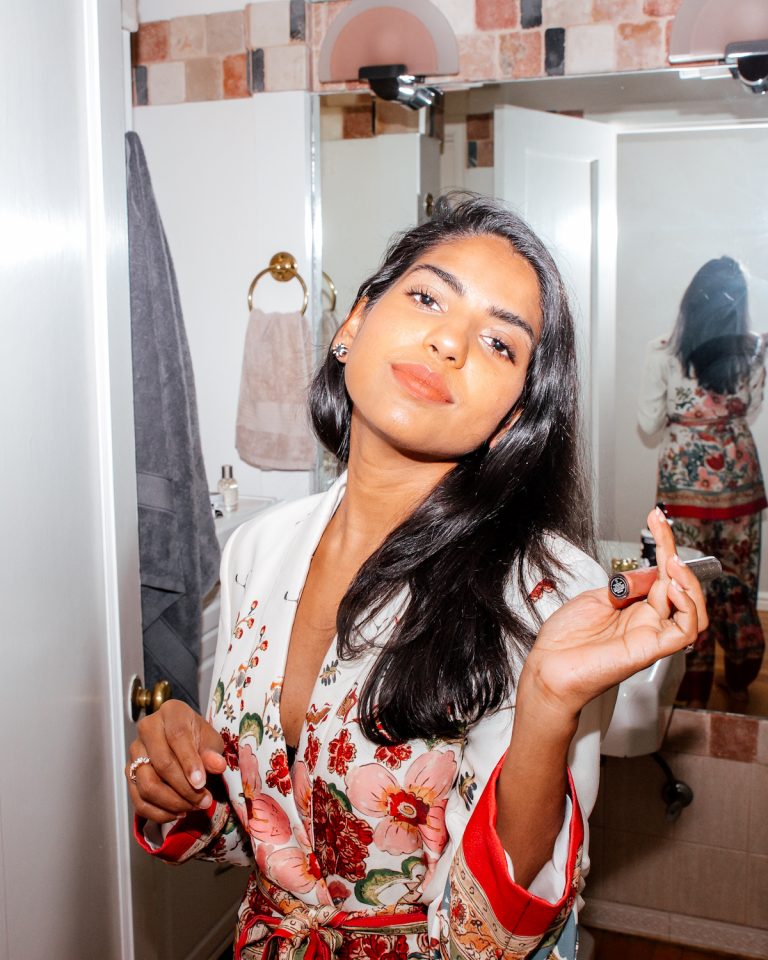 On her best and worst morning habit…
Best… sending the universe gratitude and meditation, saying I love you as I wake up to my husband
Worst … battling my to-do list in my head even before I get out of bed, something I'm trying to get good and learn to be more in the present moment.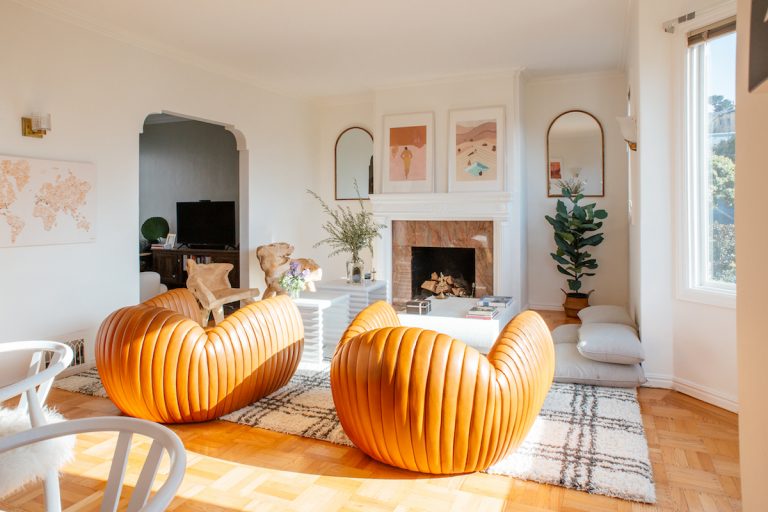 On what home means to her…
Home for me means having people I love in it, having the space filled with so much love, and curating the space with things that are unique, things that I feel express myself, my style and that inspire me. Home for me also must be filled with light. My interior design style has grown and evolved over the years as I have gathered different life experiences like traveling to over 30 countries and have grown more into myself. I want to have as many timeless pieces with stories in our home.
On her favorite décor pieces… 
I have an intricate gold bowl that belongs to my parents.  This Restoration Hardware (yes, before it was RH) Versailles Chair was my first ever splurge and we got it for the first home we bought six years ago—I see it as a timeless piece that can be generational. This piece of Shyama Golden moving art inspired by historic Sri Lankan women's styles meets a futuristic world. Three Peruvian Mirrors from a bazaar in Peru are gold, intricate, and beautiful. Two art prints by Isabelle Feliu that hangs up on my mantle—the colors are earthy, calming and the art has this quiet confidence and fierceness in it, even one of the women by the pool reminds me of the power of resting. The natural, carved wooden chairs by Arhaus, of which no two chairs look the same.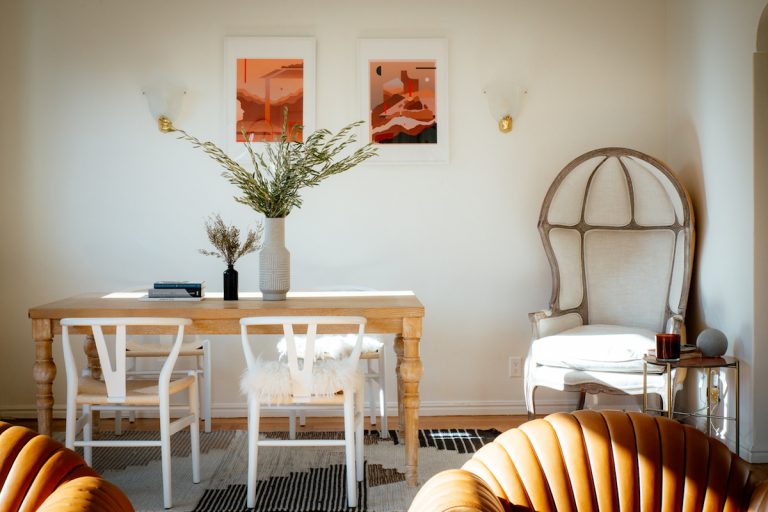 On her kitchen must-haves…
A rice cooker, my Breville coffee machine, a good wok, and a good frother to mix my Kola Goodies.
On her favorite cookbooks…
I don't have favorites per se, I do enjoy Alison Roman's cookbooks because the recipes are fairly easy to follow and delicious. I cook a lot of Sri Lankan food so it's a lot of asking my Amma or looking it up on YouTube to see how to make something.
On the things you'll always find in her refrigerator…
Really good butter, oat milk, a Parippu (Sri Lankan-style lentil curry), and cooked rice (wow, I never thought of this question and it's so interesting! haha).
On the items she always has in her pantry…
Sri Lankan curry powder, Ceylon Tea, local coffee beans, cans of coconut milk, and Kola Goodies.
On the one meal she always make at home…
Pancakes. I KNOW I'M WEIRD! But I only like Sri Lankan-style pancakes—it's a thin crepe-like pancake made with coconut milk and no one else makes it, so I make it at home.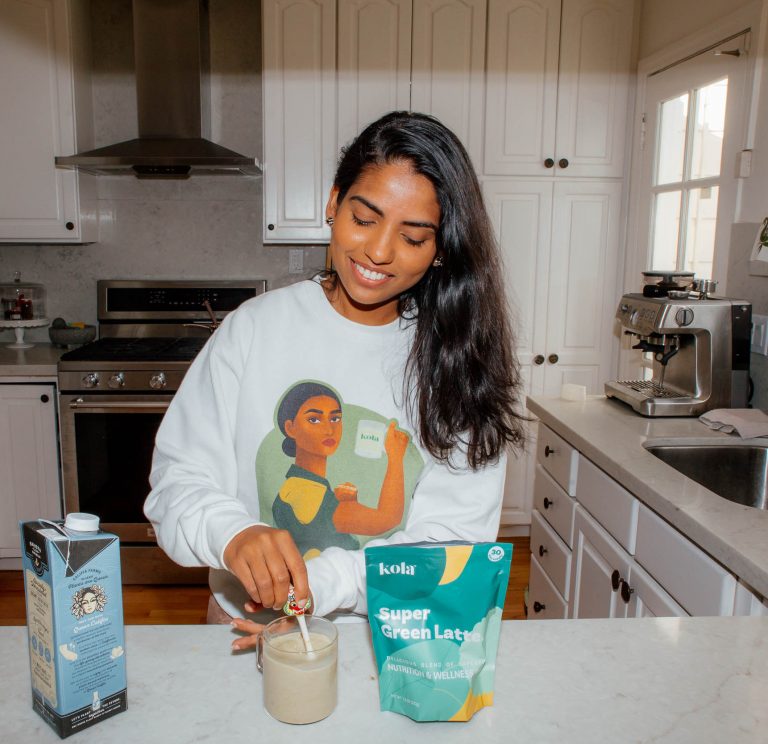 On what "wellness" means to her… 
Balance. Wellness is not a separate box you need to check as it has become nowadays, it is life, you want to live your life in wellness, and that doesn't mean extreme diets and workouts. For me it means living life in balance, drinking my Moringa so I can have that glass of wine that I also love.
On some of the lessons she's learned as an entrepreneur…
Master your mind, master your thoughts and make your mind work for you, not the other way around. It's the hardest thing you have to learn to do and I'm still learning.
On her biggest inspiration as an entrepreneur…
My biggest inspiration is my parents who were both small business owners in Sri Lanka. One thing I know and have seen for sure is that you can't ever expect it to be good all the time, and to be honest in every way, at the end of the day, you will have that peace of mind that you have not cheated anyone, lied, or done any wrong to anyone and that matters more than money ever will.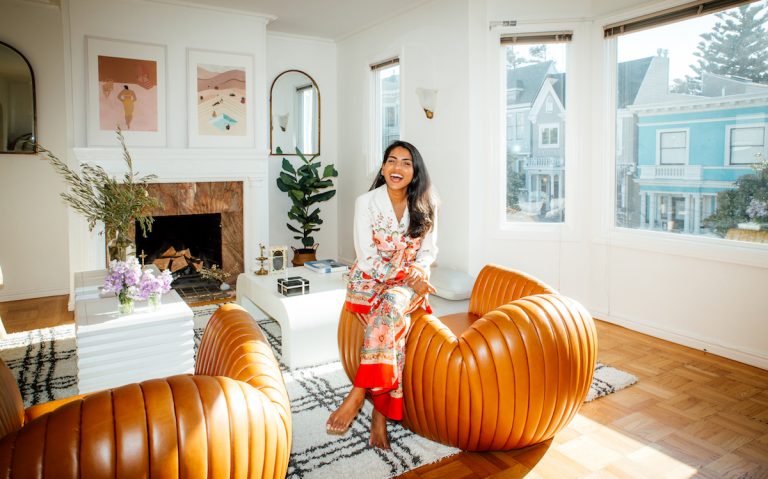 On embracing community as an entrepreneur…
It's been at the heart of my ventures; I am always looking to represent and bring together the communities I'm a part of (Sri Lanka and the US). The biggest and best way to see this in Kola Goodies is how our community came together in launching our brand—our farmers, designers, our photographer, and co-packers are all Sri Lankan or are diaspora working together to create our brand and our products with true cultural representation.
Fill in the blank: 
The perfect morning should be… sunny, intentional, and with Kola Goodies.
Loved this post? Pin this graphic to come back to it later.