Up next, the founder of could i have that?, Samantha Wennerstrom's morning routine.
On a sun-drenched morning in July, I drove up the Pacific Coast Highway to Santa Barbara to spend the day with Samantha Wennerstrom, creator of lifestyle site could i have that?, and photographer Sara Prince, who was shooting her for our interview. I had broken my foot just a few days before, and was feeling uncomfortable and moody as I slowly learned to navigate life on crutches. Still, the beautiful drive up the coast was a salve to my negativity, and once I arrived, Samantha's welcoming home and inviting presence immediately put me at ease.
I met Sam years ago through the blogging world, and I've always loved her understated style that feels so California and confidently simple. You know those women that have such a strong personal style that they don't even seem tempted by the trends of the moment? That's Samantha to a (perfect white) tee. Her insta is one of the first places I go for fashion inspiration and proves the power of a well-cut jean and delicate stacked jewelry. There's a timeless quality to her sartorial and beauty choices, as well as the lifestyle content she shares across her channels.
As a mother of two, it's been inspiring to watch Samantha evolve and navigate change. There's an art to continue challenging oneself while still staying true to who you are, and Samantha never veers from that place of authenticity. I'll never forget the laughter-filled morning we spent together as I interviewed her for this story, captured so beautifully through Sara's photos. Scroll on for our conversation to learn about Samantha Wennerstrom's morning routine, energizing breakfast, and how she lives a joy-filled life each day.
I started the site in 2009 as a creative outlet, and it grew organically over time. I've always been inspired by that laid-back California lifestyle, and my blog has been my personal diary designing my own life and discovering the things that bring me joy.
Spending most of my life in Santa Barbara has made it the heartbeat of everything I do.
From the style to the energy, there's an intangible magic here.
What has been your biggest learning over the past year?
"Say no, in order to say yes more." Someone gave me this advice last year, and it stuck with me—I keep it on a post-it note on my desk. I've been making an effort to be more thoughtful with where I place my energy, and it's made me enjoy my work so much more.
I am such a fan of your personal style. In a few words, how would you describe it?
Thank you! I guess I would say neutral, timeless, classic and understated.
The one thing I fear the most is…
Making a big mistake.
When I feel that fear, I…
Remember that I'm human and mistakes can lead to something good.
Let's get into your morning routine. What does a typical day look like for you?
We usually get up around 6:15. Our two adorable alarm clocks (ie. our daughters) make sure we're up before the sun, and then it's a groggy hour of coffee, breakfast, and getting Elin ready for school. Depending on the day, I'll either get ready and work in our home office, shoot content or run errands. Most days I finish at 4 pm when Lila wakes up from her afternoon nap, and then its dinner prep, bath time and an hour to either clean the house or collapse on the couch—I'll be honest it's the latter most days!
What's always on your nightstand?
Peppermint Essential oil, a picture of Todd and I on our wedding day, some jewelry and a crystal my mom gave me.
What's the first thing you do when you wake up?
Elin will jump in bed with us, and Todd gets Lila out of her crib, so probably a snuggle fest! Elin likes to make sure that I don't fall back asleep.
What morning rituals set you up for success?
It's a little bit of a juggle these days, and to be honest I'm still figuring out what works best as Lila gets older. But one thing I do that always makes me feel amazing in the morning is a steamy shower with Eucalyptus oil sprinkled on the floor.
Describe your morning beauty routine.
I wash my face with IsClinical Cleansing Complex, then use a hyaluronic serum from Dr. Sturm. On top of that, Phyto-C O-Live serum, then my moisturizer (can't live without the Youth Complex from IsClinical) and sunscreen.
What do you eat for breakfast?
Scrambled eggs with veggies or Purely Elizabeth oatmeal loaded with apples, cinnamon, coconut butter, raisins and honey.
Samantha's Cozy Oatmeal Recipe:
Cook Purely Elizabeth oatmeal according to directions. While it's cooking, add a scoop of coconut butter to the bottom of a bowl.
Add a little maple syrup to the oatmeal in the pan, then pour the cooked oatmeal on top of the coconut butter—it melts and is so good.
Top oatmeal with cinnamon, raisins, shredded coconut, and diced apple. Eat!
What will we always find in your refrigerator?
Almond butter.
Are you a shower or bath person?
Bath! I love using African Botanics Le Vert.
What do you drink first thing?
A good cup of coffee. We got a Breville Espresso machine last year and it was the best money spent!
What's your favorite podcast?
I'm currently loving Athena Calderone's More Than One Thing.
The book you always recommend:
What's your favorite getting-ready soundtrack?
In the mornings we love listening to Stan Getz—there's just something so calming about his music.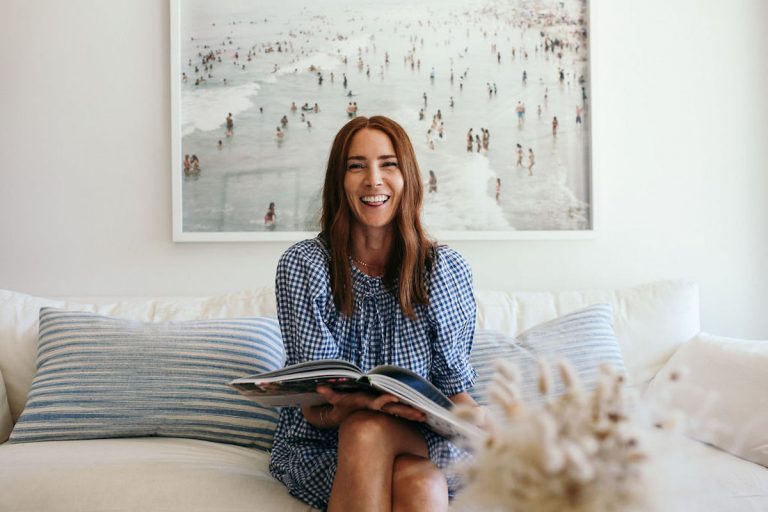 Do you work out in the morning?
If Todd is able to take Elin to school, Lila and I will go on a 30-40 min walk in our neighborhood.
What's your daily uniform?
Vintage Levis, The Great tee, Jenni Kayne sweater, and Freda Salvador sneakers.
If you had one extra hour every morning, how would you use it?
Yoga! I'm dying to get back into a daily yoga routine and hoping to make the time once Lila starts preschool.
What's something you do every day to live a more mindful and joyful life?
Breathing and drinking plenty of water.
If you could pin your success down to one thing, what would that be?
Persistence.
I never leave the house without…
The trait you want to pass on to your daughters is:
Kindness!