Perhaps one of the most hyped beauty ingredients in recent years is collagen but if, like us, you've always wondered what is collagen? then rest assured, you're not alone. A quick Google search of the phrase warrants 153 million results so it's very clear we're not the only ones looking for more information on the benefits of collagen.
*This post is in partnership with Olay.
So, here's a mini lesson:
What is collagen?
Collagen is the main (and most abundant) structural protein found in your body.
What is collagen good for?
As the major component of connective tissues, collagen makes up several body parts, including tendons, ligaments, skin, and muscles. It provides your skin with structure and strengthens your bones.
Why is collagen good for you?
Collagen is a major component of your skin, so it plays a significant role in strengthening the skin, too. Since our body produces less collagen as we age, taking collagen both orally and topically may help to reduce the onset of wrinkles and increase elasticity, hydration, and firmness. 
Now, that you're all schooled up on the benefits of collagen, it's time to dive into some of the best collagen products (including collagen treatments) that the Camille Styles' editorial team has trialed recently, including why it works, and their honest thoughts!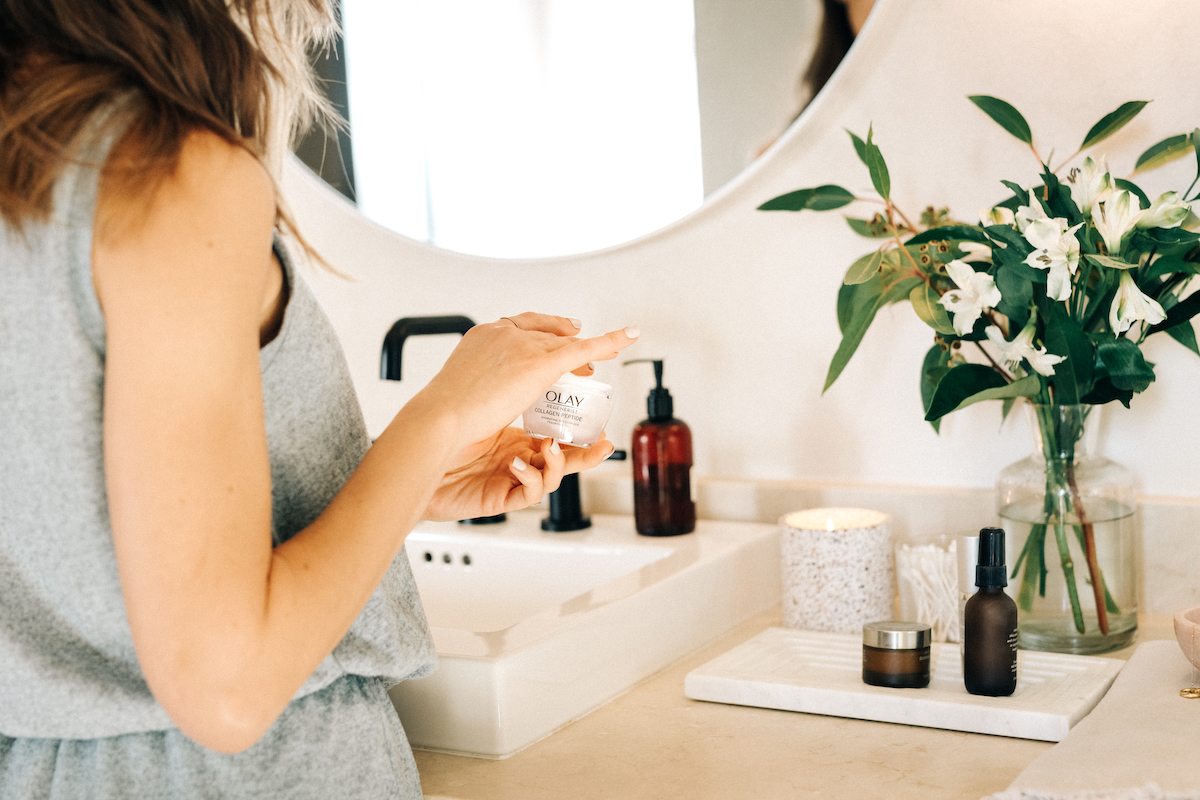 Camille Styles
The Product/Treatment: Microneedling
Why It Works: Microneedling (aka Collagen Induction Therapy) involves puncturing skin's surface to make microscopic "injuries." The skin's natural healing process then initiates new collagen production that thickens the skin and reduces the appearance of wrinkles, acne scarring, sun damage, and stretch marks. It can also enhance the effectiveness of any skincare products used afterward.
My Thoughts: Although I've long been a believer in the benefits of collagen, I was a bit late to the microneedling game. The idea of puncturing my face weirded me out a bit—I was wary of infections or breakouts. But as I've gotten older, I've noticed a visible difference in my skin after traveling, a night of bad sleep, or a couple of glasses of wine, and I knew my skin needed an extra boost. So when my dermatologist told me about the incredible results she's been seeing in her clients by administering three microneedling sessions spaced about a month apart, I signed right up.
Despite what I'd heard from friends who'd done microneedling, I experienced little to no downtime. My skin was slightly red that day and was a bit scaley for a few days after as it shed the top layer of the dermis, but it was really nothing. That said, I didn't notice results right away. About six weeks after my third and final treatment, (just when I was starting to wonder if my efforts and money were all for naught), I started having these mornings when I'd wake up with glowing skin that looked so even, I didn't even need makeup (a first for me.) Was it my diet? My new quarantine routine? Then I remembered my microneedling sessions from two months before and realized the results were kicking in. Of course, it was boosted by the fact that I started using a new collagen-boosting moisturizer, too. Keep reading.
The Product/Treatment: Olay Collagen Peptide24 Moisturizer
Why It Works: This new collagen moisturizer is packed with Collagen Peptide (building blocks of skin proteins) and Vitamin B3 to boost skin's natural collagen production. Many of the products on the market that list "collagen" as an ingredient have molecules that are too big to go beneath the skin's surface, but Olay's Collagen Peptide24 features small molecules that penetrate the skin, allowing it to provide real results. Research shows that applying these topical peptides supports the skin's renewal process and helps reduce fine lines and wrinkles.
My thoughts: I've been slathering on Olay's Regenerist Ultra-Rich Moisturizer every night before bed for several months now, and it's truly taken my skin's moisture levels to new heights. So, newly mobilized by my obsession with boosting skin's collagen, when I saw that the brand had launched a new Collagen Peptide24 Hydrating Moisturizer, I couldn't wait to check it out. 
I've been massaging this moisturizer onto my face and neck every morning, after my serum and before my SPF. First things first: it absorbs really well and is seamless under makeup (I've had one too many moisturizers that "pill" under my foundation, so any skincare product I add to my lineup has got to pass this test first.)
After a couple of weeks of daily use, I've noticed firmer, plumper skin especially along cheeks and undereye area (my biggest problem area.) My plan moving forward is daily application of Olay Collagen Peptide24 Moisturizer, combined with annual microneedling freshen-ups and the collagen gummies I've added to my supplement routine. I'm feeling very good about where my skin is headed as I officially enter the "mid-to-late" zone of my thirties.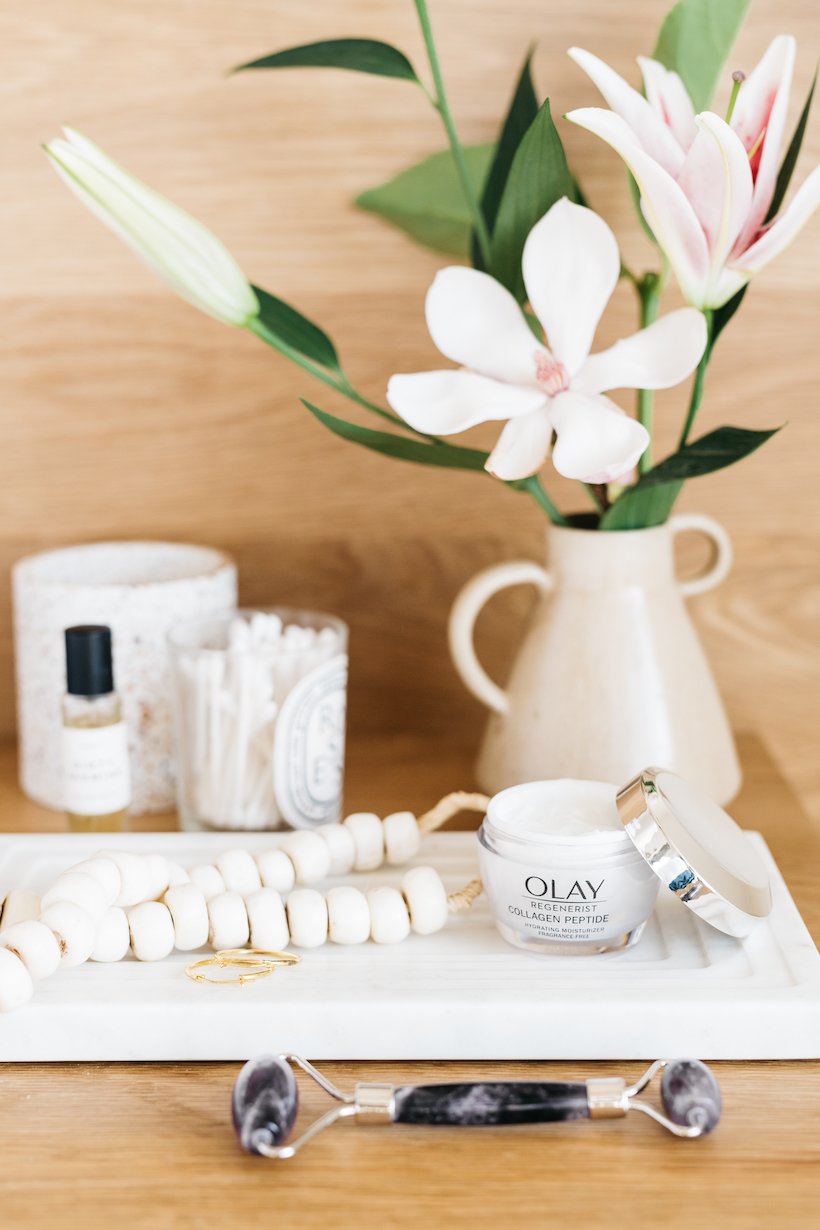 Michelle Nash
The Product/Treatment: The Beauty Chef Collagen Inner Beauty Boost 
Why It Works: It's no secret that what you put in your body has a profound effect on your skin. The Beauty Chef is an Australian-based brand that was behind this idea from the start, creating custom beauty elixirs designed to support skin, hair, and overall health from within. I am obsessed with their products and noticed a visible difference in my skin and hair after just a few days. One of my ride-or-dies is their Collagen Inner Beauty Boost. It's a vegan formula that's packed with vitamin C, superfoods, zinc, probiotics, and more skin-loving goodies to aid in your body's natural collagen production. I didn't even realize Vitamin C is required for the synthesis of collagen in your body, and you won't reap the benefits of collagen without it. With Vitamin C being the essential super-power of the Collagen Inner Beauty Boost elixir, and coupled with ingredients like zinc and beauty superfoods, this product is basically a cocktail for glowy, youthful skin. 
My Thoughts: I began taking more serious care of my complexion when I turned 26. For the first time ever, wrinkles were beginning to make their mark, and my skin was beginning to lose its luster. Plus, I wanted to achieve that glowy, natural look I kept seeing all over Instagram without having to wear a bunch of makeup. In my various Google searches for an answer, it seemed like collagen was getting all of the attention for promoting skin elasticity and reducing signs of aging.
When I discovered the Beauty Chef Collagen Inner Beauty Boost, I loved having a vegan option that would help preserve my body's natural collagen production process. I don't like having to take a ton of supplements so to me, this offered a more natural, gentle approach than other ingestibles. I mix a tablespoon of the elixir with my water and other Beauty Chef boosts every day when I wake up, and sip on it while I go about my morning routine. I've loved adding this yummy drink to my AM ritual, and both of my roommates noticed my new glow up after consistent use.  
The Product/Treatment: Bone Broth 
Why It Works: I love a good beauty product or facial treatment, but as I mentioned earlier I'm a firm believer that another key secret to amazing skin is a healthy diet. While supplements are a great way to reap the benefits of collagen, you can save yourself a little extra effort and money by turning to nature. There is an abundance of ways to get more collagen into your diet, and bone broth is a miracle-worker for promoting strong skin, hair, nails, and overall health. This hype-worthy concoction is loaded with collagen, vitamins, and minerals, and so it directly alleviates inflammation in the body while supporting skin (and bone) elasticity and structure. 
My Thoughts: A year ago, I noticed my hair had started thinning so naturally I freaked out and researched every possible remedy. I knew collagen production starts to slow down in your mid-to-late twenties, and that conditions like thinning hair are also often a sign of an internal imbalance. Rather than spending a ton of money on hair-care, I decided to try out some natural solutions first, one of which was to get more collagen into my diet. After drinking bone broth consistently, I've not only noticed a thicker and shinier ponytail, but also a calmer tummy and more energy. While some people debate the benefits of bone broth, I can tell you first-hand this stuff has made a big difference for me. Bone broth is relatively easy to make at home (check out this article to see how), or you can buy it pre-made from the grocery store. I usually cut corners and stock up on bone broth cartons (my fave brand is kettle & fire) on my Sunday grocery runs, and heat up a mug of this stuff for a snack or to finish off a meal a couple of times a week.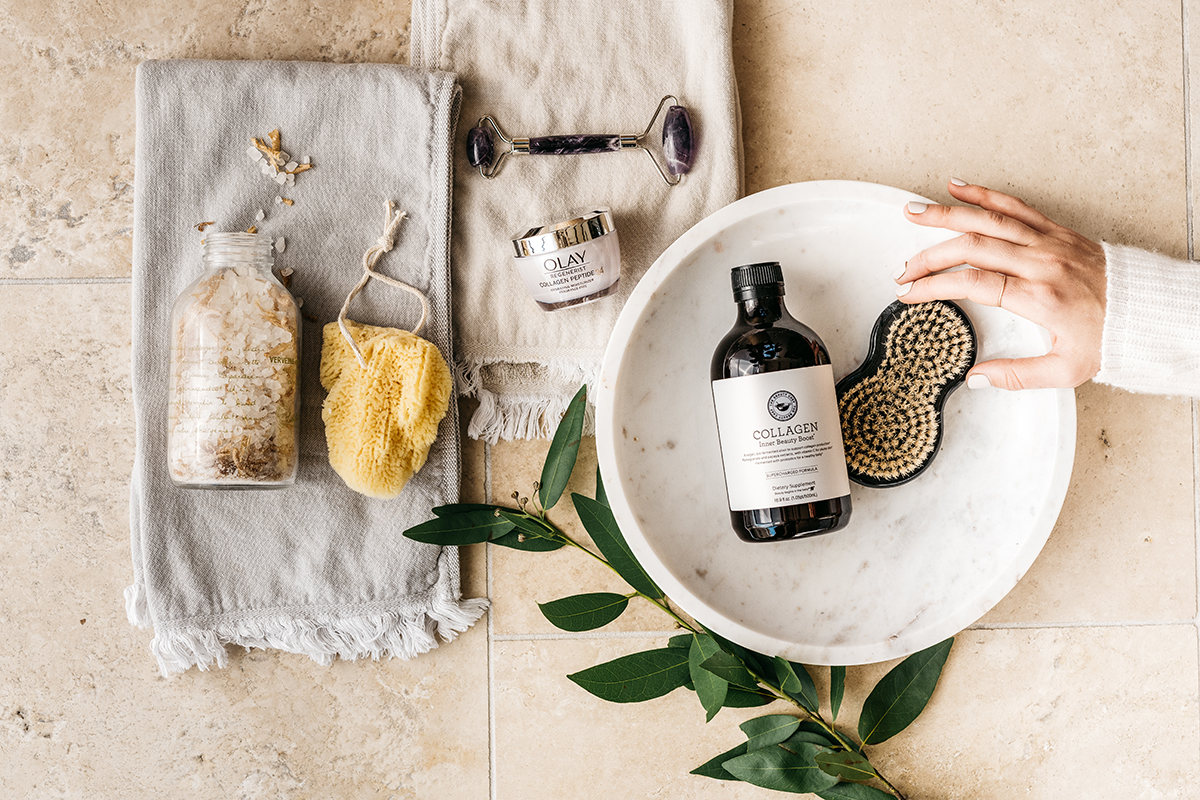 Sacha Strebe
The Treatment: Dermastamping 
Why It Works: If you're not ready for the in-clinic version of microneedling but you want the benefits of collagen, then this one's for you. If you've never heard of dermastamping before (also known as "collagen induction therapy") then the principles are the same as microneedling but it's a much gentler experience (although you definitely feel it!). Fine needles located on the bottom of the square-shaped tool penetrate the epidermis via a "stamping" motion, causing minor trauma to the skin which prompts more collagen production. It also creates micro-channels that allow any serums you apply post-treatment to penetrate deeper into the skin.  
The main difference between dermastamping and microneedling is the technique. Microneedling is a rolling motion across the face whereas dermastamping is straight up and down so it could mean less risk because it's a more targeted treatment. Dermastamping isn't just about collagen production, it also helps to improve the thickness of the dermis and epidermis, as well as brighten the skin by breaking up pigmentation.

My Thoughts: I have been using a dermastamp tool about one to two times a month for about a year now and my skin has never looked or felt better. For at-home use, I reach for the Dew & Go microneedling infusion stamp by The Things We Do. The needles are fine enough for at-home use (you really can't get it wrong!) and it also comes with four skin hydration ampoules. Basically, you remove the stamp, fill the tool with serum, and start stamping. The needles create those microchannels we spoke about earlier and allow the serum to sink directly into the skin for instant plumpness and ultimate hydration. Your skin will flush red, but that's good, it's stimulating all of that delicious circulation, and it's gone in a few hours. I do mine before bed so it's all healed and healthy by the morning!

If I want to step it up, I visit Matthew Miller for his in-salon collagen treatment, the Stem Cell Micro-channeling facial—it's a game-changer. (You can read all about it here.) Miller also told me that daily facial massage can help to boost collagen and keep the skin looking radiant and healthy. He suggests using small circular movements all around the face and neck—don't forget the neck!—especially behind the ears, going down the sides of the neck. Spend time massaging while you cleanse too!
The Product/Treatment: Forma Laser 
Why It Works: The Forma laser has been hailed as a "non-surgical face-lift" and a non-invasive alternative to injections—and it's easy to see why. Made popular treatment with major celebrity fans like Kim Kardashian, Delilah Belle, and more, this skin procedure uses heat and radiofrequency to stimulate new collagen production in your face, therefore lifting, tightening, and contouring your skin. This makes it a great alternative to fillers or traditional plastic surgery methods like face-lifts because it has the potential to tighten the jawline, remove nasolabial folds, raise and lift the brow bone area, sculpt cheekbones, and improve overall skin health.

So, how does it work? First, they apply a conductive serum, then a heated wand is rubbed up and down your face—this doesn't hurt, it just feels warm and it's quite relaxing. When you're done, your skin is visibly brighter, your jawline is more defined, and overall, your skin looks tighter and your face looks lifted.

My Thoughts: This laser has major hype because it really does get the results you want, instantly—as in you will walk out of the salon with tighter, brighter, glowing skin after just one visit. It's truly transformative. I first had the treatment a few years ago during a lunch break and when I went back into the office, colleagues came up to me to comment on my skin, asking me what I had done. And that was after one session. It's really that noticeable.
While I did see noticeable results after one treatment, about five to six sessions are recommended for optimal, long term results. With a series of sessions and yearly maintenance, results can last up to four years. This treatment has zero risks and works on every skin type, tone, and texture. I recommend it for big events or as a skin prep before your wedding. You can read more about my experience and results here.
What collagen skincare, supplements, and treatments have you tried recently? Share your thoughts and the products you love in the comments below.