Have you ever tried a new skincare product and your skin instantly disagreed? Redness, irritation, mini breakouts, dry patches… the list goes on. I have combination skin so I often have trouble finding products that work for the various needs of my face. If I use a cream that's too rich, my t-zone breaks out, even though my drier areas love the added moisture. On the other hand, if I use a cleanser or toner with too much salicylic acid, my t-zone is instantly balanced while my drier areas become irritated and red. If you have sensitive skin, too then you've experienced this first hand. So, I went on a hunt to uncover the best anti-aging products for rosacea to help a sister out.
Featured image by Michelle Nash.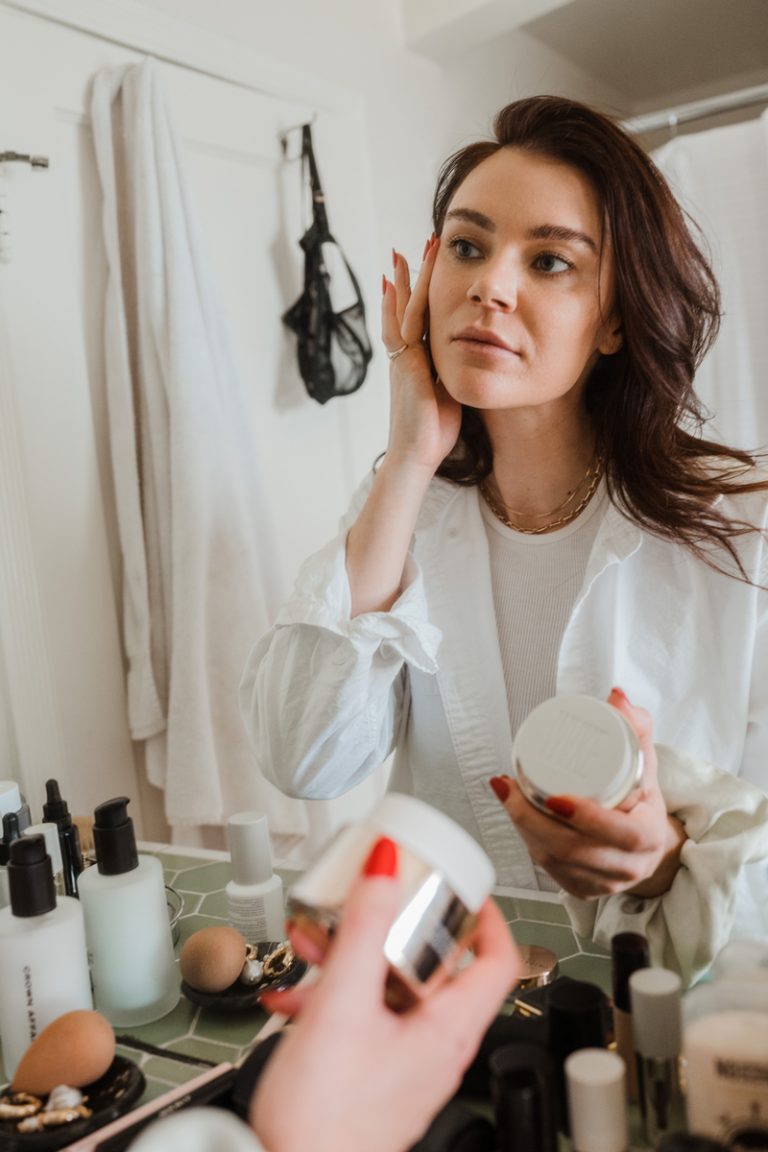 During my research, I discovered just how common rosacea is. In fact, it's one of the most common sensitive skin conditions. According to the American Academy of Dermatology, over 14 million people experience rosacea in the US alone. Despite these staggering numbers, I couldn't believe the lack of anti-aging products for rosacea that are effective but safe to use. It's pretty easy to find anti-aging products for dry, oily, combination, or acne-prone skin in mind but rarely for rosacea. And products containing the wrong ingredients can cause serious flare-ups.
So, what exactly is rosacea? Is it treatable? How do you manage the symptoms? And, what products can you actually use? I asked Dr. Tomassian, MD, and Dr. Heather D. Rogers, dermatologist, dermatologic surgeon, founder, and CEO of Doctor Rogers RESTORE, to help clear things up.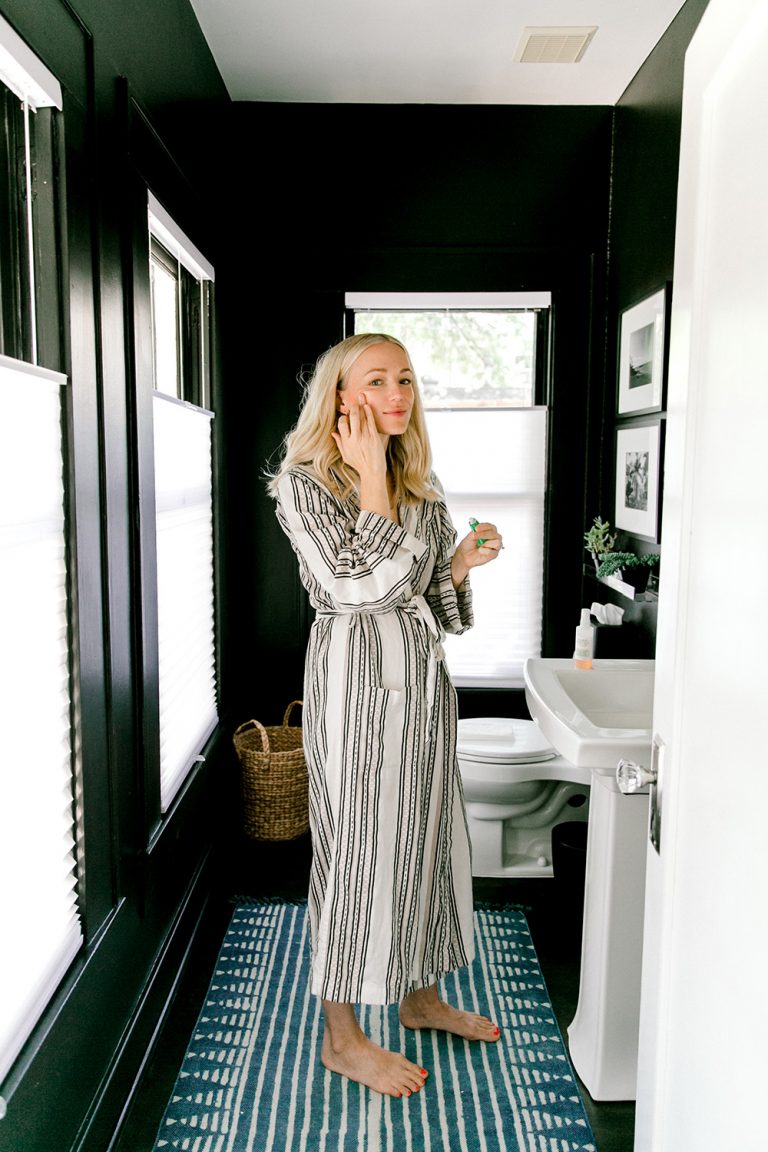 What is rosacea?
According to Dr. Tomassian, rosacea is a chronic inflammatory skin condition that is characterized by redness (dilated blood vessels) and acne-like lesions (pustules and papules) that occur on the face. The cause of rosacea, however, is a little harder to pinpoint. "Several thoughts include UV sun exposure, abnormal immune response, weakened skin barrier, as well as mites (demodex)," he explains.
In essence, rosacea is a type of sensitive skin. All those tiny blood vessels near the skin's surface make it better able to absorb whatever you put on your skin and more easily inflamed by the outside world. Most people might not know that there are actually three types of rosacea.
"Papulopustular rosacea that causes little red bumps; erythematotelangiectatic rosacea where you have persistent redness of the face and broken blood vessels; and phymatous rosacea which is where the skin becomes swollen, like the lumpy, red nose we can see on older gentlemen also known as Rhinophyma," outlines Dr. Rogers. "Rosacea can also affect your eyes with persistent redness called ocular rosacea."
What are the symptoms?
The common symptoms include flushing, acneiform (pustules and papules) breakouts on the cheeks, forehead, and around the mouth as well as the above enlargement of the nose or eye grittiness/dryness, tenderness, and even soreness.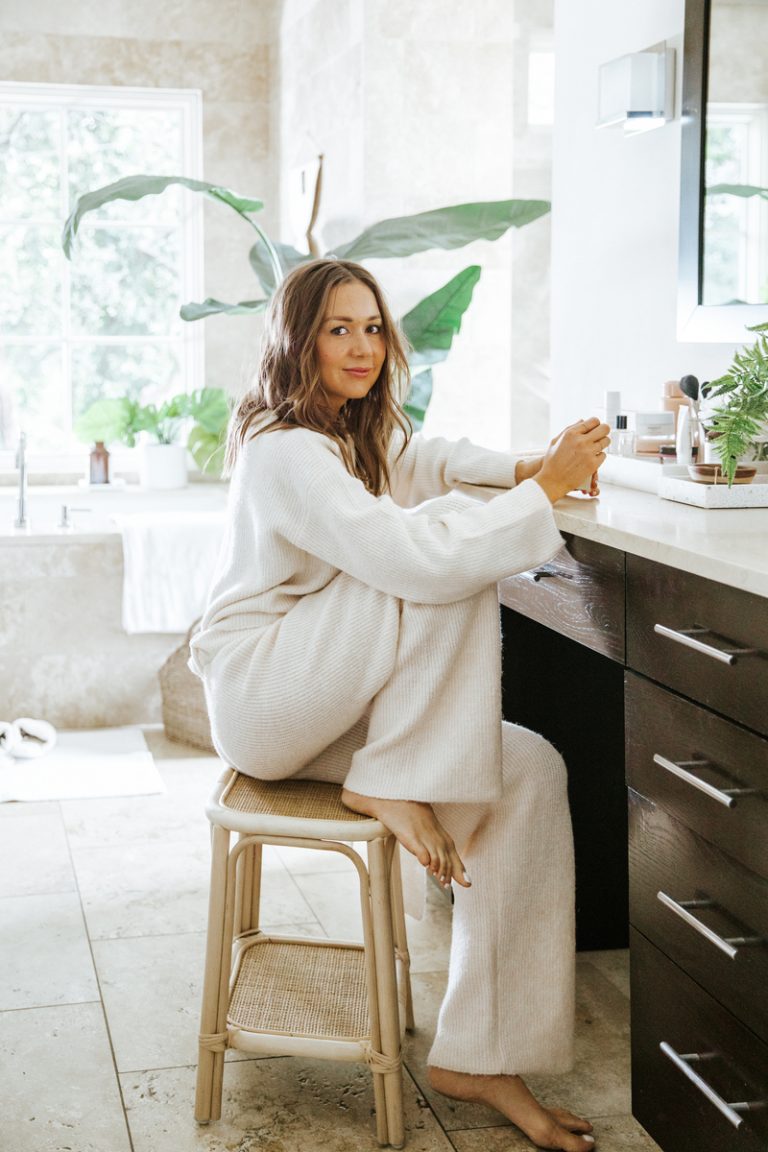 What can irritate rosacea?
For most people, rosacea flare-ups are brought on by a genetic predisposition combined with outside stimuli like red wine, coffee, and working out that can all cause more flushing. Changes in weather and even wearing a mask can also cause a flare-up as they dry out the skin causing it to lose its protective oils. Stress or even too many skincare steps can change the skin's pH leading to a rosacea flare. The wrong organisms—like yeast, bacteria, or mites—take over and irritate your skin. Sunscreen is a must and using topical medications with ingredients like sulfur, azelaic acid will help.
How can you manage symptoms?
The goal is to minimize flares by strengthening the skin barrier so your skin is less easily irritated. But once you are experiencing a flare-up, you have to focus on skin TLC. "Stop all your actives, including vitamin C, the AHAs, and BHAs, tretinoin, or retinol," stresses Dr. Rogers. "Skincare should be limited to a gentle cleanser, a well-formulated, supportive face cream, and a zinc-based sunscreen. That is it! Do not add in any new products because you actually risk irritating your poor skin more!"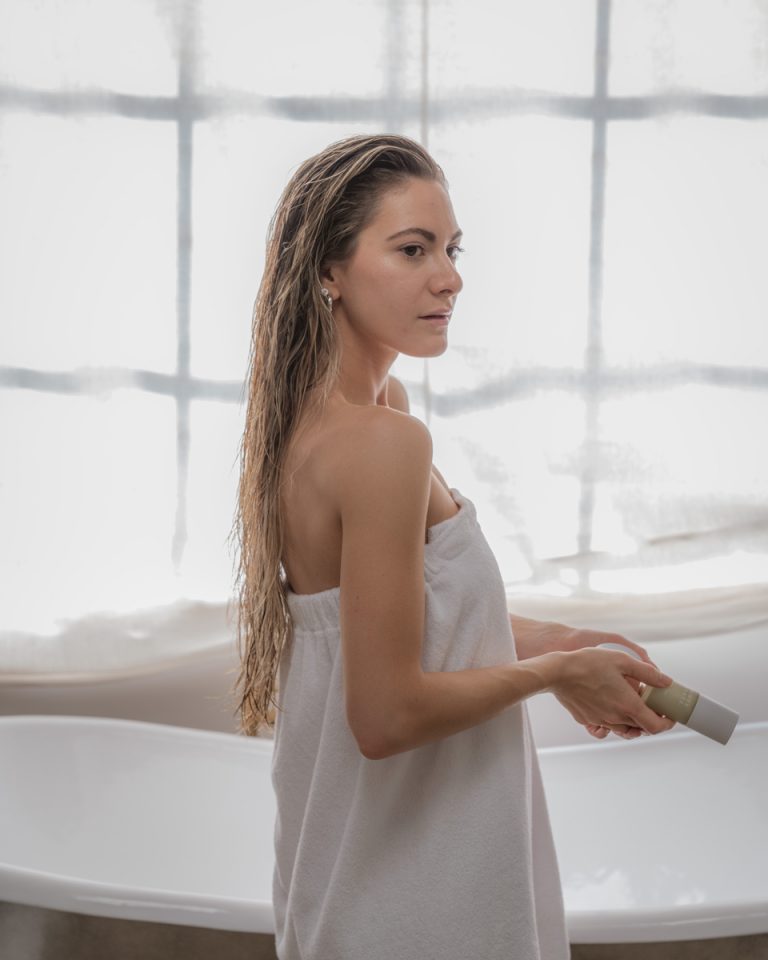 Ingredients To Look For
Squalane
Vegetable oils
Niacinamides
Centella Asiatica
Glycerin.
Sunscreens with 10%+ Zinc
Azelaic Acid
Vitamin C
Dr. Rogers recommends seeing your dermatologist for prescription medication when necessary. Prescriptions like metronidazole, ivermectin, and even low-dose anti-inflammatory antibiotics can help. She also highly suggests maintaining a healthy skin biome by taking skin probiotics.
Ingredients to Avoid
There are several ways to fight rosacea. Avoiding your triggers can be one of the best ways to minimize the symptoms. Triggers can look different for everyone from different foods like dairy, gluten, or alcohol to certain types of ingredients or fragrances. And, of course, avoid ingredients that can commonly cause triggers such as the below.
AHAs and BHAs
Tretinoin
Retinol
Witch hazel
Alcohol
Fragrance
Menthol
Peppermint
Eucalyptus oil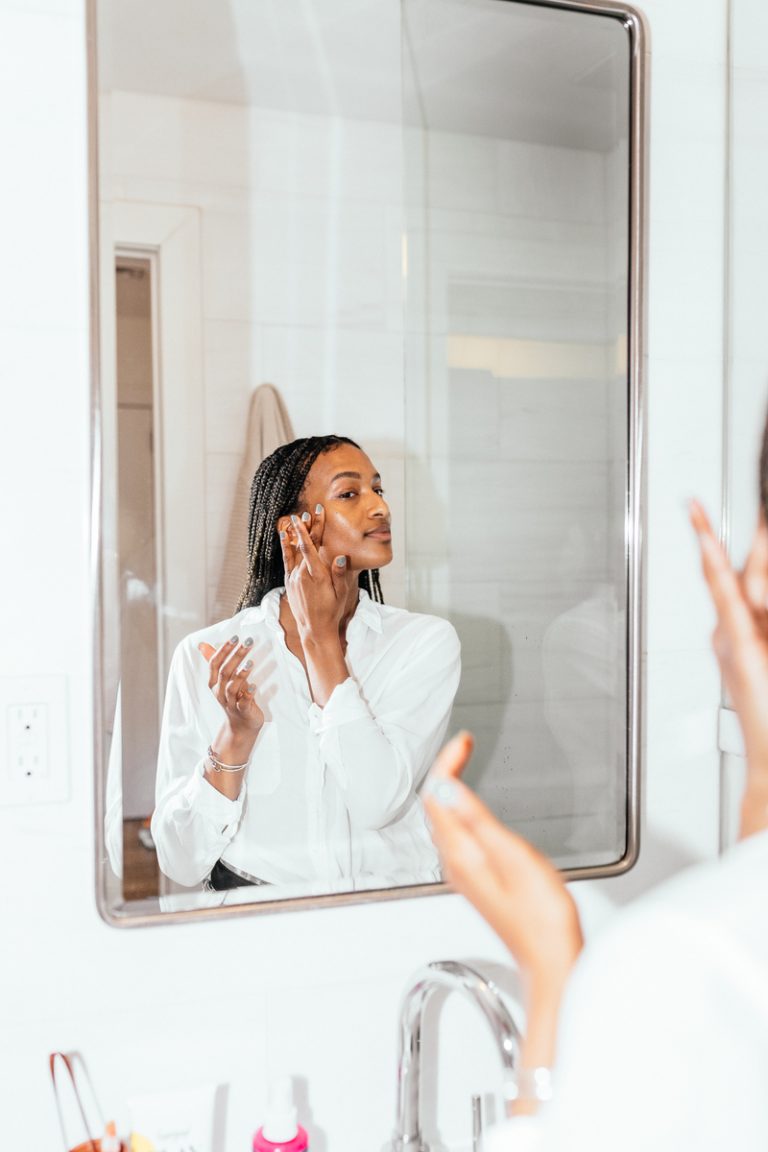 The Best Anti-Aging Products for Rosacea, According to Dr. Tomassian
Kiehls Micro-Dose Anti-Aging Retinol Serum with Ceramides and Peptide
One of the most common side effects when starting retinol is dryness and irritation, which can be extremely irritating for people with rosacea-prone skin. Kiehl's retinol serum has incorporated micro-dose technology, which enables the product to use a much smaller, yet clinically effective amount of active retinol to help limit those common side effects but give you the benefits of retinol.
When starting any retinol, use only a pea-sized amount of product and always moisturize after. You can increase the frequency of your retinol to every night as tolerated.
Bliss Youth Got This Prevent-4 + Pure Retinol Advanced Skin Smoothing Serum
Dry skin, redness, and irritation are not uncommon and lead many people to quit using retinol. This serum gives you a higher chance of less irritation as the formula contains primarily hydrating and moisturizing squalane, which is a plant-derived oil that mimics our own skin's natural moisturizing oil.
MDSolarSciences Mineral Tinted Crème SPF 30 Sunscreen
This lightweight tinted sunscreen blends well into most skin types and is filled with vitamins C and E to soothe the skin. Mineral sunscreens are best for people with sensitive or rosacea-prone skin as the ingredients are chemically inert and physically block UV damage. One of the biggest obstacles to mineral sunscreen use, however, is "white cast" or seeing the sunscreen residue on your skin.
We all have different skin tones and colors which makes picking a sunscreen quite difficult. In my experience, tinted sunscreens blend in much better on most skin types. This has a light tint, which can be used on people with fair skin types (which are commonly the ones affected with rosacea). Furthermore, the MDsolarsciences brand has BB cream which is almost like an SPF foundation with several shades of tint to accommodate several skin types.
EltaMD UV Clear Facial Sunscreen Broad-Spectrum SPF 46 Face Sunscreen for Sensitive Skin
This all-star sunscreen blends in seamlessly and contains niacinamide to help with skin redness and inflammation. Niacinamide has become very popular over the past year and for good reason. Niacinamide enhances your skin barrier, reduces inflammation by inhibiting pro-inflammatory markers, improves hyperpigmentation, and inhibits degradation of collagen and elastin which improves fine lines and wrinkles.
Maelove Glow Maker
Maelove's Glow Maker is a potent antioxidant with 15% L-ascorbic acid as well as ferulic acid and vitamin E to help supercharge your sunscreen, reduce inflammation, and decrease fine lines and wrinkles. Vitamin E and ferulic acid help stabilize L-ascorbic acid and make it more potent.
L-ascorbic acid has three main roles in skincare: antioxidant/photoprotection, regulating hyperpigmentation, and anti-aging. It also helps protect any free radicals from UV exposure and environmental pollutants that damage our skin's DNA. And it's a critical factor in collagen synthesis and stimulates the cells to produce more collagen. Lastly, L-ascorbic acid interferes with the enzyme needed to make more pigment and therefore improves hyperpigmentation.
Vichy LiftActiv Peptide-C Ampoule Serum
This is a stable formulation of L-ascorbic acid 10% with hyaluronic acid and peptides. The overall effect of L-ascorbic acid is as above, improving fine lines and wrinkles, collecting free radicals that damage our skin, and fading hyperpigmentation. Concentrations above 15% L-ascorbic acid commonly irritate the skin with little to no increased benefit which is why I personally like the 10% ampoules. The ampoules also ensure that your product does not become oxidized quickly and you get active L-ascorbic acid with every use.
Tatcha Indigo Overnight Repair Serum In Cream Treatment
This is a deeply hydrating moisturizer that can be used on all skin types. It contains indigo extract which has been used for years and calms the skin as well as ceramides and hyaluronic acid to help hydrate, moisturize, and support your skin barrier. There are times when your moisturizer can feel like it's stinging your face, especially when irritated. This one never does.
Olay Retinol24 MAX Night Moisturizer
This retinol is great for people with dry skin and who want to focus on fine lines and wrinkles. It's fragrance-free (super important if you have easily-irritated skin) and contains glycerin to hydrate and moisturize the skin, as well as niacinamide and peptides. Peptides are becoming more popular in skincare as they are slowly showing promise in regards to anti-aging as well as being anti-inflammatory.
The Ordinary Azelaic Acid Suspension 10%
This is a great product to use if you struggle primarily with the acne type of rosacea. Azelaic acid is one of our main treatments for rosacea (prescription dosing around 15%). This topical antibiotic has activity against acne-producing bacteria and can be used to treat hyperpigmentation as it inhibits the enzyme needed to make pigment. This product is also great for those who struggle with acne while pregnant or breastfeeding as many of the ingredients used typically to treat acne are not safe during pregnancy.
Paula's Choice Azelaic Acid Booster
As mentioned above, another great option for acne and rosacea. This formula is especially good as it contains salicylic acid to help gently exfoliate the skin and your pores as well as anti-inflammatory licorice root.
Dr. Jart+ Cicapair™ Tiger Grass Color Correcting Treatment SPF 30
This is an especially great product for those who struggle with the Erythematotelangiectatic (redness type) rosacea. The green tint in the sunscreen camouflages the redness on your skin and gives you great UV protection. The product also contains Centella Asiatica Complex which is an anti-inflammatory plant as well as niacinamide which also reduces inflammation and enhances the skin barrier.
The Best Anti-Aging Products for Rosacea, According to Dr. Rogers
Dr. Rogers RESTORE Face Cream
I formulated my own line for sensitive skin called RESTORE to heal highly-sensitized post-procedure skin, soothe inflammation, and improve skin barrier function. This makes them ideal for treating a rosacea flare-up. I recommend starting off with a gentle yet effective cleanser then using Doctor Rogers RESTORE Face Cream which delivers a powerful combination of two plant-based ingredients: niacinamide visibly reduces pores, fine lines, and irritation, and Centella Asiatica extract improves the skin barrier function, promotes healing, and soothes the skin.
Dr. Rogers Restore Healing Balm
After using the RESTORE Face Cream, I recommend locking in all those key ingredients with a light coat of the Healing Balm for a powerful, restorative mask. One of the Healing Balm's key ingredients is castor oil—a well-known and well-studied, hypoallergenic plant oil that is known to hydrate the skin and decrease inflammation.
Avene Cicalfate+ Restorative Protective Cream
I like this cream because of its rich occlusive texture to help restore a damaged skin barrier.
Epionce Milky Lotion Cleanser
This cleanser contains zinc to soothe inflammation and help to protect against further environmental damage.
La Roche-Posay Toleriane Dermo-Cleanser
This affordable cleanser is great for sensitive skin thanks to its containing glycerin which helps prevent over-drying.
Sente Dermal Repair Cream
This repair cream is formulated with Heparan Sulfate Analog (HSA) and goes beyond surface hydration to restore the skin's natural ability to renew itself. It is excellent for compromised, sensitive skin.
Supergoop! Zincscreen 100% Mineral Lotion SPF 40
I wear this Supergoop! sunscreen every day. I like it because it feels like nothing and disappears into your skin.
ISDIN Photo Eryfotona Actinica
ISDIN Photo Eryfotona Actinica comes in white and a universal tint better suited for darker skin types. The consistency is milk-like, so it's easy to use on your face and body. One of the reasons why I love it is that it has DNA Repairsomes® to correct previous sun damage while protecting you from new damage. It is also water-resistant, so it is the closest sunscreen that does it all.
Brush on block® Translucent Mineral Powder Sunscreen – SPF 30
Brush On Block is my go-to mineral powder sunscreen because it's great on the go to reapply over makeup without leaving a residue.
This post was originally published on November 15, 2021, and has since been updated.