Up next, co-founder and co-CEO of Perelel, Alex Taylor's morning routine.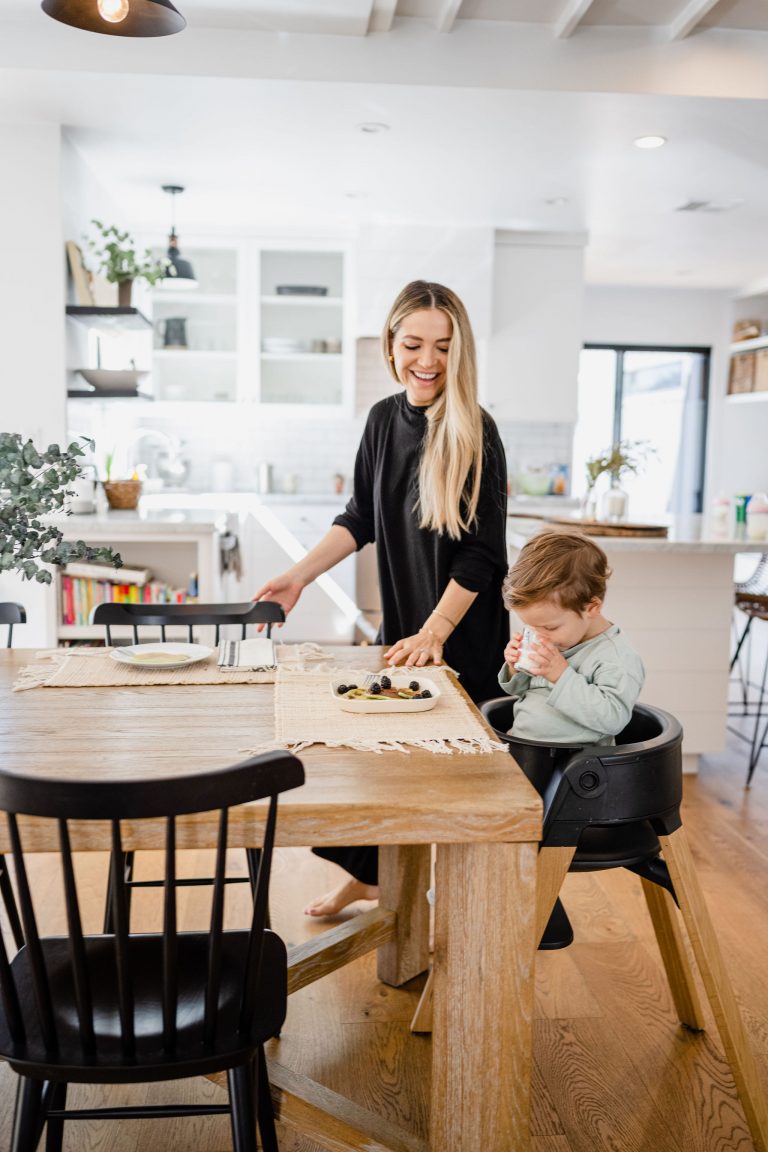 I first met Alex Taylor for a job interview six years ago. I was vying for the lifestyle editor role at the newly launched MyDomaine, and she was the executive editor-in-chief. I had just relocated from Australia to Los Angeles, so you can imagine how excited I was to be interviewing with such a media powerhouse. Long story short, I got the job and had the honor of being mentored by Taylor for the next four years until she left to pursue her first passion: wellness.
After a few years of helping build consumer-beloved brands such as Free People, and Alo, Taylor finally took the leap to launch her own company. Today, she is the co-CEO and co-founder of Perelel—a DTC, subscription-based vitamin brand that supports women from fertility, through each individual trimester of pregnancy, and into motherhood. Using only bioavailable, high-quality ingredients at doctor-recommended doses, their formulations offer targeted nutrients for each phase.
As a mother of two, Taylor was frustrated by the lack of credible information online about prenatal vitamin nutrition. It was also a very haphazard experience for the new mom. Each morning, she would line up all the various pill bottles to sort out her daily dose (much to her husband's amusement) and that's when she saw a gap in the prenatal supplements market. She soon partnered with fellow mom Victoria "Tori" Thain Gioia, and Dr. Banafsheh Bayati (Perelel's medical co-founder) to create a one-size-fits-all approach to prenatal—one that delivers targeted nutrients for each unique stage of the motherhood journey.
We're so thrilled to feature Taylor in our Wake Up Call series to learn more about the wellness entrepreneur and the morning routine that sets her up for success—including the one thing she never does when she wakes up (do you?)
And… if you're interested in trying Perelel's game-changing supplements, then use our exclusive code to receive 20% off your first order. Just use CAMILLE20 at checkout to activate your discount.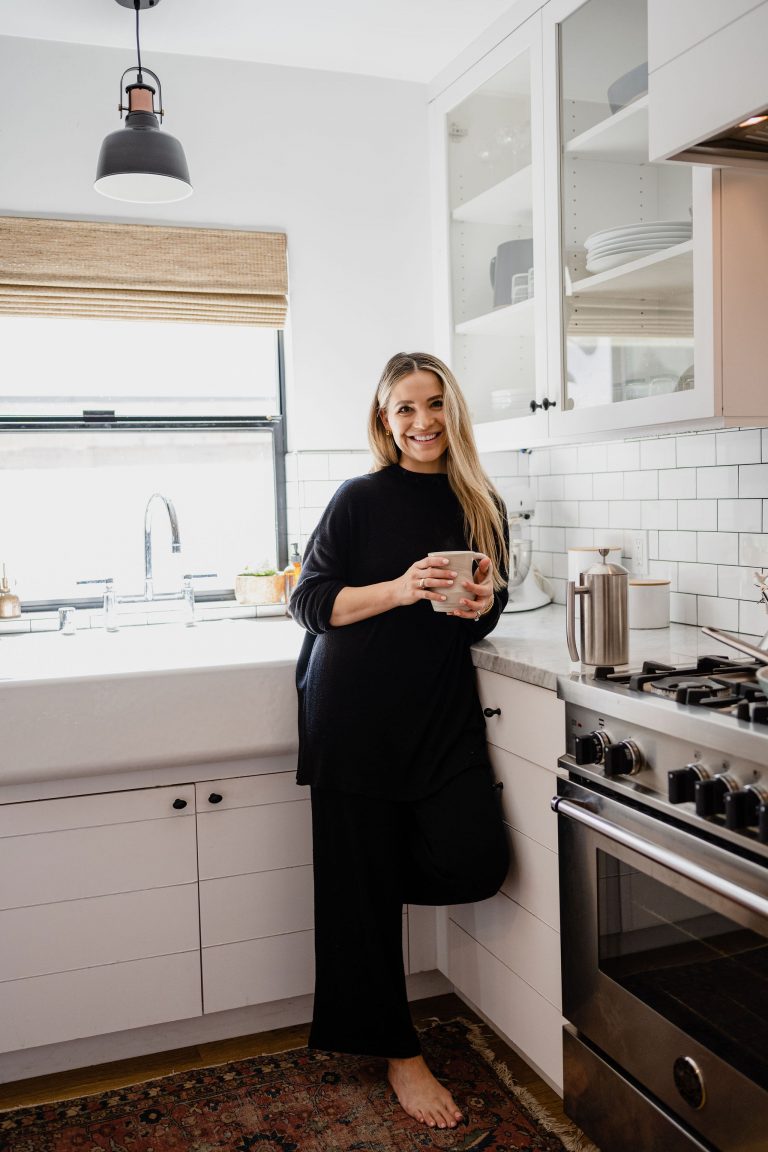 On her wake-up call…
When newborns aren't in the picture, I usually like to get up around 5:30 to 6 am. These days, I'm waking up closer to 7 am. Every minute of extra shut-eye counts!
On a typical day…
Before I roll out of bed, I take two minutes to snuggle with my "firstborn," our Goldendoodle, Louie. Then, I sleepwalk to the coffee machine and nurse my baby girl. Typically, I'm a morning person—one of those annoying early risers who starts the day with a workout and a green tea. But, these days I'm in "zombie mode" since I just gave birth to our second child and am still nursing her through the night. 
By the time I've finished my coffee while simultaneously nursing, my son awakes and we get on with breakfast. I love this time because I can be fully present with my children—no work to disturb us, just the quiet din of the world coming alive, for the day. Next, we recite our "gratefuls" together where my son rattles off the names of all of our family members, his teachers, friends, and our beloved nanny. 
If I have help that day, or my husband is home, I'll retreat to my room for a few minutes of solitude and meditate for five to 10 minutes. If I'm lucky, I might sneak in a quick run with our dog, then shower and jump into a series of back-to-back zooms or emails. The day is punctuated by nursing sessions with my daughter, which is a lovely reprieve from my work. 
Since my co-founder, Tori, and I have our toddlers in a preschool pod together, we get together for IRL work sessions at her house. I always look forward to these days and they have some semblance of pre-COVID normalcy. 
When I'm working from home, the days go by in a blur and before I know it, tiny knuckles are rapping on my door at 5 o'clock sharp. Next, I jump into the evening marathon with my children: dinner, bathtime, books, and finally bedtime. By the time 7:30 rolls around I am absolutely exhausted and can only muster enough energy to scroll through photos of my children from the previous day before rolling into bed to do it all over again.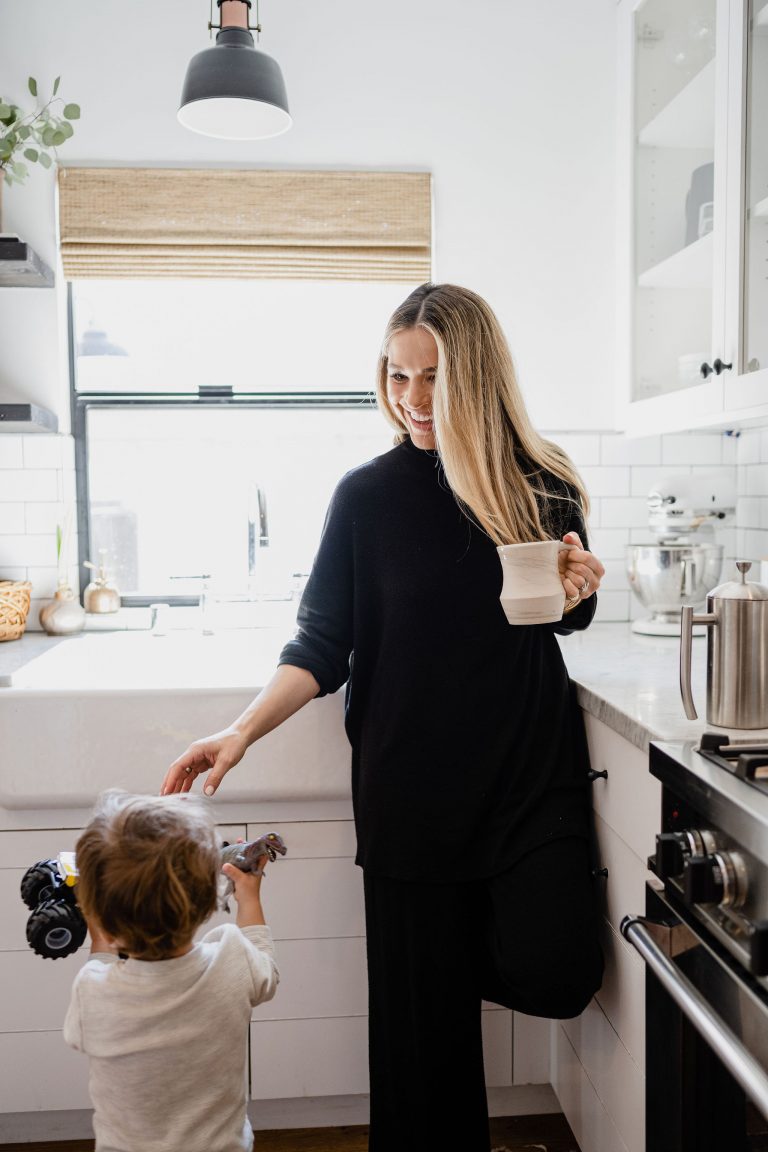 On the first thing she does when she wakes up…
I visualize myself being the best possible version of myself that day, I give thanks, snuggle my pup, and hurry out to kiss my babies. 
On her pre-work routine…
Meditation can make or break my day. It centers me, calms me, and allows me to approach the day on my terms.
I find that I am an infinitely better leader, partner, and strategist on days that I have time to meditate—even if it's only for a few minutes.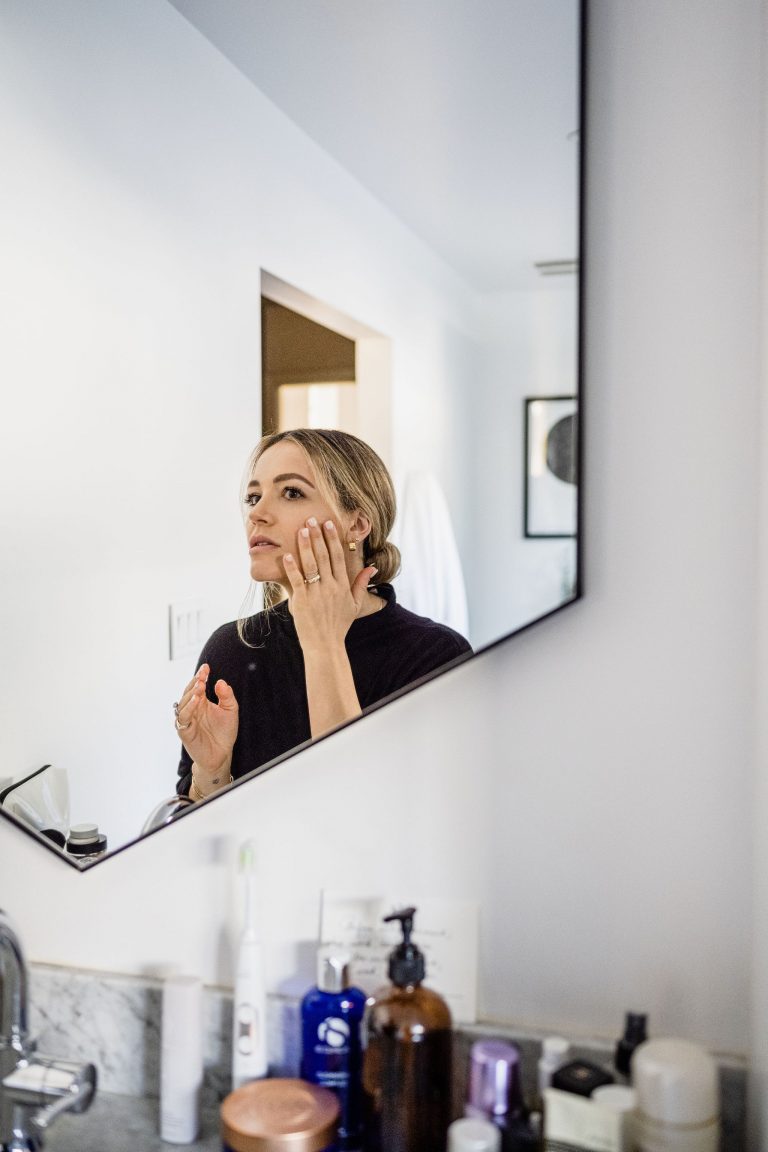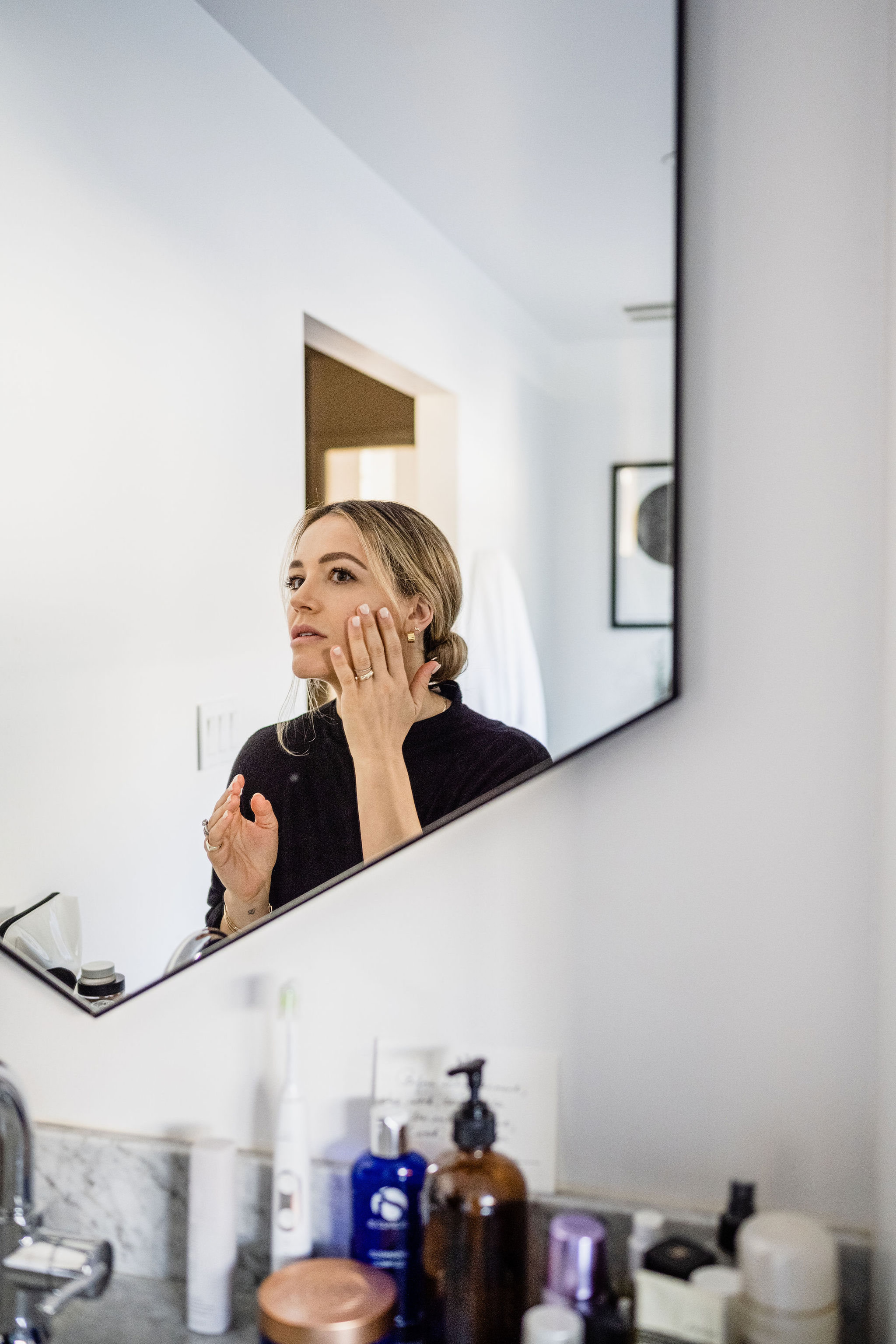 On how her morning routine changed during quarantine…
While I'd like to say that I've been able to slow down and enjoy my mornings a bit more, it's quite the contrary. I'm adjusting to being a mom of two while also running my own company and it's not easy. I'm getting into a new rhythm and hoping to create a routine that allows me to keep that magic time with my children in the morning while also carving out space to nurture myself. (Why does it feel like one child is one, but two is like managing 10?)
On her morning beauty routine from start to finish…
I wash my face with cold water right after I brush my teeth. If I've worked out that morning, I'll take a shower and wash my face with iS Clinical Cleansing Complex. Next, I spritz my face with Biba Hydrating Toner, apply Biba Meta C Serum, and finish off with a thin layer of Elta MD UV Clear Broad-Spectrum SPF all over my face and neck. Then, I apply some makeup—usually a dab of RMS (Un) Cover-Up Concealer and a dusting of Bare Minerals original foundation powder. I touch up my brows with my Surratt brow pencil and Hourglass brow gel. Finally, I brush my lashes (I've been a longtime lash extension devotee since my eyes are too sensitive for mascara) and sweep on a little NARS bronzer.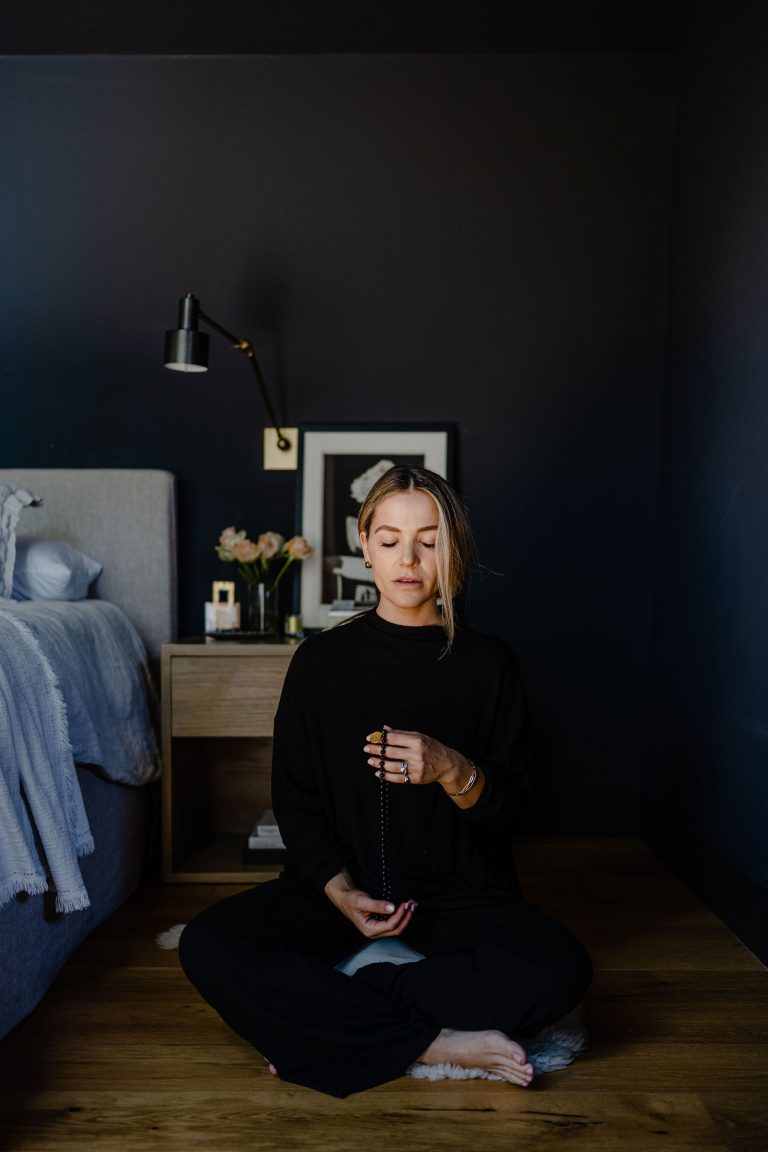 On what she eats for breakfast…
I usually have a Perfect Bar, or chia pudding and a green juice because I'm short on time. After I have a bite to eat, I always take my Perelel Mom Multi Support Vitamin Pack with a full glass of water. It gives me an extra boost of energy and I also find it helps keep me calm and more focused throughout the day thanks to the stress support blend. But weekend breakfasts are a whole other ballgame! On Sundays, my husband makes my favorite treat of all time: pancakes! It's my favorite smell to wake up to. My son loves to add food coloring to the pancakes so sometimes they're blue, green, or even "tie-dye."
On what she never does first thing in the morning…
I try not to look at my phone for the first hour of my day. It's tough, but it allows me to set my intentions and approach the day on the offensive rather than reacting to an onslaught of other people's requests.
When I do open my phone, my first stop is Instagram so I can check out what's happening on @PerelelHealth (our content lead is genius and always has interesting programming lined up) followed by the Insight Timer app, which I use for meditation. If I am in the car, I'll usually listen to an audiobook (I just finished listening to Think Like a Monk) or a podcast such as The Daily by The New York Times. (Although if my son is in tow, there's a 99% chance we're listening to "Truck Tunes.")
On her favorite books…
The Four Agreements is a quick but powerful book that I think everyone should read. Another book that has stayed with me is Women Who Run With the Wolves. I also loved Shoe Dog, which is a book about Nike's founder, Phil Knight. Lately, though, I've been into parenting books. My favorite is Janet Landsbury's No Bad Kids—it's brilliantly simple yet effective. Right now I'm reading The Book You Wish Your Parents Had Read by Philippa Perry, which I also recommend!
On what she has on her nightstand to ensure a smooth, successful morning…
A large bottle of water, The Daily Stoic, and my mala beads to remind me to meditate.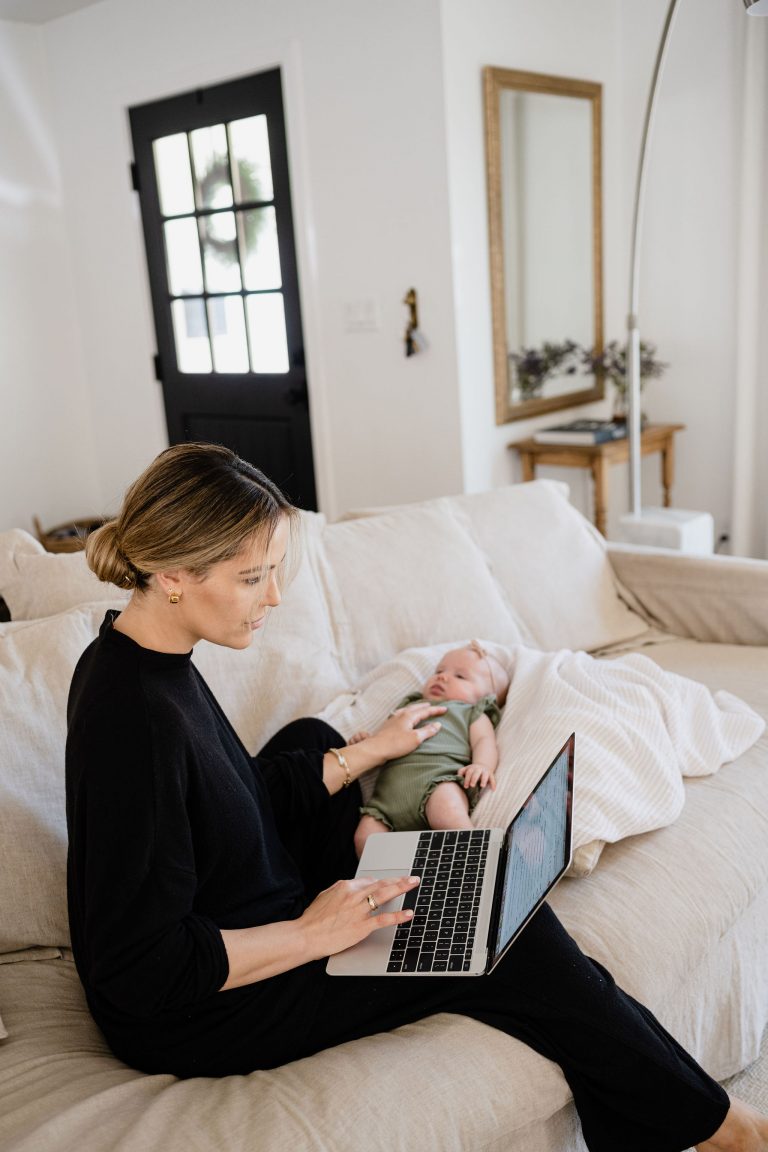 On her favorite getting-ready soundtrack…
'90s chick pop, Fleetwood Mac, or Grateful Dead (I'm a Dead Head). 
On her morning workout routine…
I try to work out as much as I can, but it's been tough lately. When I do work out, I like to run a few miles with my dog (it's not unusual for me to have my son in the jogging stroller, too) or I do a quick 20-30 minute HIIT and arms Peloton ride with my favorite instructor, Cody. I also recently fell in love with the Alo Moves app—their new Alo in the Wild stackable series is fun.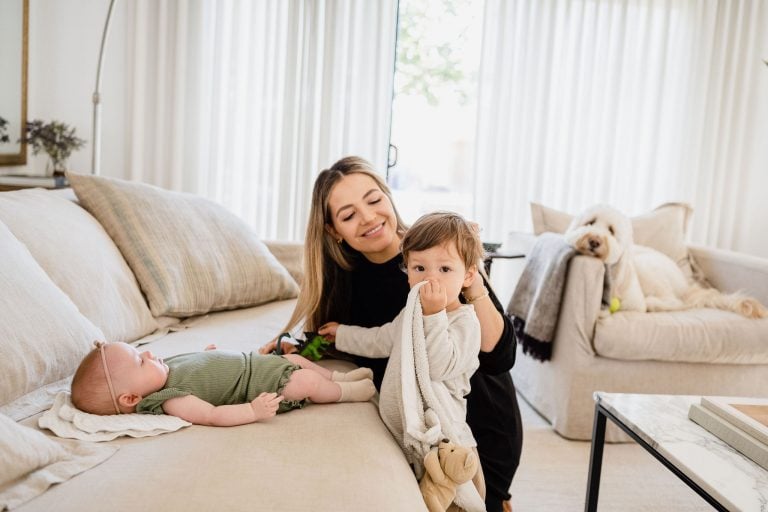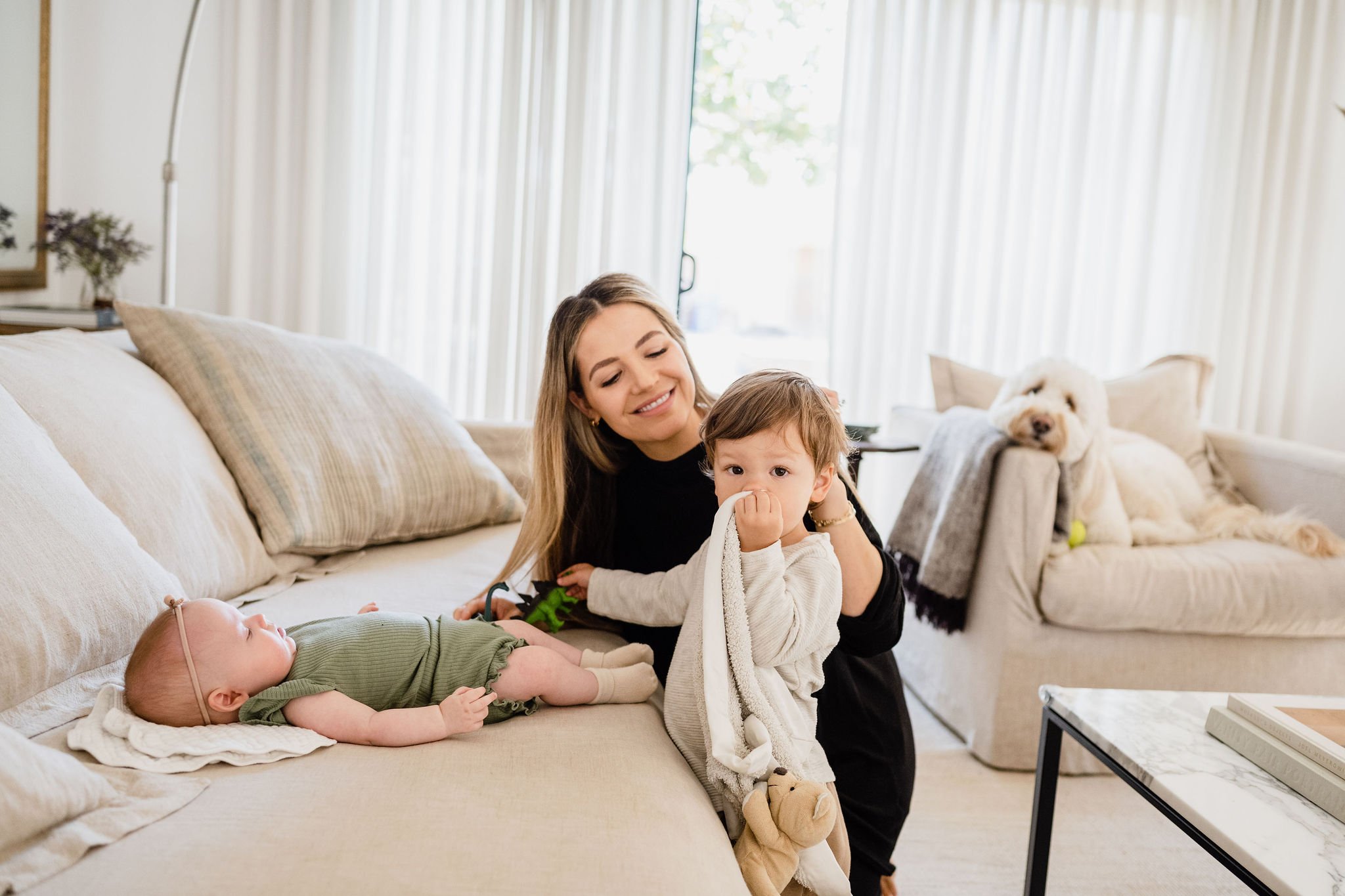 On her daily uniform…
I've always been a button-up kind of gal. I love the look of those with a more masculine, oversized fit. Pre-quarantine, I'd throw them over a pair of jeans, but nowadays I wear them over leggings or bike shorts with a pair of furry Birkenstocks. I joke that it's my "mullet outfit:" business on top, party on the bottom. My husband thinks it's quite a look! Lately, though, I've been living in Les Jours' leisure suits. They're insanely comfortable and chic—they're an "instant outfit," which is especially great since I don't have time to think about putting a look together.
On how she'd use an extra hour every morning…
Snuggling with my crew (kids, dog, and husband) while sipping matcha.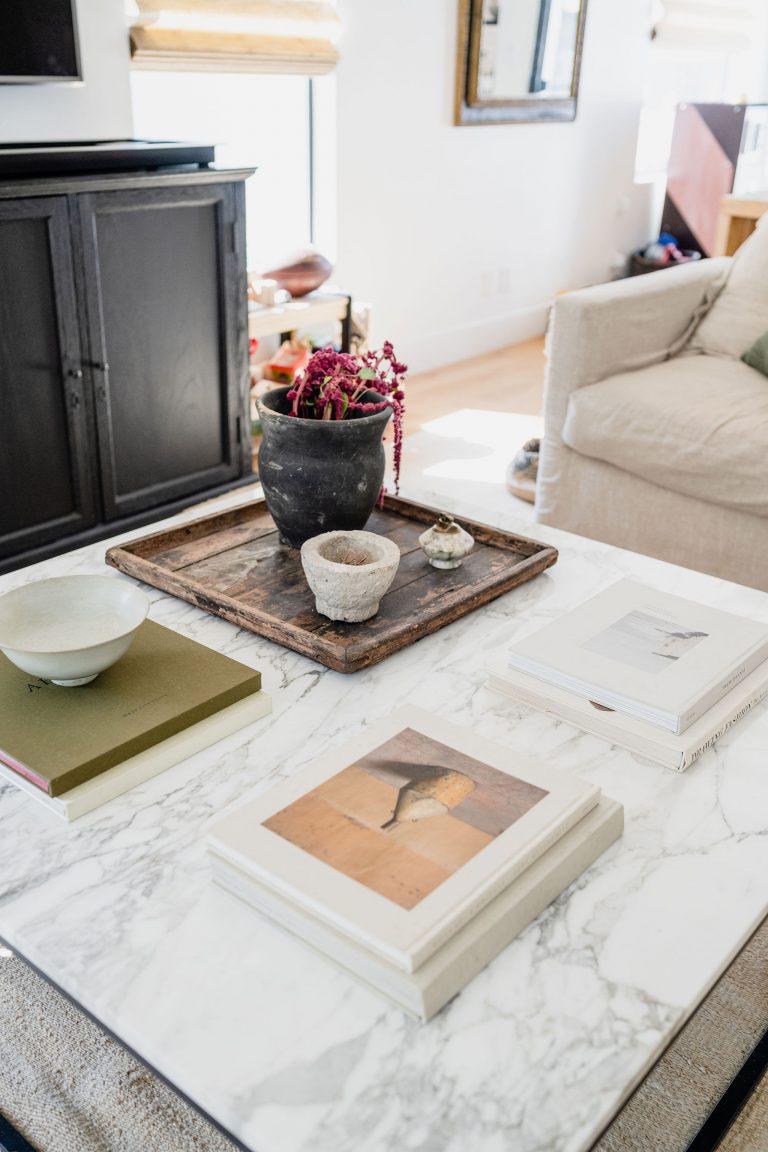 On the thing she does every day to live a more present/mindful/joyful life…
I meditate and take time to reflect on my blessings—I do this every day, no exceptions. (If I'm strapped for time, I'll even sneak it in while I am showering!)
I also make a concerted effort to focus on being as present and "in the now" as possible with my husband and children. 
It's not easy in this chaotic, nonstop world, but it's vital because all we really have is right now. 
On the secret to her success…
Being raised by a single mother taught me the importance of resilience, grit, and empathy. She continues to inspire me to this day.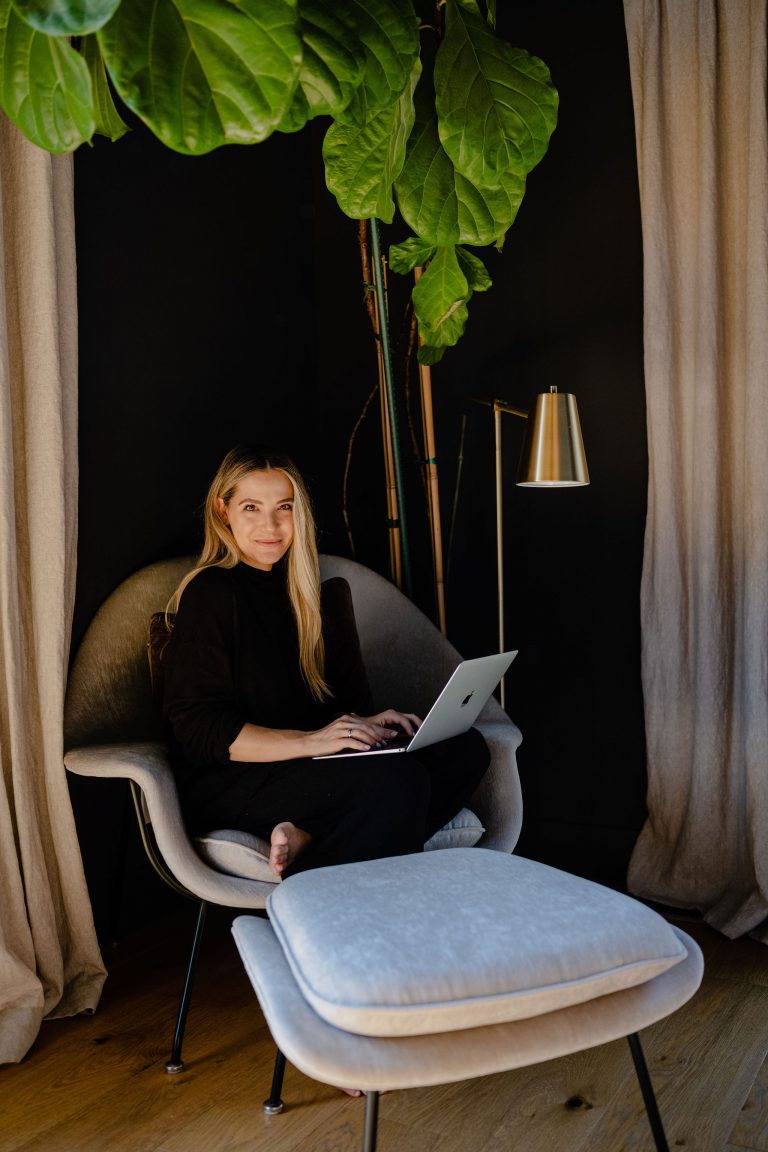 Sentence Finishers:
I never leave the house without… my golden hairpin.
If there were more hours in the day, I would… sleep more.
Healthiest morning habit… snuggling with my kiddos, taking my Perelel vitamins, and meditating.
Worst morning habit… Is coffee bad? 
One thing I want to be known for is… making others feel seen and supported.
The one thing I fear the most is… the inability to accept what is.
When I feel that fear, I… ground myself in the present and change my perspective. Or, I talk to my husband. He has a brilliant way of helping me center myself.
The book I always recommend is… The Power of Now—it's dense and I had to re-read sections multiple times before I could fully internalize what is being said… but wow, what a powerful book. It's life-changing, really.
The three traits you need to succeed in life are… kindness, focus, and presence. 
On her favorite shower/bath product… How much time do I have? I love the Indie Lee I-Recover Body Soak.
The Perelel team is offering Camille Styles' readers an exclusive 20% off their order of any supplements from the line. Use code CAMILLE20 at checkout to claim your discount.
Love this story? Pin it!