Up next, the co-founder of Womaness, Sally Mueller's morning routine.
As soon as I could legally work, I was. From waitressing to coffee making, retail assistant to au pair, you name it, I did it—I loved working hard and making my own money. For a long time, however, especially in my 20s to early 30s, I felt a little lost jumping from one job to the next as I navigated the tumultuous path to where I am today. But I realize now, in my 40s, that the trajectory to success is always non-linear, and that's a positive thing. Just ask Sally Mueller. I first met the seasoned executive during my tenure as MyDomaine's editorial director at Clique. As their chief brand officer, Mueller was hugely instrumental in launching their consumer brands: Joy Lab at Target, VERSED skincare, and Who What Wear for Target. Prior to this role, Mueller spent two decades at Target, working her way up from apparel merchandising to senior marketing executive, before finally stepping into her own power as co-founder of the industry disrupting brand, Womaness.
It's safe to say Mueller has had several hyphens throughout her career but she wouldn't have it any other way—in fact, she recommends it. "Your career path isn't always a straight line," she tells me. "The best careers follow a zigzag pattern, so take advantage of opportunities that come your way even if they seem like they're not always providing a straight upward path. In my case, the zigzag took me from merchandising to marketing to brand building and beyond, all of which ultimately helped better prepare me for starting my own brand. I've learned so many great skills and met amazing people because of my zigzag career."
Needless to say, I have always had huge respect and admiration for Mueller and often dreamed of working alongside her in the consumer brands division. So, of course, having the opportunity to feature and honor her career path now feels very serendipitous. Keep reading to learn more about this inspiring visionary, lessons learned, what to avoid, and the morning rituals that set her up for success, every day.
What advice would you give people reading this who are interested in switching lanes like you but don't know where to start?
My advice is to prioritize what is most important to you. It's virtually impossible to get everything you're looking for in one role or from one opportunity.
Think of your career as layers to a cake… are you building foundational skills and a network that will help you down the road? Consider that a win.
What are some of the mistakes you made that you'd advise people to avoid/watch out for in their career?
It's important to foster and form well-rounded skills. Early in your career, there's pressure to specialize in an area of expertise, but in my opinion, it's more important to have a variety of skills and experiences. For example, if you're in the beauty industry, learn different aspects of the business from marketing to merchandising to sales to operations. Don't pigeonhole yourself based on your job title. If there's an opportunity to sit in on a meeting or partake in a different area of the business, do it. You'll grow your knowledge and your skill set and you'll leave a lasting impression on coworkers and senior staff.
Why did you start Womaness?
I had just come off of a visit at the renowned Mayo Clinic, where I discovered (much to my surprise) that my recent annoyances like vaginal dryness, dry skin, and painful sex were all common symptoms of menopause. Don't get me wrong, I knew I was in menopause, but I didn't realize the symptoms I was experiencing were related to menopause. The doctor had graciously recommended products that I could buy to help address those symptoms. After researching her recommendations, I thought to myself, I would never buy any of the products—sterile packaging, embarrassing product names, and synthetic ingredients. It was not a reflection on the doctor, it was simply what was available in the market at that time.
Not long after this experience, I was in NYC for business and I met up with my longtime friend (and now co-founder), Michelle Jacobs for drinks. I told her my Mayo Clinic story and that I felt it was due time to disrupt the menopause space. We had both dedicated our careers to creating or building brands for women and knew this was our calling. We kept asking, where does a woman today in their 40's, 50's and beyond go to find solutions and inspiration as they move into the next phase of life? The answer was nowhere… so we created Womaness—a high-performance collection of modern menopause products created by women, for women that offer solutions from head to toe (and everything in between).
Now, let's move on to your morning routine… What does a typical day look like for you?
I'm an early bird, as I'm most productive in the morning. I usually wake up around 5:30 AM and start by having a double shot cappuccino followed by taking my daily supplements, Active Glow. Then, I either head to a pilates class at a fabulous studio near me called Fitness Focus or hop on the treadmill for a power walk. Zoom calls start around 8:00 AM and don't end until 6:00 PM typically…such is the life of a start-up in Covid!
I've been trying (keyword here is trying) to unwind at night by watching some of my favorite shows on Netflix. I'm currently obsessed with some of the cooking shows like Chef's Table and The Chef Show. I find cooking shows cathartic. I have admittedly always been extremely career-focused, but going from C-suite executive to entrepreneur has taken that to a new level, and my mind rarely shuts work off. I am working on being better at this, especially in the evenings outside of "work hours."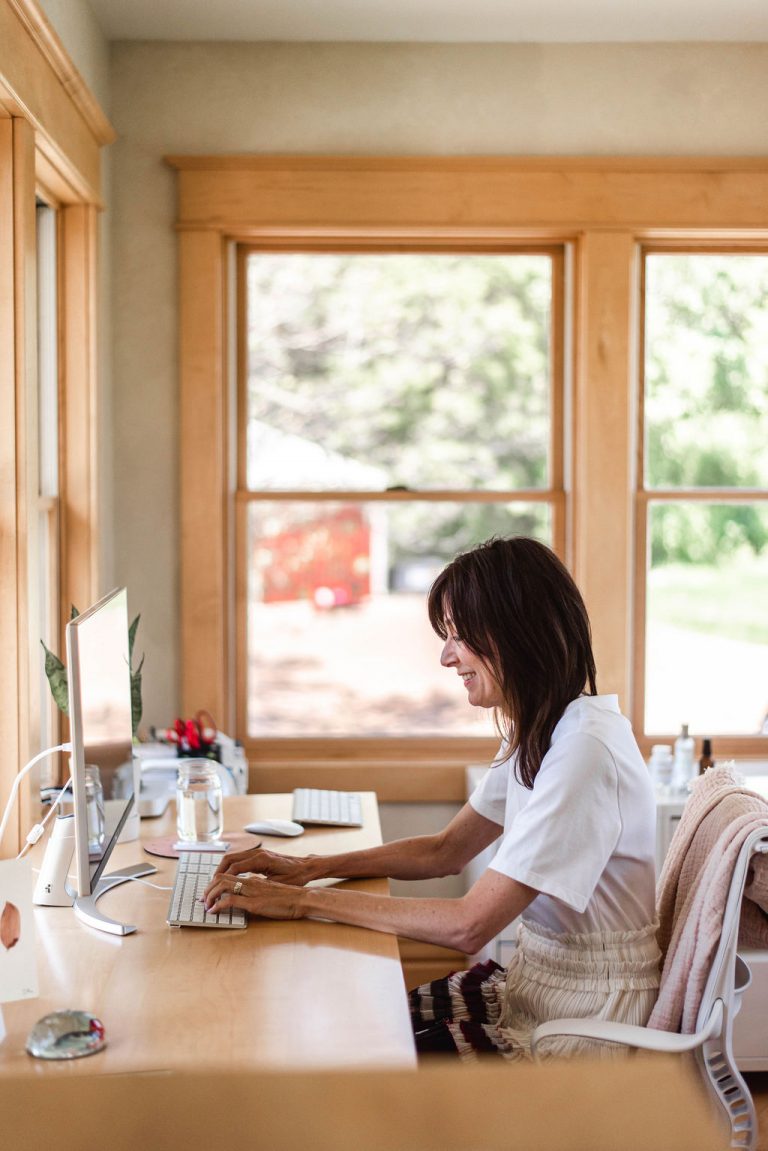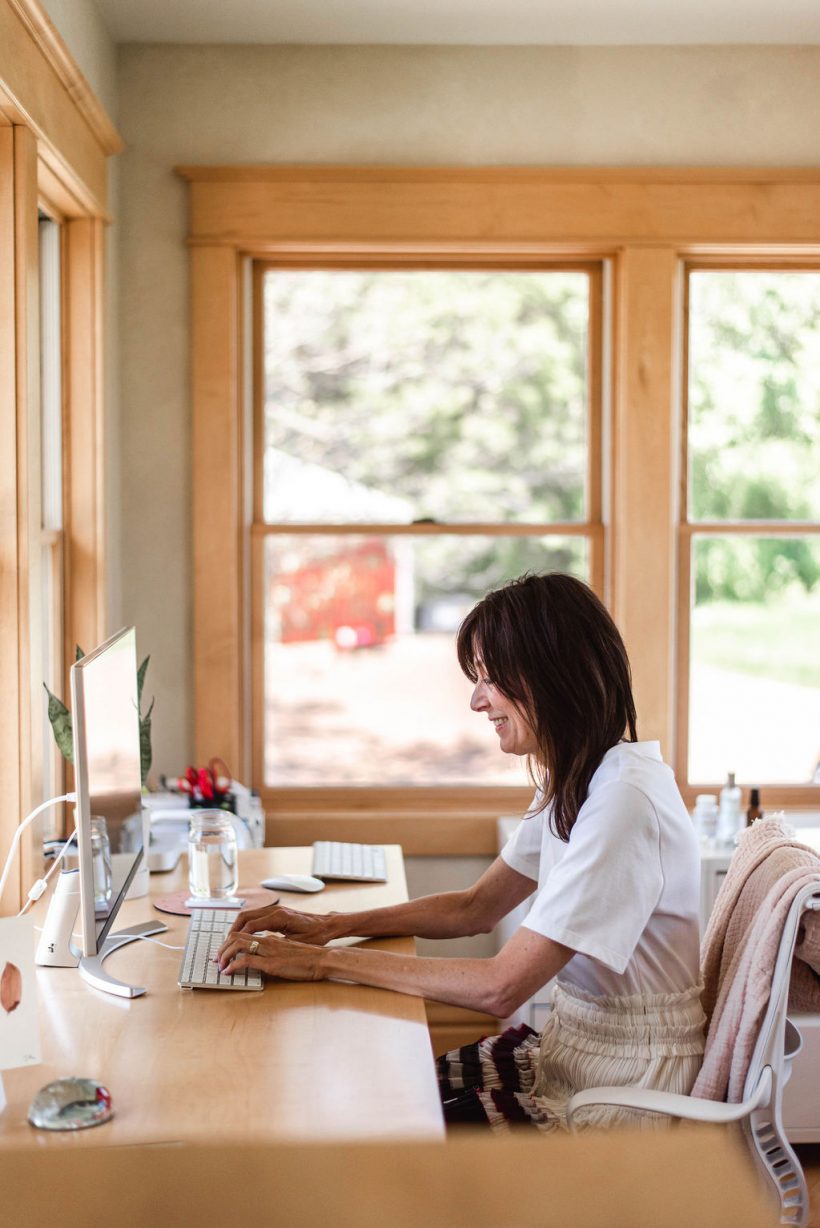 What time is your wake-up call? How much sleep do you usually get?
My wake-up call isn't until 6:30 AM but I've been waking up before my alarm goes off (see what I meant about my mind rarely shutting off?!?). I like to get at least seven hours of sleep. I'm a better person with a solid seven hours although eight hours would be a dream, no pun intended.
What morning rituals set you up for success?
After my pilates or power walk, my husband and I connect in our kitchen and chat about what's on deck for the day; he owns his own business selling lumber and custom wood products. We're recent empty nesters and still acclimating to this stage of life. I also check in with my parents, who are in their 80's. Hearing their voices every day instantly lifts my spirits.
How has your morning routine changed during quarantine and why?
My routine changed dramatically during Covid. I used to travel every week to either NYC or LA so I was always racing to the airport to catch a flight. I do miss the travel, but not necessarily the frenzy and frantic nature of that schedule. I've learned to relish every morning I wake up in my own bed versus hotel hopping and time zone changes every week.
Describe your morning beauty routine from start to finish.
My morning beauty routine is all about efficiency… I'm done in 20 minutes—that includes my shower! After I towel off, I use my Womaness The Works body cream. Moisturizing the skin all over my body has become so important after going through menopause and realizing just how dry and rough that skin was. My skin literally drinks in The Works, it's that good. In fact, I often catch my husband applying it as well—it just works.
I've been letting my hair grow and have noticed that my hair has become wavy as I've gotten older (menopause helped too), making it much easier to style in the morning. My go-to hair products are Better Not Younger Wake-up Call Volumizing Shampoo and Conditioner. I love the fact that this brand is also geared towards women 40+ and celebrates that we get better as we age—Womaness feels the same!
I never leave home (or hop on a Zoom) without my make-up on, but I've been able to simplify my morning routine to seven products—a solid mix of more high-end and mass. My first step is to use Dr. Dennis Gross Hyaluronic Marine Oil-free moisturizer; followed by Chantecaille Future Skin gel foundation, Merit Perfecting Complexion Stick for concealer, Hourglass Ambient Lighting blush, W3LL Hypnotist Eyepencil, and Winky Lux So Extra Mascara. Lastly, I always apply Womaness Let's Neck serum to make sure I hydrate my neck. In fact, I keep a tube of Let's Neck at my desk to re-apply throughout the day—it has a rollerball applicator that I find very soothing, not to mention it's cooling). I am convinced using this has helped with the lines and crepey skin on my neck and its given me the confidence to rock my v-neck T-shirts all summer long.
What do you eat for breakfast?
I like to try a variety of different breakfasts each week, but my favorite go-to breakfast is whole-wheat toast with Justin's all-natural peanut butter and local honey.
What are your morning media rituals?
I like skimming through the Wall Street Journal so I can stay informed, and then I peruse WWD and Business of Fashion. I'm also a big fan of WhoWhatWear (I spent a few years at WhoWhatWear and love their fashion POV). I may tune into a podcast while walking and love to listen to Hillary Kerr's Second Life interviews. I'm a Clubhouse newbie and try to pop on the platform in the morning to see what interesting topics people are talking about.
What are your favorite books?
I'm drawn to self-improvement books. I've been reading Women Rowing North by Mary Pipher, which has been really inspiring. A dear friend of mine gave me this book when I started Womaness—it's helped to guide me through some challenging days and have a positive perspective. Starting a business takes a tremendous amount of energy, and it's helpful to have another wise woman give advice. I highly recommend it for women my age.
What do you always have on your nightstand to ensure a smooth, successful morning? San Pellegrino water, Smith's Rosebud Salve, and my Womaness The Works body cream
What's your favorite getting-ready soundtrack?
Long live Queen! Who doesn't need some Freddie Mercury in the morning?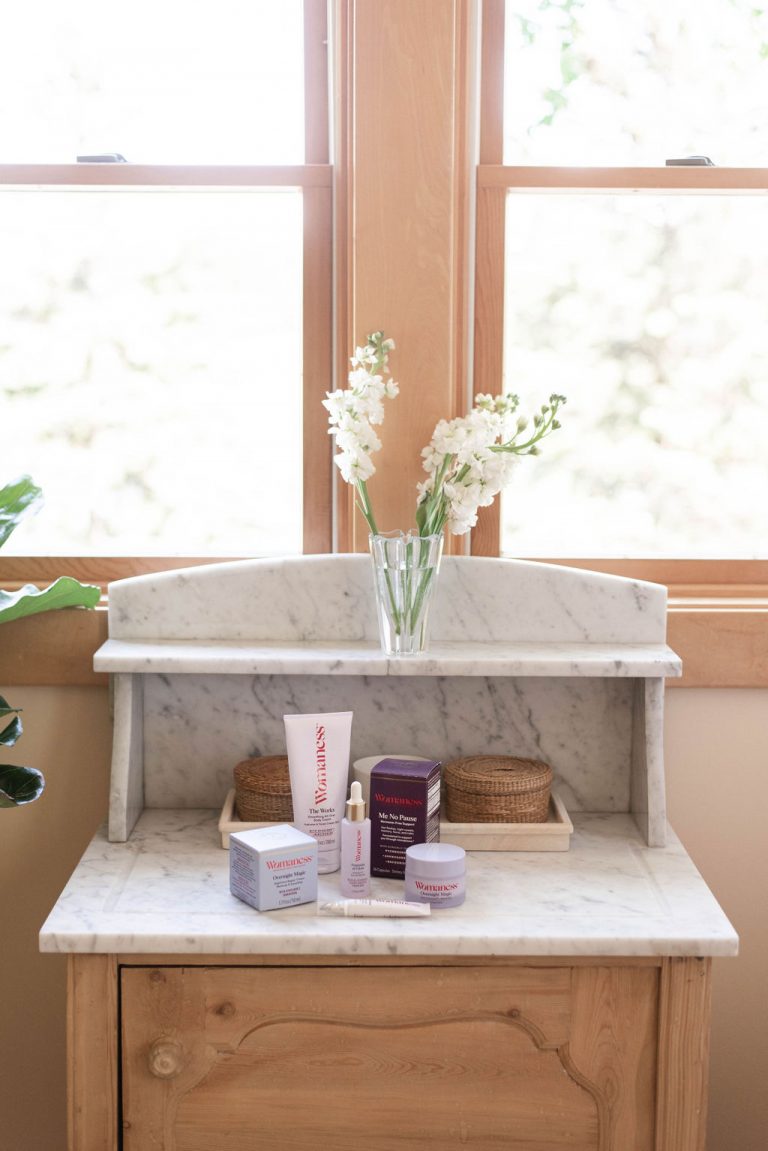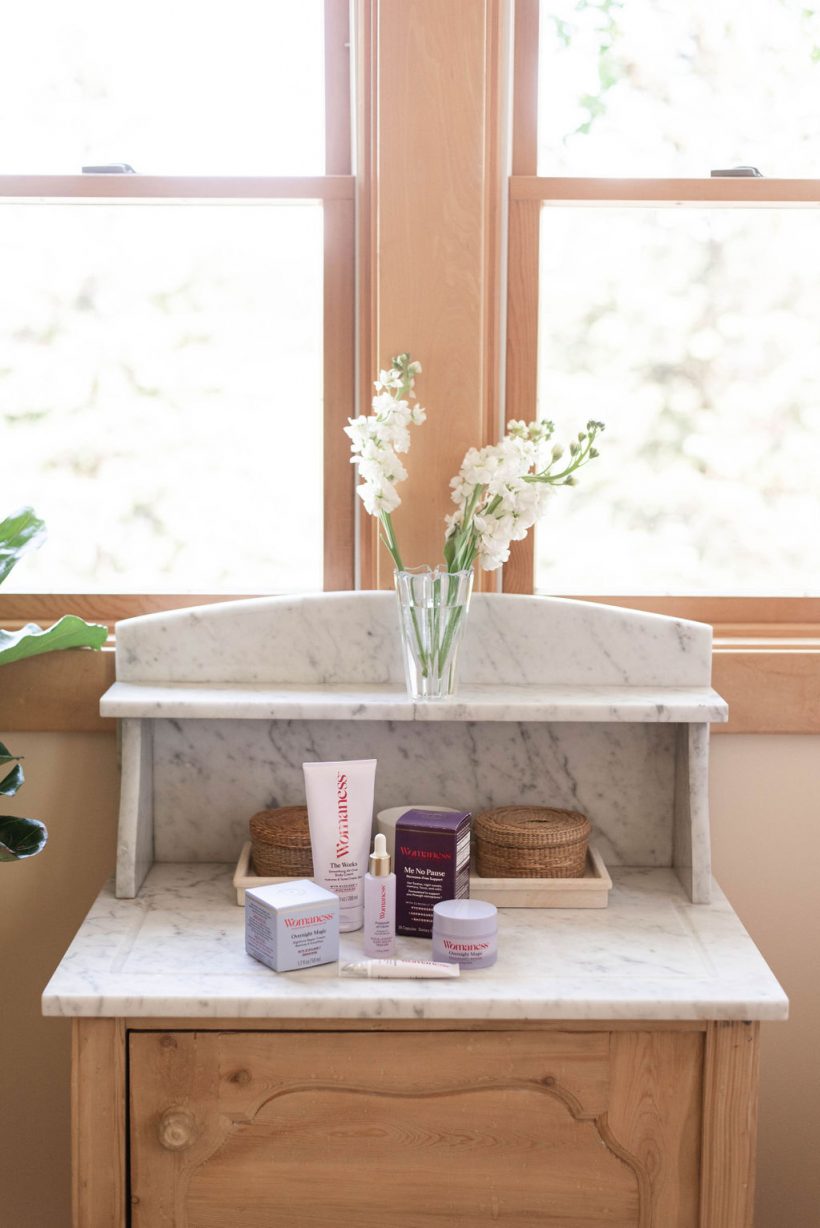 Do you work out in the morning? If so, what do you do, and for how long?
Yes, I try to do some activity in the morning whether it's taking a walk or pilates for 45 minutes. I either listen to a podcast or enjoy the silence. It helps set the tone for the day.
What's your daily uniform? How has that changed during quarantine?
Quarantine has absolutely changed my daily workwear in that it's become athleisure on the bottom (the perks of Zoom meetings, where everyone just sees your chest up) and something fun on top… usually a printed blouse or sweater since I live in Minnesota where it's winter for a solid nine months. My approach to fashion is the same as my approach to makeup: A mix of high and low. My go-to brands for staples are Zara, Who What Wear @ Target, and Ganni (they make incredible sweaters).
If you had one extra hour every morning, how would you use it?
Probably more exercise… it's so important as we age to be active. I know I should be lifting weights for bone health in addition to my usual pilates or walks, but truthfully, I haven't quite gotten there—yet! Via Womaness, I'm working with some incredible people at the Mayo Clinic who keep inspiring me to focus on my own health because the actions I'm taking now will impact my wellbeing in my 70's and 80's. They are some of the best-in-class doctors out there, so I don't take their advice lightly.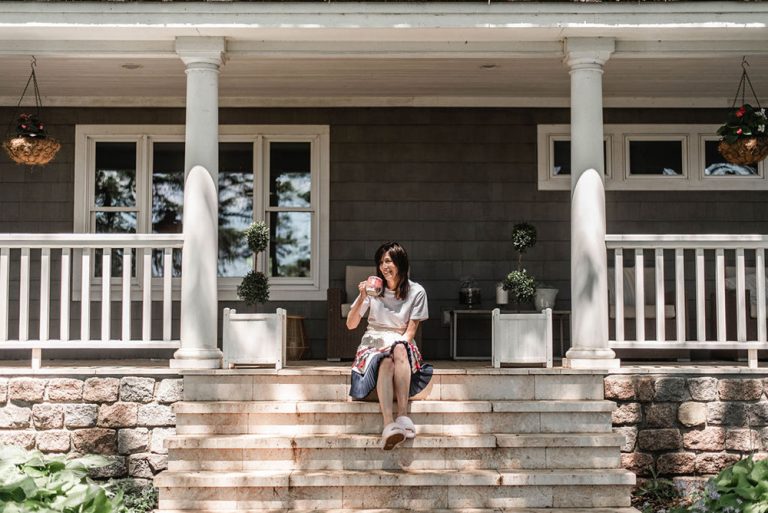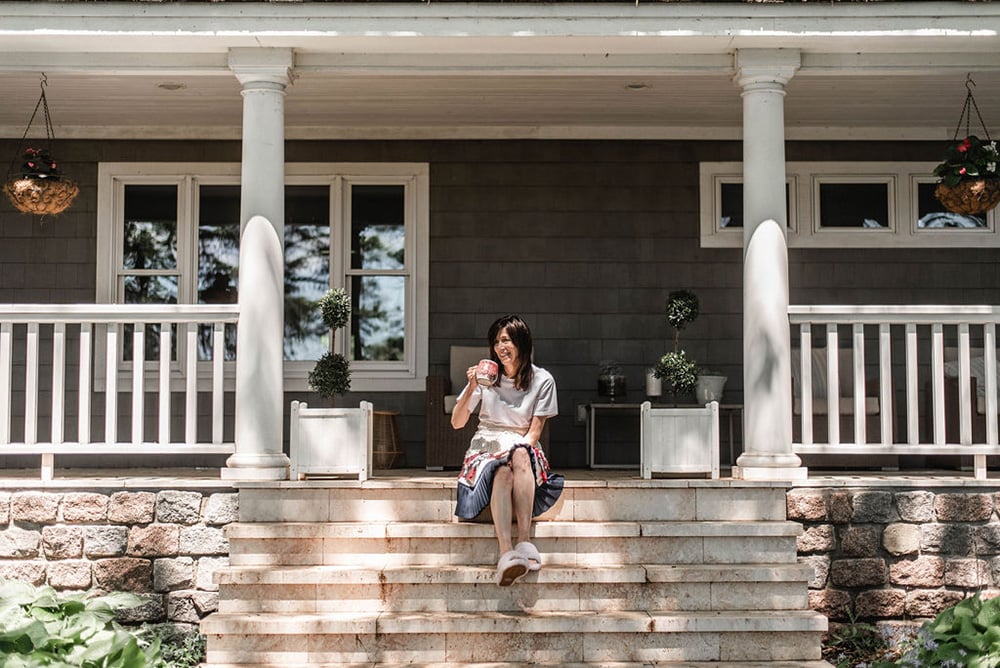 What are one or two things you do every day to live a more present/mindful/joyful life?
I love to cook so making sure I make a healthy dinner each night for me and my husband is something I love to do. I've been getting some healthy and delicious recipes from Love & Lemons and recently made their Portobello Mushroom burger, which paired nicely with a bottle of Avaline red wine.
If you could pin your success down to one thing or one moment, what would that be?
Surrounding myself with amazing women. I believe the company you keep is everything. I feel incredibly lucky to have friends, colleagues, and advisors that have been so supportive of me over the years, through thick and thin, and especially in my latest endeavor, Womaness.
Sentence Finishers:
I never leave the house without… my cell phone and a bottle of San Pellegrino water.
If there were more hours in the day, I would.. find time to bake fresh bread. Doesn't that sound heavenly?Healthiest morning habit… pilates.
Worst morning habit… drinking caffeine
One thing I want to be known for is… being a great mentor. Paving the way for others is the ultimate accomplishment.
The one thing I fear the most is… burnout.
When I feel that fear, I… take a long weekend to visit my kids in Indiana. Being on college campuses such as Notre Dame always makes me feel energized.
The book I always recommend is… Julia Child's Mastering the Art of French Cooking. She was self-taught and is an icon we all admire.
The three traits you need to succeed in life are… confidence, empathy, and authenticity.
Bath or shower? And what's your favorite shower/bath product? Shower… Le Labo Bergamote 22 shower gel.