Whether we like it or not, the holidays are upon us, and you know what that means: a full calendar from now until New Year's. Between the parties, planning, and all the presents to buy, our plates are full. I know that you most likely have a lot on your mind, so I wanted to apply some of my past experience as a stylist to help answer one of the holiday's biggest questions: what the heck do I wear? Thankfully, with a solid capsule wardrobe filled with a few heavy-hitting winter basics, I've found a tried-and-true solution to this million-dollar ask.
Unlike everyday pieces, our wardrobe's winter staples are those you continue to go back to on a seasonal basis. They are classics that never go out of style, ones that you can reinvent and re-style every year in a fresh way. So, today, I'll tackle four of the most common holiday moments you'll likely need an outfit for. Get my pointers below and browse my favorite sustainable options, extended sizing pieces, and cost-conscious fits. Let's do it!
Featured image by Michelle Nash.
26 Cozy and Elegant Winter Basics
Every product is curated with care by our editors. If you buy something through our links, we may earn a small commission at no cost to you.
What to Wear: The Casual Family Gathering
The key to dressing for family hangs is to go for an elevated comfy look. You don't want to look like you didn't try, but you also want to be comfortable enough to roll up your sleeves in the kitchen, play on the floor with little ones, and have something flexible enough to win at a competitive game of charades.
Here are my go-to options. You can layer all of these with a slip dress or skirt or your favorite pair of jeans for an effortlessly cool look.
The chunky sweater
If you have a curvy body type, my recommendation would be to go with a cropped option to define your waistline or to pair it with a high-waisted pant while doing a casual front tuck. This lets you show off your shape even while adding a little volume from the chunky knit.
The cashmere sweater
When it comes to a cashmere sweater, you're getting all the things: comfort, warmth, quality, and typically a higher price tag—so be warned! The plus side is that you can wear cashmere with only a bra (or nothing underneath) without the fear of the itch. Again, I'm giving you classic pieces that will never go out of style, so you can feel good about investing in your favorite.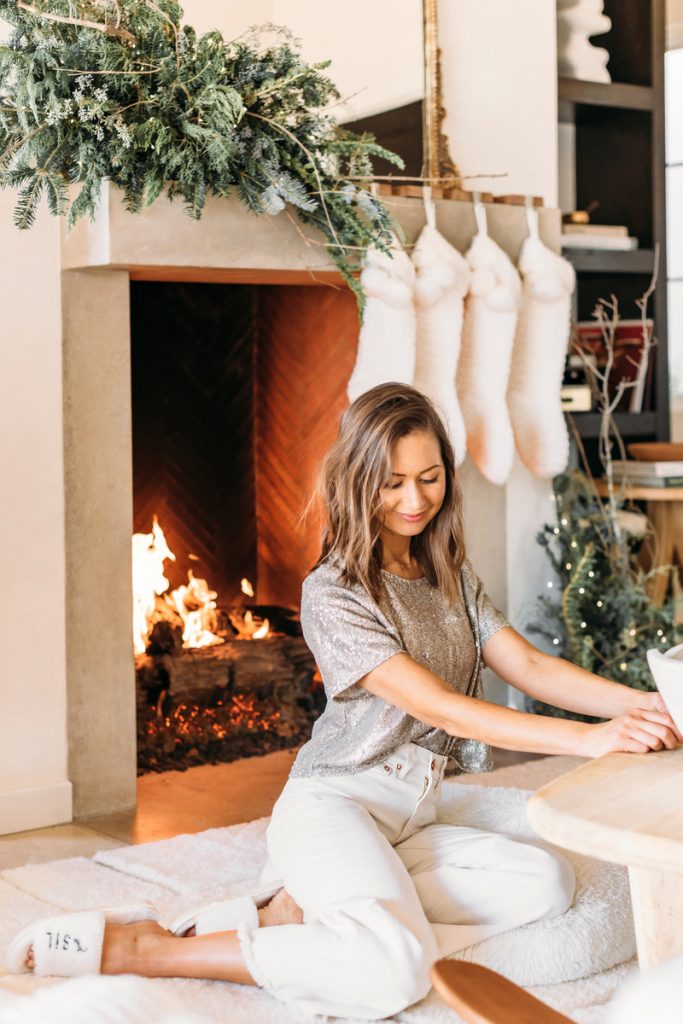 What to Wear: Christmas Eve at Home
The cardigan
If you run hot and can't commit to a sweater indoors, cardigans are a solid solution. Layer it with a silk tank top or over a—yep, you guessed it!—slip dress. You can also roll with it and commit with only a bra underneath. Either way, a cardigan is a win-win. Go with a longer cardigan if you want to keep it comfy, or try a cropped style to show off or create the look of curves.
Silk skirt
If you're not yet sold on the silk skirt, give the silk skirt a try. It's an easy yet comfortable way to elevate your look at home without sacrificing comfort. It comes in a plethora of lengths, but my go-to is the mini. I like to pull out the mini for a night out and keep is classy with a slightly longer hemline from dinner with the family. It looks good with a chunky boot or delicate heel, too. You can keep a slip skirt in your rotation all year, but it'll be a standout during the holidays.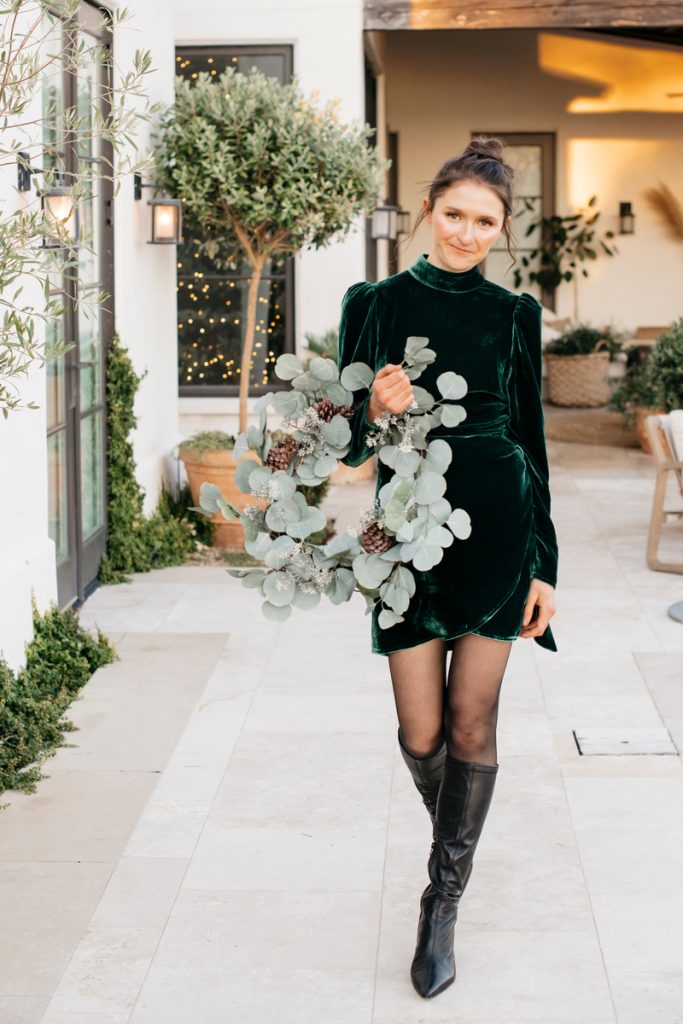 What to Wear: Festive Holiday Parties
When it comes to holiday parties, there are a few materials and textures that will instantly put you in the mood to celebrate.
Velvet everything
Nothing says the holidays quite like velvet—it can instantly dress up any outfit. One of my favorite velvet pairings is with satin or silk. The juxtaposition of the two fabrics creates such a luxurious vibe. Accessories are always an easy way to add some velvet to your wardrobe, too. No matter how you incorporate it into your holiday dressing, you're sure to look put together in velvet.
Metallic accessories
All that glitters isn't just gold—it's also silver, rose gold, and champagne. In a world of metallics, you will always shine. With metallics, I like to follow the rule that less is more. They can be intense in a good way, so I like to use them sparingly.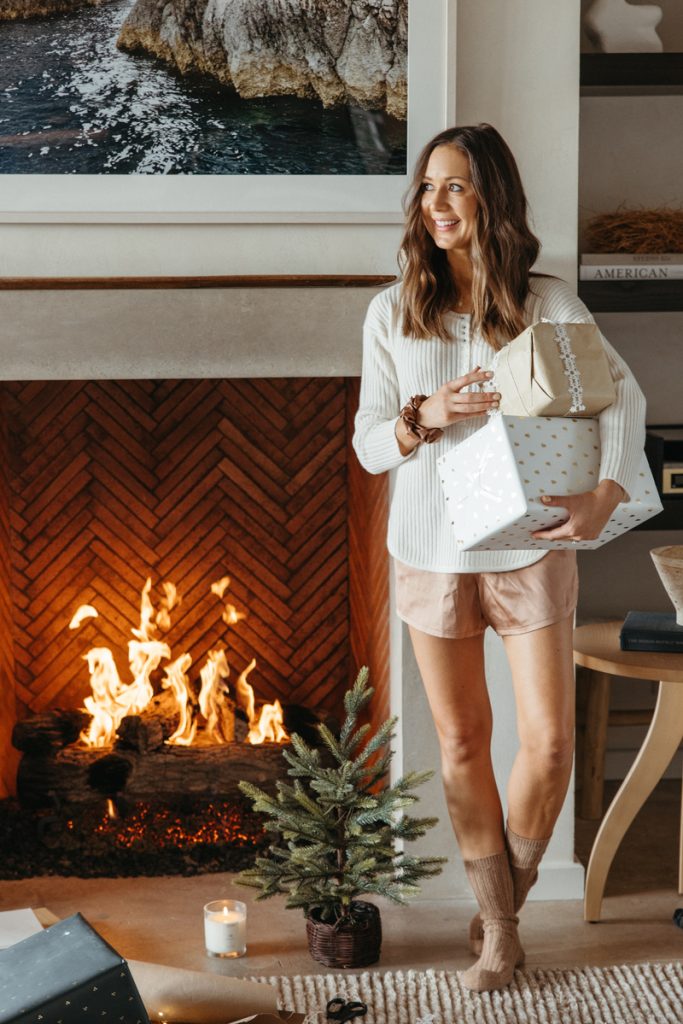 What to Wear: A Cozy Holiday Morning
For me, holiday mornings are all about keeping it comfortable. I'm talking soft pajamas, warm robes, and elevated loungewear. Whether you're the matching pajama kind of family or you like to lean more luxe, you can always come back to these pieces. One thing is for sure: you're bound to create special memories to look back on all while being extra cozy. This lets you focus on what matters most: the magic and joy of your family.
What are some of your favorite holiday staples? Let us know in the comments! Happy holiday shopping, everyone!