As someone who passionately loves to send the invite, make dinner for a crowd, and gather people around my table, this was a very fun list to put together. Yes, I basically curated my very own wishlist of all the kitchen and home items I'm coveting. And since we're on the cusp of holiday party season, it's the perfect time to get a head start by thoughtfully choosing a few gifts for the hosts in your life.
Here you'll find gifts that range from small to splurge-y: a bottle of hot honey is a sweet gesture for the host of the annual holiday potluck, whereas a beautiful linen table throw is a gift that will make your mom or bestie feel like the host with the most for years to come. And while you're sure to get invited back regardless, it's always a thoughtful gesture to prioritize the hosts in your life on your gift-giving list.
So scroll through and shop the best hostess gifts. Who knows, they might inspire you to host a gathering yourself—yep, they're that good.
Featured image from our interview with Laurel Gallucci by Teal Thomsen.
The Ultimate Hostess Guide Guide
Every product is curated with care by our editors and we'll always give an honest opinion, whether gifted or purchased ourselves. If you buy something through our links, we may earn a small commission at no cost to you.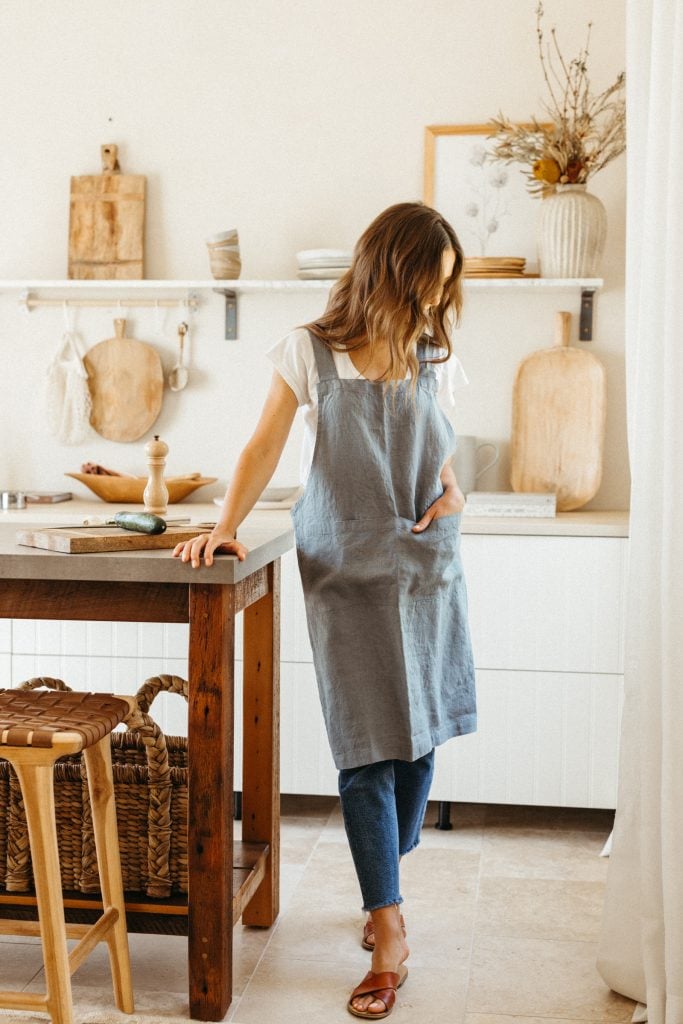 This is my absolute go-to linen tablecloth for my table, and I love sharing it with my fellow dinner party hosts! Here's what I love about this throw: it's casual and adds textural warmth to the table. It's ethically made in Lithuania. And it's the right size for any table—since it's made to reveal the edges of what's underneath, you can use it on square, round, and rectangular shaped tables.
This beautiful wood salad bowl will be on her dinner table almost every night, filled with whatever greens and veggies are in season topped with a drizzle of quality olive oil. Handmade in Michigan, these are heirloom-quality bowls that are made for sharing good food with great friends. You can choose your own adventure from multiple sizes: the 12″ is sized for 2-4 people, the 17″ is made for larger groups, and the 20″ is made for family-style feasting.
This next-level candle is always on my wishlist (since I tend to burn through them faster than I probably should!). With the lush scent of the garden, it celebrates the ripe, supple aroma of heirloom tomatoes—and transports you to a late summer dinner party in a Sicilian garden.
I went down the rabbit hole of Target's fab new kitchenware line and came up with all kinds of goodies for the home—including this extremely well-priced molcajete. If the host in your life happens to be a taco night lover, she'll love this much chicer way to make (and serve) her signature guacamole.
When I got my first bottle of Mike's Hot Honey, I asked you guys on Instagram what I should put it on… and your answers ranged from pizza to ice cream to biscuits. I can attest—it's outrageously delicious on all, and any good host will love this instant way to level up her recipes.
If she spends a lot of time in the kitchen, she'll want an apron that's both hardworking and cool enough to wear when the gang's gathered around the island helping her prep. Our signature Casa Zuma linen apron checks all the boxes. (I should know—I basically live in it.) Oversized front pockets house tongs and towels, and the Japanese-style crossback keeps it simple—no ties or buckles to deal with.
I'm a big believer that you can't beat the organic beauty of handcrafted ceramics. Each of these bowls is sculpted and painted by hand, ensuring no two are exactly alike. These can hold decor objects like dried flowers or holiday ornaments. They can also stand artfully empty, like a collected and much-loved object.
Real blooms that never die—it's the promise of dried flowers. I love the striking, sculptural silhouette of the many banksia branches that I have around my home. This beautiful bunch does the work for her, giving long-lasting color and texture to dried arrangements or displayed simply on their own.
This one's for the cheese board queen, the one who always has a spread of delicious bites laid out when guests arrive. Our extra-large cheese boards are collected from across the European countryside. These are true vintage pieces, some dating over 100 years old, so they make a major statement in any well-designed kitchen.
Nothing's more luxurious than beautifully-scented natural home cleaning supplies (or is it just me?). Made with Australian essential oils, this aromatic set includes a Lemon Myrtle and Mandarin Dish Soap, Multi-Purpose Kitchen Cleaner, and Lemon Scented Eucalyptus and Rosemary Hand Wash.
I love a luxurious olive oil, and it's hard to beat the level of high design and flavor of Wonder Valley. This gift is a quick way for your favorite hostess to elevate her meals through its bright, herbaceous, peppery flavor and delicious dose of polyphenols, the powerful antioxidant associated with longevity of life. And of course, that matte black bottle will look sooo chic on her kitchen counter.
This versatile ceramic serving platter is what I use to dish up the main course nearly every night at dinner—that is, if we haven't already used it for appetizers. Handmade in Los Angeles LA Clay, it's perfectly sized for roast chicken and grilled fish. It also happens to make a great platter for warm chocolate chip cookies. This is a really special, one-of-a-kind piece to elevate the everyday.
A beautiful pitcher for serving water or iced tea is a hostess gift classic. And this one is really gorgeous, made by artisans in Portugal. The crackle finish brings a rustic, old-world charm to the table.
Pave the way for cozy nights in front of the fire with this luxurious throw blanket—a gift that just about anyone will embrace. Made from soft bouclé with fringed trim detailing, this throw adds texture and softness to her space and looks fab draped over the arm of her comfiest chair.
A creamy, dreamy sampler set with two of favorite things made with organic sesame seeds: halva and tahini. Treat her to the pistachio and sea salt dark chocolate candy, and inspire her to drizzle the tahini over all her recipes for an instant upgrade.
If you haven't yet encountered the dreamy world of French cookbook author Mimi Thorisson… let me introduce you to your new favorite follow. In her newest cookbook, Mimi explores the beautiful coasts and countrysides of Italy through lavish photos and simple, authentic recipes inspired by the country's devoted producers and rich food heritage.
This girls who know, know: while I love my coffee, matcha is one of the best ways to experience sustained, long-lasting energy. And its preparation becomes a ritual, you boost the benefits of the wellness practice all the more. This gorgeous matcha set is my favorite way to elevate my morning routine. With a matcha bowl, bamboo whisk and scoop, sifter, and guide to preparing matcha that eclipses your coffee shop fave (not to mention high-quality, ceremonial-grade matcha), it's complete with everything you need to kickstart the healthy habit yourself.