As a woman of the unmarried persuasion, I haven't had the opportunity to make a gift registry (yet!) and therefore have not received a fancy and curated dinnerware set. Despite my rather, ahem, advanced age, I've been working with a relative mishmash of hand-me-downs acquired haphazardly throughout the years, everything from flatware to cooking pans and plates. But as it happens, you don't need to wait until the proverbial church bells ring to put together a grown-up, lovely table setting. There are plenty of surprisingly affordable dinnerware sets available that will elevate your home dining experience.
Despite its obvious, deeply functional use, dinnerware doesn't have to be boring. High-end sets made of good quality materials can improve the overall aesthetic of your tablescape. No matter your interior design style or what kind of budget you're working with, we've got a chic and affordable dinnerware set for you. And yes, every one of them is beautiful enough to display on open shelving.
So, keep reading for a look at some seriously stunning dinnerware sets that won't break the bank.
Featured image by Michelle Nash.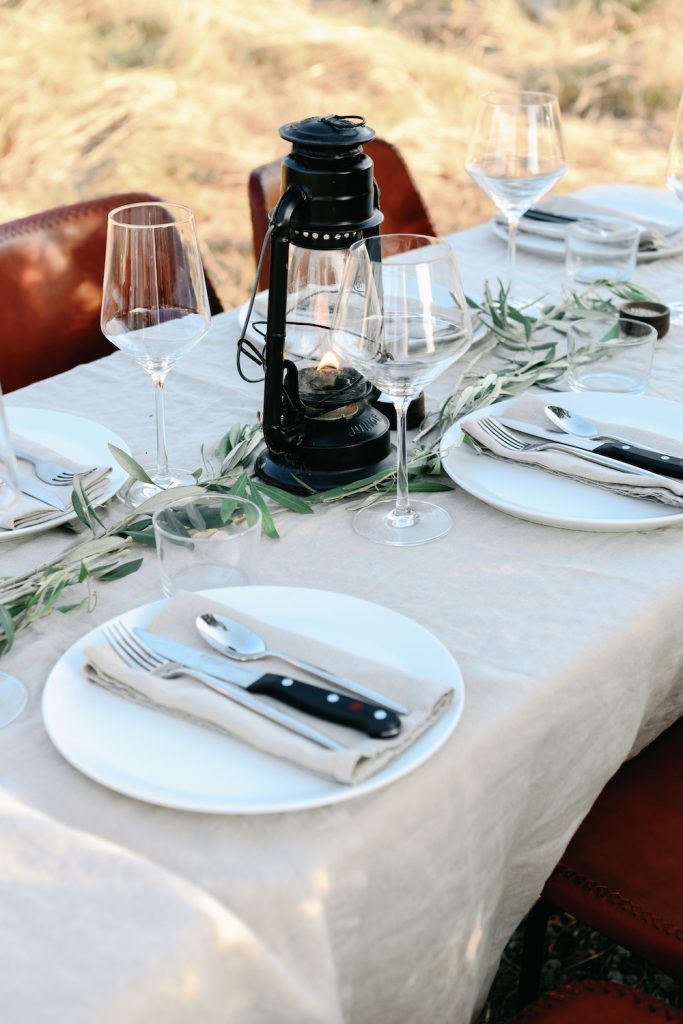 Food52
Food52 launched its home shop in 2013 intending to bring high-quality products from talented artisans around the world to one spot. They curate beautiful collections that elevate kitchens and make life easier. They know that it's all about the details, and it shows in their gorgeous products.
Muted pinks, grays, and cream tones add a bit of curated calm to a table. They're thoughtfully made with a nod to Japanese and Shaker design influences. They're timeless, not to mention dishwasher safe, and scratch-resistant as well.
Inspired by the Japanese Wabi-Sabi style, these lovely and imperfect dishes have ridges that mimic shells and blossoms. They couldn't be sweeter.
Bring the look of classic camping enamelware to your kitchen with this forties-inspired white speckled design. Melamine doesn't rust, is virtually unbreakable, dishwasher safe, and family-friendly.
Target
What can we say about Target that you don't already know? This beloved mega-retailer has everything you could ever want and more. They consistently raise the bar with their products and work with seriously impressive designers on collaborations that are as beautiful as they are affordable. Long live Target!
This simple, elegant set includes four dinner plates, four bowls, and four salad plates in a clean modern design with a glossy glazed finish. It's casual chic and perfect for everyday meals or entertaining.
I love the sweet touch of the raw-style rim on these sturdy stoneware pieces that are perfect for using as your everyday set. The matte finish feels luxe and elevated, but every piece is durable enough to stand a good many spins in your dishwasher.
This two-toned stoneware set features a lightly speckled finish that could pass for pieces from your favorite Instagram ceramicist. I definitely wouldn't be afraid of using these on the daily, but they're special enough that I also wouldn't think twice about using them at a dinner party. Convenient, cute, and ideal for any aesthetic? That's a win.
Bed, Bath & Beyond
Bed, Bath & Beyond is all about making life easier, cozier, brighter, and better. Today, we're poking around the beyond for a look at their vast selection of affordable dinnerware sets. In keeping with their philosophy, these sets are a lovely representation of their many high-quality products that are available at a deeply affordable price point.
I'm always after simple, well-made pieces that can stand the test of time (both in durability and the cycling of trends). This 12-piece set fits the bill, boasting a contemporary, minimalist design that works with any home aesthetic.
Update your table with this simple white-on-white style. It's a charming set that defines rustic elegance. Crafted of durable stoneware, these pieces are great for a family who's ready to ditch the kiddos' plastic plates and bowls.
You'd never know that this sophisticated set is dishwasher and microwave safe. It's a unique modern design that is highly durable and will last for decades to come.
IKEA
What was once a tiny, mail-order business in the Swedish countryside is now a global brand that is practically synonymous with affordable home goods. You name it, IKEA has it at a competitive price and in interesting, innovative designs.
Choose from a matte glazed rustic surface or a glossy modern one. This clean design is simple, functional, and easy to coordinate with other colors, shapes, and materials—making it the perfect base for all settings.
This set is made of ultra-durable feldspar porcelain, but should a kitchen disaster occur, you can replace each item individually—a rarity in the world of dinnerware sets!. it has a soft square shape that feels modern while also being a classic.
Urban Outfitters
I cannot stop raving about Urban Outfitters' home section. Once the domain of college students, UO Home has some seriously beautiful, high-end pieces. They sell everything from furniture to accessories and kitchen gadgets that won't make your bank account scream. Do not sleep on this home shop, friends!
With its simple design, this set is a minimalist's dream. It's made of beautiful ceramic and features an accented rim for an unexpected touch of whimsy. It's a complete set that you'll want to break out for every use and occasion.
How lovely is this dining set? It's made of durable stoneware with a matte finish and speckled detailing for a modern, yet eclectic, flair. It is simple and still feels very special.
Keep things classic with this crisp ceramic set of dinner plates, salad plates, and bowls. It features a soft, matte finish and contrast finish edges that feel both modern and timeless.
Pottery Barn
Not just content to provide high-quality pieces that are designed to last, Pottery Barn is also committed to sustainability. They partner with organizations like Global Organic Textile Standard and The Renewal Workshop, as well as artisans to support local communities around the world.
Made in Portugal, the rustic ceramic silhouettes are wholly unique and feature beautiful variations. It's a functional, beautiful, and timeless collection.
This is a Fair Trade Certified™ set, with every purchase helping to ensure safe and fair labor practices that improve conditions and empower workers in local communities the world over. And isn't it absolutely beautiful? It's subtly glazed to let raw, exposed material peek through.
Another stunner of a set made in Portugal, each piece features a matte glaze finish and the mugs are even hand-painted. The best part? The entire set is dishwasher and microwave safe
World Market
One of the great things about World Market is that they always have exactly what you're looking for, whether it's home décor, accessories, food, furniture, and more. I love that their style ranges from simple, classic designs to eclectic, unexpected colors and aesthetics from all over the world.
Looking for a crisp and clean aesthetic? This set is about to become your go-to for meals and special occasions alike. Its glossy white finish is elegantly simple and makes it perfect for mixing and matching with other brightly colored and patterned table items.
You'll feel like you're at a chic French cafe every time you bust out this textured dinnerware set. It's made of off-white stoneware in four patterns that include dinner plates, salad plates, bowls, and mugs.
Amazon
For better or worse, there's no denying that shopping on Amazon is simply convenient. The abundance of reviews combined with fast shipping makes it a no-brainer for just about everything, including their vast collection of dinnerware sets.
Along with being as beautiful as they are practical, these high-quality and incredibly durable dishes are dishwasher and microwave safe. A reactive glaze is applied when each ceramic dish is fired, giving it a unique look.
The unique black and tan two-tone reactive colors with a glossy white center on these dishes make this a wholly contemporary set with a touch of boho chic. Totally unexpected and cool for Amazon.
Wayfair
Sorting through Wayfair's astonishingly large selections can feel overwhelming, but it's always worth the effort. They source items from tons of distributors, so it's important to read reviews and check ratings when scanning through their products. In this case, we've done the heavy lifting for you and found three wonderfully affordable dinnerware sets you're sure to love.
This collection was built to last. It has a chic minimalist style with clean lines and smooth surfaces. It's perfect for a small dinner party or if you just want to indulge in a little aesthetic joy every time you pull out a plate or bowl.
Don't you love the sweet speckles adorning this lovely dinnerware set? And the price is not to be overlooked.
Add a touch of elegance with a gold-rimmed ceramic set. It includes salad plates, dinner plates, bowls, and mugs. It's minimal and adds a bit of sparkle for every occasion.
This post was originally published on September 22, 2021, and has since been updated.