In a time where kitchens are typically customized within an inch of their smart refrigerators' lives, it's surprising how long islands remained just, well, islands. The standalone structures seemed to go on for years without much dramatic tinkering, until a relatively recent contemporary design trend: the waterfall kitchen island.
For guidance on the eye-catching style (where the counter extends to cover the sides of the island), I tapped the team behind some of the most stunning waterfall island installs I've seen yet, the all-women trio behind Dallas-based BuildTX Solutions.
Featured image of Camille's kitchen by Michelle Nash.
Breaking Down the Waterfall Kitchen Island Trend
"What we appreciate most about the waterfall kitchen island trend is its ability to blend functionality with high-end design," says Yelitza Mora, BuildTX's director of business development. "It provides a seamless look that can make a kitchen appear more spacious and uncluttered. Additionally, the design offers added protection to the sides of the cabinets, which can be particularly beneficial in high-traffic areas."
The streamlined look can also help with flow, creating continuity between the kitchen and other living areas. "This is important in open-concept layouts, where the kitchen is often visible from other parts of the home," adds Mora.
And thanks to the availability of new, more affordable materials, like quartz and laminate, a waterfall island doesn't have to destroy your budget. (Though nothing can truly beat the look and durability of natural stone.)
For clean-lined inspiration, we gathered up 12 striking examples of great waterfall kitchen islands, including some that feature Mora's favorite custom touches.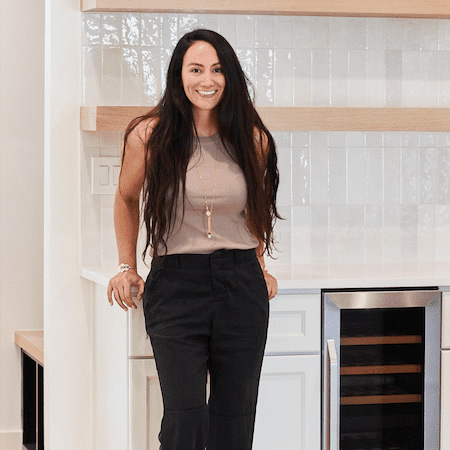 Yelitza Mora
Yelitza Mora is the co-founder and director of business development at BuildTX Solutions in Dallas, Texas. With over ten years of experience in supply chain management and logistics development, Mora and her team use their combined expertise to deliver a fresh identity to residential custom building, design, and remodel.
12 Waterfall Kitchen Islands for Every Style (and Budget)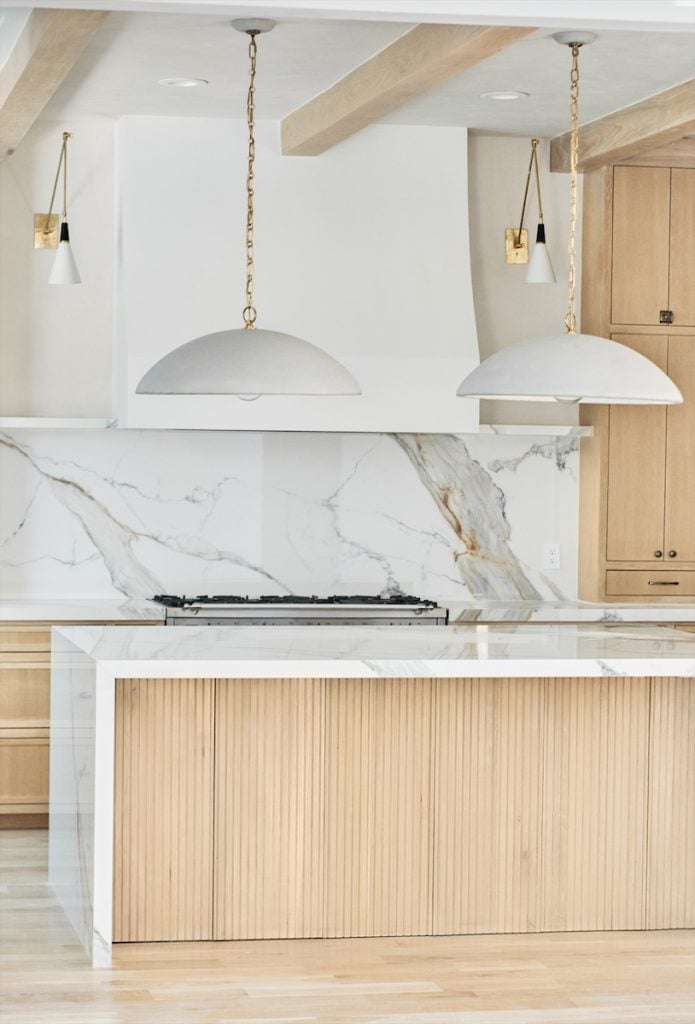 The Fluted Waterfall Island
Much like the waterfall kitchen island, the fluted trend isn't going anywhere. "This new trend is everywhere, from walls to tile and furniture," Daniella Villamil shared with us this summer. "It's a beautiful way of playing with organic shapes and textures and we welcome it!"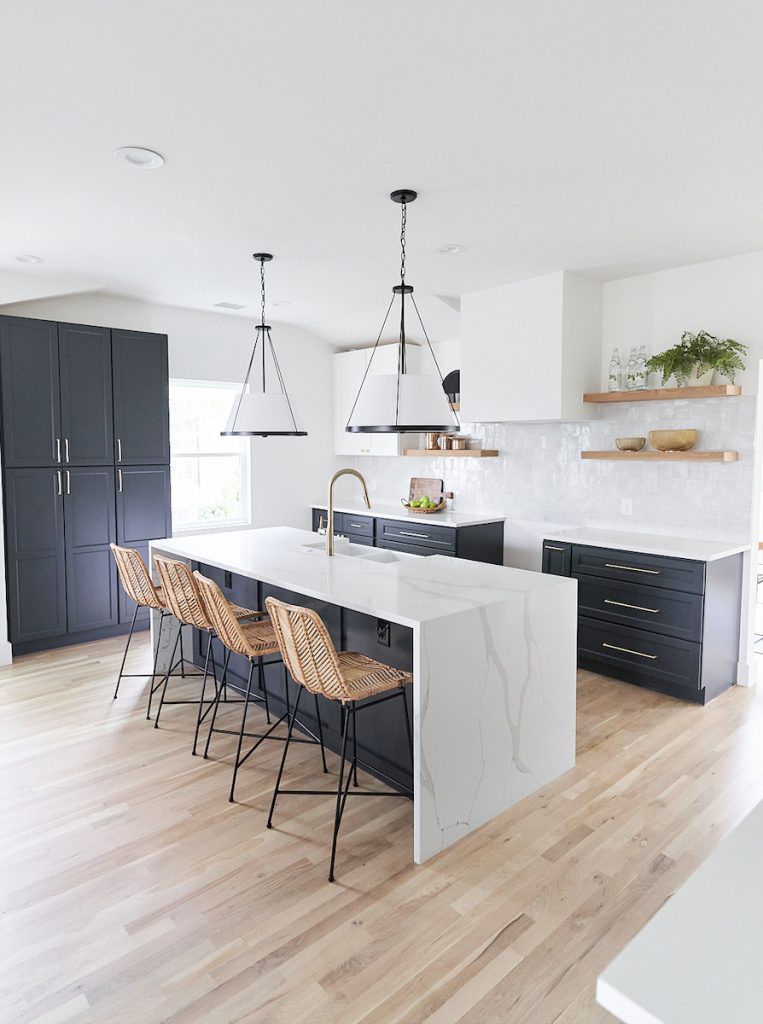 The High-Contrast Waterfall Kitchen Island
Up the drama by pairing a white marble waterfall countertop with dark-painted wood and cabinetry for even more visual interest.
The Butcher Block Waterfall
As striking as it is utilitarian, this wooden take on a waterfall island (or, in this case, peninsula) offers a slightly more affordable take on the trend while maintaining that continuous flow.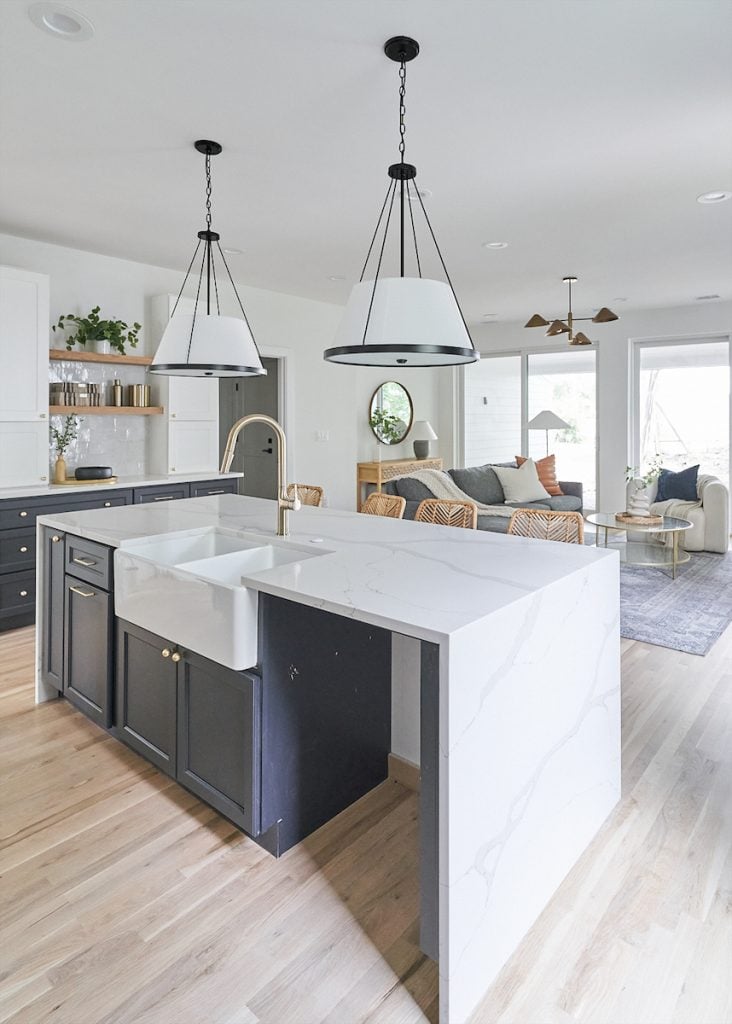 The Built-In Waterfall Wine Fridge
Our absolute favorite way to blend form, function, and the waterfall look.
A Waterfall Island With Built-In Shelving
A waterfall island is a statement-making focal point enough on its own, but adding shelving to display things like cookbooks or artwork makes for a true storage showstopper.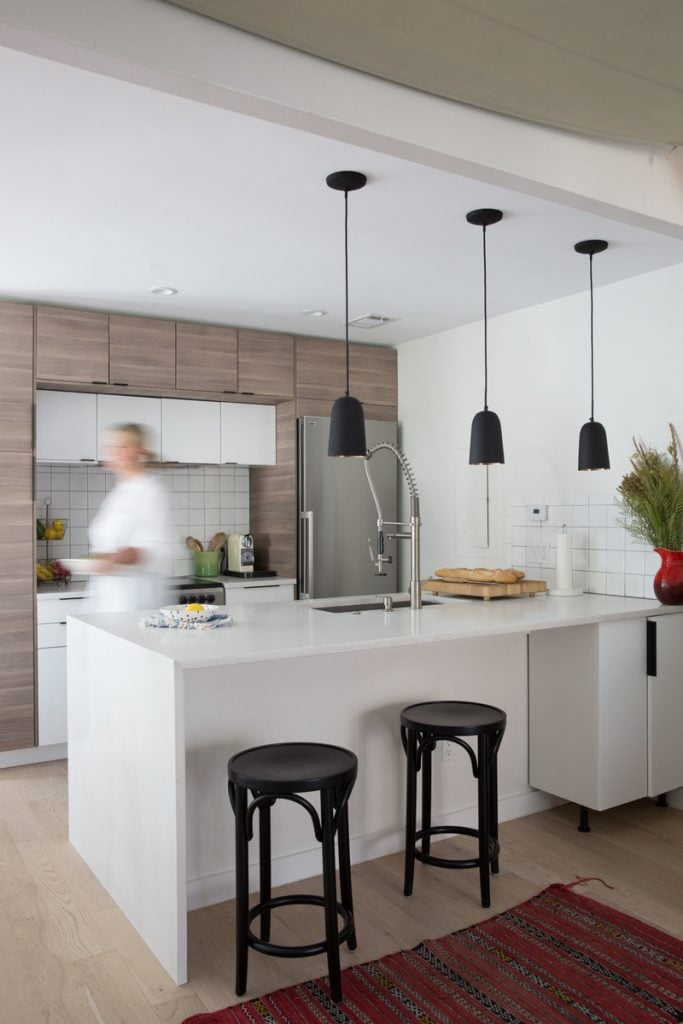 The All-White Waterfall Island
Why stop at the stone when it comes to continuity? Keep the streamlined look going by placing your "waterfall" over an existing peninsula and keep the baseboards (and outlets!) intact.
A Built-In Beverage Station
One of the coolest custom additions Mora has seen requested for a waterfall island installation.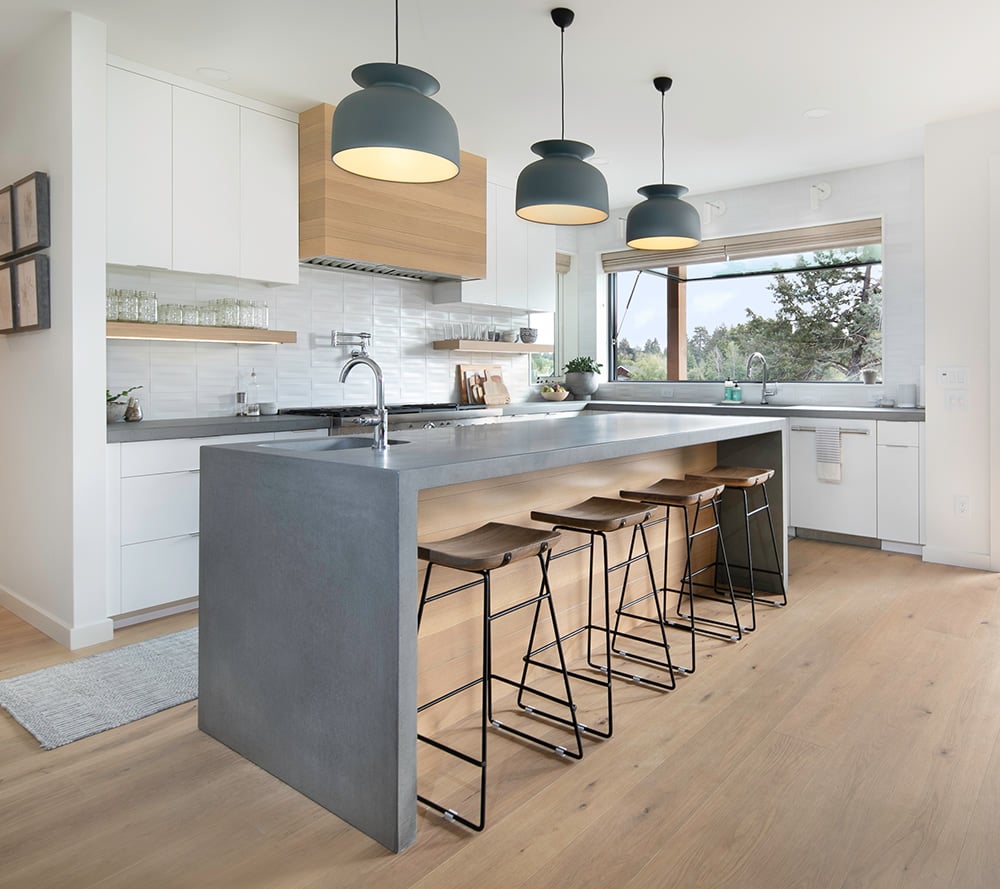 A Concrete Waterfall
For a more industrial spin on the modern kitchen trend, opt for cement or concrete countertops.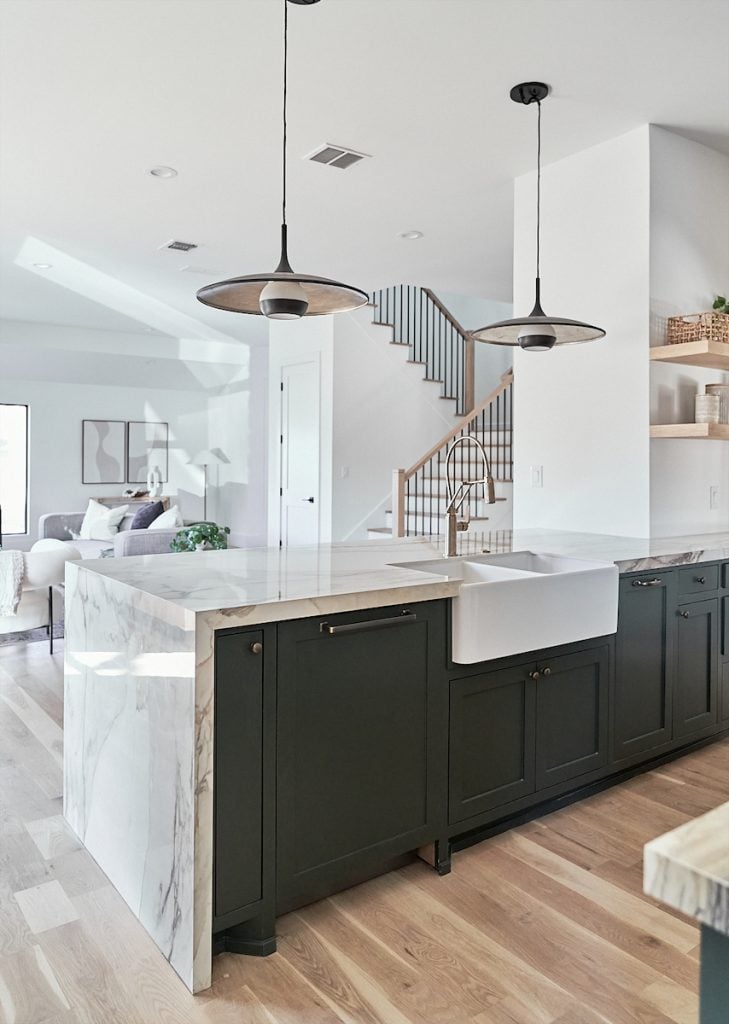 Tuck in Your Dishwasher
"A clever way to maximize space in a small kitchen is to house an under-counter refrigerator or dishwasher in the waterfall element," Mora notes.
Under Cabinet Lighting
Display your island like the work of art it is.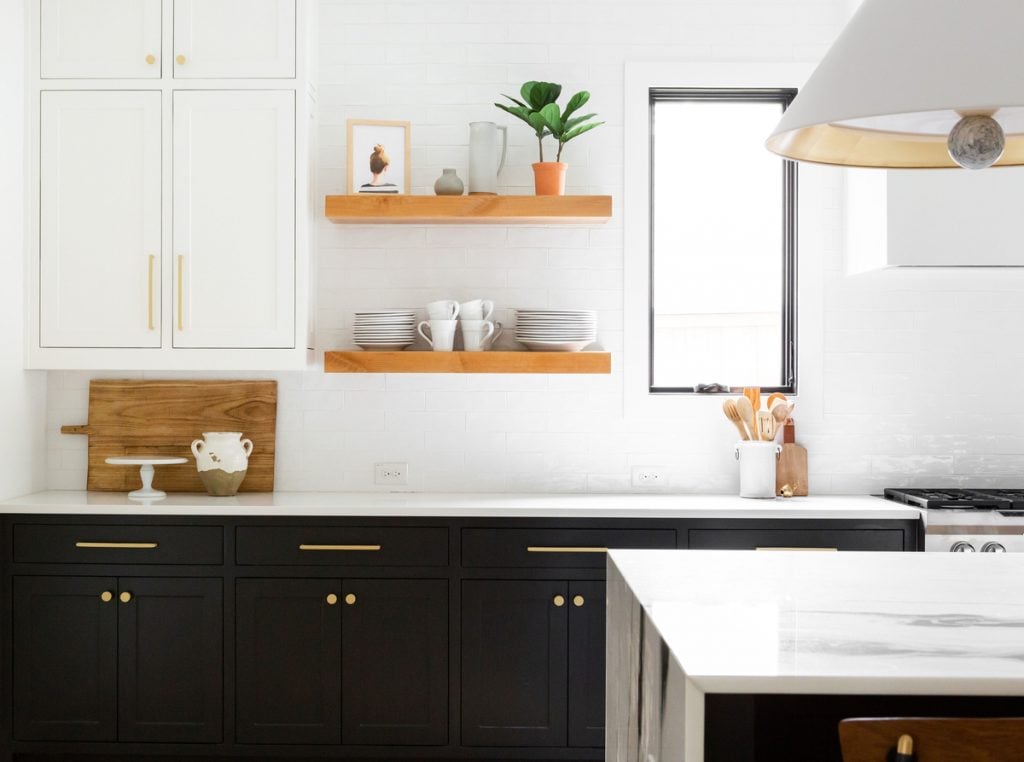 Make It a Marble Statement Piece
Waterfall islands have a reputation for being pricey, mainly because of how much expensive stone (like marble) goes into creating the look. But think about it this way: if you go big on the island, you can minimal on everything else, à la Ashley Robertson. Just be sure to treat your stone if you do go with marble slabs since the material can be so porous.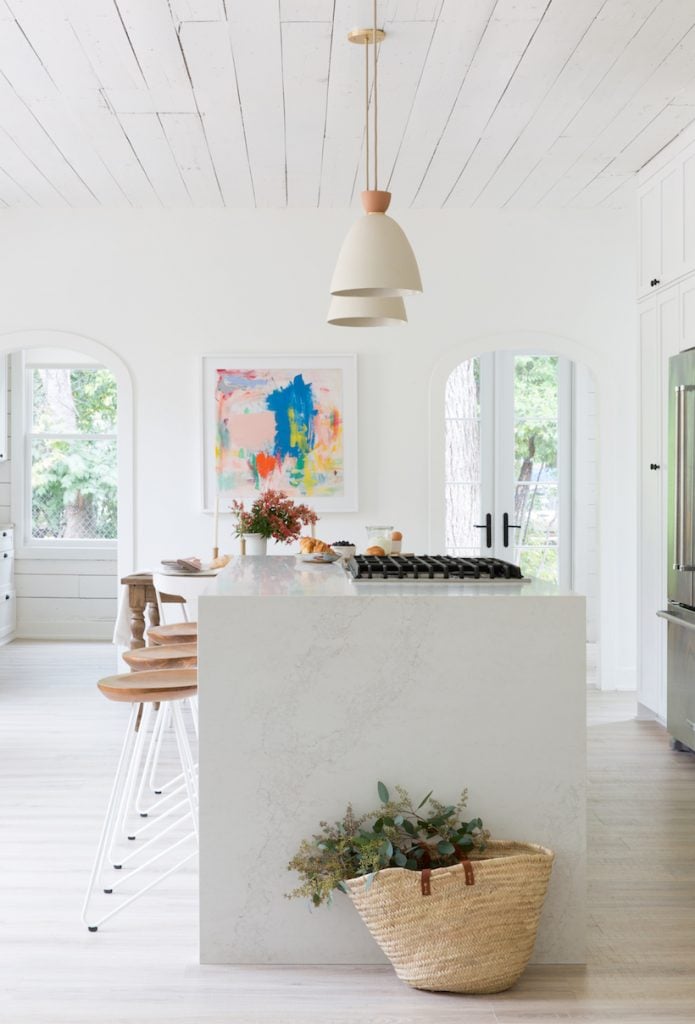 A Durable Quartz Waterfall Kitchen Island
And speaking of porous, opting for durable quartz over marble can easily solve that problem. Camille has always embraced the waterfall island trend (in bother her bungalow and her family's Austin home). In the airy bungalow, she opted for Caesarstone Calacatta Nuvo to act as a neutral for their mostly white contemporary kitchen.