I like to think of the dining table as the heart of the home. Some may call it the living room—where many of us naturally gravitate around the television—or even the kitchen, where we might prep for dinner or linger with a glass of wine. But the dining table is where everyone gathers with a common need: to satisfy our desire not only for food but for conversation and connection. That's why, when it comes to dining table centerpiece ideas, I'm thinking about how to create a simple statement that will elevate this piece, whether it's set for dinner or not.
Ahead, we're sharing ideas that span every style and aesthetic. From modern or traditional, to contemporary or vintage, these dining table centerpiece ideas are sure to add a little special spark to any space. Start sending out your dinner party invites—it's time to give your dining table a glow-up.
Featured image from our interview with Brian and Anissa Zajac by Ashlee Fox.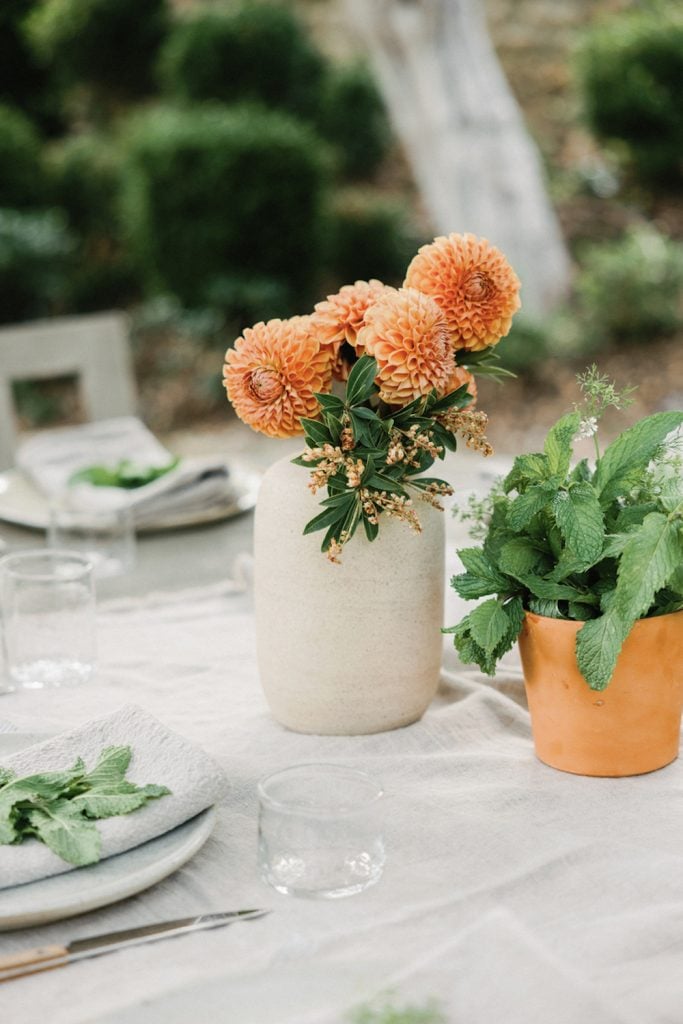 DIY a Floral Bouquet
PSA: You don't need to shell out $100+ for a fancy, florist-crafted bouquet. While we all love treating our tables once and a while to the professional touch, a simple arrangement picked fresh from your garden will add a spark of beauty to any dining table. Bonus: It's an opportunity to share what you're growing, too.
Stack Some Books
Do you have a set of Penguin Classics that could be put to better use? Any set of vintage or otherwise pretty books will do. Simply stack a few books (I find three is the perfect number) and pair them with a candle or a small vase on top. It's a refined way to add some height and interest to your table.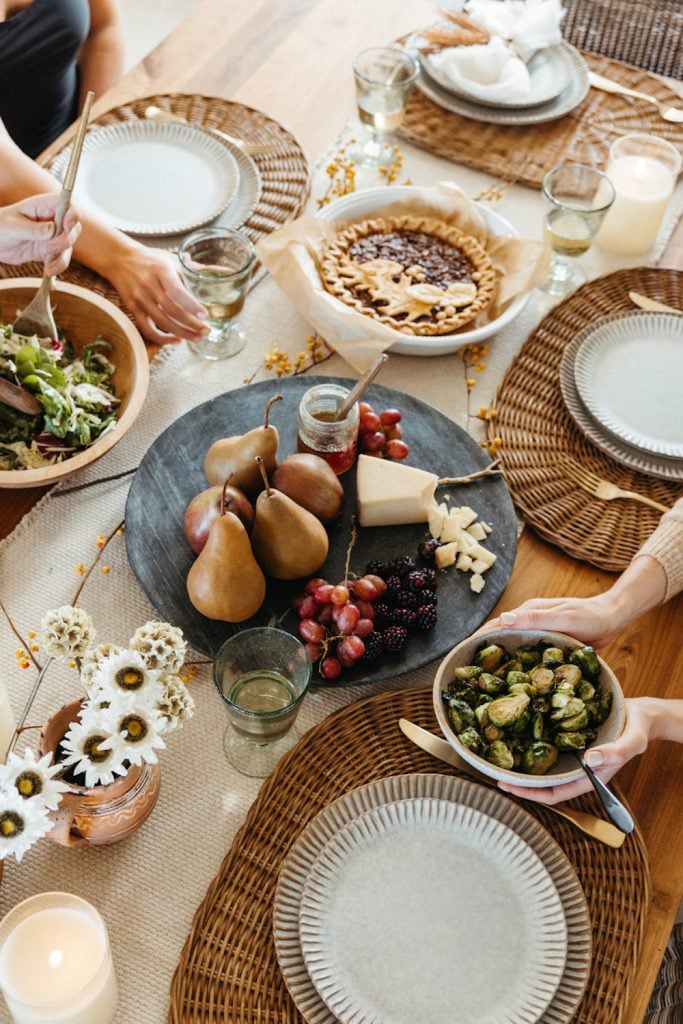 Make an Edible Arrangement
Forgo the cantaloupe-and-honeydew combos of yesteryear and instead opt for something more refined. If you're hosting, craft a cheeseboard that brings all your guest's eyes—and appetites—to the table. It's an easy and edible way to incorporate color and texture into your centerpiece.
Incorporate Varying Heights
I like to create interest and depth by combining two pieces of varying heights. A simple bowl-and-vase combo gives you the best of both worlds. Just be sure to keep the design and contents simple and streamlined. This idea can quickly go from contemporary to cluttered.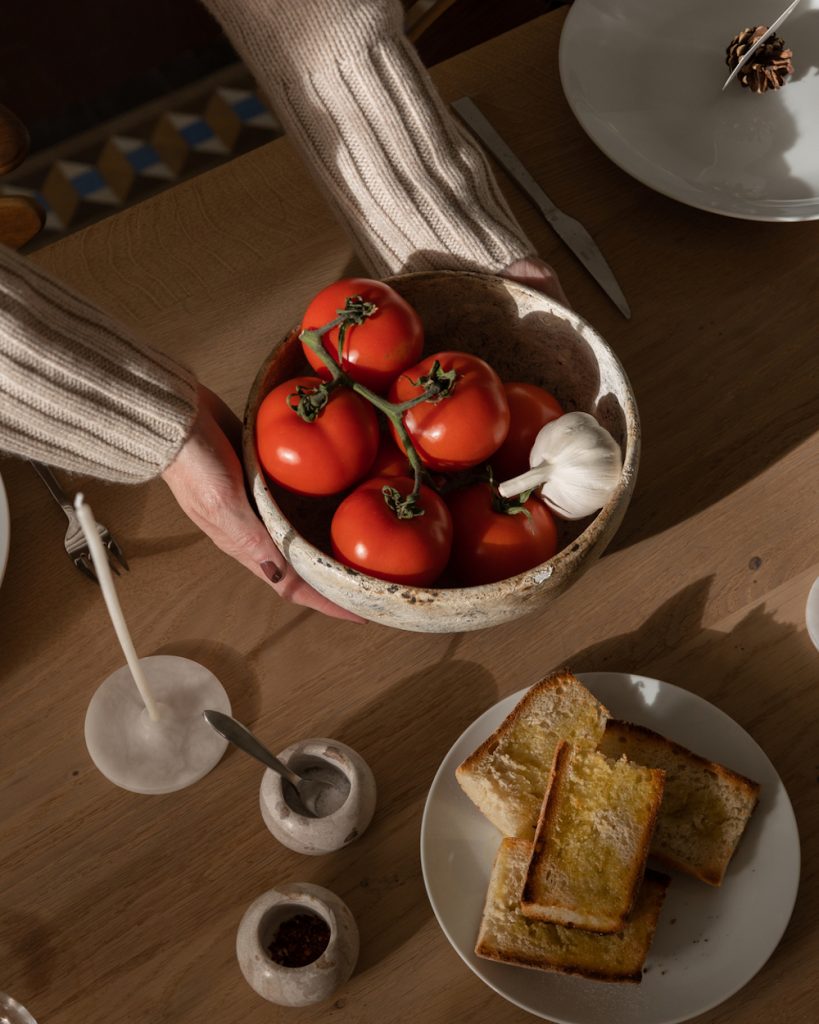 Keep It Minimal
Just a simple, ceramic bowl can do wonders as your centerpiece. You can leave it empty or fill it with fruit. Either way, opt for a bowl that's simple but with enough aesthetic interest to keep the table from feeling bare. I love a simple, but stunning wood bowl or a ceramic piece to attract attention. (If it feels empty, add a grouping of single-hued citrus, like oranges or lemons.)
Utilize Vertical Space
This trick works wonders for smaller dining spaces. If you have a circular dining table that fits four or fewer, rather than overwhelm the surface area, select a slender vase with a few taller stems to draw the eye upwards. Just be sure to keep the arrangement minimal—you don't want it to block your guests' view.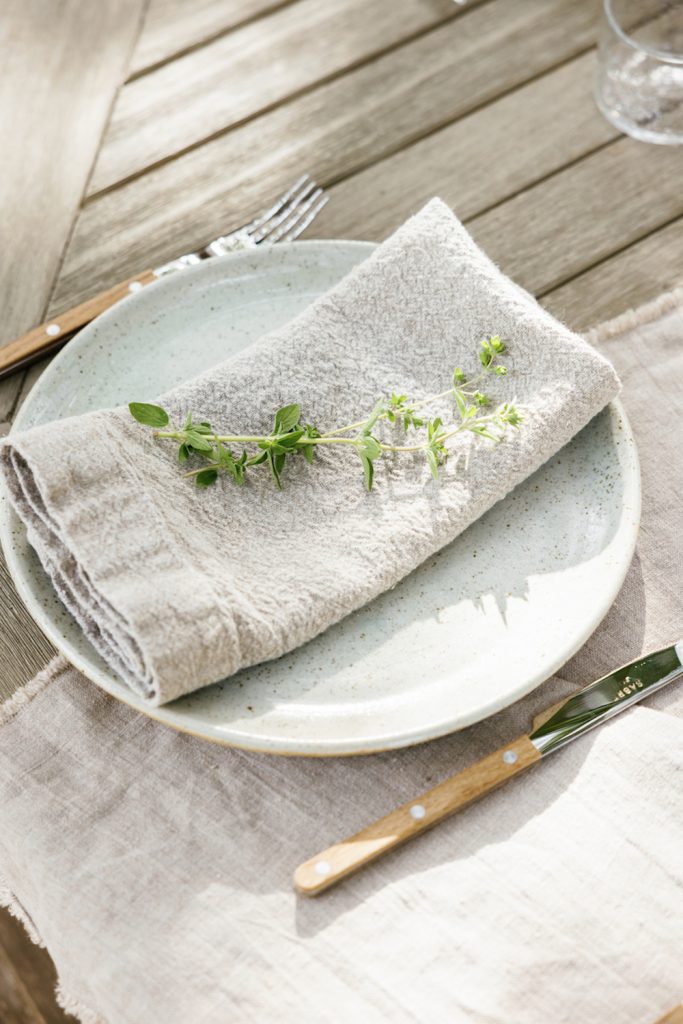 Set the Table
I love this idea for more formal dining areas. (Efficient party planners will love it as well.) Set the table with plates (go all-out with chargers, dinner, and salad plates), cloth napkins, and glassware. I'd just keep the silverware off the table and only add it once you're ready to eat.
Create a Vignette
Arrange a few found objects to tell a story at your table. Ground the vignette with a tray or board to give the elements continuity. It's a great way to incorporate creativity into your dining table setup.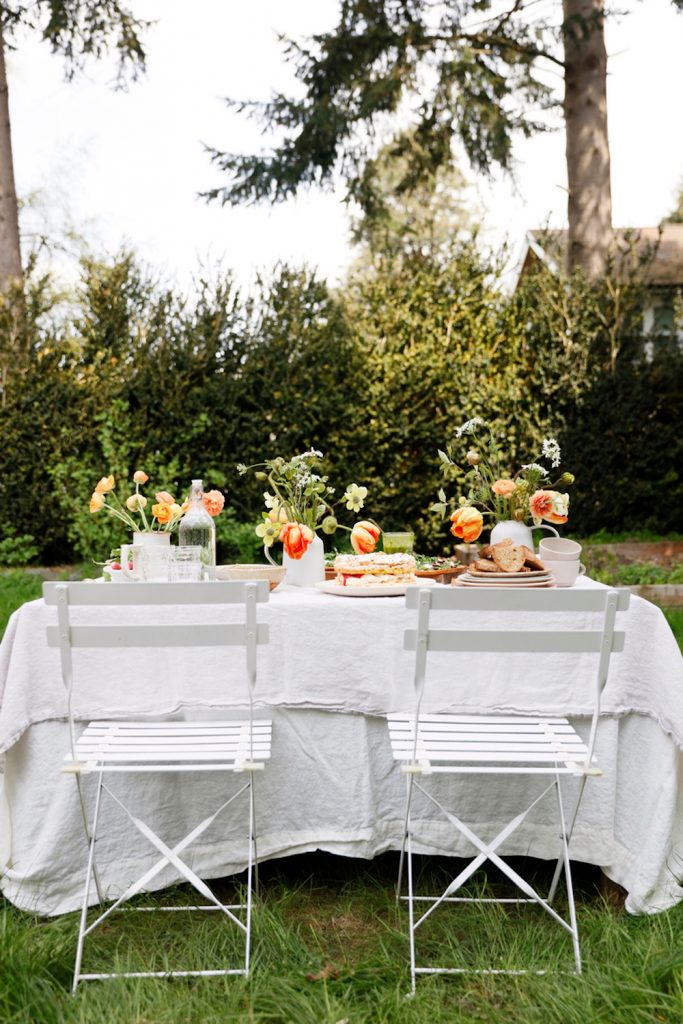 Line Up a Few Small Bouquets
To create an eclectic vibe, arrange a few DIY bouquets in makeshift vases. Repurposing ceramic jugs or tea tins works perfectly. Set the arrangements in a line to emphasize the length of your table, and go for varying heights to add a touch of whimsy.
Opt for Coziness
Sometimes, a formal dining table centerpiece isn't the vibe. If you prefer a more casual feel, invite guests in with a candle, houseplant, and perhaps even an open cookbook to make them feel right at home.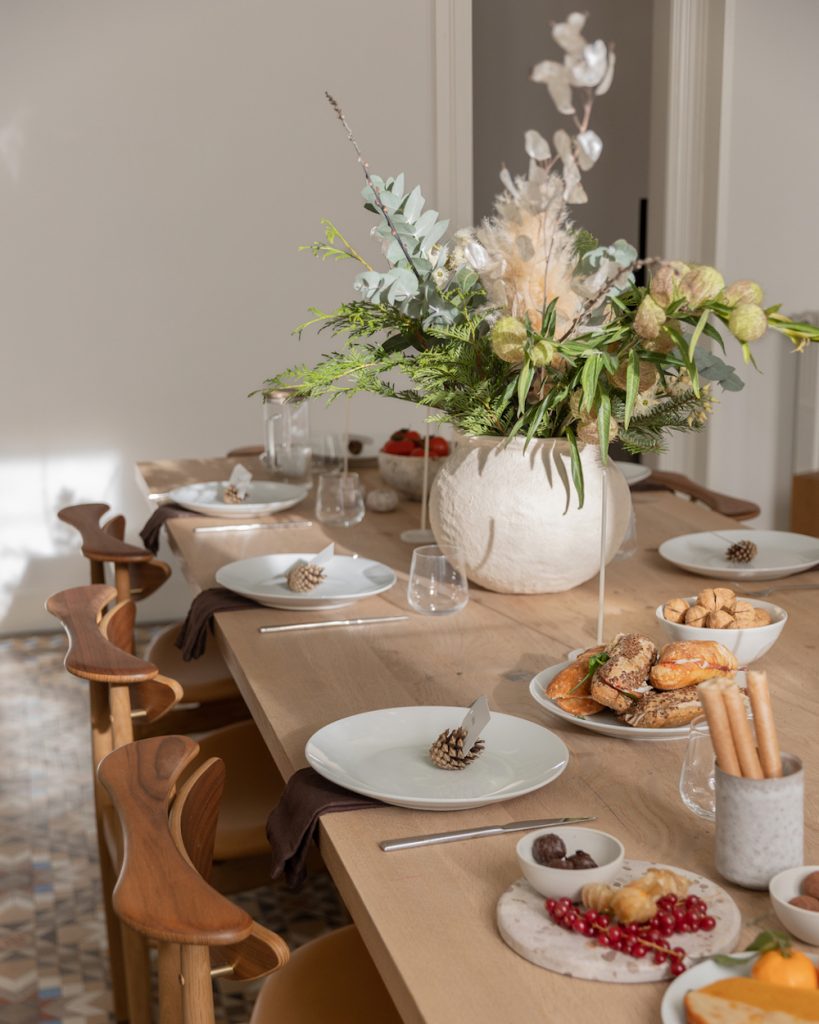 Arrange a Bouquet of Dried Flowers
My sister opted for all dried flowers at her wedding and I was blown away: genius. Not only will they not droop from the heat or freeze from a cold rush of AC, but they'll last as long as you'd like to display them. Cost-friendly and sustainable—we love.
Add Color
Some of the best dining table centerpiece ideas emphasize a contrast between the centerpiece and the table design itself. If you have a more neutral table—whether it's wood or marble—I love to add a pop of color either with a maximalist vase or a bowl filled with bright, beautiful citrus or green apples.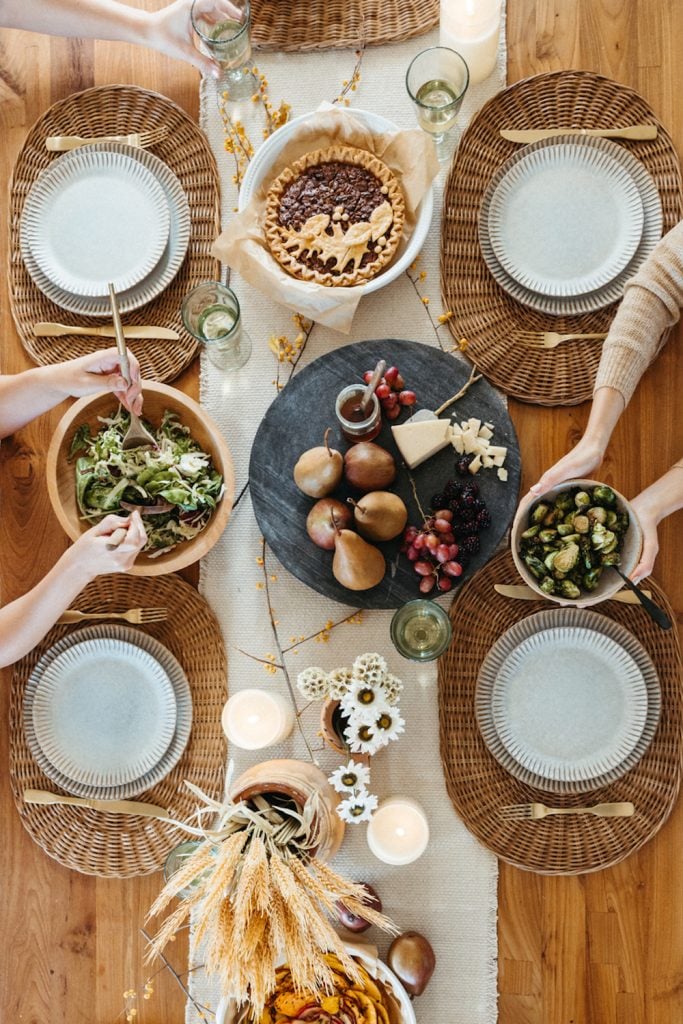 Begin With a Table Runner
For a simple, but statement-making addition to your table, lay down a table runner before adding more elements. It's an easy way to anchor the space and works for both casual and more formal settings.
Display a Coffee Table Tray
Apply one of our favorite coffee table design tricks to your dining room. A tray will ground the table, providing the foundation for more layering opportunities. From there, you can add candles, a design book, or a small, sentimental trinket of your choice.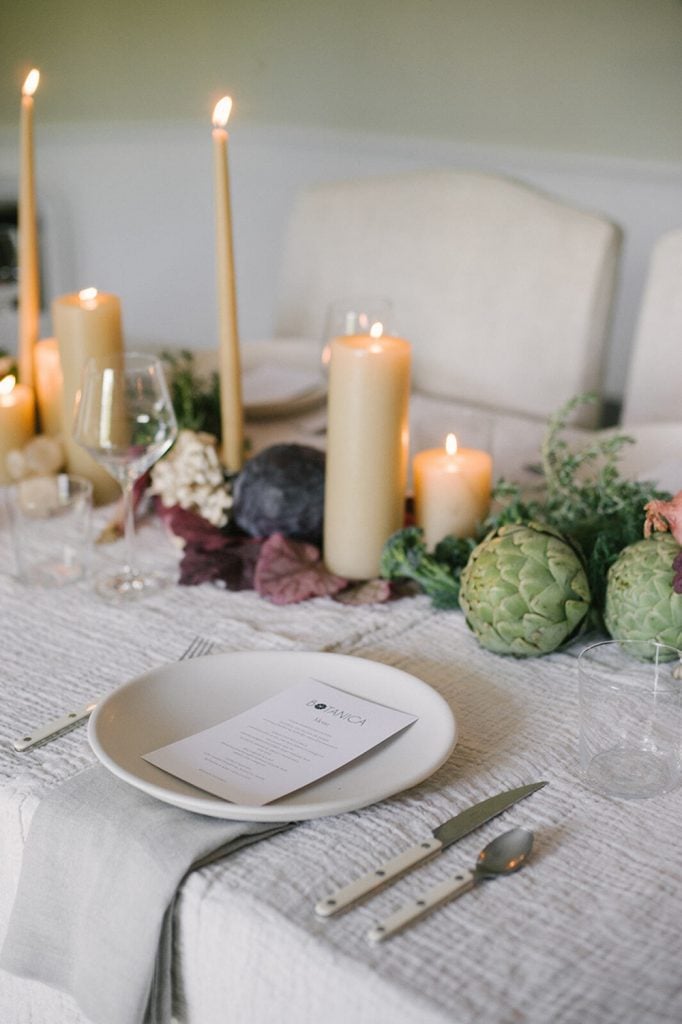 Incorporate Candles of Different Heights
Using candles at varying heights—a mix of tea lights, taper candles, and pillars—is a simple, statement-making way to add a little whimsy to the table. To keep the look cohesive, aim to use candles in the same colorway or hue.