2021 has been an illuminating time for interior design. Emotionally hungover from last year while still processing tremendous change, many of us began to look to our spaces as a way to fully reconnect and express who we are. It was as if a switch had kicked our aesthetic worlds into high gear. Our day-to-day surroundings can offer us catharsis and beauty amidst a chaotic world—which explains the increase in people looking to up the ante. "People have a completely new appreciation for their homes," says Elizabeth Van Maanen, co-founder and co-principal designer of the interior design firm Little Black Dresser. "They want to make it a place that feels great to be in." This newfound consideration seems to feed the home décor trends for 2022 that interior designers are projecting: an upswell of color, accessories, and overall vibes that lean toward evoking ease, groundedness, and identity. As Joy Williams, founder of Joyful Designs Studio puts it, there is "a focus on interiors that emote."
Whether we find ourselves venturing out more in 2022 or continuing to hunker down—and work, and socialize, and escape!—more at home, the outlook says that our personal spaces need to fully envelop us.
So, without further waiting, here are the top interior design trends of 2022 as forecasted by the experts.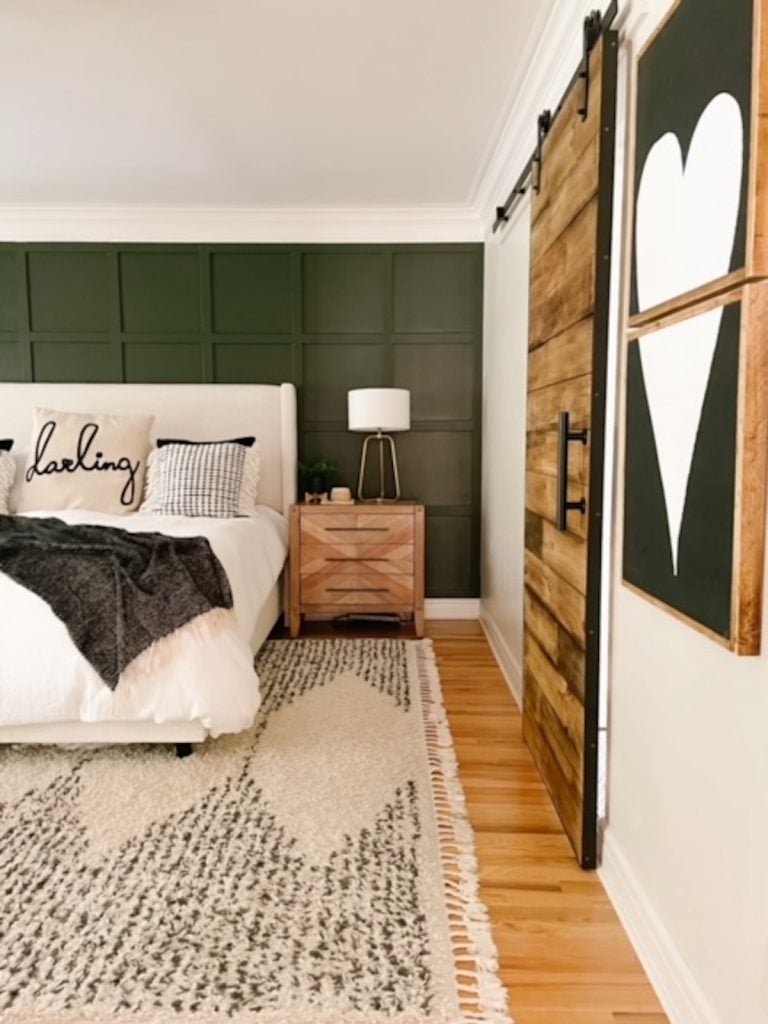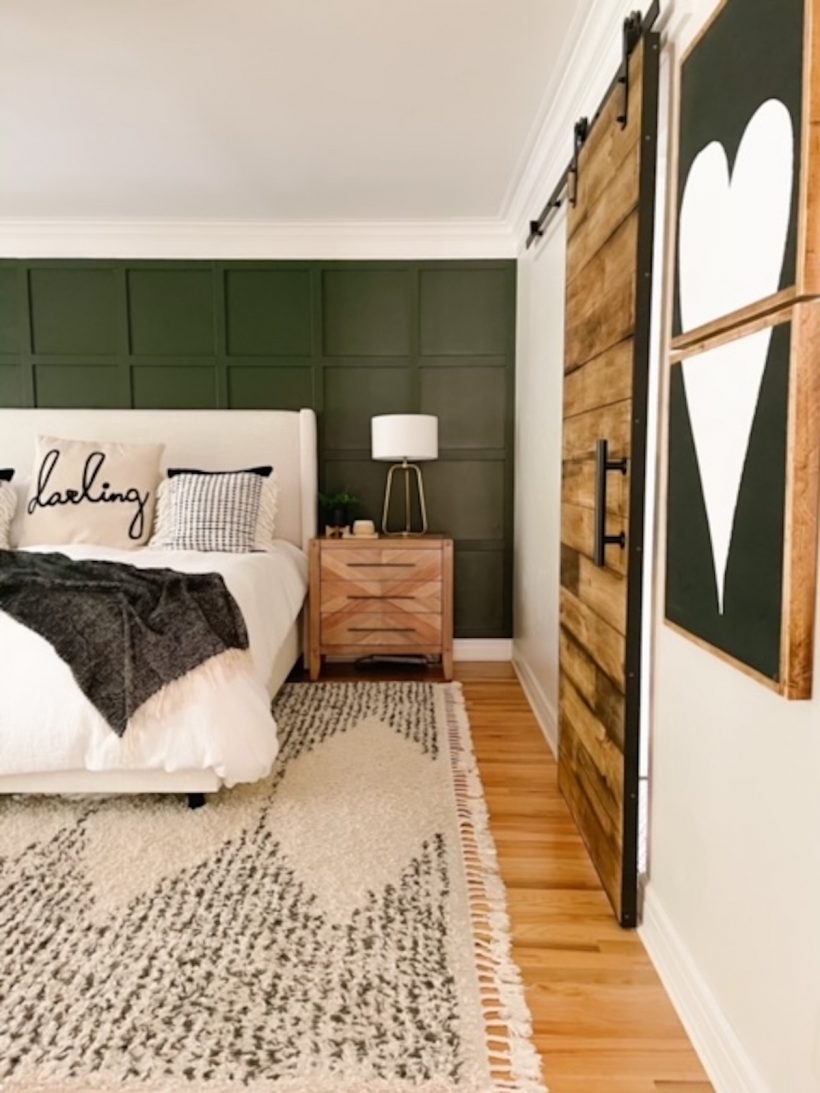 Trend #1: A Nod to Natural Elements
Wood. Greenery. Natural light. The texture and warmth that comes from nature cannot be replicated by anything human-made. These elements also offer ease to an indoor space much in the sense that a walk in the woods soothes the soul. "With so much more time spent at home, it's no secret people are looking to enhance the relaxation and calm feeling of their homes, and we will be seeing more pieces that evoke those feelings through natural elements such as wood tones, plants, green tones, and marbling," says Brie Moriarty, owner of Pepper + Vetiver. "As we see these items pieced together, we expect to find more contrasting accents through black and dark green tones that draw the eye and bring a striking balance to the relaxed environment."
Van Maanen and Emily Contrucci, her fellow co-owner and co-principal designer of Little Black Dresser Interiors, are also looking to include more raw wood elements into their clients' spaces in 2022. Wood is a way to add a layer of depth and texture that is still completely neutral, says Van Maanen. "It drastically changes the look and feel of the room without needing to necessarily buy a bunch of other accessories and art pieces."
The addition of raw elements lends a steadiness to our spaces, adds Jessie Sweet, founder of Jessie Sweet Designs. "These elements ground us in our homes and feel calm," says Sweet. "We will continue to see a lot of wood elements, natural stone, and hard surface materials with organic textures and shapes."
Get the Look:
Incorporating wood into your home can be as elemental as the material itself. One look that Contrucci and Van Maanen love? The simple DIY approach of using wood slabs to frame a mirror or nail to a wall. Head to your local Home Depot or Lowes, source some pieces of affordable wood like pine, and play around with it, says Contrucci, who nods to the above/below bathroom project [can be either bath project photo] as inspiration. The wood, she says, "takes it to a whole new level and is something that anybody can do at home."
If the DIY take isn't for you, consider a statement wood accessory, such as a vase, or a wooden bowl in striking black, to lend the same organic look. "As we see these items pieced together, we expect to find more contrasting accents through black and dark green tones that draw the eye and bring a striking balance to the relaxed environment," says Moriarty.
Trend #2: Reimagined Vintage
What is old really is new again these days, particularly when it comes to a mismatch of furniture and accessories that have a story. "We're seeing a huge increase in vintage pieces used, even in projects that might not typically seem like they call for it," says Lauren Waldorf, owner and principal of Lauren Waldorf Interiors. "From larger pieces like reupholstered sofas and chairs to interesting coffee tables, unique light fixtures, accessories, and art." Waldorf credits this trend, which she says will be big in the year to come, to a renewed appreciation for what already is in the face of copious consumption. Scoring vintage pieces also offers a design fix when availability on new items is hit-or-miss these days as supply chain issues persist, she says. "We are loving how this brings such soul and interest to spaces and the thrill of the hunt for interesting, meaningful pieces. The cool thing about this trend is that vintage can be adaptable to almost any aesthetic from minimalist chic to a collected, layered look." One additional bonus? "Less production and transport is kinder to the environment," says Waldorf.
Get the Look:
Searching for the right vintage piece can be overwhelming. Start small and with a particular corner or room in mind. Waldorf recommends sourcing one-of-a-kind finds from local small boutiques, as this helps to support small businesses.
Trend #3: Globally Inspired Décor
Above photo by Laurie Perez, courtesy of Christopher Charles Interiors.
While so much of 2021 has been about rebounding and recovery, there is still an air of caution when it comes to travel and moving about the world. The need to operate conservatively is a call to satisfy cravings for exoticism in our homes. "Globally inspired décor and furniture will aid in feeling connected to places in the world that are not as easily accessible as they once were," says Christopher Charles Evans, owner and principal designer of Christopher Charles Interiors. Punctuating the home with pieces from or representative of faraway places we've visited or hope to visit "allows us to experience those places in some capacity," he says. This can come in the form of exuberant prints, vibrant shades, detailed artistic wears, or ethnic larger pieces. All in all, this trend provides a beacon of optimism, says Evans. "It is a great reminder and form of encouragement to be hopeful and helps us look towards times when future travel will be accessible and enjoyable."
Get the Look:
Think about the places that you've dreamt of during the last few years—A patio in Morocco? A farmhouse in the English countryside? A cabana on the Brazilian coast?—and look to global markets that sell items reminiscent of those places. And consider all your senses: Scent offers another layer of home décor that is too often overlooked, says Evans. Layering in home scents can be both meditative and transportive as it can add a "layer of refuge from the everyday normal cycle of being at home," and also "mimic the feeling created during hotel stays when on vacation," he continues.
Trend #4: A Saturation of Warm, Neutral, Cozy Color
Whatever life throws at us these days, our homes should always be a place that metaphorically wraps us in warmth and comfort—and this is both a current desire of clients and a trend that designers are forecasting will stay through next year and beyond. "When we meet with clients, the number one thing is they just want it to feel cozy," says Van Maanen, who, along with Contrucci, is honoring this through "subdued, moody, muted, dusty colors" peppered through a space. "Cozy is the name of the game," she emphasizes. Van Maanen says the reason subdued tones in hues like dusty pinks, muted blues, gray-toned greens, and even terra cotta will have a big play next year is that they offer context and interest to a home while also keeping it soothing and comfortable. Joy Williams, owner and principal designer of Joyful Designs, forecasts the same. "I expect to see more lime wash and roman clay paint finishes in a kind of ode to warm minimalism," she says. "I still expect a deep saturation of color, albeit more on the neutral side."
Get the Look:
Color is one of the most affordable ways to refresh a room, says Contrucci—but it doesn't always have to include washing an entire space in a new hue. The muted trend for 2022 can come in the form of a partial paint job or accessories. "When we're talking about adding those colors, we're not talking about adding it to an entire room," says Van Maanen, "but rather we love to feature it on one wall or add it subtly through wallpaper or throws."
Trend #5: Texture, Texture, and More Texture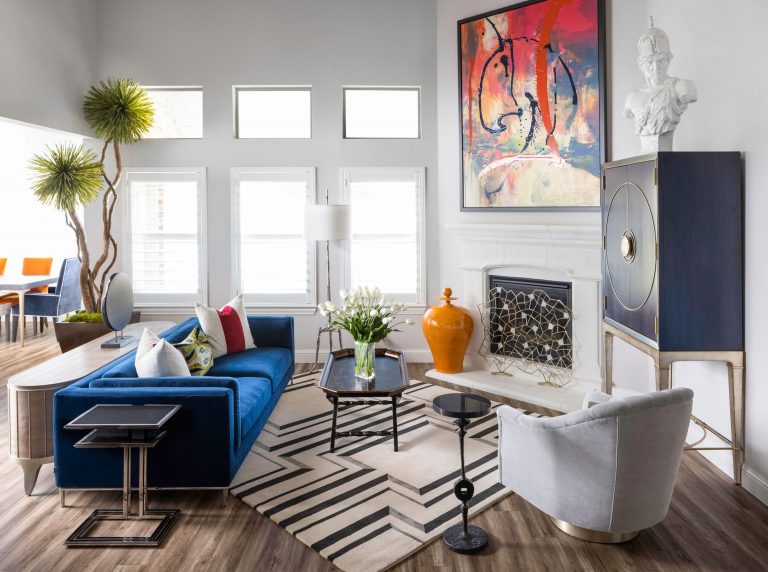 Above photo by Aaron Dougherty, courtesy of Christopher Charles Designs.
When considering the aesthetics of our spaces, we can tend to limit our vision to the sense of sight. In truth, a welcoming, enveloping room is kind to all our senses. In this light, Christopher Charles Evans foresees ample texture in the form of varying fabrics and elements in 2022. "These all offer the ability to exercise the sense of touch," says Evans, who particularly loves bouclé and velvet. "Tactile interaction with the home's surroundings is important to the connection of feeling and being connected to nature." Laying these fabrics lends a home "interest, intrigue, and enticement," he continues. Sasha Adler, owner and principal designer of Sasha Adler Design, shares a similar sentiment around tactile experiences. "People are really loving upholstery with texture like bouclé, shearling, velvets, things that feel luxurious, warm, and cozy," says Adler.
Get the Look:
Evan recommends opting for textured furniture and accessories that feel good to the touch. You can go big with a centerpiece like a couch, or layer with pillows, throws, and seat coverings. Bouclé, says Evans, "offers durability and beauty at the same time." Plus, the fabric wears well in the face of all the extended us "furniture has been experiencing for the last year and a half"—and likely will continue moving forward.
Trend #6: Multifunctionality
We've all been there this past year-and-a-half: Our kitchen, once a sacred space dedicated to morning eggs and evening roast chicken, is now ground zero for Zoom meetings. The same goes for the living room: It's a classroom by day, family gathering spot by evening, and crash-in meeting prep space late into the night. Our homes are our workhorses, bending and contorting to our minute-to-minute demands more than ever before. This all has fed a deep appreciation for rooms, furniture items, and décor that complements our needs, says Sasha Adler. "My clients are gravitating towards pieces that have multiple functions since our homes have had to rise to meet the many demands of people living at home more," she says. For 2022, Adler foresees more incorporation of multi-use, interchangeable items that honor and serve. These include dining tables that also work for zoom meetings or homeschooling, and including additional stools tucked under tables to pull out when people come over, "as we are entertaining in our homes more."
Get the Look:
The key to finding multifunctional spaces is to consider all your needs, not just the one the piece was initially intended for. "It also has to function in multiple ways to accommodate everyday living, work, and respite," Christopher Charles Evans reminds us. When shopping for a table or stools, think about ease of use and how you'll feel both eating there and working there. The same for seating and other big players. For additional inspiration, look to the multifunctional library-living room Adler designed above. This room is where the family gathers to watch television, she says, but it also has a full hidden bar designed to function as a cocktail lounge and a hidden king-size pull-out bed, complete with nightstands and outlets beneath the cushions.
Trend #7: Statement Kitchen Backsplashes and Shelving
While it's not necessarily a new trend for 2022, it looks to have lasting power throughout this year and beyond, according to Chelsea Smith of Chelsea Design Company. That is: full-height backsplashes and floating shelves that anchor a kitchen space—particularly in the same complementary material. "Floating shelves are sleek and modern, but also make the space more functional and keep clutter off the countertops," says Smith. "Full-height backsplashes are often complementary to this trend because it helps eliminate the busyness of multiple finishes and allows for the natural beauty of stone to be showcased as artwork." For even more character, she suggests including hooks to hang pots and utensils for ultimate functionality. "Displaying your collection of curated accessories will layer in your personality to an otherwise clean-lined, modern space."
Get the Look:
All good design starts with a solid foundation—and in the case of floating shelving, the onus is on the brackets. Now Smith admits that finding good brackets (a most critical element to floating shelves) is a "necessary evil" that requires consideration. "Make sure to check weight limits and mounting instructions before placing the weight of a wood or stone shelf on them," she says. And if you are installing a stone shelf, then you must work in tandem with a stone fabricator and contractor to ensure the shelf is structurally sound enough to hold the weight. Smith had brackets and shelving made custom by local metal fabricator Theiss Plating.
If you are wanting the white marble look without the maintenance, Smiths suggests a natural-looking engineered quartz countertop. "There is a lot of fake-looking quartz that will not stand the test of time, but just like thrifting, you can find some winners in there that can trick the eye. Remember to always reflect nature when specifying engineered products."
And… One Last Tip.
This is not so much a trend as it is life advice to live by: Do what feels right for you in your home. With all the hardships from 2020 and 2021, we have all individually and collectively learned the necessity of living in our truth. Time is too finite to do otherwise. One beautiful way we can do this is by authentically expressing ourselves through our home so we better care for ourselves, show up in our lives, and host those we love. Pick the art you love. Paint the walls your favorite hue. And feel good.
Williams puts it best: "Your home should be an experience for you and your guests. It should generate a feeling that is unique to you, and how you live and experience it."