One thing that's happened over the past year? We've all gotten a lot more intimately acquainted with our homes (more than we ever thought possible.) But after staring at the same four walls for over a year, there's a good chance that, like us, you've been looking for ways to freshen up your space. There are only so many times we can move the same knick-knack from room to room or reconfigure our designated WFH areas! That's why we tapped some of our favorite interior designers for their thoughts on the 15 biggest interior design trends for 2021.
Long-standing trends (like neutrals) are on their way out, paving the way for unexpected colors and accessories that recall decades past.
And while some design aesthetics are timeless, it's always fun to see what fresh new ideas designers are introducing into their work. 'Tis the season for some serious spring cleaning, making it the perfect time to add a few new design elements to our homes. Out with the old and in with the new, we say!
There's no time like the present for a fresh start—you'd be amazed at what a difference it can make for your general well-being. (To say nothing of the fact that it's just plain fun to reimagine and redesign our homes.) Designer Tali Roth has certainly noticed an uptick in interest in interior design during this past year:
"I love that there is a love and appreciation of the home right now, it's brilliant for us designers to see."
So, give some of these interior design trends for 2021 a look and see which aligns best with your home's aesthetic. There's a new trend on the horizon for everyone, no matter what style suits your fancy.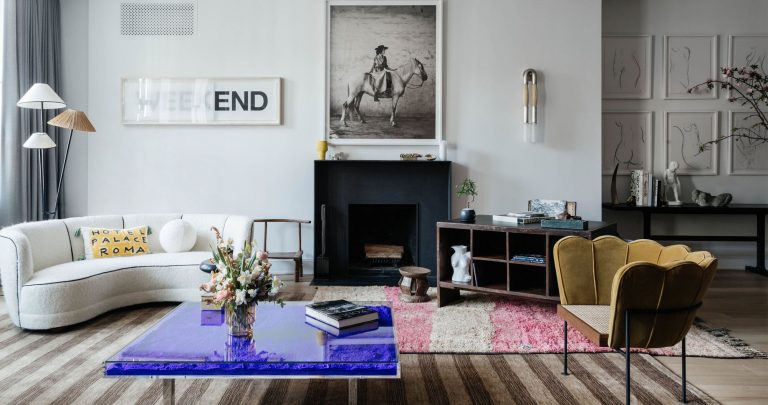 Image by Nick Glimenakis for Tali Roth Designs.
Maximalism
Almost all the professionals we spoke to were delighted to see the revival of the "more is more" aesthetic. Roth expressed surprise at this turn of events, "You would think that after having adjusted to life in a pandemic we would want simple and sleek, but it's pushed [us] to want high quality, highly detailed, and very special interiors."
Mixing Textures
If maximalism is making a comeback, then so is texture-mixing. Think layering rugs, or placing a modern cement bust on a vintage wooden bookshelf. Mixing textures adds depth and warmth to a space, so the next time you buy a throw pillow for your bed, consider velvet. Need a new blanket? Take a peek at Restoration Hardware's famous faux fur options. There's nothing like the juxtaposition of unexpected textures to make a place look a bit more lush and dynamic.
Green
Designer Julie Van Daele is seeing a range of beautiful green shades popping up in clients' homes. She notes that it's "not just your average green, but deep sage and turquoise" hues that are adding bursts of rich, romantic color.
Image by Claire Esparros for Tali Roth Designs.
Brown
Roth is excited to see this often challenging shade making a comeback. It's a very strong '80s look that can bring a lot of warmth into a room depending on how it's used. Earth tones abound in 2021.
Checkers
Patterns in general are all the rage this year. A checkered pattern adds a touch of whimsy and is a great way to break up the look of an otherwise neutral room. However, this is the kind of pattern that requires restraint and vision—you don't want to feel like you're at the circus, so tread carefully.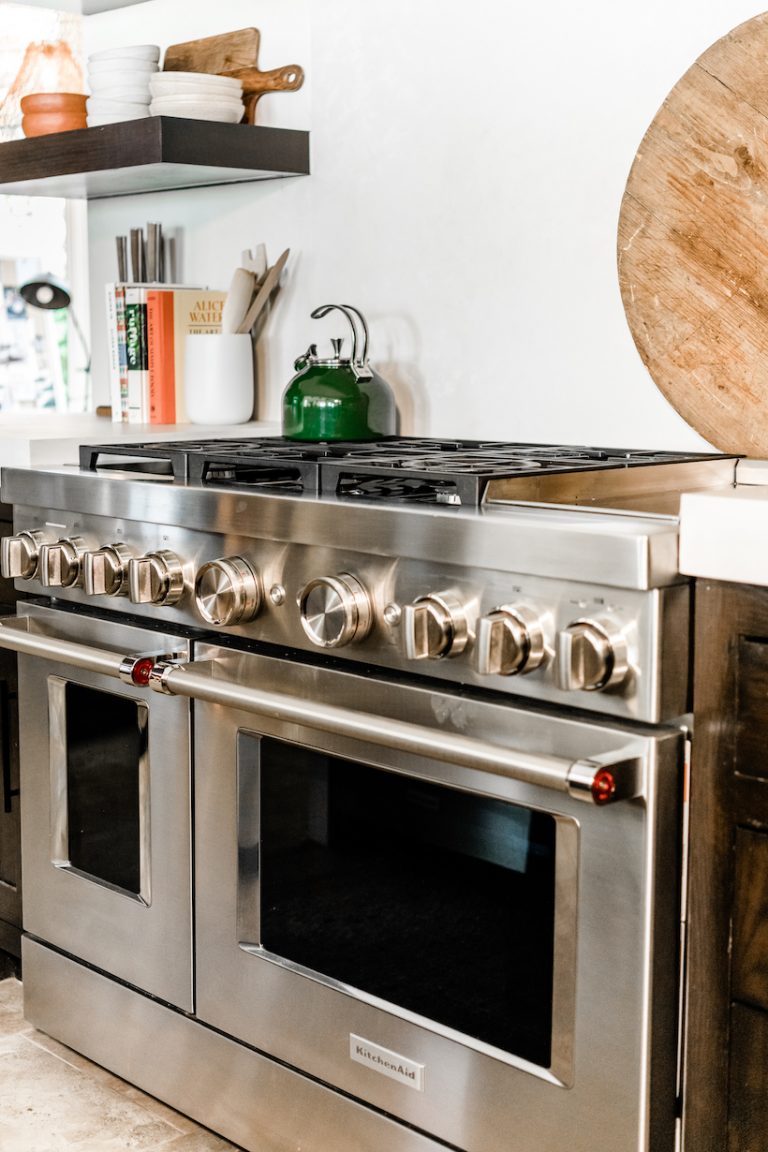 Stainless Steel
Don't be afraid to include stainless steel touches outside of kitchen appliances in the coming months. Accessories like toasters, blenders, candlestick holders, and trays can add a decorative touch while also being functional.
Peel-and-Stick Wallpaper
Portland, OR-based interior designer Max Humphrey is all about the cool peel-and-stick wallpaper options that abound. It's one of his favorite interior design trends of 2021. He loves that it's ideal for renters and small-space dwellers who are looking to add a bit of pizzazz, and even mentions it in his forthcoming book. It's an accessible way to transform a room without breaking the bank.
Image by Sean Litchfield for Tali Roth Designs.
Art Investments
Van Daele has noticed that there is a continued focus on art investments and collecting meaningful pieces. "We are all on Zoom so much that what is in the background matters more now than ever," she outlines. Shopping for valuable art doesn't have to come at a high price point, and platforms like Etsy, eBay, and Instagram have made it easy to find work that is accessible and looks high-end.
Yellow
Both Roth and Van Daele made mention of the rise of a variety of yellow tones. Everything from rich mustards to beautiful, deep marigolds. Go big and splash up a coat of paint on a statement wall or use it to add pops of color via accessories like pillows, throws, or decorative objects.
Image by Nick Glimenakis for Tali Roth Designs.
Vintage
Whether it's sourcing old pieces from your grandmother's garage or hitting up the flea market, Van Daele is seeing the rise of "incorporating pieces that tell a story and have meaning—not just filling a home with all new pieces." Not only is it often more cost-effective, but vintage furniture is often sturdier and better constructed than new options. Mixing old and new pieces within the same space is without a doubt one of the biggest interior design trends for 2021.
Multifunctional Rooms
Our homes have really had to multitask this past year and it's all about making them as functional as possible. The breakfast room is also the homework room, the porch is an office, and the dining room is now the conference room. Humphrey noticed that "we all turned our guest rooms into home offices last year and going forward we'll design spaces that are useful for a range of activities." The trick is to make these rooms practical while still remaining aesthetically pleasing. The two need not be mutually exclusive! Multifunctional rooms are a necessity, so they might as well look good, too.
Image by Nick Glimenakis for Tali Roth Designs.
Raw Stone
Van Daele points out that while raw stone and mixing of stones have been showing more prominence recently, it's definitely here to stay. Think lots of Travertine! And stone is not just for flooring—coffee tables, accessories, and even stone lighting fixtures are cropping up.
Toile
All hail the rise of granny chic! According to Van Daele, many designers are now mixing tons of vintage prints, toile, velvets, and woods in a way that is reminiscent of the French countryside. It's not for everyone, but it's definitely a fun way to express a maximalist aesthetic with a decidedly kitschy point of view.
7 of 8
Investing in Outdoor Space
Everyone has spent the last year squeezing as much juice out of their outdoor spaces as possible, pouring money and time into making them comfortable. Even those living in cooler or wetter climates are investing in sprucing up covered porches with space heaters to make them comfortable year-round.
Rust
Get ready for an explosion of sexy, deep burnt reds, oranges, and burgundy. They're organic, earthy tones that inspire a very visceral experience and complement the bright turquoise and brown hues mentioned earlier.
So what trends are on the out?
All of the designers we spoke to emphasized that the long-popular reign of white-on-white interiors is definitely over. 2021 is ushering in the era of bold color, patterns, and unexpected décor choices. Even those who've been faithful to neutrals are feeling the itch for lush, rich colors and textiles.
Replica furniture and cheap, cheerful pieces are also on the way out. Now is the time to invest in high-quality pieces, whether it's carefully-sourced vintage or new high-end furniture. It's all about setting a cool, romantic mood and carrying the tone throughout the room via items that feel luxurious, even when they're affordable.
Loved this post? Pin this graphic to come back to it later.