Since launching her LA-based design blog, Jungalow in 2009, Justina Blakeney's obsession with sumptuous textiles, botanical prints, and untamed houseplants has bloomed into a well-known lifestyle brand. Her bohemian sensibility spawned a New York Times bestseller, as well as major brand collaborations, and a longtime partnership with Target. This month, Target and Blakeney are at it again pairing the designer's lush, laid-back aesthetic with the retailer's most eclectic home brand. The Opalhouse Designed With Jungalow Target collection launches on Saturday, June 26, just in time to give your home a cozy, colorful makeover for summer. And let it be known, the free-spirited line does not skimp.
Honestly, the amount of rich hues, rattan accents, and whimsical quilts (all perfect for layering) is a little bit staggering. But online shopping is a skill I have carefully honed, so I've done the great work of perusing the entire Opalhouse Design With Jungalow collection (the things I do for you, dear reader) and rounded up 10 of the most clutch, versatile, and swoon-worthy pieces in the game.
Start prepping your home for affordable good vibes.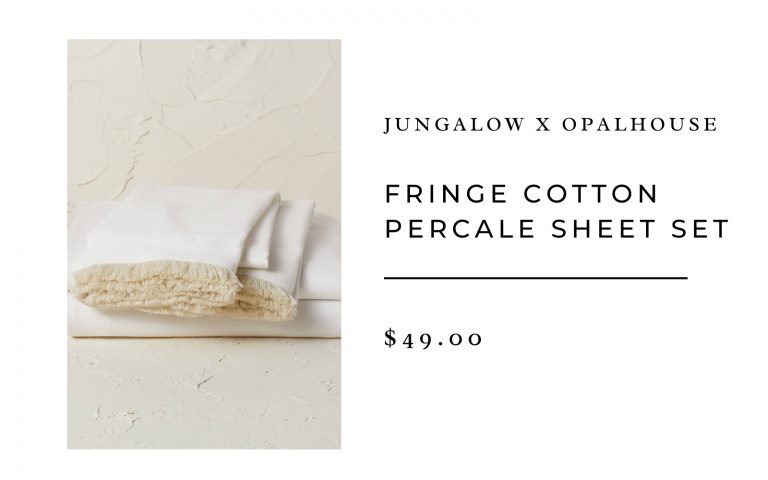 Some carefully tuck away their sheets, but artful bed makers understand the power of a top layer placed just so. Case in point: this set of crispy percale sheets that demands to be displayed.
Mirrors have the unique home decor distinction of being both highly functional and holding the potential to become eye-catching wall art. Arrange these gold-finished frame mirrors for an instant burst of brightness.
Blakeney herself named this bolster pillow one of her personal favorites in the Opalhouse collection. With bright gold ends and easy-to-clean cotton, it's the perfect piece to top off your bed or sofa.
This versatile terracotta vase works just as well with or without fresh flowers and achieves near Yves Klein levels of shocking blue.
There is no such thing as owning too many throw blankets, especially a chunky knit option that's as cozy as it is effortlessly stylish.
Honestly, I assumed the big romantic floor lamp was something you only really saw in movies. Now I know this whimsical design element is wonderfully within reach—and even includes a vintage-inspired filament incandescent bulb for instant brightness.
For the person who truly appreciates the little details, a sunburst finial is welcome in all corners of the home.
Blakeney's loving obsession with botanical designs is brought to life in this easy, leafy peel and stick wallpaper which will upgrade any powder room, an accent wall, bookshelves, or pocket of your home in a pinch. Should new inspiration strike, the wallpaper is super easy to remove and magically residue-free.­­
This stackable, velvety pouf takes versatility to another level. With its three-tier design, the piece can go from sturdy pouf to solid footrest. The gradient colors (available in blush/rust and a pretty blue/green) can be stacked in any order you desire, and elegant casters make it wheel in comfy seating to any room.
When designed carefully, a bath matt—though small—can have a powerful impact. The combined powers of Opalhouse and Jungalow created a natural rug filled with chic details.