There's a reason you'll often spot a striking find from Target, West Elm, or even IKEA in glossy editorial home features. Between their antique shop connections and high-end favorites, not even in-demand interior designers can resist the budget-friendly allure of some of our favorite affordable home décor brands. And with plenty of warm weeks ahead to enjoy out on the patio, you may be looking for the best summer décor to make a few last-minute touch-ups at home to get the most out of the season.
To help you narrow down the best affordable finds (the sites are home décor gold, but they can be overwhelming), we tapped four designers to share their favorites—because the key to ensuring your thriftier choices look luxe can sometimes require a carefully honed eye.
Explore the affordable summer décor discoveries from Los Angeles-based designers:
Katherine Carter, interior designer (her clients include Lauren Conrad and Marianna Hewitt)
Amber Lewis, interior designer, founder, and creator, Amber Interiors, All Sorts Of blog, Shoppe Amber Interiors, and author, Made for Living
Jenna Rochon, co-founder, Transition State
Abbe Fenimore, principal designer and founder, Studio Ten 25
Erin Swift, a prop stylist, and founder, Holiday Workroom
Claire Thomas, designer, creative director, Oeste, The Kitchy Cabin and The Hollyhock Cabin
Julie Van Daele, interior designer and founder, Well Received
Anna Sage, interior designer and author, Sage Living
Brady Tolbert, designer and creative director, Bobby Berk
Kim Lapin, Los Angeles-based designer, and decorator
Target x Cambridge Casual's Teak Daybed With Cushion
"For the minimal modernist, you can't go wrong with this chic lineup from Target's outdoor line. They've really catered to all the style aesthetics when designing their outdoor collection." — Katherine Carter.
"A simple vase that can elevate a dining table or other area of the home. Certain items, such as furniture, are worth splurging on. Vases are one item you can buy inexpensively but don't look like it. I love the vertical linear lines on this vase that would make any floral arrangement pop."— Erin Swift
Target x Pillowfort Oblong Pom-Pom Throw Pillow
"Honestly, my fave thing that Target is doing lately is the recently relaunched Pillowfort collection. It's billed as being for little ones, but there are some fantastic finds that all ages can get behind. I recently used their Oblong Pom-Pom Throw Pillow in a gender-neutral kid's bedroom design and loved the sunny sense of sophistication that it brought to the space. I can see it looking equally fantastic adding a summery touch of color and texture to a pair of armchairs or a sofa. As a bonus, children's items are often priced lower than those marketed for adults, making this a wallet-friendly find too!" — Anna Sage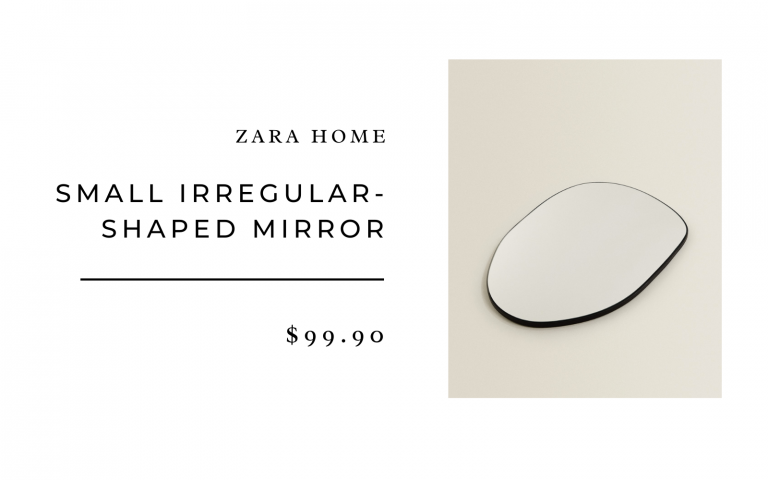 Zara Home Small Irregular-Shaped Mirror
"We love having fun with a mirror. We are drawn to the organic nature of this mirror with the minimal framing. You can bring dynamic lighting to pair with this for an elevated powder moment." Jenna Rochon
Castlery Sorrento Outdoor L-Shape Sectional Sofa
"I love my new Sorrento pieces from Castlery. The cushions are so soft and generous, it feels like you're sitting on a plush indoor couch." – Claire Thomas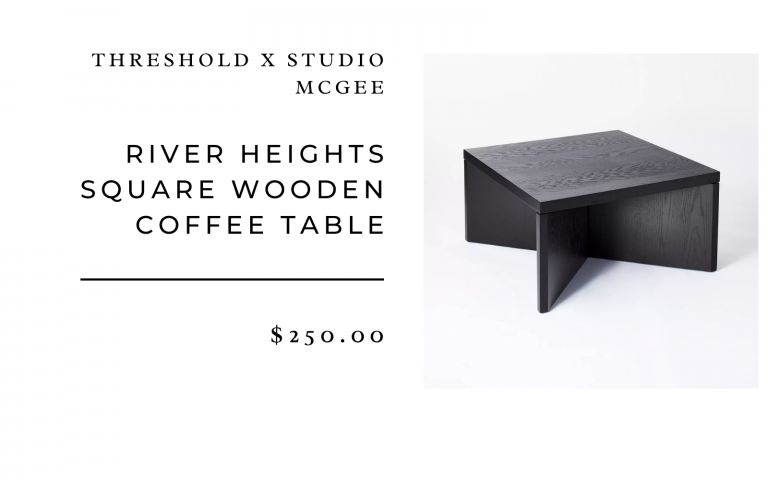 Threshold x Studio McGee River Heights Square Wooden Coffee Table
"I'm always a sucker for black, and then you have the unique base design. It's a piece that can be both subtle and a statement in the room."  — Julie Van Daele
"This low-profile outdoor sofa is equal parts comfort and elegance. I especially like the pipe details with mahogany wood. When looking at items for a home, I believe that each item should be entirely functional for its purpose and well designed." — Erin Swift
"I love these rattan pendants because summer is all about entertaining outdoors. These pendants would add gorgeous ambient light to any dinner party, whether you hang them from a pergola, an olive tree, or wherever!" — Kim Lapin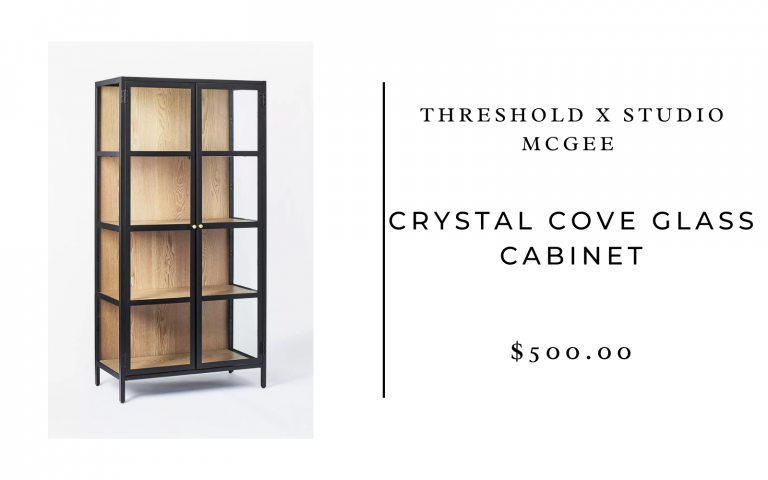 Threshold x Studio McGee Crystal Cove Glass Cabinet Black
"When I first saw it, I immediately started fantasizing about how I would decorate this. From the beautiful dishes I might put in here to some of the ceramics I've collected over the years, or even a dried-out olive branch. This piece lends itself to so much personal creativity and expression while serving as a timeless, clean-lined piece."  — Julie Van Daele
Hearth & Hand x Magnolia Glass & Metal Candle Lantern
"One of the best parts about summer is the long, warm nights spent lounging in the backyard. These beautiful candle lanterns are just the thing to add to the table when the sun starts eventually going down." — Amber Lewis
Opalhouse and Jungalow Terracotta Vase With Handle Brown Clay
"You can never have too many vessels and vases! I'm a big fan of adding texture throughout your space, and this terracotta vase is the perfect way to do just that." — Amber Lewis
Etsy Checkered Linen Kitchen Towels
"First off, checkers! I love checkers and a décor item that can multitask as a napkin, line a bread basket, or serve as a dish towel. It's a win win win." — Kim Lapin
"Accent tables are a great place to mix in and create the high/low mix we love." — Jenna Rochon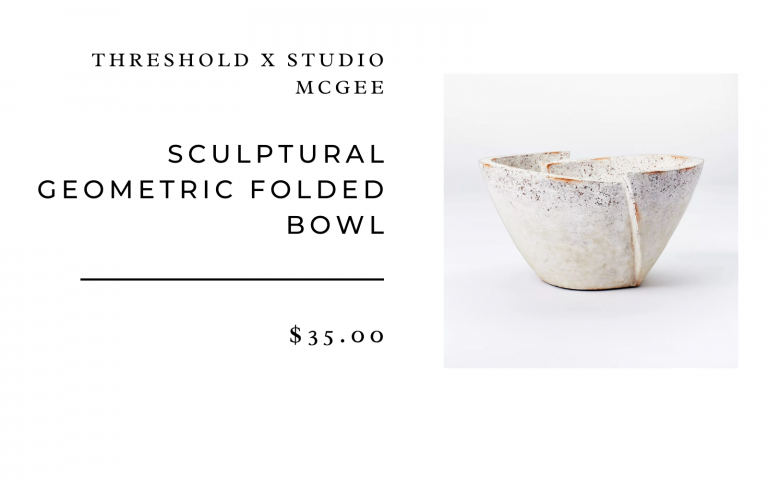 Threshold x Studio McGee Sculptural Geometric Folded Bowl
"It's more than just your typical bowl—it has texture, a unique design, and serves multiple purposes. Whether you make it a bookshelf accessory or a dining table centerpiece, it will be a stunning, unique piece that's also affordable." — Julie Van Daele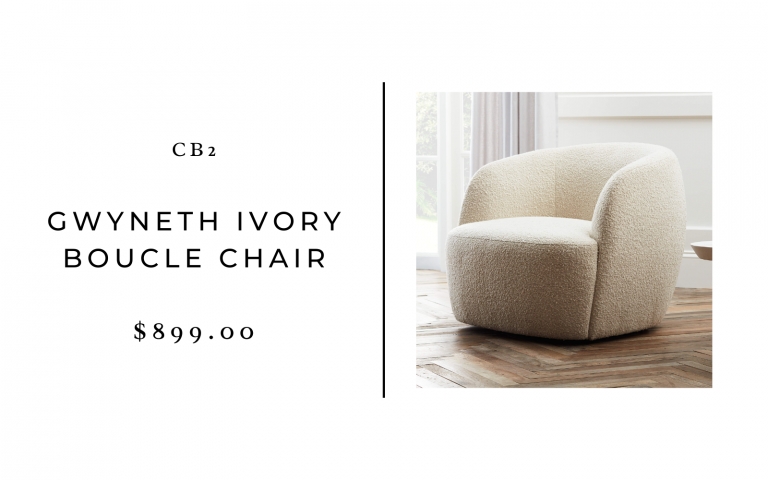 CB2 Cwyneth Ivory Boucle Chair
"We enjoy the timeless silhouette and comfort of this piece. When you want to reinvent the space, it's an easy chair to reupholster." — Jenna Rochon
Target x Project 62's Kaufmann Wood Patio Club Chair in Linen
"Sorry, RH, but we can't beat this price for the same look! Your guests don't have to know…" — Katherine Carter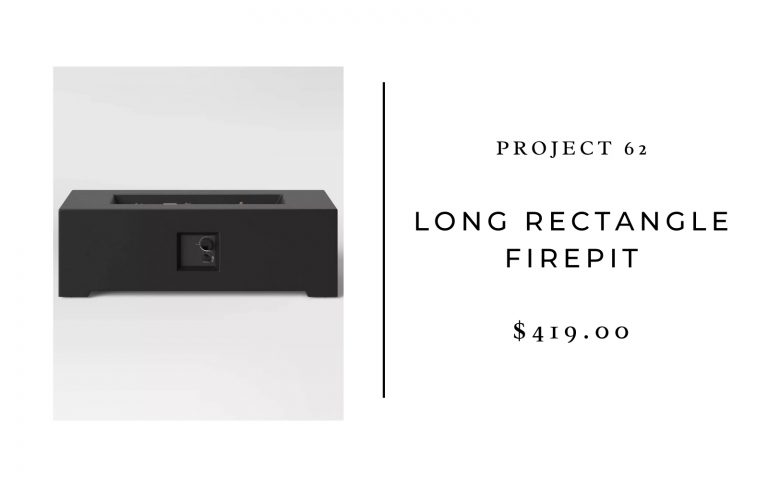 Target x Project 62 Long Rectangle Firepit
Carter also recommends Project 62's propane fire pit, which pairs perfectly with the brand's Kaufmann wood patio club chairs.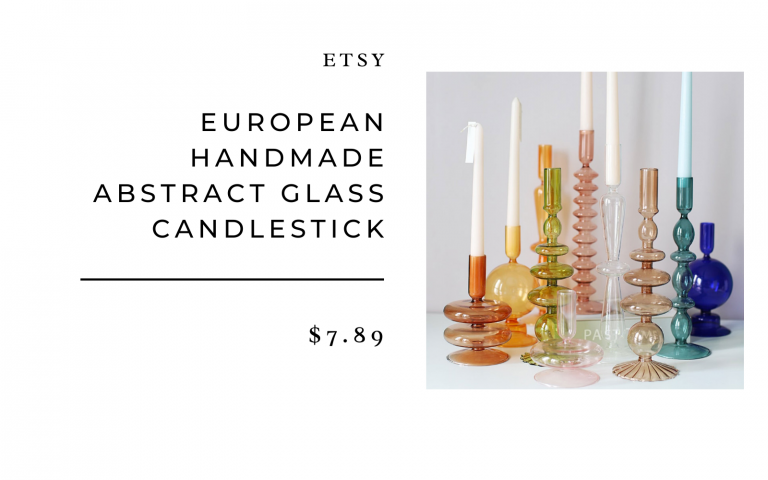 Etsy European Handmade Abstract Glass Candlestick
"I adore these candlestick holders so much because they are fun, add interest to indoor/outdoor spaces, and are definitely a conversation starter. I am getting these in every color for my next dinner party!" — Kim Lapin
CB2 Smoke Acrylic Console Table
"I'm obsessed with this table, and use it often when designing small spaces. The waterfall design is timeless and versatile—you can add a small ottoman underneath it without it visually taking over." — Abbe Fenimore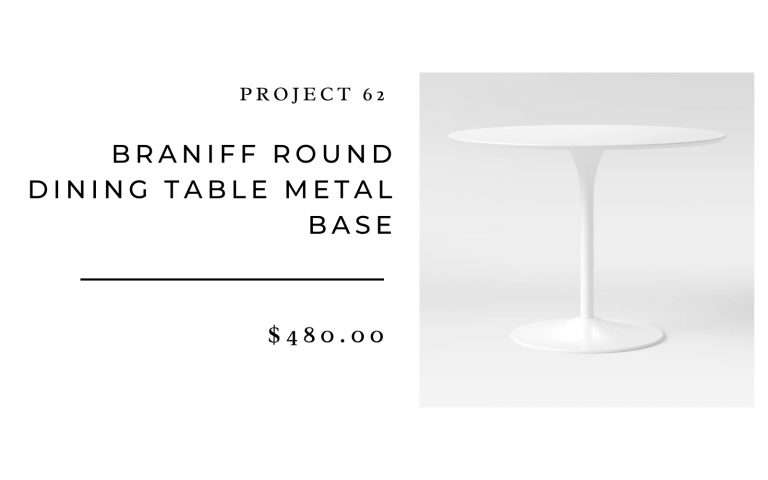 Target x Project 62 Braniff Round Dining Table
"Target's version of Eero Saarinen's classic Tulip Table is striking in any home. A circular table like this with a pedestal base creates a sense of openness and gets rid of the clutter of legs a typical table has. This is the perfect, affordable way to bring classic design into your home." — Erin Swift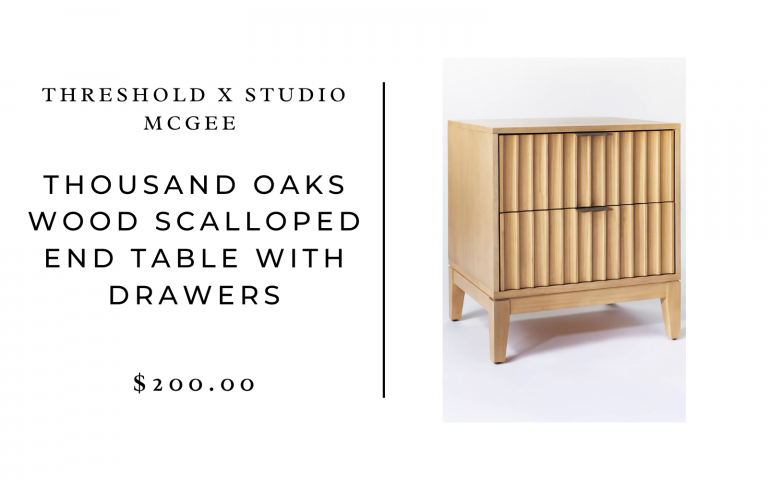 Threshold x Studio McGee Thousand Oaks Wood Scalloped End Table With Drawers
"The scalloped detail reminds me of the gorgeous plasterwork that I have been seeing from the ladies at KAMP Studios." — Julie Van Daele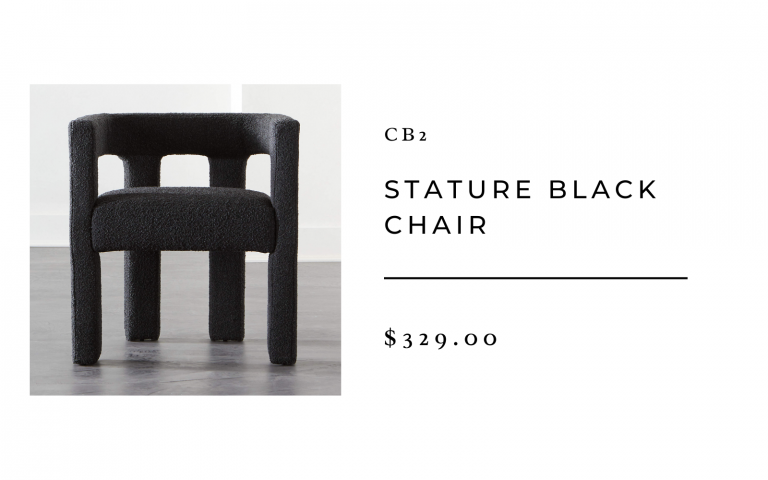 CB2 Stature Black Chair
"We love this because of the sculptural silhouette and price point. It's a statement piece and when you're ready to switch things up, you can reupholster it for a new identity." — Jenna Rochon
Opalhouse and Jungalow Mixed Material Shelf Floor Lamp
"Summer is all about the outdoors, but you can keep the summer feeling going year-round by bringing the outdoors in with natural and organic elements. I always use natural elements in my décor to offset anything from feeling too modern and cold and recently added this lamp to my own home. Every time I see it it makes me smile. Not to mention it's a lamp/table combo, which is great if you're tight on space." — Brady Tolbert
West Elm Metal Frame Round Mirror 
"This mirror is my go-to when we need something affordable, stylish, and with plenty of finish options. We have used this piece in several of our recent projects and it never disappoints." — Abbe Fenimore
Target x Threshold's Vacation Tropical Outdoor Rug Green
"This outdoor rug from the Threshold collection is so on trend. I love the pattern and color palette it brings to the outside." — Katherine Carter.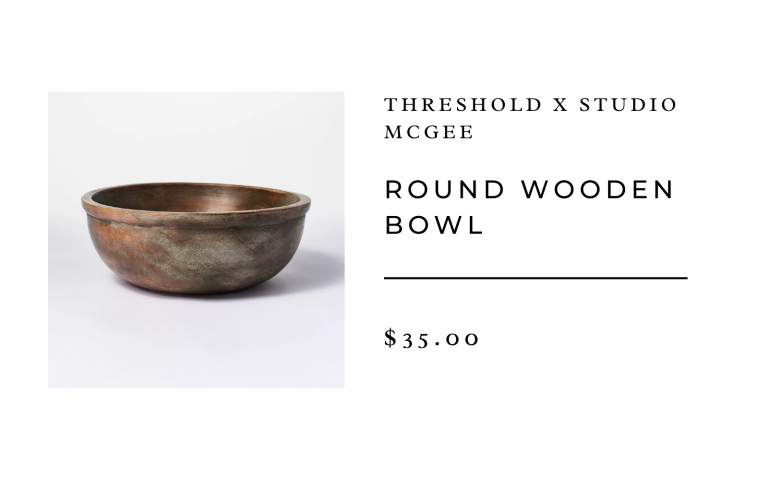 Threshold x Studio McGee Round Wooden Brown Bowl
"I love the texture it would add to any room and that it's a piece that could fit in any design aesthetic." — Julie Van Daele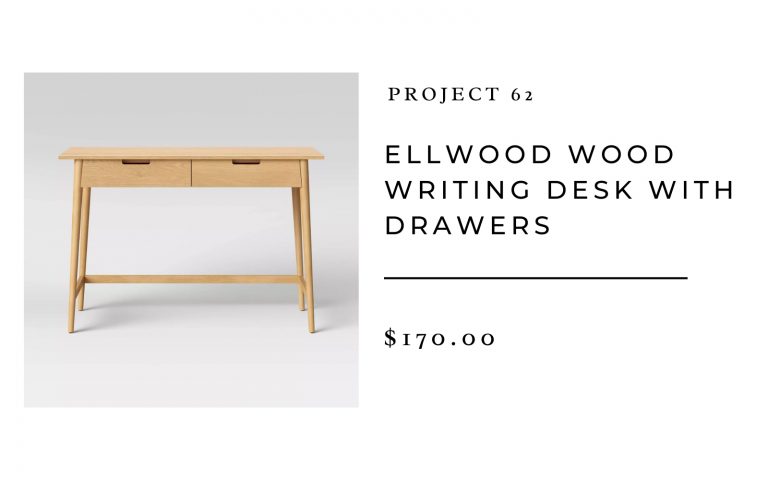 Target x Project 62 Ellwood Wood Writing Desk
"I love this desk as a staple piece that can go with any kind of décor. This would look lovely surrounded by green plants and with neutral tones with small pops of color. It has a mid-century modern appeal with a more contemporary and affordable approach." — Erin Swift