In my 20s, I didn't really honor sleep. I stayed up, slept in, completed disregarded any kind of sleep hygiene (that wasn't even in my vocabulary). Now, in my 40s, having a nighttime routine is critical to a good night's rest and a successful day the next. I got serious about my sleep regime this year and invested in a complete bedroom redesign complete with a custom bed base, mattress, silk eye mask, and new bedding. This sleep makeover required some serious research into the best linen sheets because this time, I was determined to create a zen bedroom that prioritized and honored rest.
So, if this sounds like you too, and you're ready to create a z's inducing boudoir, then read on for the best linen sheets you can buy according to our team of tastemakers.
Feature image by Brandy Joy Smith.
Shop Casaluna 100% Washed Linen Sheet Set
I've now become used to the jaw-drop that happens when I tell friends my bedding is all from Casaluna at Target because the 100% washed linen sheets and duvet look so, well, expensive. These sheets are soft and breathable—incredibly important for someone like me who tends to sleep hot. And although I currently have the white set on my bed, I'm tempted to swap them out with one of the brand's other soft neutral shades for fall. They're such an amazing price point, so why not? — Camille Styles, Editor-in-Chief
Shop Cultiver Build Your Own Fitted Sheet & Duvet Set
My husband is super picky about soft sheets, and I had to convince him to try linen sheets for the summer. I have been sweating and needed to make a change. Luckily we found Cultiver. The linen is super soft, and the color options are to-die-for. We went with the fawn duvet and white sheets—the perfect summer refresh. — Brandy Joy Smith, Motherhood Contributor 
Shop Cultiver Duvet Cover Set – Blush / California King
As an Aussie, I love to support my homegrown brands and Cultiver make it easy to do. Their linen sheets are made from 100% European flax so you know you're sleeping in quality that was designed to last. I invested in a white linen sheet set years ago and they're just as soft as they were when I bought them. So many other sheets have worn thin over time but my Cultiver linens have stood the test of time. I recently upgraded to the blush set and I love the subdued pinkish hue which feels like an elevated neutral. When it comes to cost per sleep, these are my top choice. — Sacha Strebe, Deputy Editor  
BONUS RECOMMENDATION: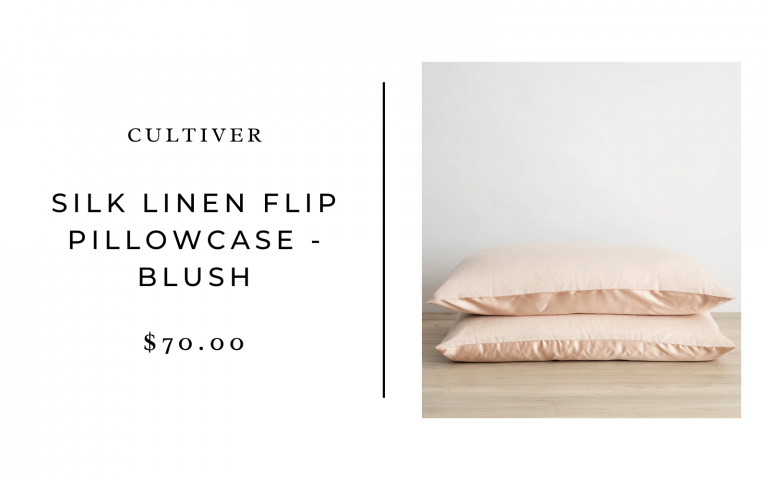 Shop Cultiver Silk Linen Flip Pillowcase (Set of 2) – Blush / Standard
As a beauty connoisseur (who takes skincare very seriously) I always sleep on a silk pillowcase. But the look of silk doesn't always fit the style of my bed, especially because my preference has always been linen. So, when I saw that Cultiver made a silk/linen flip pillowcase I was instantly sold. I mean, it's genius, really. The silk maintains the high standard of their linen—soft, thick, and breathable. — Sacha Strebe, Deputy Editor  
Shop Bed Threads Turmeric Duvet Cover and Sheet Set
I switched over to the linen sheet sets almost two years ago and I'm so glad I did. I'm obsessed with my Bed Threads linen set. One, because the color is gorgeous (I used to be an all-white bed set kinda gal, but having a bright and colorful set has really made my space feel special and cozy); and two, because the fabric is incredible. I feel like the set has gotten softer with every wash, and I love that it doesn't feel too heavy at night. Run don't walk to get that Bed Threads set. Trust me! — Suruchi Avasthi, Food Editor 
Shop Bed Threads Oatmeal and White Duvet Cover and Sheet Set
I concur with Suruchi—these linen sheets are so very soft! I have the oatmeal and white set and it's the perfect hue combination for my neutral bedroom. I'm talking major cozy and relaxed vibes. This is also another Aussie brand so of course, I also feel very proud to be sleeping on a quality brand from my home Down Under. — Sacha Strebe, Deputy Editor 
Shop Parachute Linen Sheet Set 
After sleeping in luxurious linen sheets during a hotel stay, I made the commitment to myself that I would only wrap myself in linen at night moving forward. Percale, who? I stopped by the Parachute, scooped up some sheets in a pretty bone color (along with some wool dryer balls, which also changed my life), and have never looked back. They're lighter than air to sleep in, and I appreciate a fabric that looks just as good (if not better) when it's a little disheveled. — Caitlin Clark, Contributing Editor 
Shop Brooklinen Washed Linen Sheets
It doesn't get much softer than these delightful linen sheets. They're perfectly rumpled, decadently soft, and look beautifully worn in. They're also incredibly high quality and durable, which is a must when you have a dog that co-sleeps with you. While they're definitely a splurge, I have never regretted the investment. These sheets are incredibly luxurious while still looking casually cool. I'm a huge fan of the neutral shades, but constantly find myself tempted by the limited edition seasonal shades. — Lourdes Avila Uribe, Contributing Editor
Shop Coyuchi Organic Linen Chambray Sheet Set
If you're looking for an organic linen sheet set, then look no further than Coyuchi. This is a brand that honors quality and sustainability. Its materials are pure and minimally processed, and its products adhere to strict standards like Fair Trade USA, paying respect to the thread, the makers, and of course, you! It's truly heaven to sleep on these sheets. Even Athena Calderone of EyeSwoon is a fan. — Sacha Strebe, Deputy Editor