I could practically hear the smile forming on Amy Wax's face when we chatted on the phone about vibrant bright paint colors. Wax, who is a longtime color consultant, lives for color—how it makes us feel, how it impacts our days, how it imbues a sense of joie de vivre into a moment. Do you know that energy jolt you get when you see something washed in sunny yellow? That's the power of color, believes Wax. It's a critical piece in our aesthetic lives—and it makes her ecstatic to talk about.
According to Wax, color is also "the backbone of design," which is why she's always infusing her surroundings with it. But how does one do this? I've always wondered. Particularly when it comes to vibrant bright paint colors for the home. I love fuchsia, but does that give me license to douse my living room walls in it?
These questions are what led me to seek Wax's counsel. Just like anything in art (and life), guidelines often bring out the best of something. I chatted with Wax for her take on how to best choose and incorporate vibrant bright paint colors into our homes. I also tapped the expertise of interior designer Tiffany Hanken. Together, these two aesthetes revealed how bright colors are like a vitamin for home décor. Read on to learn more and to see the bright paints they're loving right now.
Image by Nikole Ramsay.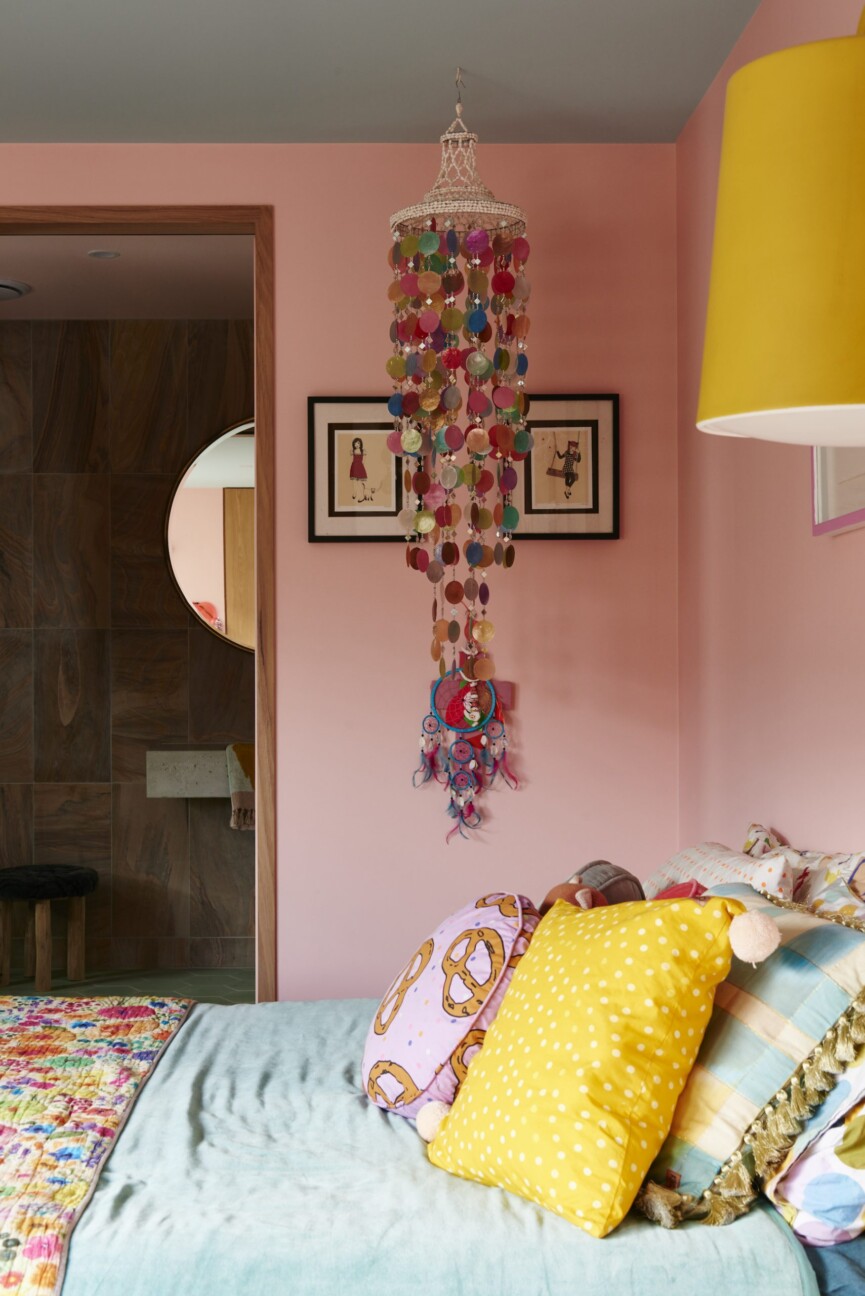 Image by Nikole Ramsay
How Do You Choose Vibrant Bright Paint Colors?
Picking a vibrant paint color for your home can be overwhelming. "We go to the store and we see 4,000 colors on the wall. And for people who are not experienced, they can really be shaken up," Wax admits. The important first step, she says, is to think about what you want to express for that room. Is it happiness? Good energy? Something uplifting? What are you ultimately trying to convey with your colors? "You have to really give it some thought," adds Wax. With these reflections, you'll be in a solid position to search for a color that extends that message.
Wax created the brilliant app Color 911, for this very reason. "It enables people to look at colors, try them on, and think about how they want to express themselves with color," she says. "You can ask: Is this a good color for the house? Is this a good color for a room? It's a way of also finding inspiration."
Pro tip: Designer Tiffany Hanken says that if you're at a total loss, consider any colors you already have in that room and look to the opposite of the color wheel. "We look for bright colors that contrast the surroundings," Hanken explains. "If you have shades of blue, a bright color paint option would be orange or coral."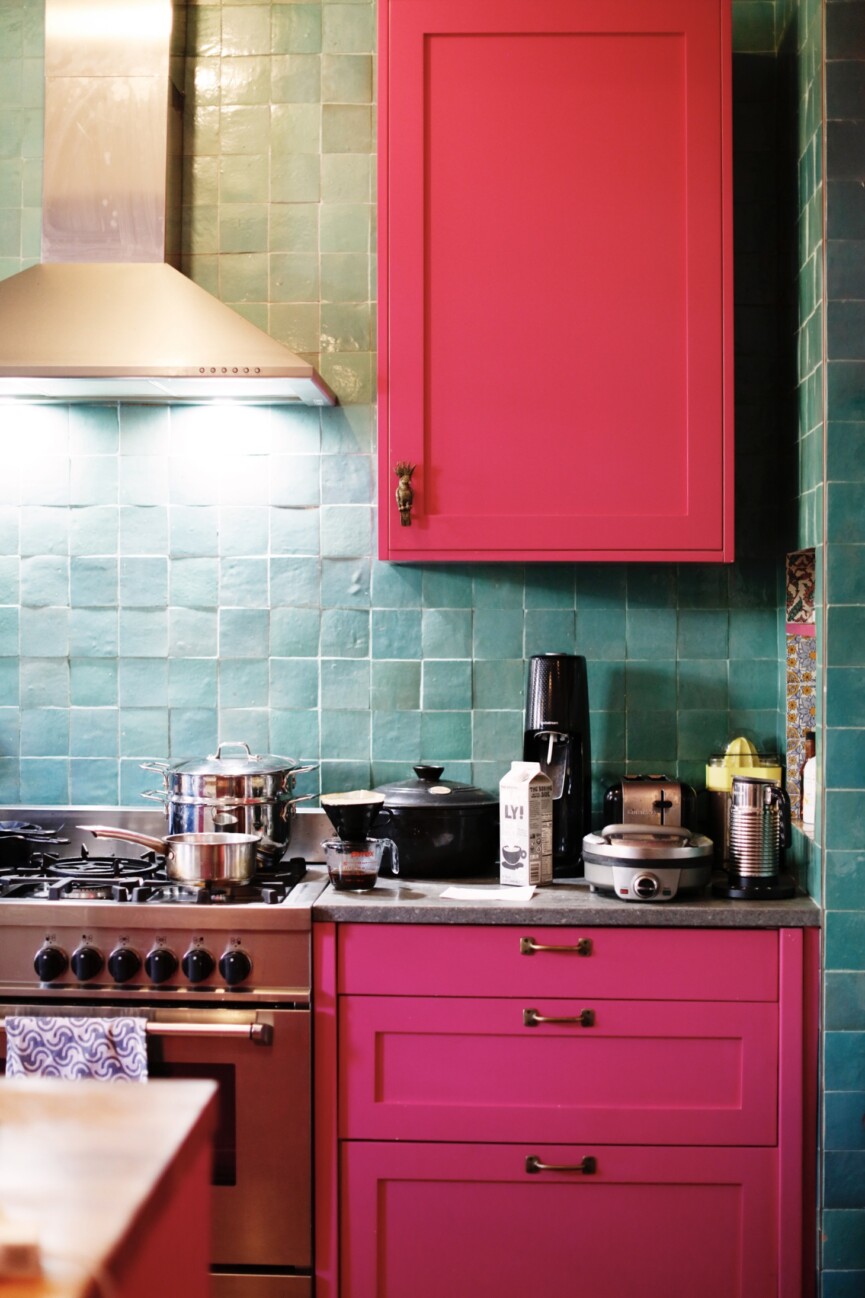 Image by Belathée Photography
What Rooms Are Best for Vibrant Paint Colors?
Before washing your bedroom walls in an electric blue, consider your intention for the space. Wax says vibrant bright paint colors go best in rooms meant for entertaining, togetherness, and conviviality. Think of the dining room, kitchen, great room, and living room. "Right now, a lot of people are liking their kitchens to have bright colors, even an accent wall or vibrant cabinets," Wax tells me. Hanken also notes that a bright dining room adds "a bit of novelty and fun in an unexpected way." The designer loves a brightly painted powder room. "It is the one room in the house we think you can do whatever you want and go bold," she says.
Hesitant to Use Vibrant Bright Colors in Your Home?
Don't worry about commitment with paint, says Wax. "If you're ordering a sofa, I wouldn't commit to hot pink. But an accent wall? I'd be all over it because you could replace it in an afternoon for 75 bucks." Paint is a great way to play with color because do-overs are always possible. An accent wall or the ceiling, which Wax says is overlooked, are both fun options for single walls to wash in vibrant colors. So the key is to have fun. Vibrant bright paint colors aren't meant to be taken too seriously!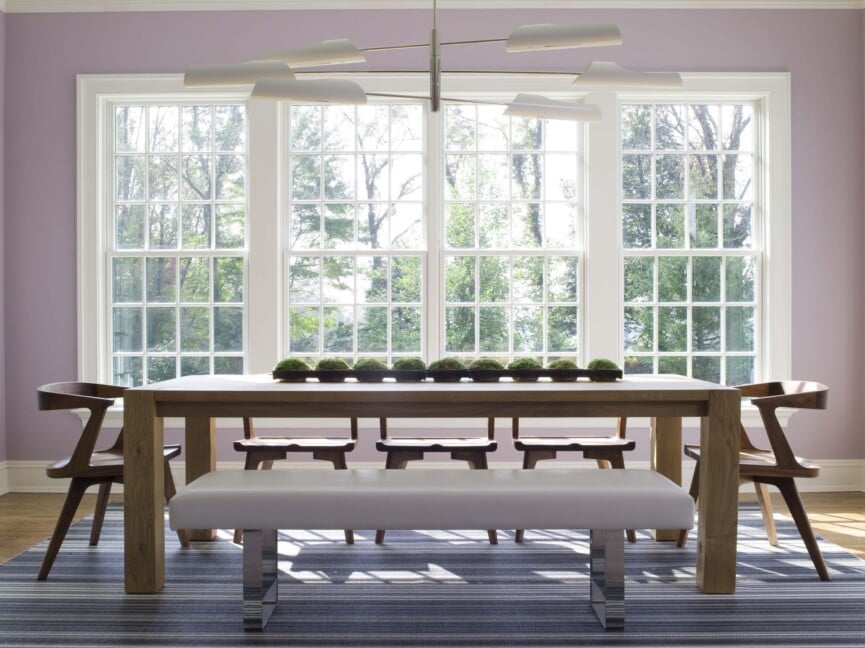 Image courtesy of Susan Bednar Long
What Vibrant Paint Colors Are Big Right Now?
2022 has seen a trend toward incorporating more nature and greenery into our homes—which Wax loves. To extend this look, she's leaning into paints that mirror the sky, water, and grass. With that in mind, here are the blue, greens, and other vibrant shades currently beloved by Wax and Hanken.

This is a "really rich, beautiful teal" that is great for a bold room or as an accent color, says Wax.

A vibrant, happy marigold-yellow beloved by Hanken. Fit for a kitchen or living room accent wall.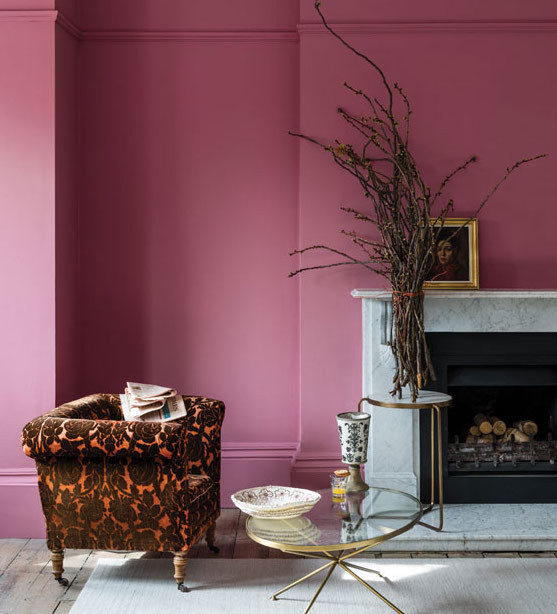 A transcendent pink that takes its name from the powder thrown during India's Holi festival of colors.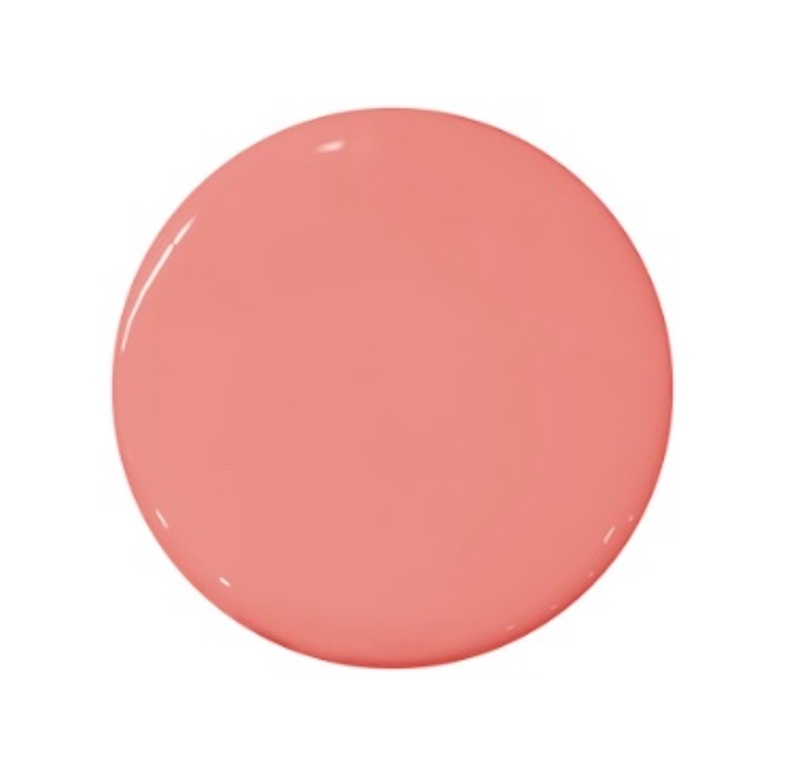 Interior designer Kim Lapin recently brought this beachy coral to our attention.

Another one of Hanken's current bright paint favorites. This fresh pink is an interior décor smile.

"This is a blue I really love and use often," says Wax.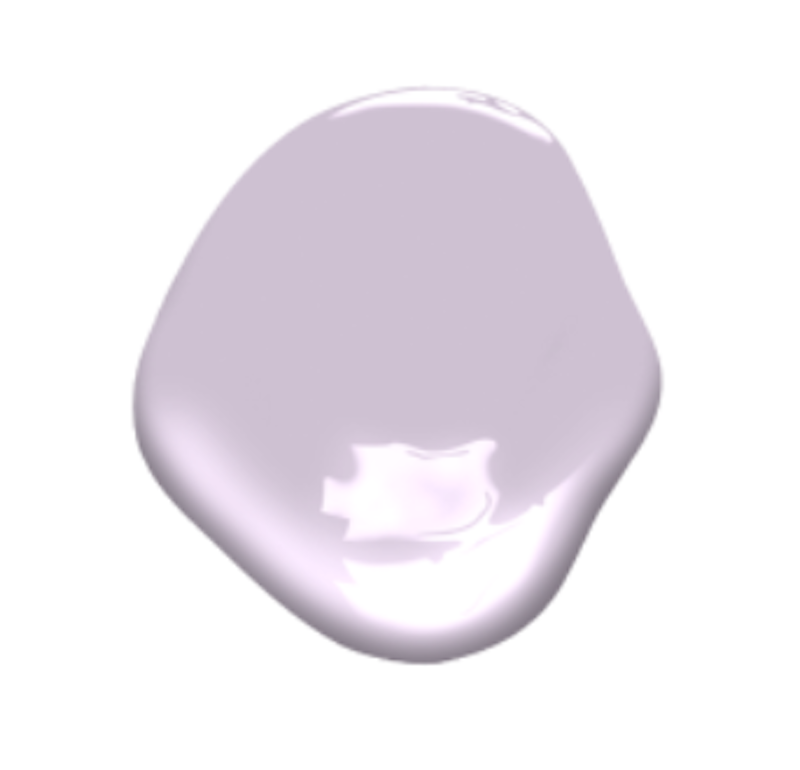 This flowery hue is pulled from the arsenal of interior designer Susan Bednar Long, who forecasted bright lilacs and violets to be big interior colors for 2022.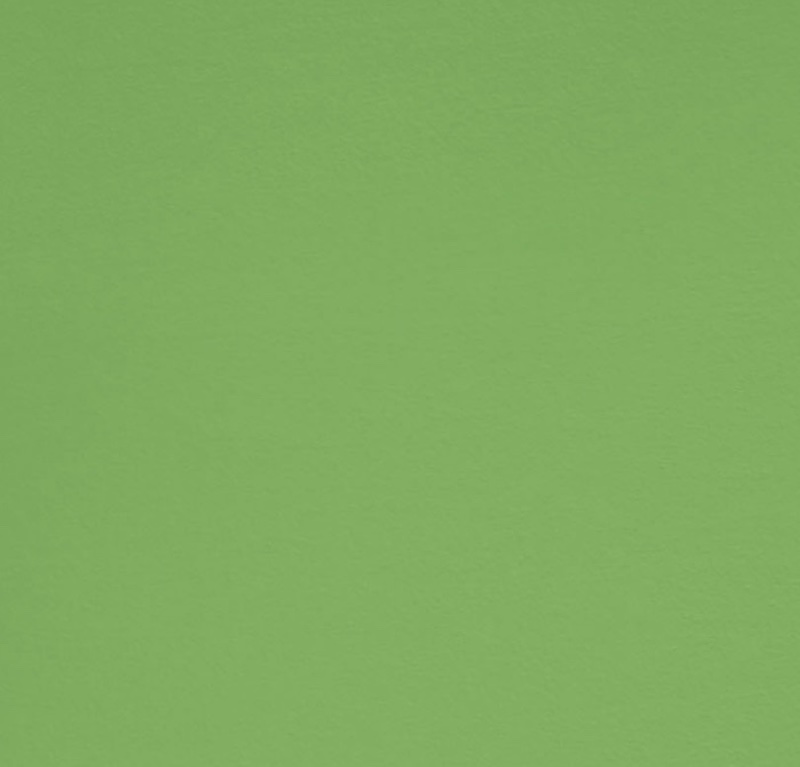 It may be bold, but Wax says this "bright, happy, upbeat" green is quite neutral and complementary.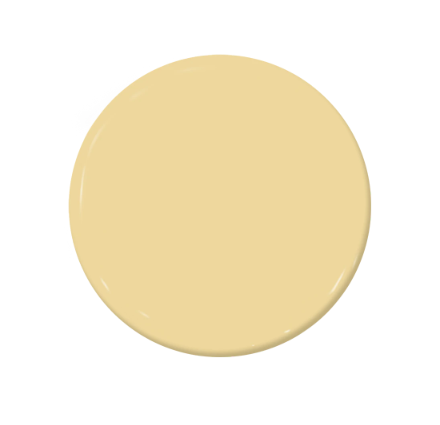 Like its name suggests: A sunny, illuminating yellow— perfect for a kitchen.

Reminiscent of the sea, Hanken's go-to bright blue lands somewhere between teal and cerulean.