A memorable gathering always starts with one thing: appetizers. While I love the formality of an elegant dinner party and agree that there's a time and a place for a buffet-style meal, finger food reigns supreme on my list of spontaneous, easy-to-prep provisions. When you go that route, there are so many options to choose from—like indulging in a smorgasbord of flavors and textures or sharing the experience of a delicious appetizer with others. Honestly too, I'm a forever fan of choose-your-own-adventure-style entertaining, and there's nothing more fun than creating your own personalized meal by mixing and matching your favorite starters. Any way you slice it, easy party appetizers are always a win. And because we're all a bit starved for quality time with those we love, I'm sure you're planning on inviting no shortage of folks to all of your holiday parties. If that's the case, you'll be needing recipes fit to feed a crowd.
Well, you've come to the right place. As I was looking for appetizer inspo to share, I wanted to make sure this list checked off a few specific boxes—because when I'm having people over for a party, there are always a couple things that I keep top of mind. As the hostess, of course, my primary goal is to make my guests feel as comfortable and at-home as possible. That means I'm making sure the array of apps I'm planning to serve satisfies a whole range of dietary restrictions and preferences. I want foods that the vegan, vegetarian, and plant-based eaters among us can enjoy. Plus, for those with an insatiable sweet tooth (myself included), throwing a few cookie recipes into the mix is a non-negotiable.
With all that in mind, I combed the internet for the best quick and easy appetizers fit for a party. There are options below that you can make ahead of time or throw together at the last minute. Because when it comes down to it, getting together with all your favorite people should be a zero-stress affair.
Why We Love It: Tangy cranberry sauce + creamy brie + crisp puff pastry = the most addicting appetizer ever. Five ingredients and ten minutes in the oven is all it takes to whip up an entire tray of these bites. This appetizer will be sure to catch the eye and win over the hearts of all your guests, and though this recipe makes an entire tray's worth, you might want to double the recipe. These'll go fast.
Hero Ingredient: Soft and with a deeply-satisfying, melt-in-your-mouth flavor, in the world of cheese, and really all food, nothing beats brie.
Why We Love It: Slice-and-bake cookies are make-ahead magic. During a time of year when cookies are being baked on repeat, having a few rolls of pre-made dough in the fridge or freezer is a hostess' dream (and something you'll thank your past self for). Fresh-baked cookies that are full of flavor and ready whenever your cookie craving hits? Sign me up.
Hero Ingredient: Step aside, cinnamon—there's no spice I love more for my wintertime sweets than ground cardamom. It offers up a complex warmth that beautifully rounds out these cookies' fruity and salty festive flavor.
Why We Love It: It doesn't get any easier than bruschetta. Lightly toasted rounds of baguette are a delicious base for all my favorite winter flavors. Tangy goat cheese, earthy slices of pear, and sugar-coated walnuts look pretty on a platter—and make this the perfect snack.
Hero Ingredient: While you can certainly swap out the goat cheese for ricotta, whipped feta, or another one of your favorite creamy cheeses, I'd recommend committing to the chèvre. Lightly sweet, it plays beautifully with the fruit and candied walnuts.
Why We Love It: These buttery bites of puff pastry goodness blend a diverse range of flavors beautifully. While the ingredients list seems a little lengthy as far as easy appetizers go, have no fear. These are wildly simple to make and can even be assembled ahead of time and popped in the oven just before guests arrive. Oh, and know that you'd totally be justified if you consider these a virtuous addition to your apps table—they pack plenty of green to go around.
Hero Ingredient: When I first discovered the magic of puff pastry years ago, I was floored. While I would happily spend an entire Saturday making dish after dish of entirely homemade pies and pastries, the fact that this short-cut version is no-knead and no-rise means enviable apps can be made on the fly. And really, there's nothing better than sinking your teeth into that first crispy bite.
Why We Love It: These stuffed mushrooms are layer upon layer of a whole host of textures and tastes. They're amazingly easy to make, and with a few of the ingredients prepared in advance, all you have to do is assemble and pop them in the oven. If you have a guest who's eager to be your sous-chef, invite them into the kitchen to help you out with the prep.
Hero Ingredient: My love of mushrooms knows no bounds. While they're the perfect way to mimic the flavor and texture of meat in any plant-based main or side, in this appetizer, they're an irresistible base for the creamy filling and crunchy breadcrumb topping.
Why We Love It: Finger food at its finest. These are a breeze to bake up and are as simple as arranging the stunning final product on a plate. Not only does the pear and pomegranate combo scream holiday flavor, but the colors are reminiscent of all the cozy, festive comfort the Christmas season brings.
Hero Ingredient: I love stirring in some balsamic vinegar to bring a little smokiness to an otherwise predominately sweet dish. Get ready to revel in the notes of fig, cherry, and chocolate that play up this recipe's cinnamon and maple-y flavor.
Why We Love It: Brussels sprouts, meet bacon. Salty and indulgent, the bacon provides a deliciously crispy exterior for the oven-roasted Brussels sprouts. While you're definitely getting your veggies by popping a few of these over the course of the evening, I wouldn't necessarily wrap a health halo around them. But that isn't really the point, is it? P.S. Definitely put in the bit of added effort it takes to whip up the homemade ranch. You won't regret it.
Hero Ingredient: Tossing the Brussels sprouts in two tablespoons of fresh thyme before baking gives the vegetable an earthy, slightly minty flavor that'll perfectly offset the bacon's richness.
Why We Love It: Arancini, a staple in Sicilian cuisine, consists of cheese-filled rice balls that are coated in breadcrumbs and then deep-fried. Amazing, right? This version takes a vegan twist on tradition by subbing cauliflower for the rice and building all of its flavors with vegan parmesan cheese, four cloves of garlic, and basil. Creamy on the inside, crispy on the outside. All in a single bite.
Hero Ingredient: I'll shout about my love for panko until I'm red in the face. Their flaky shape and texture mean even more crunch than you'd get from a traditional breadcrumb, which, in my book, is always welcome.
Why We Love It: Maybe I'm late to the game, but I ate my first cheese ball last year when a small Christmas gathering was graced with a platter of their creamy presence. Since then? Addicted. Hear me out: Cream cheese and white cheddar are mixed together, rolled in bacon, nuts, or whatever your heart desires, and formed into snack-sized balls. Must. Consume. Immediately.
Hero Ingredient: A cheese ball wouldn't be what it is without the cheese, correct? Cream cheese provides the, for lack of a better word, creaminess, while the white cheddar offers up seriously sharp and pungent flavor.
Why We Love It: While there are many traditions that can cue Christmas cheer, perhaps one of the most memorable are the weekends spent baking and decorating sheet after sheet of holiday cookies. These spicy and sweet delights are a beautiful blank canvas for getting creative with your piping bag. Whether you're going for intricately symmetrical snowflakes or just want to dress up a gingerbread man with a few buttons and a bowtie, an afternoon of blissful cookie baking awaits.
Hero Ingredient: It's a bit of a sad truth that I've lived my entire life up until this point without consuming the magical blend of orange and all the gingerbread spices. You can thank the orange (juice and zest) in this recipe for the deliciousness.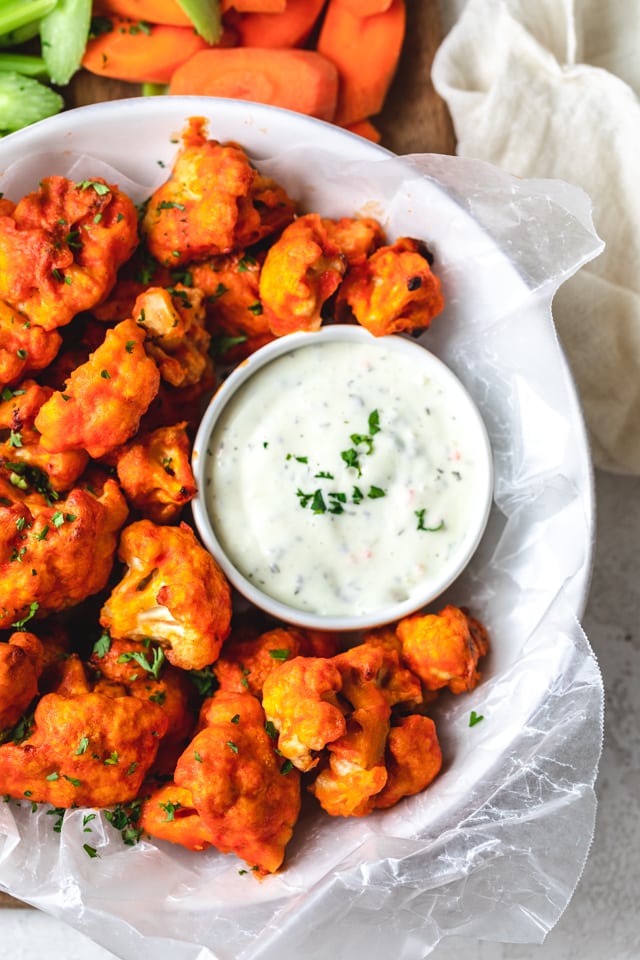 Why We Love It: These crowd-pleasing cauliflower bites are what easy appetizer dreams are made of. One of my favorite veggies wrapped in a simple, flavorful, and healthy-ish sauce makes for a snack that can double as dinner (if only for the fact that I could eat an entire plate's worth before the actual meal is served).
Hero Ingredient: I'm a firm believer that buffalo-anything should come with a bit of bite. At the same time though, I'm also open to interpretation and am forgiving when a recipe wants to get creative with a classic (this recipe does swap out the chicken for cauliflower, after all). So if a half-cup of hot sauce strikes you as excessive, start on the conservative side of things and add from there. But don't leave it out—the hot sauce makes this recipe.
Why We Love It: While I'd consider myself aesthetics-obsessed if a cookie is soft, sweet, and full of enough flavor, you can easily catch me with one in each hand. But if it's pretty too? Well, I guess I can share. These cookies have all the bases covered—buttery, beautifully decorated, just a bit spice—and it's for all those reasons combined that I'll happily put out a plate at my next party. Caveat: I need to know there's a batch waiting just for me in the kitchen.
Hero Ingredient: Masala Chai Leaves give a surprising hint of spice to these wonderfully warming and on-theme treats.
Why We Love It: Growing up, I thought meatballs couldn't exist without a bed of spaghetti beneath them. Such innocence. This recipe helped me see the light, and I now know that it's perfectly okay (encouraged even) to meet my daily protein requirements through meatballs alone. While I didn't think anything could be done to make them any more palatable, I learned that topping them up with an umami-rich cranberry sauce and some orange zest is the way to go.
Hero Ingredient: Cranberry sauce is the one Thanksgiving side I'm okay sleeping on. It's too sweet to deserve a spot between my turkey and stuffing, and too… unimpressive to tempt me for dessert. But man, a half cup of coconut aminos packs a salty, savory punch that brings an impressive depth of flavor not only to the sauce, but to this entire dish.
Why We Love It: Not gonna lie, I'm nearing the bottom of a cup of peppermint hot cocoa as I'm simultaneously writing about the beauty that is these cookies. There's not a day in December that doesn't go by without me downing a mug, but for the sake of variety, I'm willing to switch up the habit and swap in these cookies instead. Because chocolate-y, peppermint-y goodness is at the top of my Christmas list.
Hero Ingredient: A half teaspoon of peppermint extract is all it takes to pack these cookies full of candy cane flavor.
This post was originally published on December 5, 2018 and has since been updated.