Next up, Alison Hersel invites us to an intimate dinner party at Plumcot Farm in Malibu, California.
I followed my GPS down a winding road in Serra Retreat, a peaceful wooded neighborhood in Malibu that's set between the mountains and the ocean. It's named after the spiritual retreat run by Franciscan friars that are set up high overlooking it all. Dappled light cast a magical spell as I approached the address I'd typed in for Plumcot Farm, a seven-acre property that's both a private residence and an organic certified farm. The owner, Alison Hersel, had invited me to come for a visit, and I had no idea what to expect.
As the gates to the farm opened, I took in olive groves, fruit orchards, and towering cacti (the property was previously a cactus farm) surrounding fields of summer produce and medicinal herbs. There were goats, beehives, and one very chic chicken coop, and at the center of it all stood the architecturally stunning home that Alison shares with her husband Alex, their three children, and her parents. Alison says that creating this live-work space shared by three generations has taught them so much: "We've found new ways to honor our individual differences while thriving as a community. We are incredibly grateful for the opportunity to share these years together."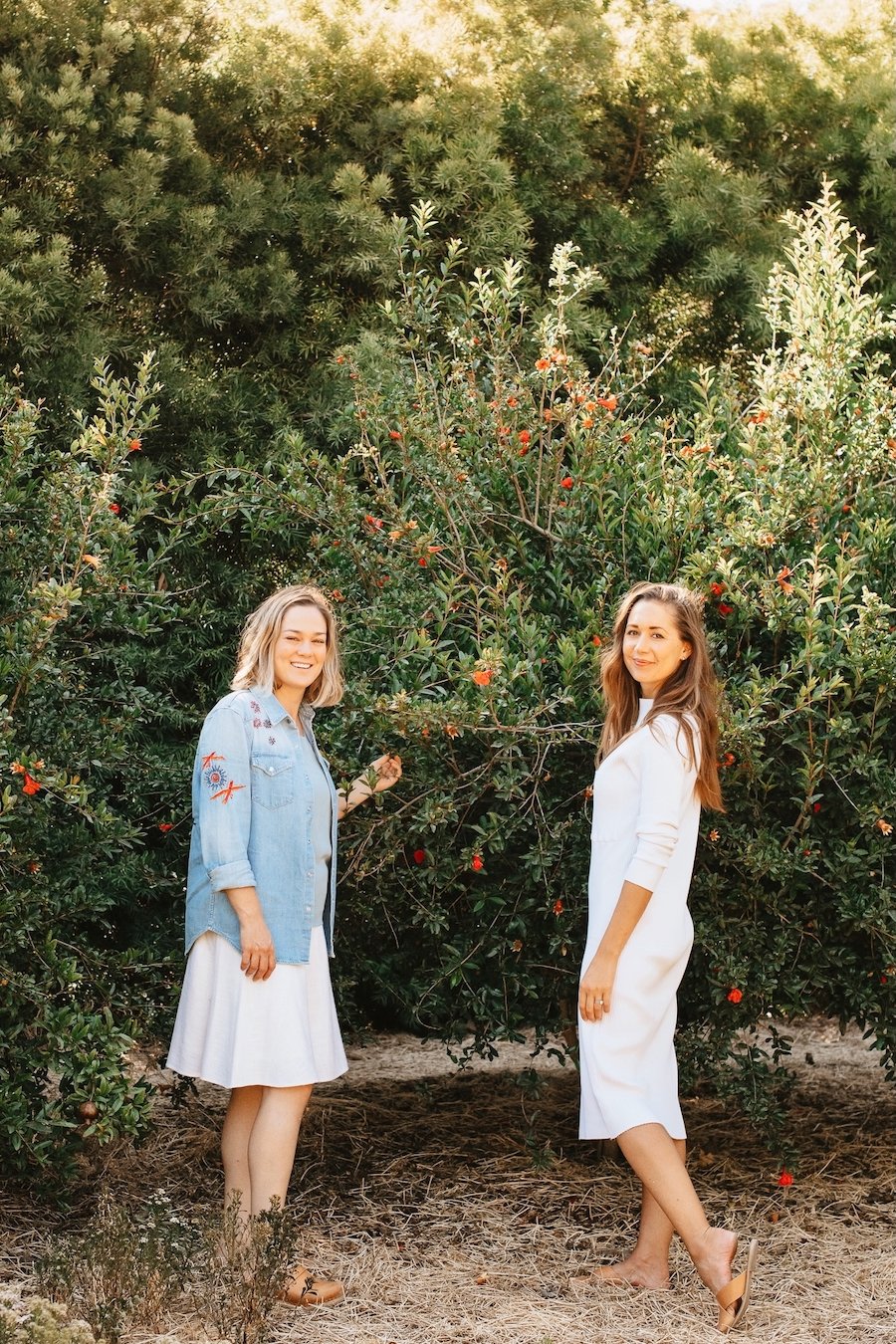 As I toured the farm, Alison shared how farm life has taught them a certain seasonal rhythm with nature that couldn't be further from the life they used to live in the Pacific Palisades neighborhood of Los Angeles. She says,
"There is nothing more satisfying than harvesting pumpkins from your backyard for a Halloween Haunt, or pulling gem corn from the ground for your Thanksgiving table. The joy of harvest reminds us of sowing seeds in late Spring and watching the summer sun imbue life and beauty at its own pace, in a new way every year."
In the spirit of celebrating the changing seasons, Alison hosted an Italian-themed dinner party in the fields of Plumcot Farm to celebrate summer—and invited an incredible group of local artisans and friends to gather around the table. Scroll on for my interview with Alison, including her tips on living in closer harmony with nature, entertaining with ease, and the incredible farm fresh recipes we devoured on this magical night.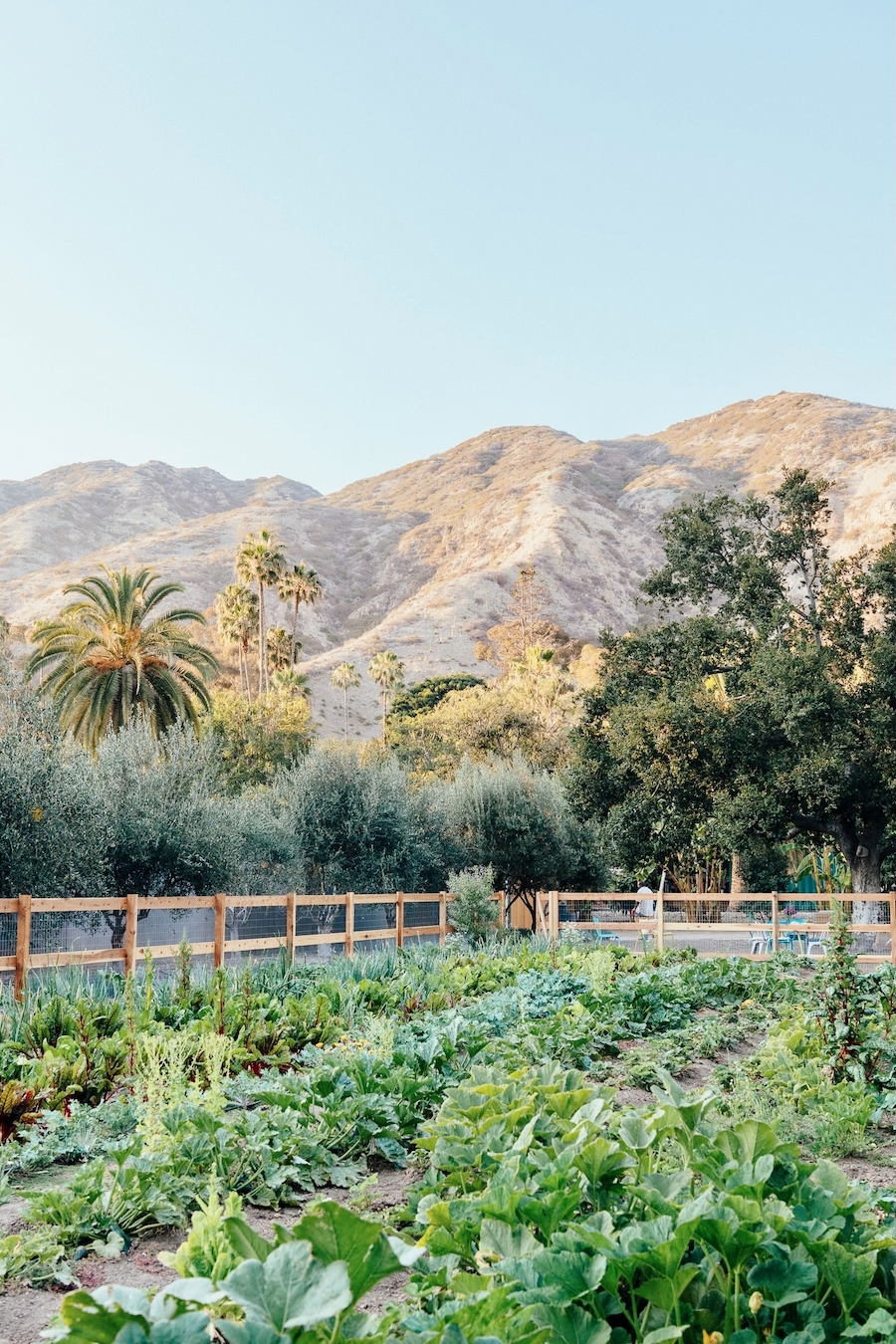 On life at the farm…
Tell us about Plumcot Farm—how did this magical place come about?
We bought the property in 2013. Prior to that, we were living on a 6,000 sq ft lot in Pacific Palisades. Neither my husband nor I had a background in farming or even gardening. I did, however, have a connection to the land in the Serra Retreat. I had discovered this magical land when I visited the Franciscan Retreat Center following a high school field trip to Malibu for a beach cleanup with Heal the Bay. I was immediately awestruck by the natural beauty. The landscape felt like a hidden subtropical paradise full of freedom and wild nature that never left my memory.
As soon as I got my drivers' license, I returned frequently just to drive through the neighborhood and admire the beauty. I continued visiting throughout college, but by the time I was married and having children, the Serra Retreat wasn't top of mind anymore. It wasn't until years later that I was working on a real estate development project and I offhandedly mentioned to a residential real estate broker, "What's going on in Malibu?" He advised that there was an amazing property on the market that included a commercial cactus nursery. My husband and I arranged to see the property out of curiosity. We weren't prepared to fall in love, but we did!
We were enthralled by the idea of designing a life for our family removed from the stressors of the city, and in a space where we could learn to connect with the healing power of nature, and live in harmony with the elements, animals, and plants.
At the time we were also discouraged with compulsory education and wanted to explore homeschooling. This felt like the ultimate learning lab and the whole family would become students of this new school.
Fortunately, I was aided and mentored through the process of establishing a farm by the veteran banana farmer and expert in drought-tolerant crop planning, Doug Richardson. Doug and his wife, Lisa, assisted us with the initial site plan, initial plant acquisition, and applying for our CCOF Organic certification. They were generous with their knowledge and resources and they were instrumental in our forward progress. Doug has now shifted his focus and is currently known as the "Mezcal Man," as he is caught up with growing agaves to make Mezcal.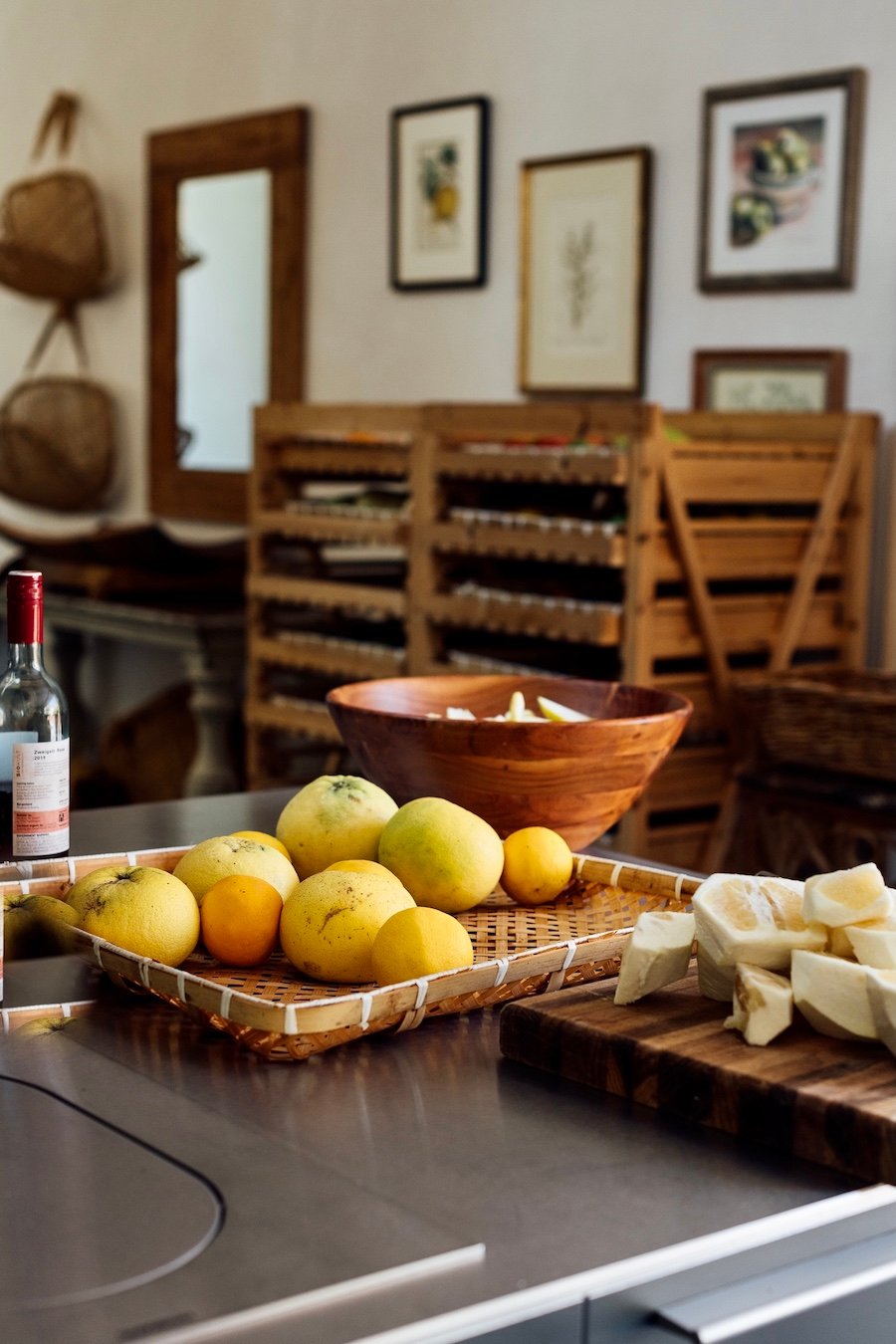 What are your hopes and dreams for the farm?
I hope to inspire people to question where their food comes from, and consider the environmental and human consequences of those consumption choices.
A huge priority is to encourage people to learn about the artisans and local growers in their neighborhoods.I also want to provide resources and workshops that make home growing accessible, regardless of limitations of space and time.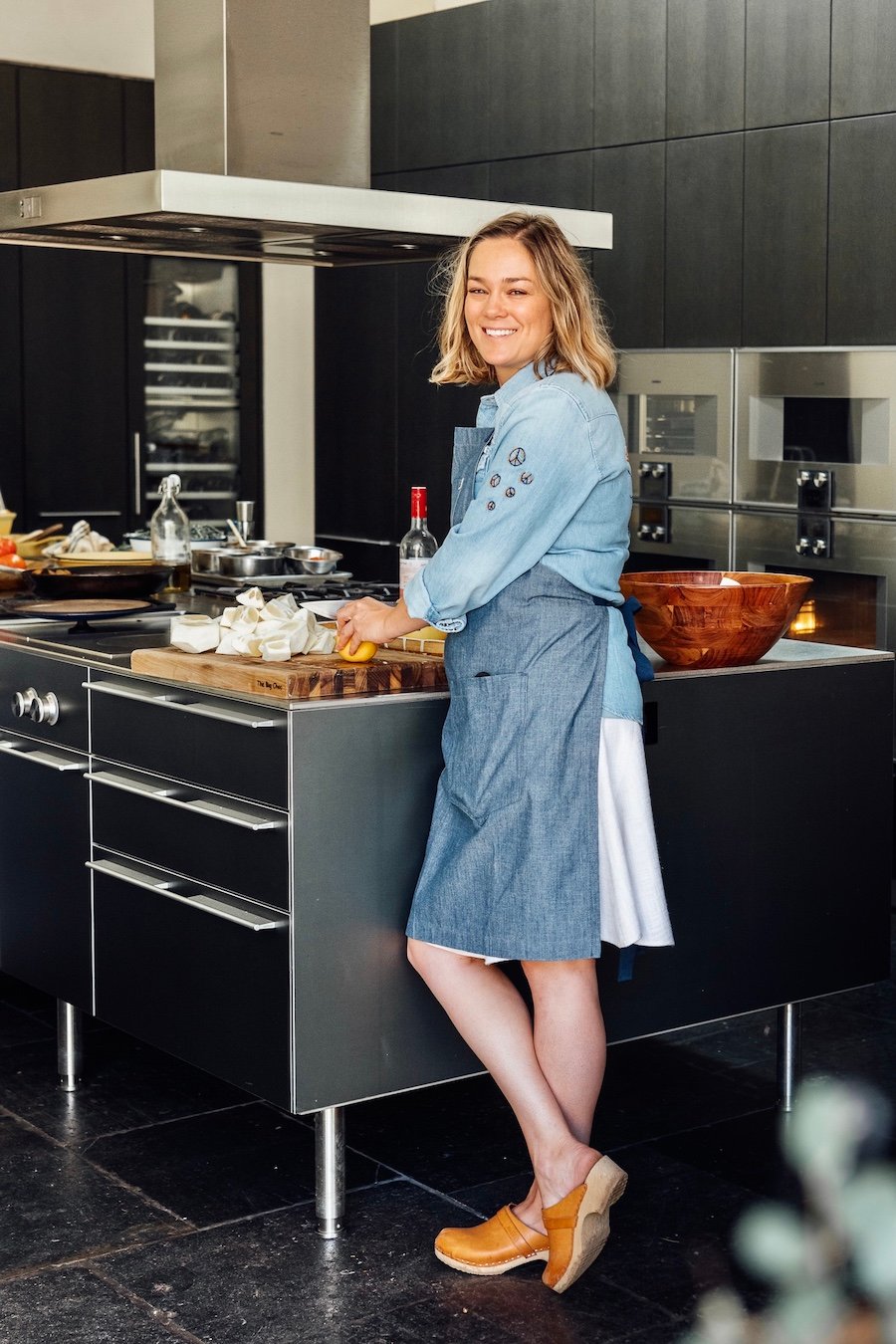 Walk us through a typical day for you.
I wake up around 6:30 am. I am a big coffee drinker and my day starts with a cup of coffee made at home with Joshua Tree Coffee Co beans. I love to add a dash of oat milk. I'm not big on breakfast, but I often enjoy two medium-boiled eggs from our chickens!
I live and work at home so my daily attire is casual. My favorite clothing store is Midland in Culver City and I would say my uniform is Ilana Kohn Jumpsuits and Crocs or any rubber slip-on clogs for running around the farm. Also, essential is my Joe Abellera + Tula for Edible Gardens UPF 50+ hand woven palm hat.
My work week has a loose structure that orients around farm work and homeschooling our three kids. I have amazing support in both capacities, but the work never ends. We sell CSA (Community Supported Agriculture) Farm Boxes on Wednesdays and Fridays. We also host culinary events and educational workshops, as well as non-profit fundraisers throughout the year.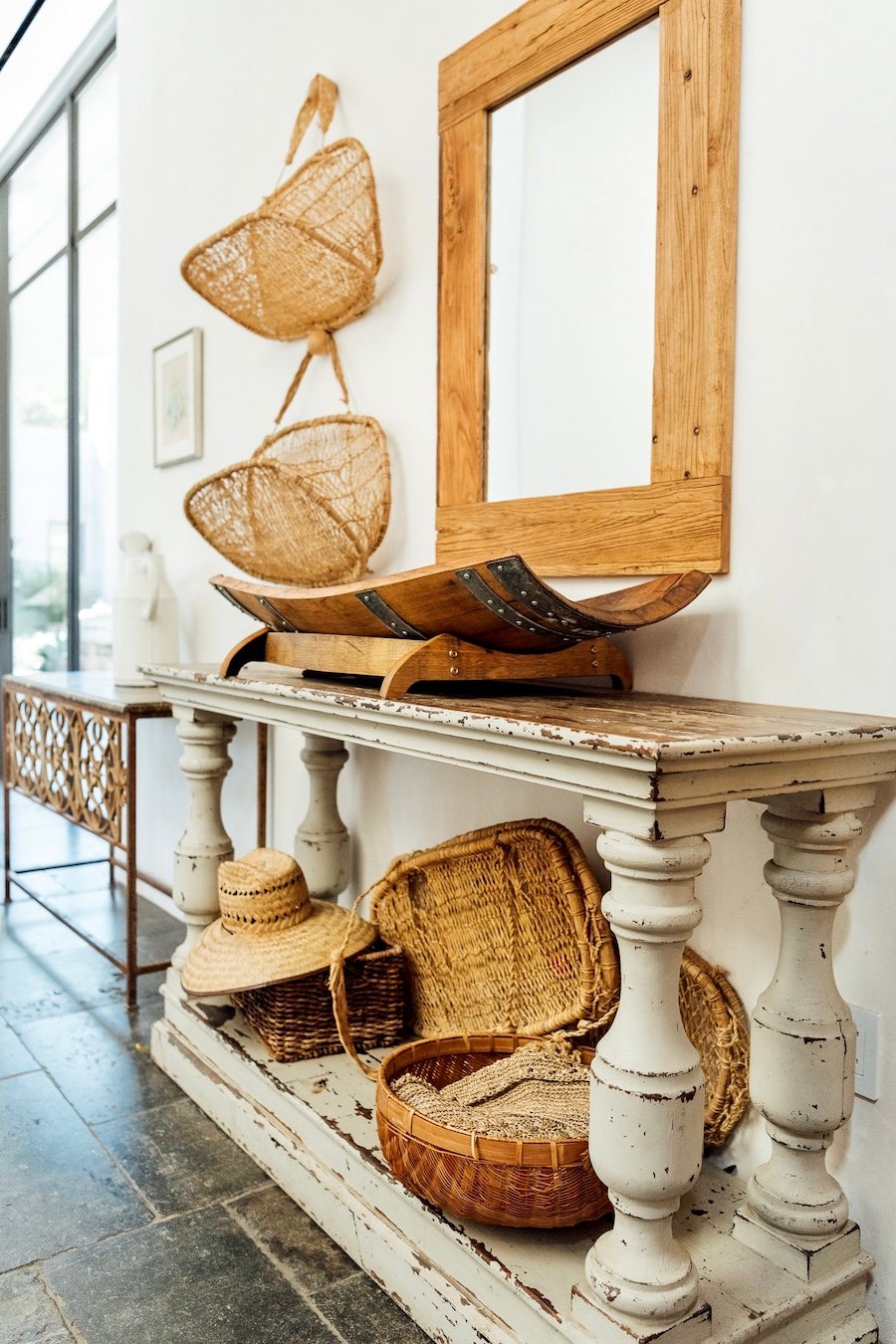 My role often feels like an orchestra conductor, with visibility of the big picture, and responsibility for overall outcomes. I manage all purchasing of plant material and farm supplies, oversee crop propagation and planting schedules, composting, cover cropping, chop, and drop, harvesting, marketing, and sales for all farm products. I am committed to zero food waste, and we find a way to sell, use, or donate all fresh produce. Our chickens and goats are also helpful with food scraps. I often have to hustle to sell cases of something in abundance to local restaurants, or the School Of Lunch meal box program, when there is more of something than we need for our weekly farm boxes. I also work closely with Brown Bag Lady, a 501c3 nonprofit, to ensure a once-monthly donation of produce to be cooked and distributed to the at-risk homeless population living in downtown LA on skid row.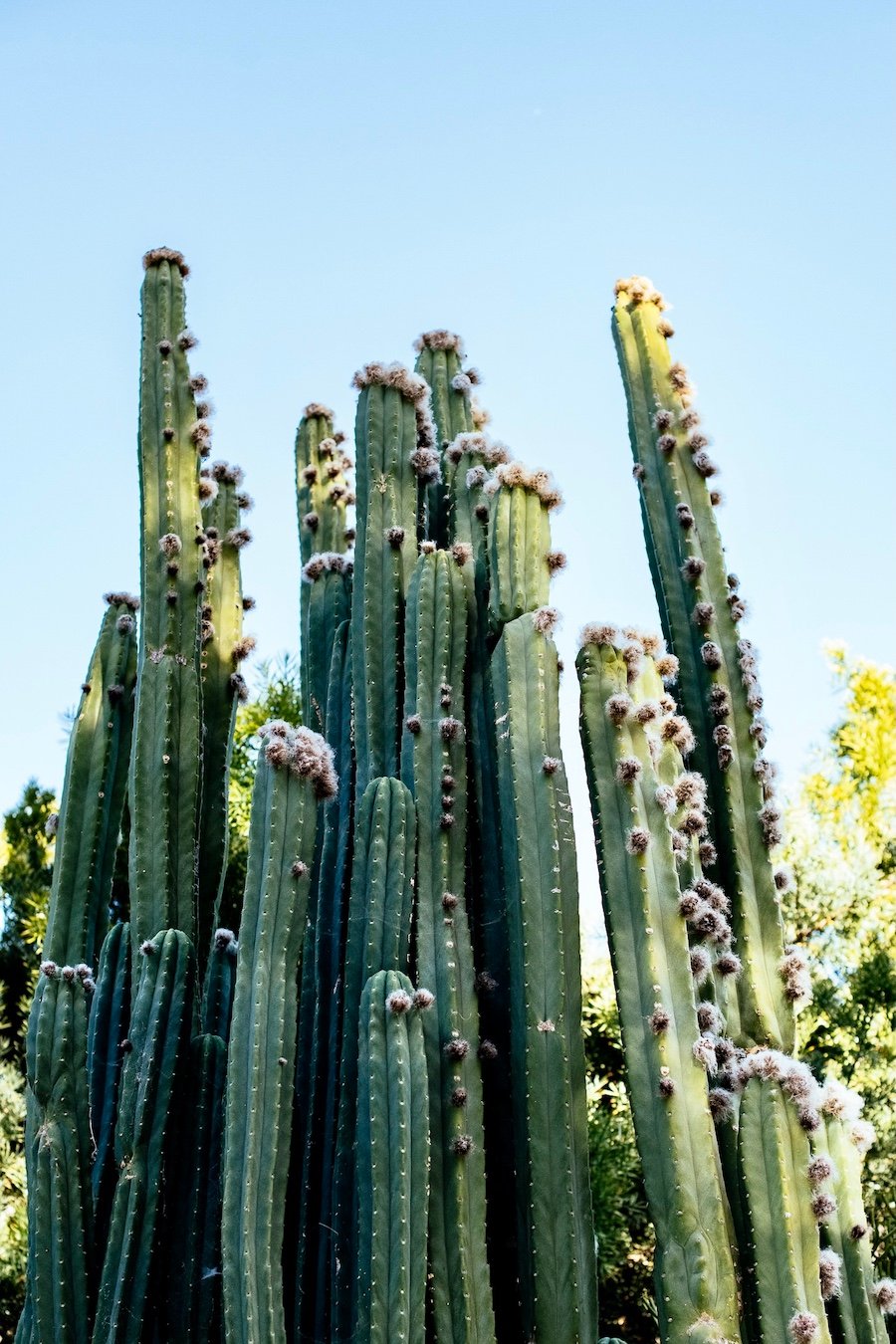 I interface with outside contractors when special skills are required to implement something essential for our regenerative land management plan. Some of those collaborators include our beekeeper, Phoebe, of The Hive Tribe, Michael, from Ventura Brush Goats who brings his herd of 100 goats once a year for a visit in summer to eat up the brush on our hillside for fire abatement, or John, from Puroserve for the implementation of a complex water filtration system to extract boron, a naturally occurring mineral that is bad for many food crops but can be pumped to the hillside and absorbed by Vetiver grass which helps to stabilize the hillside.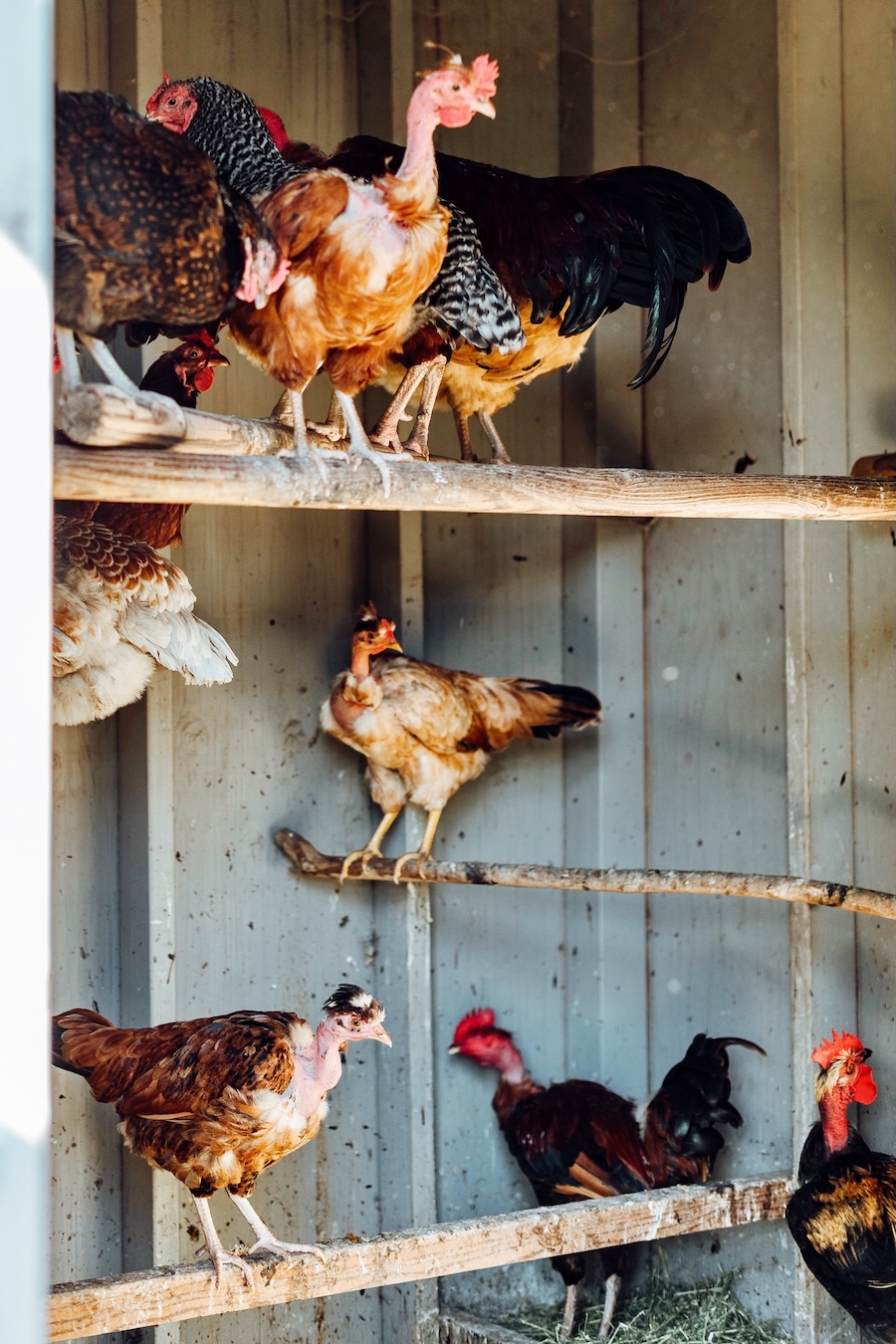 It is a farm but it often feels like a zoo with 3 kids, 4 dogs, 4 goats, 17 chickens, barn owls, birds, bees, rabbits, gophers, and squirrels.
Farm infrastructure development feels never-ending and all-consuming, but ultimately everything is paced by the seasonal cycles of nature. I love the seeming chaos, and I can certainly say that every day is different from the last. There are always heartwarming surprises like seeing babies chicks hatch for the first time!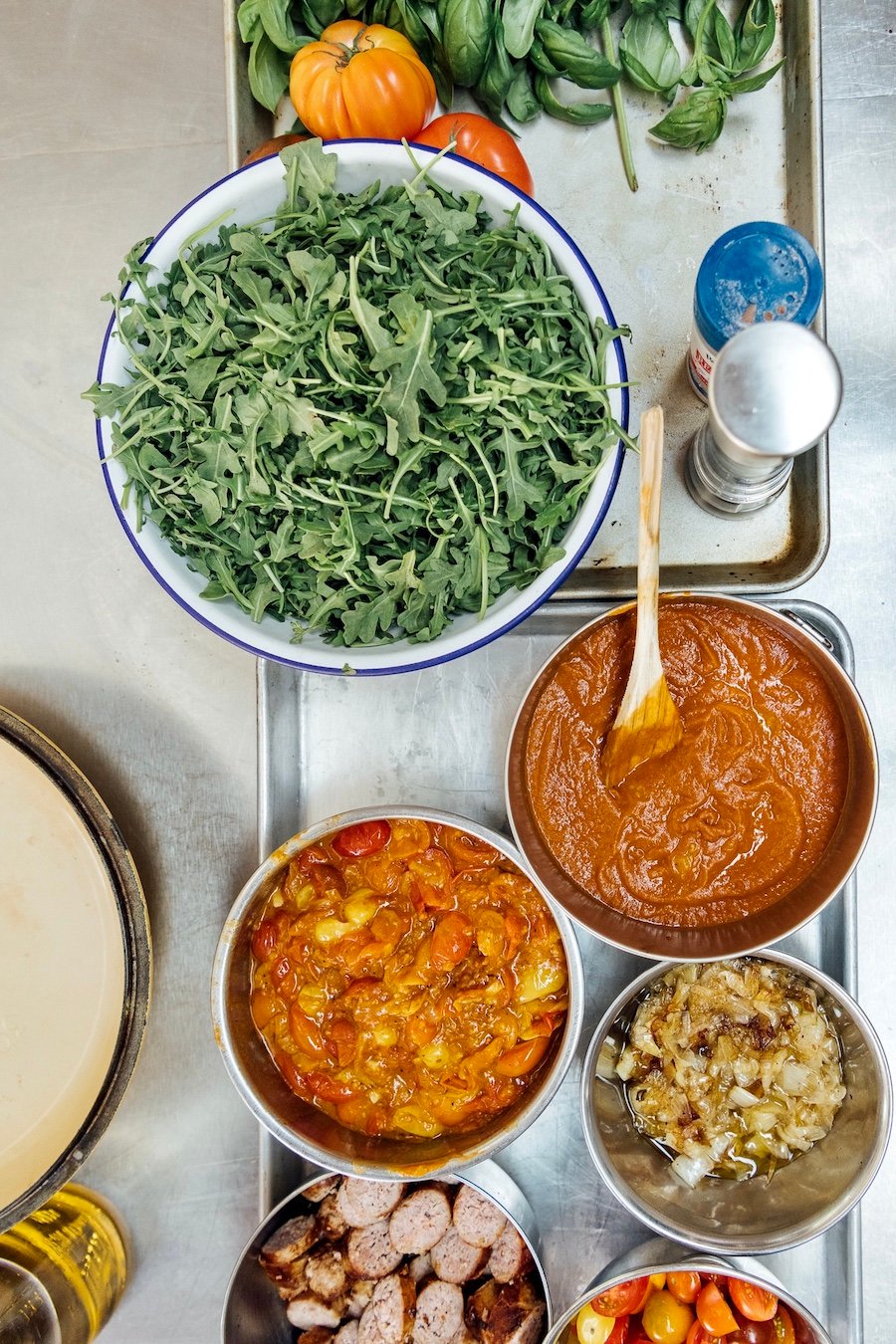 The Plumcot Farm Italian-Themed Dinner Party Menu
Wood-Fired Pizzas, to start:
Fig and Goat Cheese with Plumcot Farm honey
Fennel Sweet Italian Sausage (from Standing's Butchery) with Fennel Flowers
Prosciutto and Arugula
Served Family-Style at the Table:
Baked Italian Stuffed Pasta Shells (recipe below)
Kale Caesar Salad (recipe below)
Italian Chopped Salad
For Dessert:
Spumoni Ice Cream Cake (recipe below)

On cooking locally and seasonally…
Food is so central to what you do on the farm—what's your approach to cooking?
I love to cook and to entertain but gathering with friends and family is more important to me than having a perfect meal. I use very simple techniques in order to keep things low stress. The key to my approach is top-quality fresh ingredients grown with love here on the farm, or from other local growers and artisans. Sourcing is key to my cooking. Also, when I entertain, I design menus that allow for advanced prep and I am usually popping a baked dish in the oven when guests are arriving or I've stewed something in my instant pot.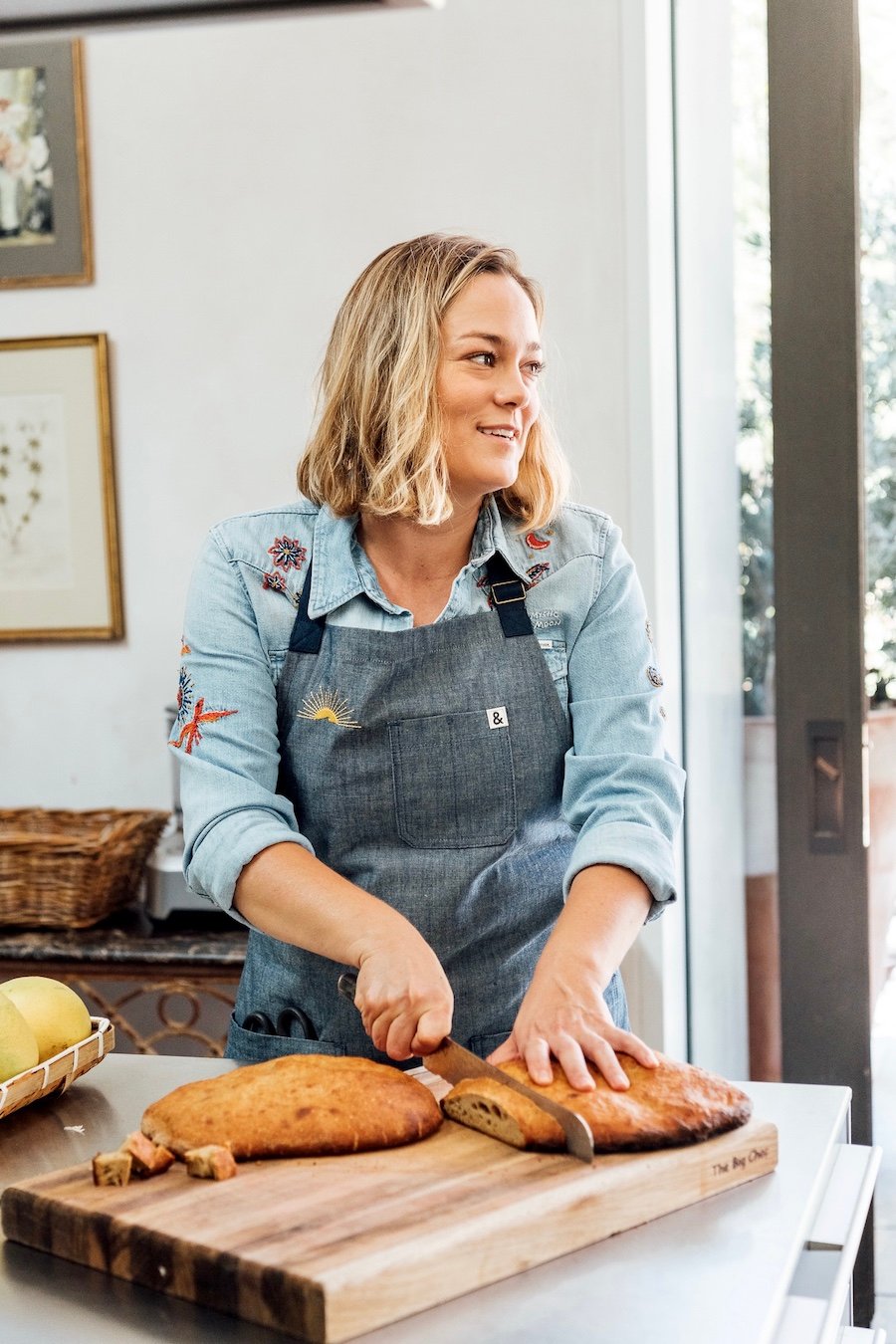 How did you learn to cook?
Everyone in my family loves to cook. My brother was a fine-dining chef in New York, however, he left the industry due to a lack of work/life balance. My mom grew up in Santa Fe, so her family's food culture centered around Hatch Green Chili and New Mexico Red Chili stews, as well as pinto beans. My dad is Canadian and was known to make potato sandwiches with the perfect char on the potato. My husband's father is Iranian and his mother is of Eastern European descent. Food is primal for both sides of the family and we celebrate all things with fantastic feasts of Persian stews like Khoresh Gheymeh and Ghormeh Sabzi, or latkes and homemade applesauce.
We have a very international kitchen and love trying new cuisine, especially when we can grow specialty herbs and vegetables to make things pop, like shiso leaf for homemade sushi!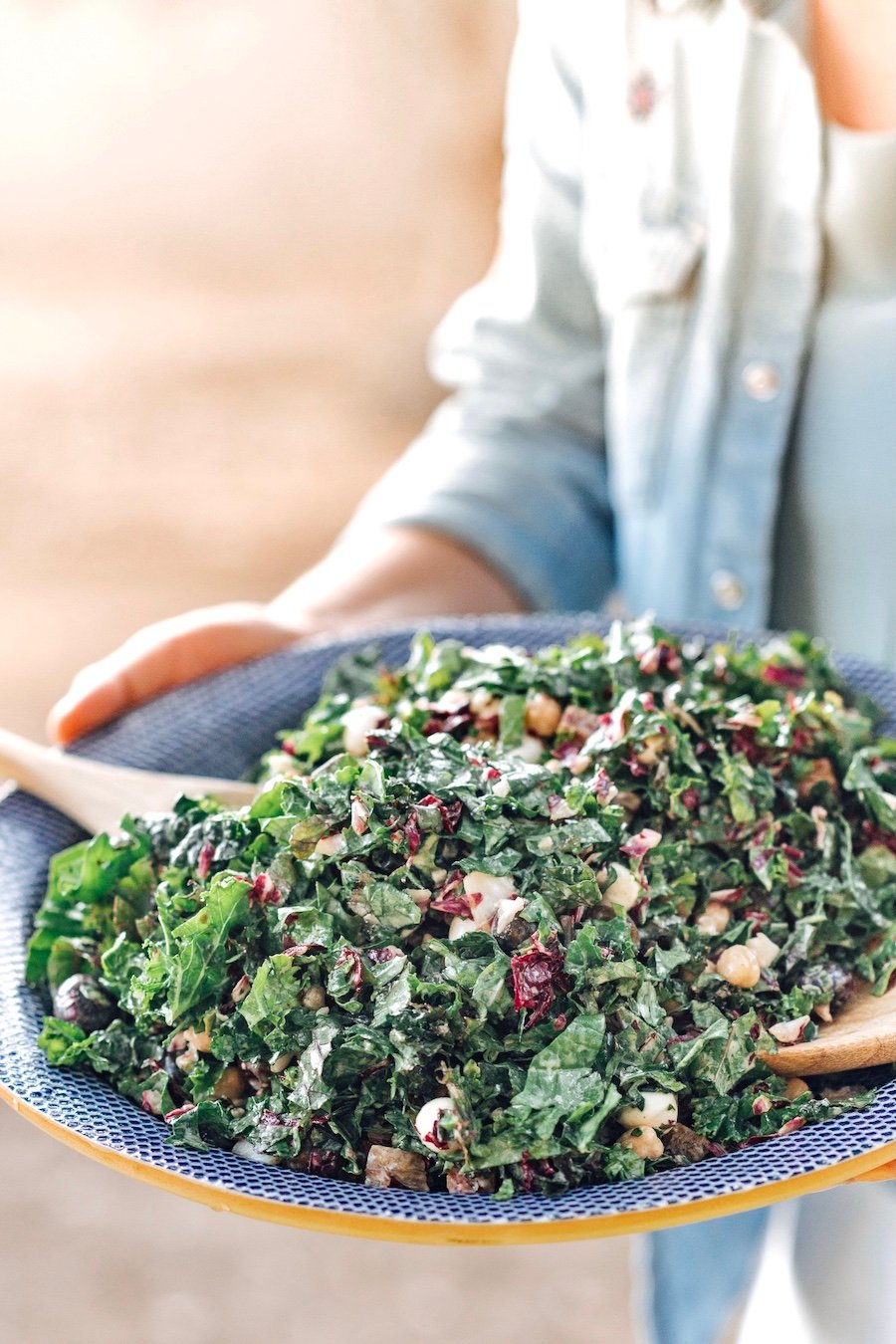 What's your must-have cooking tool and why?
My Le Creuset dutch ovens are everything to me, and the colors make me happy! I bake my sourdough bread in my red dutch oven and I use them daily for sautéing and stewing.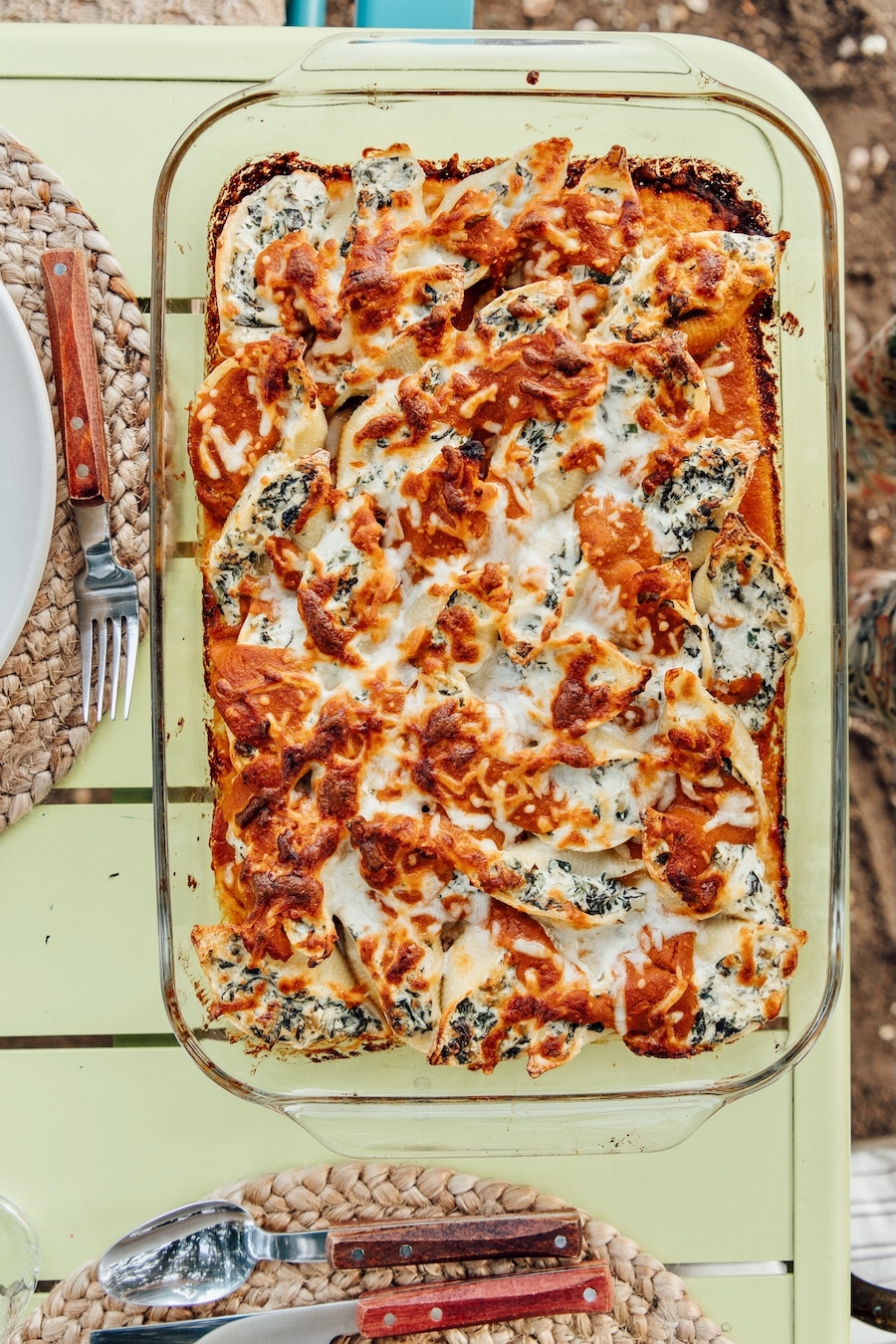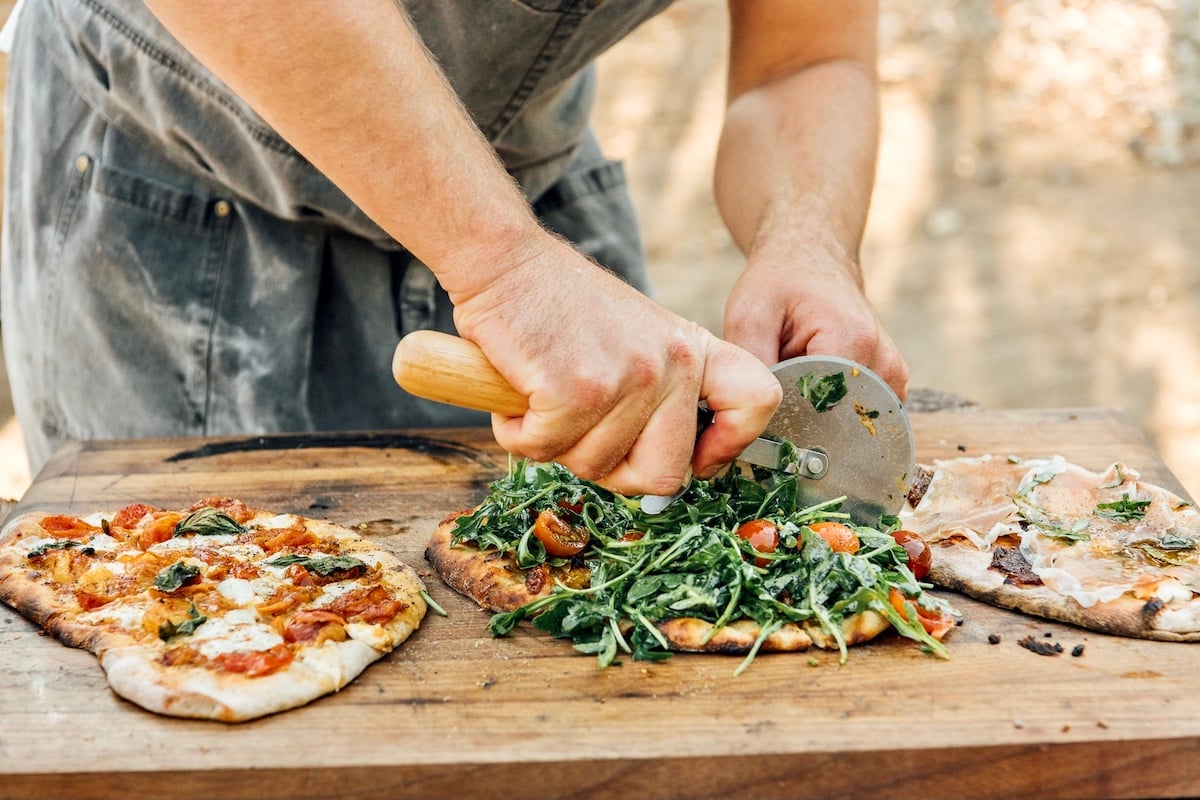 What are your favorite cookbooks?
I love Zahav by Michael Solomonov and La Buvette by Camille Fourmont and Kate Leahy. I also enjoy the magazine Cooks Illustrated for everyday recipe ideas.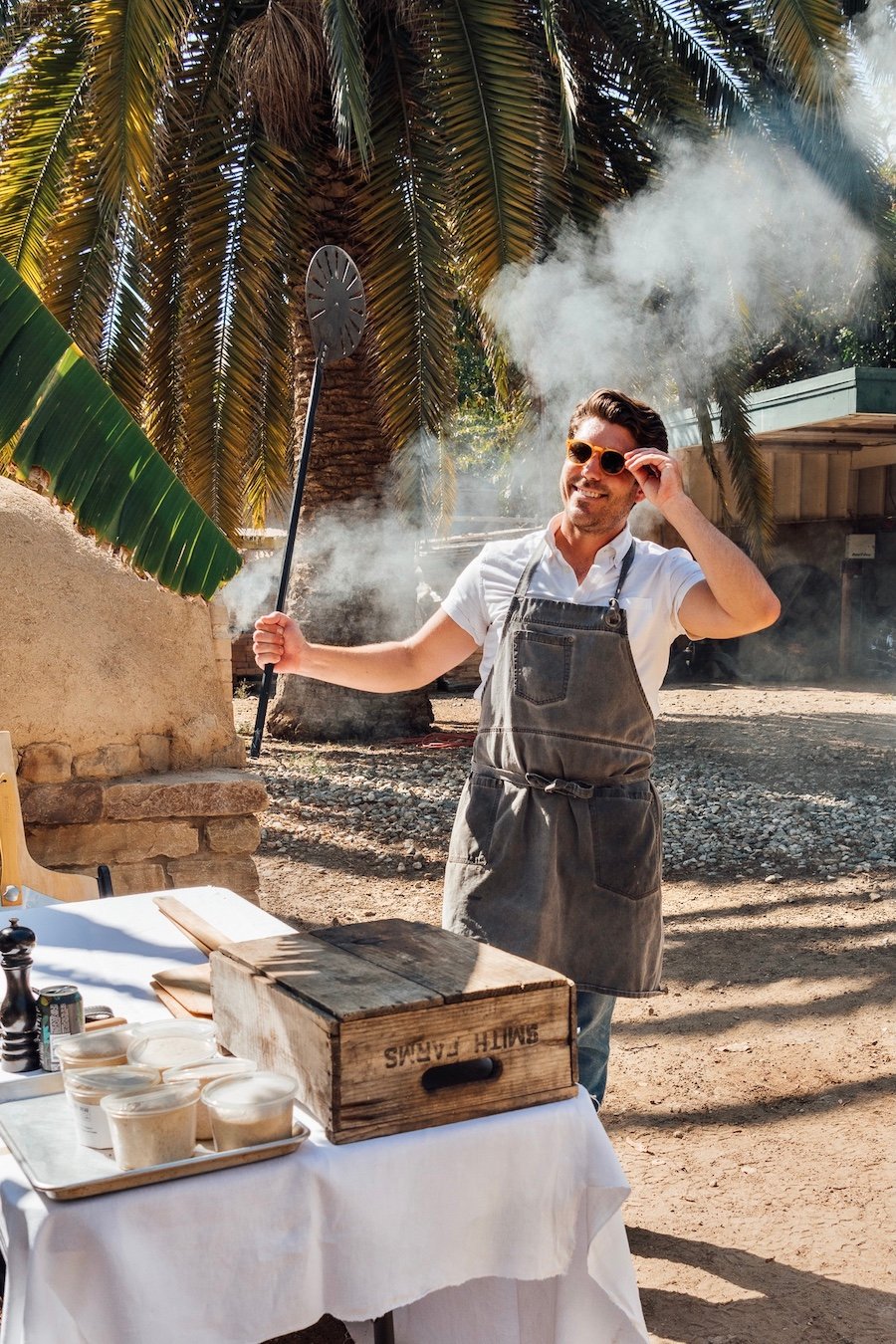 Alison's friend, filmmaker and chef Oliver English, fires up pizzas in the wood-burning oven.
Tell us a few things we'll always find in your refrigerator?
Fifteen kinds of hot sauce including Tapatio, sriracha, and our signature Plumcot Farm carrot habanero hot sauce
Seasonal fruit preserves like pomelo cardamom marmalade, Blenheim apricot, or loquat calamondin jam
Always Persian cucumbers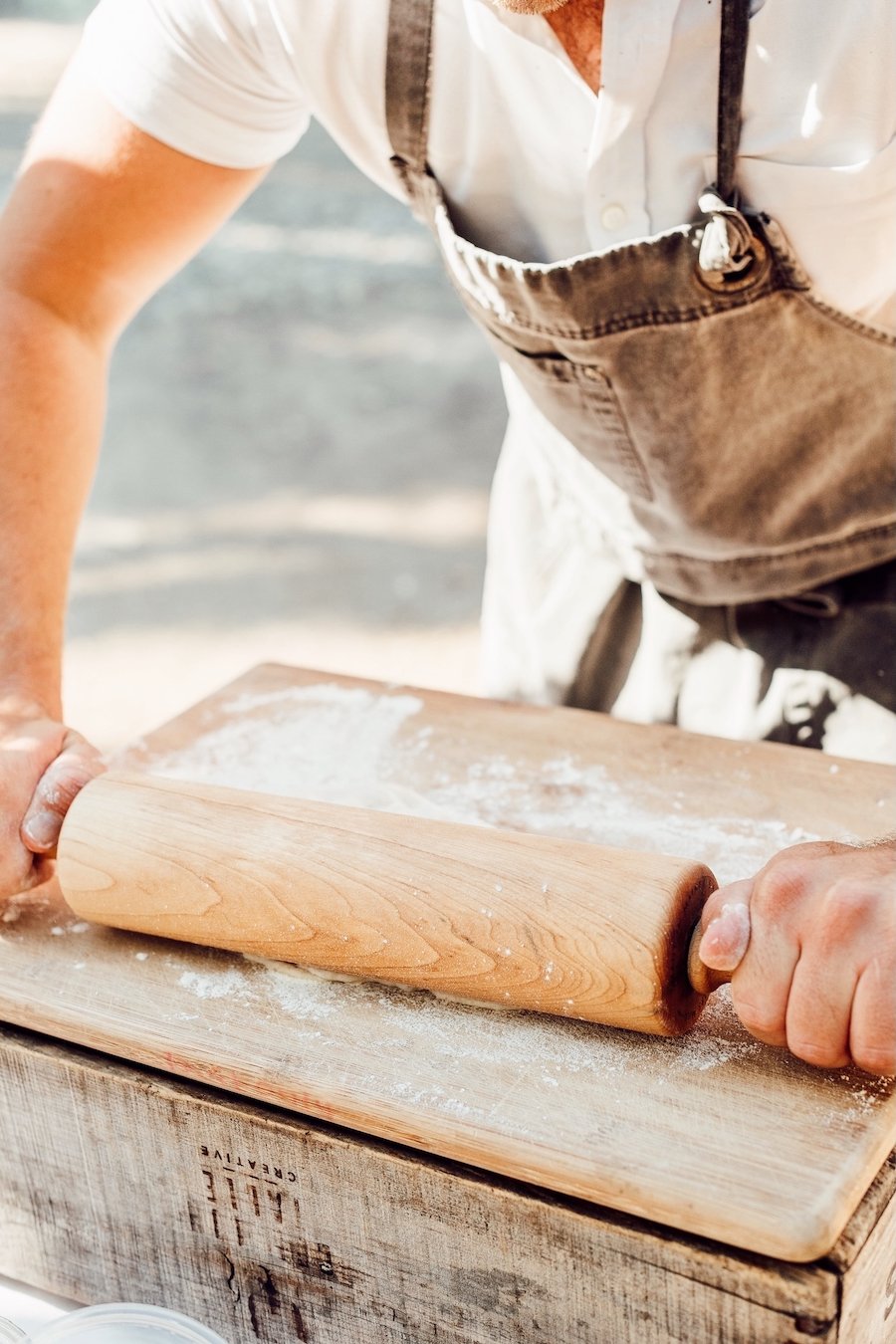 Your go-to weeknight meal to eat at home?
Chicken curry made with Sonoko Sakai's curry powder and garnished with loads of fresh cilantro and lime. This is always served with Koda Farms Organic Kokuho rice.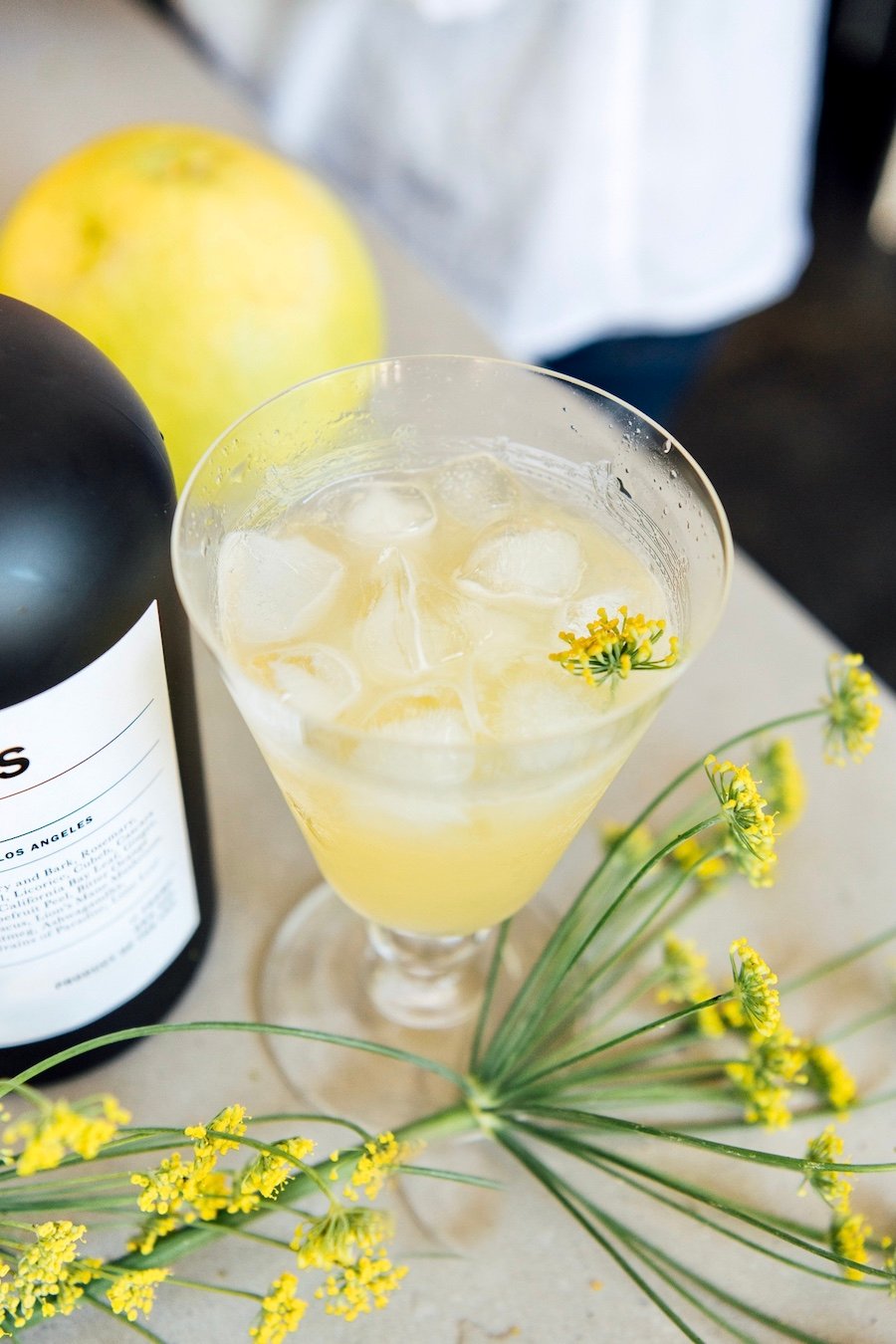 On hosting a gathering…
What are 3 things you love to incorporate into a table setting?
Atelier Saucier tabletop pieces
Candles from Le Feu De L'Eau + Edible Gardens LA
Your signature dishes for gatherings?
I love Mediterranean Mezze platters with either chicken kabobs or roasted leg of lamb in the earth ovens. Mediterranean menus accommodate vegetarian and carnivorous palates. The side dishes allow farm produce like summer eggplant to shine. I make hummus with Kandarian farms garbanzo beans and create Zaatar with fresh herbs from the farm. Syrian Oregano and multiple varieties of thyme grown in abundance here.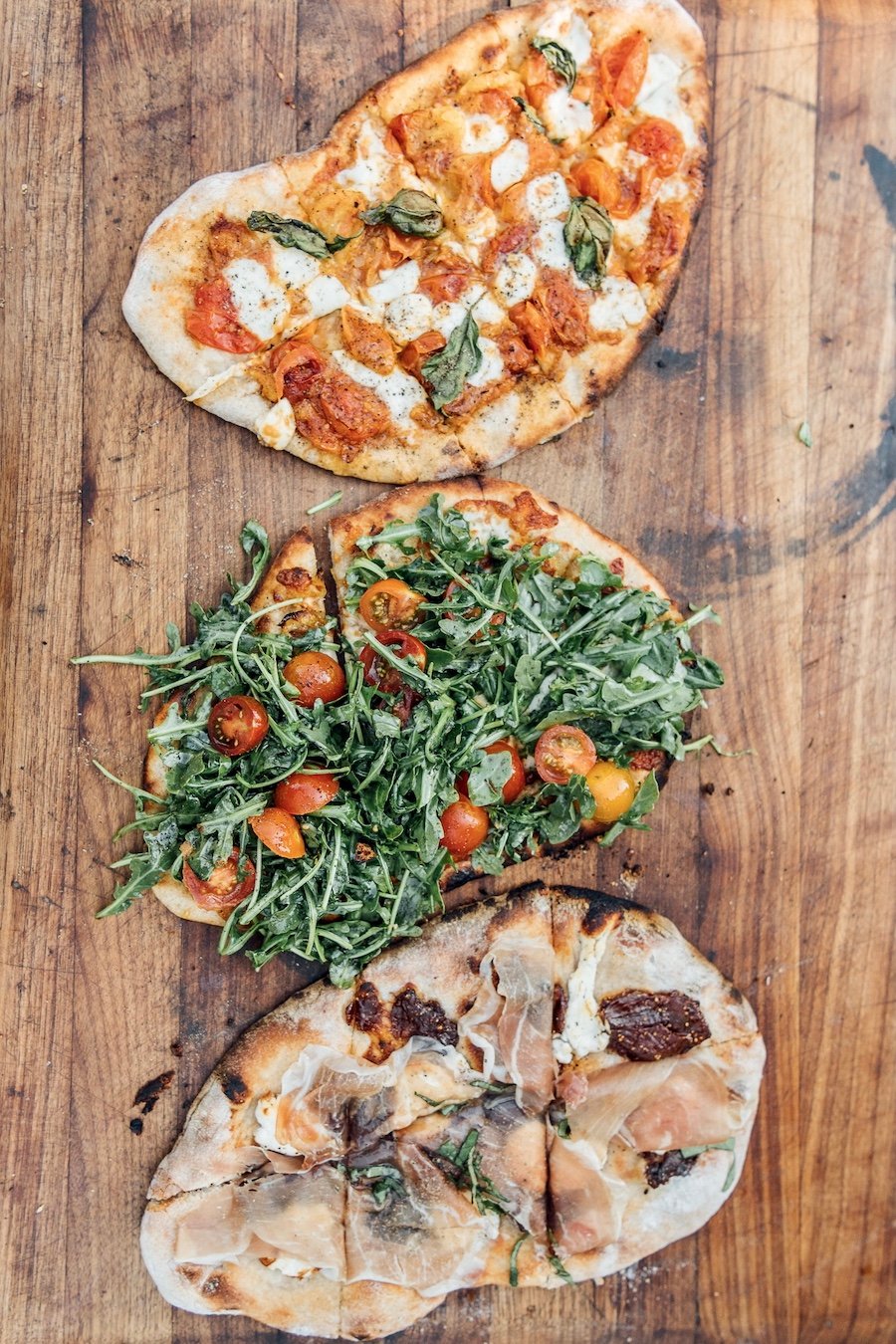 Favorite conversation starter or question to get to know someone:
What books are you reading, or what podcasts are you listening to at the moment?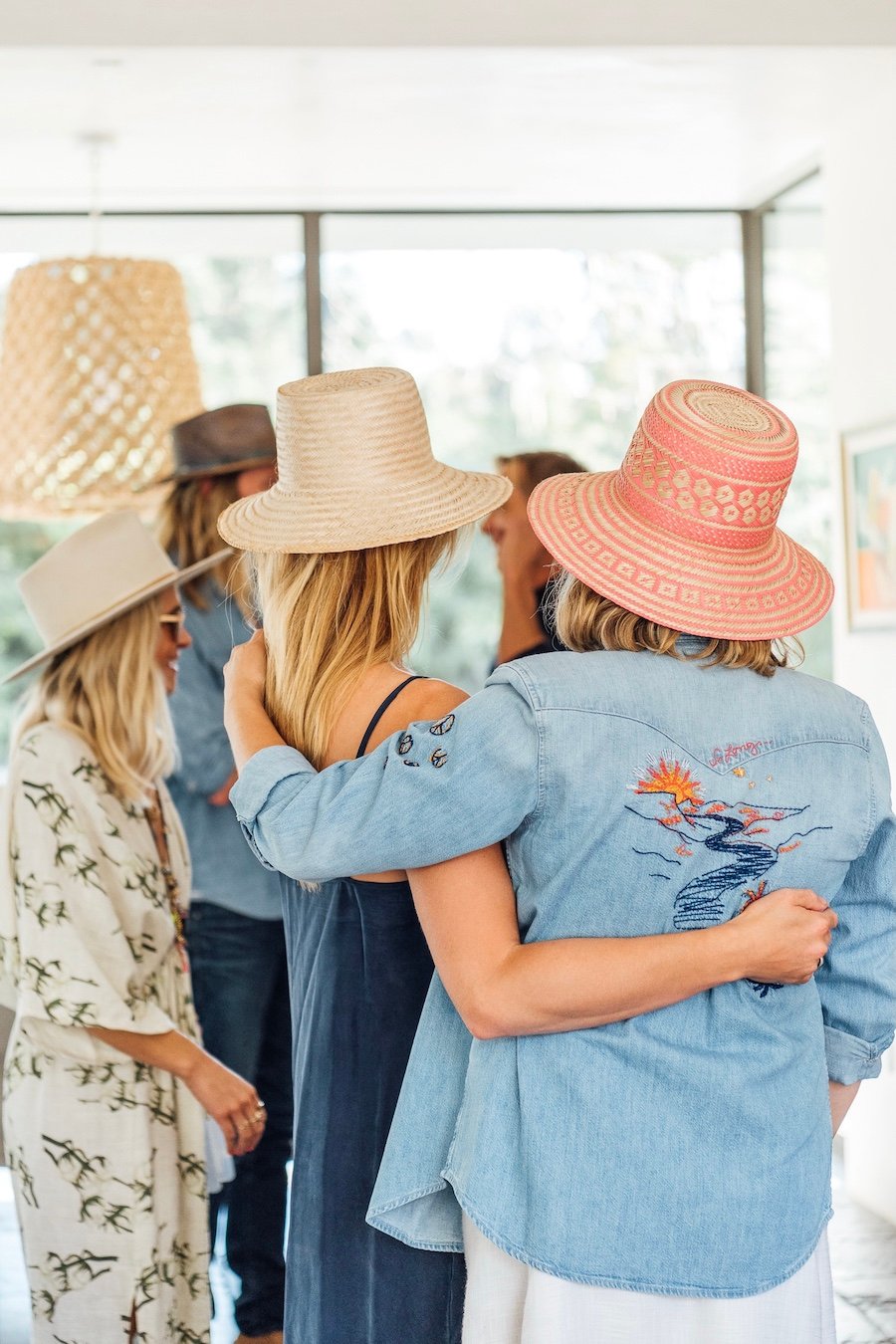 Guests don hats by one of the talented guests, designer Teressa Foglia.
The perfect dinner party playlist includes:
My eleven-year-old daughter Nellie, who plays piano but prefers drums, has started to create playlists. Her vibe is super mellow, with a mix of old and new. Her playlists are the perfect background dinner music and include artists like Fleetwood Mac and The War on Drugs. She inherited this skill from my dad who also creates stellar playlists.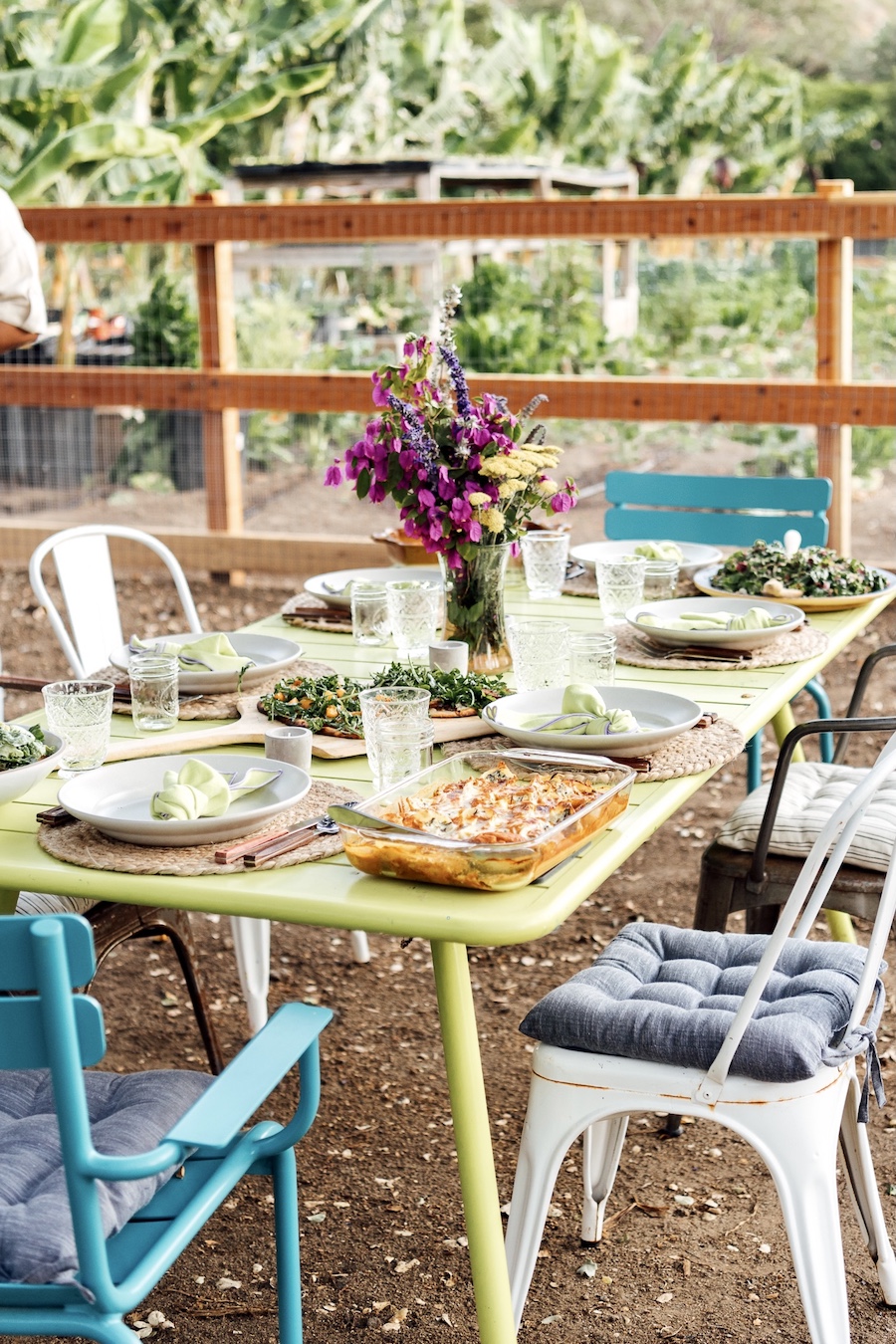 Go-to centerpiece solution:
Wildflower arrangements from the farm including poppies, zinnias, lilies, bougainvillea, Mexican Marigold, chamomile flowers, lavender, stems of purple sage, purple and white ceanothus, bougainvillea, and my favorite scent in the world, gardenias. Also, roses of course, and Dahlias when they're in season.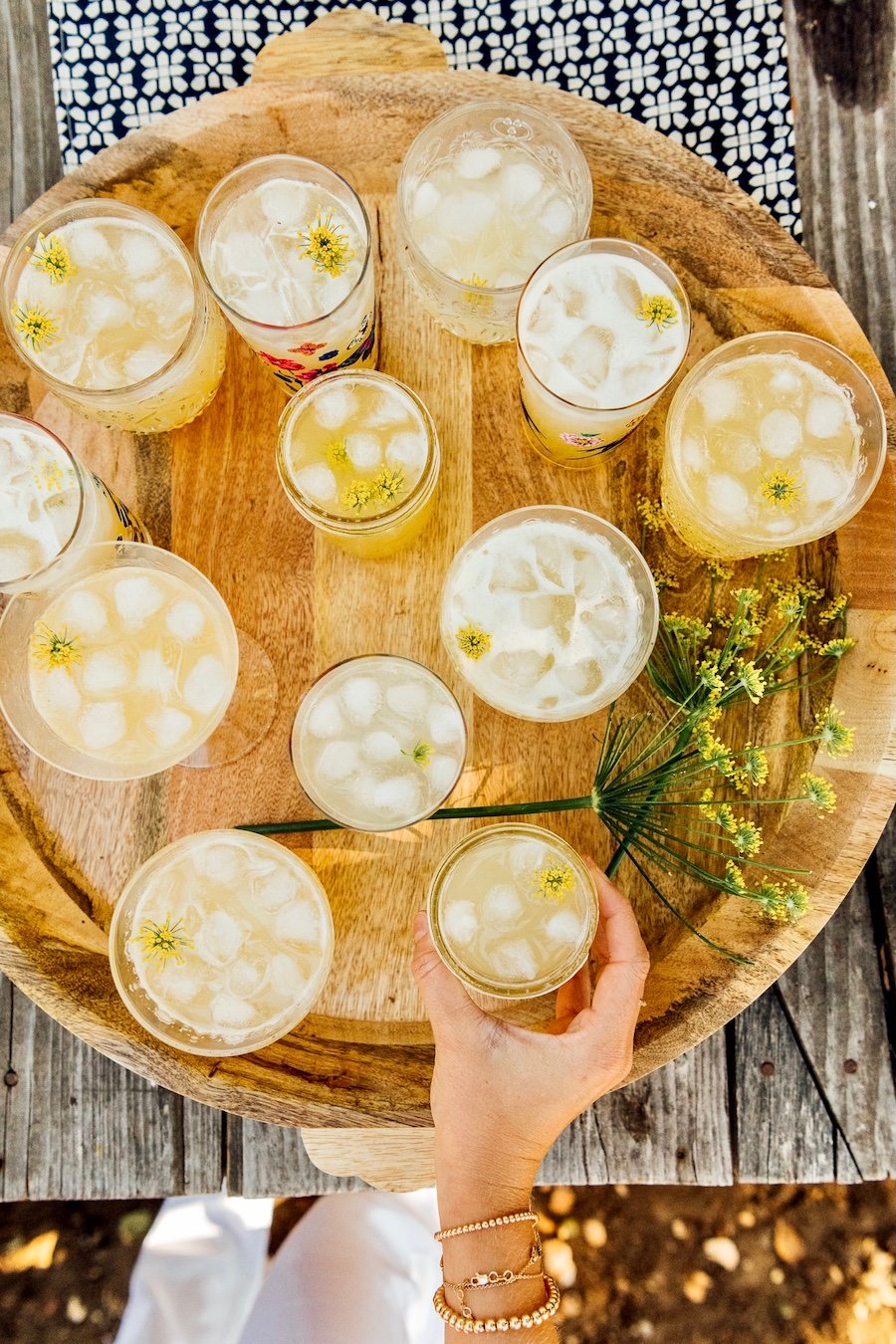 Alison served a cocktail made with Amass gin, pomelo, and Meyer lemon juice, sparkling water, and calamondin-infused agave simple syrup. Her guests pitched in to help get the ratios just right, then poured into a large-batch pitcher for the bar.
What is your no-stress party rule to live by?
Prepare everything in advance and plug and play when guests arrive. Design stations that allow guests to move through your space as the meal and evening unfold.
Also: invite people who aren't afraid to jump in and help with finishing touches, or bartending!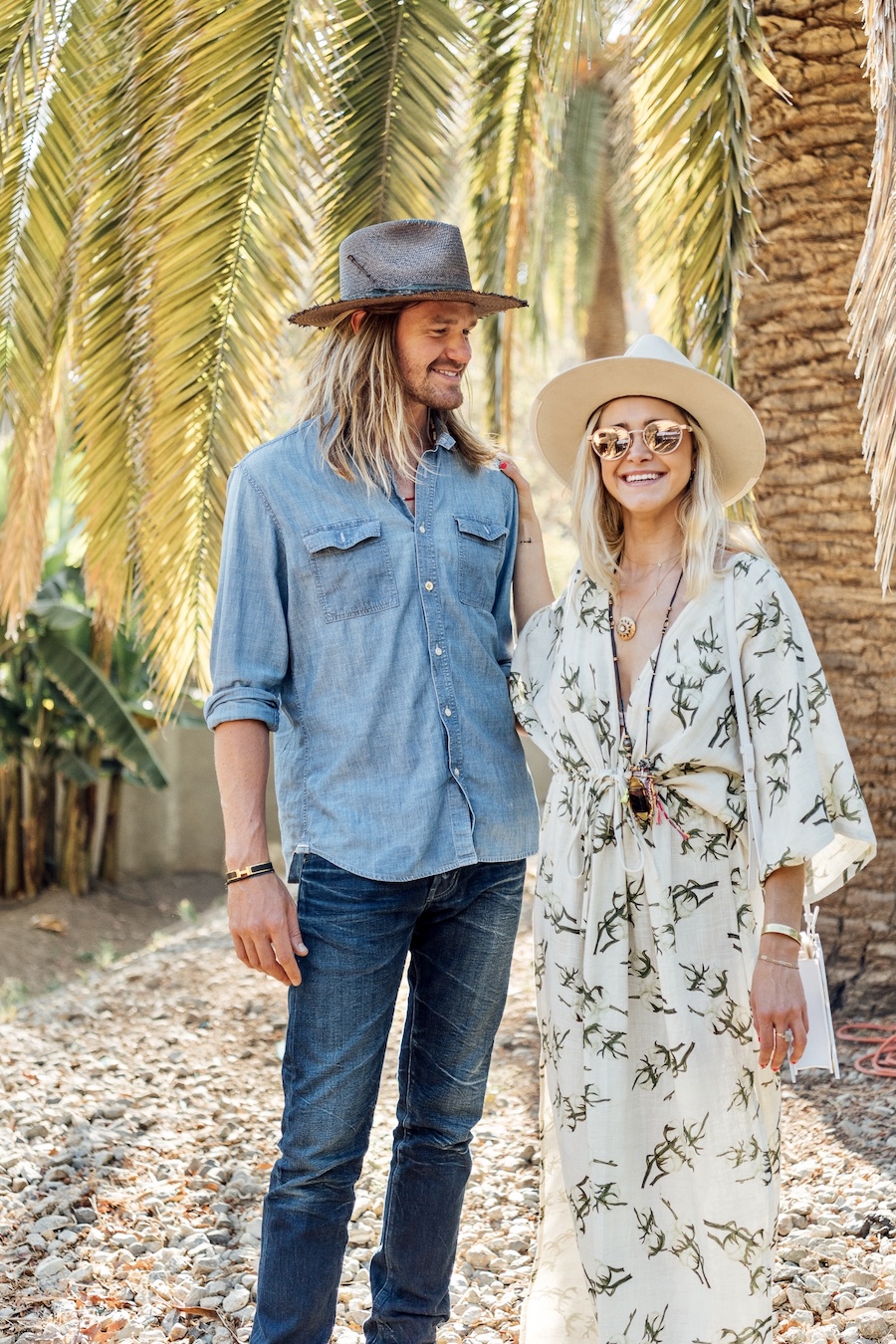 Dream dinner guests?
Wendell Berry: his words about farming and living have informed my understanding of the need to establish a sense of place, and a relationship with the land you are stewarding.
Ai Wei Wei: his art creates a tangible and visual way to experience and understand aspects of the human crisis that cannot be ignored. He reminds me that visual language often speaks louder than words. I would love to hear more about his experience making the documentary Human Flow.
Julia Child: a culinary legend but also a spy. The dichotomy of her profile is intriguing and her dynamic charism would surely be entertaining and memorable.
Alice Waters: she's an icon that brought seasonal farm-to-table California cuisine to the forefront with Chez Panisse, her cookbooks, and also her groundbreaking work with school garden programs.
These are my dream guests—but probably not all at once!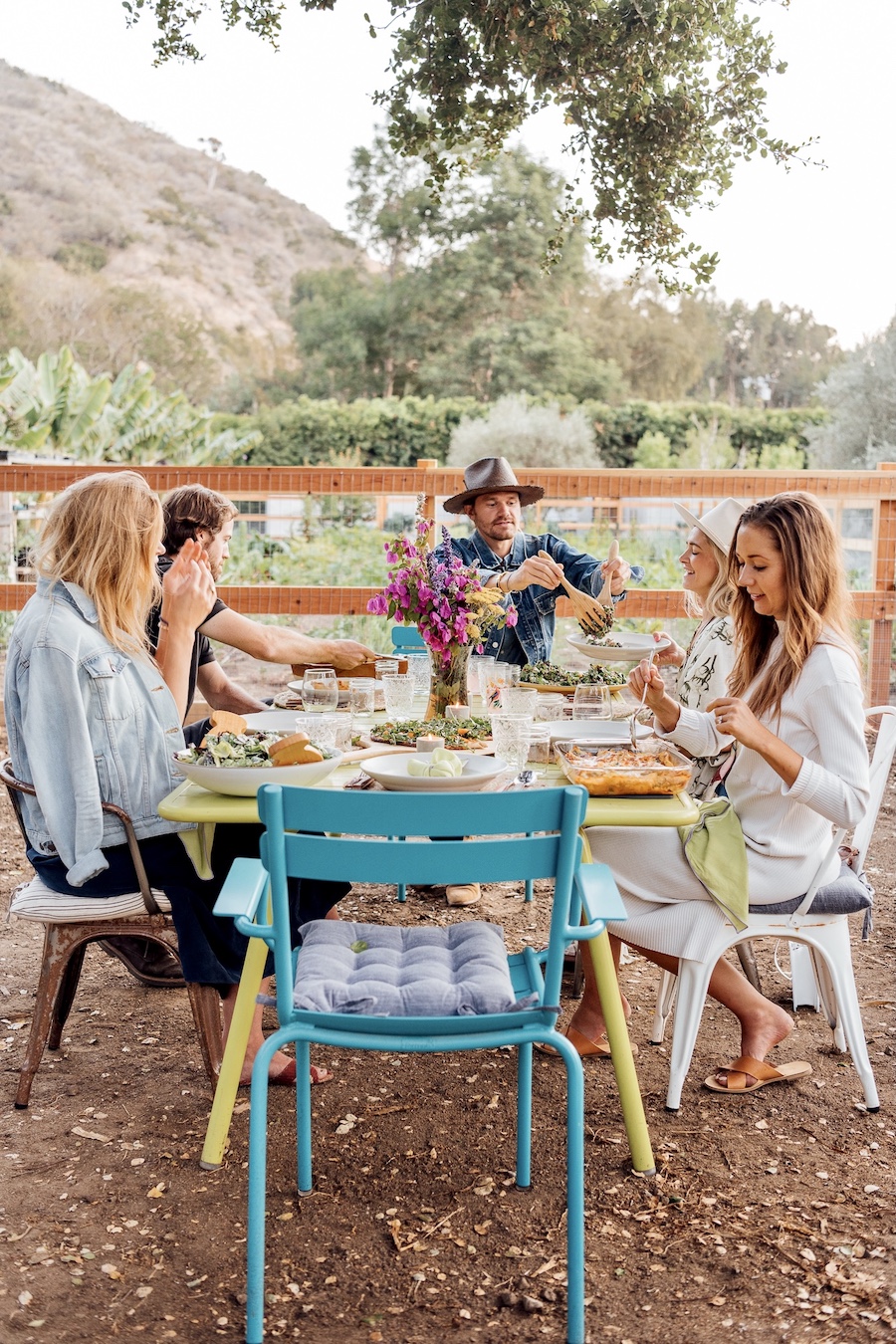 On how we can all live closer to nature…
What's a tip for someone who wants to plant an edible garden at home?
First, assess what resources are available to you. Do you have land in which you could focus on soil regeneration with cover cropping and compost? If not, do you have space where you could build raised beds, or wooden boxes to grow food in? Check out @victorygardenla to get some ideas. What about a sunny windowsill or an apartment balcony? Perhaps consider growing bags or pots. Do you have access to water? How much time do you have to care for your plants and crops?
Answering some of these questions will be helpful in determining where and how you can grow food in your space. From there you can start researching local nurseries and garden shops where you might source plant material and supplies like compost.
Here are some great books to get you started:
And these are some of my favorite sources for Non-GMO seeds: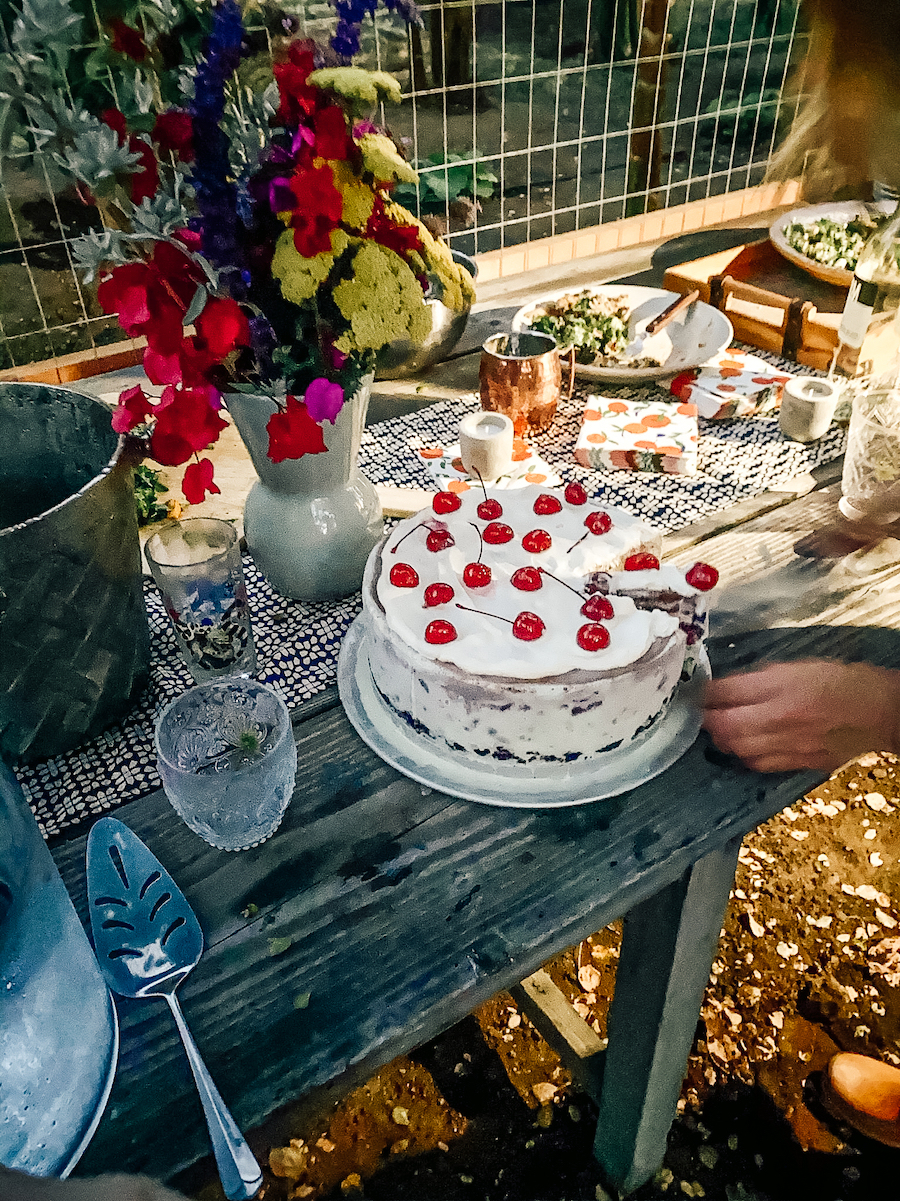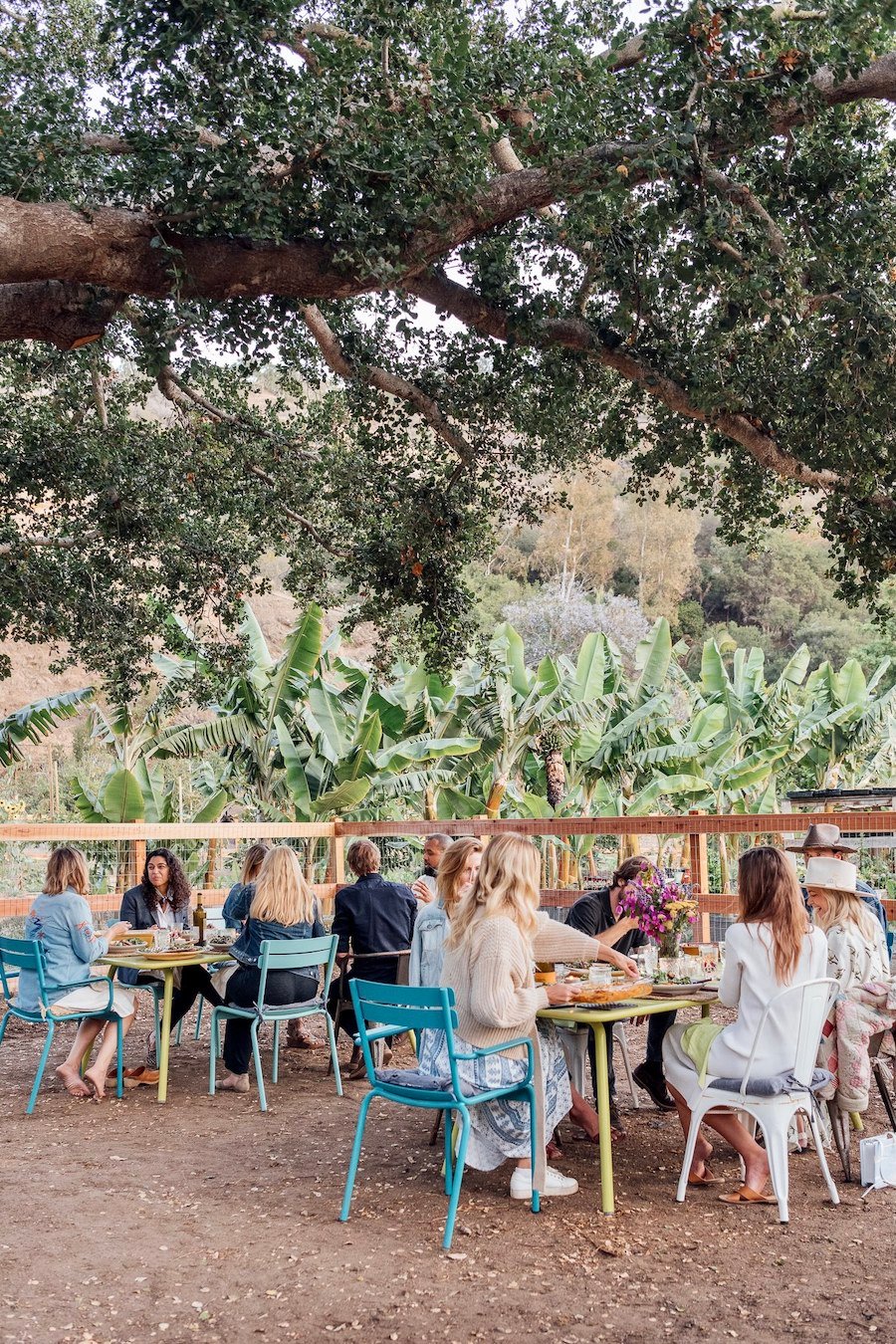 What's one simple way that families can experience more harmony with nature, even if they don't have access to a farm or forest every day?
Install a barn owl box in a tree or consider adding a beehive to your garden. Check out @hivetribe to learn more about urban beekeeping and @ojairaptorcenter to learn more about the important role of barn owls in a healthy and well-balanced ecosystem. Did you know that barn owls eat an estimated 1,000 rodents per year? Very helpful when you are trying to protect your veggie bed from critters.