Saying goodbye to summer is never easy, but seeking out fall's comfort dishes makes the transition something I can get excited about. When it's time to bid farewell to summer's crisp salads, I turn to my autumnal twist on a grain bowl that includes just as many delicious, seasonal veggies. Grain bowls, in general, are so versatile, and I try to be intentional with each component I add to the mix. For me, kale salads are always in rotation, no matter the season. Pair that with warm roasted vegetables like sweet potatoes, beets, cauliflower or broccoli, and toasted seeds like pepitas, hemp, or sesame seeds, and you have a recipe for YUM.
To keep things feeling fresh and interesting in this autumn grain bowl, I also add quick, pickled vegetables for a kick of crispness and a bit of zing. Often, I add veggies that have been living in my fridge for a little too long and need some love. For me, that's carrots and radishes. I also regularly pickle beets, cabbage, and cauliflower.
For this quick pickle brine, I heat the liquid to mellow out some of that vinegary punch. If you like a stronger vinegar taste, only heat the sugar, salt, and water together and add the vinegar cold. I also drop a few slices of hot chile peppers for a little spice, but that can be omitted. Consider adding whole spices like cumin or coriander, which create a lovely earthy and floral taste.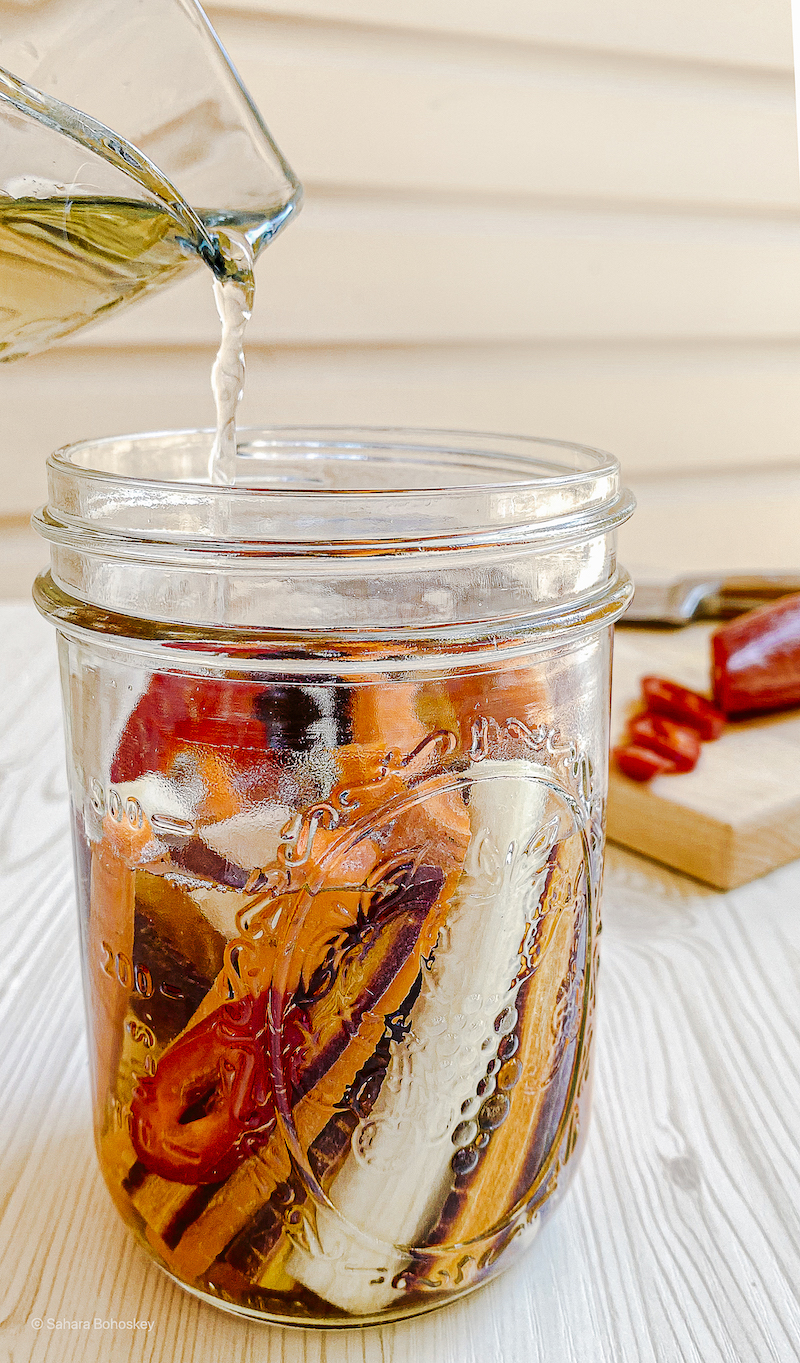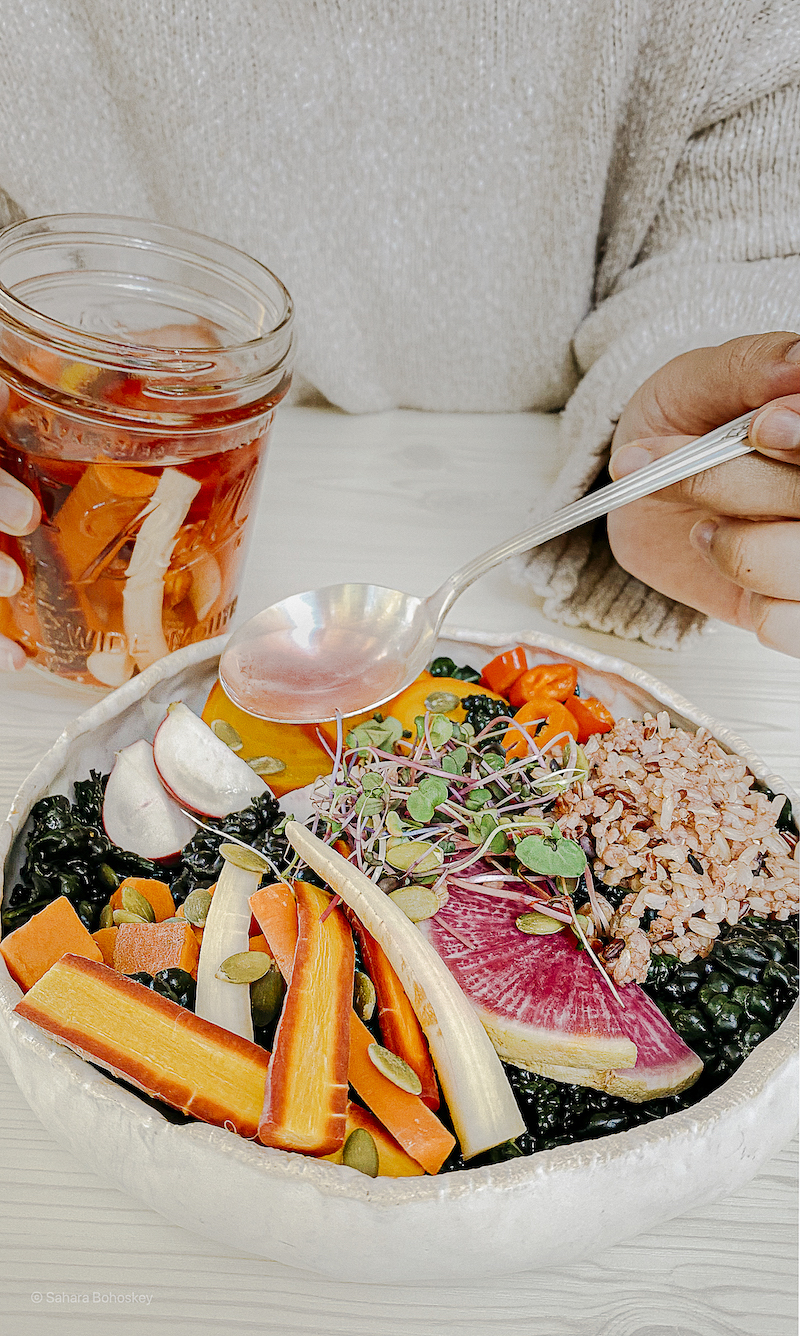 As a rule, I make my pickle brine with equal parts water to vinegar. The vinegar you choose is completely up to you, but I prefer champagne or rice vinegar, although white distilled or white wine is perfectly fine, too. To make the pickling experience more interesting, try toasting some whole spices such as cinnamon sticks, cloves, cumin, coriander seeds, or try juniper berries! Add chili peppers for heat and a slice of red beets to naturally dye your pickles the loveliest shade of fuschia. When it comes to pickling, the world is truly your oyster. Get the recipe for this Autumn Grain Bowl With Quick Pickled Vegetables below.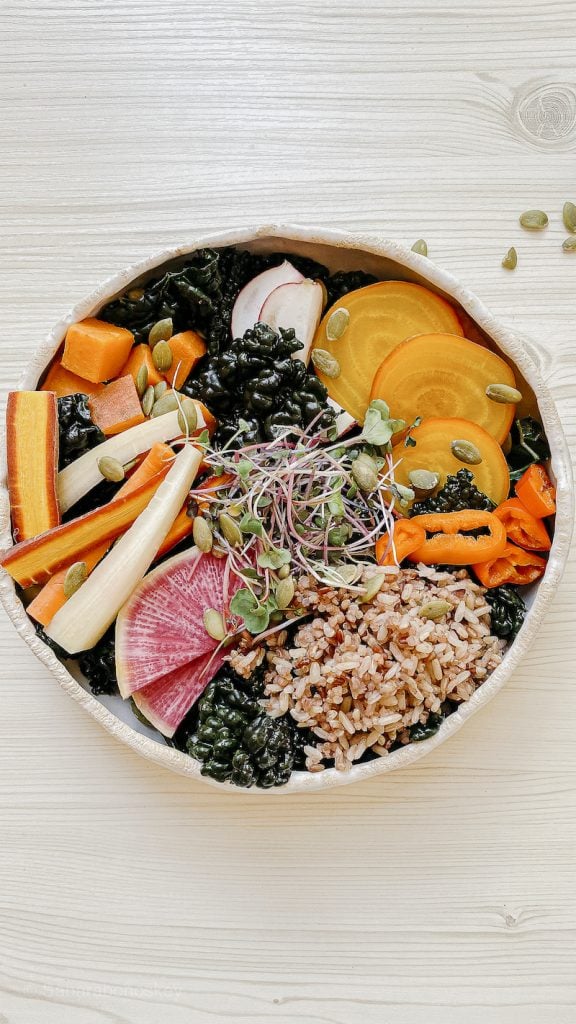 Autumn Grain Bowl with Quick Pickled Vegetables
Serves 1 bowl
This grain bowl is the perfect meal to utilize fall's best produce. Plus, this is a great technique to get quick pickled vegetables.
---

Ingredients
For the Grain Bowl
1-2 medium golden beets

1 small sweet potato

3-4 small bell peppers, sliced

1 cup brown rice, tri-color quinoa or bulgur, cooked according to package directions

1 bunch tuscan kale or leafy green of choice, i.e. swiss chard, collard greens or spinach

Homemade quick pickles (see below)

1 tablespoon pepitas, toasted, or seeds of choice

1 tablespoon olive oil

Microgreens, optional

Freshly cracked black pepper and salt to taste
For the quick pickle
½ pound carrots, cut into batons

½ pound radish of choice, i.e. red, french breakfast or daikon radishes, sliced

3-4 slices chili pepper

2 cups filtered water

2 cups champagne, white wine or apple cider vinegar

2 tablespoons granulated sugar

1 teaspoon salt

1 quart non reactive air tight container, such as a glass tupperware or mason jar
---
Instructions
Preheat oven to 350 degree fahrenheit. On a sheet tray, cut beets and sweet potatoes to equal size. Season with salt and pepper and a light drizzle of olive oil. Toss and bake for 30-35 minutes or until fork tender.

Meanwhile make quick pickles. 

In a small saucepan over medium low heat, heat water, vinegar, sugar and salt until sugar and salt are dissolved about 5 minutes. Let mixture cool slightly and pour over prepared carrots and radishes in a non reactive container. Set aside.

In a medium bowl, tear kale off fibrous stem into bite sized pieces, drizzle salt and teaspoon of olive oil and massage until the leaves are soft.

Add kale, roasted vegetables, pickles, peppers, pepitas, microgreens to a bowl. Dress with two teaspoons of pickling liquid, a drizzle of olive oil and season with black pepper and salt to taste.