Many of my core memories involve a big stack of pancakes slathered in butter and drowned in syrup. My dad considers himself a pancake connoisseur, and would carefully mix the batter, evenly distribute the chocolate chips, and perfectly flip each pancake. I, on the other hand, am known to take more of a freeform approach. You'll catch me in the kitchen eyeballing the batter, impatiently peeking under the pancakes, and loading each with so many blueberries they turn completely blue. (Seriously.) But when it comes to this ultimate breakfast of champions, there's one thing my dad and I can agree on. And that is the holy grail of weekend brunch: the best pancake mix for easy, breezy breakfasts.
To do my Saturday morning staple justice, I sought to proclaim the best pancake mix once and for all. Yes, I know that DIY-ing pancake mix at home is incredibly easy. But when it comes to cooking in the AM, I'm of the opinion that the simpler, faster, and more convenient, the better. It's those criteria that make pancake mix the ultimate morning hack (and why this taste-off might just be one of my favorite ones to date).
Ahead, get the low-down on our quest to find the best pancake mix—hot takes and spirited debates, included.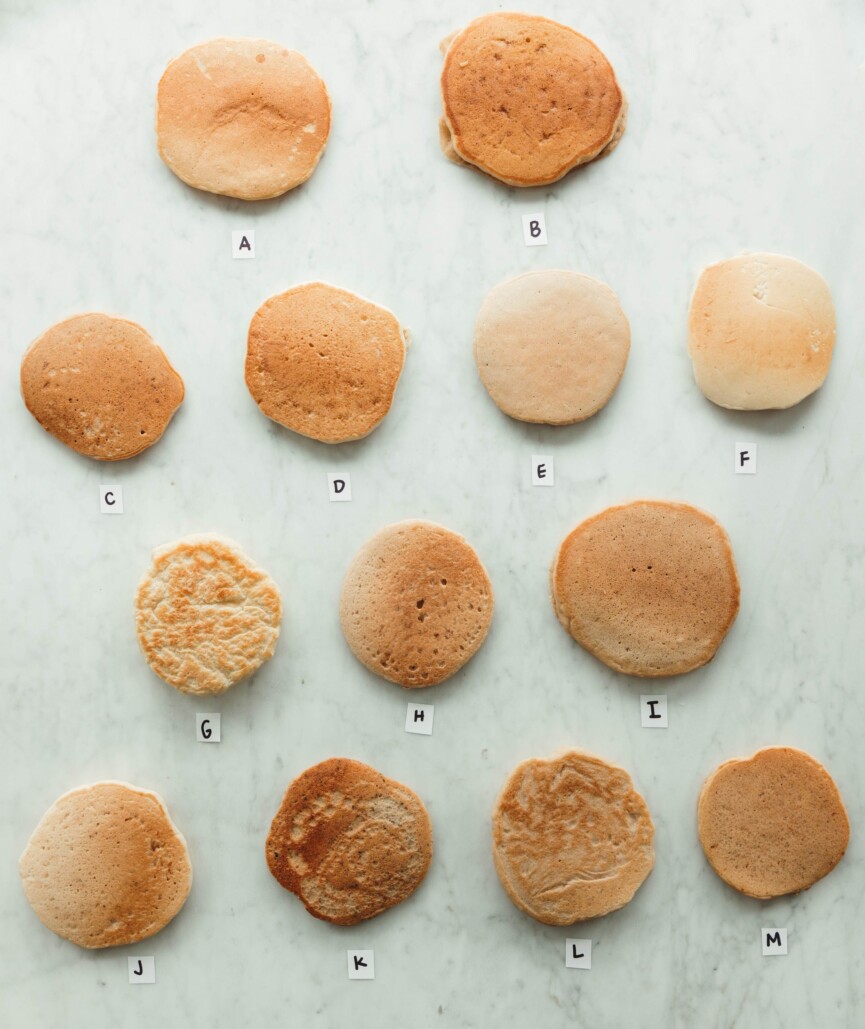 Ranking Guidelines
Turns out, people have strong opinions about what makes a superior pancake. Between our 12 taste-testers, some common factors stood out in what determined the perfect pancake and our title of best pancake mix.
Flavor. We didn't know how to describe it, but pancakes have a certain flavor. Outside of the maple syrup that coats them, pancakes taste… pancake-y. We were looking for a slightly sweet, slightly neutral pancake that tasted just as good on its own as it did with maple syrup. We didn't want the pancakes to taste too savory or bland or too much like dough.
Texture. Our group agreed that a fluffy, light pancake was a favorite—not too dense and not too chewy. We were looking for the ultimate, mile-high pancakes.
Ease of Use. While some pancake mixes tout the 'only add water' callout, we also tested batters that asked for eggs, oil, and water. Additional ingredients were noted if they made a difference in the resulting pancake. For example, is measuring out milk or oil and needing to wash an extra spoon worth it to make a better pancake?
Good Pancake Test. Do the resulting pancakes stack well? Are they a solid base for an abundance of maple syrup? Would we consider these pancakes the ultimate breakfast?
Testing Process
The process of making 13 different pancake batters differed slightly from previous taste-offs in that pancakes obviously need to be made fresh. The pancakes were all made the same morning and on the same griddle at the same temperature. Pancakes made earlier in the cooking process were kept in a warmer and all pancakes were eaten warm and at room temperature with and without maple syrup.
With that, keep scrolling to find out the winner of the best pancake mix taste-off!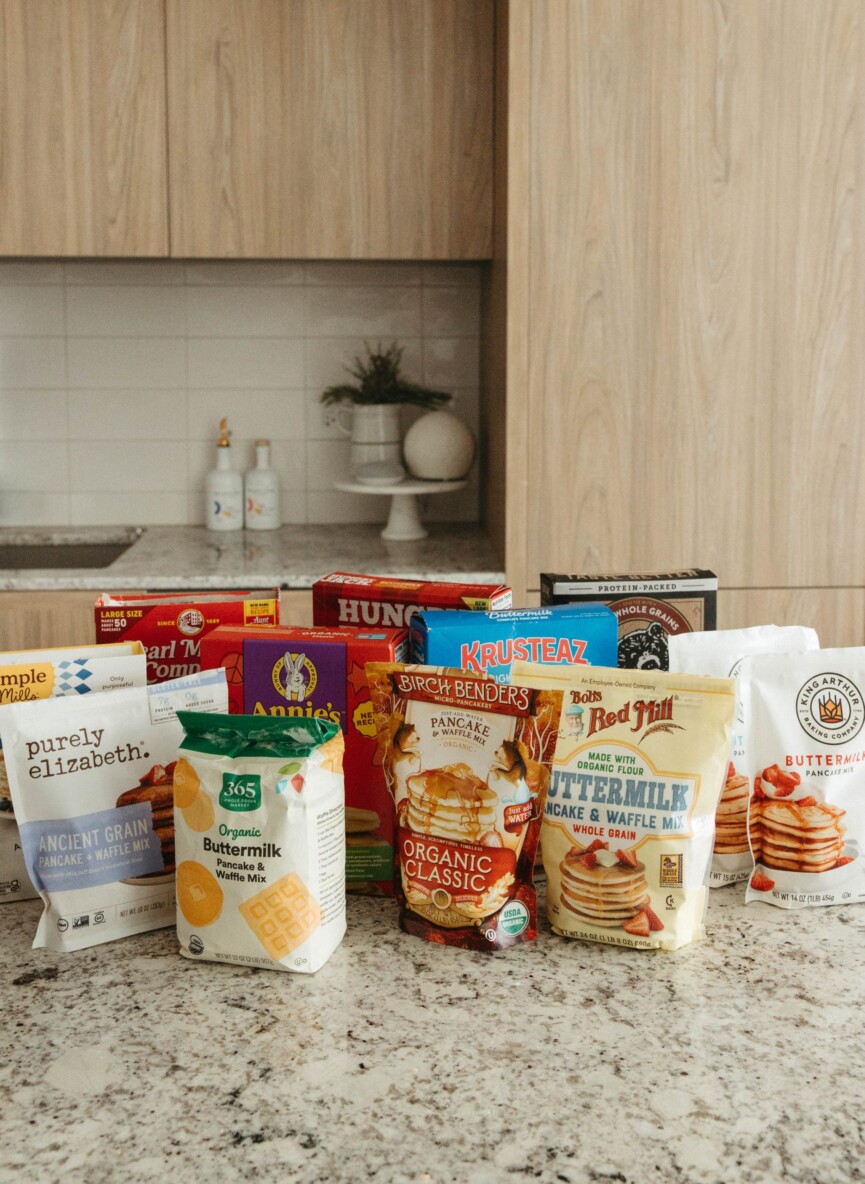 The Best Pancake Mixes, Ranked
13. Whole Foods 365 Organic Buttermilk Pancake and Waffle Mix
"G looks like she was having a moment, is she okay?"
"Why does this pancake look like a biscuit?"
While we are 99.9% sure that we followed the directions on this mix correctly, this pancake obviously looks like the furthest thing from a pancake, and instead came out very glutenous and bready. We are axeing this one from the ranking purely because we don't know how we ended up with a hockey puck. Ooops.
12. Birch Benders Classic Pancakes
While the texture on this one was fine if not a bit rubbery, we weren't a big fan of the flavor. There was just something that, when compared to the others, we couldn't put our finger on. Plus, we wanted fluffy AF pancakes. It was a pass for our tasters.
11. Annie's Organic Pancake and Waffle Mix
"She's looking like she hasn't seen the sun in a while."
These pancakes did not pull a lot of color while cooking on the griddle and came off a bit pale compared to the others. In addition, we thought the flavor was on the bland side while the texture was a little tough. But when dipped in maple syrup, we didn't mind this one.
10. Purely Elizabeth Ancient Grain Pancake and Waffle Mix, Gluten Free
"This is the definition of a health pancake."
We actually liked these pancakes on their own. They have a bit of a coarser and more grainy texture thanks to the batter's seeds and grains. The flavor was also slightly on the savory side. Overall, this is a good, health-focused option if that's your pancake priority.
Note: We tried this with an egg and without an egg for the vegan option. In terms of texture and taste, we preferred the former preparation method.
9. Kodiak Cakes Buttermilk Power Cakes
Many of us had actually had Kodiak Cakes before and are big fans of the protein-packed breakfast. When tasted back-to-back with other mixes though, you can definitely detect the difference that whole-wheat flour makes. As a result, testers noted that this tastes "healthy." The flavor isn't bad, just a bit one-note. We'll always have some Kodiak Cakes on hand to pair with peanut butter and blueberries for a power breakfast, but they didn't tick the box for the ultimate fluffy pancake.
Note: We also found with this mix that using an egg made these much fluffier, and we'll be adding an egg to this mix in the future when cooking.
8. Pearl Milling Company Buttermilk Complete Pancake Mix
A classic pancake that many of us grew up with. The texture was very soft and fluffy, but we ranked this one in the middle with the flavor leaning a little bland. However, with some salted butter and lots of maple syrup, we'd be on board.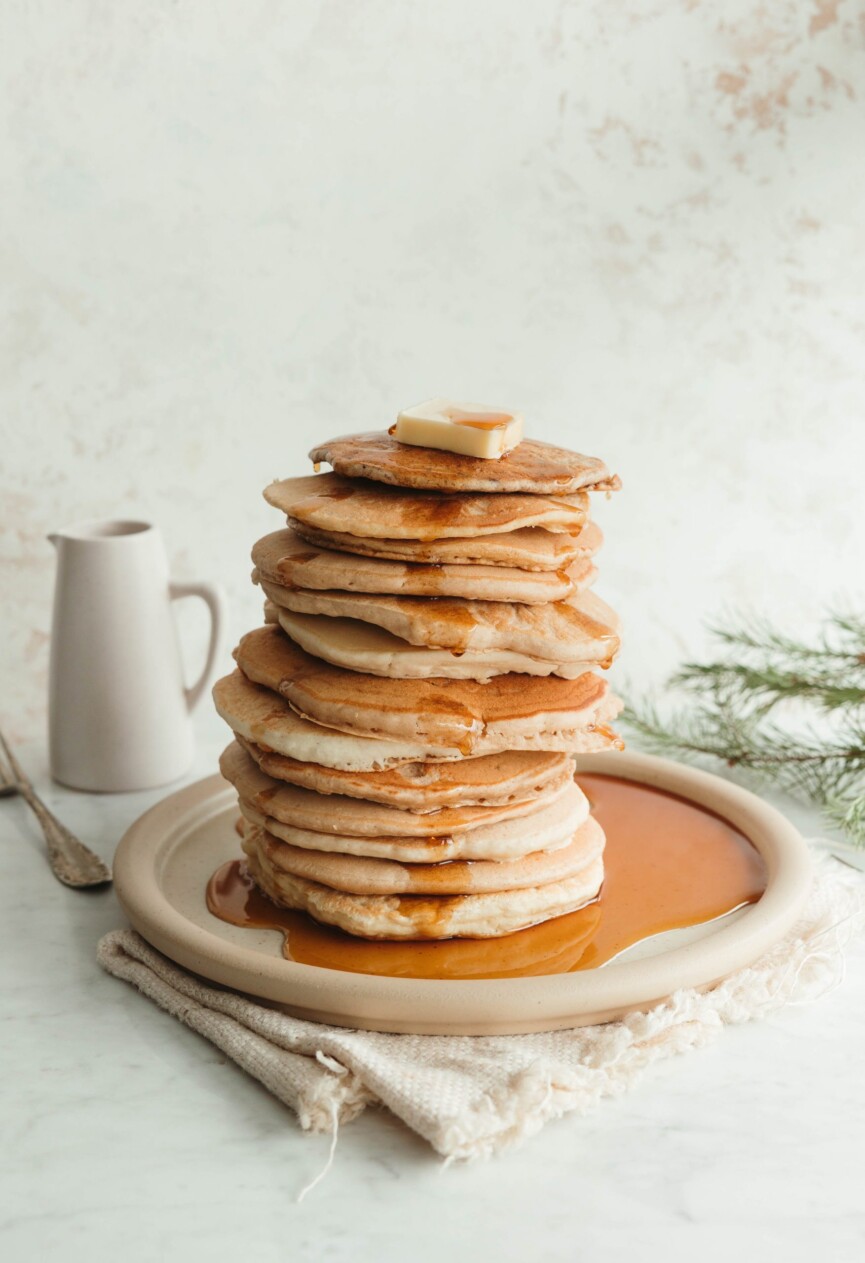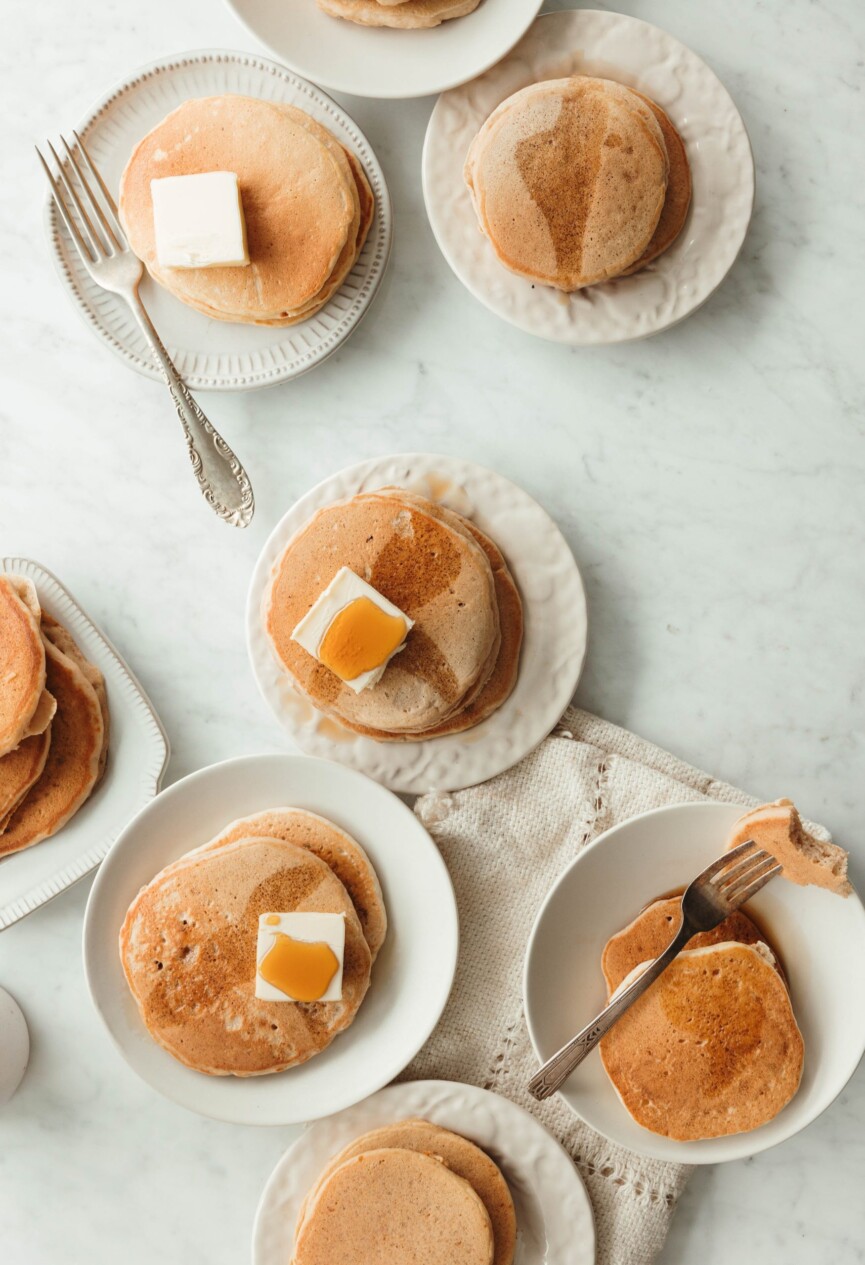 7. Bisquick Original Pancake and Baking Mix
"This tastes like a pancake." Nothing more, nothing less—and that about sums it up.
6. King Arthur Buttermilk Pancake Mix
While these pancakes didn't pick up a lot of color and we wondered if we should have cooked them longer the next time, they had a soft and fluffy texture. Tasters noted that these pancakes had a slight maple undertone as well. Overall, we liked these but would cook them on a higher heat for a bit more color.
5. Simple Mills Almond Flour Pancake & Waffle Mix, Gluten Free
"You're telling me this is gluten-free? Like, there's no gluten in this?"
"I'm surprised this is a health pancake."
Simple Mills was a sleeper hit with our taste-testing group. I'll admit, I was shocked that a health-marketed pancake mix could taste as good as this one did. The texture was extremely soft, though we wished it would have gotten a little more rise. The flavor tasted slightly adjacent to a pancake, but it was good enough that we didn't mind. Truly, if we didn't know, we might not have guessed that it was gluten-free.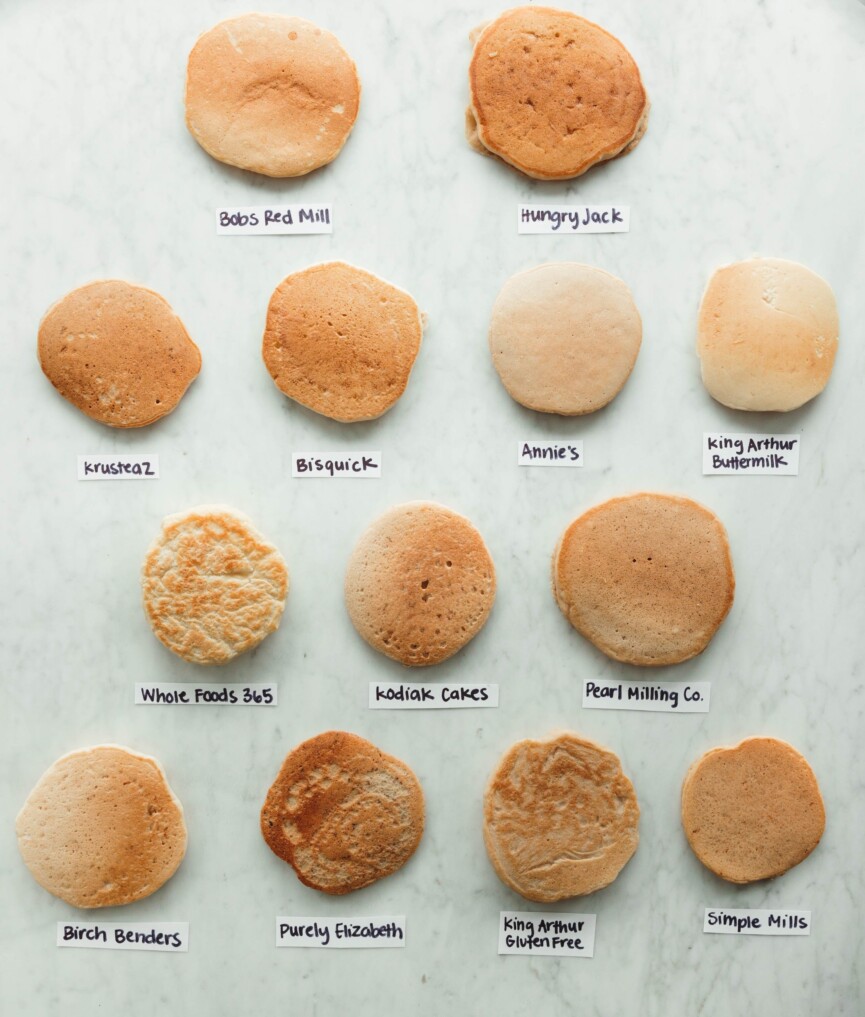 4. King Arthur Gluten-Free Pancake Mix
Another surprise gluten-free hit. Having tasted this one back-to-back with the regular buttermilk pancake mix from King Arthur, we were surprised to like the gluten-free one more. We truly couldn't tell one was gluten-free over the other. These pancakes had a nice little bounce to them and the texture kept us coming back even though some noted that the pancake on its own was slightly less flavorful than its buttermilk counterpart. Overall though, we were impressed.
3. Bob's Red Mill Buttermilk Pancake and Waffle Mix
"This tastes really pancake-y?"
Bob created a slightly neutral but very pancake-flavored pancake. If you get it, you get it. The texture was soft and fluffy and held up nicely to a drizzle of maple syrup. We were big fans and quickly finished our stacks.
2. Krusteaz Buttermilk Pancake Mix
"Straight fire."
"Gimme a pillow of these pancakes."
A classic, these Krusteaz pancakes were so soft and fluffy, and they soaked up the maple syrup on our plates perfectly without disintegrating. The texture and flavor kept us coming back for more. Yep, these ticked off a lot of our boxes.
1. Hungry Jack Buttermilk Pancake and Waffle Mix
"THE FLUFF. THE LIGHTNESS. INCREDIBLE."
*Chef's Kiss* Yes, our winner of the best store-bought pancake mix goes to Hungry Jack. These were the epitome of a fluffy diner pancake that was incredibly light in texture with the perfect pancake flavor. We finished our stack and immediately made a second batch. Tasters new to Hungry Jack are now officially converted. Expect to see many more Hungry Jack pancakes on our brunch menus.
This post was originally published on January 21, 2023, and has since been updated.