Okay, so let's address the elephant in the room first—you don't, by any means, have to celebrate Valentine's Day. This annual holiday is meant to be a reminder to celebrate all the love in our lives: romantic, familial, and philia. Of course, we can all find ways to do this for the people we cherish any time throughout the year, not just solely on V-Day. But since we personally love any excuse to shower our favorite people with affection, we're planning to host a high society breakfast with recipes from the Unofficial Bridgerton Cookbook in honor of our favorite TV series. Because, why not! Yes, that means piping hot milky tea served with scones, oatmeal pies, and Penelope's favorite omelet. Ready to start planning?
Read on to discover three recipes from the Unofficial Bridgerton Cookbook that is sure to spoil your S.O in lavish style this year.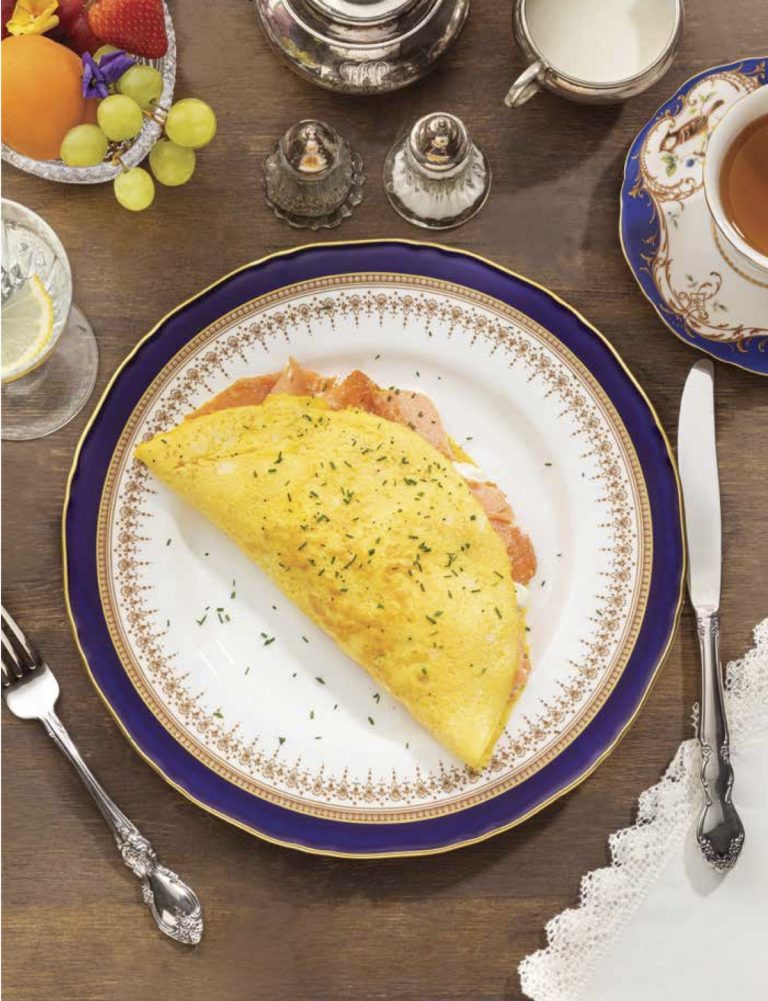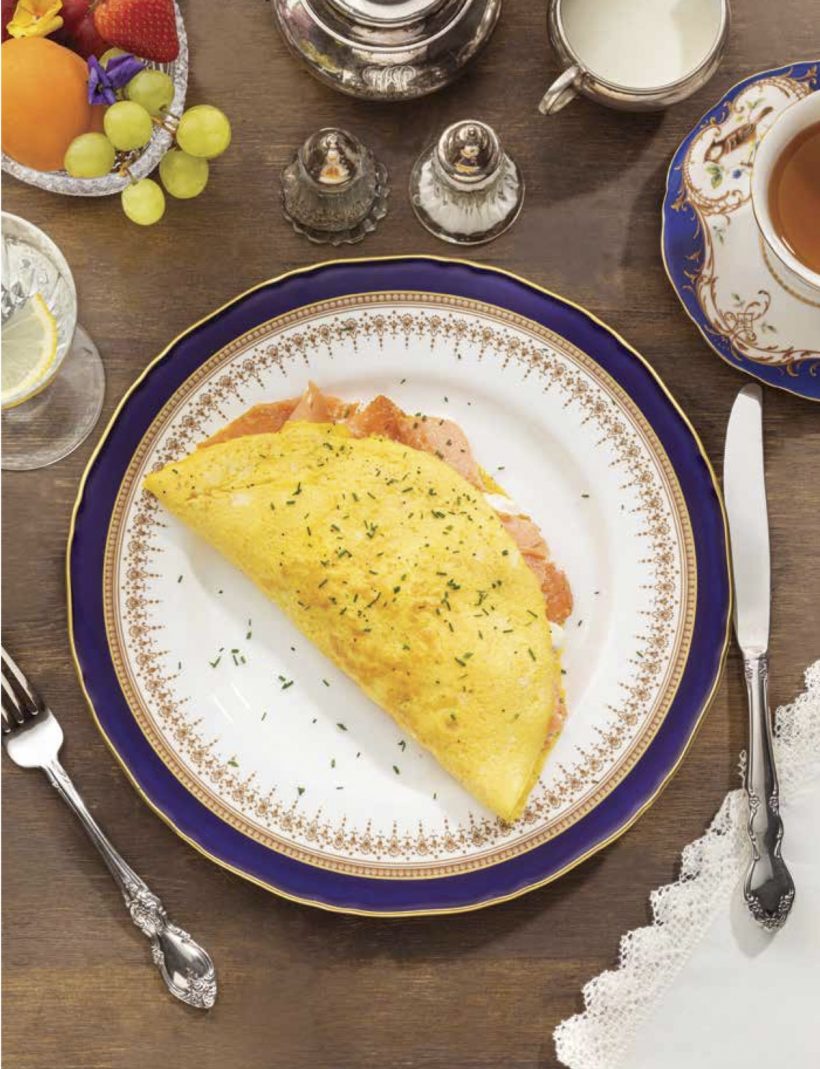 Penelope's Favorite Omelet
Why is this Penelope's favorite omelet? It could be because the delicate yellow color so perfectly resembles her dresses, or because the richness of the cream cheese and salmon really elevates the humble egg into a noble lord. Garnish with chives and, if you're feeling particularly cheeky, some hollandaise sauce (see recipe for Benedict's Perfected Cod à la Hollandaise in Chapter 4), which will further elevate the dish.
Ingredients:
1 tablespoon unsalted butter
2 large eggs
2 ounces sliced smoked (fully cooked) salmon
1 tablespoon cream cheese
1/8 teaspoon sea salt
1/8 teaspoon ground black pepper
1/2 teaspoon finely chopped chives
Directions:
In a medium skillet over medium-low heat, melt butter. Using a rotating motion, turn pan to evenly coat with butter.
Whisk eggs in a medium bowl and add to pan. Gently rotate pan around to allow eggs to cover bottom.
Cover pan and cook over low heat 3 minutes until eggs are just barely cooked on the top.
Add salmon and cream cheese to eggs and fold in half. Cook 1 more minute. Season with salt and pepper.
Transfer to a large plate and garnish with chives.
Smoked Salmon
Smoked salmon has been a delicacy among the ton ever since local markets started carrying Scottish salmon in the late seventeenth century. The sixteenth-century smokehouses in Scotland and later England smoked their fish in brick kilns or ovens. Smoking the salmon proved not only delicious but also was a marvelous way to preserve fish before refrigeration. Yum.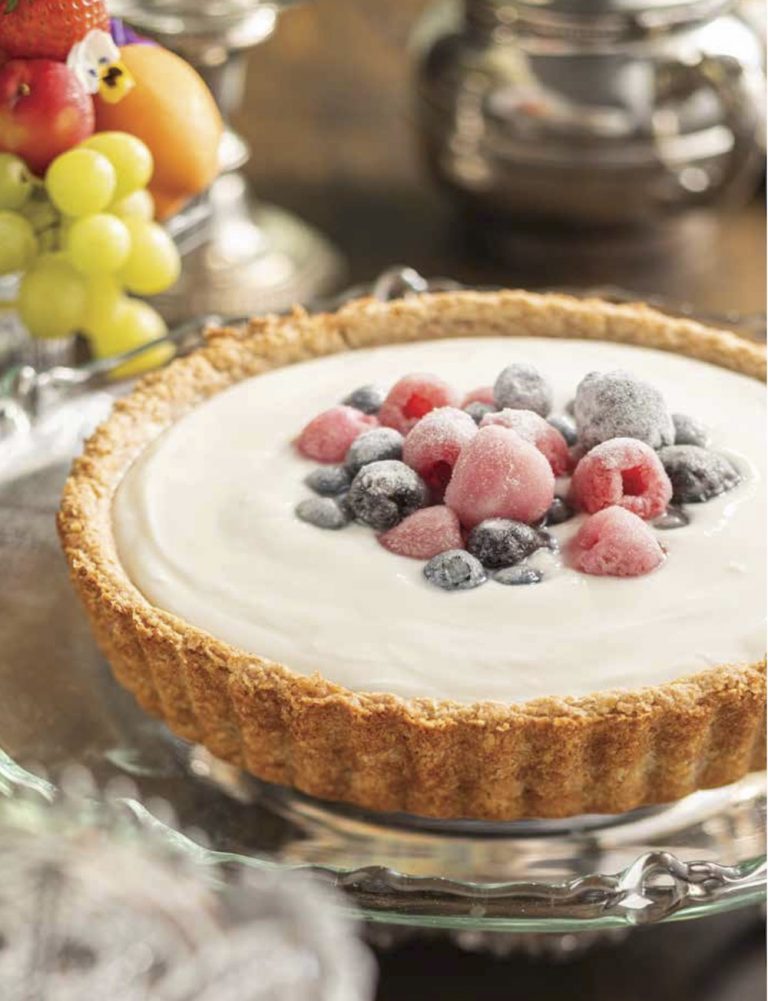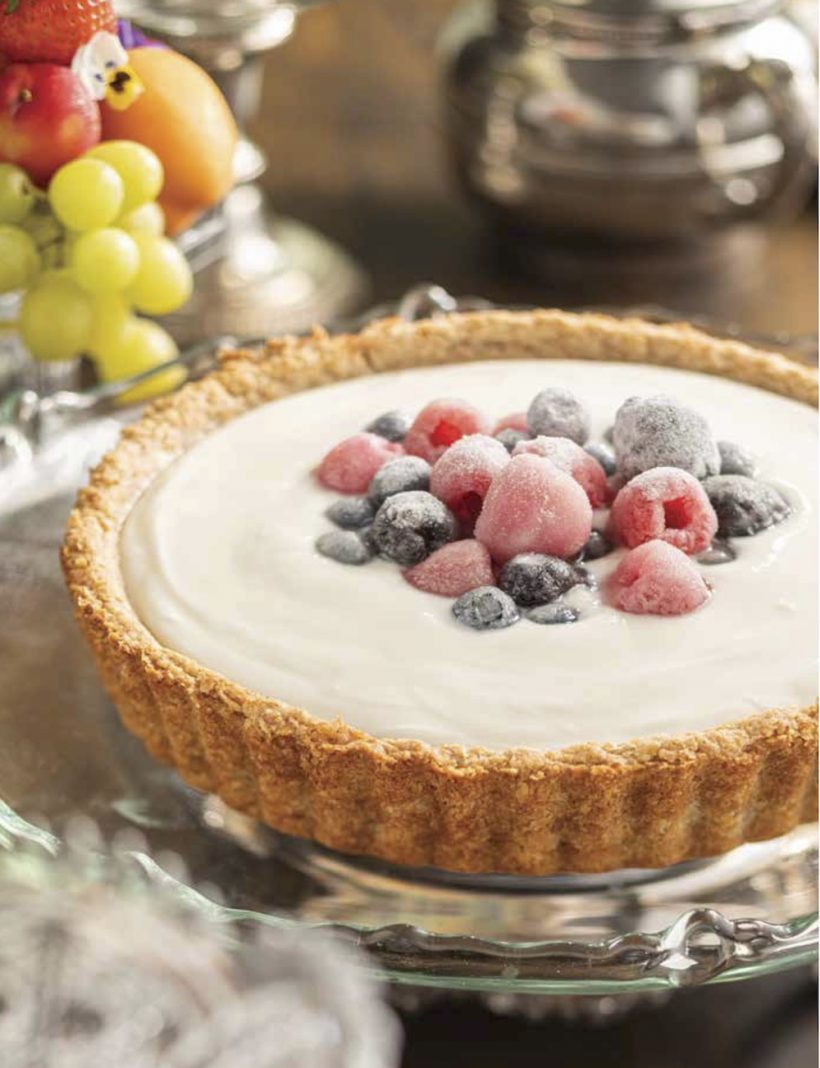 Household Hasty-Bake Oatmeal Pies With Sugared Berries
Whether one is taking an early trip to the country or simply prefers to take breakfast in the garden, these oatmeal pies are lovely on the go. They can be made with instant oats, and so are quickly made, in case one must flee an unwanted suitor or catch the vanishing sun! Garnish with Sugared Berries for a lavish look.
Ingredients :
For Sugared Berries
1?3 cup super fine sugar
1 large egg white, pasteurized
1 cup fresh berries of choice
For Oatmeal Pies
11/4 cups instant oats
1/2 cup all-purpose flour
1 stick unsalted butter
1/2 cup granulated sugar
3/4 teaspoon ground cinnamon
1/8 teaspoon salt
1/2 cup water
4 cups vanilla yogurt for filling
4 tablespoons amber honey
Directions:
To make Sugared Berries: Prepare a surface with wax paper. Place super fine sugar in a small shallow dish.
Whisk egg white lightly in a small bowl until bubbles form on the surface. Using a pastry brush, lightly coat each berry with egg white.
Gently roll berries in sugar and place on wax paper. Let dry 20 minutes.
To make Oatmeal Pies: Preheat oven to 400°F. Lightly coat four 4″ pie pans (or one 9″ pie pan) with butter and set aside.
In a food processor, pulse oats, flour, butter, sugar, cinnamon, and salt until butter pieces are no larger than a pea.
Pour mixture into a large bowl and mix in water until dough ball forms. If dough is too dry, add more water.
Separate dough into four equal parts and, using wet hands, press dough into pie pans. Make sure crust is even and without holes.
Bake 20 minutes until edges begin to brown.
Remove from oven and allow to cool 5 minutes. Fill with yogurt and Sugared Berries and drizzle with honey before serving.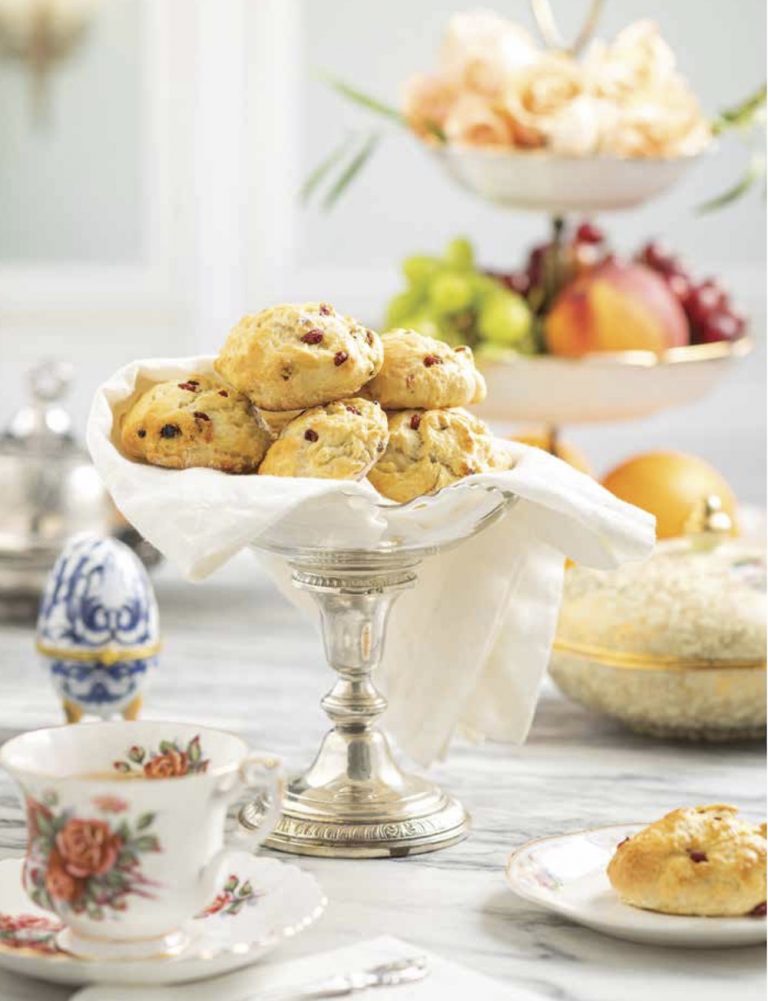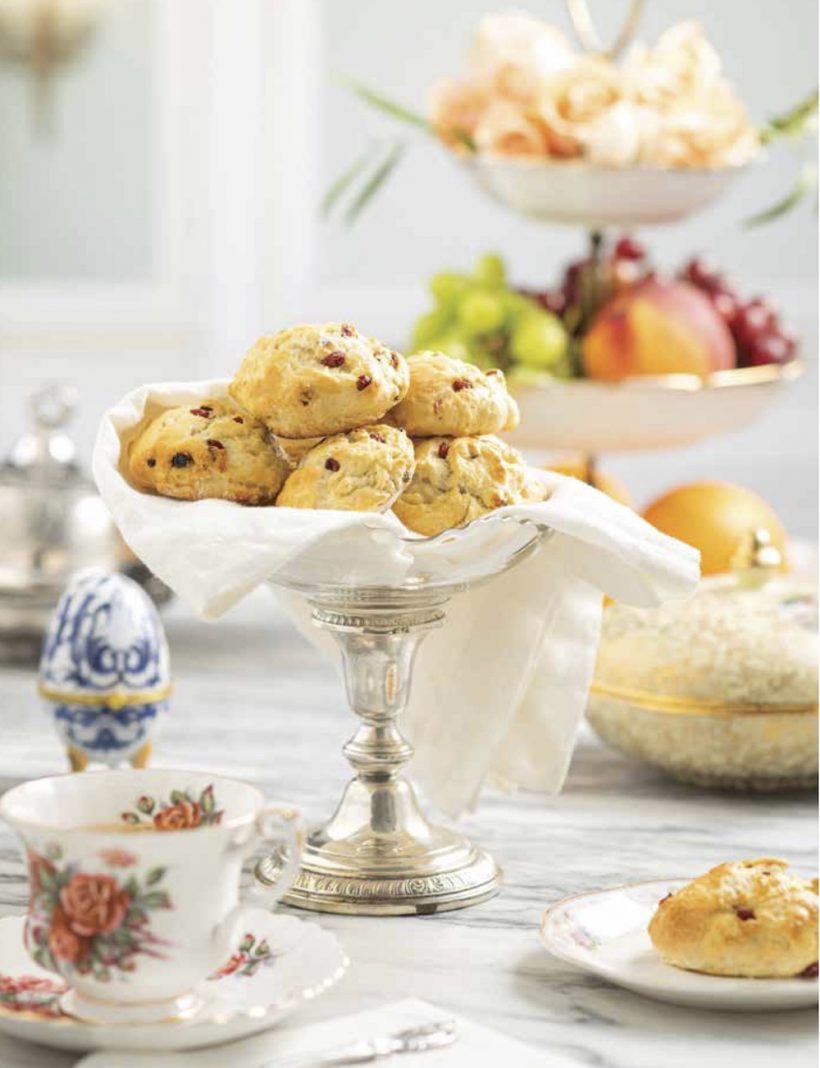 High Society Scones
All eyes are on these steaming and soft scones, a staple of any proper breakfast arrangement. One must add only a touch (or a lot) of butter or marmalade to experience complete breakfast bliss. Feel free to add spices or fresh herbs. There is very little you can't do with a scone. Store in the cold room (refrigerator) and serve with meats for a quick supper or snack. If you don't have barberries, currants or cranberries work well.
Ingredients:
1/2 cup barberries
1/16 teaspoon ground saffron
2 cups all-purpose flour
4 teaspoons baking powder
1 teaspoon salt
2 tablespoons granulated sugar, divided
5 tablespoons very cold unsalted butter, cut into small chunks 3 large eggs, divided
3/4 cup whole milk
1 teaspoon water
Directions:
Preheat oven to 450°F and set out two lined baking sheets.
In a small bowl, soak barberries in warm water for 30 minutes. In a separate small bowl, crumble saffron into 1 tablespoon water and set aside.
Add our, baking powder, salt, 1 tablespoon sugar, and butter to a food processor and pulse until a very ne sand forms.
In a medium bowl, beat 2 eggs, saffron water, and milk until well combined. Gently mix in contents of food processor until just combined. Drain and stir in barberries.
On a clean, lightly floured surface, knead dough minimally and form into a rectangle 1″ thick. Dough should be very sticky. Don't overwork. Use a 2″ round cookie cutter or glass to cut twelve circles of dough, setting them on the baking sheet 2 1?2″ apart.
In a small bowl, beat remaining egg and water and brush lightly onto scones, then sprinkle remaining 1 tablespoon sugar on top of scones. Bake 8–10 minutes until lightly browned.
Remove from oven and allow to cool 5 minutes before serving. Will last up to 1 week in refrigerator.
Barberries:
Barberries are remarkable—not just because they are tasty in scones and jams, but because they also help relieve the bad tempers of the grouchiest among the ton. Good for heartburn, bile, colic, psoriasis, and diarrhea, these barberry scones help ease the pain of those who eat them, and even the grouch's relatives who don't.
Recipes excerpted from The Unofficial Bridgerton Cookbook by Lex Taylor. Copyright © 2021 by Alexei Taylor. Photographs by Harper Point Photography. Used by permission of the publisher. All rights reserved.