Hannah Sunderani is the creator of the popular blog Two Spoons and the Two Spoons App. She is an editor at The feedfeed and a contributor to Best of Vegan, THRIVE, and One Green Planet. Her recipes have also been featured in numerous outlets including Better Homes & Gardens, Simply Gluten-Free, Well+Good, and BuzzFeed. While her debut vegan cookbook will launch in Spring 2022, today Sunderani shares her exclusive Cauliflower Nachos recipe that's loaded with nutritious veggies without compromising taste! Read on to discover how you can make this delicious recipe.
These cauliflower nachos are vegan and loaded with veggies! As a delicious low-carb recipe, it allows you to enjoy all the comforts of fully-loaded nachos with a healthy spin. But most importantly, they are so freaking delish!
This recipe swaps traditional nacho chips for cauliflower, so you're getting a wholesome vegetable-loaded dish that packs flavor.
The cauliflower "nachos" are baked until crispy and then topped with black beans, tomatoes, red onion, jalapeño, vegan cheese, and cilantro. It's a delicious dish that you can feel good about indulging in. Serve this recipe as an appetizer, snack, side dish, or as your entree!
Now, who wants to dive into these cauliflower nachos with me!? Let me tell you exactly how to make the recipe, so that you can enjoy them pronto!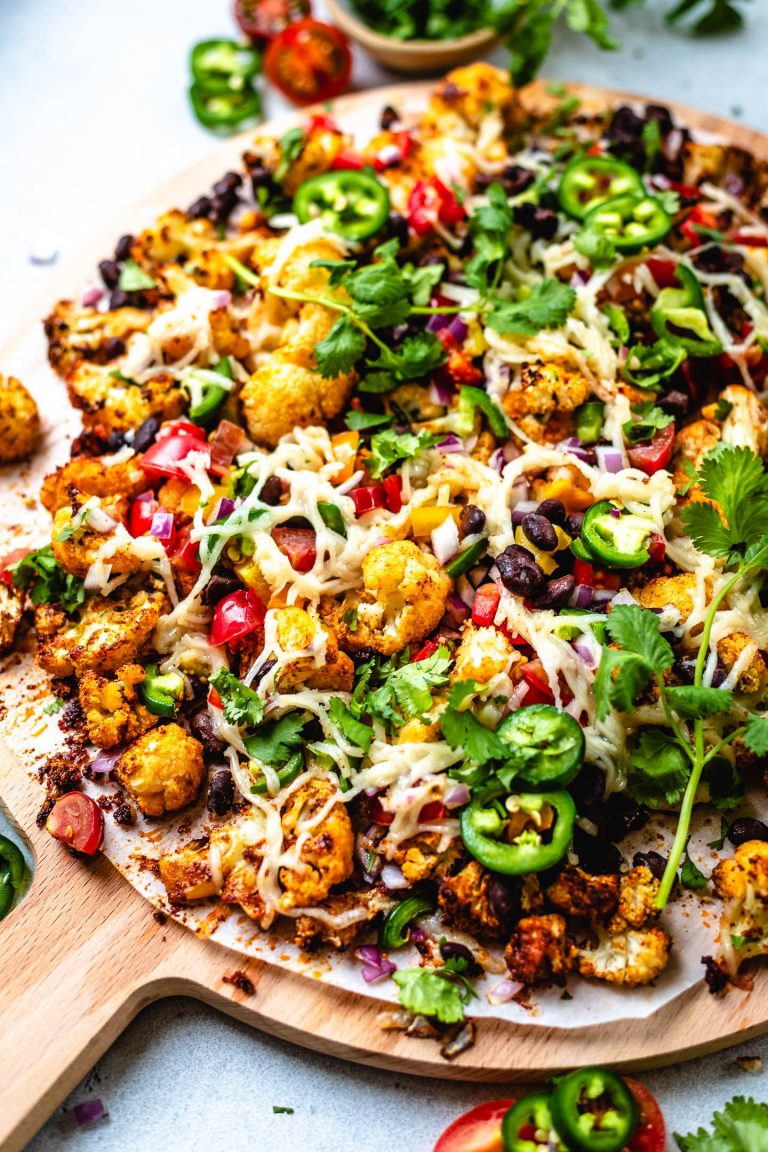 HOW TO MAKE CAULIFLOWER NACHOS
Cauliflower nachos are so easy to make! They require minimal ingredients, are fast to prepare, and requires only 1-baking sheet! (In our home, Mr. Two Spoons does the washing up, so recipes like these are always well received!).
First, we will start by roasting the cauliflower until perfectly crispy. To do this, we will cut the cauliflower florets into thin strips and season with ours spices.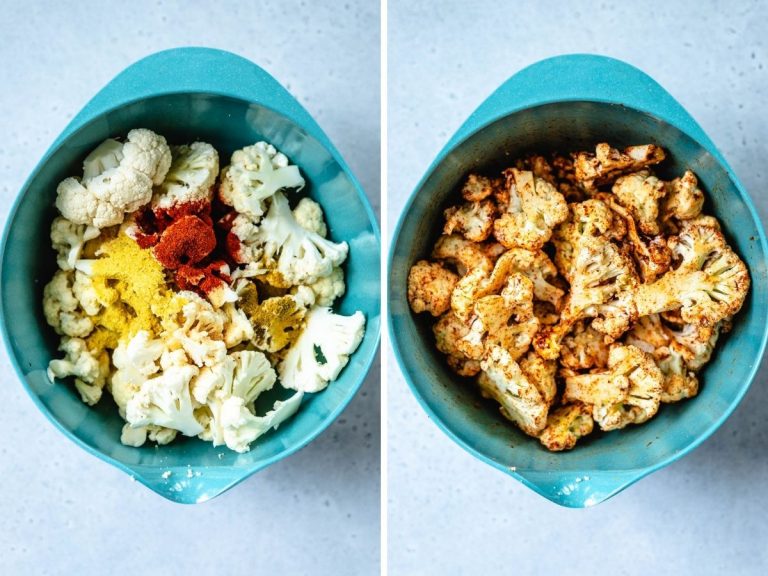 Spread the cauliflower onto a baking sheet and roast in the oven at 425F until the edges are crispy and browned, 20 minutes.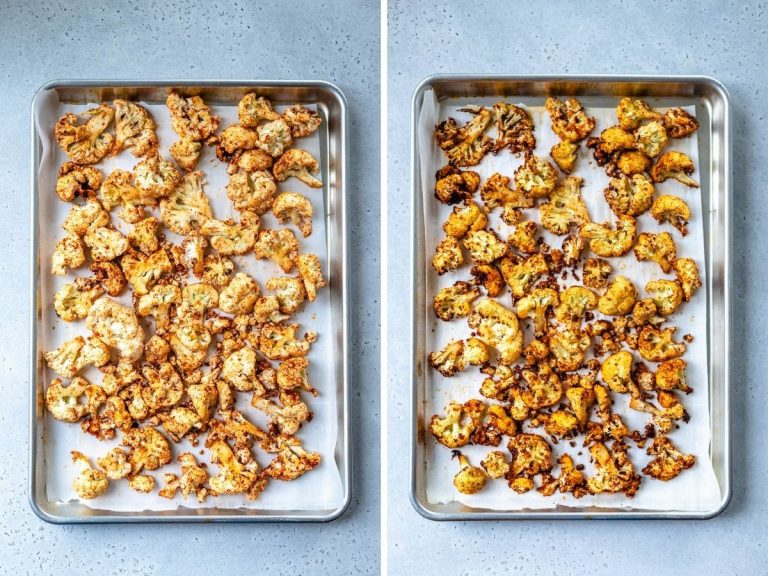 Next, scooch the roasted cauliflower close together and season with the toppings: black beans, tomatoes, red onion, jalapenos, and vegan mozzarella (I used the brand Daiya).
Place back in the oven to melt the cheese, five minutes.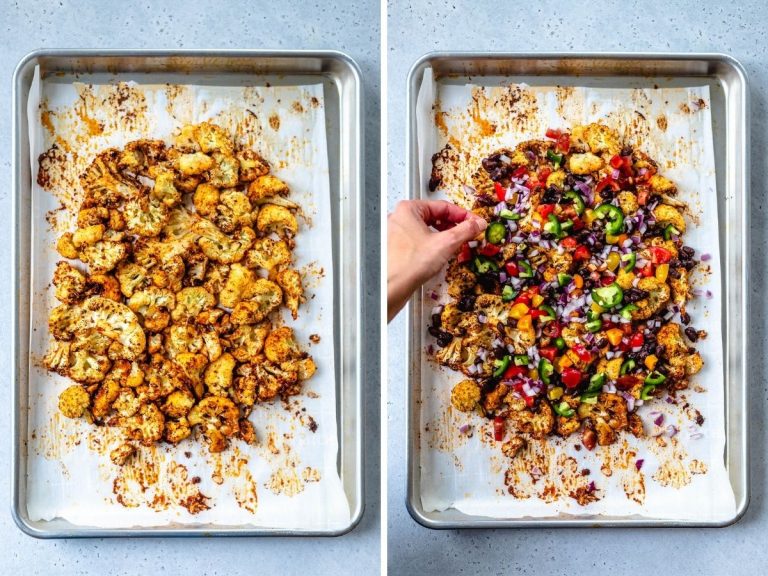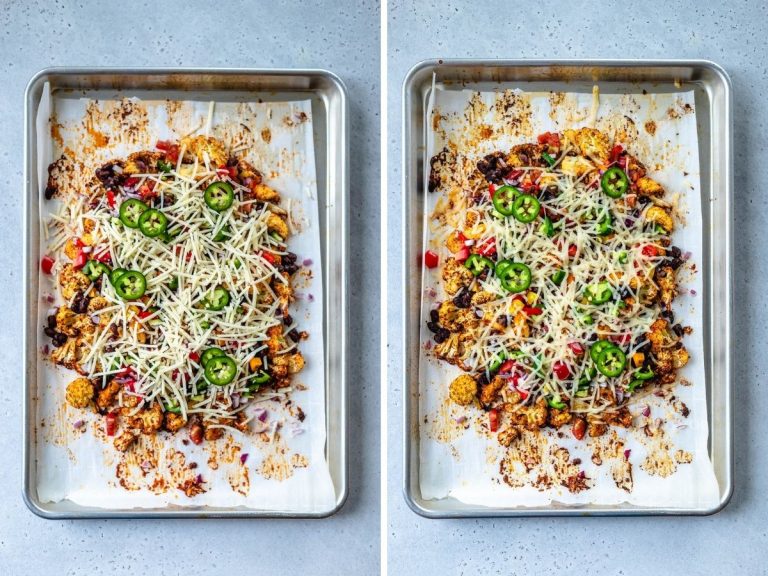 And there you have it–a simple, comforting, low-carb and vegan recipe for cauliflower nachos that is packed with flavor and oh-so-comforting. Trust me, you are going to love swapping out traditional nachos for this cauliflower version. It's a healthy, wholesome and nutritious recipe that you can feel good about indulging in.
If you do make this recipe please let me know in the comments below what you think! I truly love hearing from you, and I'm always here to answer any questions you might have. And of course, tag me on Instagram with your pictures using the hashtag #twospoons. Nothing makes me happier than to see your recreations. And please visit my website, Two Spoons for more deliciously healthy vegan recipes like this.
---
Ingredients
For the cauliflower nachos: 
1

 

head

 

cauliflower

, small (about 5 cups)

3 to 4

 

tbsp

 

avocado oil

1

 

tbsp

 nutritional yeast

1 1/2

 

tsp

 

chili powder

1/2

 

tsp

 

garlic powder

1/2

 

tsp

 

onion powder

1/2

 

tsp

 

cumin

1/2

 

tsp

 

sea salt
For the toppings: 
1/2

 

cup

 

black beans

1/2

 

cup

 

tomatoes

 

chopped

1/4

 

cup

 

red onion

 

finely chopped

1

 

jalapeno

 

chopped

1

 

cup

 vegan mozzarella

2 to 3

 

tbsp 

cilantro

 

finely chopped
---
Instructions
Pre-heat oven to 425F/220C. Line a baking sheet with parchment paper.

Cut the cauliflower into florets and slice into 1/2-inch pieces (as best you can). Add the sliced cauliflower to a large mixing bowl and season with 3 tbsp avocado oil, nutritional yeast, chili powder, garlic powder, onion powder, cumin and sea salt. Toss to combine. Add 1 tbsp more oil if needed, (cauliflower should be lightly coated with the oil).

Spread the cauliflower onto the prepared baking sheet in an even layer and roast in the oven until crispy and golden brown around the edges, 20 minutes.

Remove the cauliflower from the oven and scooch the florets tightly together with a wooden spoon. Sprinkle with black beans, tomatoes, red onion, jalapeño, and vegan mozzarella. Place back in the oven to melt the cheese for five minutes. Remove and sprinkle with cilantro.