If you've been around here for a while, you know that team CS loves a good grazing board. And when it comes to hosting, there are few things better than displaying an all-star lineup of all of our favorite snacks in one big spread for everyone to enjoy. Plus, a great charcuterie board is visually stunning, easy to prep ahead of time, and a great way to welcome the season's best flavors. So today in snack journalism, we bring you the ultimate fall charcuterie board.
Of course, one of the biggest questions we're asked is how to make a charcuterie board that looks Pinterest-worthy but also tastes delicious. Well, it may look fancy, but creating a great grazing board really isn't that hard. All it takes is a little bit of planning and creativity to achieve a delicious spread loaded with all the best fall fixings. The more artful, the better. Scroll on for our tips for creating the ultimate fall charcuterie board that will be the star of your forthcoming parties this season.
Pick Your Fall Color Scheme
As a maximalist, my cheese boards usually air on the side of more is more. You've got to have something for everyone, right? However, I've learned it's important to pick a common theme so your cheese board doesn't look like a mess, and to ensure you don't go off the rails at the grocery store (I often check out Pinterest for charcuterie board ideas). If you're unsure what to put on a charcuterie board, I usually theme my cheese boards with the seasons (hence this fall charcuterie board) and choose a relevant color scheme to stick to throughout. For fall, I love a mix of warm tones, deep reds, and faded greens.
Choose Your Cheeses
While I don't eat cheese myself, I know that any grazing board would be lost without it. I've learned from the pros to bring in a balance of textures and flavors when choosing your cheeses. On this board, we've got an aged cheddar, which is a classic hard cheese option that is nutty and salty in flavor. Second, there's a wedge of blue cheese, for a softer, pungent option. Finally, the board is rounded out with a Merlot BellaVitano cheese, which offers a slightly more smooth and rich flavor. While three was the magic number for this board, a brie or goat cheese would have been great to throw in the mix as well.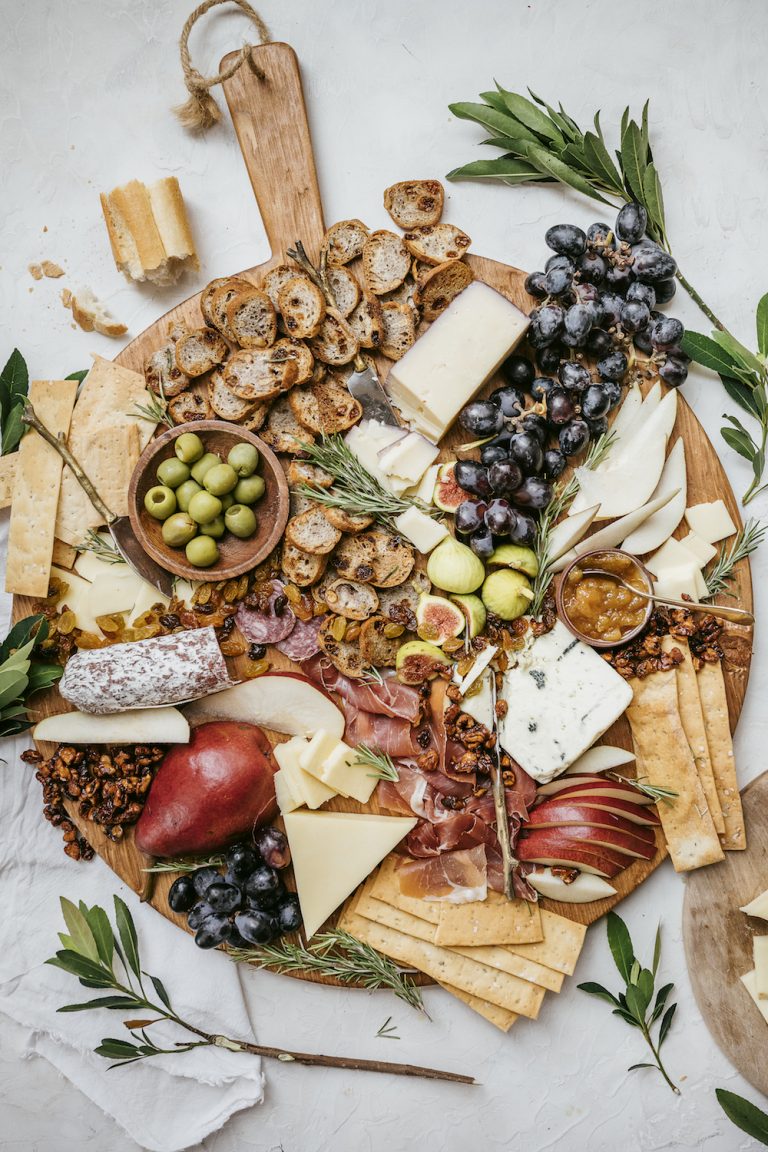 Add in Fresh Fall Flavors
There's no better place than a charcuterie board to showcase vibrant, fresh in-season produce. So, when it comes to how to build a charcuterie board, start by selecting your fruits and veggies, and create visual interest by choosing a variety of shades and shapes. Fresh rosemary sprigs smell delicious and are a great way to separate groupings of different items. Figs are not only stunning this time of year but they're also a great flavor pairing for most cheeses. I love incorporating apples and pears for some added sweetness on the board, too. You can halve them and lay them flat on the board for a nice pop of color, or thinly slice them and fan them out in different sections on the board. Fruit slices are delicious on their own or serve as great alternatives to crackers for piling on your favorite toppings and garnishes. And finally, you can't go wrong with gorgeous fresh grapes.
Use a Variety of Meats
In true charcuterie fashion, cured meats are a chance to take your board from a snack to something substantial. Proscuitto and salami are always a hit, but your meats are also a chance to embrace warming spices, maple, and other fall flavors. Since they aren't the most aesthetically pleasing portion of the board, I tend to throw in just a few slices amongst some of the more vibrant elements, like fruit, to really let them shine.
Fill in With Your Favorite Fixings
Last but not least, fill in the gaps with the true treats of every cheeseboard: the fixings. Incorporating mini bowls here and there keeps things organized and interesting, and they're a great vessel for some of the smaller snacks and any dips or spreads you choose to display. I always opt for a variety of breads and crackers of different shapes, textures, and sizes to flank the outer edges of the board. Then, I always choose a few sweet and salty items to throw into the mix. On this board, we have olives, candied nuts, golden raisins, and chutney to bring in the finishing touches.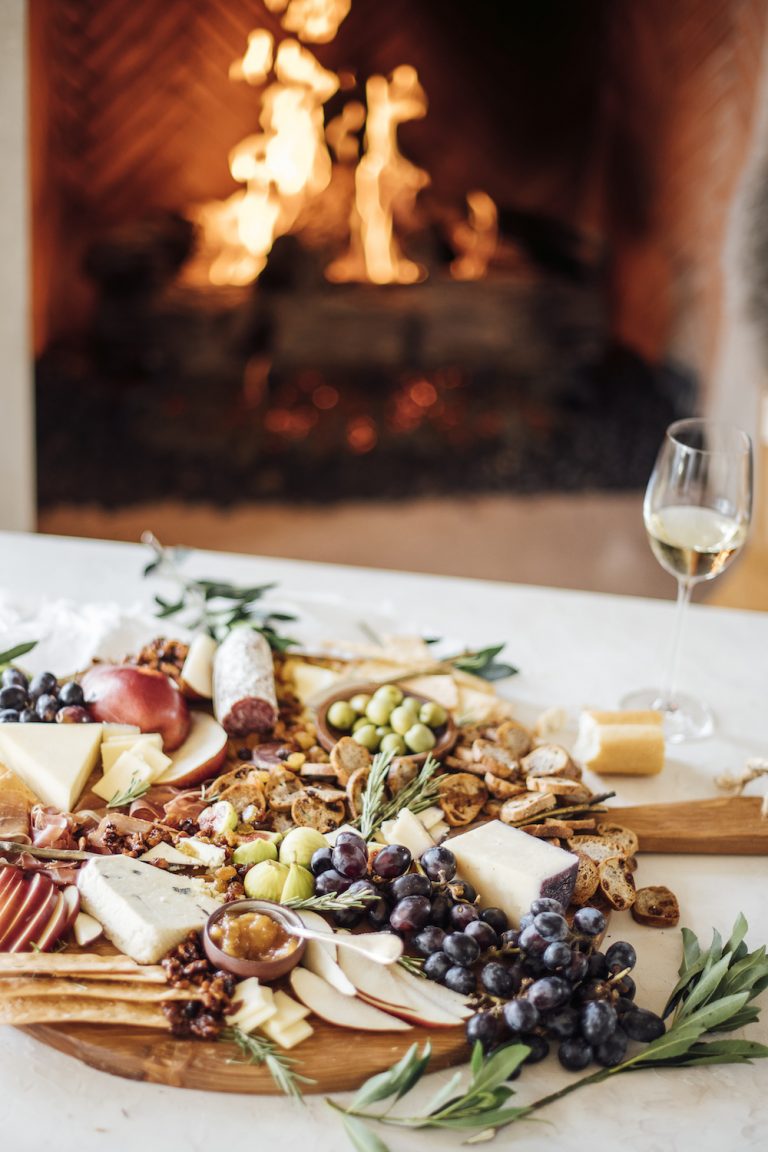 Pro tip: make sure to set your charcuterie board out at least 20 minutes before guests so the cheese has time to breathe, and so you can kick back, relax and admire your masterpiece before it gets devoured. I hope you enjoy this fall charcuterie board as much as we did!
---
Ingredients
aged cheddar
gorgonzola
merlot bellavitano
sturdy crackers
figs
apple slices
pear slices
olives
red grapes
raisins
candied nuts
proscuitto
salami
rosemary
chutney
---
Instructions
First things first, check your pantry and fridge. You probably already have some of the components of this board hanging out!

Arrange items in groupings on your boa8rd, and finish with garnishes.
Let it sit for 20 minutes before guests arrive.
Enjoy!