These flourless pistachio cakes are proof that not all gluten-free baking has to be complicated. Even as an avid baker with a healthy knowledge of baking ratios and substitutions, I often find gluten-free recipes to be intimidating, requiring expensive specialty ingredients that yield inconsistent results. To those of you who have tackled gluten-free baking head-on with stellar results, major props. It's no easy feat.


These mini cakes are made with freshly ground pistachios and almonds so they're packed with rich, nutty flavor and feature a deeply moist texture that's perfect for indulgent snacking alongside a cup of tea or, my personal favorite, an almond milk latte.


A touch of lemon zest in the batter adds brightness to otherwise hearty little cakes, and the combination of pistachio and lemon is lovely for kicking off spring, don't you think?


The honey-lemon yogurt glaze is made with tart greek yogurt and a healthy squeeze of honey for it's warm sweetness. A healthy drizzle adds a lovely acidic contrast to the richness of the cakes, reminiscent of spring's favorite cream cheese frosting with carrot cake, only lighter on the indulgence factor.


Perhaps my favorite thing about this recipe, though, is the simplicity. These mini cakes are really just repurposed cupcakes, portioned perfectly into single-servings, and if you don't count the glaze, they come together with just seven simple and super adaptable ingredients.

If you don't have pistachios in your pantry, I'm sure you could sub in a variety of nuts in this recipe — pecans, hazelnuts or walnuts would be great. Any type of citrus zest or even a variety of extracts can be used customize the flavors to your liking, and the absence of wheat flour makes them friendly for a crowd.
adapted from i am a food blog
Check out more delicious recipes in our Sweeter Side series!
Print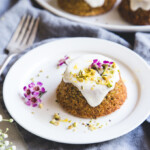 Flourless Pistachio Cakes with Honey-Lemon Yogurt Glaze
---
Description
These Flourless Pistachio Cakes & Honey-Lemon Yogurt Glaze are the spring dessert you've been craving.
---
For the cakes
3/4

cup

raw pistachios

1/2

cup

raw almonds

1/4 teaspoon

salt

1/3

cup

unsalted butter, at room temperature, plus more for greasing the pan

6 tablespoons

granulated sugar

1 tablespoon

lemon zest

2

large eggs, at room temperature
For the glaze:
5

ounces

greek yogurt

1 tablespoon

lemon juice

2 tablespoons

honey

2 tablespoons

powdered sugar

1 1/2 tablespoons

virgin coconut oil, melted
Stir together all ingredients in a bowl. Pour glaze over fully cooled cakes. Garnish with chopped pistachios and lemon zest.
---
Instructions
For the cakes:
Preheat the oven to 320 F and grease 6 cups of a muffin tin. Set aside.
Combine the pistachios, almonds and salt in the bowl of a food processor and process until ground into a course nut flour.
In the bowl of a stand mixer fitted with paddle attachment, cream the butter, sugar and lemon zest until light and fluffy, about 10 minutes.
Add the eggs one at at a time, beating well after each addition.
Add the ground nut mixture to the wet ingredients and gently fold in by hand until thoroughly combined.
Divide between your greased muffin cups and bake for 20-25 minutes or until a toothpick inserted into the center comes out mostly clean.
Cool on a wire rack before carefully turning out of the muffin tin.
For the glaze:
Stir together all ingredients in a bowl. Pour glaze over fully called cakes. Garnish with chopped pistachios and lemon zest.