I love how the holidays are a multi-sensory experience. There are so many memories wrapped up in the sound of a Christmas song, the familiar aroma of a holiday candle, the feel of cozy socks, and the taste of your favorite holiday snack, all against the backdrop of greenery and twinkling lights. I can't remember what I had for lunch yesterday, but one whiff of cinnamon-sugar bread, and I'm immediately transported back to my grandmother's house, vividly recalling her holiday party in 2004. This season holds so much meaning rooted in the senses, especially when it comes to the foods we enjoy with friends and family. I find myself hosting gatherings simply because I need an occasion to channel all of the nostalgia and of course, whip up all of my favorite gluten-free dairy-free holiday appetizers.
Since I removed gluten and dairy from my diet years ago, I've been on a mission to recreate the classic flour-and-butter laden dishes I'd always look forward to every holiday season. In the process, I've discovered some amazing gluten-free dairy-free holiday appetizers. Some are cleaned-up takes on the best holiday classics, while others are new staples in my party rotation. So in celebration of the holiday season, I hope you enjoy this feast of gluten-free dairy-free holiday appetizer recipes, and that you'll manifest memories by making one (or all) of them!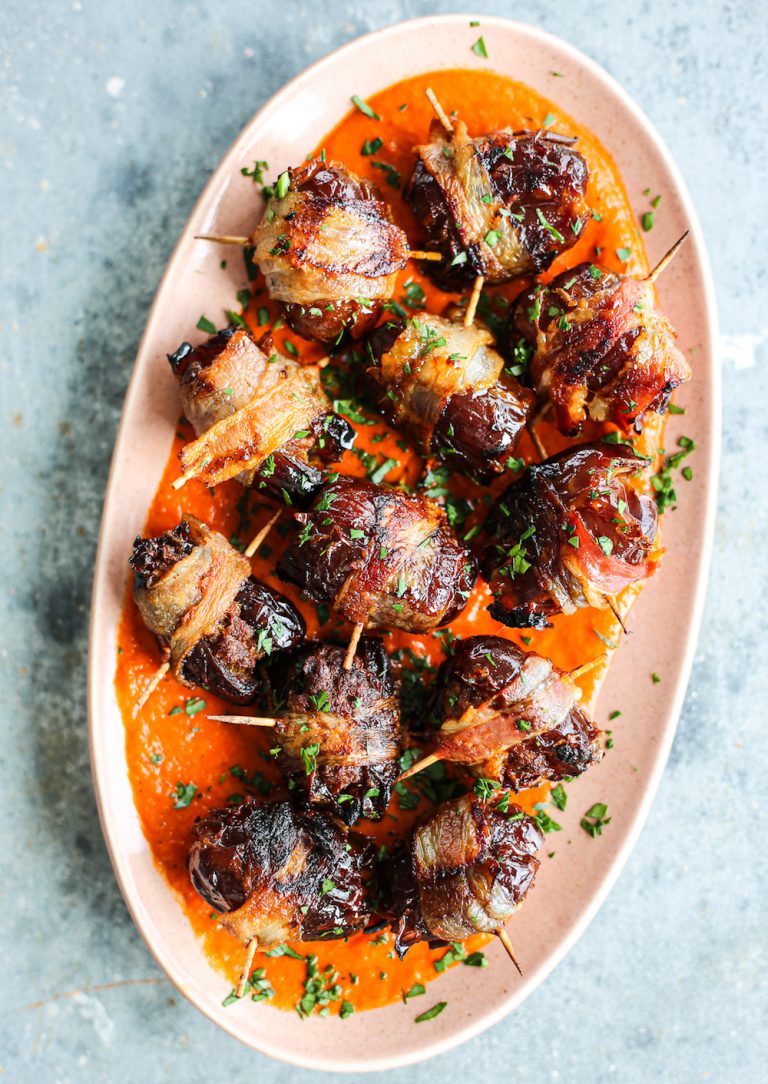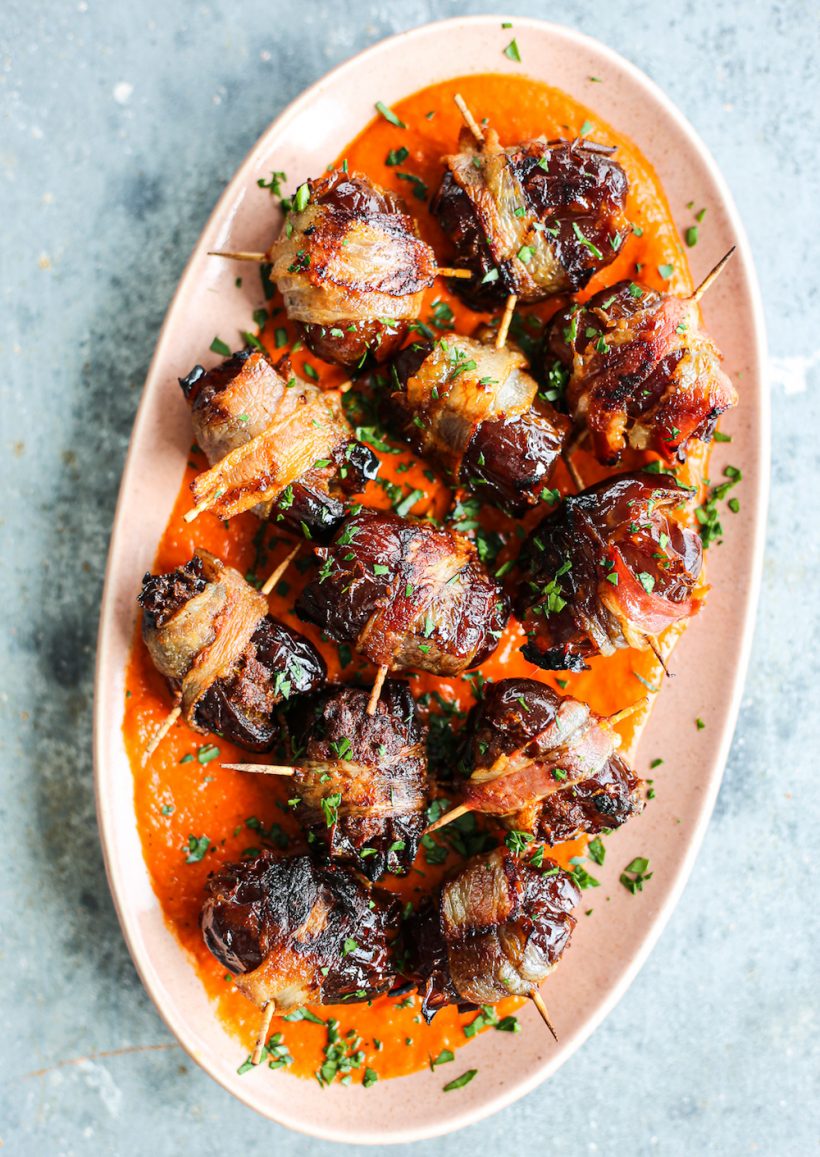 Chorizo-Stuffed Bacon-Wrapped Dates by The Defined Dish
Why we love it: You can't go wrong with bacon-wrapped anything at a party, but when bacon and dates are paired together, it's game over. These bacon-wrapped dates are decadent, hearty, and downright delicious. Trust me, you won't regret making these.
Hero ingredient: The chorizo brings in an added saltiness to these bites, perfectly balancing the sweet flavor from the dates. When you add in the sauce, these bites are next-level good.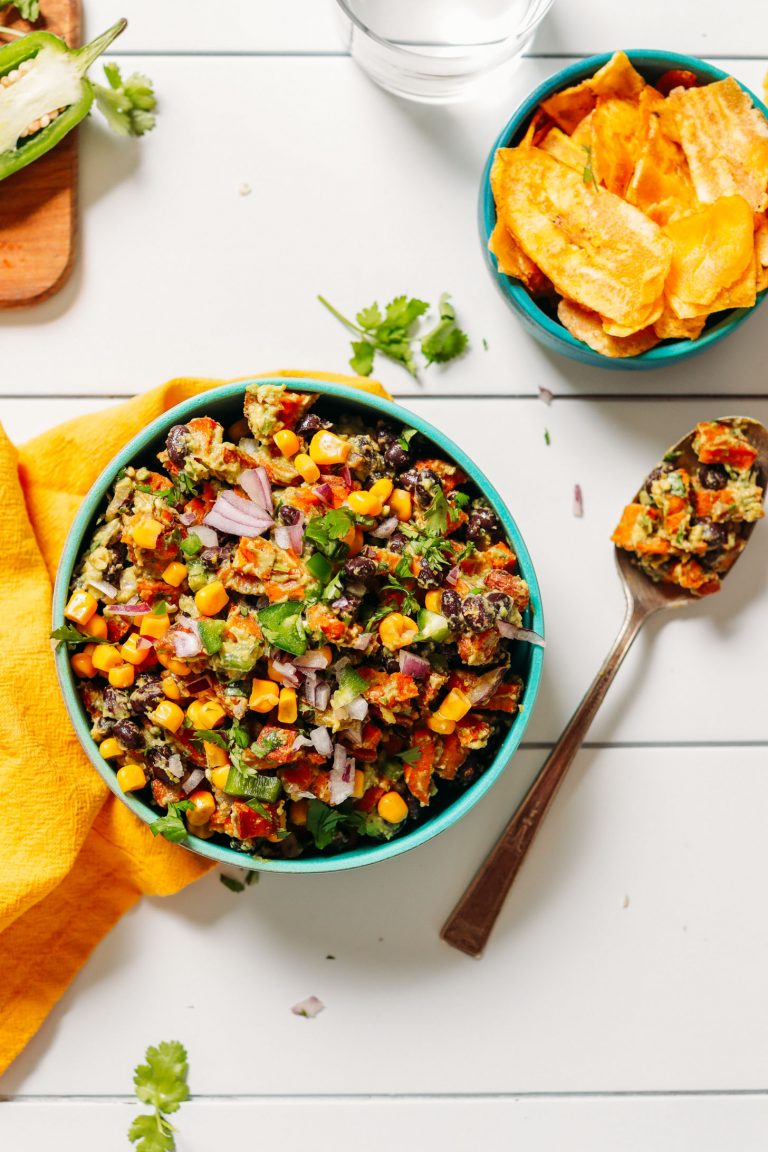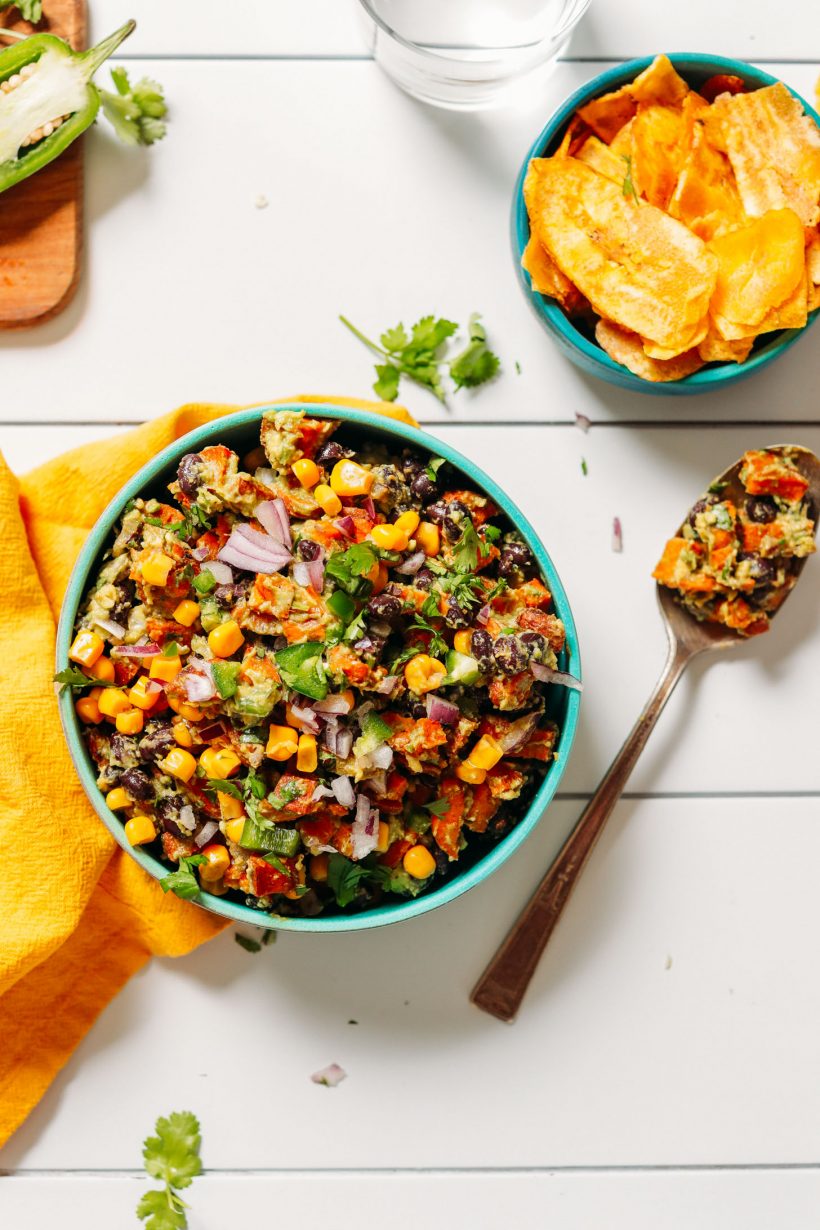 Sweet Potato Black Bean Dip by Minimalist Baker
Why we love it: It's not a holiday party without some sort of dip, and this is not your average bean dip. Starring sweet potatoes, black beans, and avocado, this dish is basically a mash-up of all of my favorite southwest flavors in one bowl.
Hero Ingredient: The sweet potatoes not only add some gorgeous color, but they're also the key ingredient to achieving the ultimate balance of savory and sweet that makes this dip so great.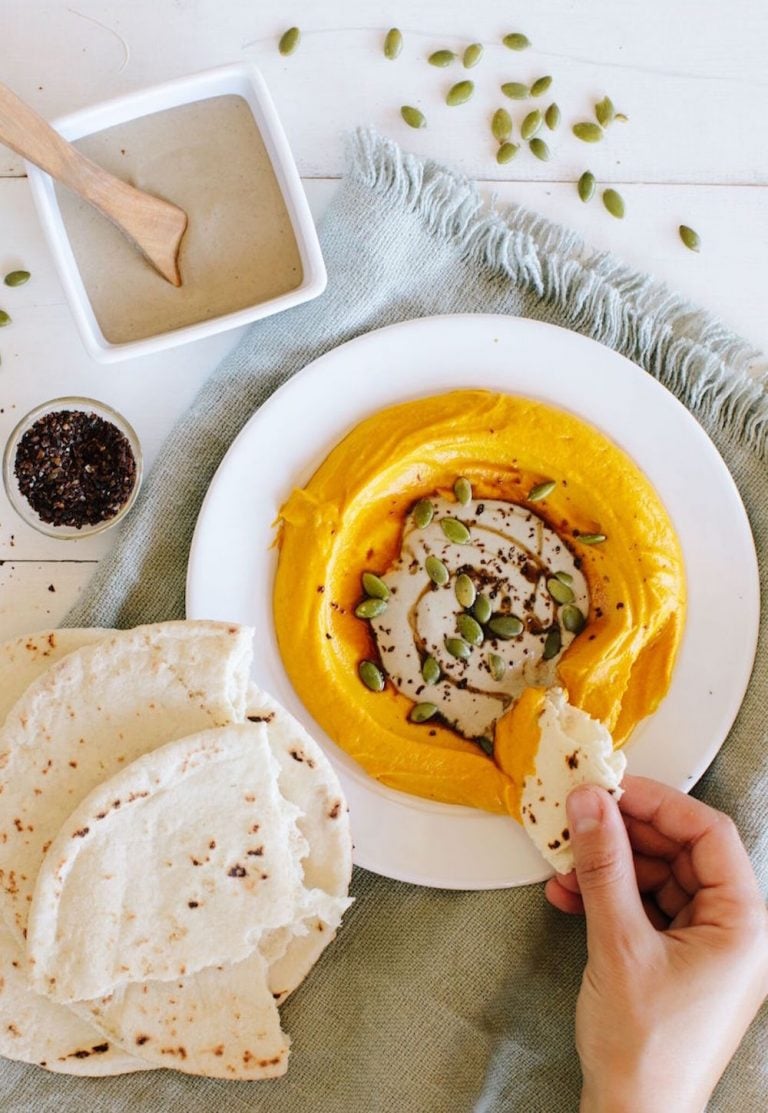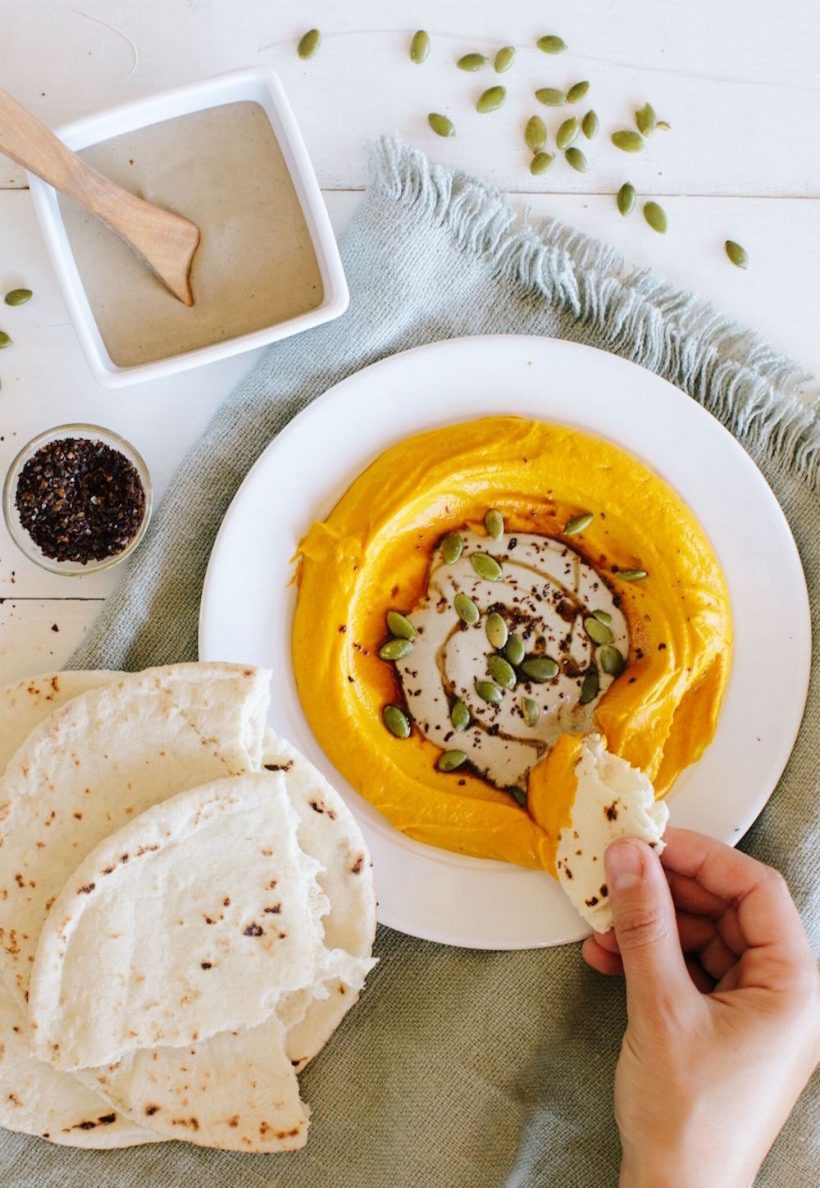 Squash Hummus With Whole Tahini & Pumpkin Seeds
Why we love it: Hummus has become a loose term these days, with different variations popping up everywhere. In my opinion, you can't go wrong with subbing in seasonal ingredients like squash and pumpkin seeds for a festive take on traditional hummus.
Hero ingredient: The squash is roasted beforehand to bring out that gorgeous golden color and rich, sweet flavor. When paired with the tahini, you've got an earthy, nutty concoction that's just to die for.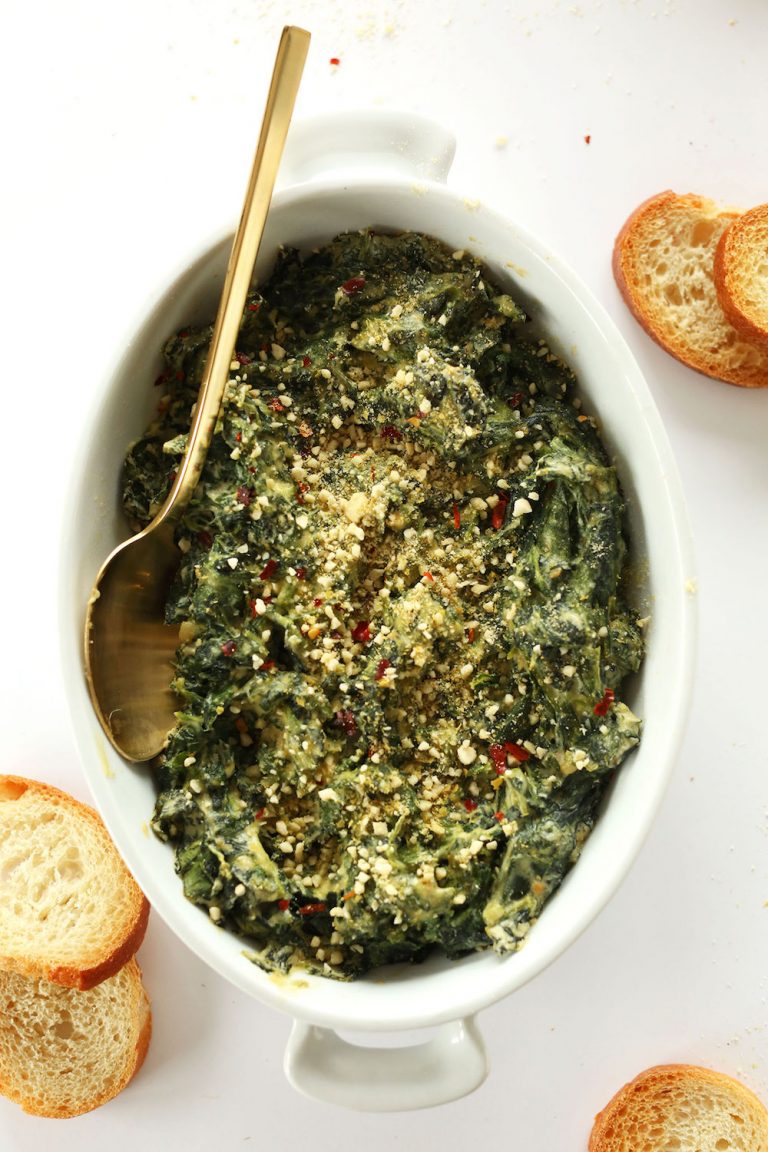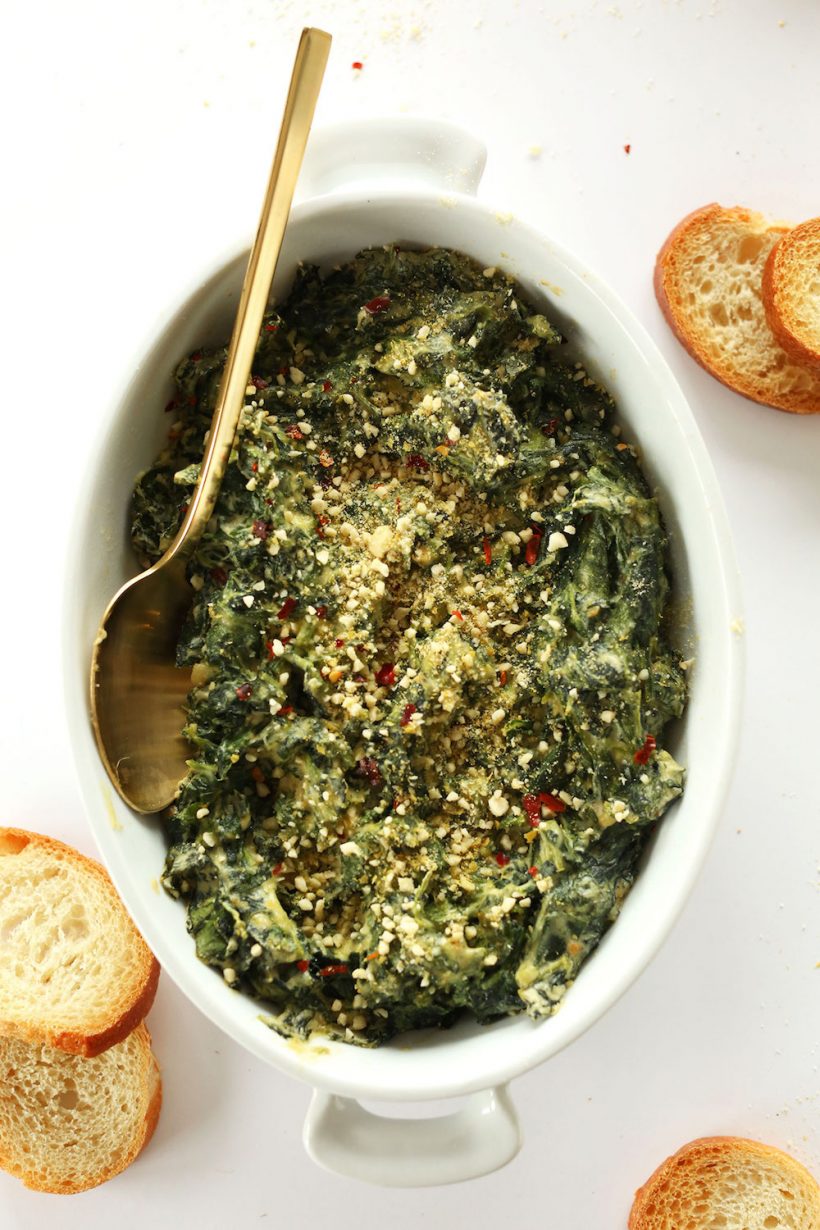 Creamy Kale and Spinach Dip by Minimalist Baker
Why we love it: Spinach dip is such a neutral dish, almost everyone loves it. But here's a version that's actually healthy, and is undetectably dairy-free.
Hero ingredient: When soaked overnight, cashews create a wonderful creamy base for dips and sauces. Plus, when you add in the almond milk, nutritional yeast, and vegan parmesan, you can enjoy the hearty, cheesy flavors of a classic spinach-artichoke dip without the stomach ache.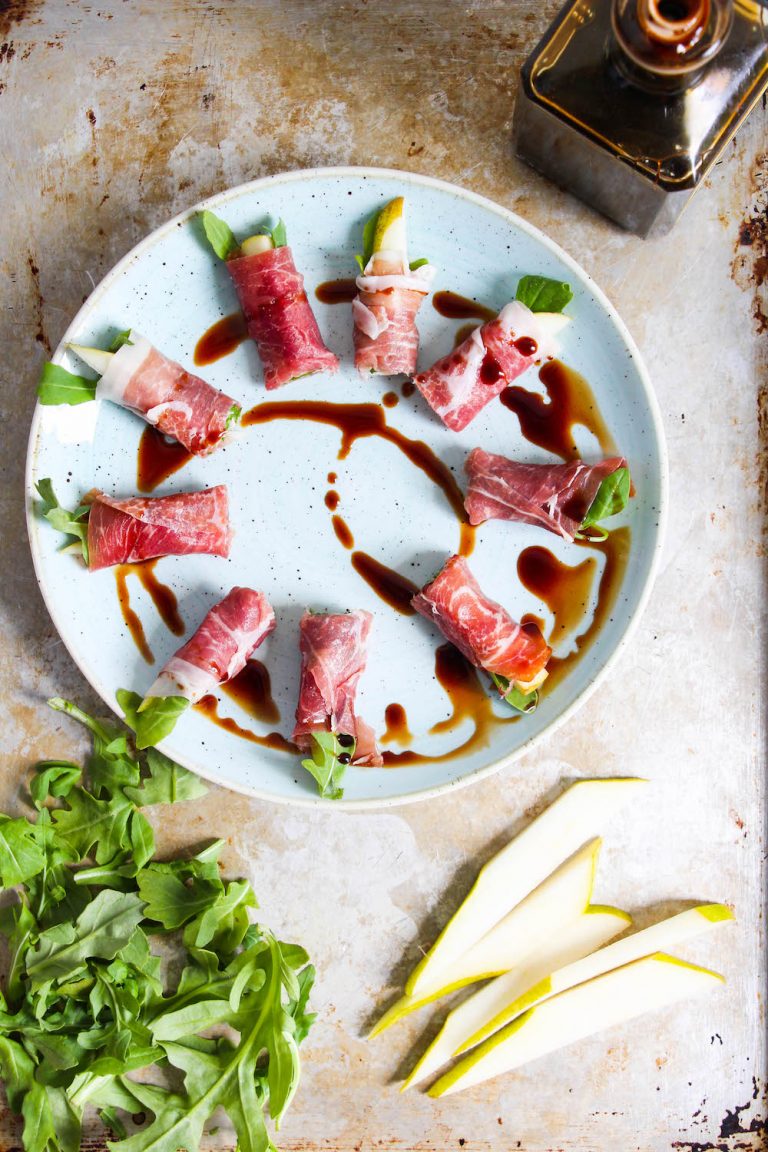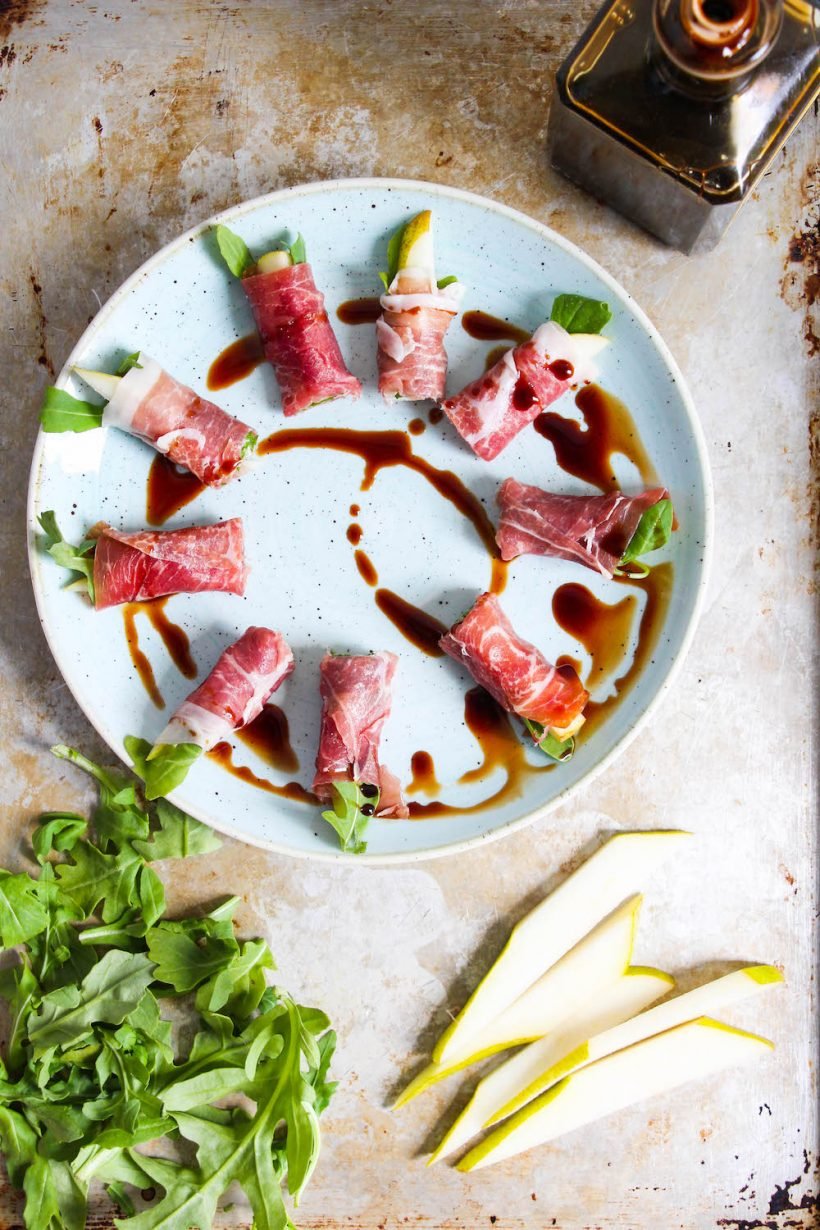 Proscuitto, Pear and Arugula Rolls by The Defined Dish
Why we love it: There's something classic and elevated about the combination of cured meat, fresh fruit, and leafy greens. These mini charcuterie bites are just fancy enough for a holiday gathering with no cooking required. You can even throw some vegan cheese into the mix to make these bites a little heartier.
Hero ingredient: I look forward to pear season every year, and try to incorporate this seasonal gem into whatever dishes I can. They add the perfect amount of sweetness to any dish.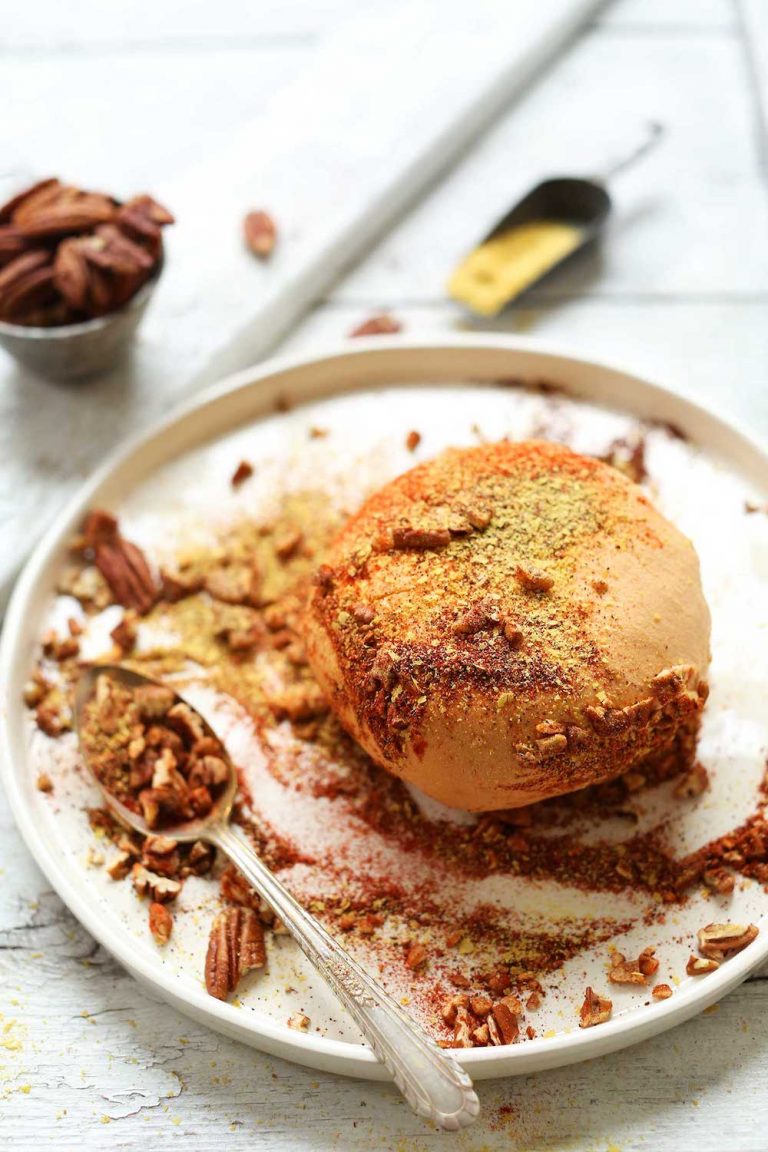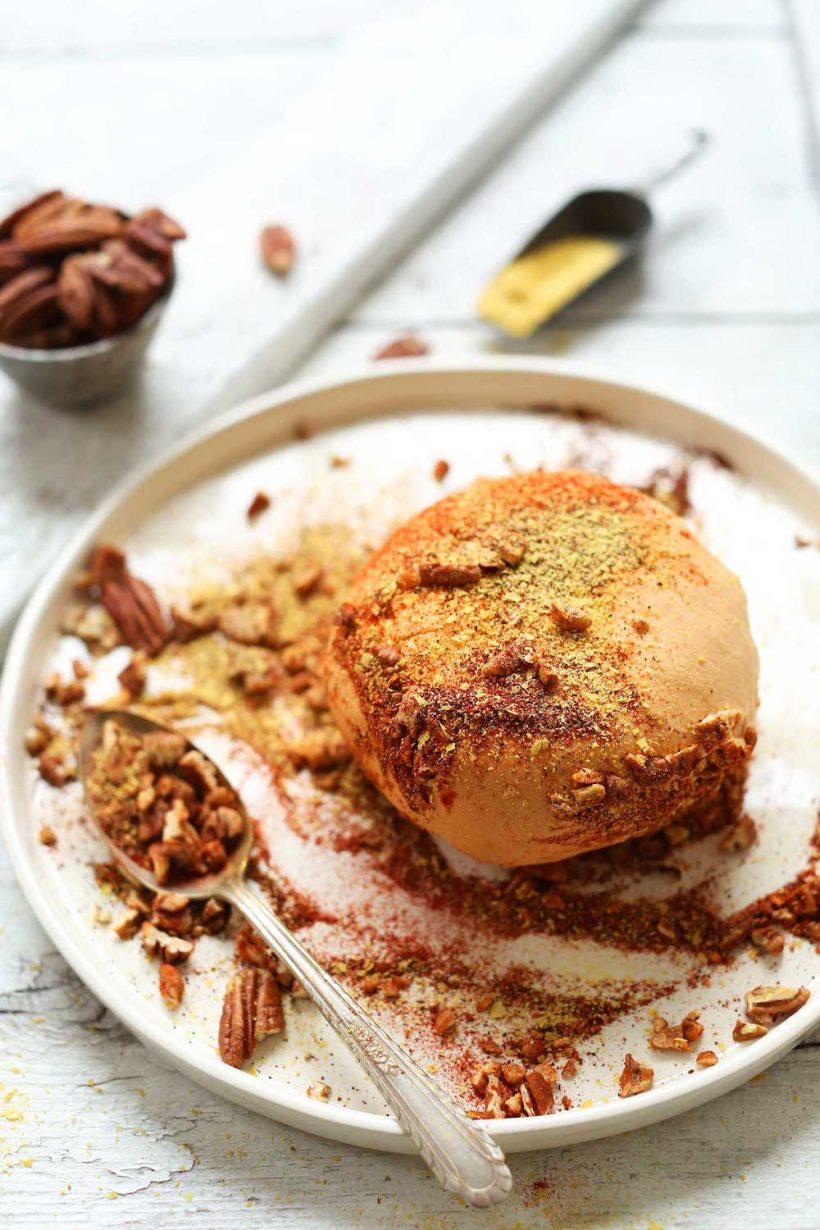 Spicy Vegan Pimento Cheese Ball by Minimalist Baker
Why we love it: The holidays are the perfect time to experiment in the kitchen. If you haven't tried making a vegan cheese ball, you're missing out! This one has simple ingredients, is fun to make, and will be sure to impress even your cheese-loving guests.
Hero ingredient: I bet you can guess the base of this dairy-free cheese ball. Yep, soaked cashews! When combined with the right ingredients, the cashews take on a cheesy texture and flavor that other nuts just can't beat.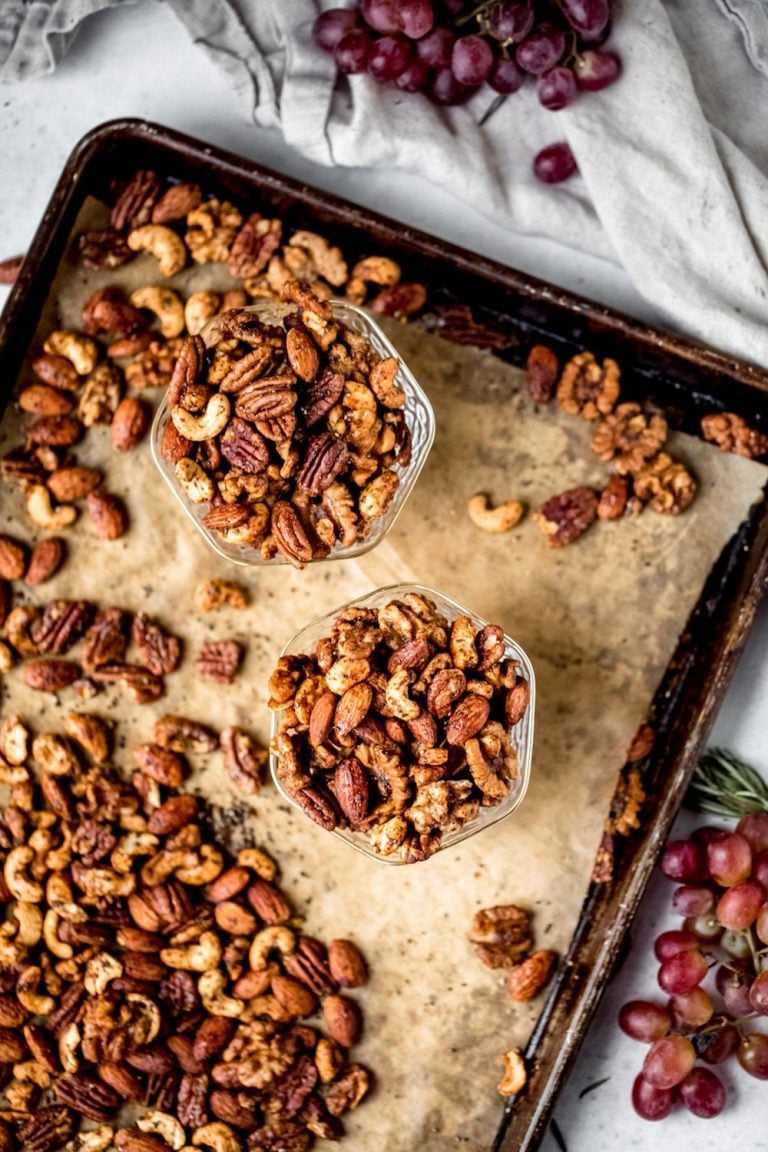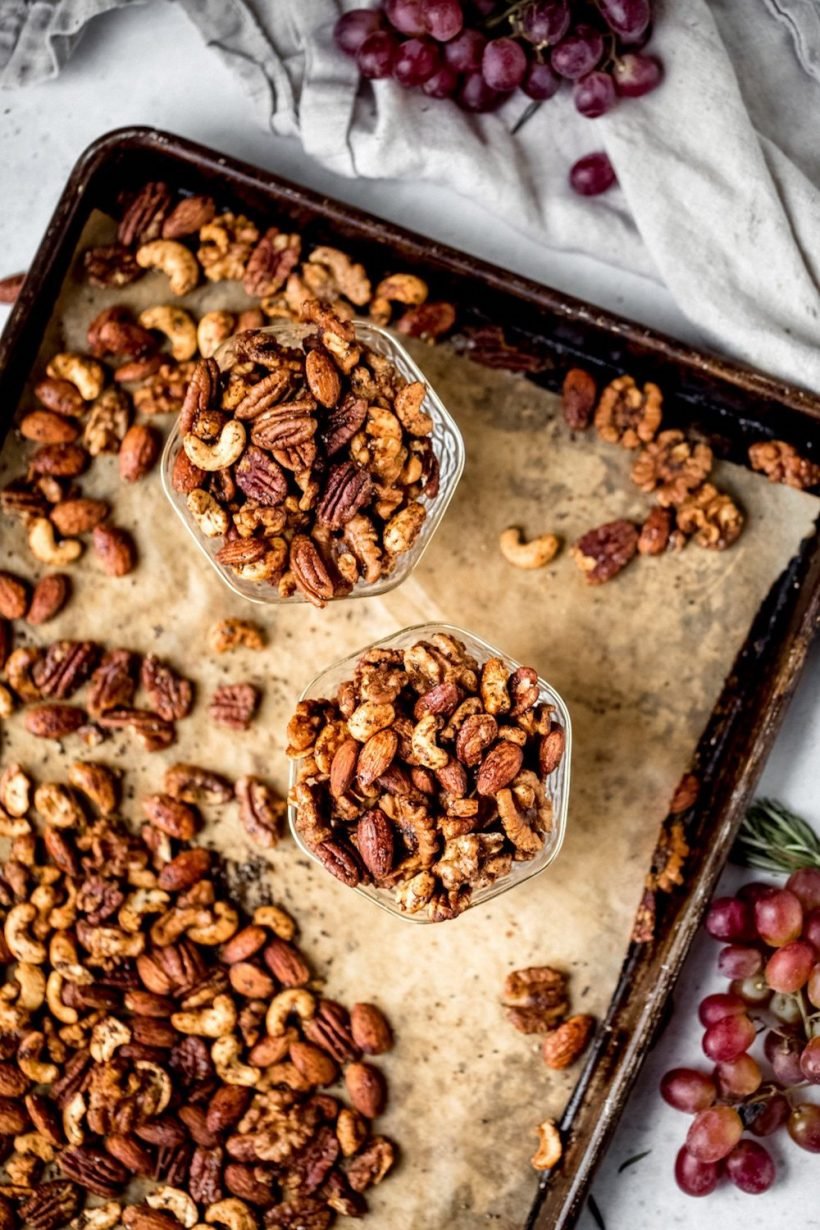 Sweet and Spicy Nuts by Ambitious Kitchen
Why we love it: Candied nuts are an absolute treat. We love them not only because they are delicious, but also because they fill your house with the most enticing aroma while they're roasting. Sweet, spicy, crispy, and decadent, this recipe checks all the boxes.
Hero ingredient: The spices are the stars of this recipe, and add an unexpected zesty spin to these candied nuts. Vegan butter and maple syrup allow the nuts to take on a delicious sweet-savory glaze when cooked. This recipe is also easy to make in batches and makes a great gift for friends and neighbors.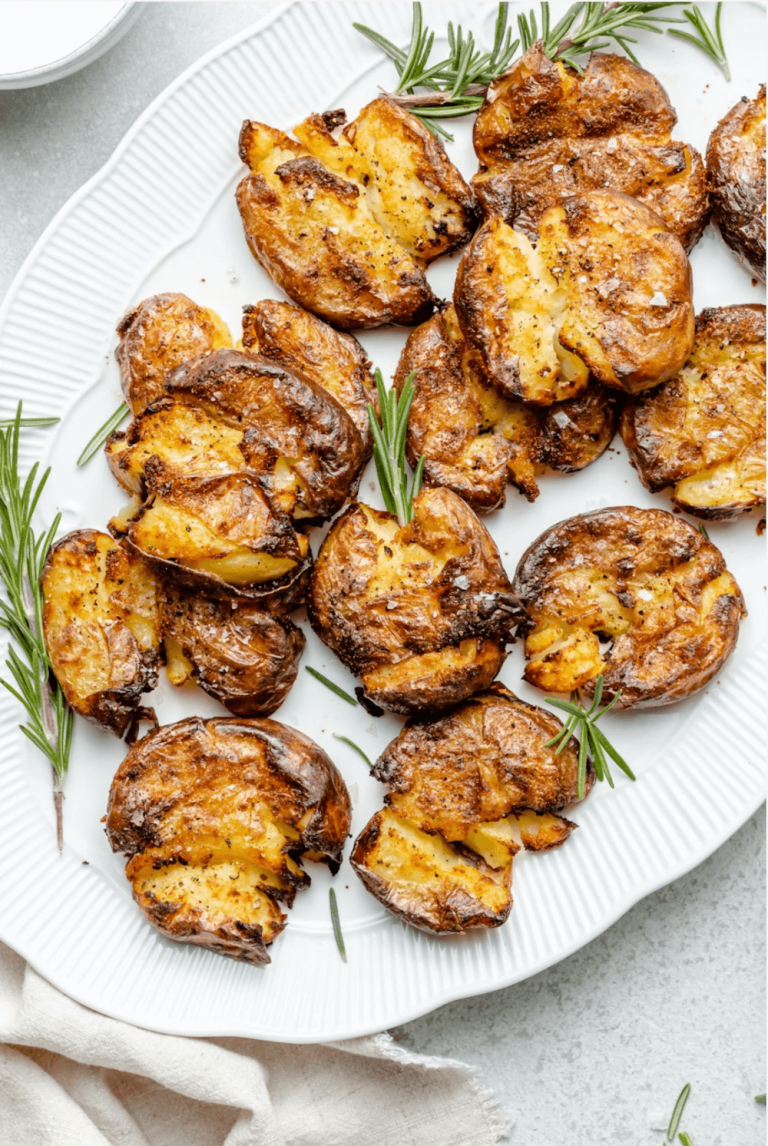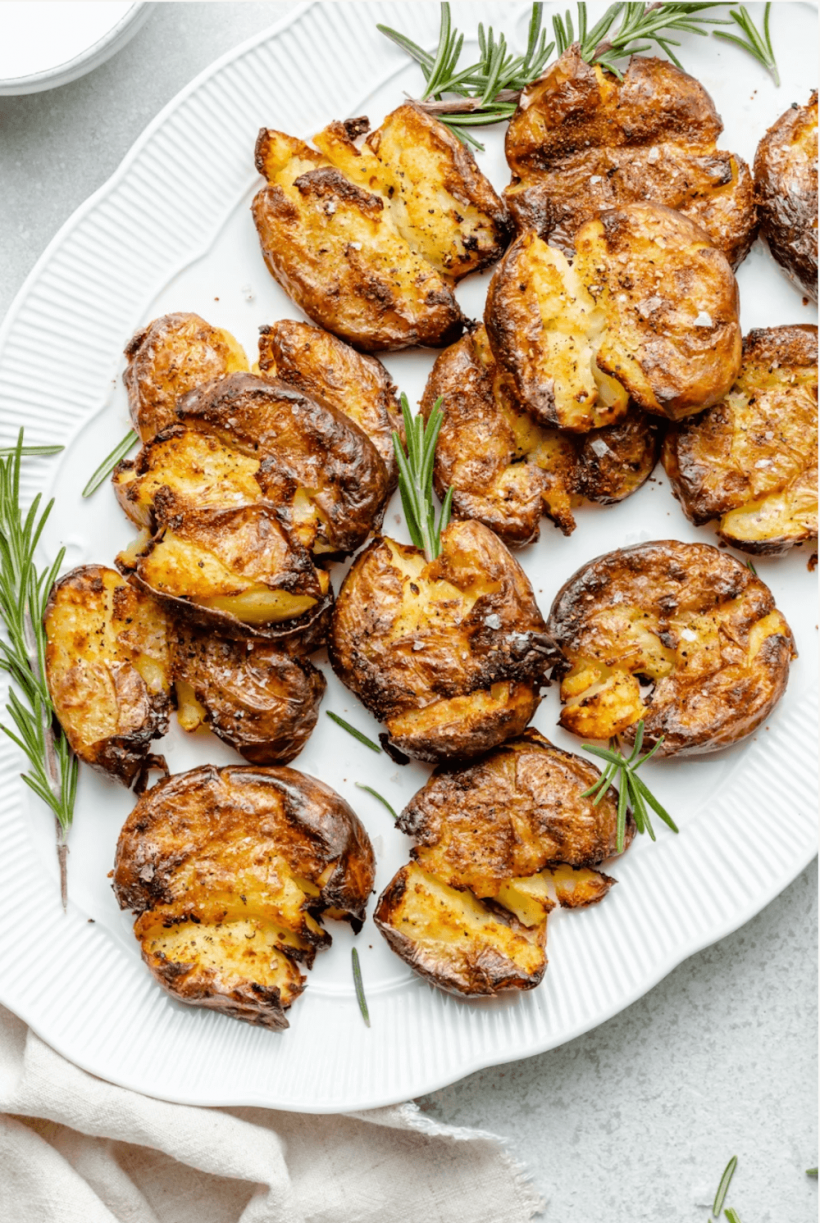 Crispy Smashed Potatoes by Ambitious Kitchen
Why we love it: Meet your new favorite way to prepare potatoes. Simple, straightforward, and crispy, these smashed potatoes are addicting, especially when paired with your favorite dip or sauce.
Hero ingredient: In my book, there's always room for potatoes at every occasion. Plus, this recipe is proof that you don't need much to make potatoes taste amazing.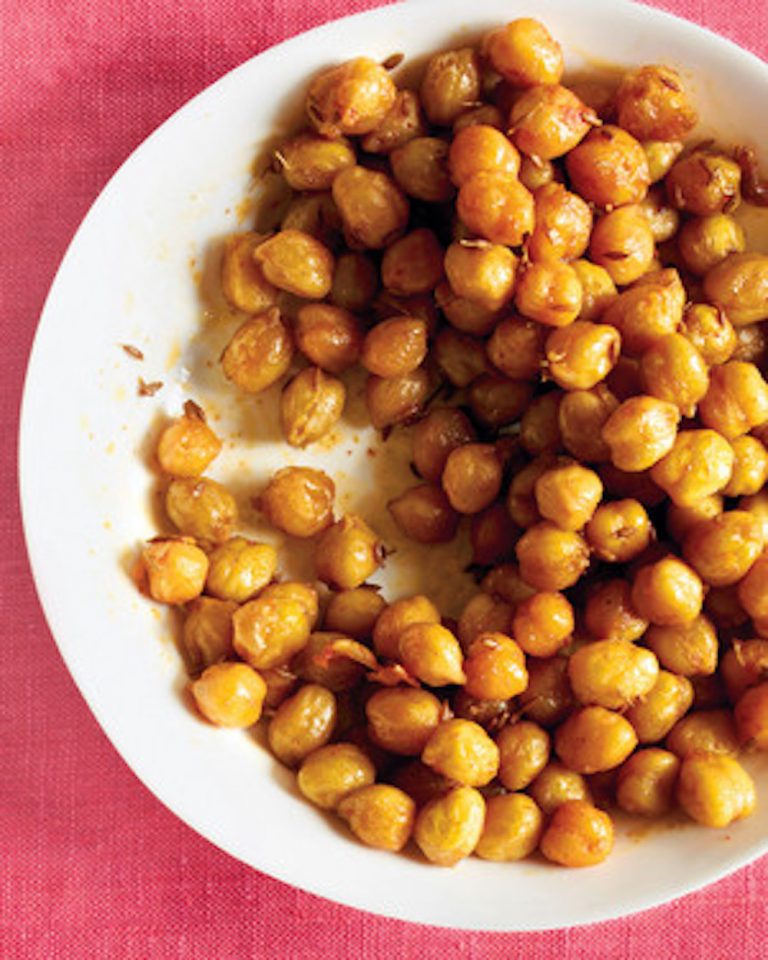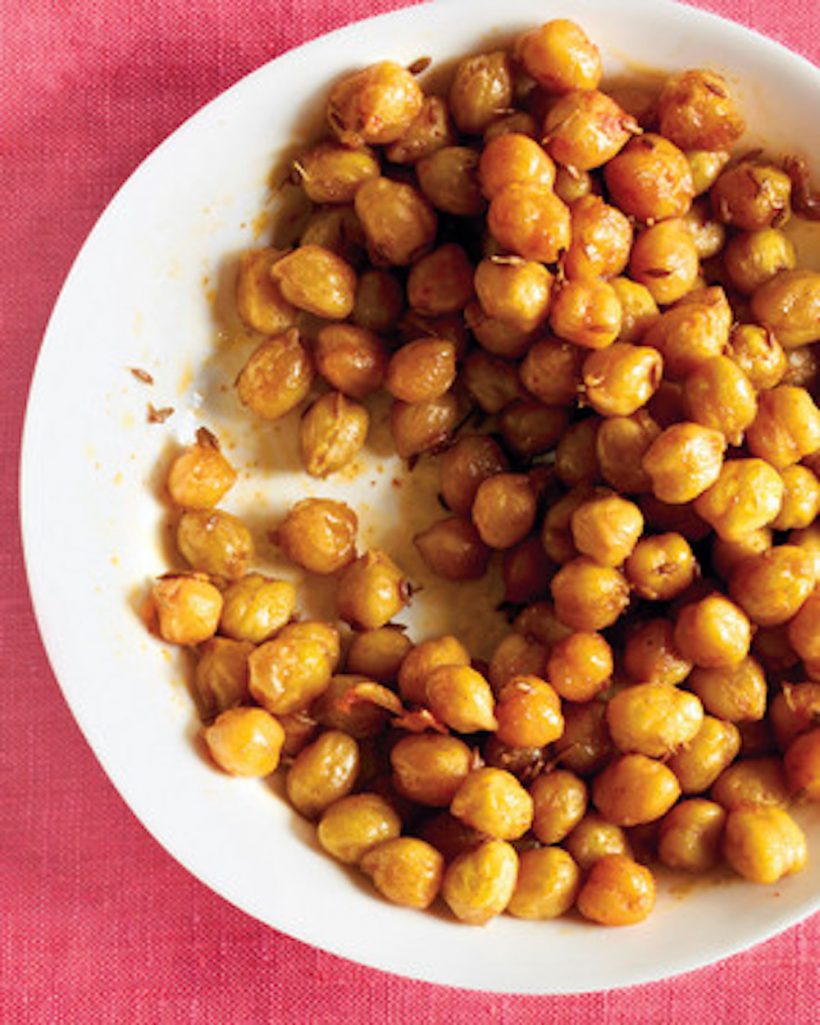 Spicy Roasted Chickpeas by Martha Stewart
Why we love it: It's always good to have a few basic appetizers mixed in with some of the more labor-intensive, detailed dishes. Enter: crispy roasted chickpeas. These are great as a standalone snack or served on top of salads, soups, and more.
Hero ingredient: Chickpeas turn golden-brown and crispy when roasted in the oven, and when you add in some spices, you'll want to eat these by the handful.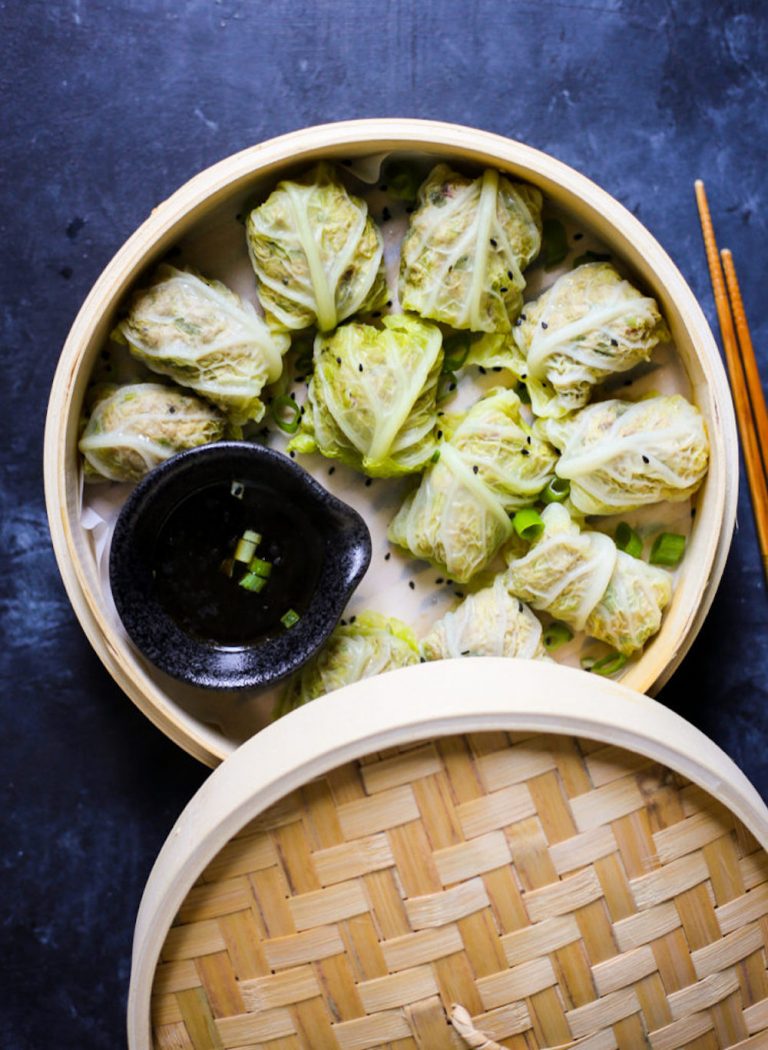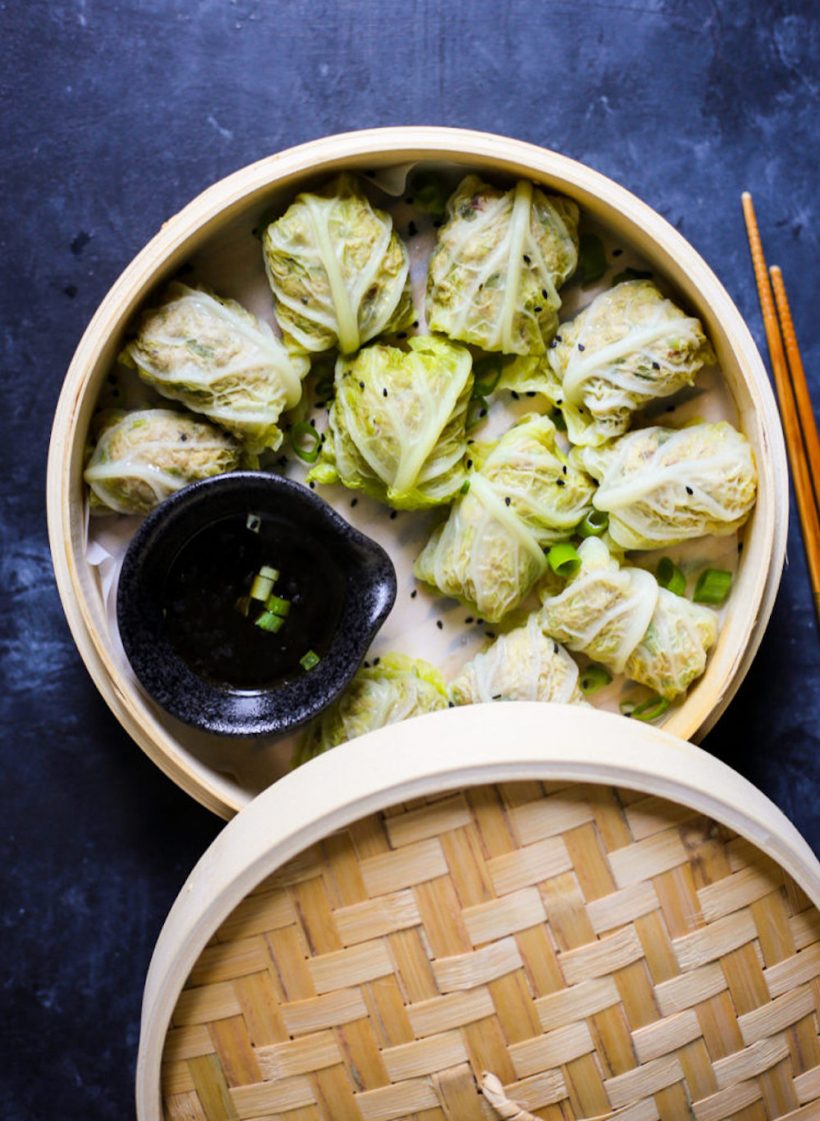 Pork Cabbage Dumplings by The Defined Dish
Why we love it: There's something about dumplings that just feel festive, and preparing them can be a fun event with family and friends. To be honest, I thought I'd never find a gluten-free dumpling recipe that was as good as the real thing. But when I tried these out, they exceeded every expectation. These dumplings are worth it!
Hero ingredients: The savory, salty pork filling in these dumplings is what makes this dish so good. With ginger, green onions, coconut aminos, and more, each bite is packed with flavor. When it comes to healthy comfort food, this dish wins.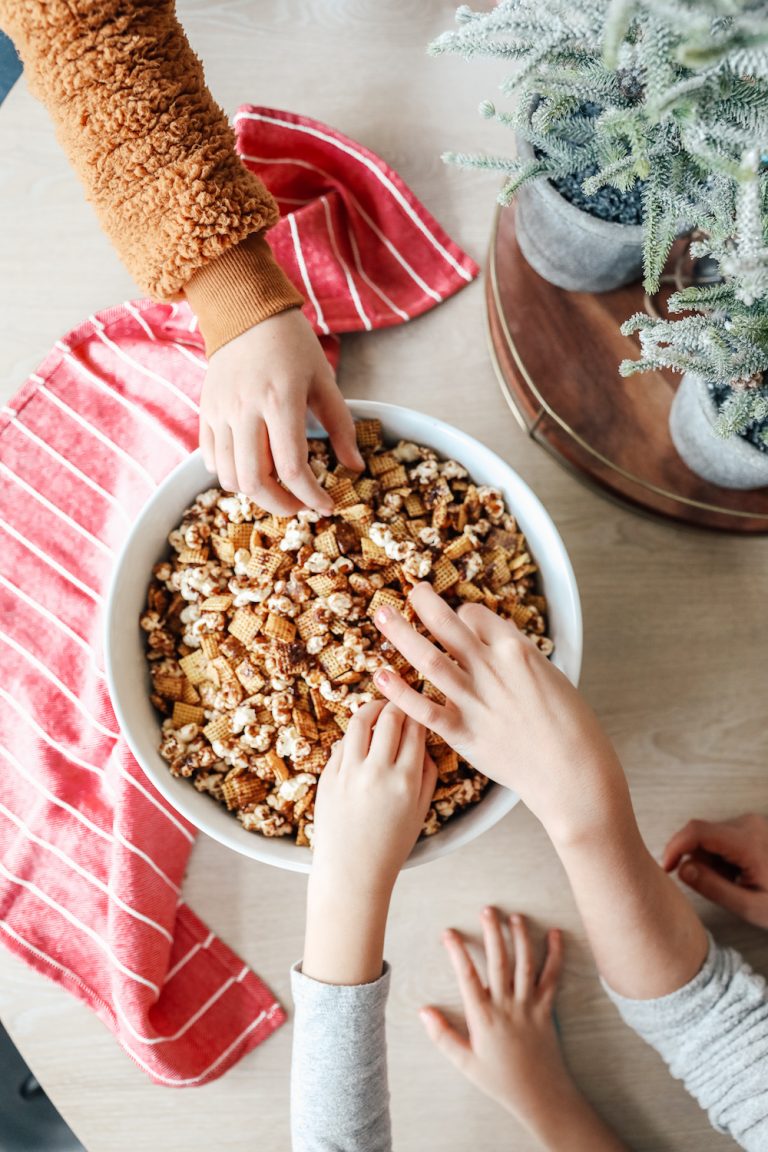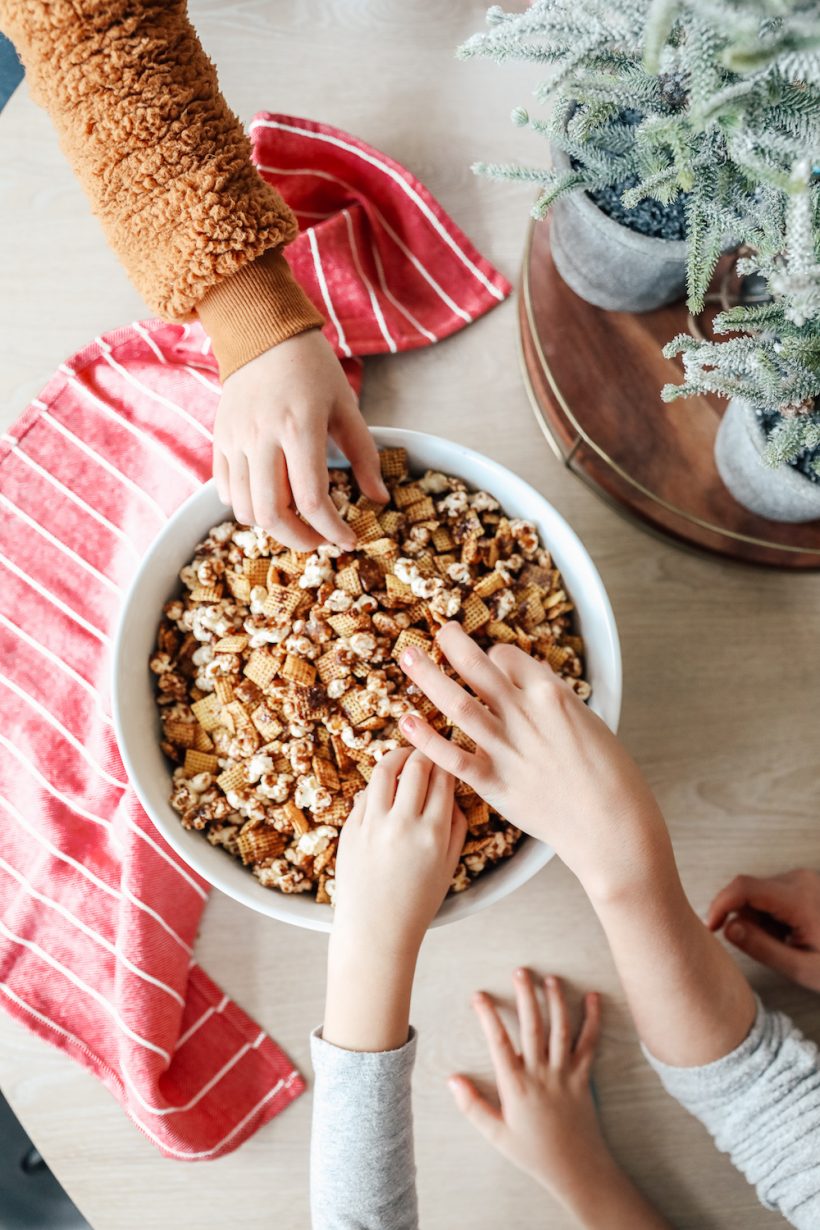 Dairy-Free Chocolate Peanut Butter Caramel Corn by Chris Loves Julia
Why we love it: This dish reminds me of the various snack mixes we used to receive during the holiday season. It seemed like every week a new circular tin would show up on our front porch with another addicting mixture of snacks. You'll want to enjoy handfuls of this chocolate peanut butter caramel corn, and share it with everyone you know!
Hero ingredient: Popcorn makes a great base for any snack mix, as it absorbs whatever flavors you mix it with. In this case, peanut butter and chocolate take this dish from an everyday snack to something festive and more indulgent.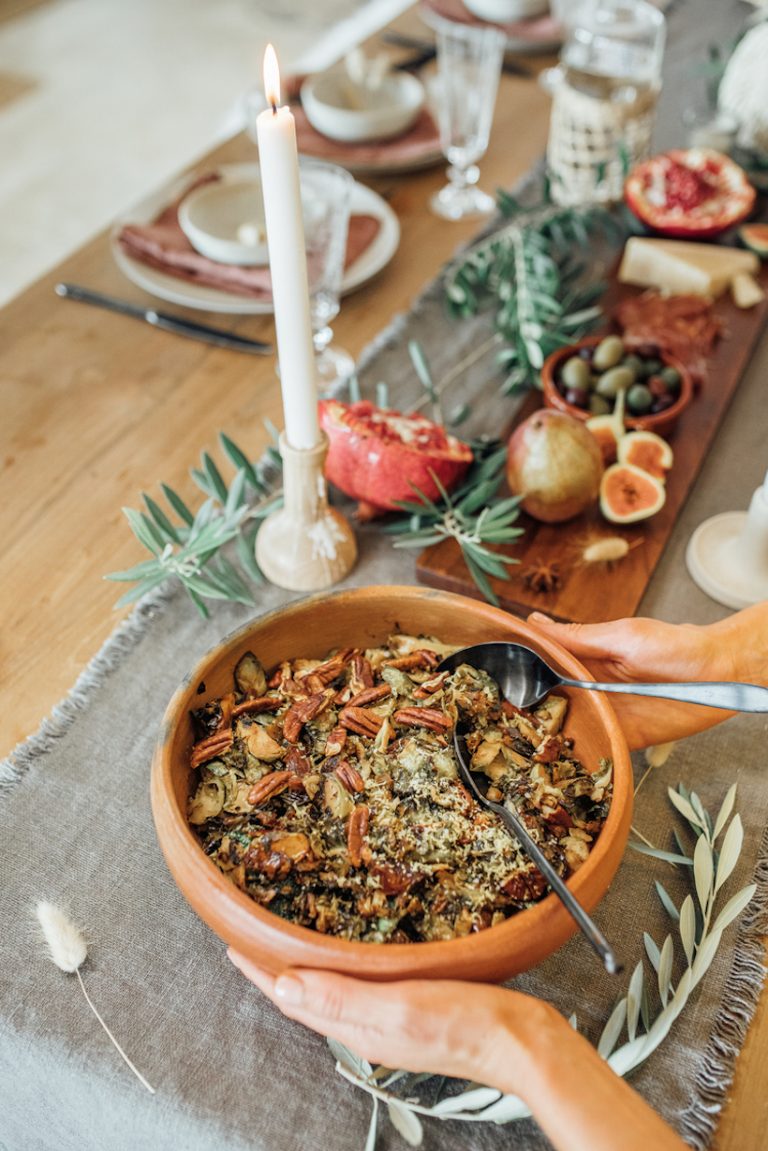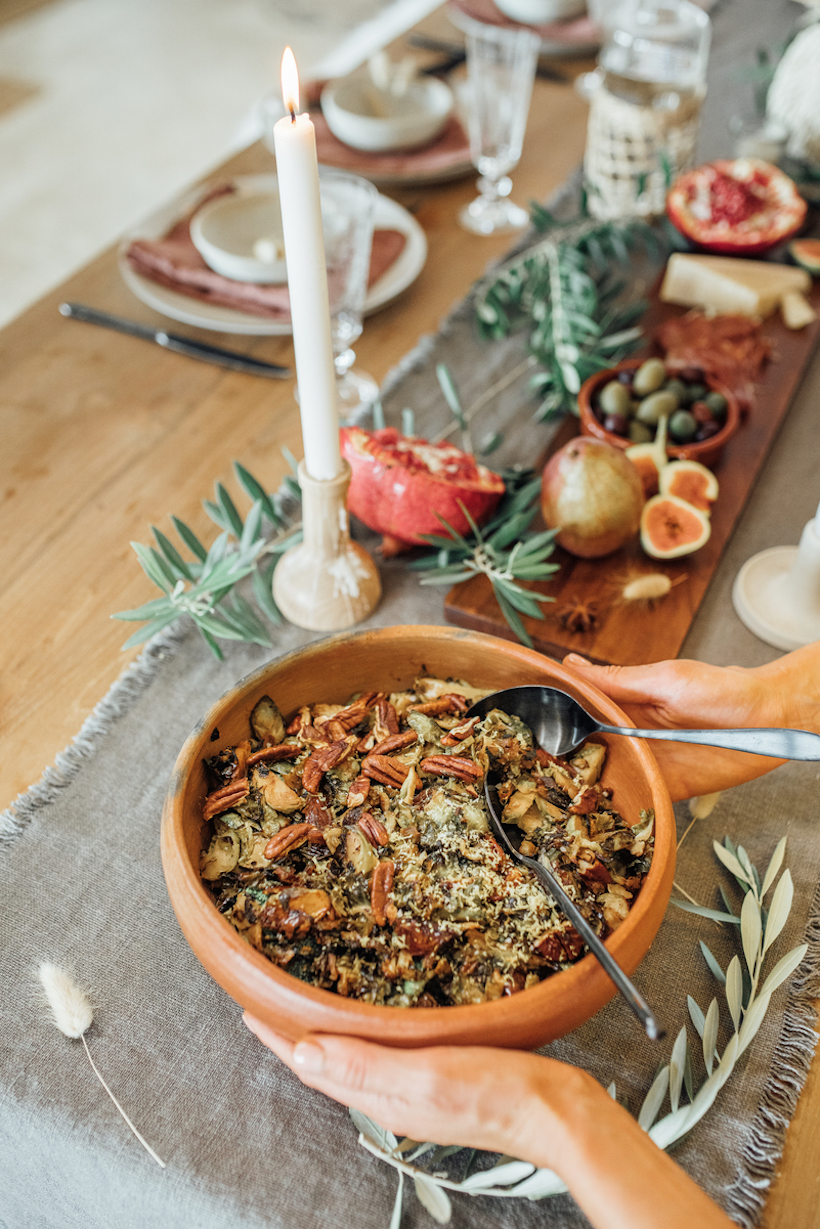 Sweet and Sour Cider Brussels Sprouts
Why we love it: Camille said it best when she described these brussels sprouts as "pretty close to perfect." These brussels sprouts are anything but boring with dates, cider, maple syrup, and more thrown into the mix.
Hero ingredient: Brussels are always best served crispy and charred, and this recipe is no exception. If you've been searching for ways to sneak more veggies into your holiday food line-up, look no further!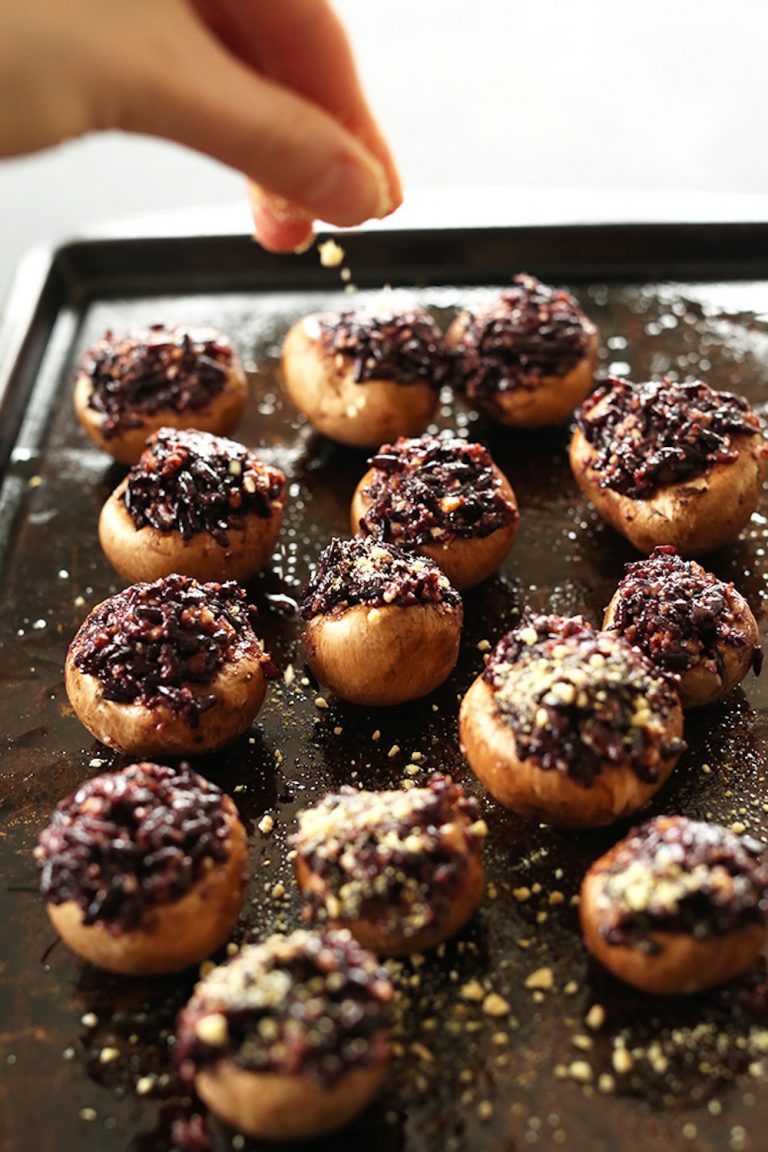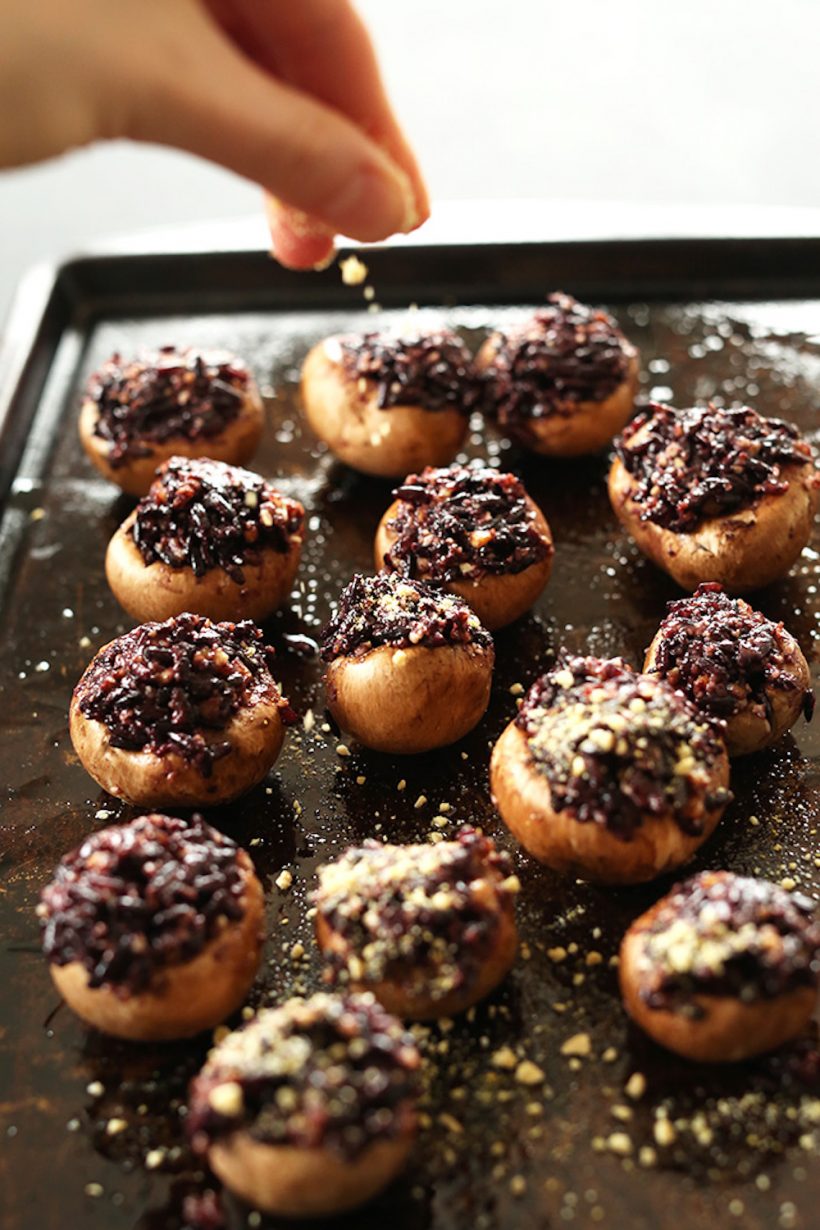 7-Ingredient Vegan Stuffed Mushrooms by Minimalist Baker
Why we love it: Decadent yet seriously healthy, you'll want to make these stuffed mushrooms over and over again. Plus, this recipe calls for just seven ingredients.
Hero ingredient: It's no secret these days that mushrooms are packed with benefits. They're rich sources of fiber and antioxidants, and their neutral flavor and texture make them a great canvas for any sort of toppings.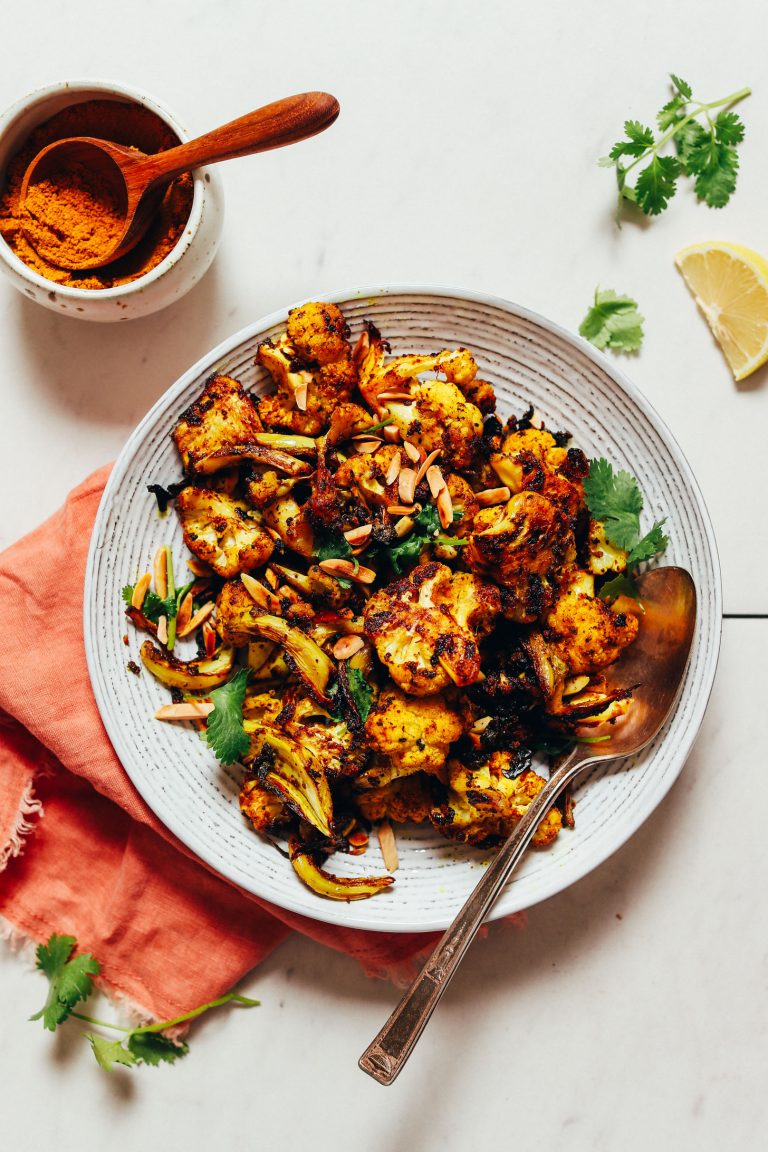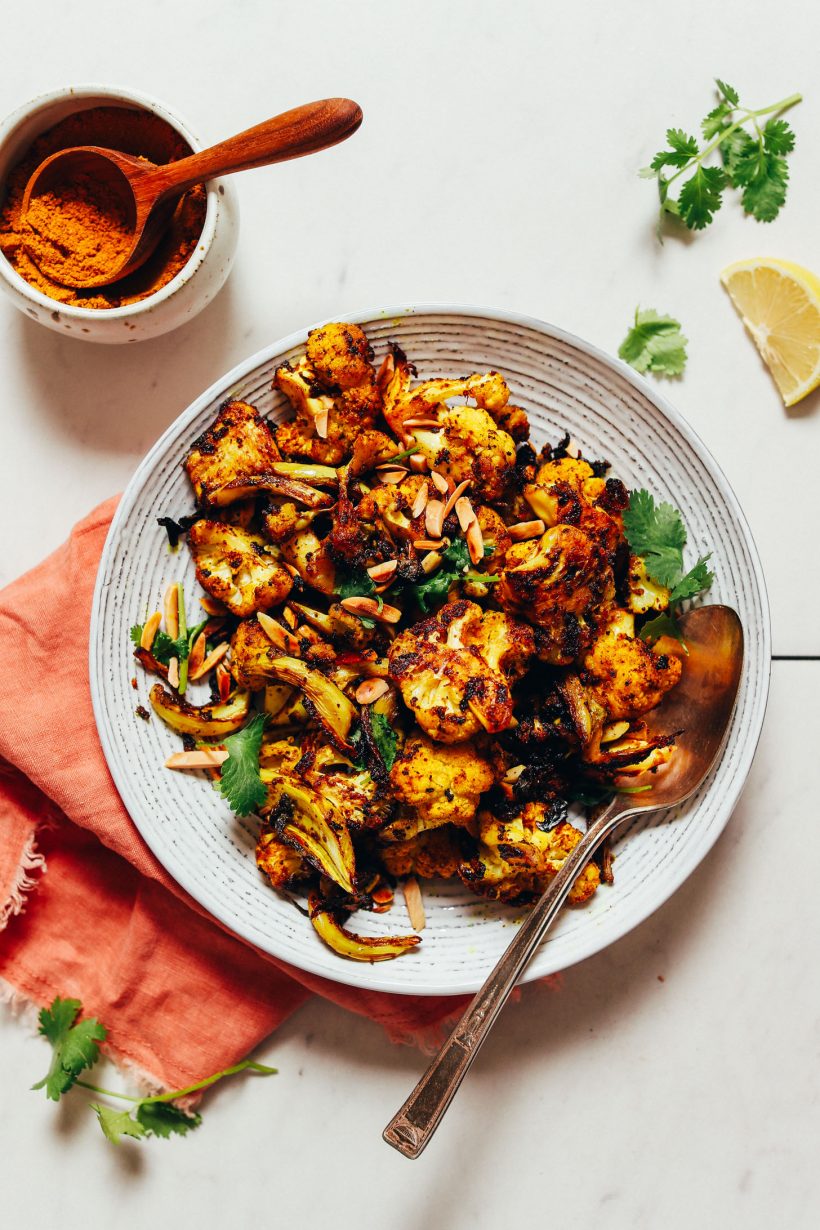 Quick Crispy Cauliflower by Minimalist Baker
Why we love it: Can you tell we're into crispy vegetables over here? I've made this roasted cauliflower recipe over and over again, and it never disappoints.
Hero ingredient: Cauliflower is everywhere these days. Not only is it packed with fiber and nutrients, but it's also one of the most versatile veggies around. This recipe works great as a side dish or standalone appetizer and works for any occasion.