The thing I love most about my favorite fish dishes? Usually, it's an incredible sauce that really takes them over the top. Mahi Mahi is a firm, lean white fish that usually comes from Hawaii or the Gulf of Mexico. It has a flaky, mild flavor similar to halibut, that really shines when it's dressed up with a squeeze of lemon or other complementary flavors. Helene Henderson's new cookbook, Malibu Farm Sunrise to Sunset, includes the most flavorful grilled Mahi Mahi recipe I've ever tasted.
Don't let the idea of prepping multiple sauces for the recipe intimidate you. They are super simple, come together in no time, and are beyond a doubt, worth it. Plus, you'll want to have extra on hand for drizzling over, well, just about everything.
This recipe was part of the menu at our Malibu Farm Dinner Party at Helene's house. Get the other recipes and read the full story here!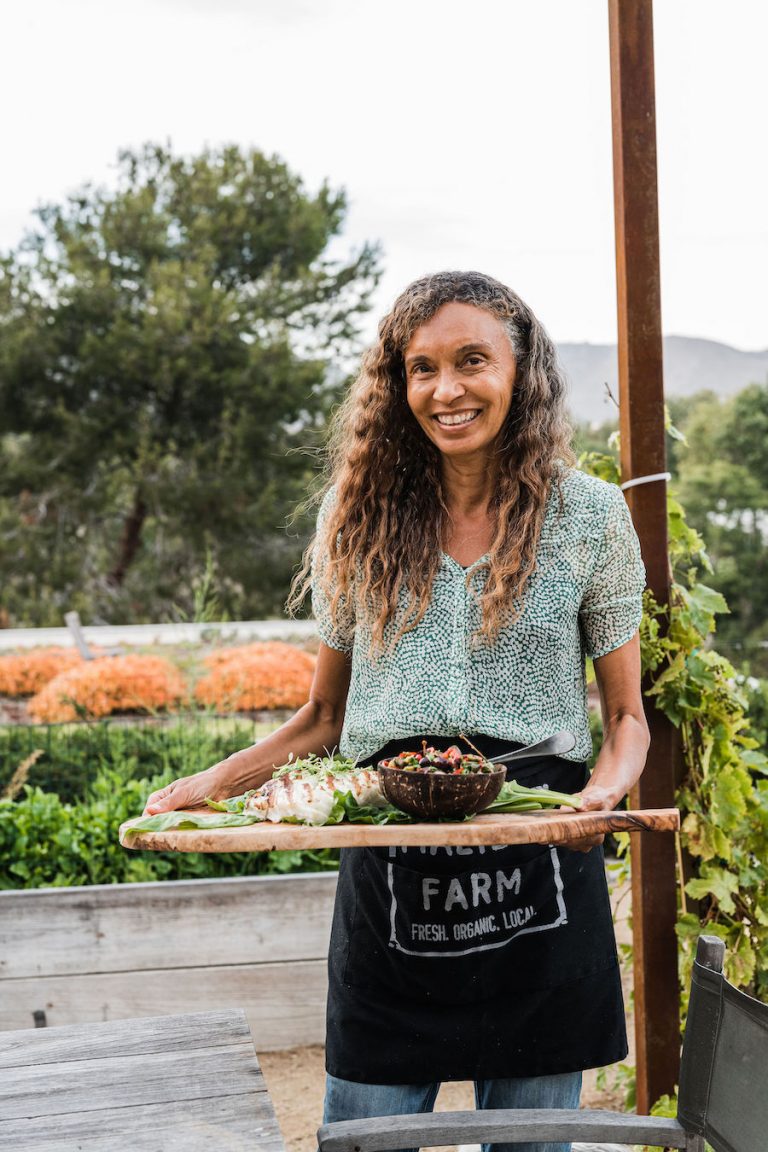 Says author/chef Helene Henderson:
"Mahimahi is a firm, lean, white warm water fish and is currently on the sustainable list (see SeafoodWatch.org). I am no expert, but I suppose that with ocean temperatures rising, warm water fish is more likely to remain a stable population than cold water fish. The sustainable seafood list will keep changing, but this sauce will work with any fish on the list.
"Mahimahi can be grilled, broiled, or sauteed. Just keep it slightly undercooked, as it can quickly become dry if cooked too long. But wait—no worries if you overcook it accidentally! We will smother it in delicious Black Olive Vinaigrette, and you will never know." 
Scroll on for the recipe for this mouthwatering grilled Mahi Mahi recipe with black olive vinaigrette…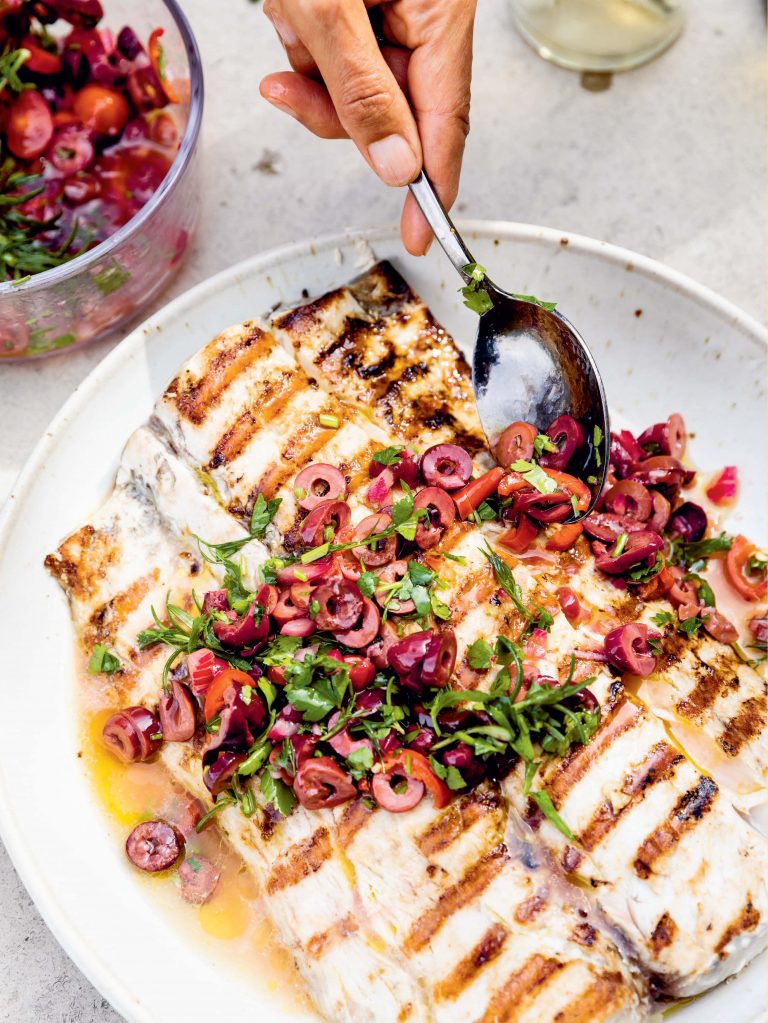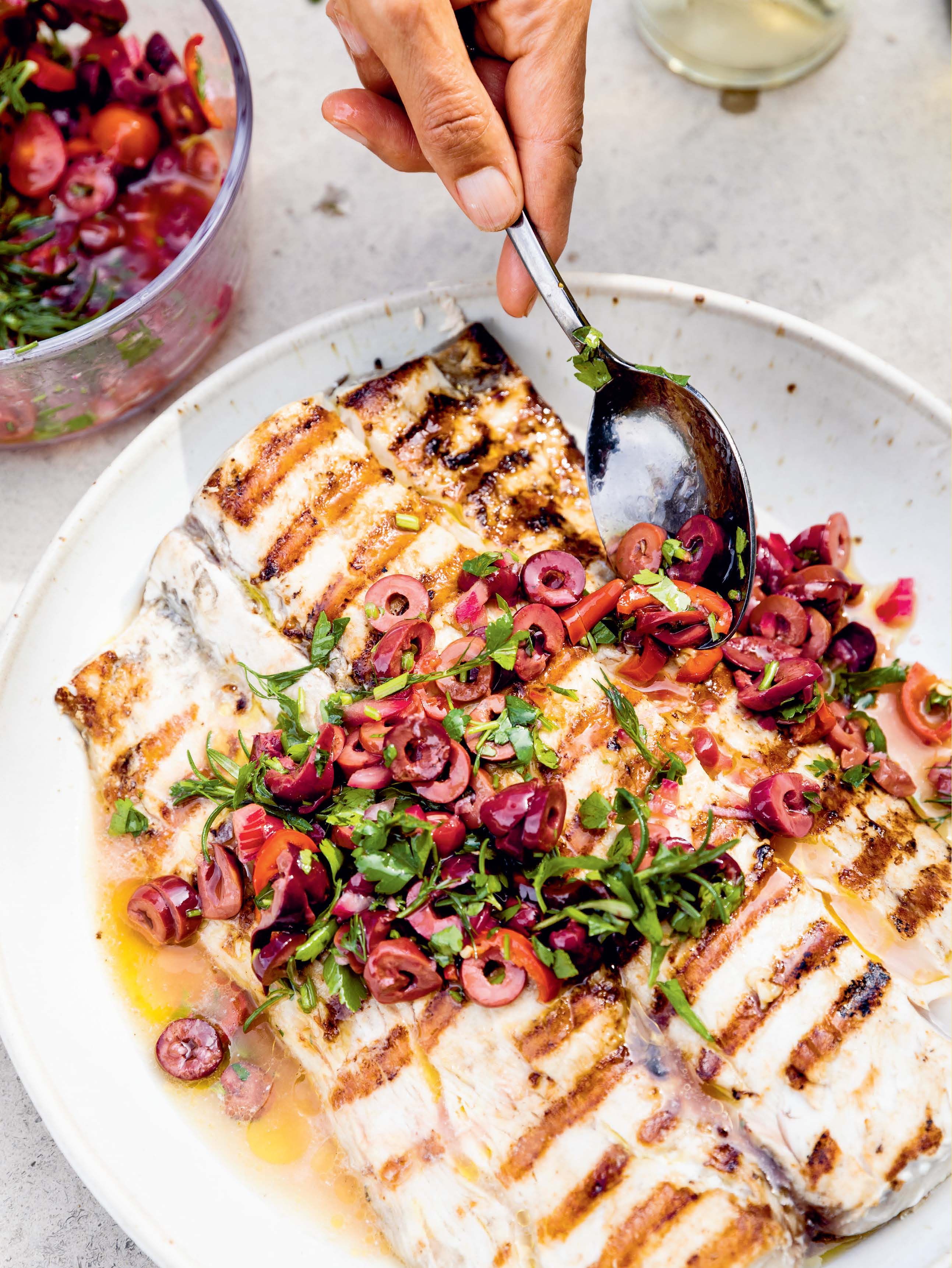 Reprinted from Malibu Farm Sunrise to Sunset by Helene Henderson. Copyright © 2021 by Helene Henderson. Published by Clarkson Potter, an imprint of Random House, a division of Penguin Random House LLC. Photographs copyright © 2021 by Erin Kunkel.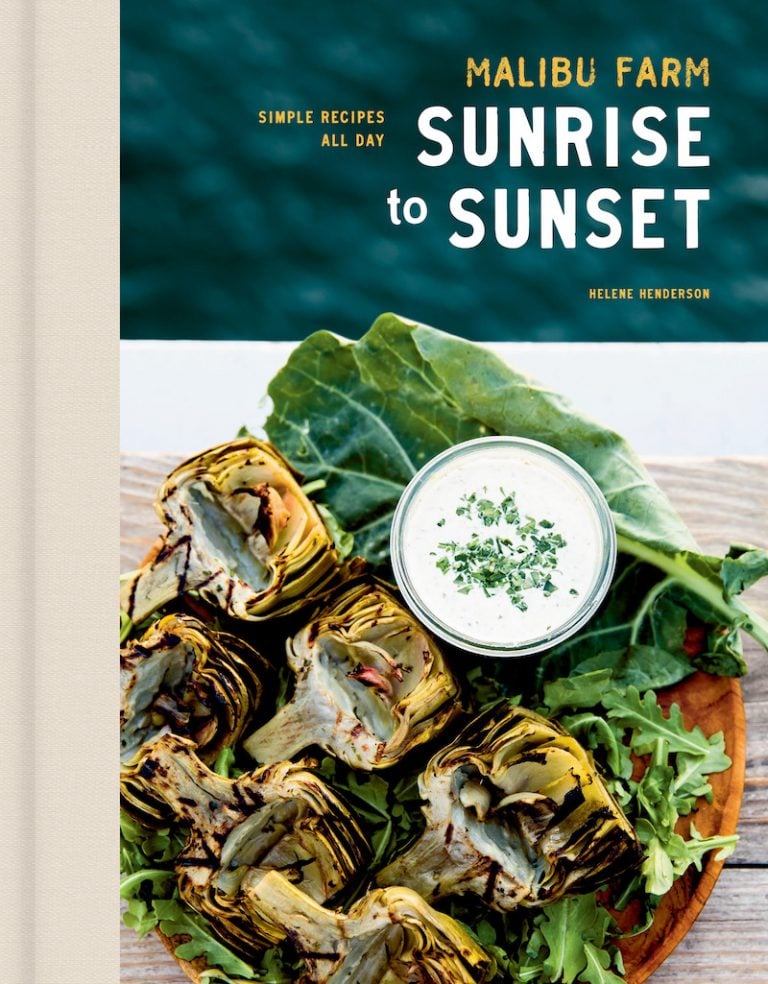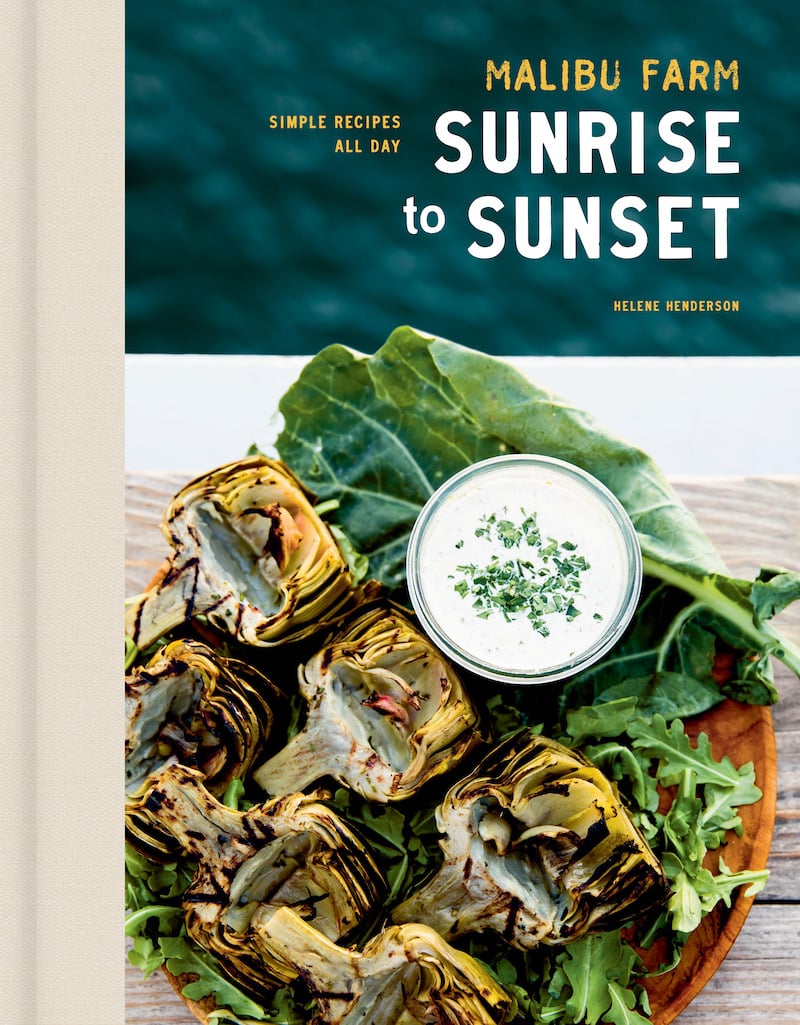 ---
Ingredients
mahimahi:
2 pounds mahimahi fillets or other fish of your choice
Salt to taste
3 tablespoons lemon aioli (recipe follows) or mayonnaise
Black Olive Vinaigrette (recipe follows)
black olive vinaigrette: (makes 2 cups)
1 cup pitted kalamata olives (see Note), chopped
¼ cup lemon dressing (recipe follows)
2 tablespoons chopped red onion
¼ cup chopped fresh herbs (rosemary, parsley, cilantro, or other herbs of choice)
2 tablespoons Fresno chile peppers, fresh or pickled (optional)
Salt
seriously citrus dressing: (makes about 3/4 cups)
½ cup juice from any citrus: lemon, lime, orange, grapefruit
¼ cup olive oil
1 garlic clove, grated
Salt to taste
Chopped fresh herbs, such as parsley, cilantro, or rosemary (optional)
I heart you happiness aioli: (makes 1 cup)
1 cup mayonnaise
1 tablespoon fresh lemon juice (about ½ lemon), or hot sauce, curry, or seasoning of choice
1 garlic clove, grated
---
Instructions
mahimahi:
Season the mahimahi fillets lightly with salt on both sides, and spread the lemon aioli over the fillets. (Coating lean fish with a light layer of aioli or mayonnaise helps lock in moisture and makes the fish less likely to stick to the grill.)
Cook on a barbecue grill or saute in a large skillet over medium heat for about 10 minutes, depending on the thickness of the fillets, until just cooked through. The aioli or mayo is a substitute for oil and will burn off during the cooking process. Place the grilled fish on a serving platter and pour the dressing over it.
VEGAN OPTION: For a vegan version of this recipe, swap the fish for grilled tofu and use vegan mayonnaise.
black olive vinaigrette:
In a bowl or jar, combine the olives, lemon dressing, onion, herbs, and chile (if using), and season with salt to taste. The dressing can be made as much as 4 days in advance.
NOTE: Feel free to use your favorite olive varieties in this recipe. You can also mix and match different olives and include capers and/or caper berries as well.
seriously citrus dressing:
The key here is fresh-squeezed juice, not bottled. How much oil will you use? This all depends on how much juice you have squeezed, but you want to have more juice than olive oil, which is why we call it "seriously" citrus dressing.
Just whisk the citrus juice with the olive oil, stir in the garlic, and season with salt. Add chopped herbs if using. Voilà.
I heart you happiness aioli: (makes 1 cup)
So easy: In a small bowl, stir together the mayonnaise, selected seasoning, and grated garlic. With lemon juice, it becomes lemon aioli; choose hot sauce, and it is spicy aioli; add curry powder, and it's curry aioli. Voilà!
VEGAN OPTION: Substitute vegan mayonnaise if you like. Some vegan brands taste so good you practically can't tell the difference between them and traditional mayonnaise. My favorite vegan mayonnaise is Just Mayo.