With summer in full swing, there's no time better to celebrate the season for what it is: bold colors, bright flavors, sweet treats, and cold drinks. So when Camille asked me to create some fun ice cube recipes that would level up our cocktails, mocktails, and lemonades this summer, I was all in. With a season that's all about celebration, I leaned into beautiful florals and bright flavors that could enhance our favorite summer drinks. I wanted to feature beverages that were refreshing but still packed with flavor and easy to assemble.
Use these ice cube recipes as your guide, but feel free to adjust and adapt to your own tastes! Add a splash of bubbly or use different fruit and flower combinations. These are supposed to be fun and bring a small moment of joy into your summer days–so enjoy!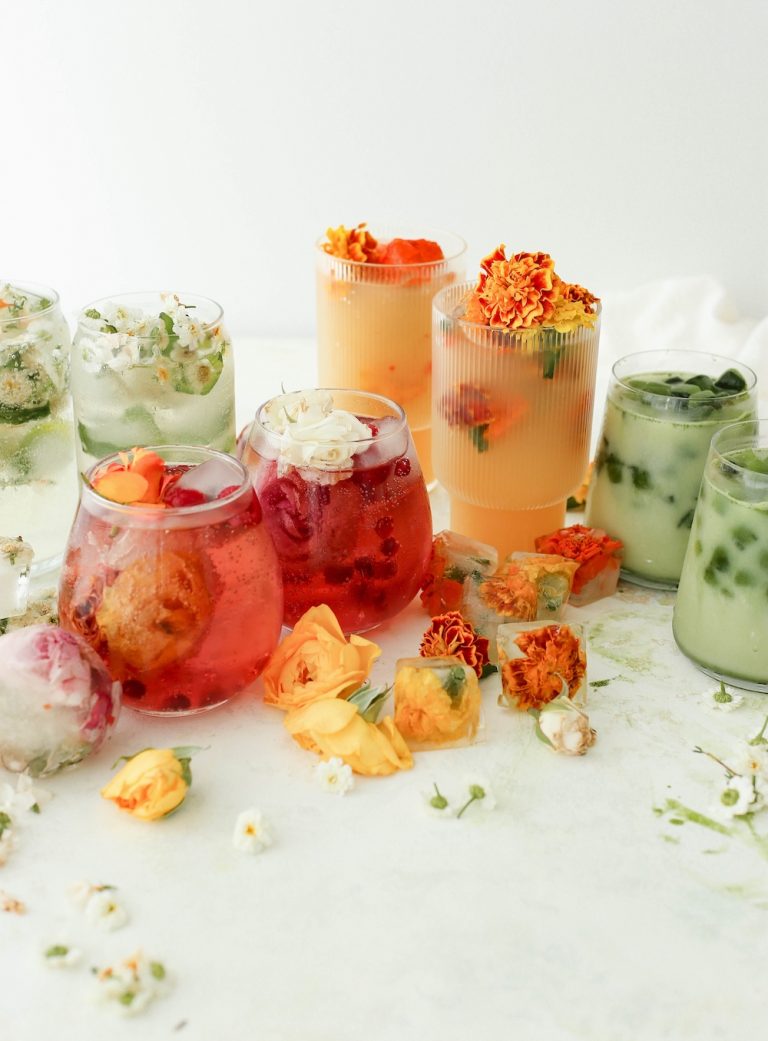 Chamomile and Jasmine Herbal Ice Cubes
Okay, so we're starting off with my favorite ice cubes of the bunch. Not only are these beautiful, but they step up the flavor (and visual eye candy) in any basic lemonade recipe.
For the ice cubes:
1. Fill an ice tray with small chamomile and jasmine flowers and herbs of your choice. I used mint, thyme, and basil. Fill the tray with water and freeze until solid.
For the drink:
1. Fill glasses with frozen ice cubes and pour over either your favorite lemonade for an elevated summer lemonade packed with extra flavor or pour over sparkling water for a refreshing summer afternoon treat. Enjoy!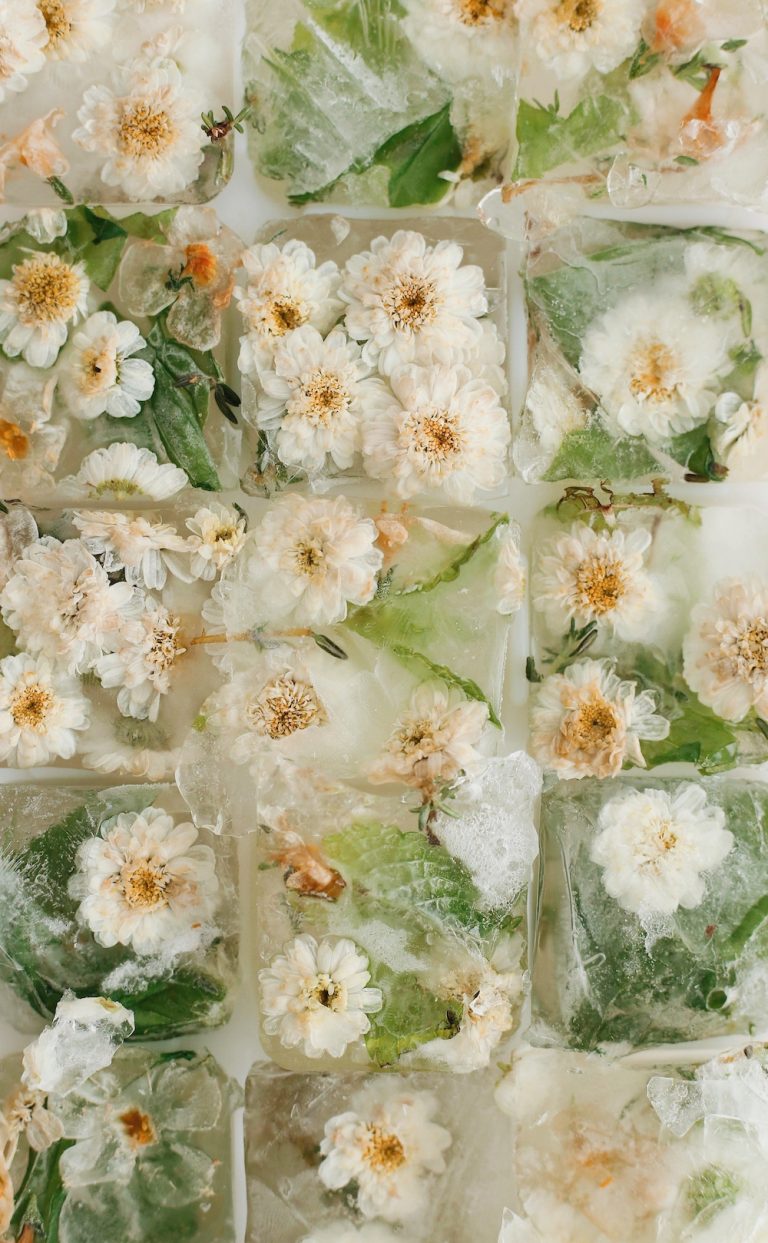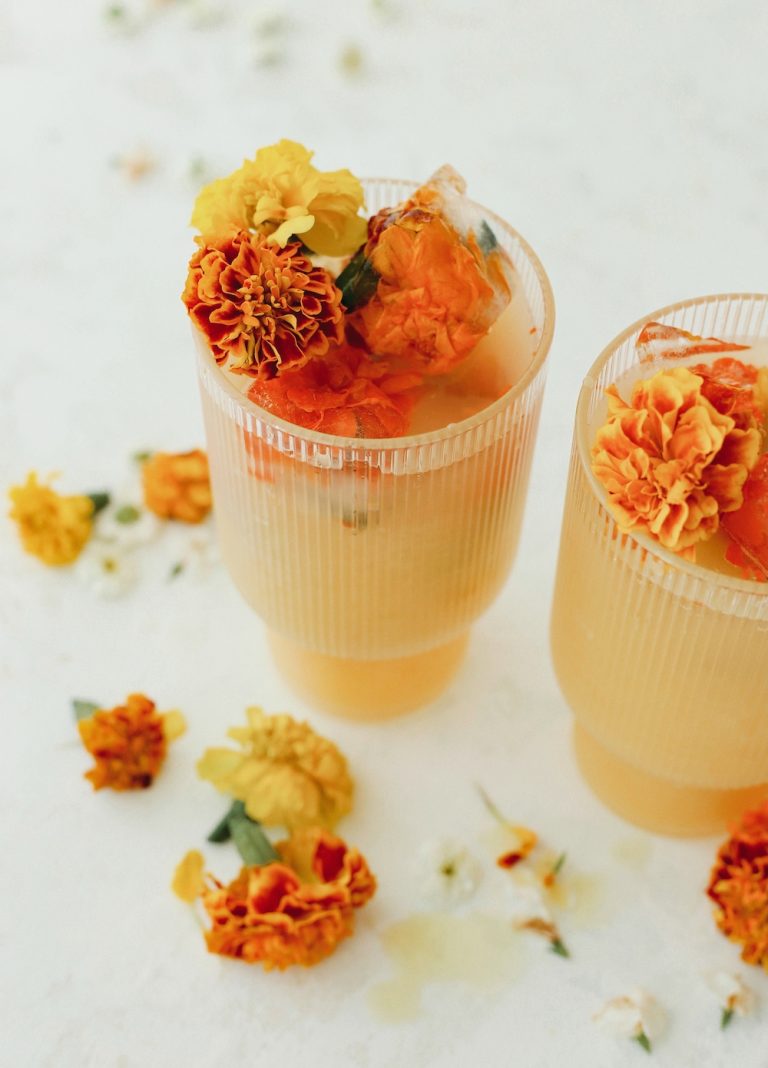 Sparkling Orange Marigold Ice Cubes
Marigolds are some of my favorite flowers, especially growing up in an Indian household. These orange and golden blooms are considered auspicious and bring good vibes to the home during celebrations. So adding these to a drink felt extra special to me. If you've never had a marigold, they actually have a very subtle citrus flavor that pairs so well with the drink, and the orange hues feel extra special for the golden hour summers.
For the ice cubes:
1. Fill an ice tray with marigold flowers, putting one or two blooms in each cube. Pour over water and freeze until solid.
For the drink:
1. Place ice cubes into glasses.
2. Pour over orange soda of choice (I like this one) and add a big splash of orange juice. Enjoy!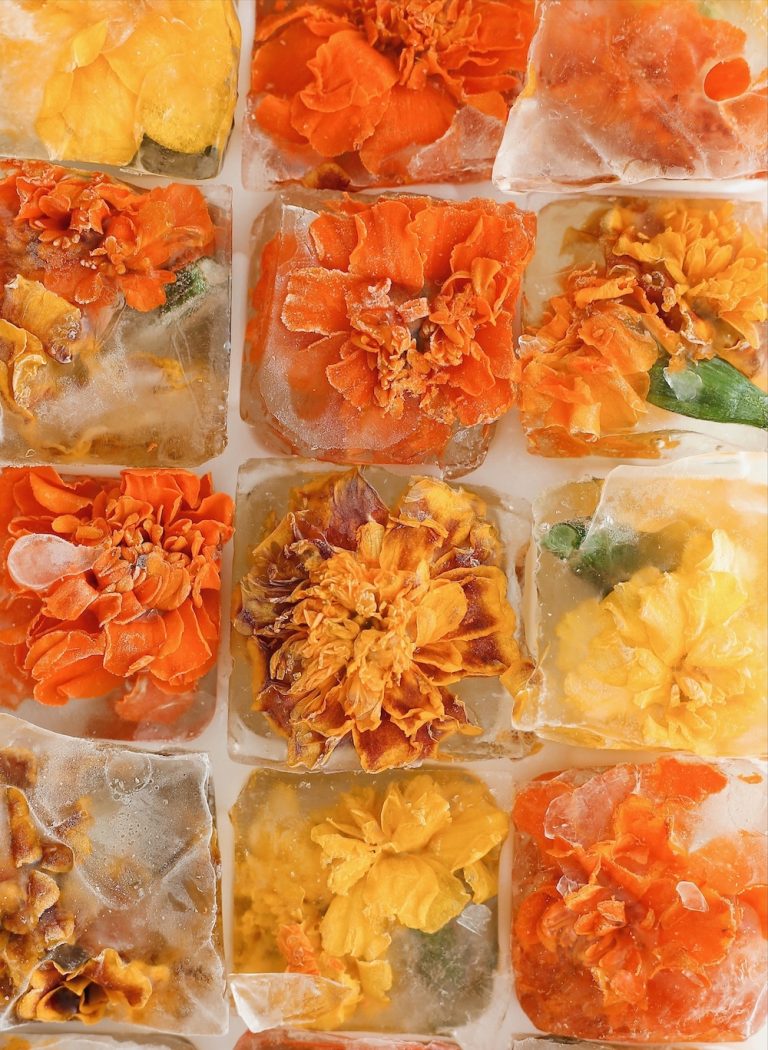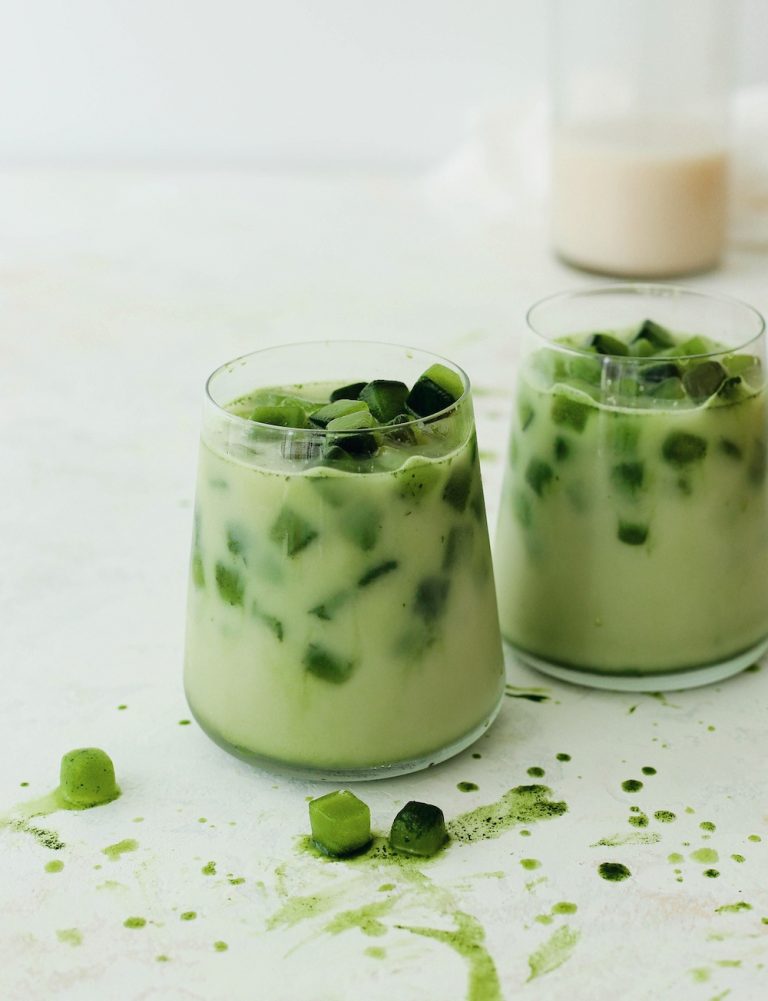 Matcha Ice Cubes
I am a huge fan of matcha and tend to drink it more often than coffee in the mornings. If you're not a fan of the flavor, make sure you're investing in really good quality ceremonial matcha. I'm a huge fan of the Paru Tea Single Origin at Methodology. And using the matcha in ice cube form keeps the flavor a little more subtle while also being a very fun way to celebrate the green tea.
For the ice cubes:
1. In a matcha bowl, add 2 tsp of matcha powder. whisk with 1 cup of water until smooth and there are no lumps, the matcha should be dissolved.
2. Pour the matcha into an ice cube tray, freeze until solid.
For the drink:
1. To serve, place ice cubes into a glass. pour over milk of choice, I used almond milk. Enjoy!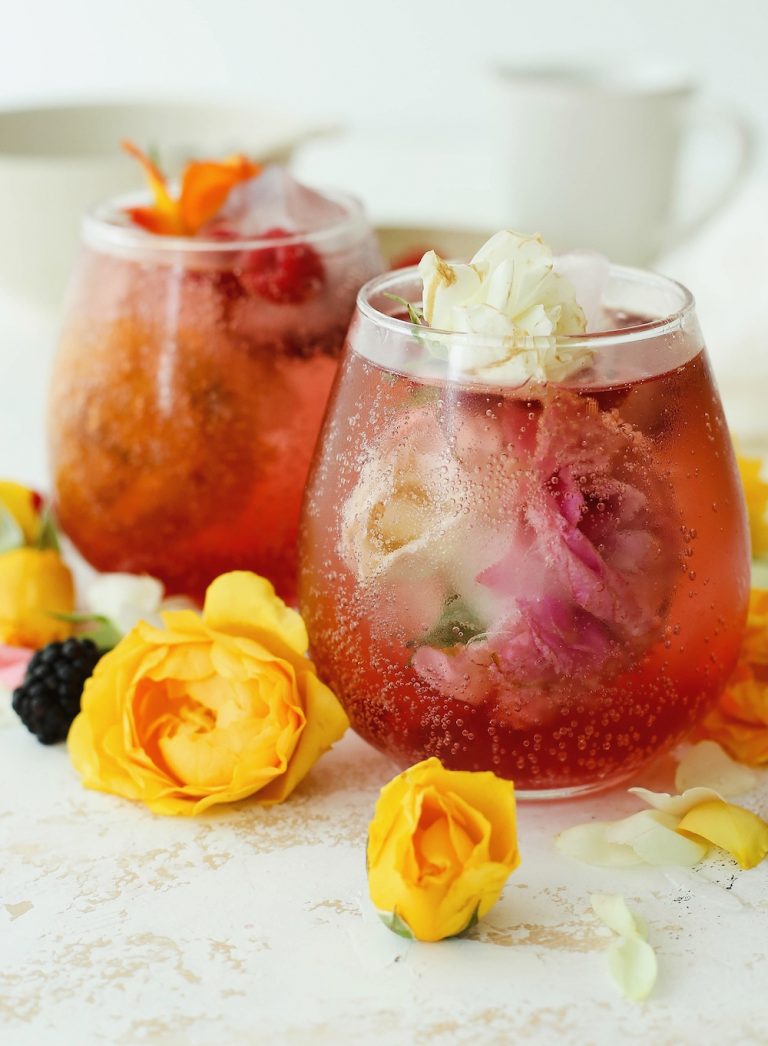 Sparkling Pink Rose Ice Cubes
This one might be the most beautiful of the bunch. Not only are the roses just gorgeous to look at, but the combination of the rose petals and the bright pink of the hibiscus tea really make this one feel like an extra special treat.
For the ice cubes:
1. Make the first set of ice cubes, place edible rose blossoms into ice cube tray—I used a round ice cube tray but you can also make it in a regular large ice cube tray. Pour over water and freeze until solid.
2. Make the second set of ice cubes, a berry version. I used blackberries, raspberries, and pomegranate seeds in an ice cube tray. Pour over water and freeze until solid.
For the drink:
1. Place ice cubes into glasses.
2. Pour over sparkling water until glass is 3/4 of the way full, then pour over cold steeped hibiscus tea. Enjoy!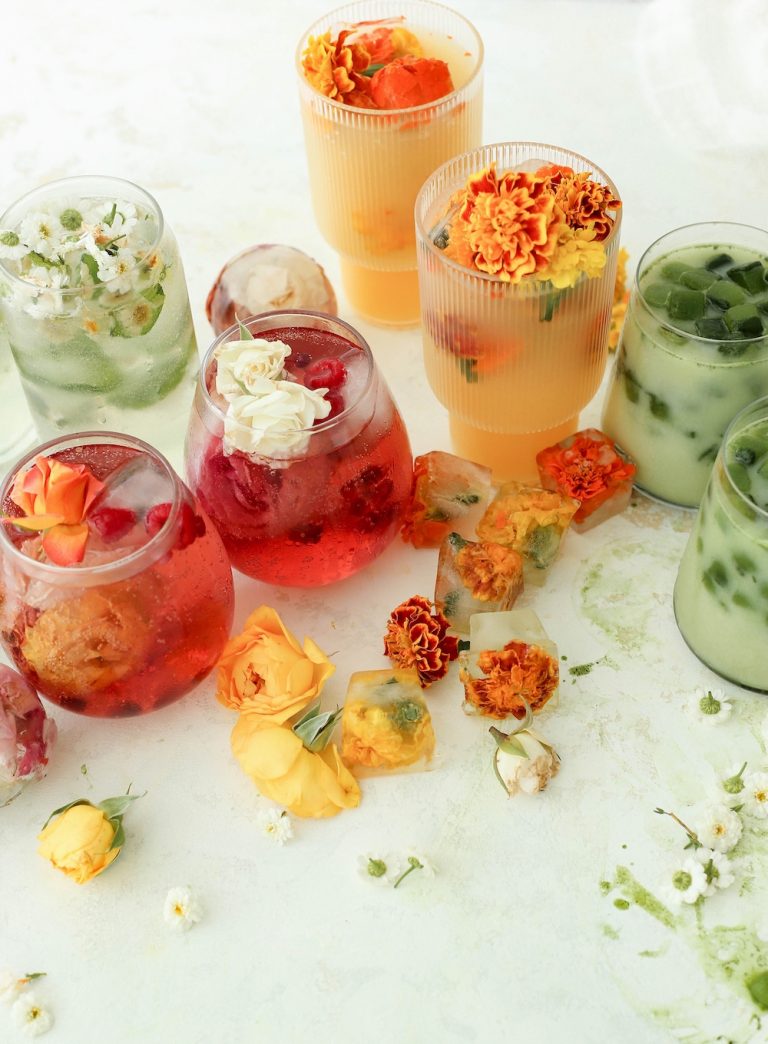 Shop our favorite ice cube trays and makers:
Is there anything better than mini ice cubes in your ice coffee or matcha? Yes! Making actual matcha or iced coffee ice cubes to put into your matcha or iced coffee. So meta!
No more struggling with popping out your ice cubes thanks to these easy release trays.
We love that this tray has a lid and is a square design to keep things interesting.
One always needs options when it comes to ice cube varieties and spheres ice trays will always have a place in our freezer. Hot tip: Use them on your under-eyes and face in the morning to depuff and waken up the skin!
We love an extra-large ice cube especially when it comes in a chic speckled tray. There is nothing more satisfying than pouring hot matcha over a big ice cube in a cup. 
This one is a little on the pricier side but we're all about having ready-made ice on our countertop. Of all the ice makers out there, this one has a lot of positive 5-start reviews on Amazon and a good friend tells me it's worth the price. So, if you're in the market, this one is worth looking into.