These Italian Stuffed Shells will make you one very popular dinner party host– and I always love a party recipe that I can prep completely in advance. Says Alison Hersel owner of Plumcot Farm, who shared this incredible recipe with us (at this party):
"I use very simple techniques in order to keep things low stress… Also, when I entertain, I design menus that allow for advanced prep and I am usually popping a baked dish in the oven when guests are arriving or I've stewed something in my instant pot."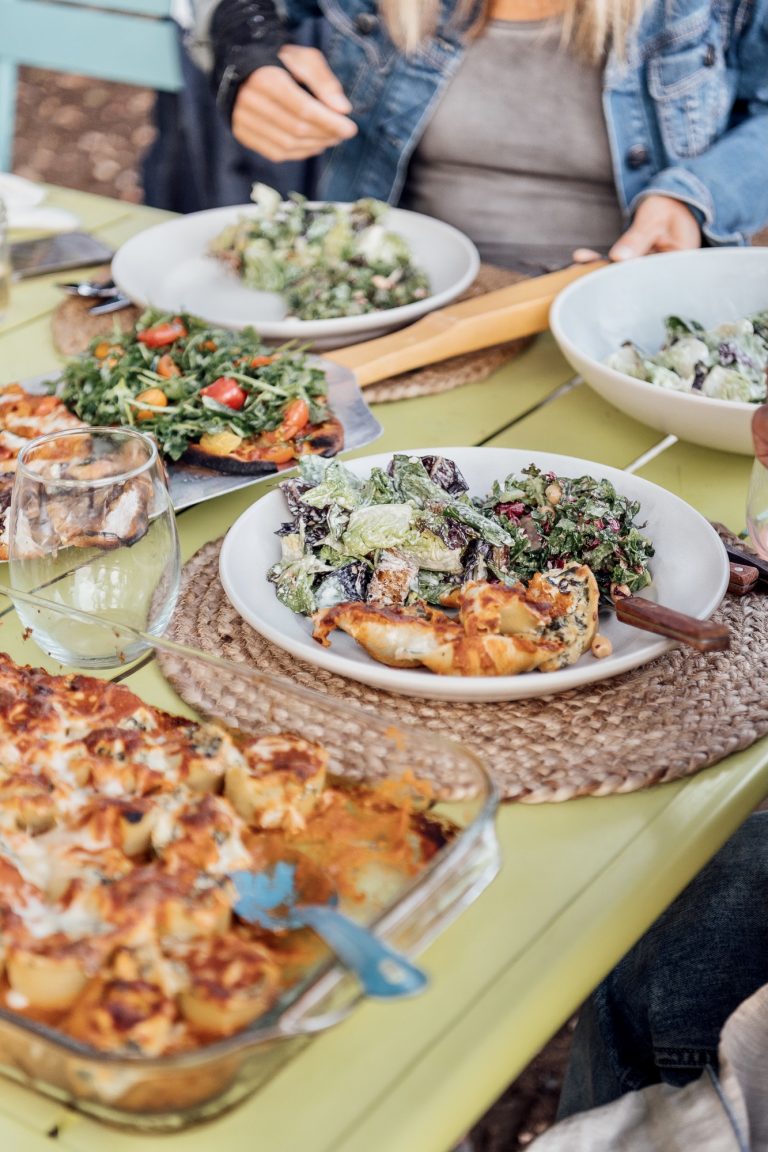 It's a tried-and-true formula for dinner party success, and these Italian Stuffed Shells feel like ultimate comfort food. They're incredible simple yet so delicious. It can also be prepared gluten-free by swapping in large gluten-free pasta shells.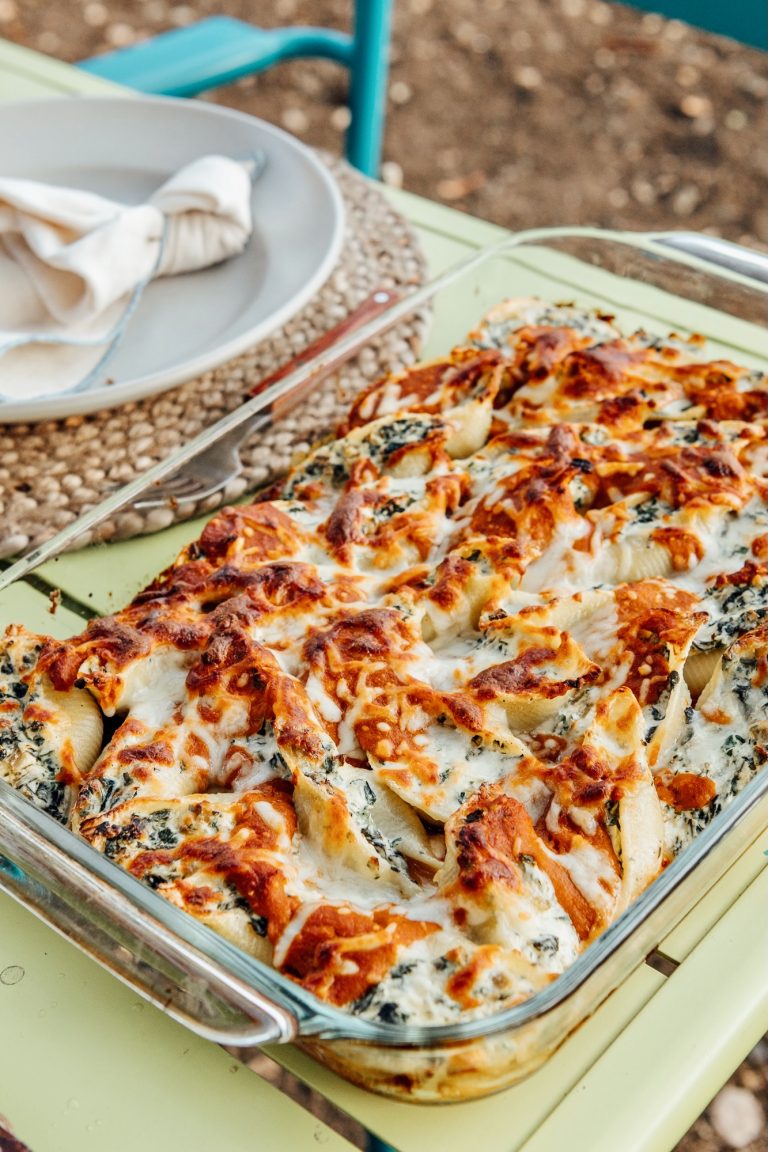 This recipe was part of the menu at our Italian-Themed Summer Dinner Party at Plumcot Farm, hosted by Alison Hersel. Get the other recipes and read the full story here! 
---
Ingredients
Marinara Sauce:
4lbs fresh heirloom or San Marzano tomatoes
2 yellow onions
1 head garlic
Salt
Pepper
Basil
Ricotta Stuffing:
15 oz containers of Organic Valley whole milk ricotta cheese x 2
1 cup Pecorino Romano or Parmigiano cheese
2 cups sauteed spinach or rainbow chard seasoned with salt and pepper.
Salt
Pepper
Additional:
Large shell pasta noodles
Mozzarella cheese
---
Instructions
Wash tomatoes and cut in halves or quarters depending on size. Cut onions in quarters. Peel garlic. Place all on a cookie sheet and drizzle with olive oil, salt, and pepper. Bake in the oven at 400 degrees for 30 minutes or until lightly browned and bubbling.
Allow tomato mixture to cool. Once cooled blend in a food processor or blender. Transfer to a pot.
Bring the sauce to a boil, then reduce heat to a simmer. Add fresh chopped basil and season to taste.
Mix ricotta, pecorino or Parmigiano, and spinach or chard in a bowl. Squeeze out any excess liquid from the spinach/chard before mixing in with the other ingredients. Season with salt and pepper to taste.
Boil water to cook large shell pasta noodles. Follow package instructions but note that the noodles should be cooked al dente because they will continue cooking in the oven. Remove one or two minutes earlier than the package instructions to ensure al dente.
Spread noodles on a cookie sheet so that they are flat and cooling. Use a tablespoon to fill the shells with the ricotta mixture.
Ladle marinara sauce on the bottom of a glass 13x9 inch pan. Transfer the stuffed shells to this baking dish and ladle with more sauce. Top with shredded mozzarella cheese
Bake for 20 minutes at 450 degrees or until the cheese is lightly browned and bubbling.
Sprinkle with fresh torn basil or chopped Italian parsley and serve