Particular foods tend to speak their own love languages. A homemade pie is a warm welcome to a new neighbor. Paella amongst a group of friends is a party in a pan. And Pasta Alla Vodka, when shared with your significant other, is romance on a plate. Soup is simple—it's love in a ladle. Comfort food to serve and enjoy. One spoonful can take you back to your childhood, one cup can soothe the soul and one bowl can transport your tastebuds on a trip to far-off places with ingredients that make you dream of travel. My favorite? This season, I'm collecting low-carb soup recipes that can provide comfort and health in one bowl.
Although it's a year-round palate pleaser, here in Texas, I enjoy soup best in January. The days are crisp and sunny, and the nights are perfectly chilly which is the formula for soup season. The month ahead is all about hunkering down with a comforting bowl of homemade soup that's been simmering on the stove all afternoon. And few foods can shine as a starter, side, and a main the way that soup does—all while looking photoshoot ready. 
To celebrate the beauty of one of our favorite four-letter foodie words, we've rounded up some of the tastiest low-carb soup recipes scouted around the 'net. Some vegetarian, some not, but all low-carb and all worth giving a spoon swirl.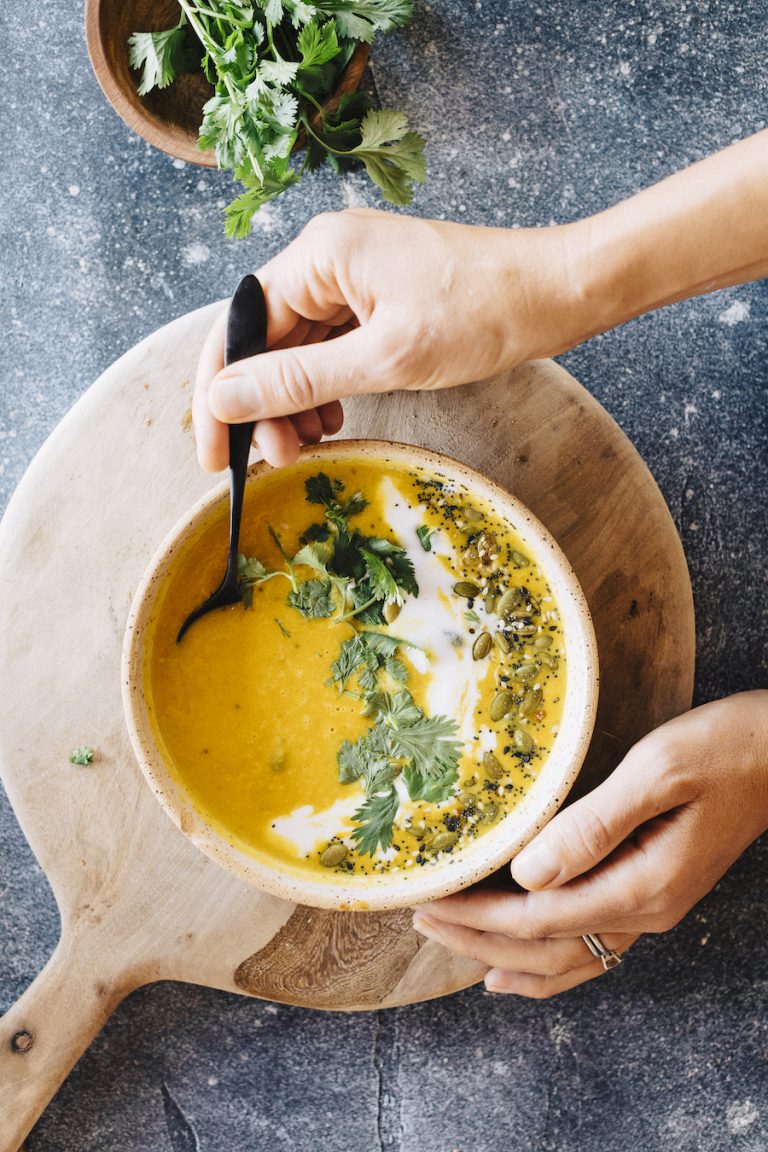 "Creamy" Vegan Butternut Squash Soup With Ginger & Coconut Milk
Why We Love It: Be it roasted, simmered, grilled, or mashed—we're always here for a butternut squash dish. For this delish soup, the butternut squash is combined with rich coconut milk, which adds creaminess minus the dairy.
Hero Ingredient: A fresh cilantro garnish rounds out the flavors and adds the right amount of je ne sais quoi.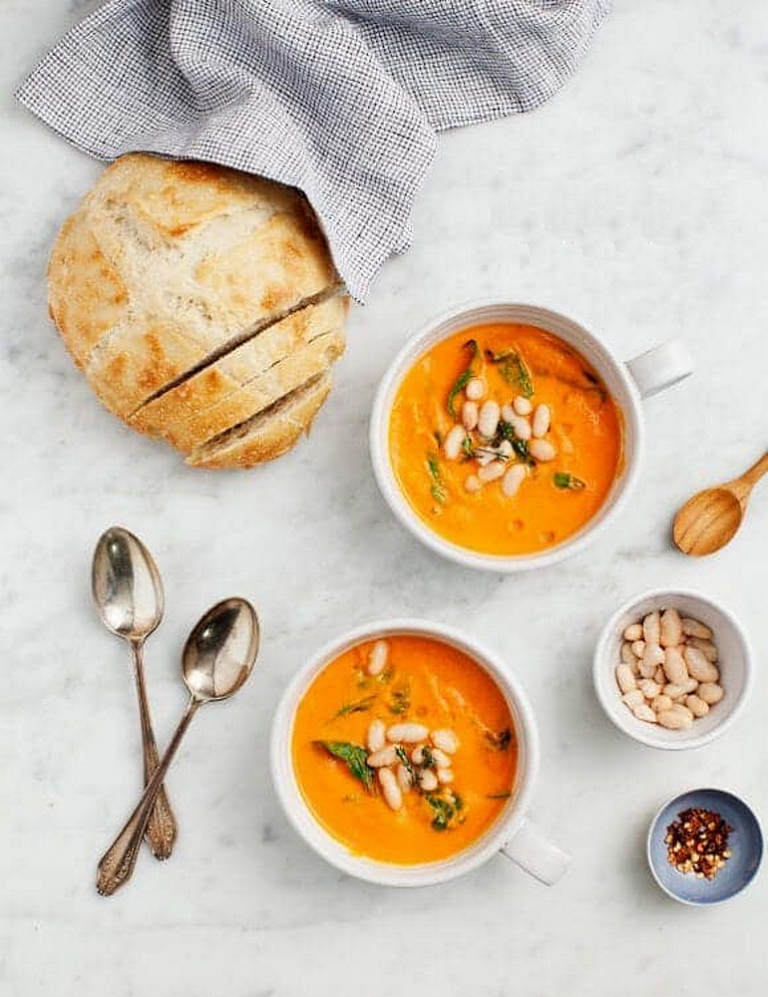 Creamy White Bean and Tomato Soup from Love & Lemons
Why We Love It: Delicious alongside a salad or perfectly satisfying as an entree, this vegan white bean, and tomato soup has an earthiness from the carrot and fresh thyme. The perfect grounding meal after a grinding day.
Hero Ingredient: Bet you can't guess where the creaminess comes from here? Raw cashews. Yep. Healthily brilliant.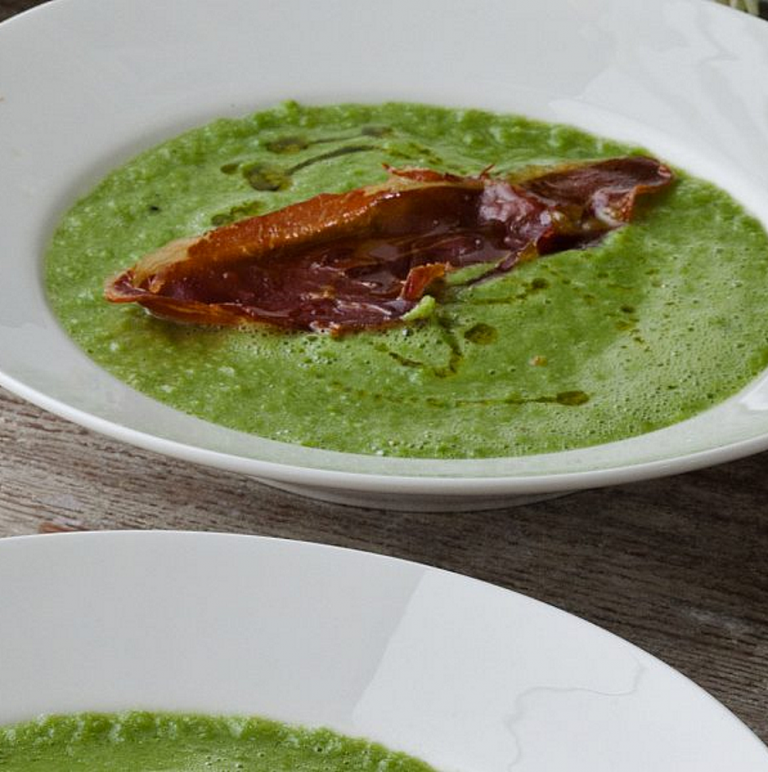 Spanish Pea Soup With Crispy Ham from Barefoot Contessa
Why We Love It: When hunger strikes and you're at a loss of what to make in a hurry, look no further than your freezer. A few cups of chicken stock and a couple of bags of frozen peas later, and voila—an easy, delicious, light dinner is born. (We make this soup in summer and winter.)
Hero Ingredient: Meat eaters might say the crispy ham. But if you don't eat meat, just simply omit it.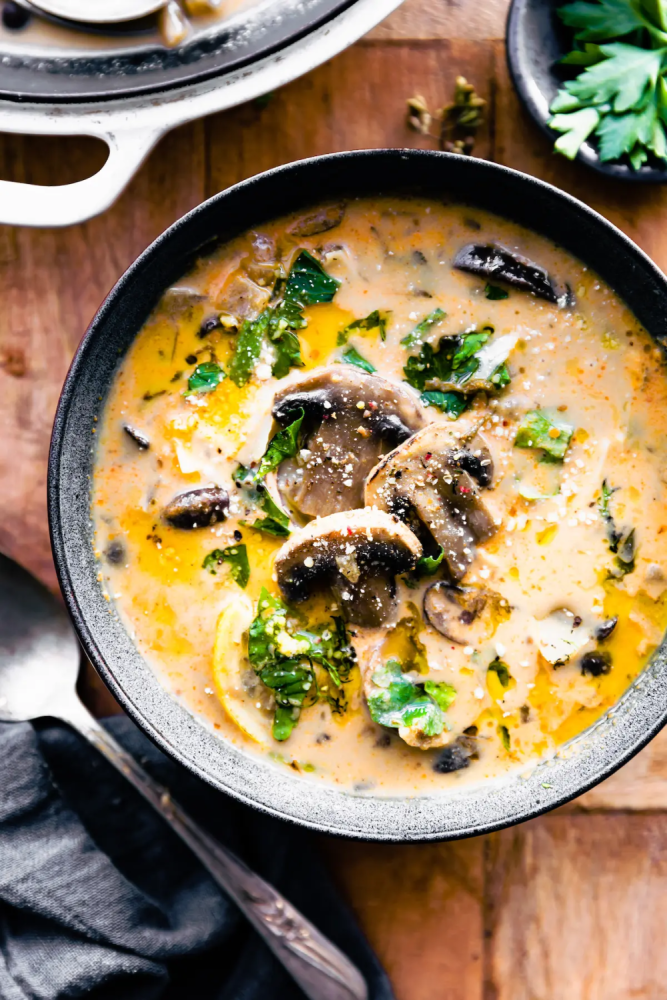 (Vegan) Creamy Hungarian Mushroom Soup from Cotter Crunch
Why We Love It: Love rich, creamy soups but don't want all that butter and flour? Try this vegan option from Cotter Crunch, which uses dairy-free butter and arrowroot flour as a thickening agent.
Hero Ingredient: Wondering what takes a regular mushroom soup to Hungarian status? Paprika! (We're partial to the smoked variety.)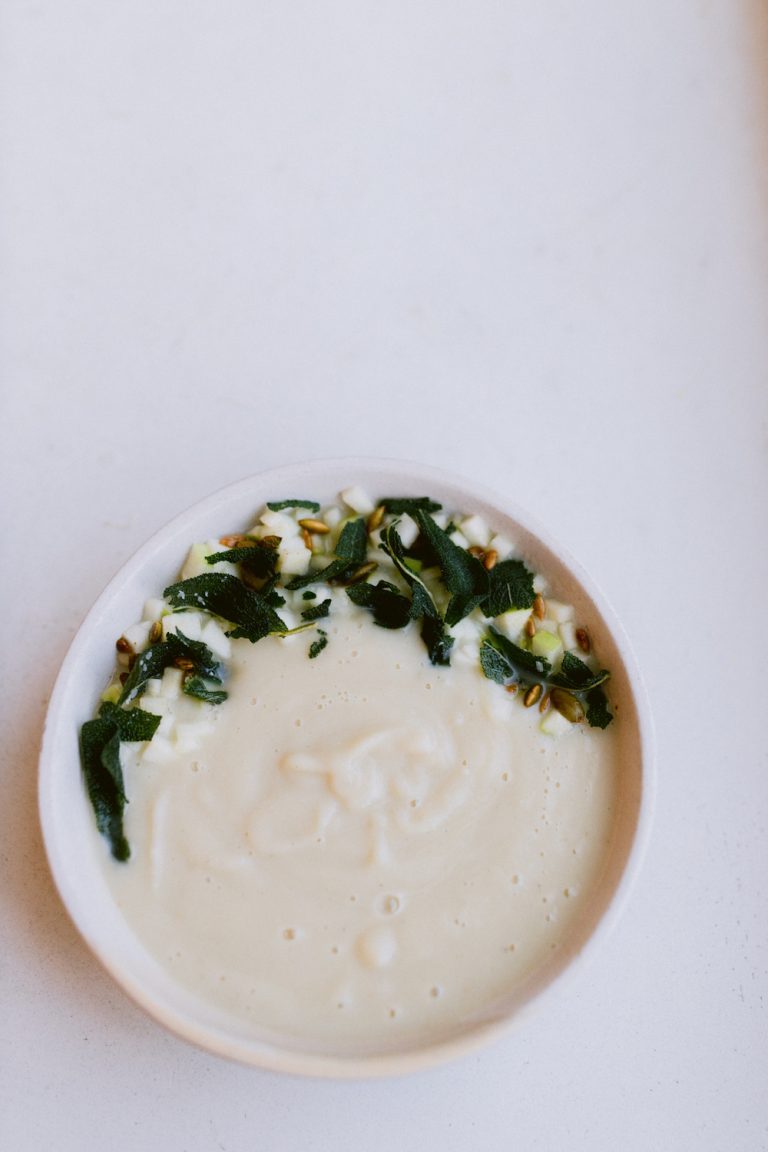 Cauliflower Soup With Crispy Sage Garnish
Why We Love It: Unlike many vegan cauli soups out there, this one incorporates a bit of apple, ginger, and celery root into the ingredients list, ensuring that it's anything but basic.
Hero Ingredient: Hands down the sage. It's worth the extra couple of minutes to crisp up some springs and add them to your soup. Flavor and texture-wise, it makes all the difference—trust us.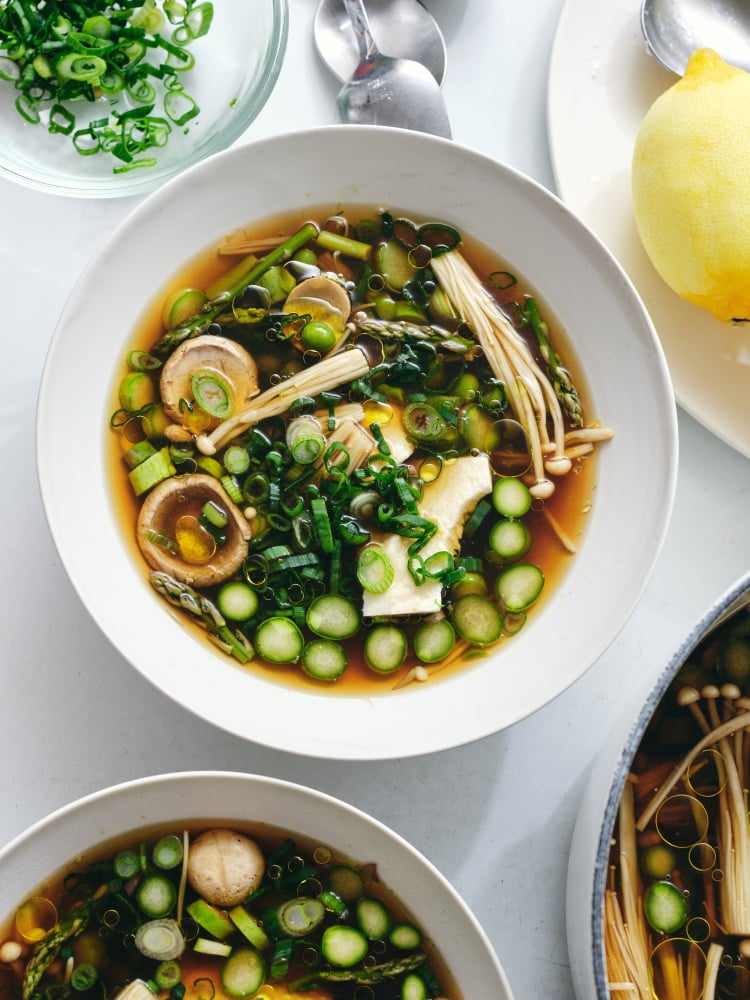 Spring Tofu Soup from Alison Roman
Why We Love It: The ultimate in clean eating, this spring tofu soup from Alison Roman boasts rich flavor from the combination of garlic, jalapeno, mushrooms, and asparagus.
Hero Ingredient: Fresh lemon zest adds the perfect zing.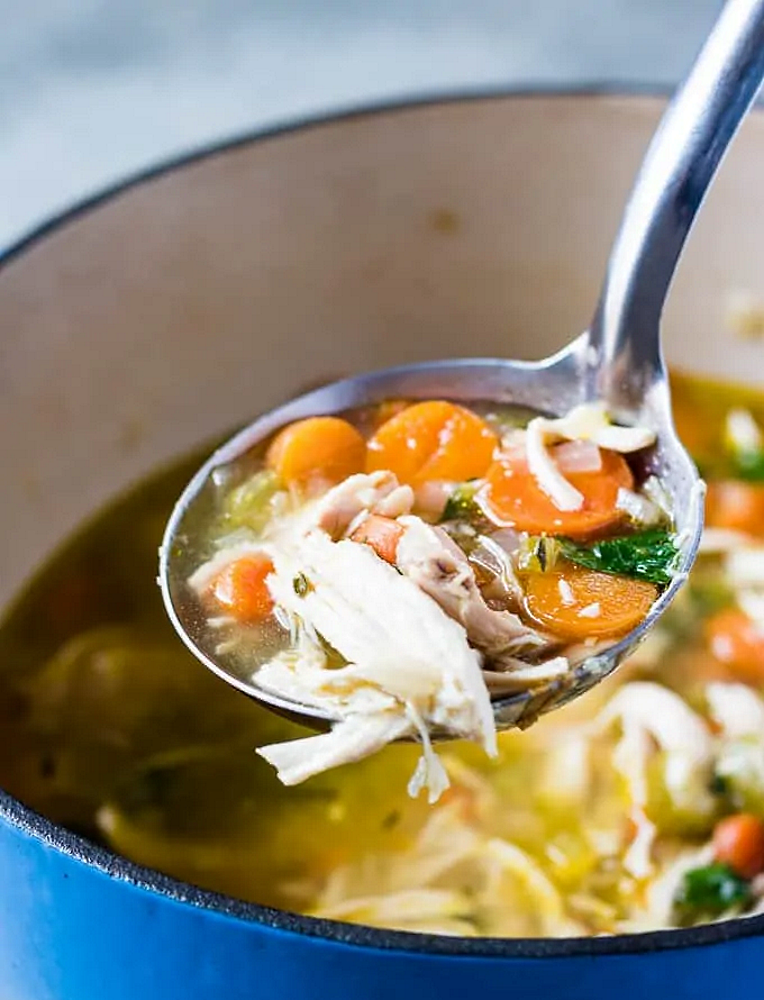 Homemade Chicken Soup Without Noodles from Berly's Kitchen
Why We Love It: Hearty and satisfying, this chicken soup hits all the right notes without being weighed down with carb-heavy noodles.
Hero Ingredient: It's all about the chicken.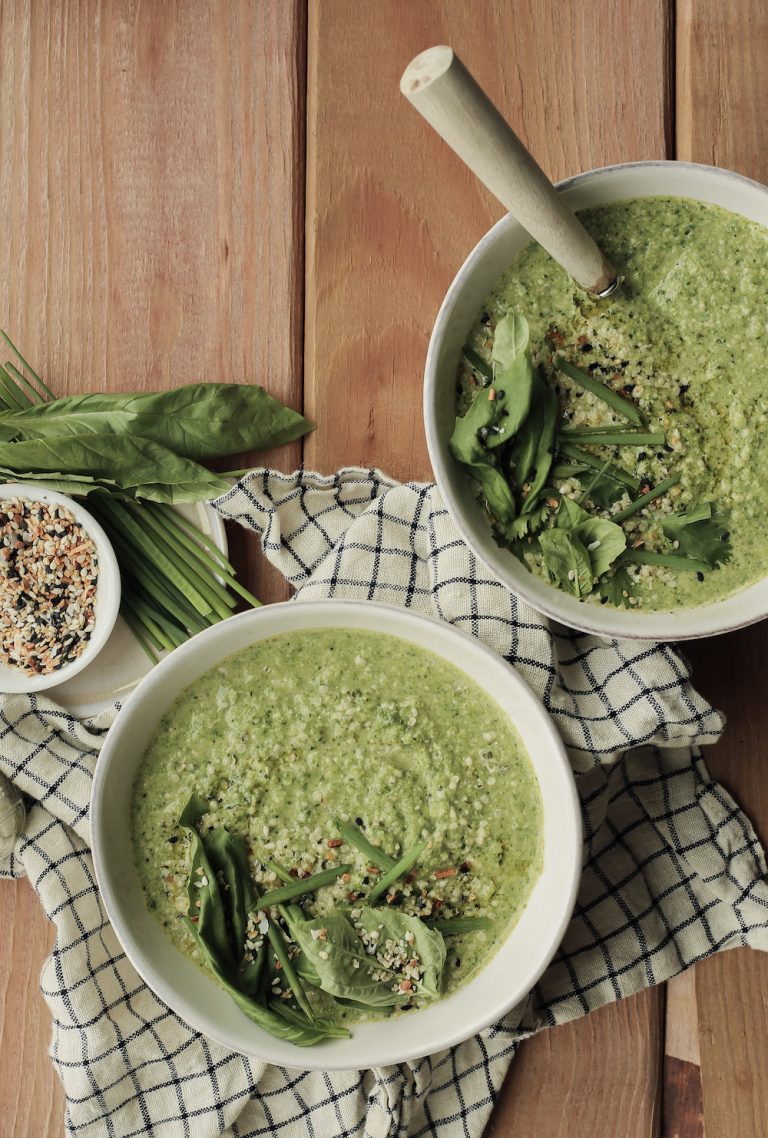 Big Green Immunity-Boosting Vegetable Soup
Why We Love It: Where to begin on this super simple yet complex veggie soup? We love how the ginger adds a kick, while the cashews add creaminess and protein.
Hero Ingredient: Doesn't get much easier than frozen broccoli.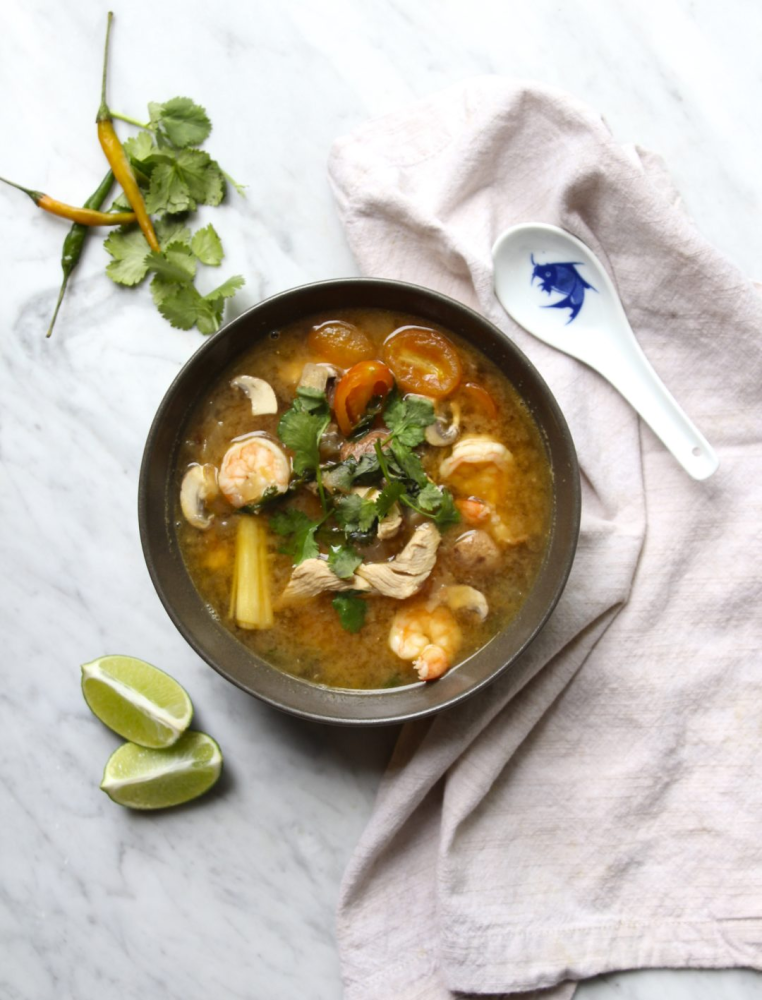 Whole 30 Tom Yum Soup from The Defined Dish
Why We Love It: Chock-full of chicken, veggie, ginger, and spices, this Tom Yum soup from The Defined Dish is Whole 30 compliant and is oh-so-satisfying.
Hero Ingredient: The hint of minty-citrusy flavorings from the fresh lemongrass.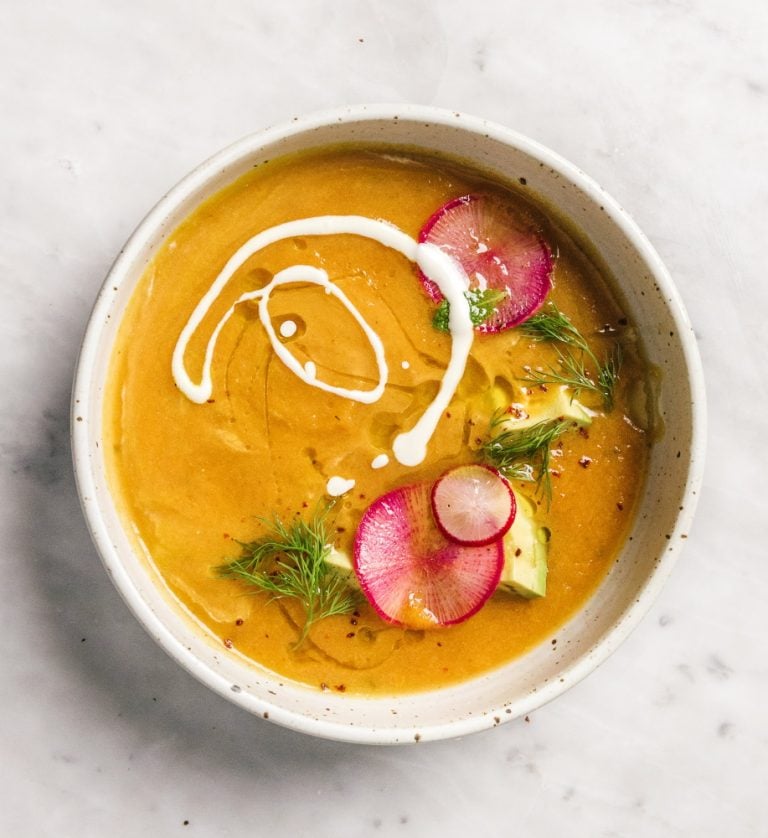 Spicy(ish) Kabocha Squash Soup With Dill, Radish and Avocado from Edible Living
Why We Love It: Easy enough to quickly whip up for a weeknight meal, but elegant enough for company. We like using harissa, as it's easier to find at the grocer, but Hungarian hot pepper paste does the trick, too.
Hero Ingredient: Harissa, a unique blend of chiles, garlic, citrus, and olive oil, adds just the right amount of kick to keep things interesting.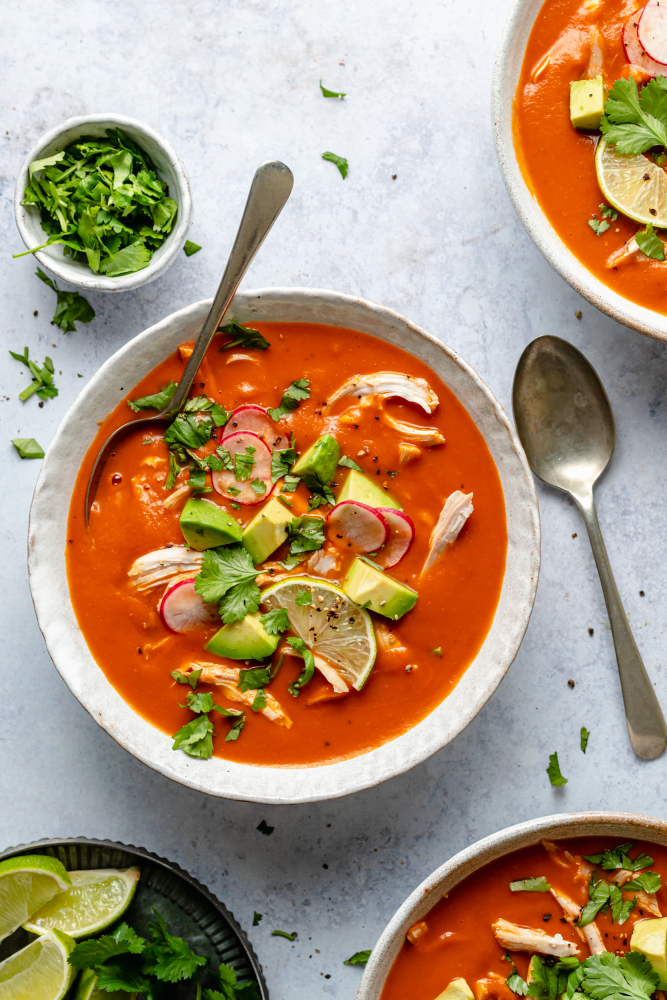 Creamy Tortilla-Less Soup from The Defined Dish
Why We Love It: Think you have to add the chips to make it a tortilla soup? Think again! This version from The Defined Dish gives all those yummy flavors you know and love—without any carbs.
Hero Ingredient: Coconut milk adds a richness without all the heavy dairy.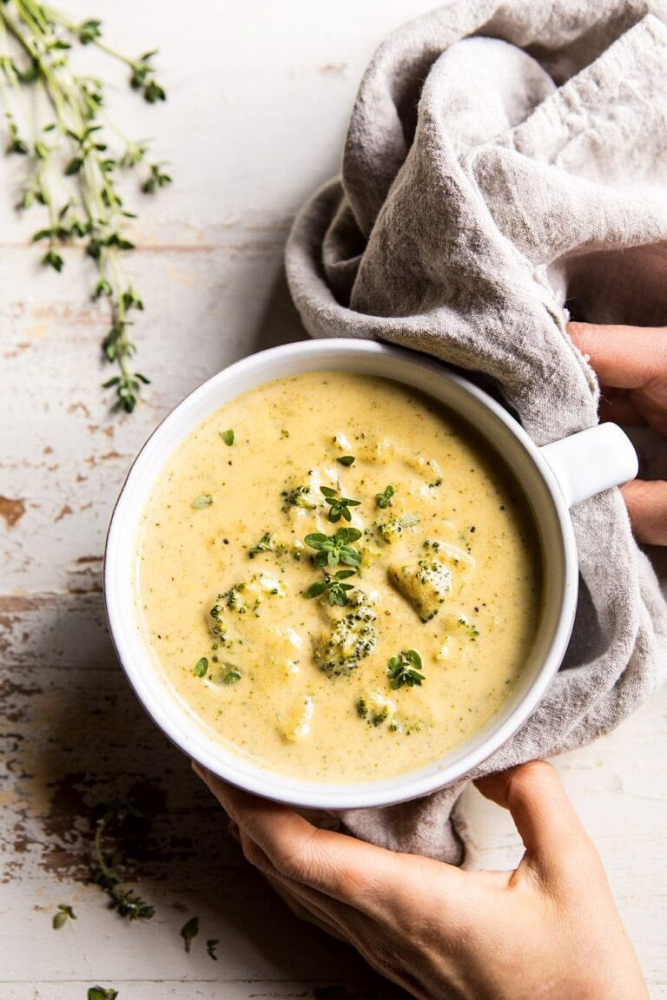 Instant Pot Broccoli Cheddar & Zucchini Soup from Half-Baked Harvest
Why We Love It: A nod to the cheesy broccoli soup of your childhood, without any of the nasty canned soup elements. Just add carrot, zucchini, broccoli, plus a few herbs, and you're well on your way to making a delicious (and nutritious) soup for you and yours.
Hero Ingredient: Sharp cheddar—a mild cheddar just won't do. Trust us, go for the sharp.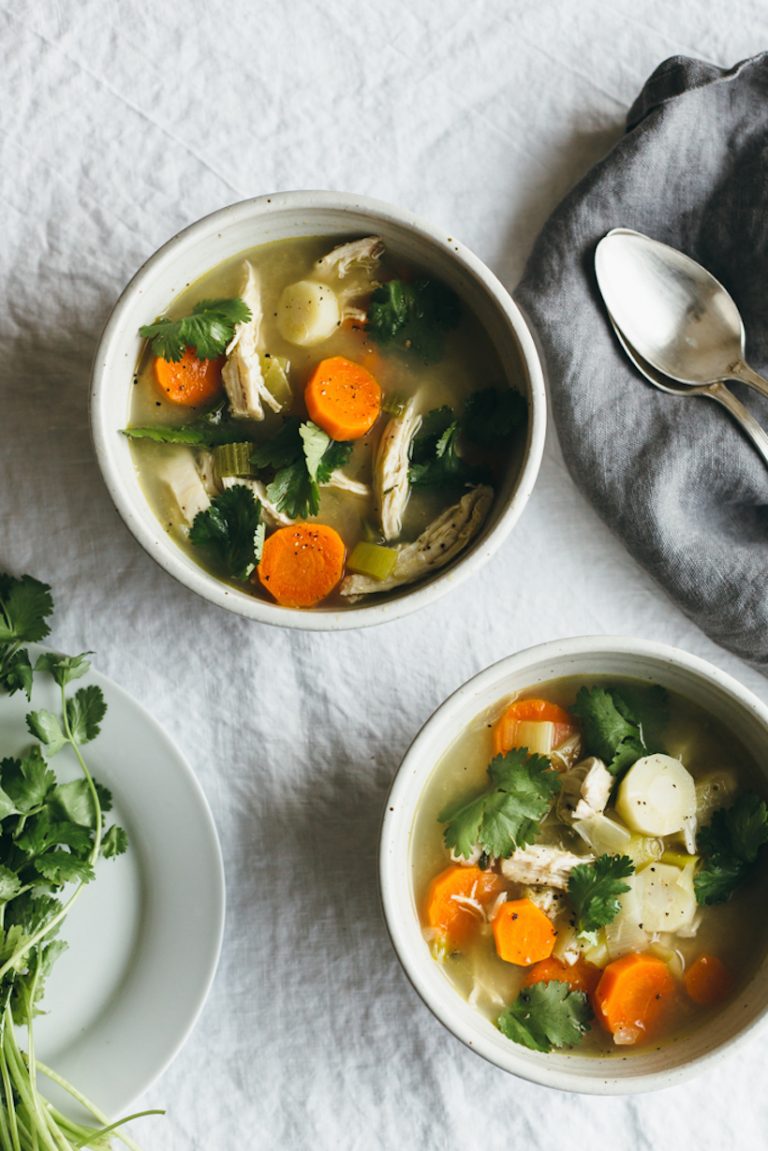 Chicken and Winter Vegetable Soup
Why We Love It: So simple yet so good. Use the finest ingredients you can find, the best chicken, herbs, and veggies. You can't go wrong with this delectable soup that warms you up from the inside out.
Hero Ingredient: The poached chicken is tender, flavorful, and packs a protein punch.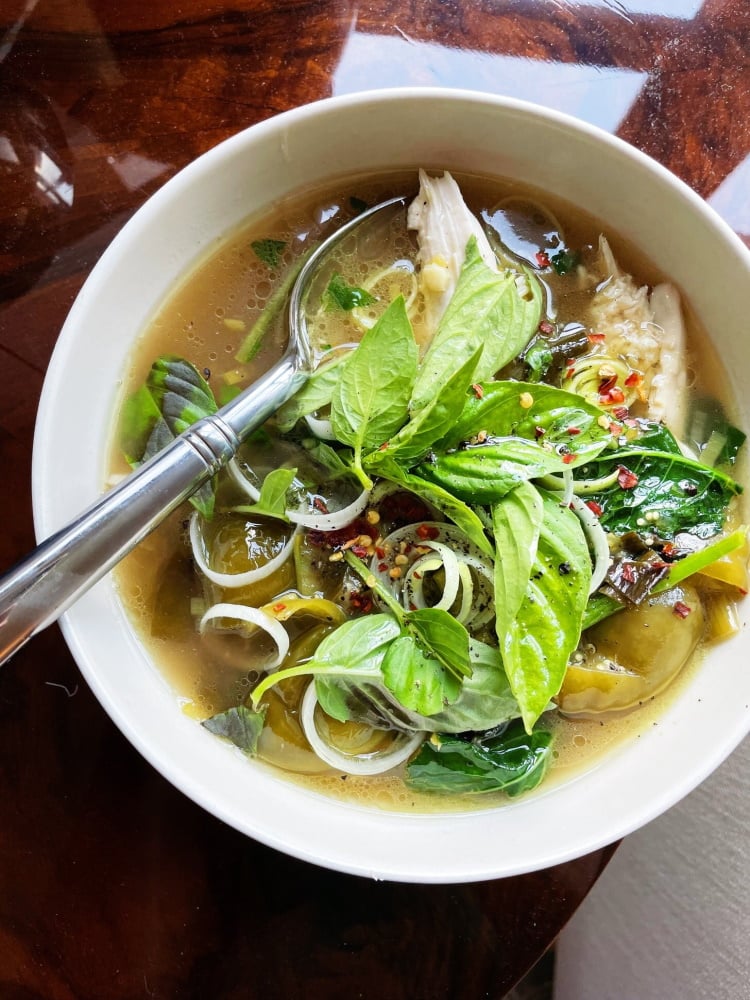 Chicken Soup for Summer Colds from Alison Roman
Why We Love It: Not just for summer colds, Alison Roman's take on a classic chicken soup is comfort in a bowl.
Hero Ingredient: In typical Alison Roman style (never without a trick up her sleeve) she incorporates citrusy tomatillos into the mix—it's a winner.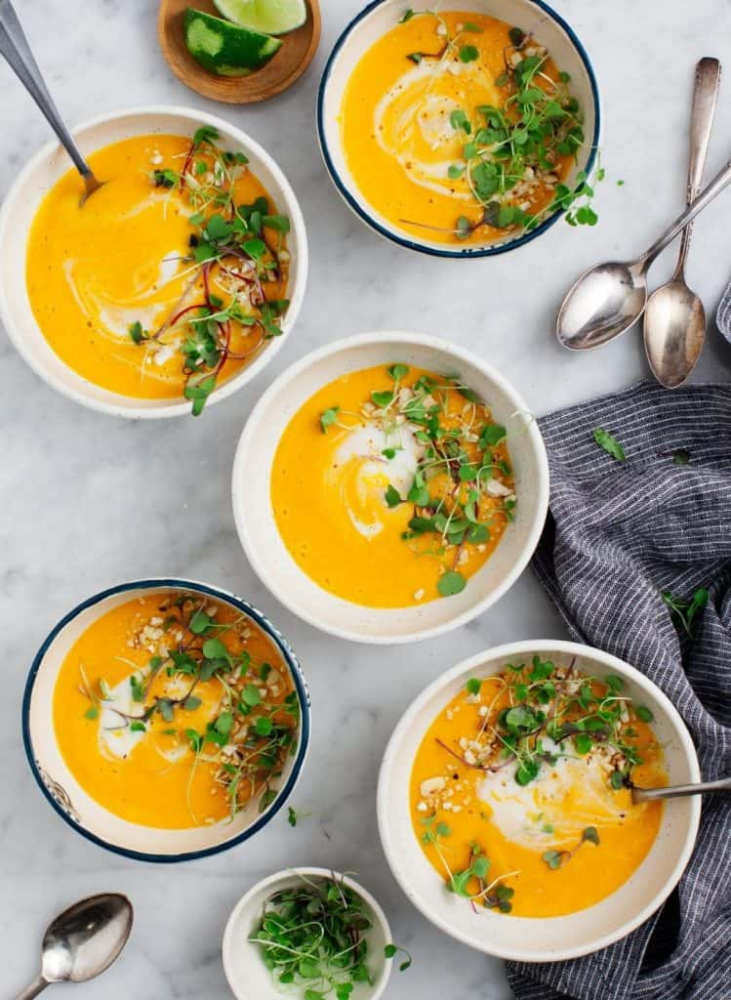 Red Curry Kuri Squash Soup from Love & Lemons
Why We Love It: It doesn't get much easier than this. Simply pan roast all your veggies, then blend. Serve on top of rice, or pass for a low-carb option.
Hero Ingredient: Blending in a stalk of lemongrass offers just the right amount of zing. No lemongrass on hand? Try lime zest instead.
Tell us in the comments below your favorite go-to low-carb soup recipes and stews (and be sure to add the links!)