I am a self-proclaimed holiday nut. I've been listening to holiday music since the clock struck midnight on November 1st, my mini Christmas tree went up the first weekend of the month, and I've been dreaming about mashed potatoes and green bean casserole for the last two weeks. There's just something magical that happens during this time of year that puts me in the best of moods and all I want to do is share the joy with everyone in my life. And while these next two months are full of celebration, it's also the time of year where I'm reminded to put on my perspective glasses and take a glance at the things I'm truly blessed with.
I'm so grateful that flying from California back to Texas to celebrate the holidays with my family is something I can easily plan for. I'm thankful that I have the opportunity to be 100% who I am and share a little piece of my culture with y'all through my recipes. I'm blessed to have a supportive community of friends and family in my life. I'll save the rest for our spin-around at the Thanksgiving table, but I hope that in the spirit of 'Holidays Unwrapped', we can all take this Thanksgiving season to truly look around and remind ourselves that we have so much to be grateful for.
Speaking of things to be grateful for, I am super thankful that I am the purveyor of Thanksgiving dinner in our household. As a lover of all things kitchen and recipe related, getting to think about the meal I want to put together for our family of four is always something special. While I'm usually a Thanksgiving purist when it comes to the classics like mashed potatoes and green bean casserole, my menu this year has a couple twists that make the familiar a bit more special (i.e. this butternut squash recipe and this carrot salad will be making an appearance). I'm also stepping up my apple pie game by adding one of my favorite Indian flavors to a Thanksgiving staple : GINGER!
I have made a lot of apple pies over the years, and it might just be my favorite Thanksgiving dessert to choose from. Granny Smith apples keep the pie from being overly sweet and the warm spices make a slice of pie the most comfy cozy dish to curl up with after dinner…and for breakfast the next morning with a cup of coffee! Ginger has amazing health benefits like anti-inflammatory properties, having some great antioxidants, and helping us out during cold season. And while I'm not saying that this pie is healthy, knowing that ginger is also great for digestion makes me feel just a smidge better about helping myself to a warm slice of this apple pie after Thanksgiving dinner. Couple the heat of the minced ginger with the sweetness of the maple syrup and warmth of the cinnamon makes this the ultimate holiday dessert in my book. A few notes on this recipe ::
– I totally bank on store-bought crust, especially when I'm the one cooking the rest of Thanksgiving dinner, the last thing I want to stress about is making the perfect pie crust. BUT, if you want to make your own, this pie crust recipe is great!
– I reduce the maple syrup because extra liquid increases the chances of soggy crust.
– Make sure to blind-bake the bottom crust of the pie to help avoid a soggy base! I usually line a pie crust in the bottom of a pie dish, cover the crust with parchment, and then add pie weights on top, baking at 425 degrees F for about 15 minutes. Then remove from oven, remove the parchment and pie weights (carefully!) and then placing back in the oven for another 5 minutes.
Happy holiday baking!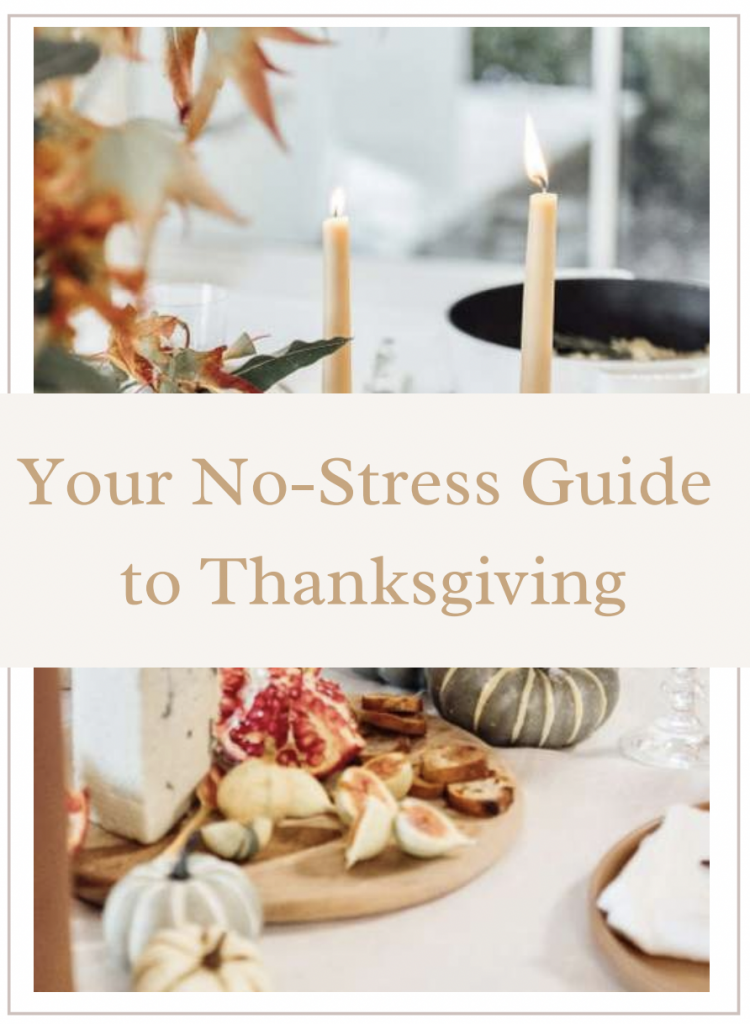 Subscribe
Free Guide to Thanksgiving
Sign up to receive a FREE E-BOOK with exclusive timelines, tips, recipes, playlists, place cards and everything you need for your Thanksgiving gathering.
Thanks for Signing Up!
Oops!
Looks like you're already signed up or your email address is invalid.
Oops!
Looks like you unsubscribed before click here to resubscribe.
---
Ingredients
Two rolled out pie crusts for a 9 inch pie dish (store-bought or homemade)

1/2 cup good maple syrup

7 Granny Smith apples

Juice and zest of 1 lemon

2 tbsp brown sugar

1/2 tsp salt

2 tbsp flour

1 1/2 tbsp very finely minced ginger (you can add more or less depending on your ginger preferences!)

1 heaping tsp cinnamon
---
Instructions
Preheat oven to 425 degrees F. *Par-bake bottom crust in a 9 inch pie dish according to package or recipe instructions you're using.
2. Add the 1/2 cup of maple syrup into a stove top pot and bring up to a low-medium heat. Let the maple syrup simmer for about 10 - 15 minutes until it has reduced by half and thickened. Keep an eye on it and stir occasionally.
3. While the maple syrup is reducing, peel and slice the apples into about 1/4 inch slices. Add to a large mixing bowl and add the juice and zest of the lemon, brown sugar, salt, flour, ginger and cinnamon. Once the maple syrup has reduced, allow to cool slightly and then add to the bowl with the rest of the filling. *Don't let the maple syrup cool too long or it will crystallize.
4. Stir the apples with the spices and maple syrup until it is evenly coated and everything is combined.
5. Add the filling to a par-baked crust in an even layer, adding any leftover liquid from the apple mixture last. Top the apples with a top crust that is vented.
6. Place the filled and topped pie dish onto a lined baking sheet for easy transfer and to catch any juices that may bubble over. Bake for 20 minutes at 425 degrees F. Then reduce heat to 325 and continue to bake until crust is golden brown, about another 40-45 minutes. *if your crust browns too quickly, cover the edges with a foil tent to prevent burning.
7. Remove pie from oven once baked and allow to cool on a wire rack.
8. Serve with ice cream and enjoy!