If you're like me, you enjoyed every decadent bite this past holiday season. Mashed potatoes, chocolate cake, mac and cheese, you name it, it was on my plate. All without a hint of guilt or regret, mind you. Holidays are a time for indulgence. Especially when surrounded by family and friends, swapping stories and sharing laughs with full bellies and hearts. But for me, there's a shift when January 1st comes around. On top of my goal-setting, my health becomes a top priority, including meals that make me feel good from the inside out. Most of the time I reach for nutrient-rich, protein-packed meals like comfort soup, healthy pasta, and low-fat chicken recipes.
My intentions look different every year, but at the root of it all I always want to prioritize my health—mentally, spiritually, and physically. I want to feel renewed and refreshed, every cell vibrant with energy. And since food and nutrition are the foundation of our mood, being mindful of what's on my plate is a great way to start. So, I'm filling mine up with lots of whole foods, healthy fats, and lean proteins. If you're feeling the same way, look no further, I've collected the best low-fat chicken recipes that are loaded with protein to get you back on track and feeling your best.
Low-Fat Chicken Recipes Packed with Protein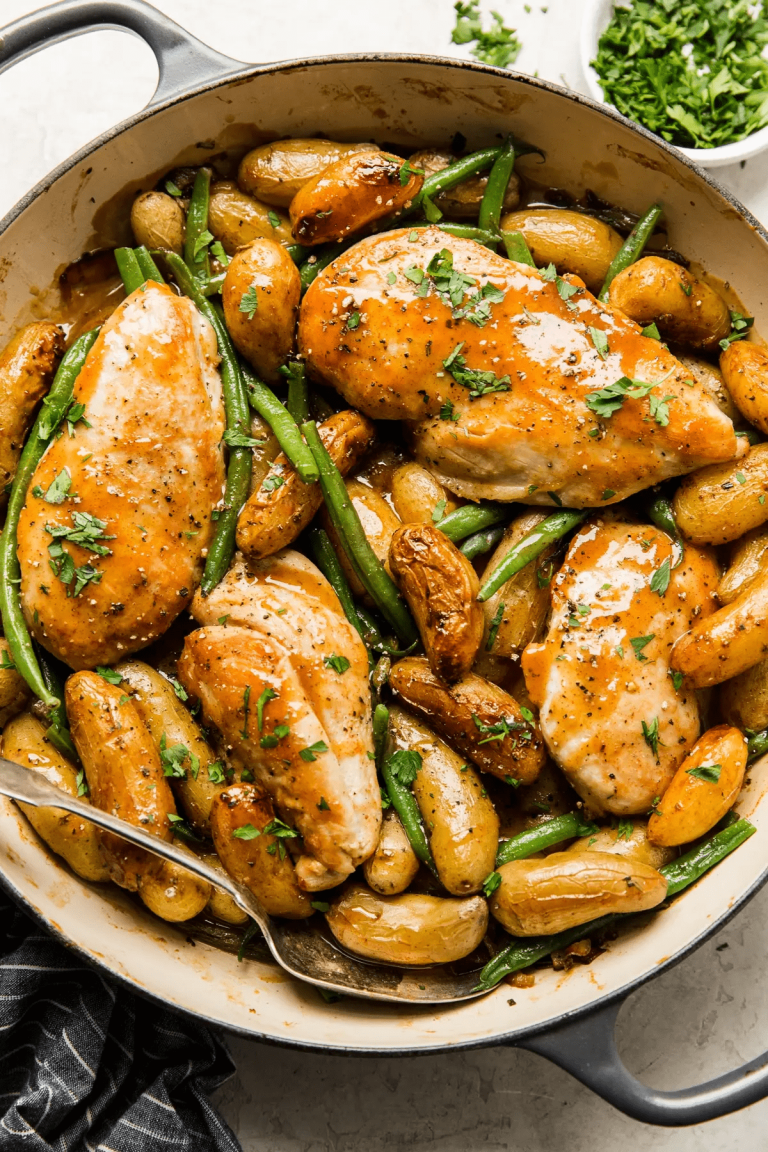 One Pan Honey Mustard Chicken and Vegetables from The Modern Proper
Why We Love It: This one-pan wonder is easy, simple, and full of zesty flavor. With just three steps, dinner will be ready in no time and you might be able to get one or two chores done in the meantime.
Hero Ingredient: The mustard really shines above the rest.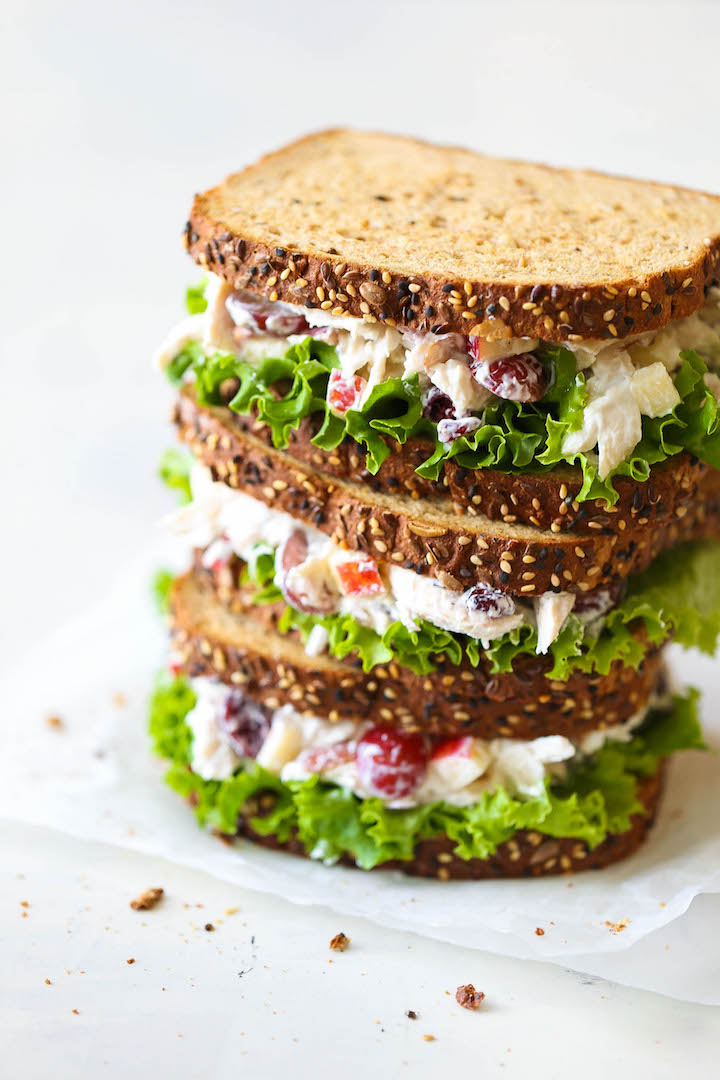 Greek Yogurt Chicken Salad Sandwich from Damn Delicious
Why we love it: This one is great for lunch or dinner and can even be made ahead of time on the busiest of days. The clever sub of Greek yogurt for mayo won't even be noticeable and you'll be making this weekly. You can also swap out the bread for gluten-free slices, too.
Hero Ingredient: Crunchy grapes that burst with flavor.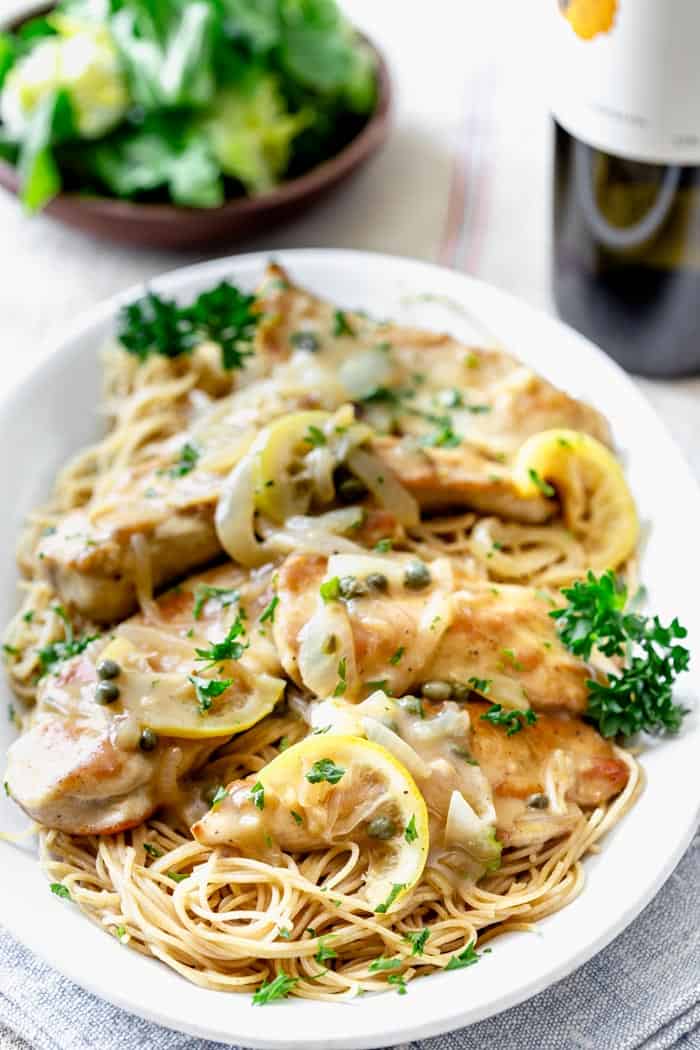 Healthy Chicken Piccata from Healthy Seasonal Recipes
Why We Love It: This fresh and lemony piccata feels indulgent, but is so fresh and light. This humble meal will be ready in only 30 minutes. Make sure to pile on garden-fresh parsley on top for extra color and flavor!
Hero Ingredient: The lemon—a great source of vitamin C!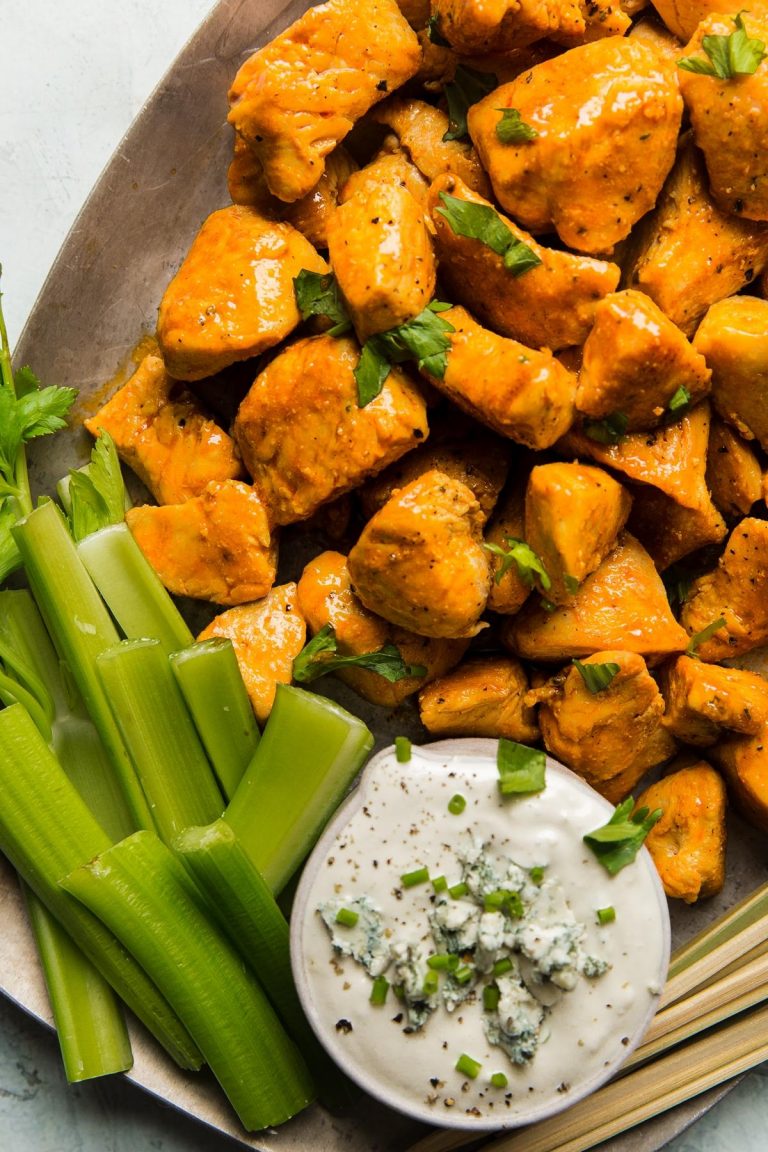 Buffalo Chicken Bites With Blue Cheese Dressing from The Modern Proper
Why We Love It: I mean, who doesn't love Buffalo Chicken Bites? This recipe is an elevated version that takes a classic bar food recipe and makes it healthier but just as delicious. You're welcome.
Hero Ingredient: Tangy hot sauce that's finger-licking good!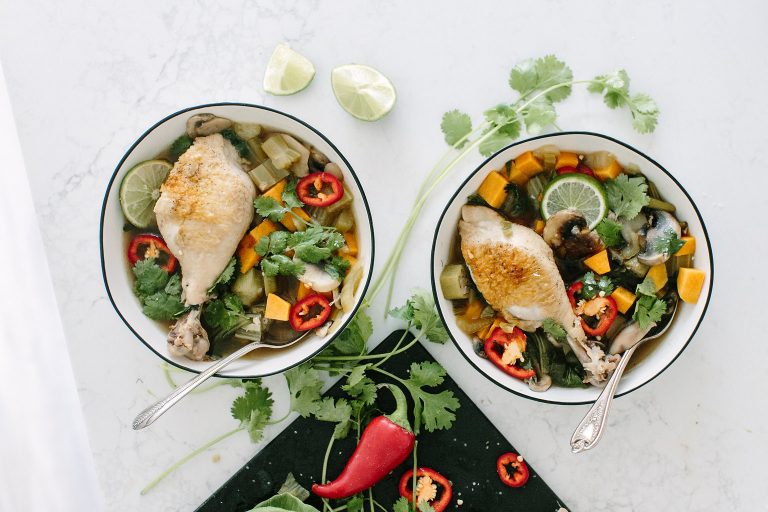 Thai Chicken Soup from Camille Styles
Why We Love It: This slurp-worthy soup is full of vegetables, protein and so simple to make. With an irresistible combination of chili, lime, and cilantro you'll be making this one again in no time.
Hero Ingredient: The butternut squash grounds this flavorful dish and makes you reach for another spoonful.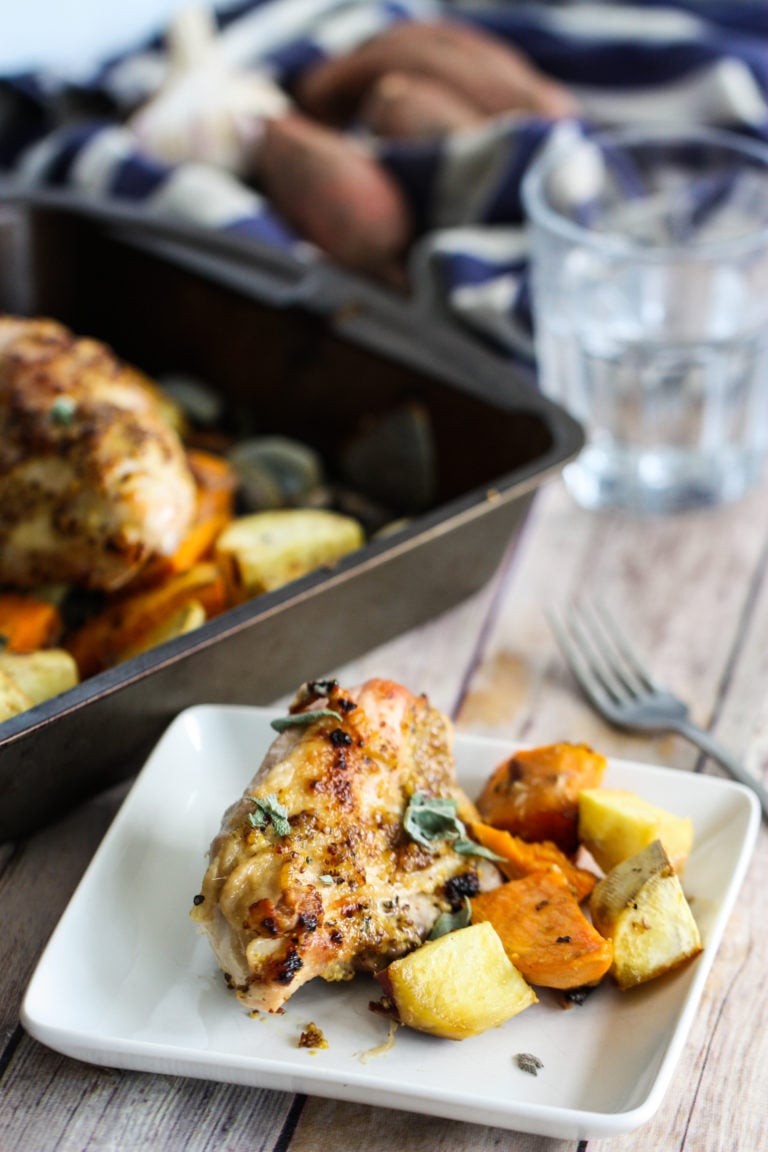 Maple Mustard Roast Chicken Tray Bake from Eat Live Run
Why We Love It: Chicken and potatoes are a classic combination that can't be beat. With added sage and a hands-off cooking approach, healthy eating couldn't get any easier.
Hero Ingredient: The hint of maple syrup caramelizes as it roasts. Yum!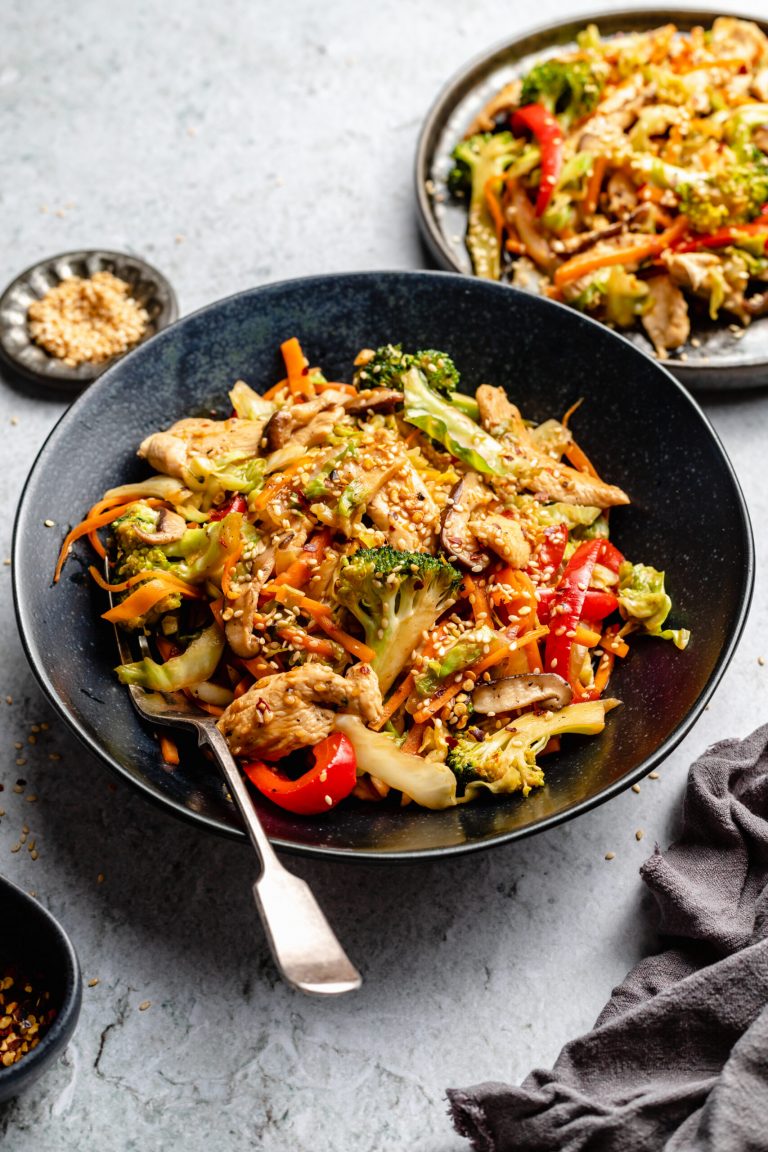 Chicken and Cabbage Lo Mein from The Defined Dish
Why We Love It: Swapping half of the noodles and doubling up on the cabbage? Genius! We love a simple trick to add veggies to a meal.
Hero Ingredient: The Shitake mushrooms for added umami flavor.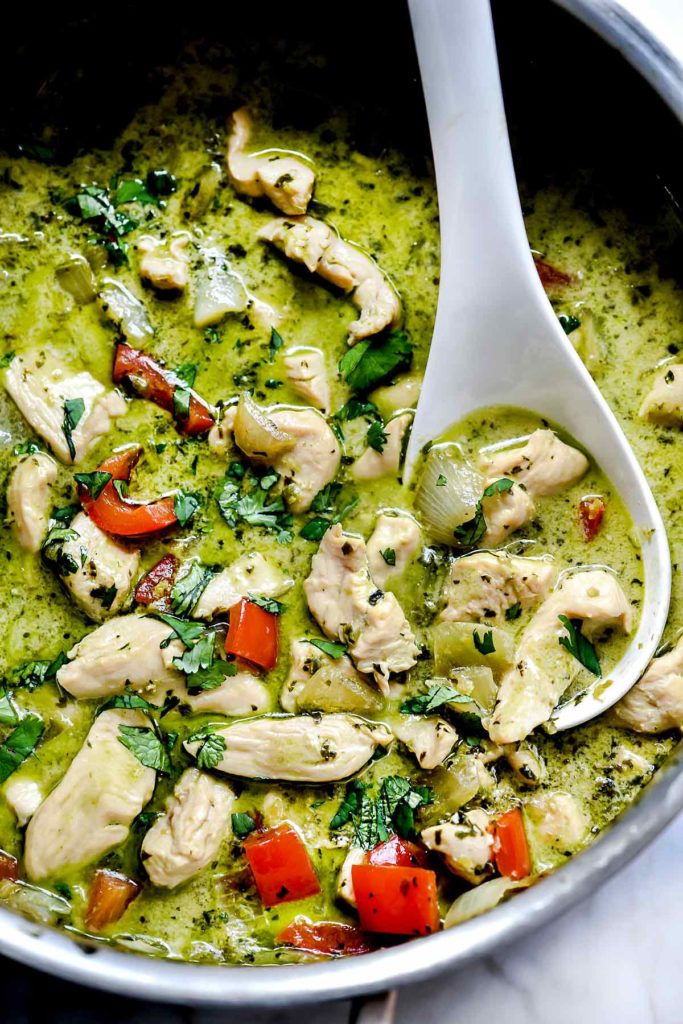 Thai Coconut Chicken and Rice from Foodie Crush
Why we love it: This sauce has an irresistible combination of ginger and jalapeño that will have you scratching your head and dreaming up ways to add this to every single meal.
Hero Ingredient: Coconut milk is key to melting all these flavors together.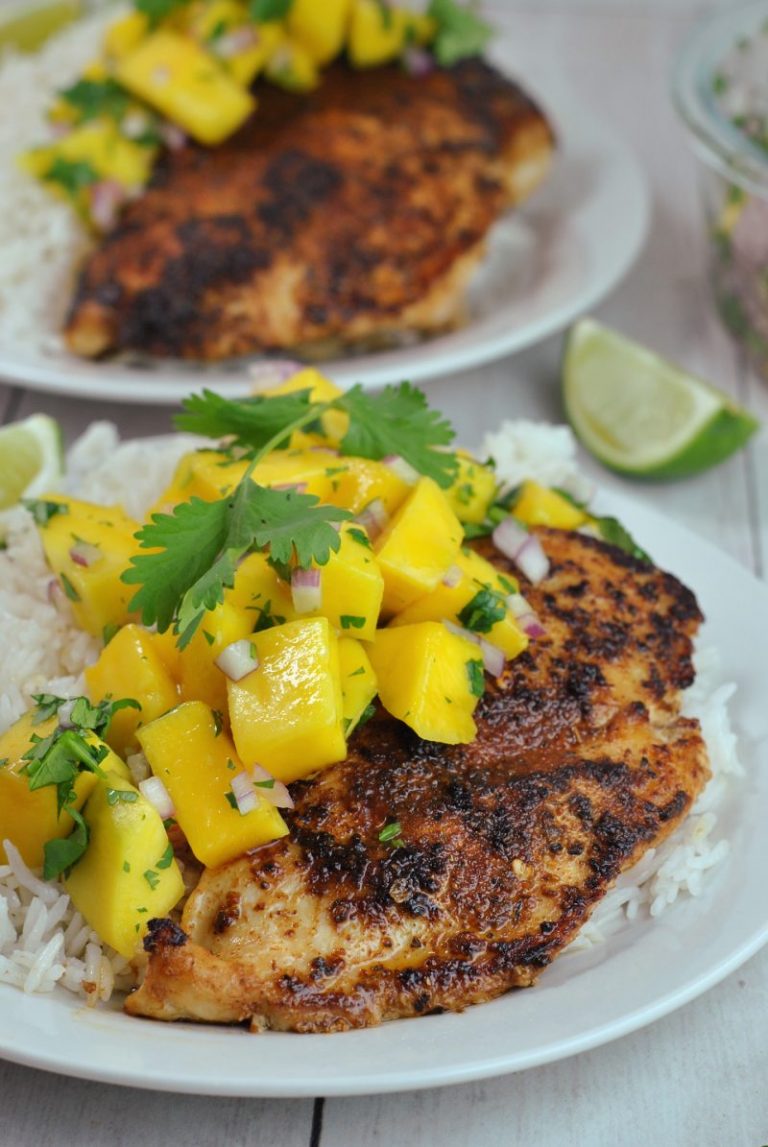 Jerk Chicken with Mango Salsa and Coconut Rice from Prevention RD
Why We Love It: It's quick, easy, and nutritious. The jerk seasoning makes for a beautiful color and char on the chicken. And the combination of mango and coconut rice is unbeatable.
Hero ingredient: The ripe and delicious mangoes that taste just like candy.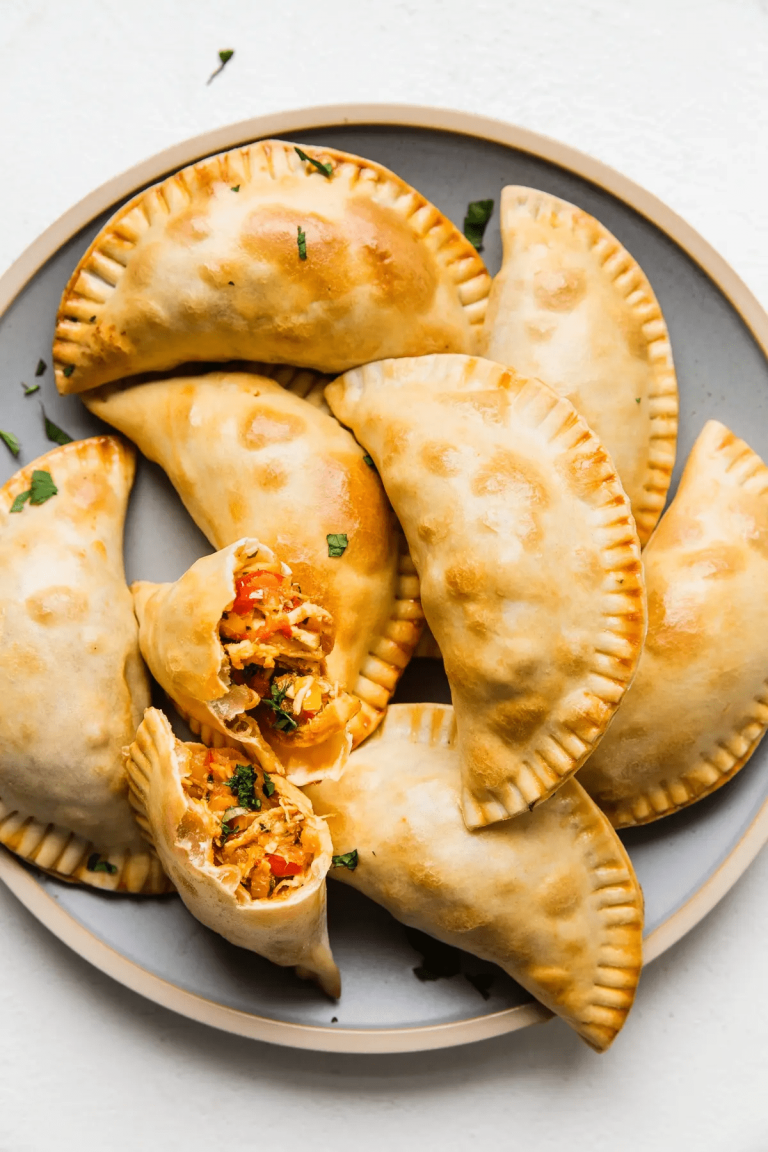 Chicken Empanadas from The Modern Proper
Why We Love It: These little pockets of deliciousness are full of onions, peppers, garlic, and shredded chicken. All you need is some store-bought dough and the rest of your ingredients are probably already in your pantry. The whole family will love these.
Hero ingredient: The egg wash adds a beautiful golden color.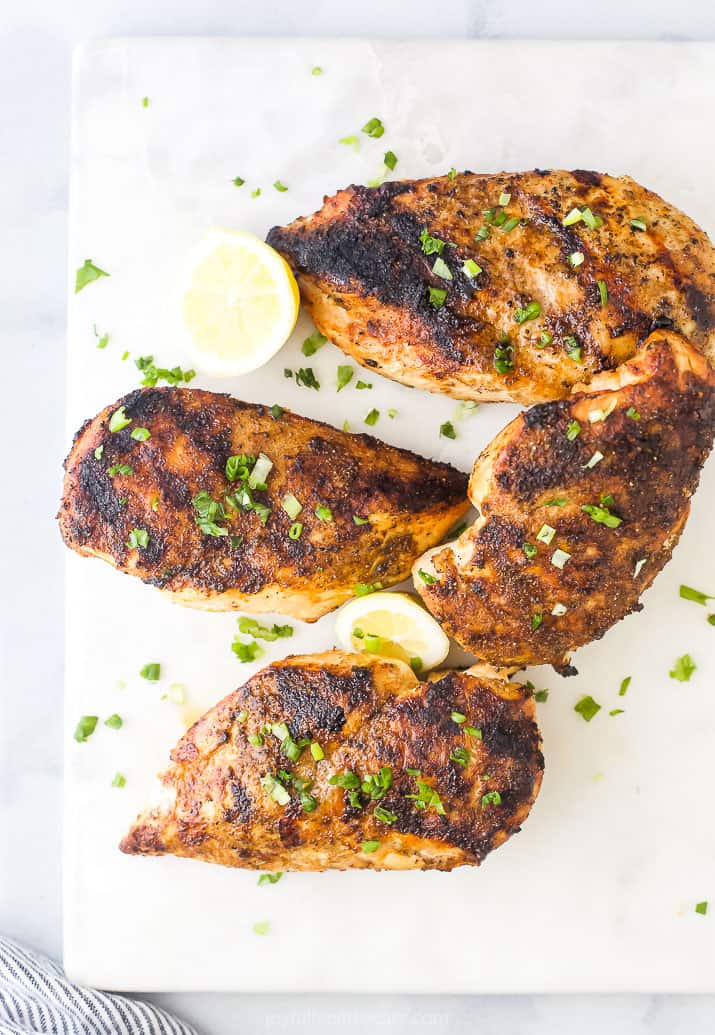 Grilled Chicken Breast With Homemade Spice Rub from Joyful Healthy Eats
Why We Love It: This flavorful chicken recipe can be paired with almost anything or made in advance and frozen for a busy week ahead. With a homemade house rub, you don't have to worry about questionable ingredients added in.
Hero Ingredient: The coriander adds a touch of zesty, citrusy flavor.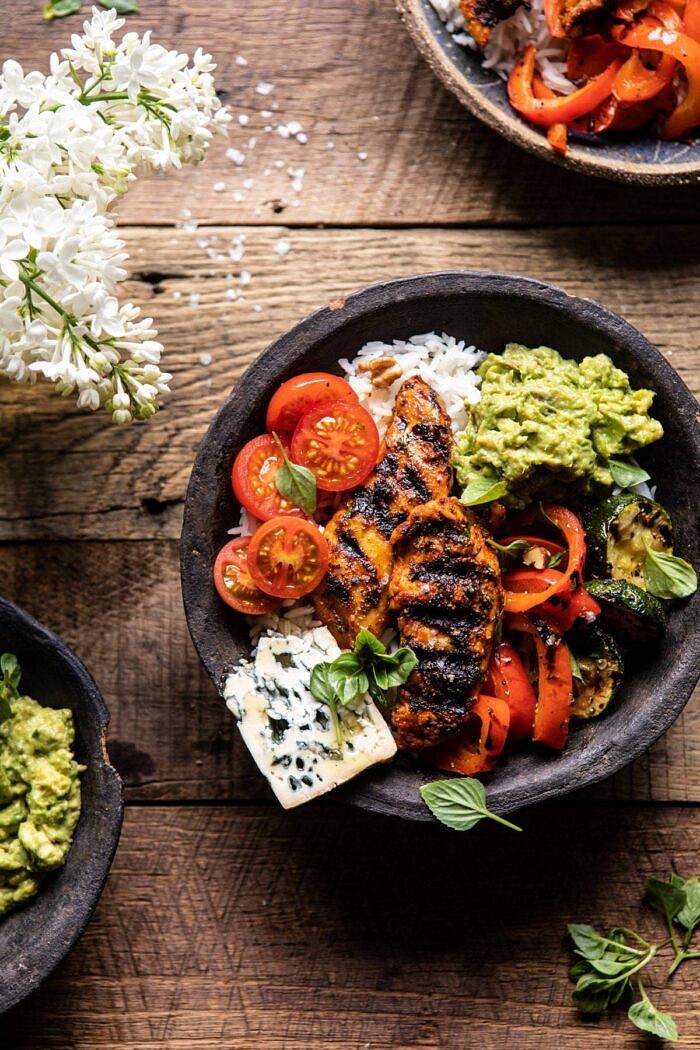 California Chicken, Veggie, Avocado and Rice Bowls from Half Baked Harvest
Why We Love It: Another classic with a healthy twist. Who doesn't love chicken and rice together? Add a ton of healthy vegetables and you'll have a delicious healthy dinner, and if you're lucky, maybe some leftovers for lunch.
Hero Ingredient: The avocado. You'll definitely want to have some in each bite.