I love a good workday lunch. It's a much-needed pause between zoom calls and writing to savor something delish and get refreshed. Even when I eat lunch at my desk, I tend to pause the "real" work and spend my lunchtime doing something fun like catching up on digital magazines or browsing my fave shopping sites. However, lunch is also the time of day when I don't have the time or inclination to spend more than five minutes prepping. So, 99% of the time, I go for a delicious and healthy grain bowl recipe featuring leftovers from last night's dinner and whatever I meal-prepped on Sunday, plus a handful of greens and a sprinkle of nuts or seeds, and I'm never ever sad about it.
The beauty of the grain bowl is that once you've got the formula down, there are infinite possibilities for making each one feel fun and interesting—plus you can leverage whatever leftovers you have from the night before to make it all your own with zero waste.
The result? You can truly eat one of these babies every day of the week and never get bored.
So here's my never-fail formula for a healthy grain bowl recipe.
Commit it to memory (or bookmark this page):
A grain and/or a protein (quinoa, chickpeas, salmon, cauliflower rice—something hearty and substantial)
Cooked veggies (sweet potatoes, brussels sprouts—something warming and a little sweet)
Raw veggies (arugula, tomatoes, cucumbers—this is what gives the grain bowl its fresh, zingy vibes)
Something creamy (goat cheese, avocado, a drizzle of pesto or greek yogurt)
Crunch (slivered almonds, crumbled seedy crackers, pumpkin seeds)
Getting this mix right is the difference between that delicious grain bowl at your favorite trendy café and the one you make at home when it looks like you just threw a bunch of random things into a bowl. You've gotta have that warm, cool, creamy, crunchy balance—with a couple of flavor boosters at the end—and you'll be left with a super satisfied, soul-nourished feeling when you log back into work (or whatever) for the afternoon.
Scroll on for the recipe… and get creative with your bowl! If you share it, tag @camillestyles so we can see this healthy grain bowl recipe in action.
Loved this post? Pin this graphic to come back to it later.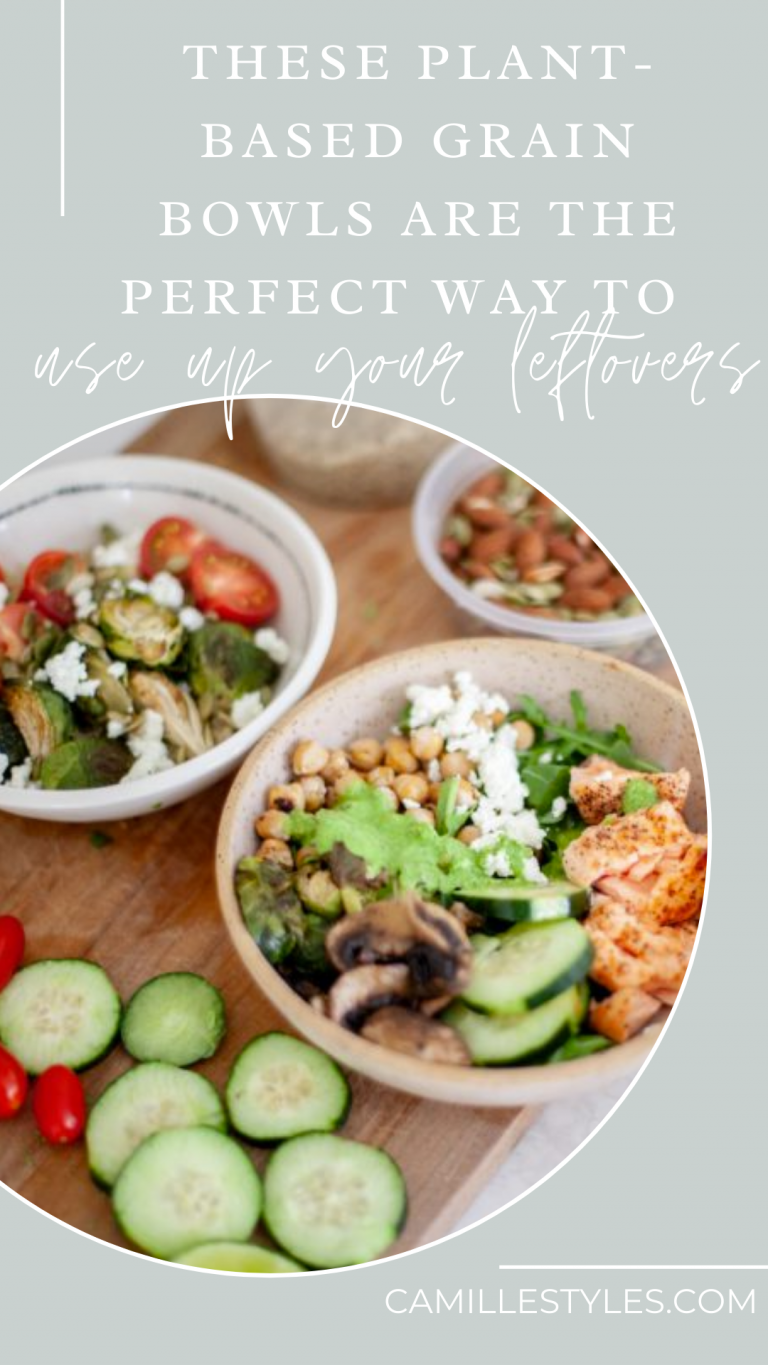 ---

Ingredients
Grain or protein:
cooked quinoa
roasted chickpeas
salmon
boiled egg
Roasted veggies (find out the right way to roast them here!) 
sweet potato
brussels sprouts
mushrooms
squash
Raw veggies:
spinach or arugula
sliced cucumber
cherry tomatoes
Something creamy:
crumbled goat cheese
sliced avocado
any herb pesto - switch up this pesto recipe using any herbs you've got on hand! Or pickup some store-bought from the grocery.
Something crunchy:
slivered almonds
sunflower seeds or pumpkin seeds
---
Instructions
In your bowl, place your grain and/or protein.
Add roasted and raw veggies of your choosing, then top with something creamy and something crunchy.
Mix & match throughout the week to keep your lunches interesting and delicious!