When most people picture the peak of summer, they might reflect on late nights around a campfire, beach trips, or spending all day at the pool. When I think of peak summer, I think of… peaches. And, of course, my favorite peach recipes! Let's be real— summer is a lot sweeter because of its fruit.
There's something about a ripe peach that always stops me in my tracks on the produce aisle and leads me to fill my cart with more of the golden fruit than I could ever possibly need. With their rich, rosy color, peaches are voluptuous snacks that are ready to go. And (when they're perfectly ripe), they taste just as good as they look.
It's high time we take a moment to pay our respects to these seasonal gems. While peaches are tasty on their own, we've got some delicious recipes that make the most of them baked, blended, and grilled, taking these beauties to a new level. From pizza to cocktails to cobbler, we've rounded up the best sweet and savory ways to enjoy juicy, refreshing peaches this summer.
Featured image by Michelle Nash.
Our Favorite Peach Recipes to Sweeten the Season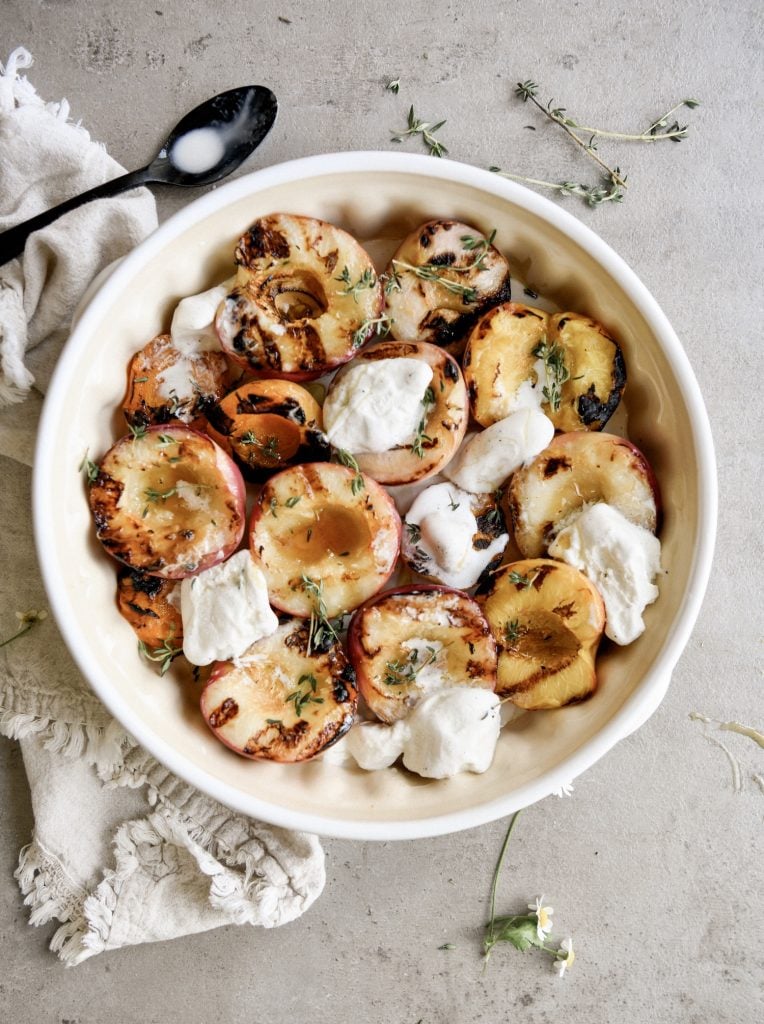 Why We Love It: I never understood the hype around grilled peaches until I tried this recipe. The honey sweetens this fresh fruit perfectly without taking away from its own flavor elements. Top with vanilla ice cream for a summer dessert that's sure to cool you down in the hot weather.
Hero Ingredient: I love adding some fresh, herby flavor to a sweet dessert. Sprigs of mint and basil are the perfect pairing.
Why We Love It: Any pizza that features a balsamic drizzle pairs well with pesto, in my opinion. Adding peaches into the equation makes for a pie that's light in flavor and more on the sweeter side without being a dessert. Plus, it's a perfect dish to serve for any summer gathering.
Hero Ingredient: Balsamic and peaches together are a simple, but statement-making pair.
Why We Love It: Who doesn't love a slushy on a hot summer's day? Both kids and adults will enjoy this cocktail, which we make with vodka, but can be easily converted into a non-alcoholic treat.
Hero Ingredient: I love the understated sweet heat that ginger introduces to any recipe.
Why We Love It: Fruit crisps are another dessert everyone seems to jump at when the temperatures start to rise. This dish is the perfect in-between if you love sweet desserts but want to try your hand at incorporating fresh fruit.
Hero Ingredient: Cinnamon adds a spicy warmth to this summery dessert.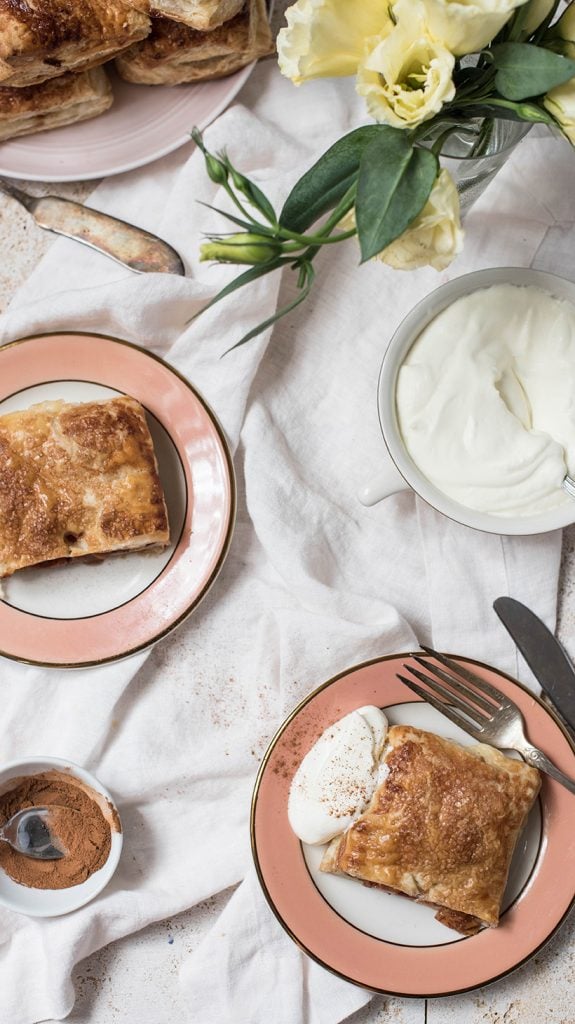 Why We Love It: I look forward to enjoying flavors like cinnamon and cardamom in desserts, and this recipe is no exception. This dessert is particularly easy, incorporating puff pastry to create light and flaky layers of dough that complement the fresh peaches.
Hero Ingredient: Cinnamon or cardamom… I can't decide.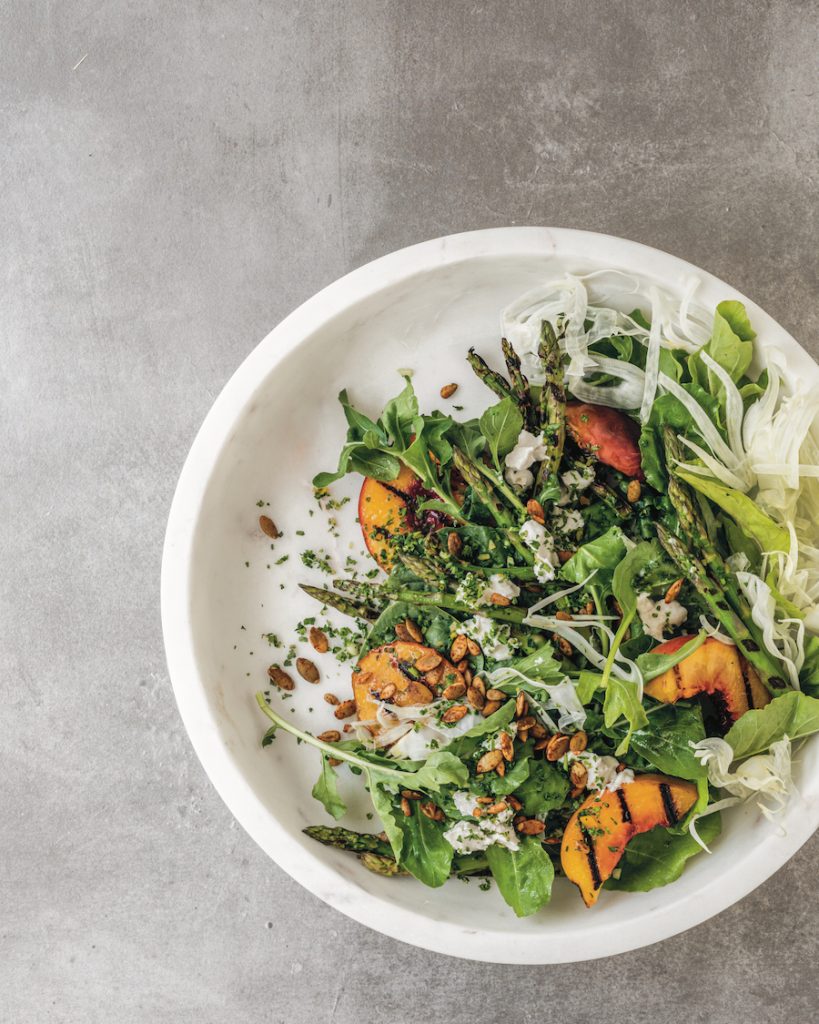 Why we love it: As healthy as it is delicious, this lunchtime staple is super customizable depending on what you're working with in your pantry and fridge. It's a delicious plant-based option that you can jazz up with a bit of mozzarella and crumbled bacon if you need a little extra punch.
Hero ingredient: Spicy pepitas give this salad a bit of zesty crunch that will leave you wanting more.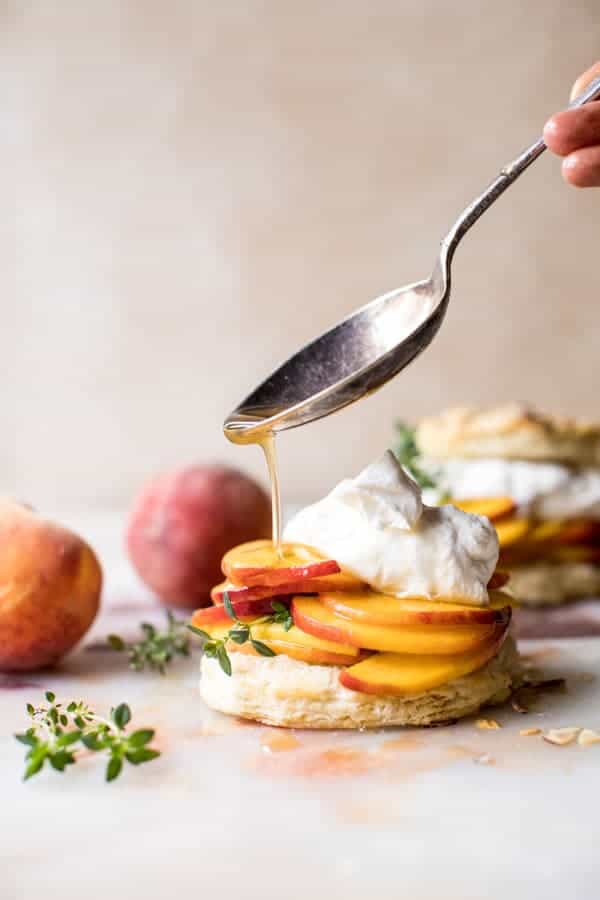 Why we love it: Sometimes, we all need to indulge, and these shortcakes are just the ticket. Finish off these buttery biscuits with a sprinkle of coarse sugar and flaked almonds for the perfect juxtaposition to these thyme-infused honey peaches.
Hero ingredient: Top it all off with decadent whipped mascarpone cream and you're good to go.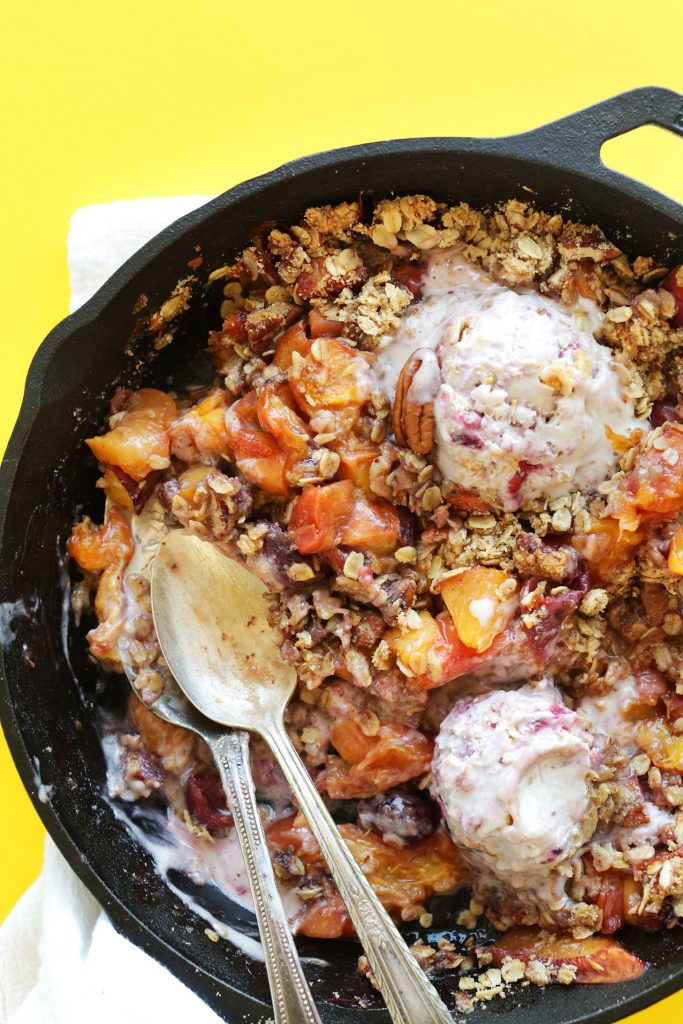 Why we love it: You only need 10 ingredients for this delectable peach crisp. This butter-free recipe has very little added sugar, making it one of our favorite vegan peach recipes. There are few things as incredible as bubbly caramelized fruit topped with a tasty, crunchy crisp!
Hero ingredient: Make your own crisp topping with some delicious pecans—you won't regret it.
Why we love it: This is another great, versatile salad that you can customize depending on the season and what you have in your home. It's a delicious summery treat that is just as tasty as it is good for you. You could even add some protein if you wanted!
Hero ingredient: Goat cheese crumbles—need I say more?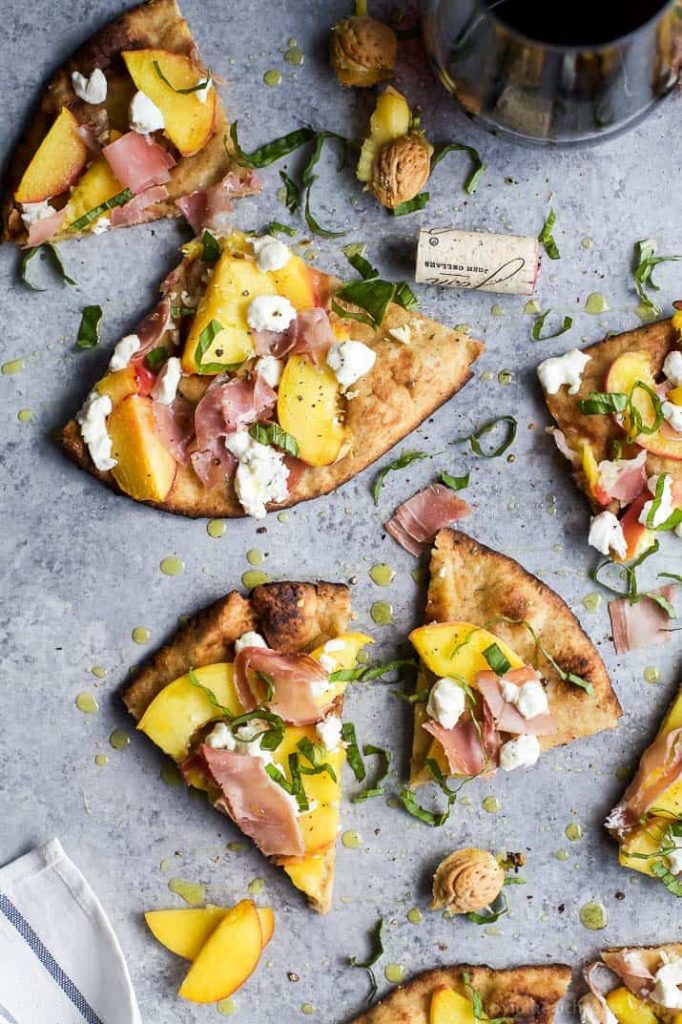 Why we love it: This salty, sweet, creamy, and fresh flatbread is the perfect way to combine some of the best flavors on planet Earth. The peaches combined with the crispy, salty prosciutto and tangy goat cheese makes this next-level delicious. You can't miss it.
Hero ingredient: Crisped-up prosciutto is a whole other level of heavenly.
Why we love it: Enjoy a peachy tipple with this sweet peach sangria. It features a delicious herbal kick that keeps it from becoming cloying and adds a bit of aromatic bliss.
Hero ingredient: The addition of ginger is an unexpected delight!
Why we love it: Peaches, bacon, and burrata? What can't this salad do? And just when you thought it couldn't get any better, Foodie Crush added some sourdough croutons. Too good to be believed!
Hero ingredient: Burrata is the creamy dream we need.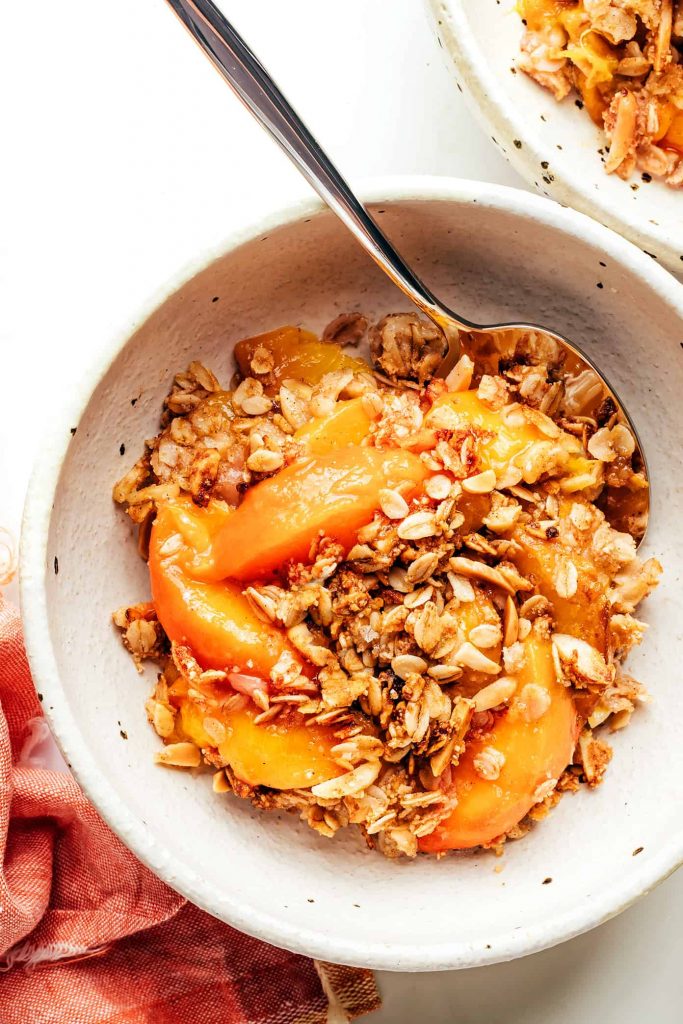 Why we love it: The combination of ginger and peach cannot be topped. It's simple, yet tastes wonderfully complex on the palate. This crumble is easy to make and can be enjoyed with some ice cream or even a drizzle of caramel sauce. Yum!
Hero ingredient: Ginger brings it all together.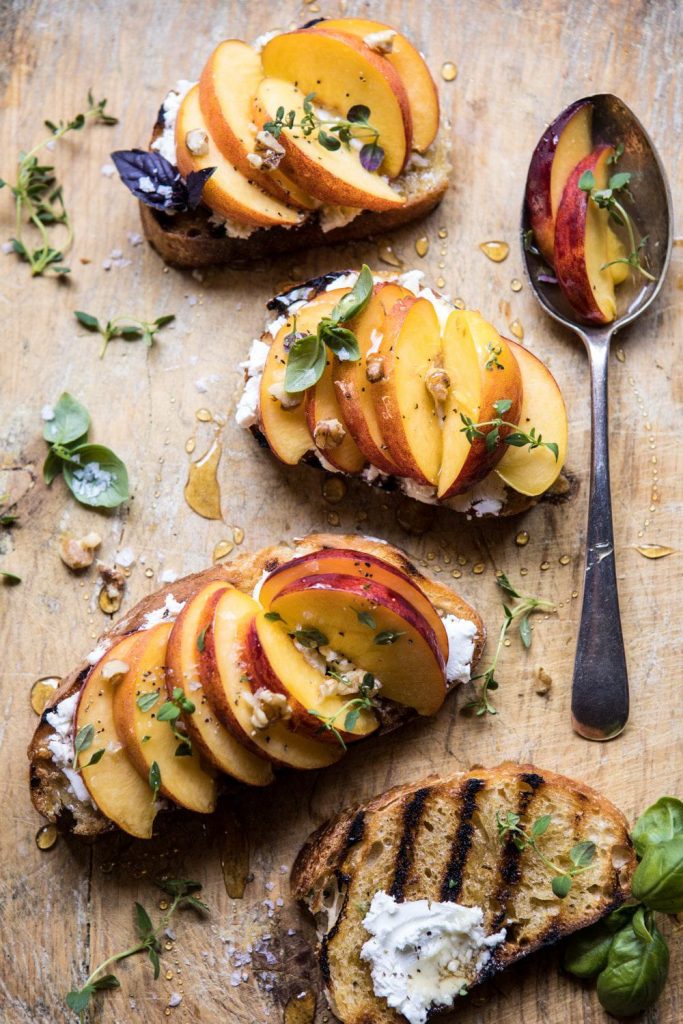 Why we love it: These decadent crostini are made with grilled ciabatta bread and creamy goat cheese, sweet peaches, thyme, honey, walnuts, and fresh basil. Enjoy it as a light lunch or as a starter for a dinner party. Either way, you're sure to get hooked.
Hero ingredient: A drizzle of honey cannot be missed.
Why we love it: Gorgeous peaches macerated in cinnamon, brown sugar, and mace make for the perfect landing pad for some sticky brown butter. It's a caramelized delight!
Hero ingredient: Brown butter just hits different.
Why we love it: Sometimes, we want to drink our fruits and veggies. And this delicious smoothie is the perfect vessel to get it all in with minimum effort. Oh, and did I mention that it's absolutely delicious?
Hero ingredient: There's that ginger-peach pairing, again!
Why we love it: Galettes are so easy to throw together, yet they have a chic rustic elegance. I love that this recipe uses two of my favorite stone fruits for a delicious, sweet, tart, and absolutely divine dessert.
Hero ingredient: Throw a little fresh whipped cream on there—you won't regret it.
Why we love it: There's no better way to make quick and easy use of your summer peaches than with a healthy and delicious baked oatmeal recipe. It's sweet, packed with juicy peaches, and can serve a crowd. Try to get semi-ripe peaches so they don't break down during the baking process.
Hero ingredient: Applesauce adds sweet creaminess without a ton of added sugar.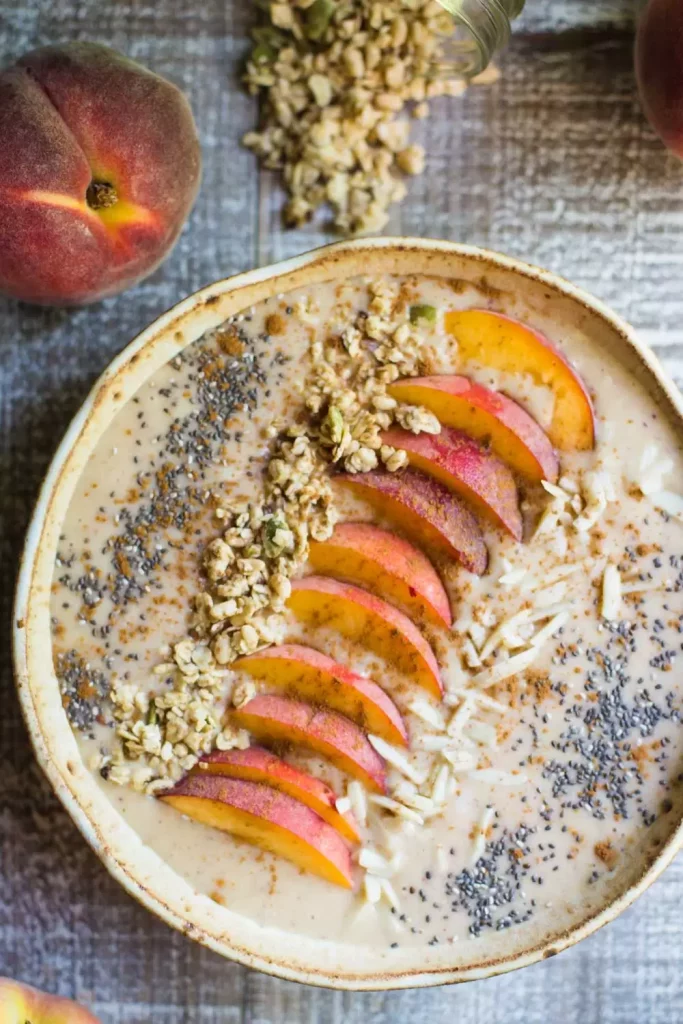 Why we love it: This smoothie bowl is an absolute treat. It's super easy to make, which is always helpful during the morning rush. It's the best way to level up your smoothie game and enjoy a nutritious, satisfying breakfast.
Hero ingredient: A dollop of yogurt will make it irresistibly creamy.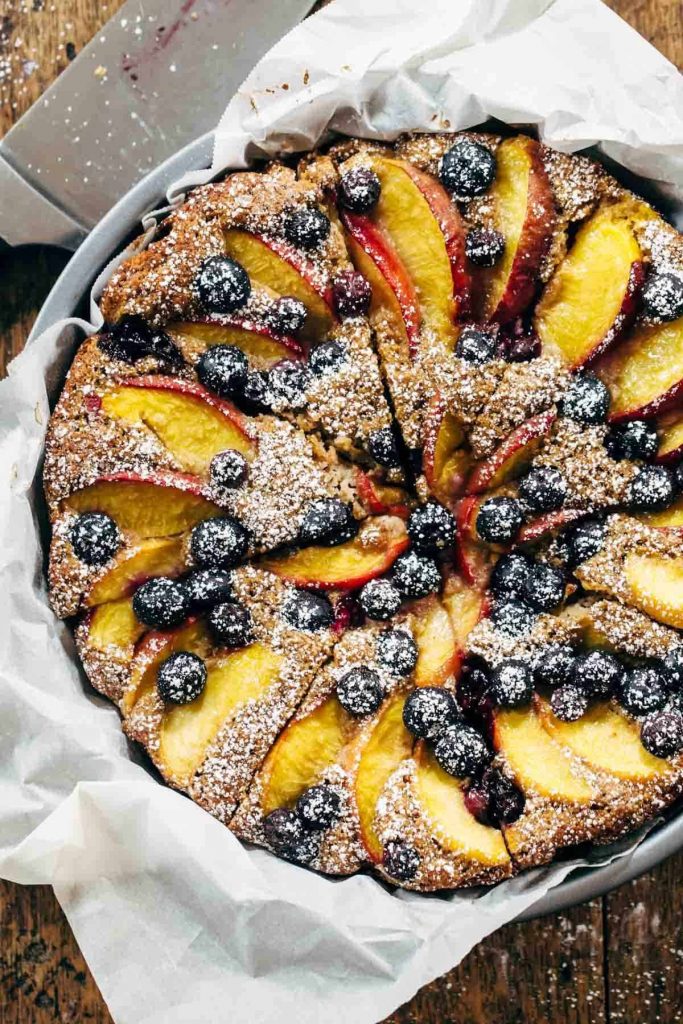 Why we love it: There's something so rustic and charming about a peach cake. It's almost like you're sitting in the garden of your French chateau while enjoying it. (Hey, we can dream!) It's just as magnificent for dessert as it is for breakfast the next morning.
Hero ingredient: Blueberries and peaches make the perfect pair.
This post was originally published on June 29, 2020, and has since been updated.