With summer fun in full swing, now is the perfect time to gather friends and family for some poolside relaxation. And with guests gathering outside to soak up long summer days, there's no time like the present to treat those you love to a special summery menu. Whether that centers around sheet pan fajitas, grilled NY strip, veggie burgers, or flatbread pizza, you'll need lots of snacking items for that post-swim sustenance. Thankfully, these pool party snacks are guaranteed to impress.
There's nothing like hopping out of the pool and straight into a snacking frenzy. It's pretty much given on a pool day. And with any of these summery poolside snacks, you're in the clear to indulge without the guilt. In fact, you could even graze on enough pool party snacks to constitute dinner and save yourself the time and effort. (It makes the whole day that much more relaxing.) It is a pool party after all—there are no rules.
These pool party snacks for adults satisfy kids as well (minus the tequila-infused watermelon slices—we're saving those for us). So, no matter who's hungry, everyone will be happy with what's being served up. Try out one—or several—of these pool party snacks at your next gathering, sit back, and relax as everyone swoons over your delicious creations.
Featured image by Michelle Nash.
Drinks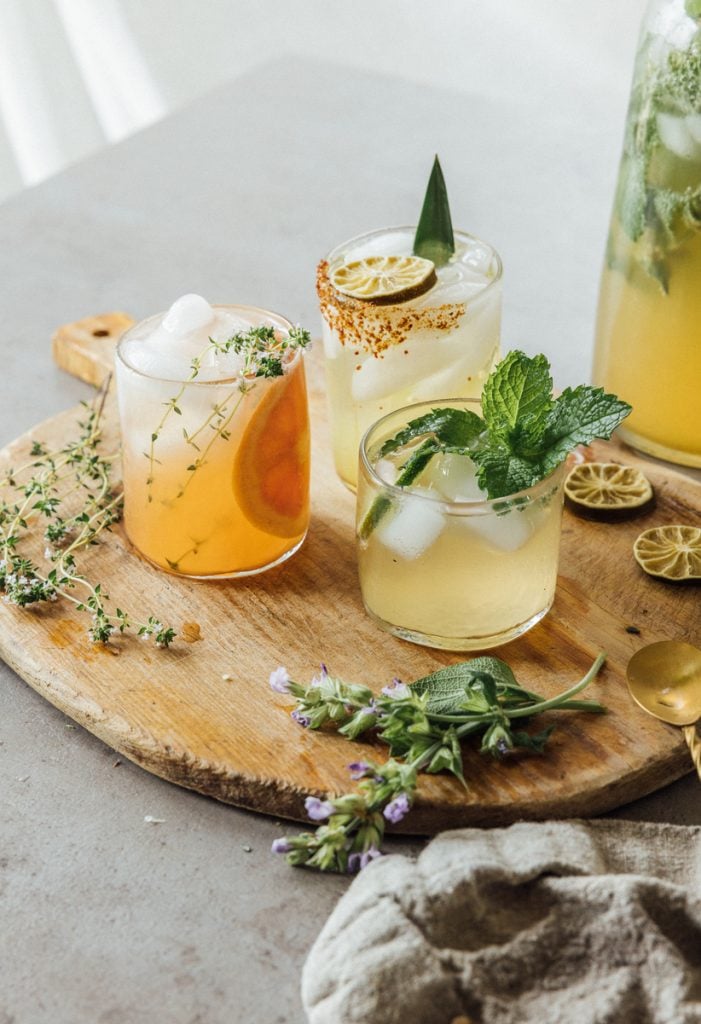 Why We Love It: A pool party is the perfect excuse to pop the bubbly. But this summer, we're prioritizing our gut health and swapping in our favorite kombucha. Hello, probiotics galore! These three takes on a kombucha cocktail (which can easily be made into mocktails), are beyond refreshing and amplify the season's star flavors. Choose from a Paloma, Spicy Margarita, or Moscow Mule.
Hero Ingredient: No matter the flavor, kombucha offers a funky, effervescent flavor and feel that we're 100% here for.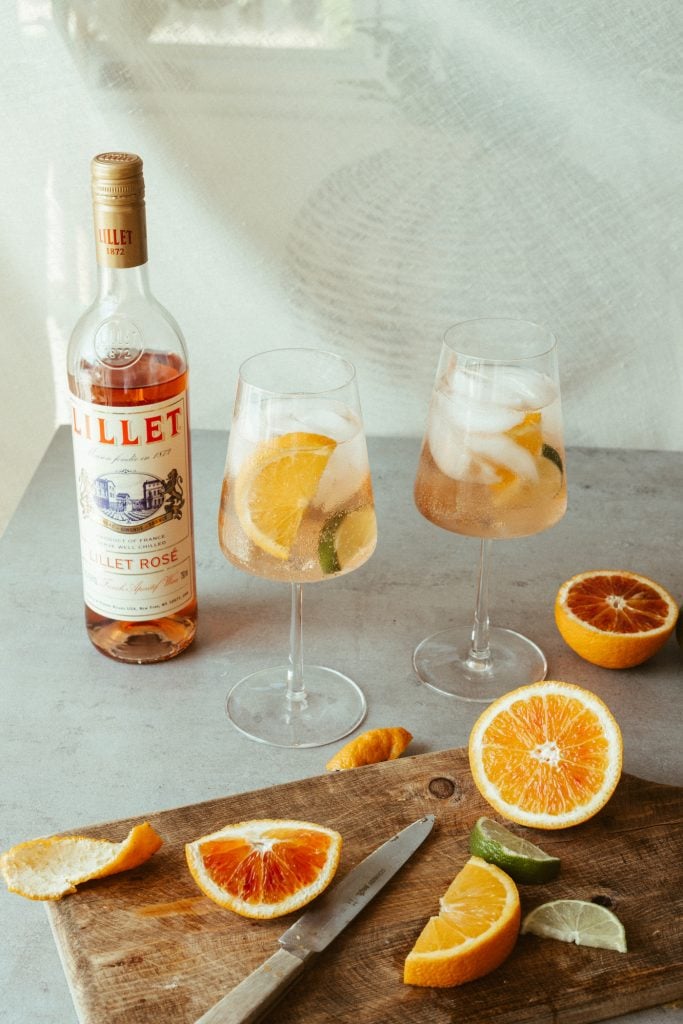 Why We Love It: Summer in a glass! The Lillet Rosé Spritz is our take on the classic Aperol Spritz. If your summer sipping routine needs an update for 2023, opt for this easy, fruity cocktail.
Hero Ingredient: Lillet Rosé is a must-have summer aperitif. It's fresh-tasting and fruit-forward—exactly what we want this time of year.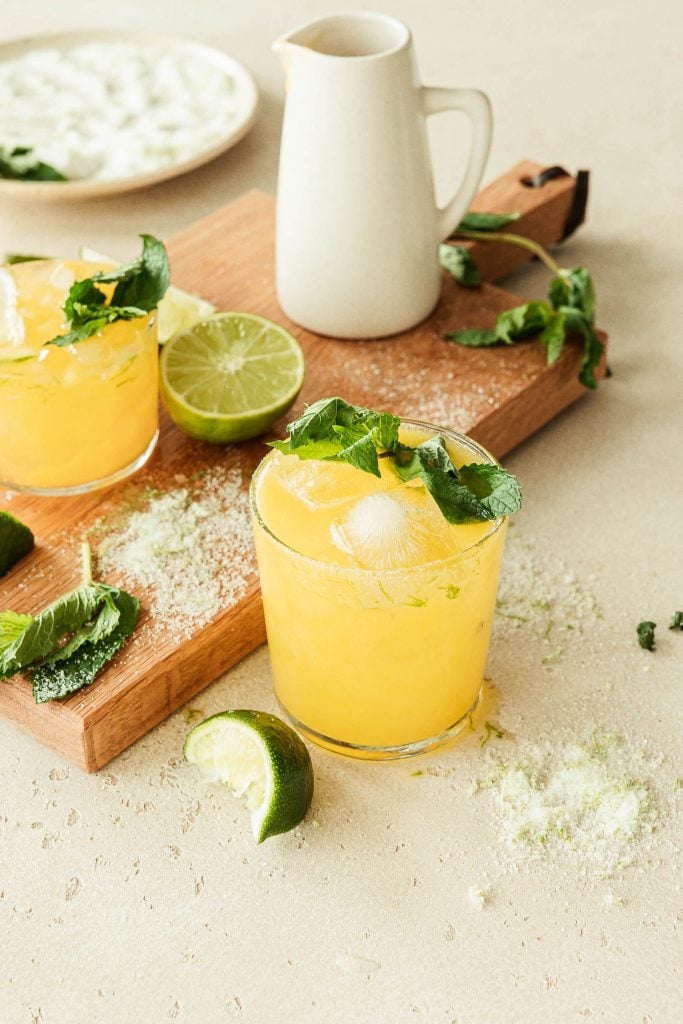 Why We Love It: Summertime calls us to enjoy mangos any way we can. In popsicles, icebox cakes, and our favorite weekend drinks. This easy, fruity spin on the classic mojito blends mint, mango, and lime for a tropical bevvy that's pure vacation vibes.
Hero Ingredient: This mojito tastes like you're sipping on sunshine, and it's all thanks to the mango.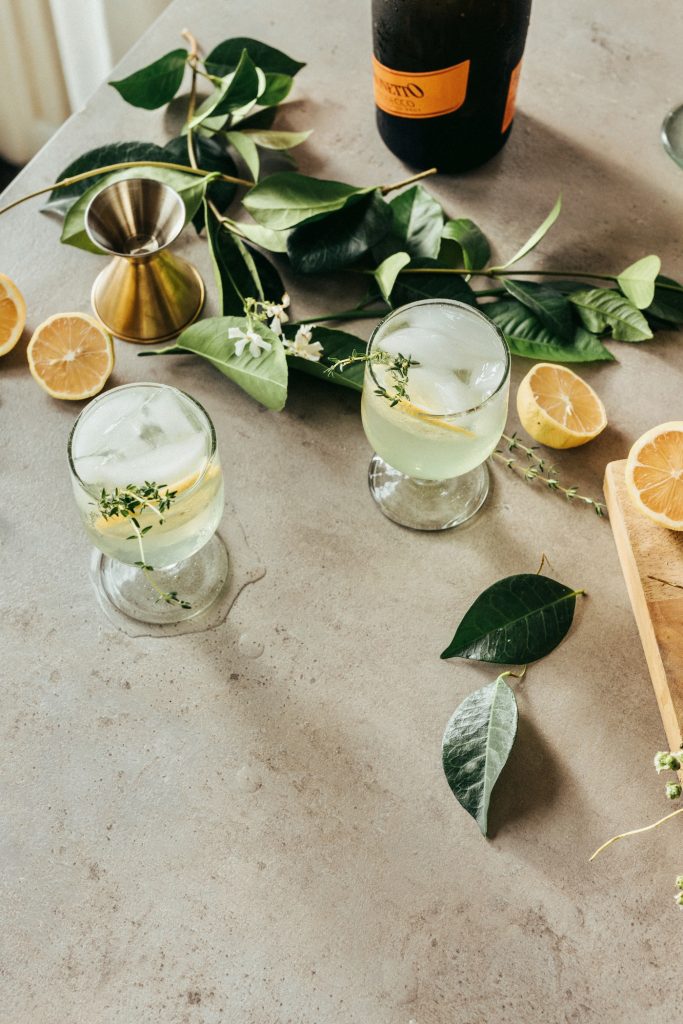 Why We Love It: Is there anything better than Italy in the summertime? Transport yourself straight to the Mediterranean with Camille's favorite warm-weather drink. Limoncello, lemon, Prosecco, and a few extra garnishes make for a short, but standout ingredient list.
Hero Ingredient: No refrigerator is complete without a bottle of limoncello.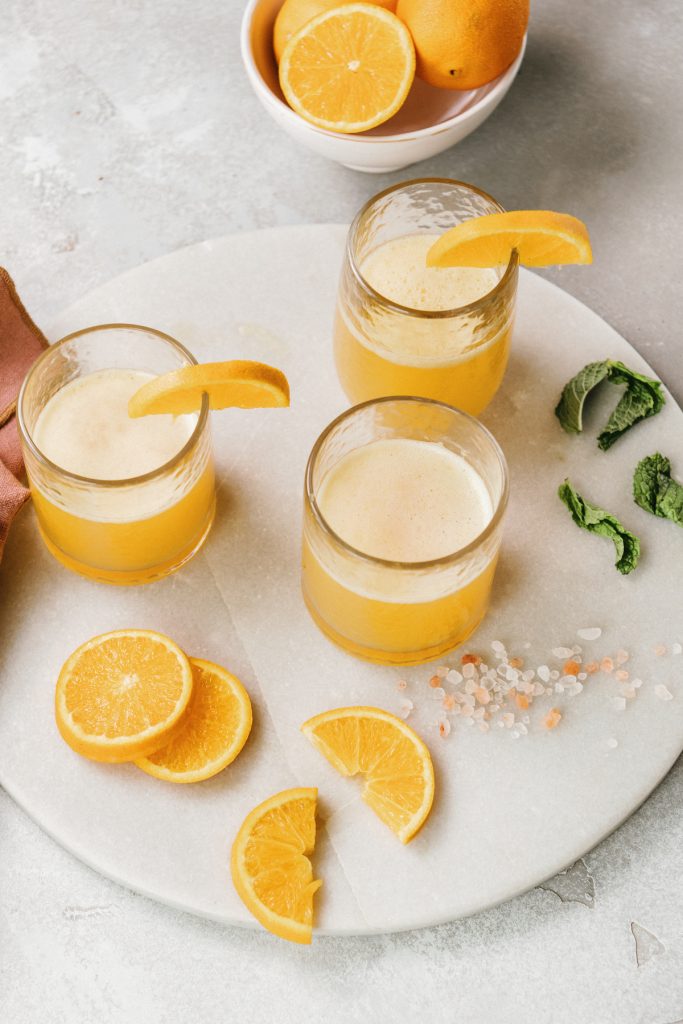 Why We Love It: Whether you're limiting your alcohol intake, abstaining altogether, or simply seeking out a functional beverage with your poolside snacking vibes, the adrenal cocktail is for you. Yes, contrary to what the name suggests, this drink is zero-ABV. Instead, it's filled with hydrating and energizing ingredients like coconut water, orange juice, and Himalayan sea salt. And with three variations, there's something for everyone.
Hero Ingredient: Coconut water lends the summertime vibes as well as crucial electrolytes our bodies need.
Dips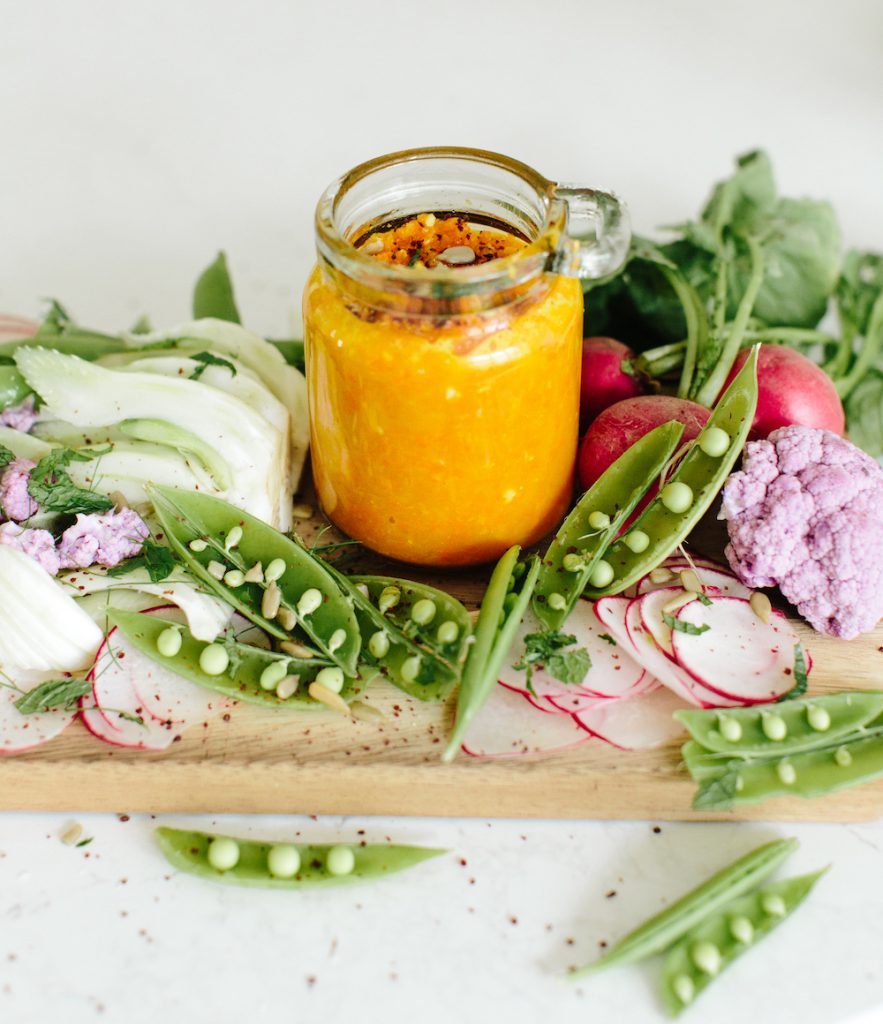 Why We Love It: A dip that doubles as a feel-good, healthy boost? Yes, please. Carrot and turmeric team up in this hummus to make the perfect veggie accompaniment for your pool party that's healthy and refreshing. Instead of a chickpea base, carrots build the foundation for this dip by being puréed with garlic, lemon, olive oil, and turmeric. It's easy to put together and even easier to enjoy.
Hero Ingredient: Lots of roasted sunflower seeds on top are key. Everyone loves a good crunch factor!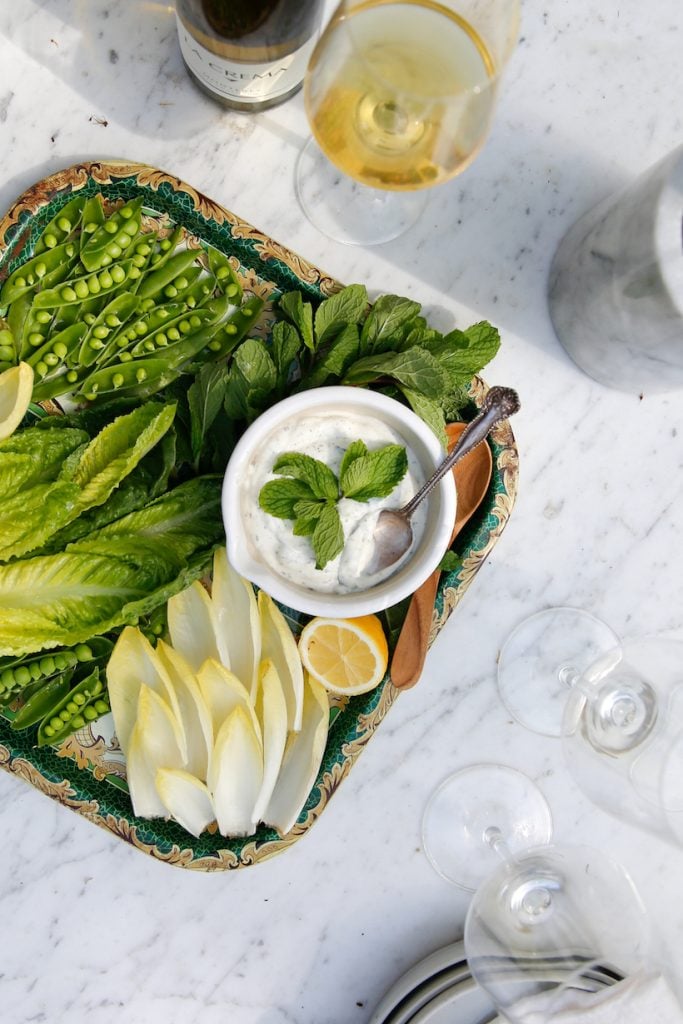 Why We Love It: Tzatziki is the perfect pool party snack for a lot of reasons, but mainly because it's fresh, light, and cooling after a long day in the sun. Especially when served with crisp sugar snap peas, endive, and romaine leaves. Something about this assortment makes you want to swim up to a poolside platter and dive right in.
Hero Ingredient: If you have the grill fired up for the occasion, lightly char those romaine leaves for a twist on this fresh assortment. They'll still have some crunch to give, but take on a bitter char that really complements the tzatziki.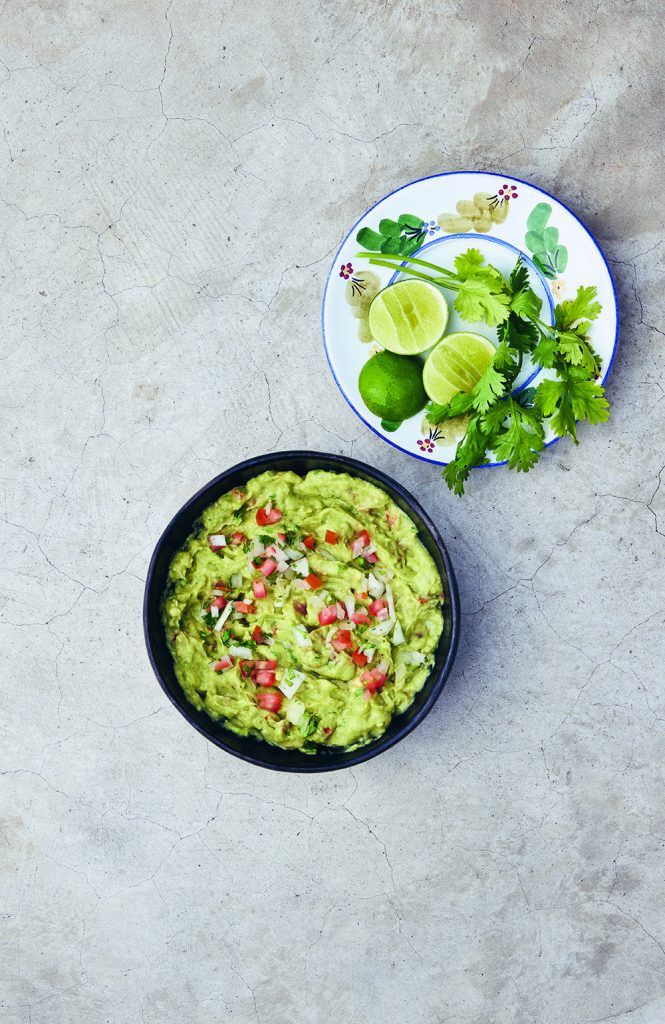 Why We Love It: Mango and avocado is a match made in heaven. Especially when enjoyed in guacamole form (with salty chips to scoop up the all the goodness). These guac recipes check the boxes for refreshing and flavorful while celebrating one of food's greatest joys: a sweet and savory combo. And not to mention that when it comes to simple pool party snacks, guacamole is always a hit.
Hero Ingredient: In the mango guacamole, canned chipotle chilies in adobo sauce usher in a much-appreciated smoky flavor that kicks everything up a notch. The pairing of smoky chilies with cool avocado and mango is unmatched.
Salads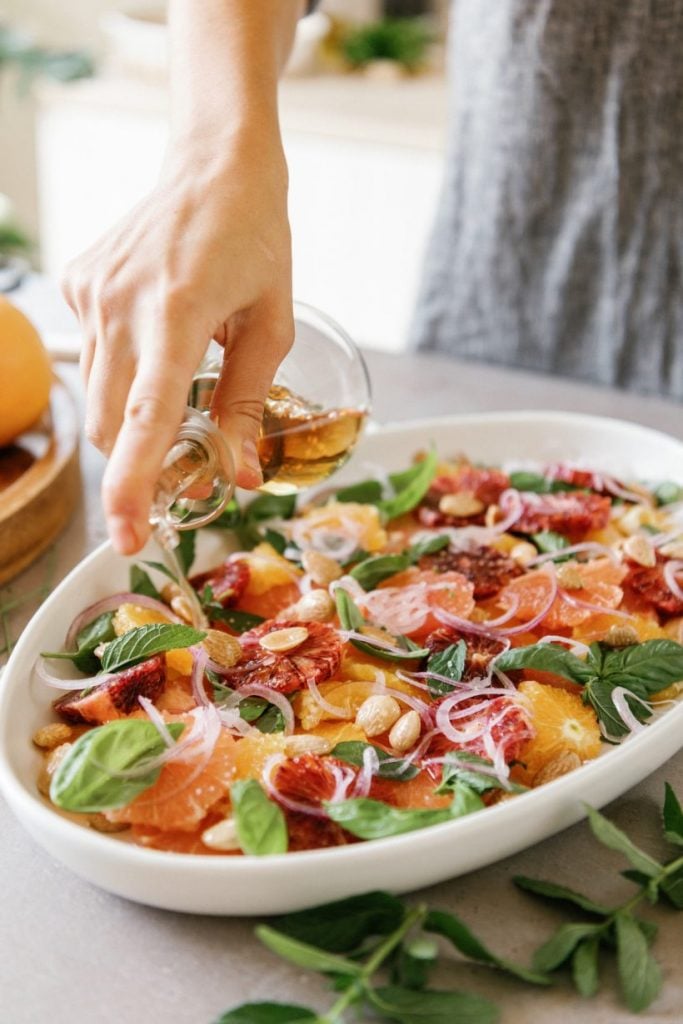 Why We Love It: I would apologize for including this in pretty much every roundup, but I just can't—it's that good. Totally refreshing, as vibrant as summer, and perfect for snacking. Slice up lots of citrus and serve this simple salad on a big platter so guests can dig in at any pace. Everyone will enjoy a refreshing bite of juicy fruit layered with salty Marcona almonds and zingy onions to counterbalance the summer heat.
Hero Ingredient: Those Marcona almonds are buttery, nutty, salty, and the all-around hero of this salad. They bring the crunch and flavor, what more could we ask for?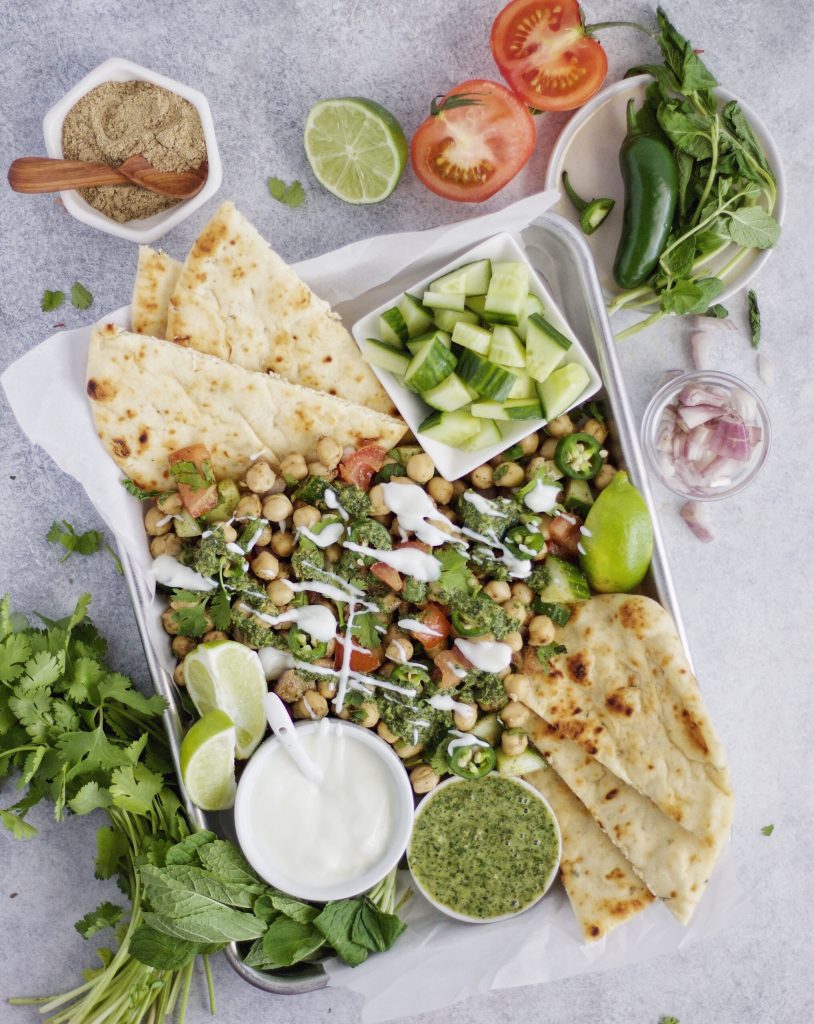 Why We Love It: Cheese boards, be gone. Well, you can stick around—but for this pool party snack, we're taking a slightly different approach to the grazing board situation. This chickpea salad is loaded with lots of spices, a Greek yogurt drizzle, and a topping of mint chutney. Serve with lots of baked naan for scooping and watch how quickly this salad goes from the platter to your guests' hands.
Hero Ingredient: When it comes to the spices, chaat masala, cumin, and ginger completely transform the flavor profile of this salad into something you'll be craving more of.
Appetizers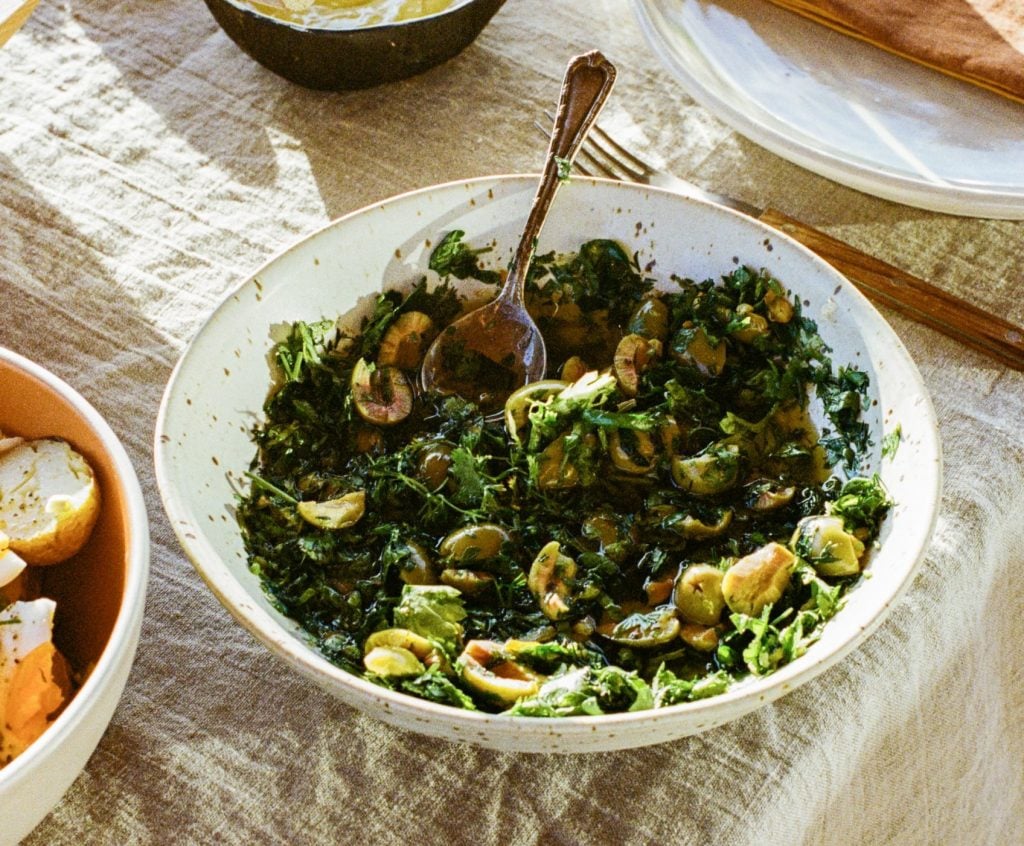 Why We Love It: If you've had the popular Mexican version of salsa verde before, expect something a little different here. The Mexican spin features a tomatillo base, creating a sweeter, less-acidic flavor. In contrast, the Italian salsa verde highlights the mellower flavors of green olives and rich olive oil. It's fruity and smooth—perfect served alongside plenty of bread to sop it all up.
Hero Ingredient: Good-quality olive oil is essential. Wonder Valley produces our favorite bottles.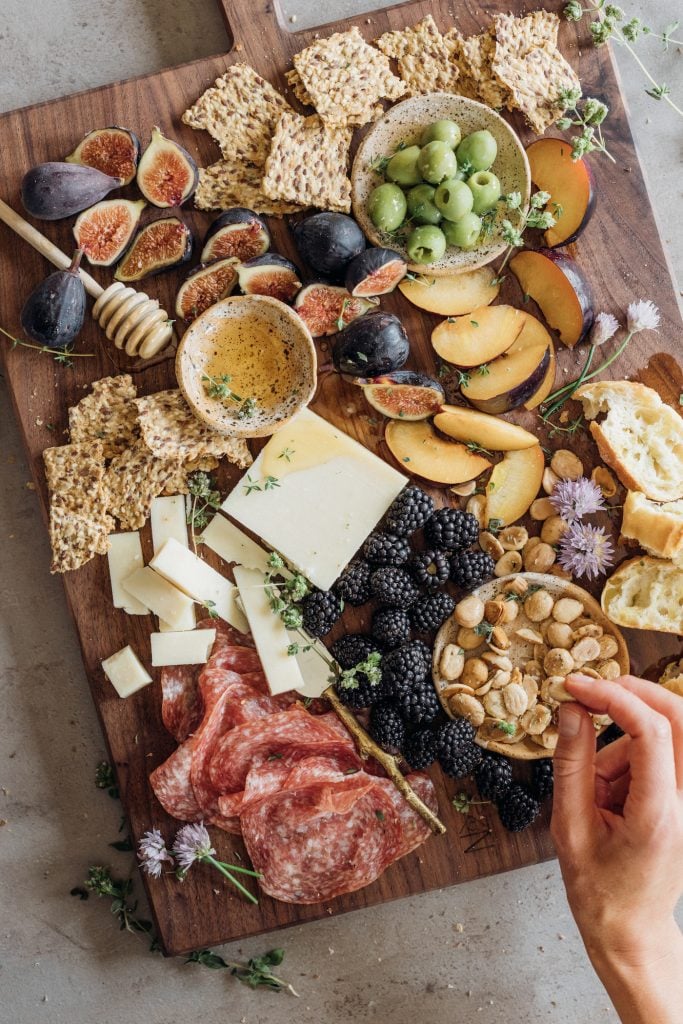 Why We Love It: Cheese boards are our go-to for entertaining all throughout the year. They're beautiful and simple to assemble, inspiring endless creativity and allowing you to highlight all of your favorite, seasonal flavors. This summer cheese board makes the most of summer fruits like blackberries and figs centered around a standout cheese (Camille loves a good blue cheese like Roquefort or Stilton). Trust: it's way easier than it looks!
Hero Ingredient: The beauty of a cheese board is that it's endlessly customizable. But be sure to pay careful attention to the central driving force of the dish: the cheese. Don't be afraid to splurge on a single good cheese—and let it shine.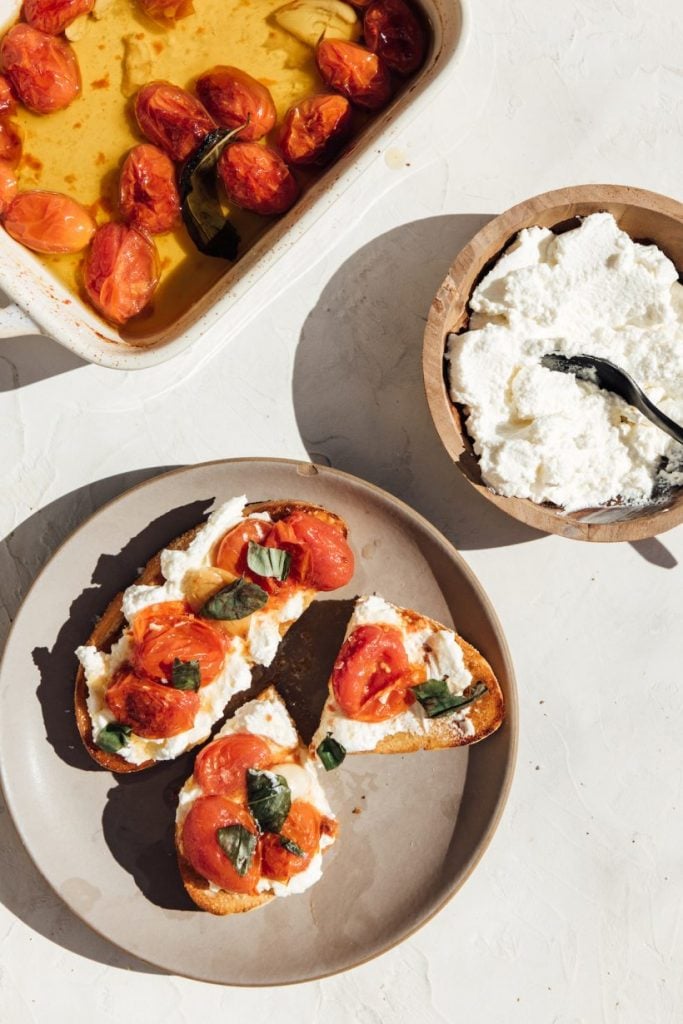 Why We Love It: With a glow like that, you know it's gotta be good. This simple bruschetta with tomatoes and ricotta proves that sometimes the simplest of ingredients can taste the best. Especially with tomatoes in peak season! Smear that creamy ricotta over a thick slice of sourdough, top with juicy roasted tomatoes, and sprinkle over lots of basil to seal the deal. And voila! You have an elevated poolside snack that's sure to satisfy.
Hero Ingredient: Five cloves of garlic caramelizing alongside those tomatoes make everything taste that much better. And a touch of basil or thyme never hurt anyone, either.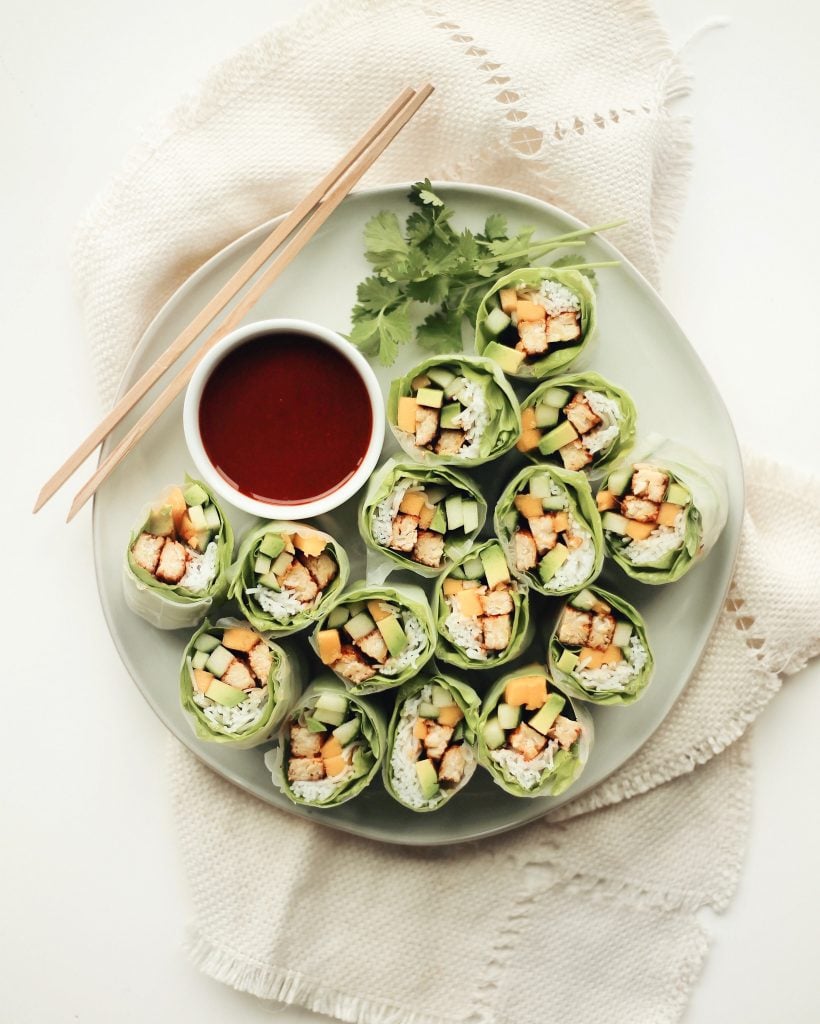 Why We Love It: Cool cucumber and creamy avocado team up with seasoned tempeh to create substantial spring rolls that you'll just want to pop back over and over. And don't even get me started on the mango in there. Everything is perfectly balanced by the sriracha dipping sauce that brings a little heat to the mix, which is a really nice contrast to the mango and avocado. You can also include any veggies you have on hand or use these as an opportunity to empty the vegetable drawer (yay!).
Hero Ingredient: The sriracha sauce is composed of sriracha, honey, and sesame oil, and it's exactly what you want to be snacking on when you're sitting poolside.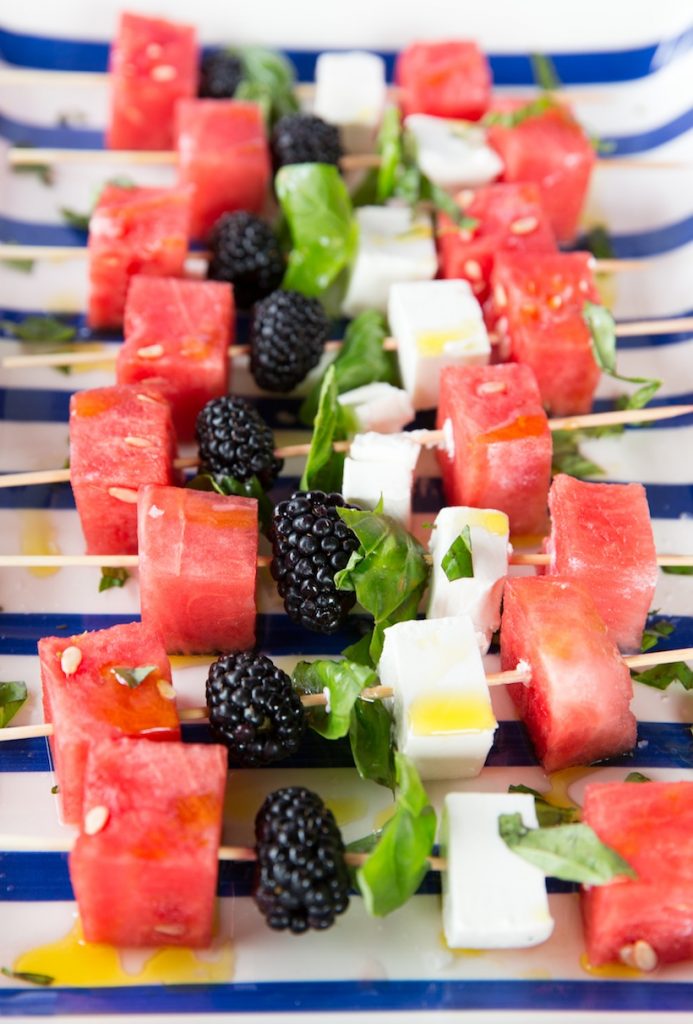 Why We Love It: The festive skewers are chock full of seasonal produce—and as a result, they're definitely winners in my book. These are easy to throw together and even easier to enjoy. With watermelon, feta, and blackberries layered under a sprinkle of mint, you've got a handheld, no-fuss snack that everyone will love. You could even make these ahead of time and pull them out of the fridge when you're ready to serve. That way, they'll be cold, refreshing, and all-around delicious.
Hero Ingredient: A drizzle of olive oil and sprinkle of sea salt brings out those natural sugars and ties everything together oh-so-neatly.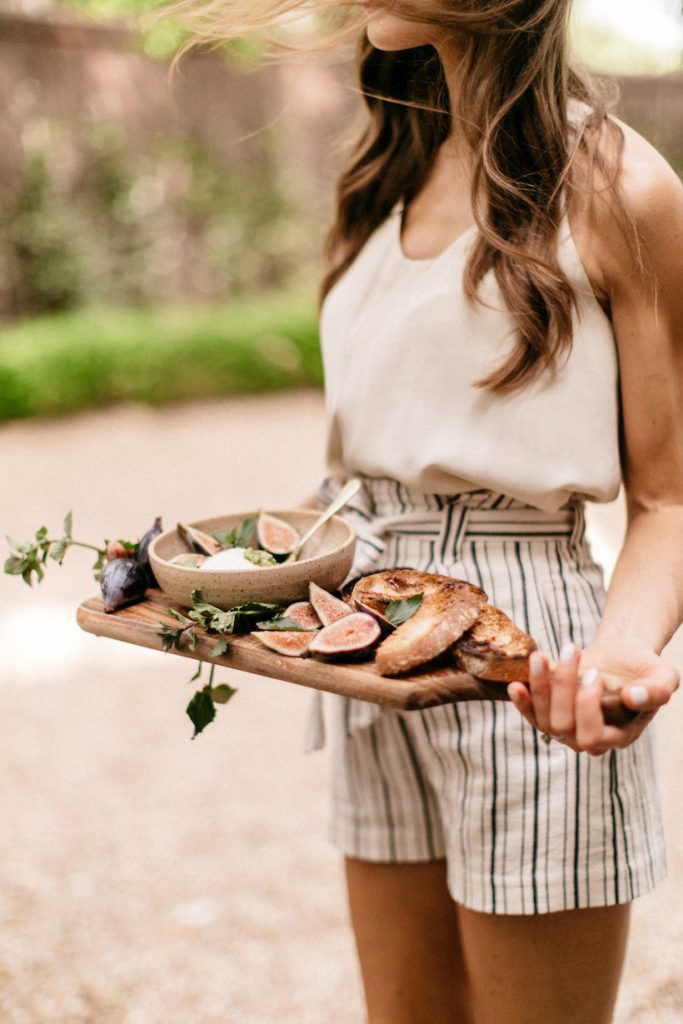 Why We Love It: This four-ingredient pool party snack is, as you might guess, incredibly simple. And with a simple recipe comes the importance of fresh ingredients. Here, you'll want the ripest figs, freshest pesto, creamiest burrata, and crustiest bread for an appetizer that's so much more than the sum of its parts. Like the others on this list, this arrangement is perfect for poolside polishing.
Hero Ingredient: If you're not yet on the burrata train, let me point you in the right direction. It's totally celebrated in this recipe for the creamy masterpiece that it is. When spread across a toasty piece of bread and followed with figs, it's sheer perfection.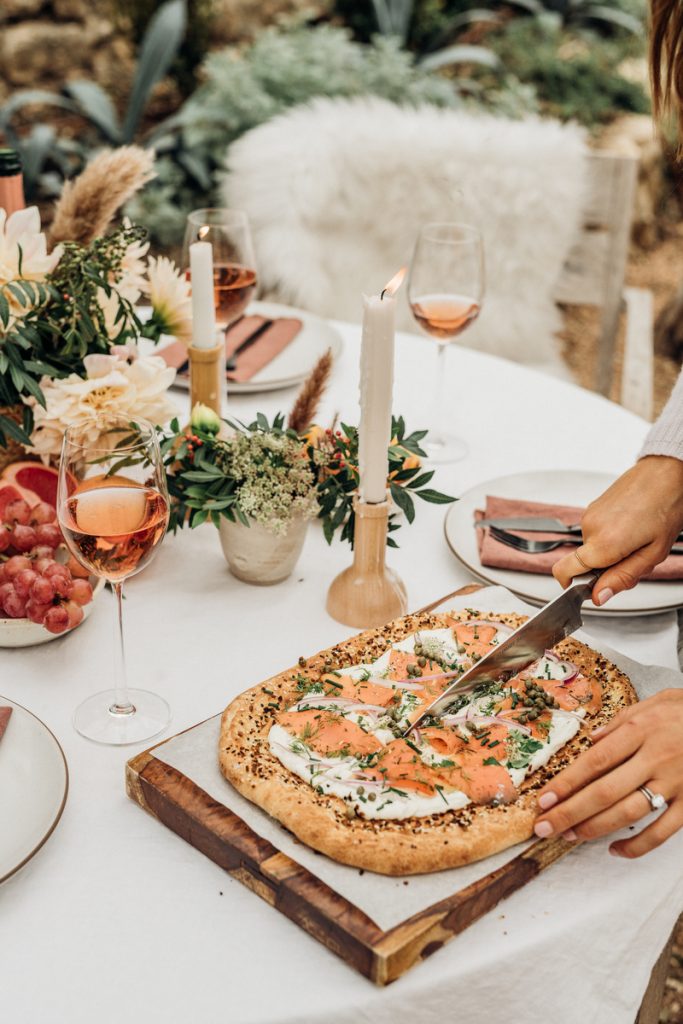 Why We Love It: This simple bagel-inspired flatbread is absolutely perfect for grab-and-go sharing. It's a little more substantial than our other choices, which is exactly what makes it ideal for a pool party snack offering. Guests can snag a slice and enjoy the layered flavors of everything bagel crust, lemony cream cheese, smoked salmon, and fresh herbs.
Hero Ingredient: Salty capers seal the lox bagel deal and bring a burst of brine to each tasty bite.
Sweet Treats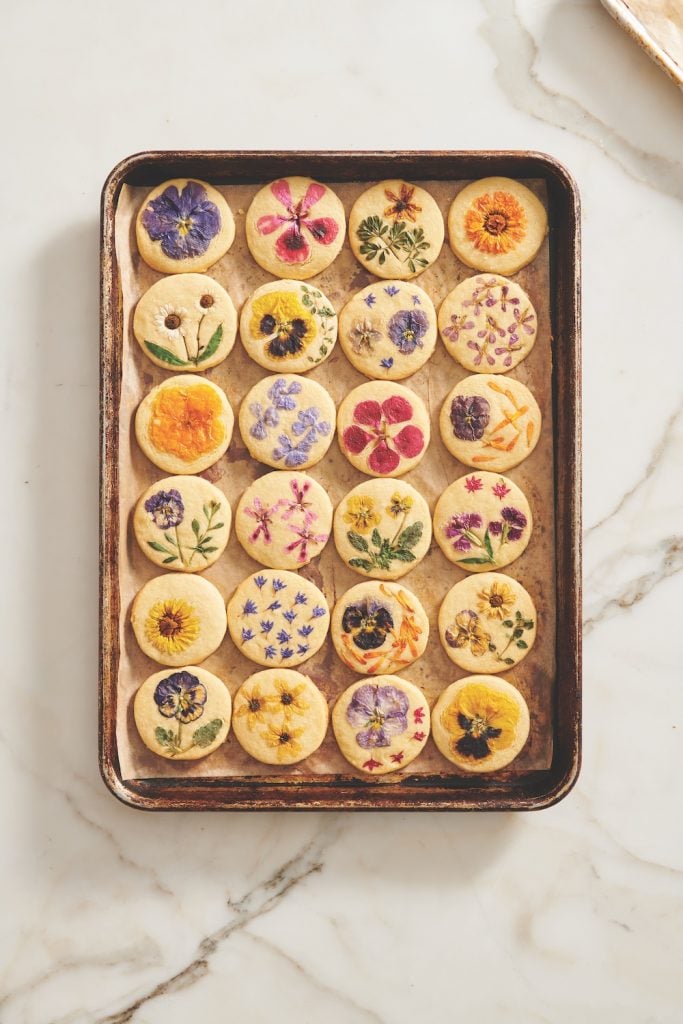 Why We Love It: Cookies make for great pool party snacks thanks to how easy they are to prep and simple they are to plate. These gorgeous shortbread cookies take the typical treat up a notch with the edible floral adornment. They're a beautiful nod to the season, and of course, perfectly picturesque.
Hero Ingredient: Edible flowers are these cookies' pièce de résistance. Read through the recipe to get an expert's take on sourcing the best.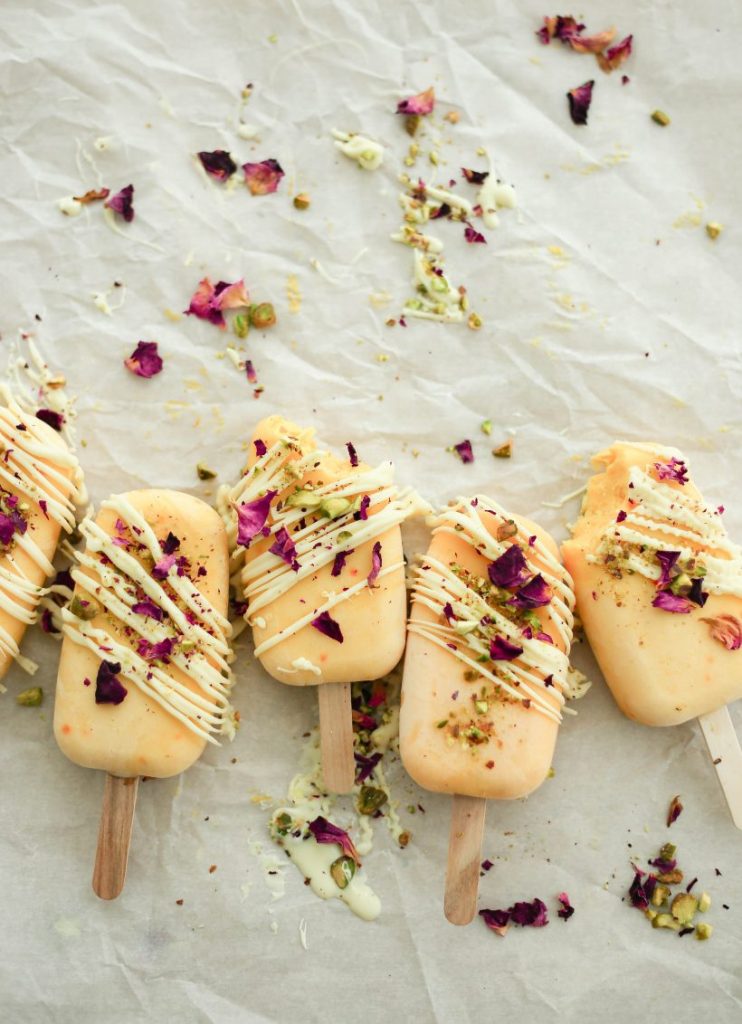 Why We Love It: For a dose of sweet, these popsicles make the perfect poolside dessert that everyone at your party will love. They're creamy, cool, and completely reminiscent of mango lassi. All ages will adore these fruity pops while enjoying a post-sun cooldown on the side. Bonus: These popsicles can be made beforehand and stored in the freezer until you're ready to serve. Hosting made easy.
Hero Ingredient: Our food editor, Suruchi Avasthi, insists that grinding your own spices is key. She says cardamom brings a really nice floral sweetness to the pops that's best when it's fresh.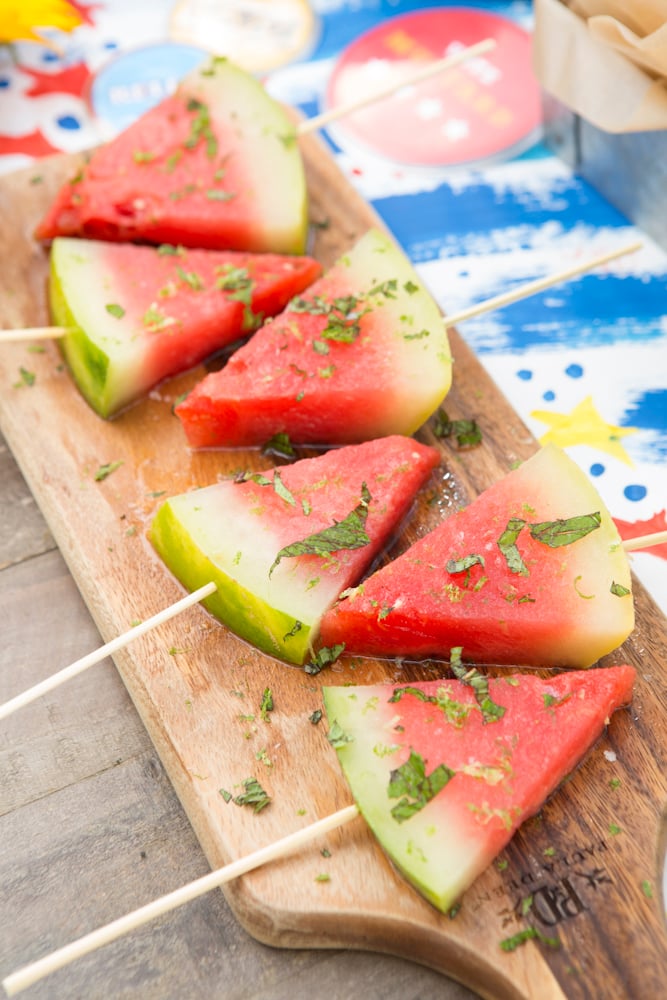 Why We Love It: As you may have guessed from the name, these watermelon pops are for the adults only. Give any little ones at your party a watermelon skewer while the adults enjoy a fun and festive watermelon pop that's, of course, infused with tequila. They're zesty, minty, and made even better by a little pinch of sea salt. It brings out all the sweetness in that watermelon and sends these over the top.
Hero Ingredient: If you've ever had a juicy slice of watermelon with lime squeezed over top, you'll understand that using lots of lime zest is key.
This post was originally published on July 6, 2022, and has since been updated.