Want to make friends? Say the word pizza and people will just show up.
Better yet, invite others to join in on the fun of pizza production from start to finish, and before you know it, you've turned strangers into best friends enjoying a perfect pie together. Okay, maybe it doesn't work like that, but liking pizza is one thing most of us can agree on.
Plus, I'm a firm believer that a good flatbread is best enjoyed with a crew. We've all had those nights where we ate pizza alone and it's just not the same—I'd almost always rather share my extra slices with a friend instead of forgetting about them in the fridge.
As I'm beginning to see the light at the end of the tunnel in quarantine, I'm finding myself fantasizing about my next build-your-own flatbread night with friends.
When it comes to gatherings, there's nothing better than getting together to roll out some dough, grab your favorite seasonal ingredients, and take turns tasting each other's creations.
First up on the menu for me will be this glazed pear flatbread. With soft pears, toasted walnuts, prosciutto, goat cheese, and peppery arugula, this flatbread is a savory-sweet treat that will be sure to win over close pals and keep the new ones coming back.
The Recipe Inspiration
My parents just acquired a pizza oven and we spent all winter experimenting with new recipes. Let me just say these things cook fast and we've come a long way. We went from accidentally torching our pepperonis to mastering Margheritas to advancing to perfectly crisped flatbreads loaded with seasonal ingredients.
Once we had the classics under our belts and couldn't look at another jar of red sauce, we began getting crafty and testing out new ingredient combinations. After exchanging tons of laughs and slices, we realized most of our favorites leveraged seasonal ingredients, achieved both salty and sweet sensations, and the toppings balanced softness with a little bit of crunch.
Basically, we confirmed our long-held beliefs that pizzas are the perfect canvases for all of your favorite things to exist all at once. Enter: this pear flatbread with walnuts, goat cheese, prosciutto, and arugula.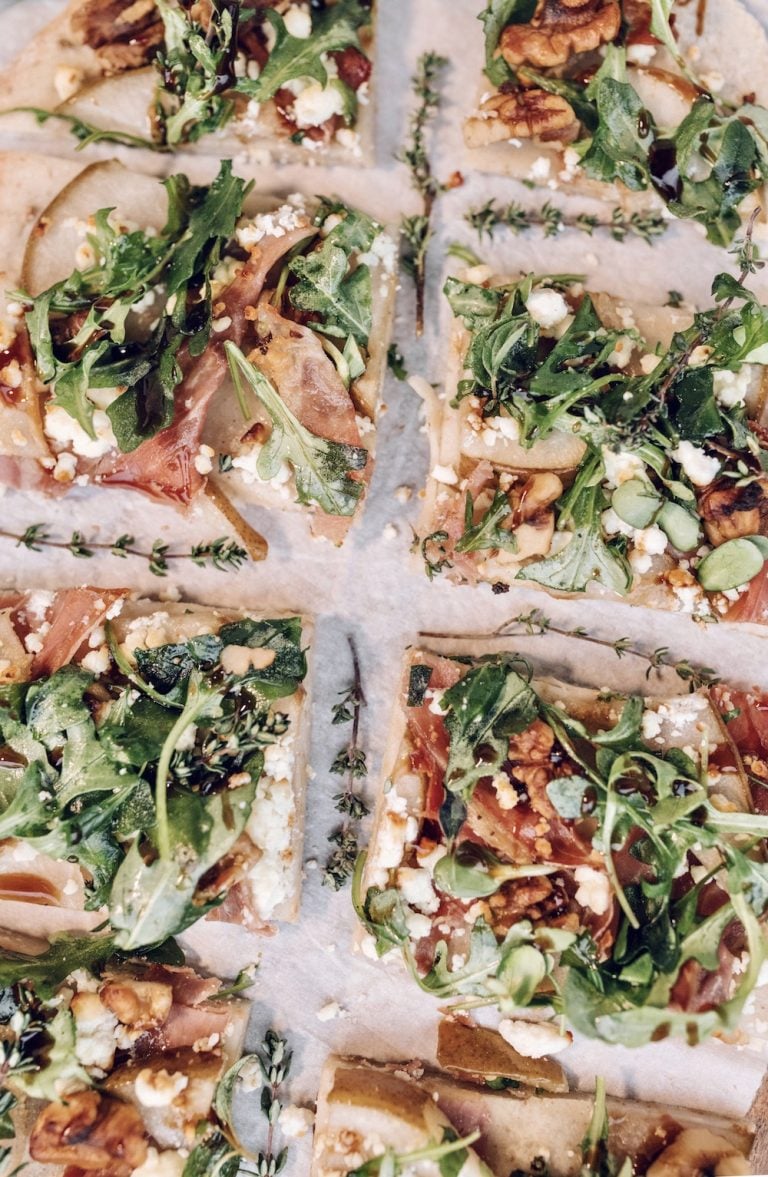 Choosing the Crust
Hot take here but I've always been a thin crust gal. The thick crust has its moments, but there's something about thin crust that really lets the toppings shine on this pear flatbread. Plus, who doesn't love those crispy, browned edges?
This recipe is also sauce-less, which I prefer on most flatbreads not only for flavor but also for weight so that your slices don't collapse and fall apart as you try and eat them. Also, I'll admit I've been using the words "pizza" and "flatbread" interchangeably here, and I realize these might be two very different things to many of you. While the definition of "flatbread" is a hot debate, I associate the flatbreads of my past with thin crust, little to no sauce, and out-of-the-box ingredients. The pros out there might prove me wrong but hey, flatbread also just sounds fancy. Pear flatbread it is.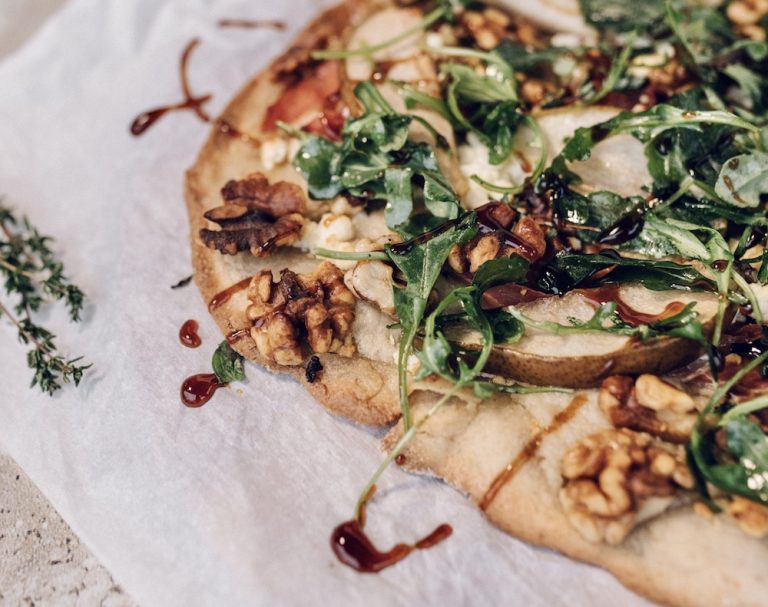 Making It Gluten-Free
I've been gluten-free for years now and it honestly hasn't held me back from enjoying most of my favorite foods. We're lucky to live in a time where there's a pizza crust for everyone, and there are plenty of gluten-free options at almost every supermarket these days.
If you're a dough aficionado yourself then I'm all about whipping it up from scratch, but there's also nothing wrong with leaving it to the pros. While there are some great pre-made crusts out there that do the trick, there's something about rolling out the actual dough yourself that makes a homemade pizza extra fun.
Lately, I've been obsessed with this Wholly Wholesome Pizza Dough. It's gluten-free and feels almost identical to the real thing, and has had the best flavor and texture of any other crusts I've tried.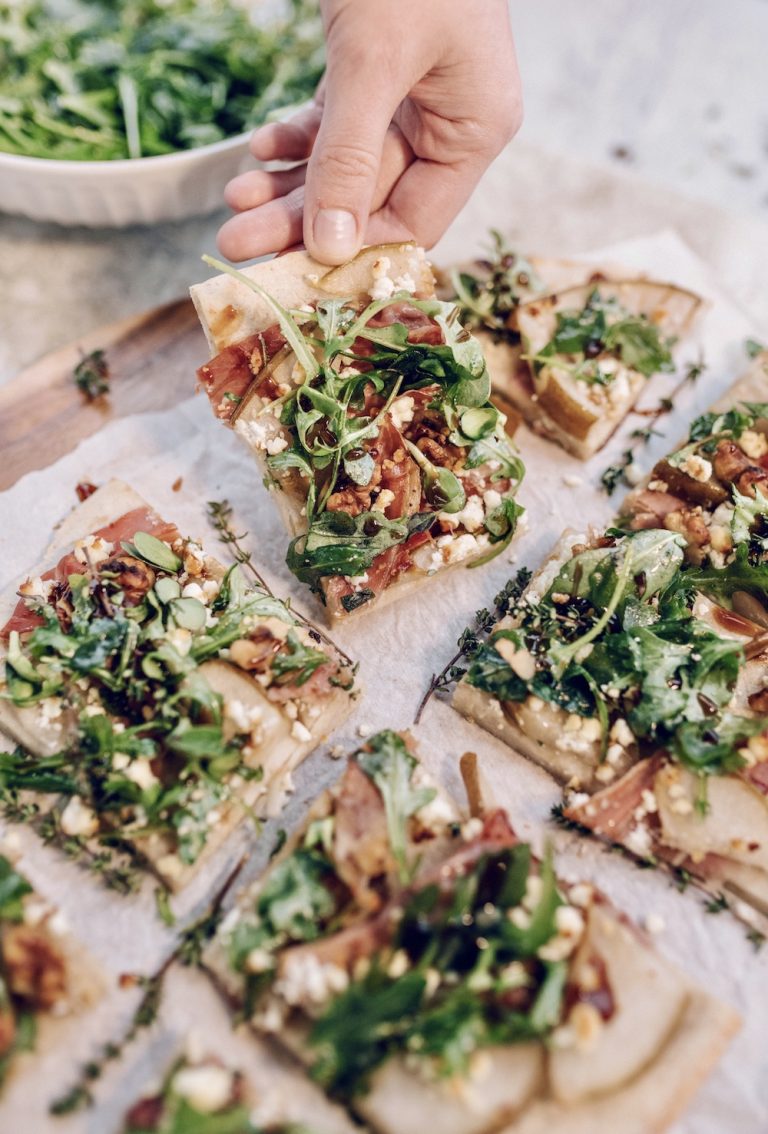 The Ingredients
Pears are winter's candy. Whenever pear season rolls around, I love adding them to my salads, my desserts, and of course, my pizzas. This pear flatbread calls for cooking the sliced fruit for a bit beforehand and then adding some balsamic glaze to get that soft, caramelized sweetness. Plus, when paired with goat cheese, you've got a match made in heaven. The goat cheese adds a tangy, smooth flavor to this flatbread that lingers in your mouth after every bite.
The walnuts add a little bit of heartiness and crunch to this pie that usually makes me full after just a few slices. Proscuitto is a must-add on most flatbreads, and the salty/sweet combo with balsamic glaze is extra delicious when baked to perfection. Lastly, pizza doesn't mean you can't get your greens, and the tossed arugula at the end rounds out the perfect pie.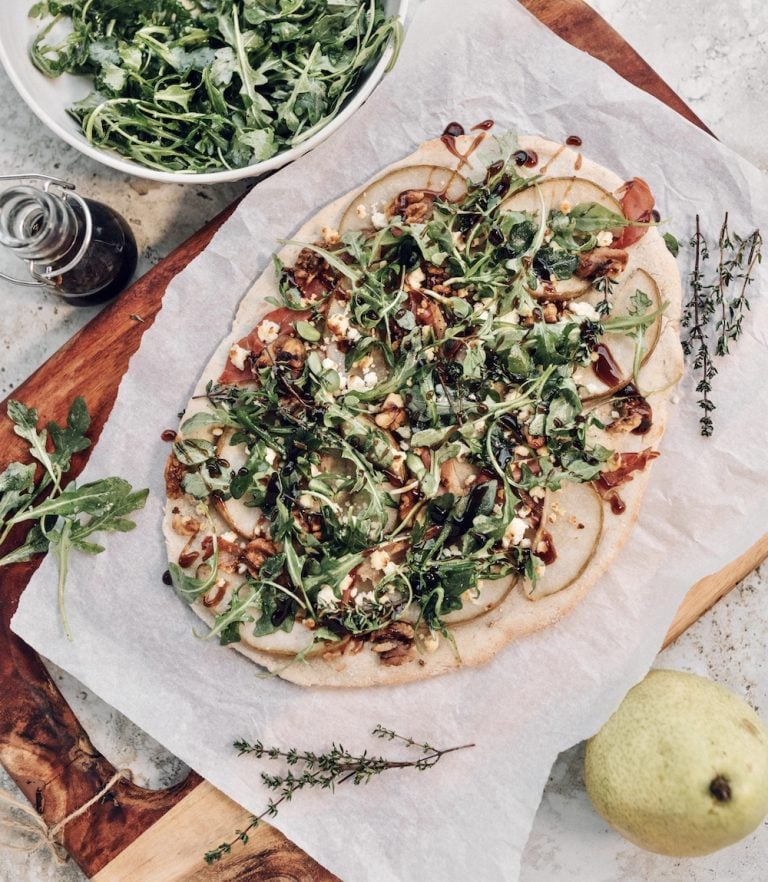 Taste Testers
This flatbread won over the whole crew at home. Read on for some key takeaways: 
Megan (my sister): 
First impression: It had a very sweet and unique taste, not like a normal tomato sauce pizza that you would expect. This one tasted more like a sweet and salty flatbread. The combinations of different flavors complemented themselves well.

Stand-out ingredients: The balsamic glaze was the best part, paired with the nutty walnut flavor and the savory/saltiness of the goat cheese.

The rating: 5 out of 5. This flatbread was really really good. The only thing I'd change is maybe adding another salty hint next time.
Noble (my brother): 
First impression: I was honestly surprised I liked this one. My sisters tend to try to make pizza too "healthy" but this one was a winner.

Stand-out ingredients: The walnuts were surprisingly one of my favorite parts. Every pizza needs something crunchy.

The rating: 4 out of 5. I'm a sauce guy, so I'd love to see some pesto or sub in a meltier cheese next time.
I hope you enjoy this flatbread as much as we did! Scroll on for the recipe and let us know what you thought in the comments.
---
Ingredients
1 pizza dough or prepared crust of choice
1 pear, thinly sliced
2 oz prosciutto
1/4 cup goat cheese crumbles
1 cup of arugula
1/4 cup walnut halves
2 Tbs balsamic glaze, drizzled
2 Tbs olive oil
1 handful fresh herbs (oregano, micro basil, etc.)
salt & pepper to taste
---
Instructions
Roll out your pizza dough and follow instructions for prepping. (some require baking the dough or crust in the oven before adding toppings)
Add 1 Tbs olive oil to a medium skillet at medium heat. Add walnuts and toast for about 1 minute (they will toast more in the oven). Add thinly sliced pears to soften – about 2 minutes. Halfway through, drizzle with 1 Tbs balsamic glaze and set aside once softened.
When your crust is ready for toppings, distribute the pear slices, prosciutto, goat cheese crumbles, and walnuts evenly across the crust.
Bake pizza in the oven until the crust is slightly browned (usually 10-15 min depending on your crust).
In a large bowl, add 1 cup of arugula, 1 tbs olive oil, salt and pepper. Toss arugula until evenly coated.
Top flatbread with arugula and drizzle on the balsamic glaze and olive oil.
Finish it off with salt, pepper, and fresh herbs for additional flavor and enjoy!